The multinational holiday Cinco de Mayo which is celebrated everywhere around America and Mexico, will be here before you know it! As a real housewife you probably will want to host the event for your loved ones in the real way – with a perfect table full with exquisite meals and drinks!
Did you make a decision what you'll serve for an occasion like this?! Probably some tasty flavor – packed Mexican specialty that has a mind-blowing smell and taste, like taco or enchiladas! But what about the dessert?! There mast be something to satisfy your and your guests sweet tooth!
If you need an inspiration and some fresh ideas, below is a list of 10 desserts that'll rock your Cinko de Mayo celebrations! They're real Mexican treats that'll satisfy everyone's sweet cravings!
Strawberry Cheesecake Chimichangas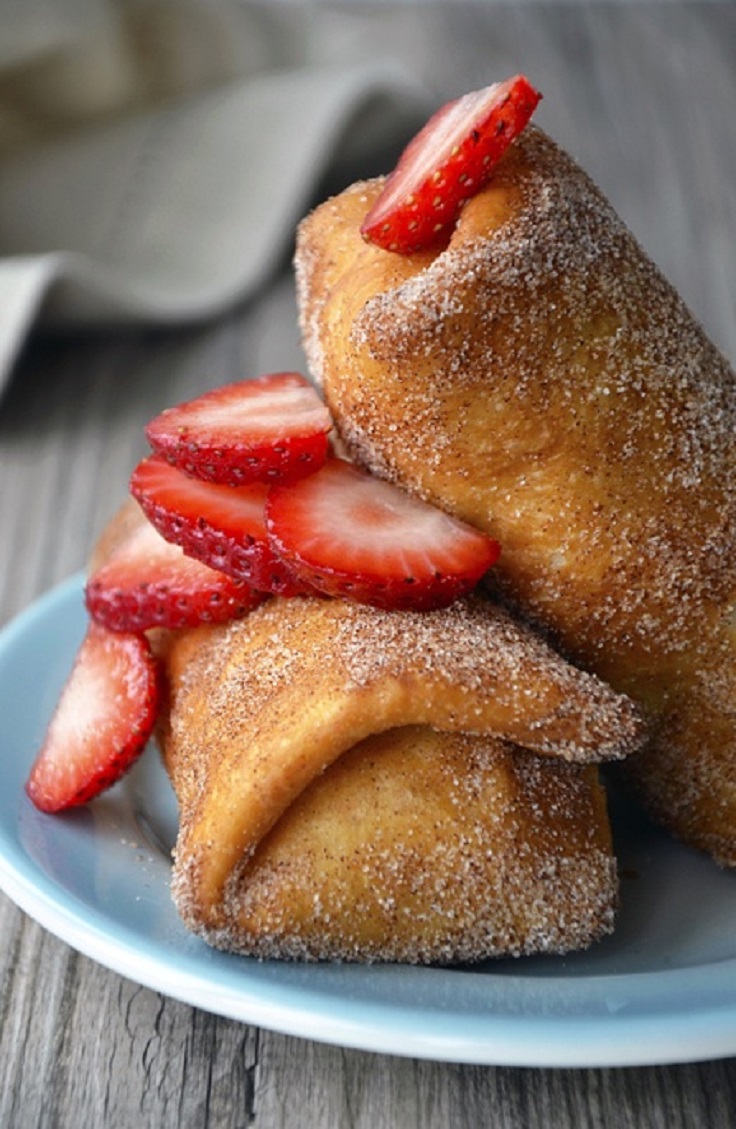 via justataste.com
We're opening our amazing list with a Mexican dessert called Chimichangas which has a mouthwatering taste as a result of a big dose of strawberries in it! This is a vegetarian treat which can be done in less than 15 minutes, so if you're in a hurry on Monday, you can make it without a lot of effort and time!
Mexican Coffee Flan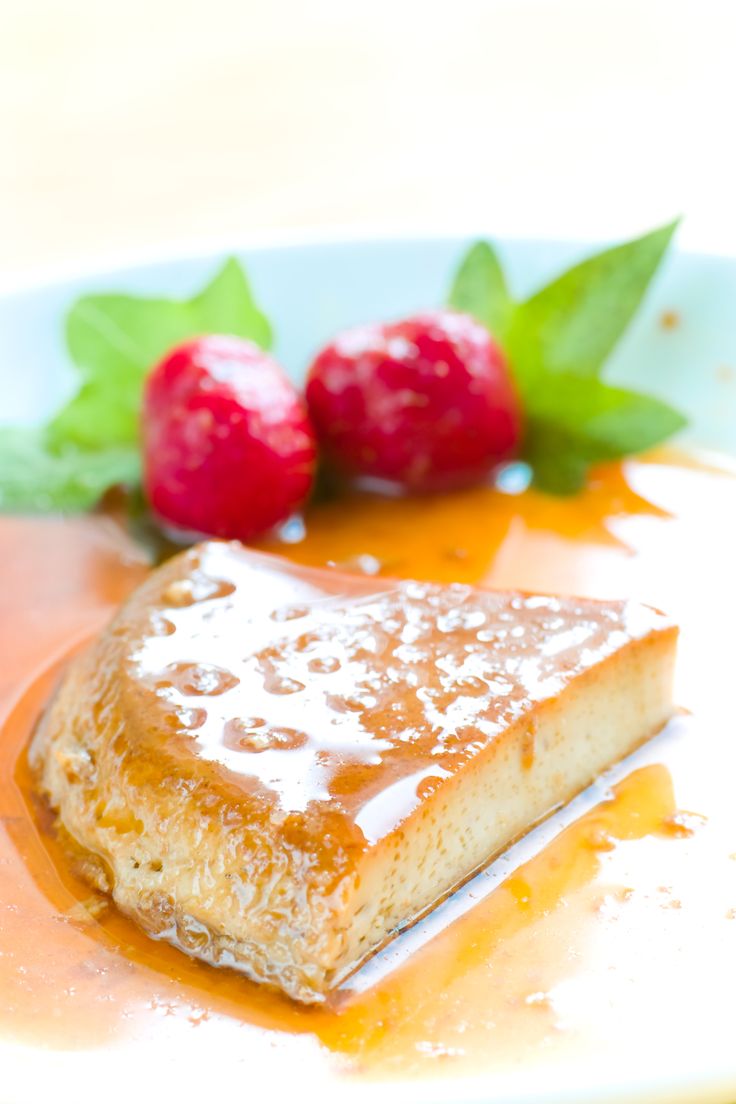 via rytterfalk.com
This is the famous Mexican Flan that's infused with caramel and coffee flavors! It's has a rich and creamy texture that'll warm your soul after you taste it! You can't go wrong with this popular cake!
Homemade Churros with Chocolate Sauce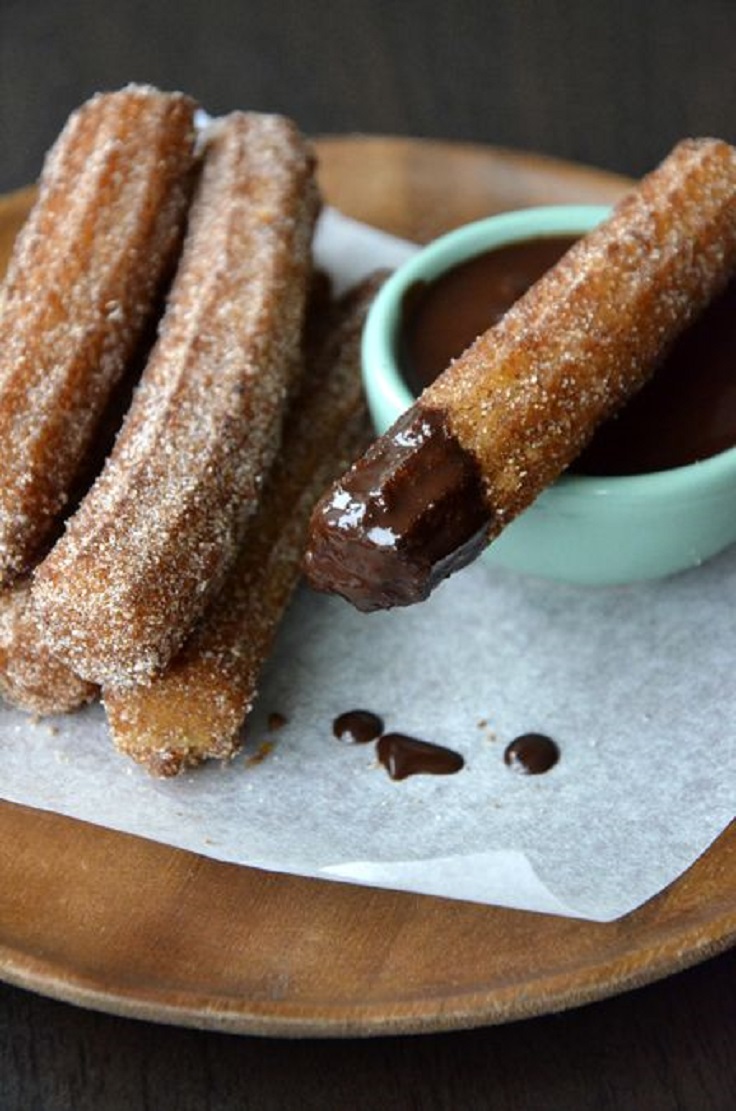 via justataste.com
If you're in a search for a perfect dinner ending, then make Churros and you'll fall in love immediately! This dessert is tasty by itself because it's infused with cinnamon, but when you make the dark chocolate dip the things will get even better!
Strawberry Tres Leche Cake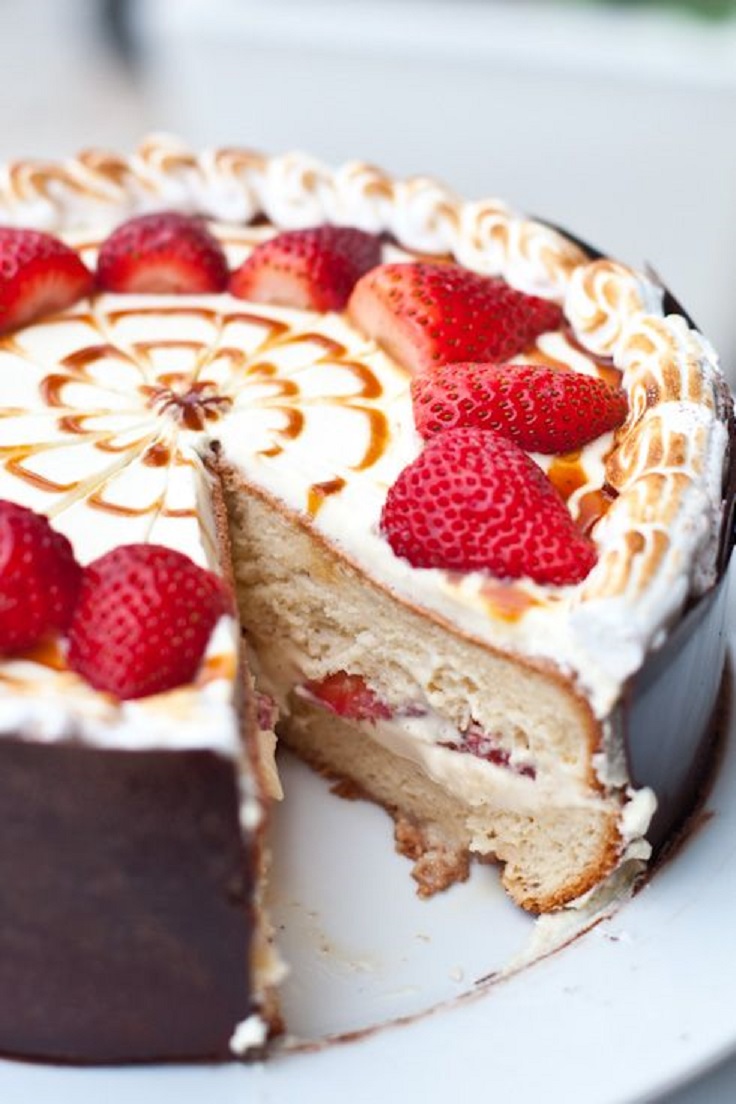 Tres Leche desserts are a big hit around the world and no one can resist on their dangerously delicious taste! The cake from the picture above is even more delicious because it contains a lot of strawberries on the top! The rich taste is something you'll adore the most of all!
Spiced Pear Crumb Bars With Dulce de Leche
Pears are reachable at any time of the year, so you can surely make crumb bars with them for Cinco de Mayo celebration! This recipe maybe sounds and looks as simple one, but trust us, it's absolutely tasty thanks to Dulce de Leche filling. Plus, it's super easy to make!
Pineapple-Banana Crepas de Cajeta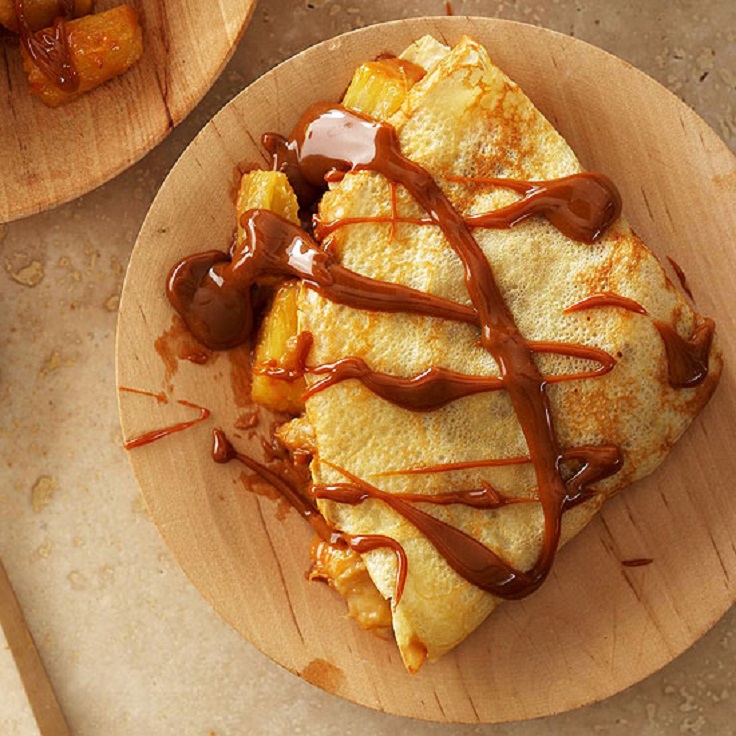 via bhg.com
Crepes are perfect for any occasion, but those that are filled in Mexican style are all you need for Cinco de Mayo celebration! They're stuffed with banana and pineapple inside and are totally easy to prepare, so you can make them every day, for breakfast, dinner or as a filling snack!
Mexican Chocolate Pots de Crème
via foodandwine.com
Finally a gluten free recipe for diabetics! These Mexican Chocolate Pots de Crème have a taste like a real sugar bomb, but not everything is as it looks at the first sight! Prepare them and enjoy in pots without regrets!
Double Mousse Dulce de Leche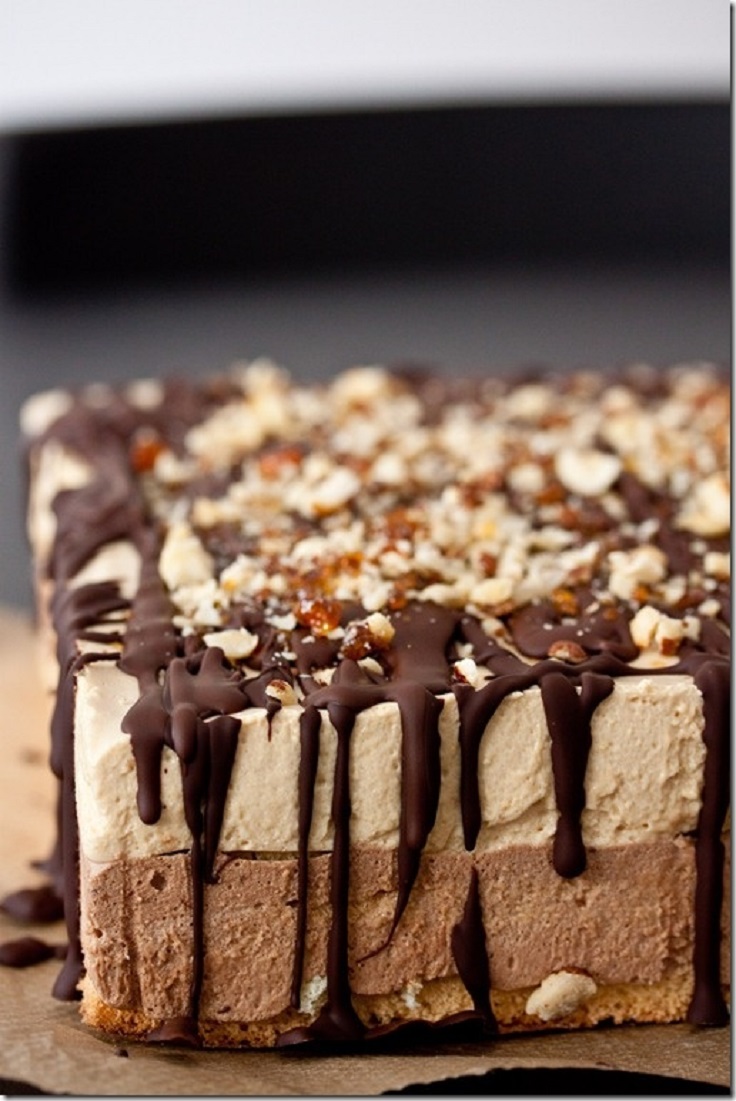 via royal-coconut.blogspot.com
For all Dulce de Leche lovers, here is a one more recipe that'll satisfy your taste and wishes. It's a perfect sweet thing for the big holiday that will be appreciated by guest of all ages, from kids to adults! Follow the instructions and enjoy the compliments!
Salted Caramel Flan with Blackberries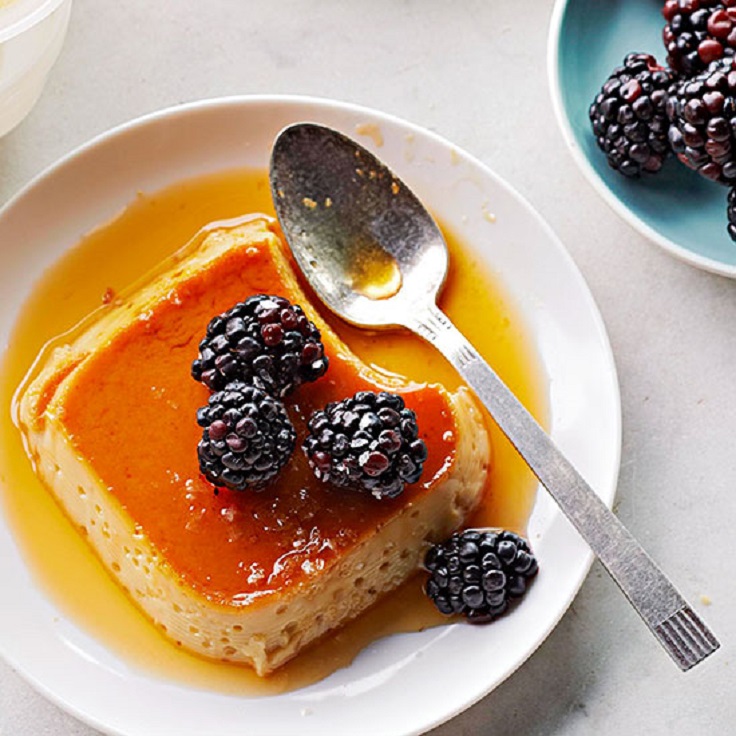 via bhg.com
Who wants a treat packed with blueberries?! Anyone?! We're sure that you all do, so make this Salted Caramel Flan with Blackberries and enjoy! The full recipe with instructions is on the link above the text! Good luck!
Ice Cream Chimichangas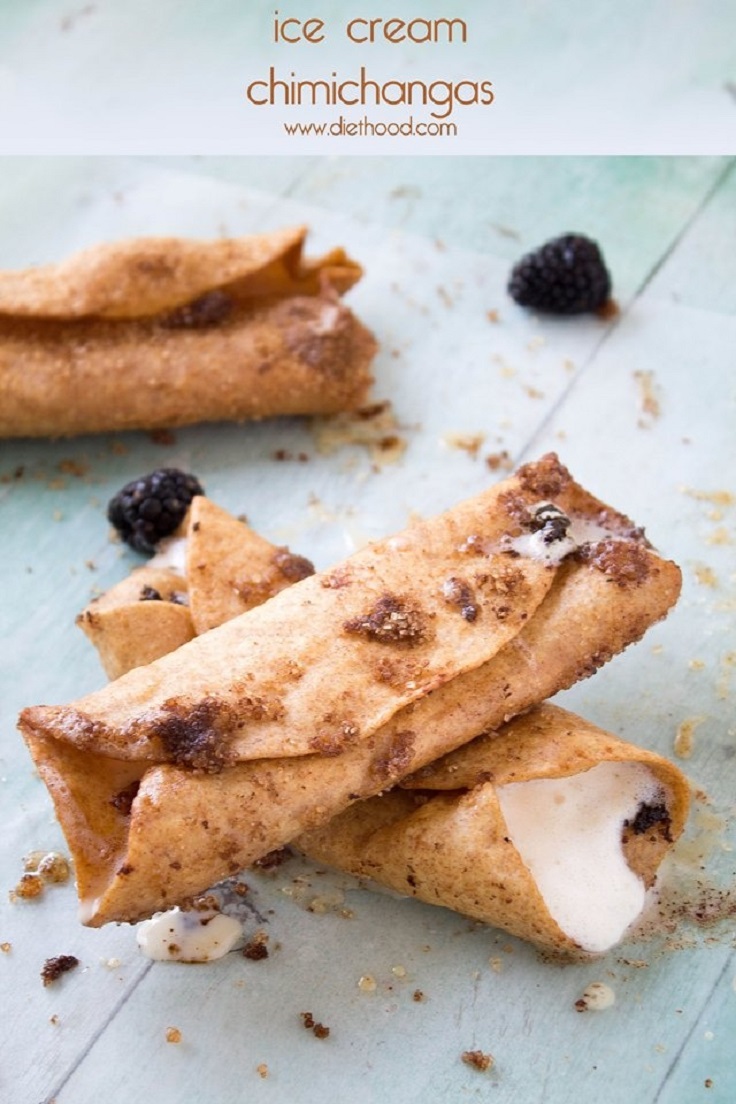 via diethood.com
The big dose of ice-cream in your dessert will come as a relief for the spring holiday – Cinco de Mayo! The tasty Chimichangas are filled with vanilla ice-cream that will refresh you and satisfy your sweet cravings at the same time!