When Easter finally comes around, you just know that you will be up to your necks in hard boiled eggs. Colored, dyed, decorated, whole and broken, will all serve their purpose for the day either as your Easter decorations or for the child-favorite Easter egg hunt. And what will you do with all those eggs that you've put so much effort in? Well, you could eat them if you can or turn them into a lovely fun egg appetizer into the form of a delicious deviled egg. The simplest explanation for a deviled egg is that it's a hard boiled egg stuffed with a cream made from its yolk and mayonnaise. But, with our Top 10 deviled egg recipes, you will turn this simple appetizer into the new favorite Easter crowd-pleaser.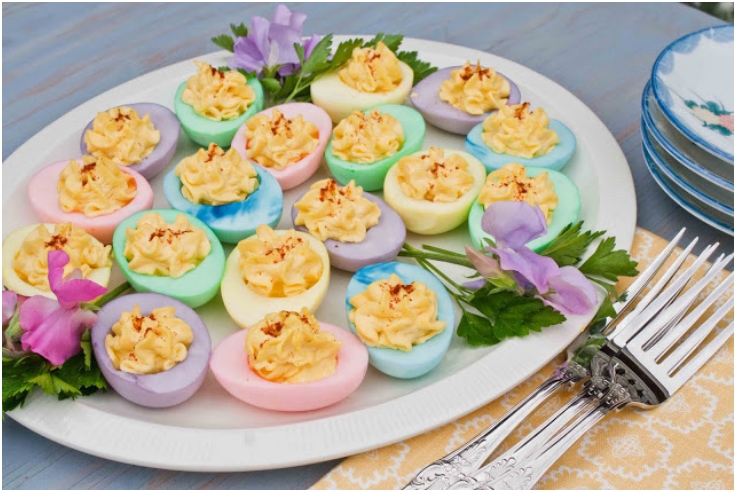 via foodjimoto.com
Let's start with something fun and easy. To make the treat more interesting, instead of changing the egg stuffing, change the egg. You will serve one unique and Easter appropriate finger food by simply coloring the eggs in different colors with food dye.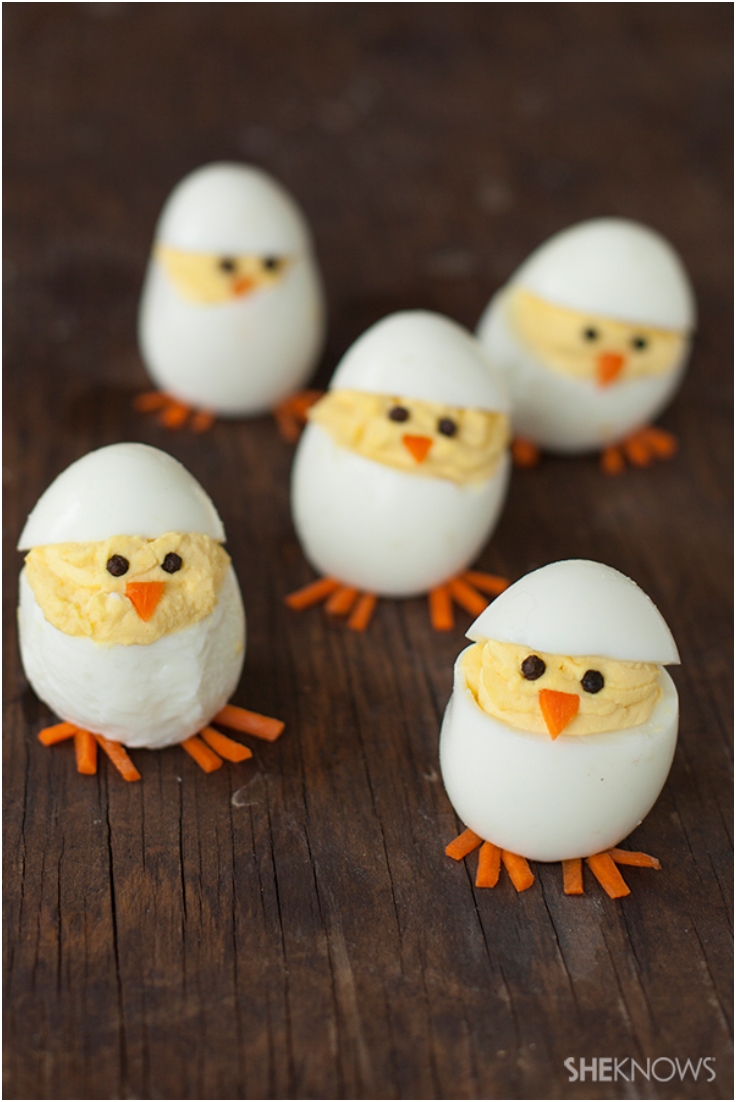 via sheknows.com
If you have a bit ore time on your hands and you want to play with your food, try this adorable tutorial on how make it look like little chicks are hatching from your eggs. The stuffing used here is also a classic one, but feel free to use some of the others that we are about to mention.
Yogurt, Herb, & Pepper Deviled Eggs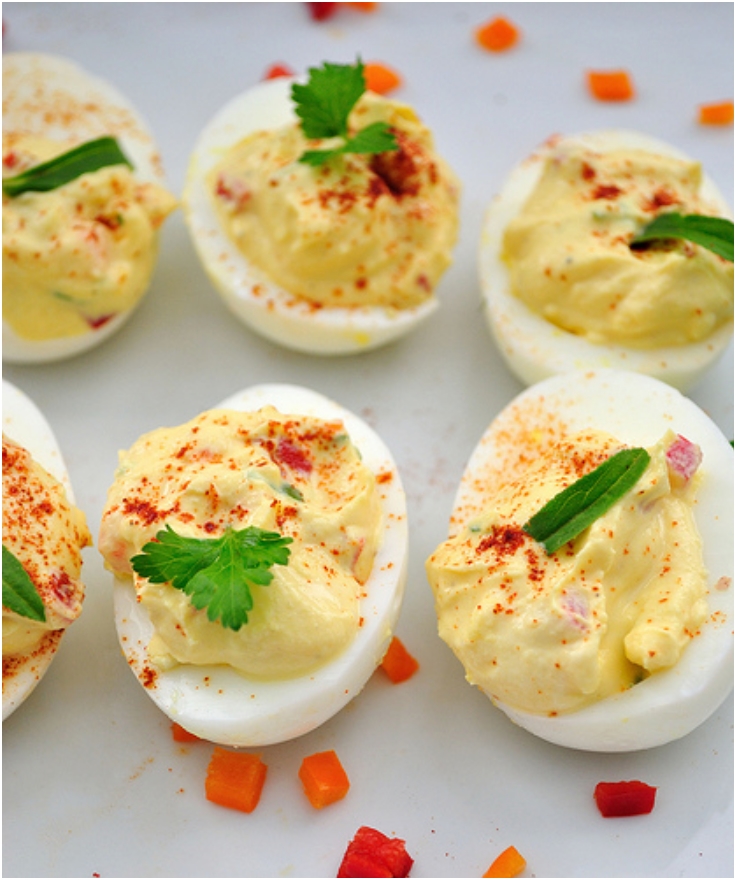 via gabbysgfree.com
Making something with mayonnaise when the weather is warm can sometimes be tricky, so sometimes you might want to use an alternative, like with this lighter version where you use yogurt to mix the yolk. The spices simply add the taste of the snack.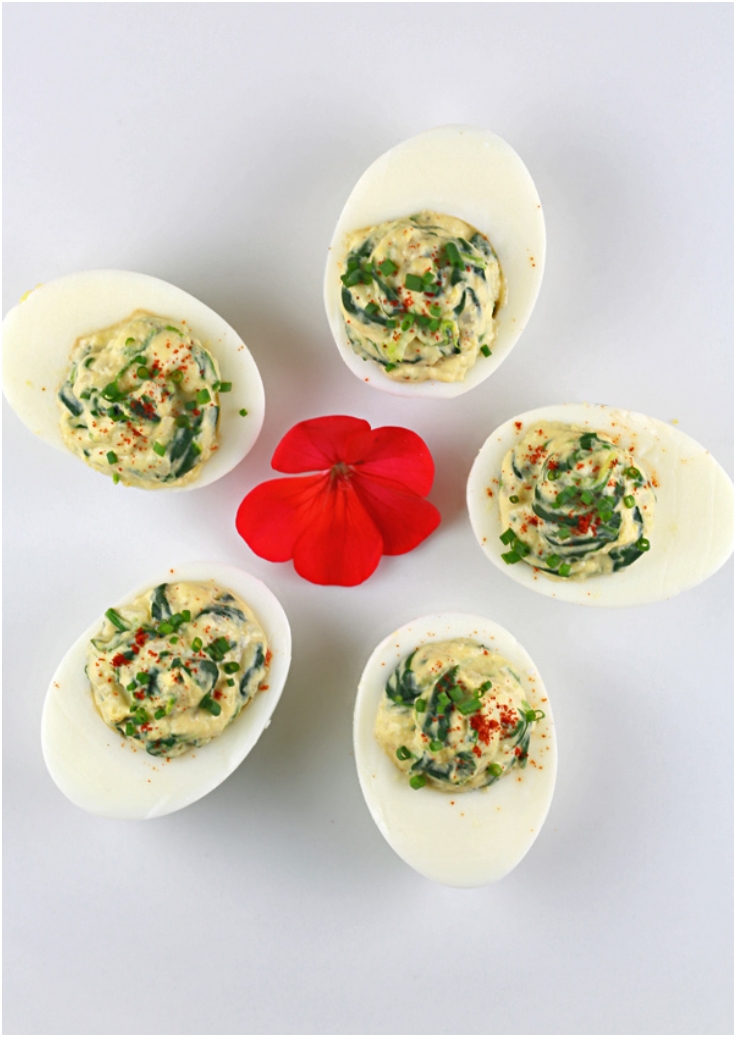 via jessicagavin.com 
With all the Easter day madness, it is a perfect time to sneak in a perfectly healthy snack to the youngest members of the family. By adding spinach and artichoke to the mix you will get one delicious and nutritious appetizer that everyone will love.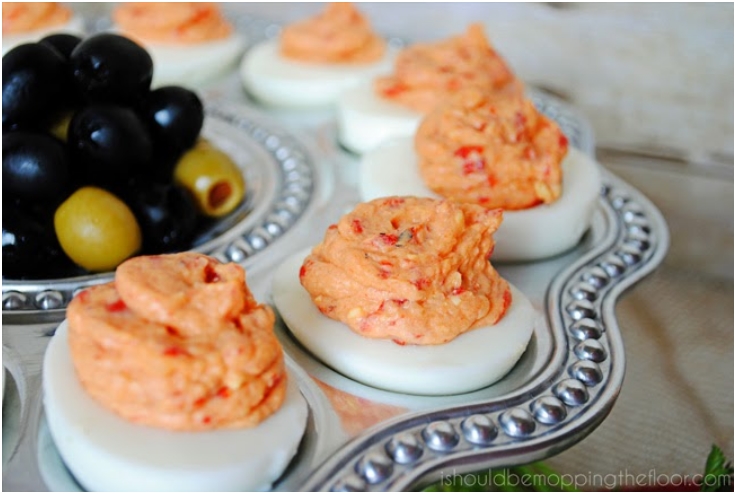 via ishouldbemoppingthefloor.com
Give your dull classic deviled eggs a spin with a southern taste. Just mix some cedar cheese, Worcestershire sauce and some red peppers with the yolks and you will wonder why you didn't try it before.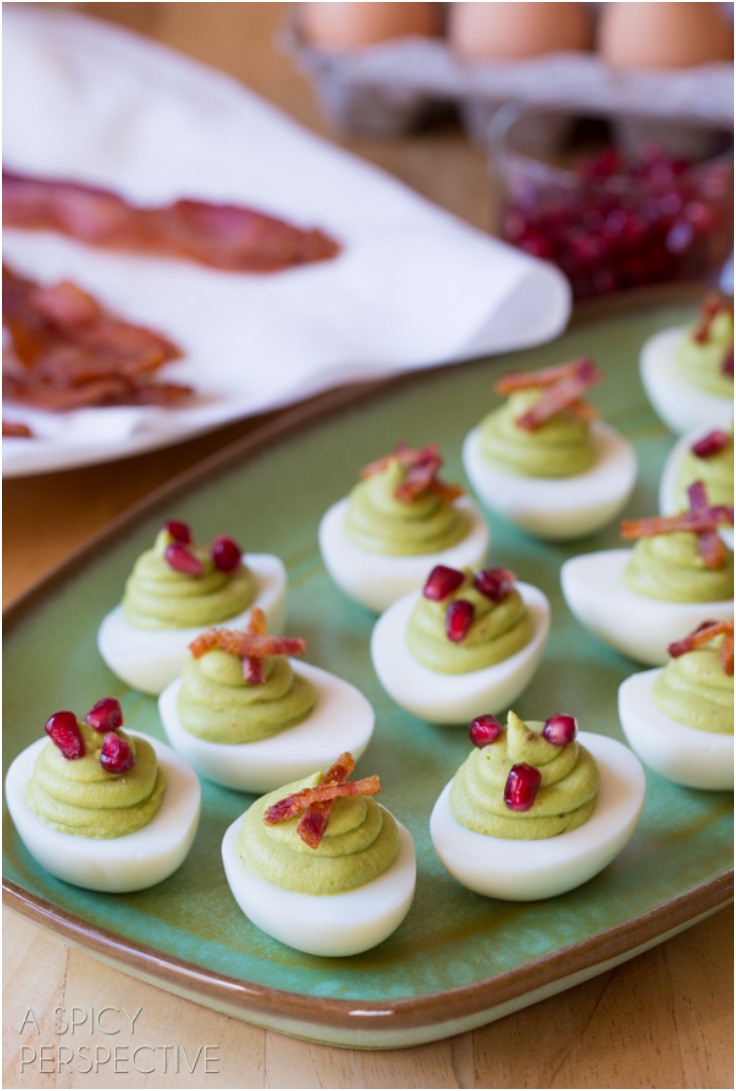 Filling the eggs with avocado puree instead of the yolk mixture may seem like a strange flavor combination, but just think of that spicy guacamole taste and you'll realize that it won't be so bad after all. And if that isn't appealing enough, the pieces of bacon will certainly do the trick.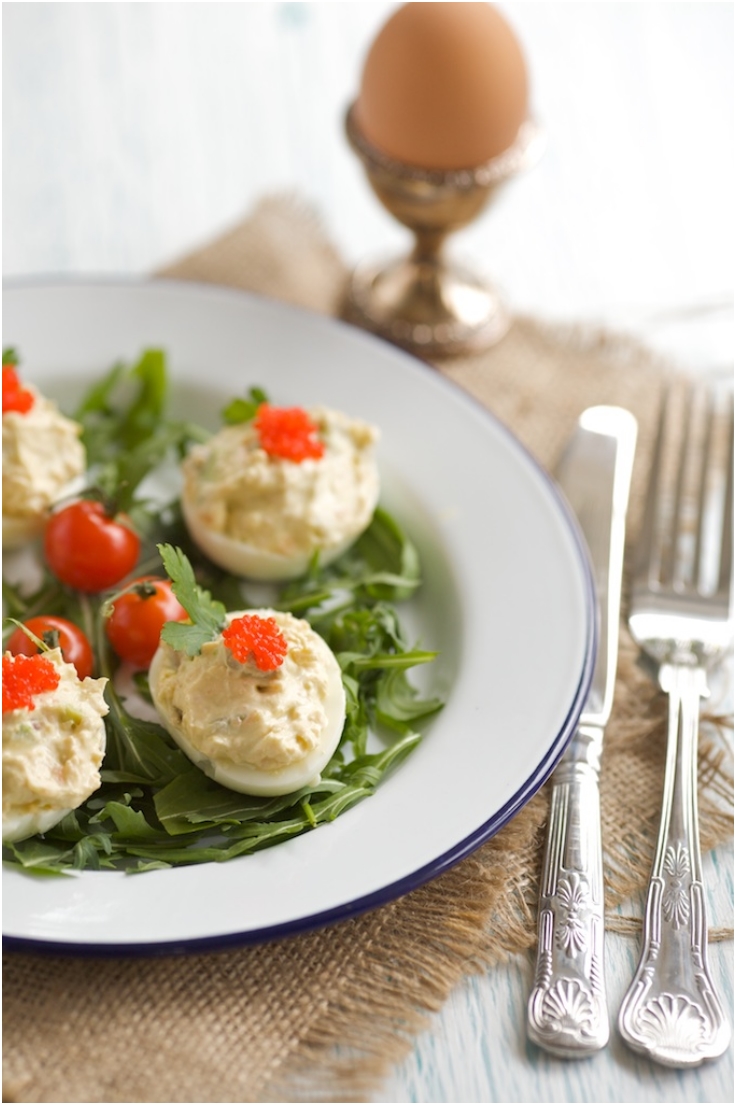 Perhaps you think that deviled eggs are simply not fancy enough for what you've planned for Easter. Well, you could still serve them at a fancy party if you fill them with this amazing and flavor balanced smoked salmon cream. The fish eggs topping completes the classy look you're looking for.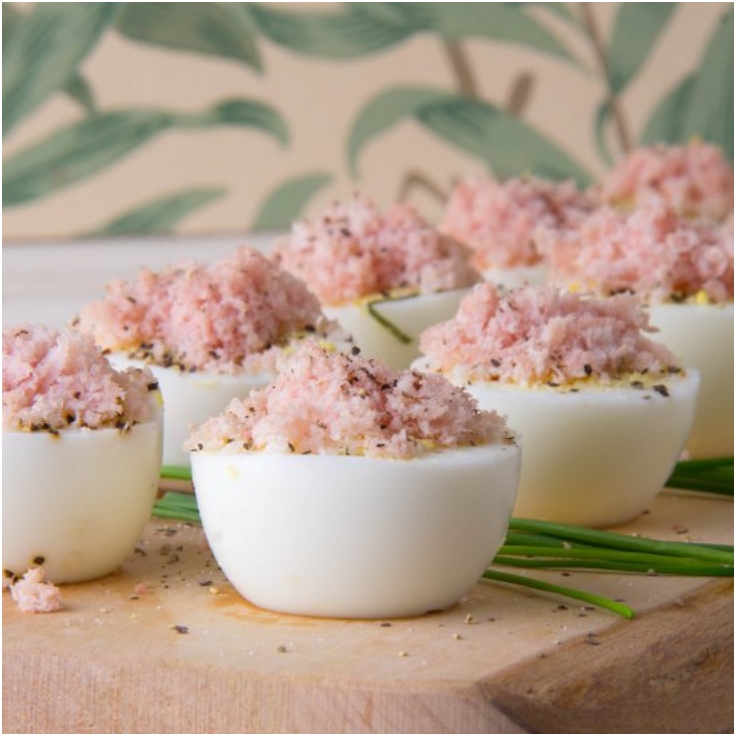 Here is a delicious way to use up those small leftover pieces of ham; freeze it, grate it and stuff it in eggs. And there you have it, a tasty appetizer or a bite-size breakfast of ham and eggs.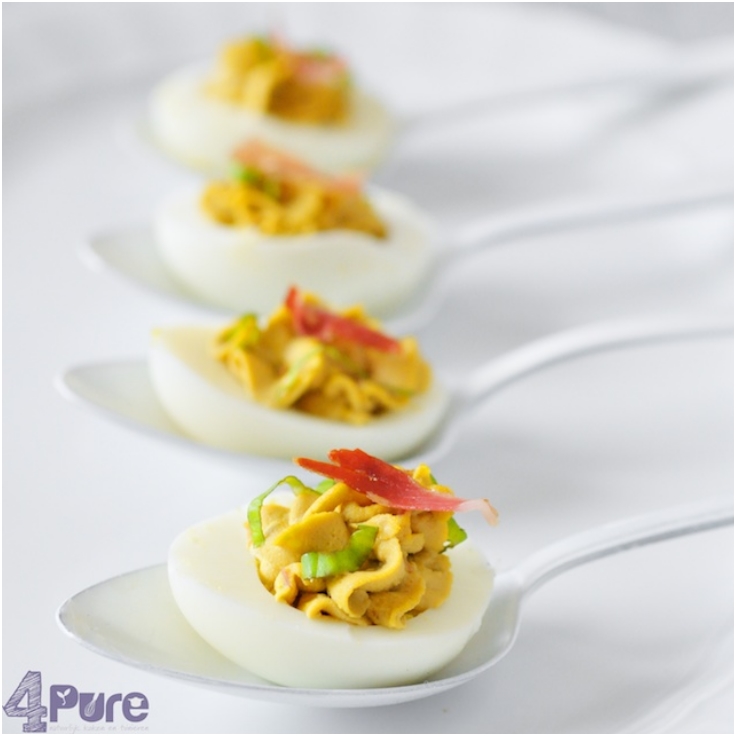 via 4pure.nl 
When you have a lot of guests you can't hope to satisfy everyone's taste, but you could make an appetizer that most of them will love, and the safest bet is with Italian cuisine. Give your deviled eggs and Italian taste by using pancetta and balsamic creme.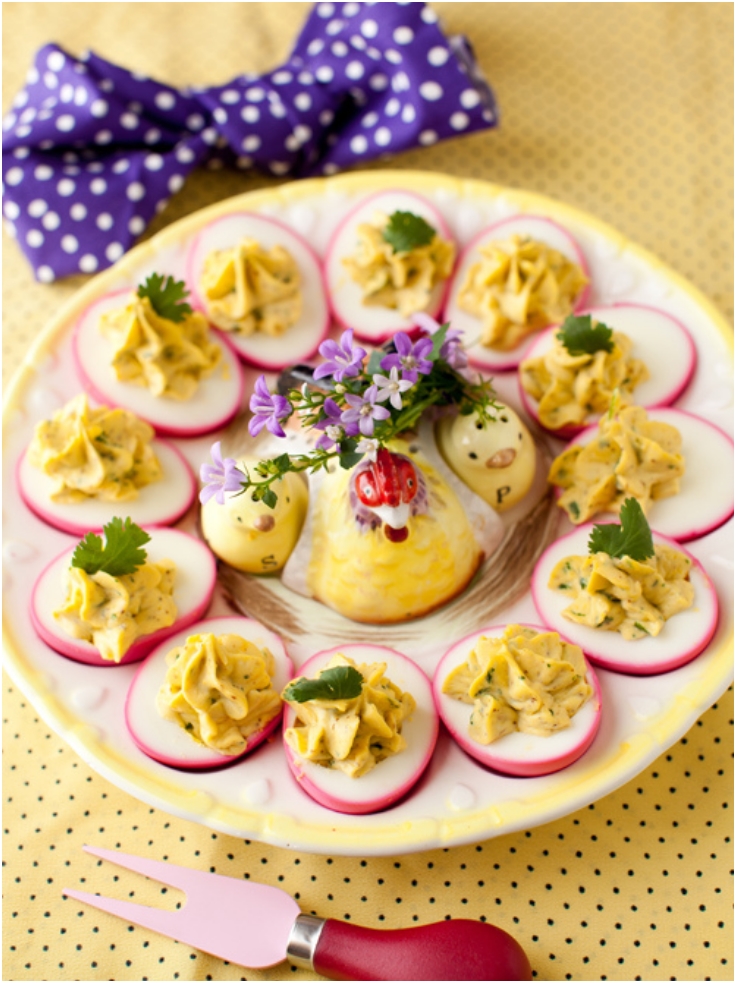 via melangery.com
The most traditional color for Easter eggs is red. With deviled eggs, the closest thing you can hope to get is pink eggs and the best way to do that is wit beet. So, for our last deviled eggs recipe, we suggest the pickled beet eggs with simple tasty creme. Happy Easter.
SaveSave