Planters can make an excellent decor in any room. Most of the time we think about regular pots as planters, but the truth is that with just a little bit of effort and creativity, you can come up with planters that everyone would ask you where did you get them from!
There are plenty of ways that you can decorate a planter and we're showing you ten amazing DIY ideas for indoor planters. They're all easy, budget – friendly and fun projects that can easily be transformed into a gift!
1. Fabric Basket Planter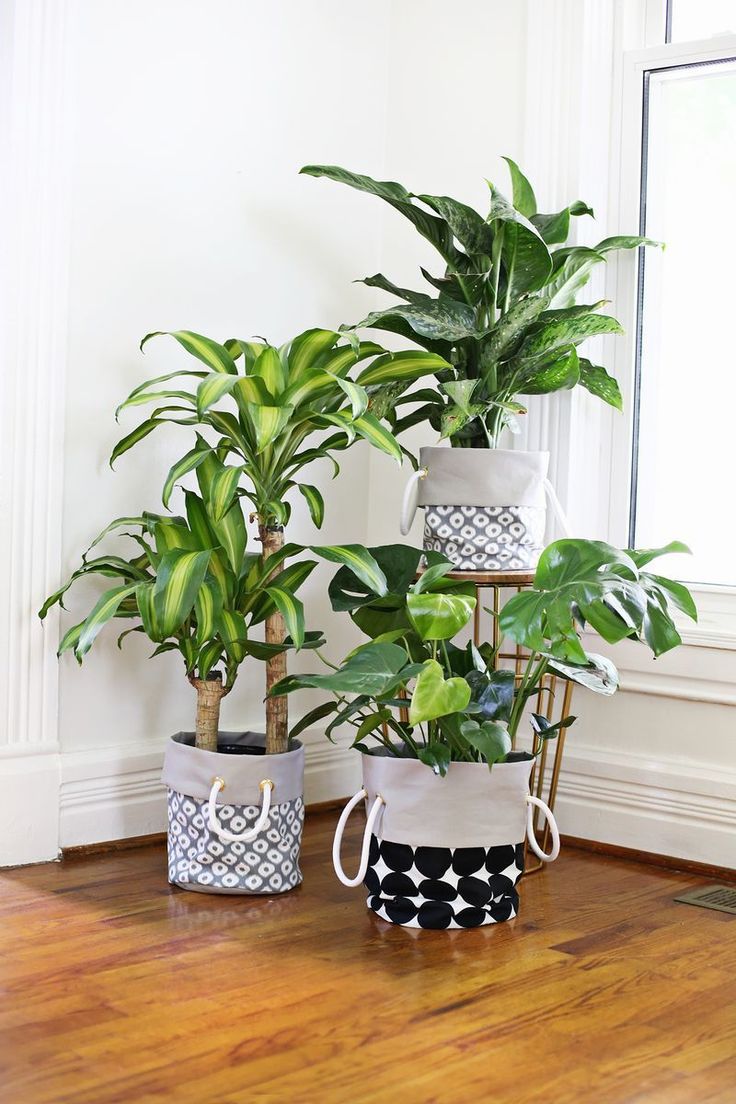 via abeautifulmess.com
Fabric comes in different kinds of patterns, colors, shapes, so the choice you have is endless. This project is ideal for big plants and as you can see – this kind of planter decoration looks amazing! For this project, you need fabric scissors, 2 twill fabrics patterns, plastic liner, rope, extra large eyelet kit, hammer and waterproofing spray – the last one isn't mandatory.
2. Cement Indoor Planters
via shelterness.com
You've heard about DIY projects with mason jars, fabric, stickers, colorful paper, but have you ever really thought about using cement? This might sounds weird to you or as it is something hard to do, but it's an easy project that will get you unique and minimalist planters. You need  several tupperware containers (the size and shape depend on you), 1 tub Sakrete Fast Setting Cement Patcher (or similar), a measuring cup, and an old knife.
3. Painted Terracotta Pots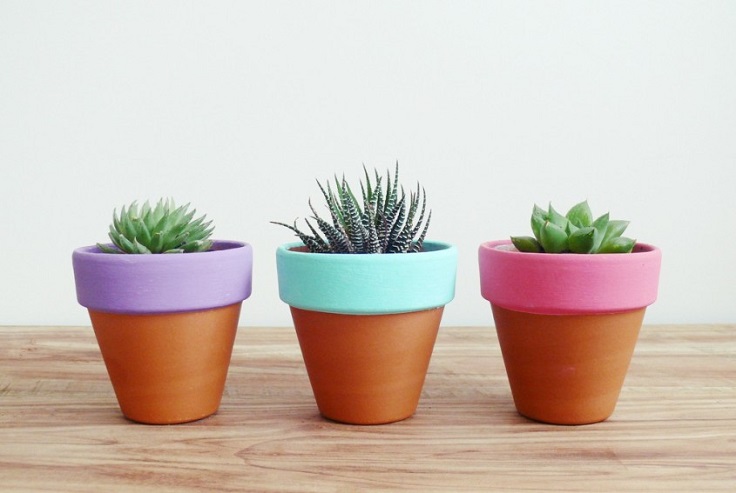 via and-other-things.com
Aren't these perfectly painted pots the thing we all need for our home? They look so adorable that it makes us want to plant some flowers right away! This is also very easy and budget – friendly DIY project, as all you need is just a number of terracotta pots and paint in different color. You can also use gesso to prevent color soaking and masking tape to ensure clean finish.
4. Copper Tin Can Planters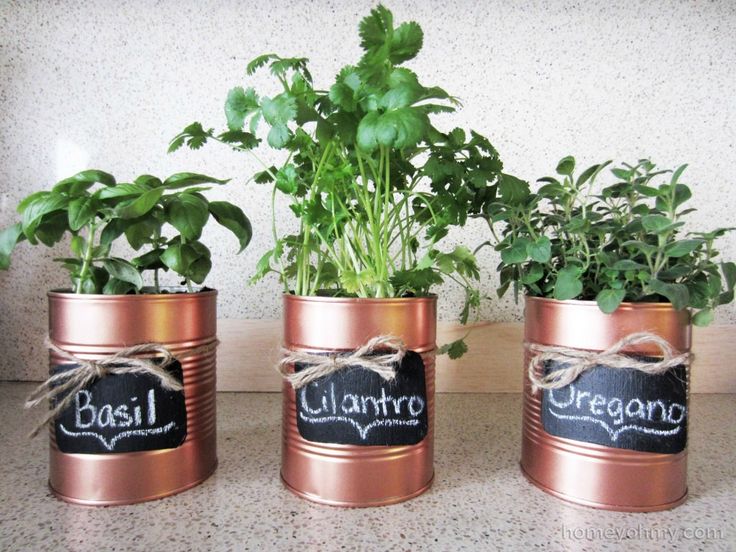 via homeyohmy.com
The trick behind this project is to find a copper spray paint – the rest of the materials you need are easy to find. Use your old tin cans, but make sure to remove any tags or dirt to ensure smooth painting. Next what makes these planters so irresistible are the wood chalkboard tags. You can either make this yourself or get a store – bought version. You can draw something or just write down the name of the plants!
5. Mini Spring Succulent Planters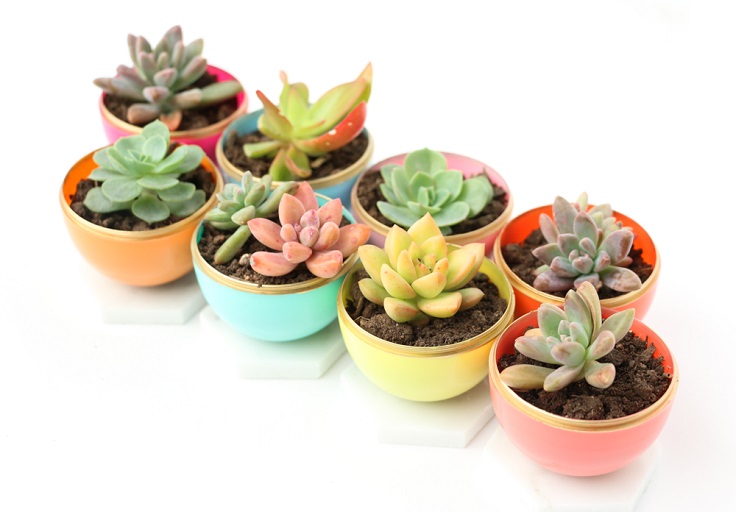 via akailochiclife.com
Aren't these tiny planters the cutest thing ever? They're ideal for succulents or other smaller plants, and if you paint them in different colors they can bring such vibrant, joyful vibes in your home! To make this project at home, you need Marble hexagon tile, colorful large plastic Easter eggs, gold leaf pen and hot glue. Last, and most interesting, pick your favorite succulents!
6. Sharpie Planters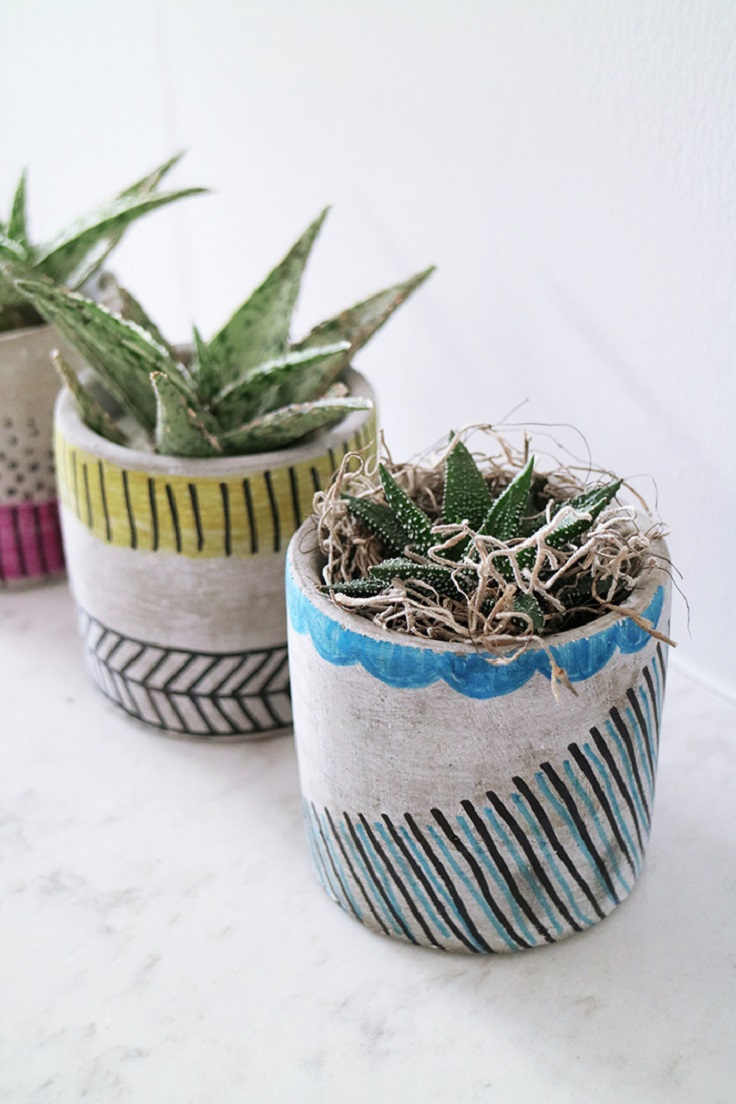 via mylittlesecrets.ca
Drawing and painting with sharpies has never been so fun! First you need to choose what type of planter you're going to get – ceramic, porcelain or cement work all fine. Next, get your sharpie in various colors and washi tape – you're going to need this to help you draw the outlines of the shapes you want the planters to have. Set them aside to dry and then focus on planting.
7. Concrete and Gold DIY Plant Pots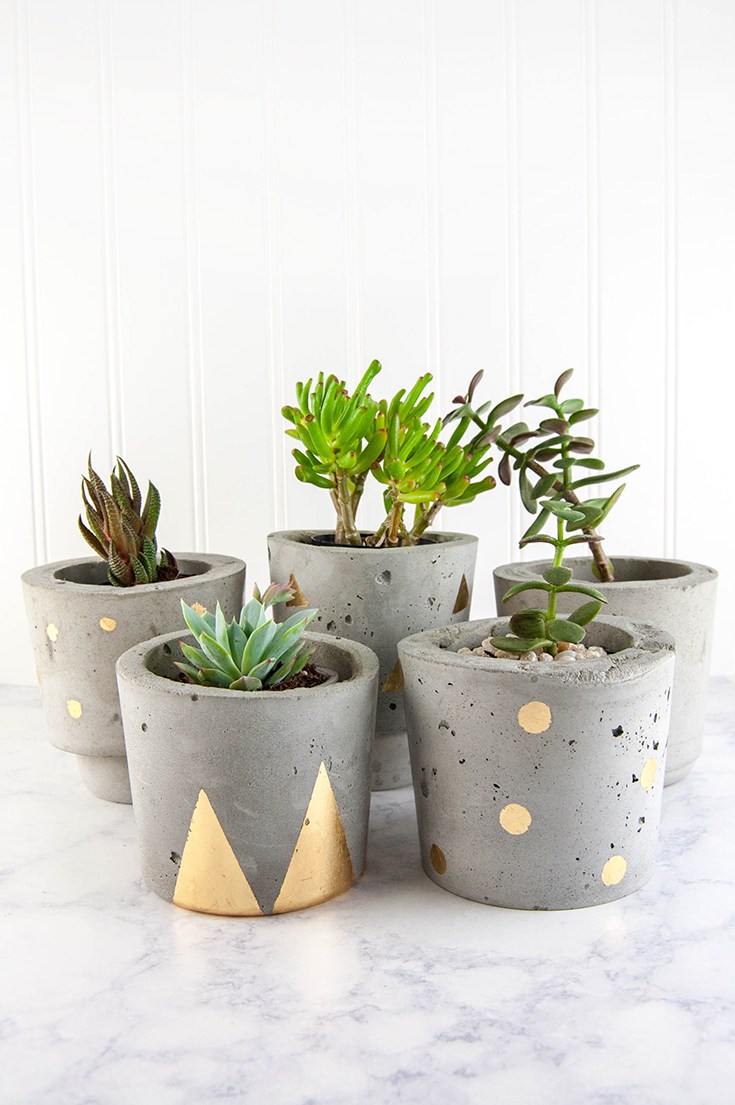 via diyinpdx.com
If you thought that plain cement planters are just too plain for you, here's how you can change that. Use a gold leaf kit to decorate the planter! It's very simple and it leaves you with lots of option, as you are the one deciding what kind of shape goes where. You can also make your own cement planters, or get some from the local craft store.
8. Wall Wire Planter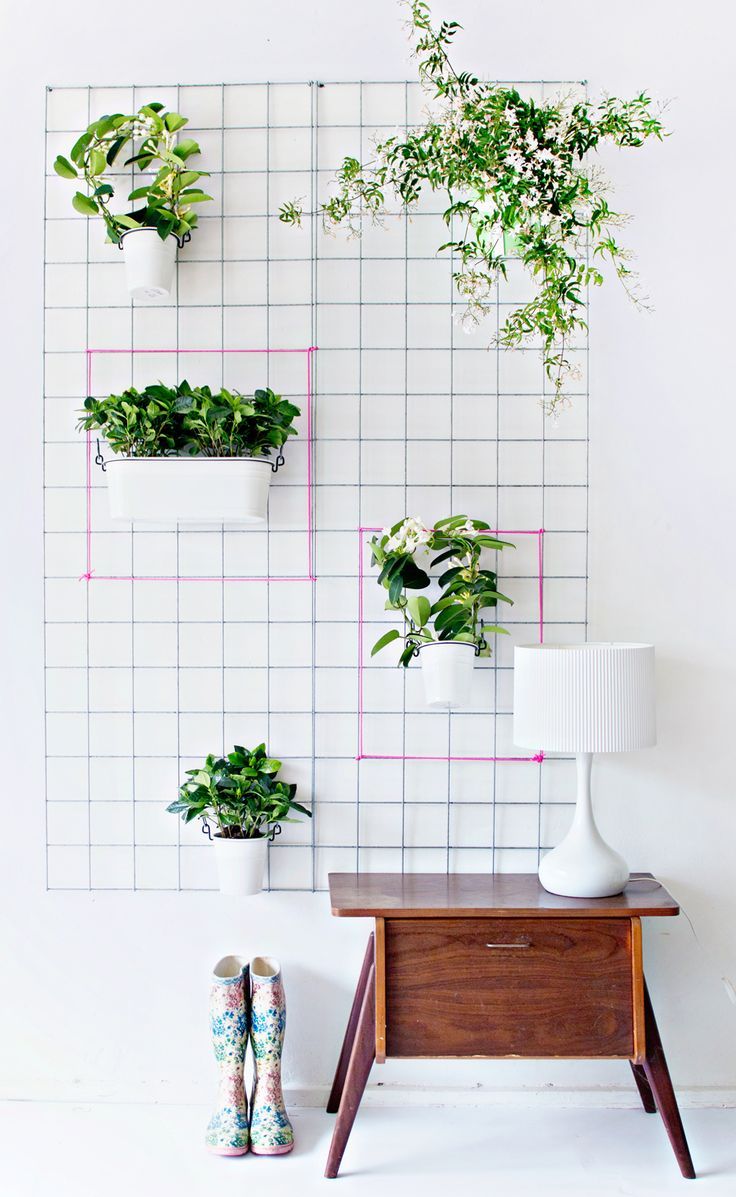 via lanaredstudio.com
Decorating planters that includes drawing, painting or any kind of crafting isn't what you're looking for? Well, in that case you can try decorating your room still with planters, but not the typical, crafty DIY style. For this project, you will need a steel mesh, hanging pots and hooks. You can also use neon colored rope for better decoration.
9. Painted Planter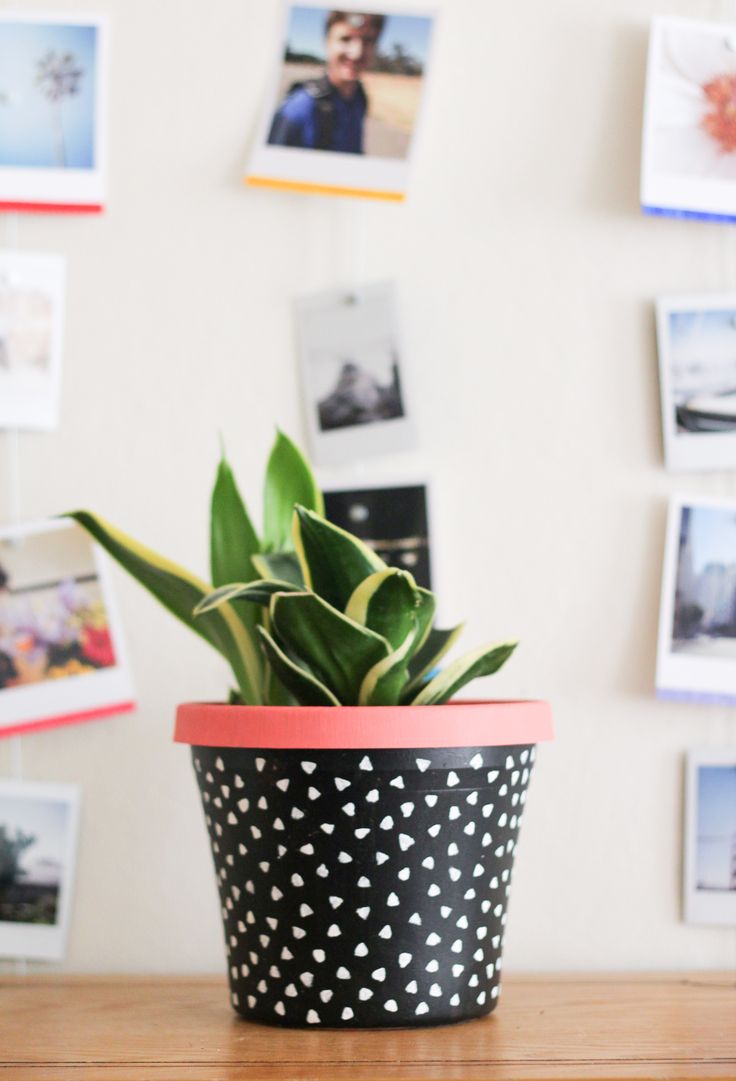 via thecraftedlife.com
This one is for those you who'd like something that will awaken the artist inside you! Make sure you have the right paint you want and brush, so you can paint out whatever you'd like. It's very simple and easy to create, yet it will make such a beautiful change in your home. Make sure to seal it after you're done with the painting.
10. Fabric Pots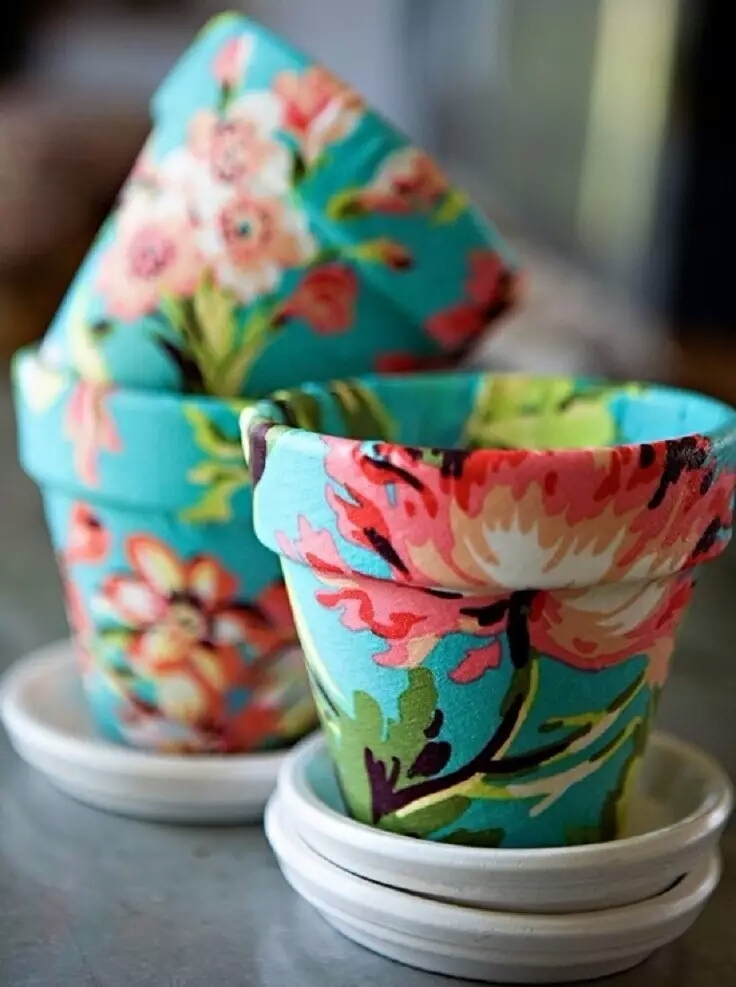 via inmyownstyle.com
Last, but not least, we're back at the fabric. However, this time instead of fabric baskets, you're going to attach the fabric all over the pot. Just pick your favorite craft fabric and use Mod Podge. The magic lies in the fabric, so you can play a lot with it. Just take a look at how this floral pattern is so nice!
SaveSave