Tassels are such an amazing finishing decoration to many projects. They can even be turned into a necklace or earrings! There is so much that you can do with tassels and you will be surprised how good can these projects turn out.
Our article is going to show you ten great ideas with tassel decorating that you can DIY. They are easy and won't occupy much of your time, but for some you may need advanced skills in DIY or maybe sewing skills. We definitely encourage you to scroll along and see how much you can do with tassels!
1. Tassel Seagrass Basket
via diys.com
Having indoor plants can make your home look really nice! Placing them in a basket can make it even more charming, but you should seriously consider upgrading the decoration. Here's how you can do it with tassels: besides the basket and the tassels, you'll need big-eyed needle, cardboard pieces and paper clips. You can use store – bought tassels or make your own with yard. Choosing tassels in two or more colors can make the basket look more catchy.
2. Rebecca Minkoff Inspired Tassel Handbag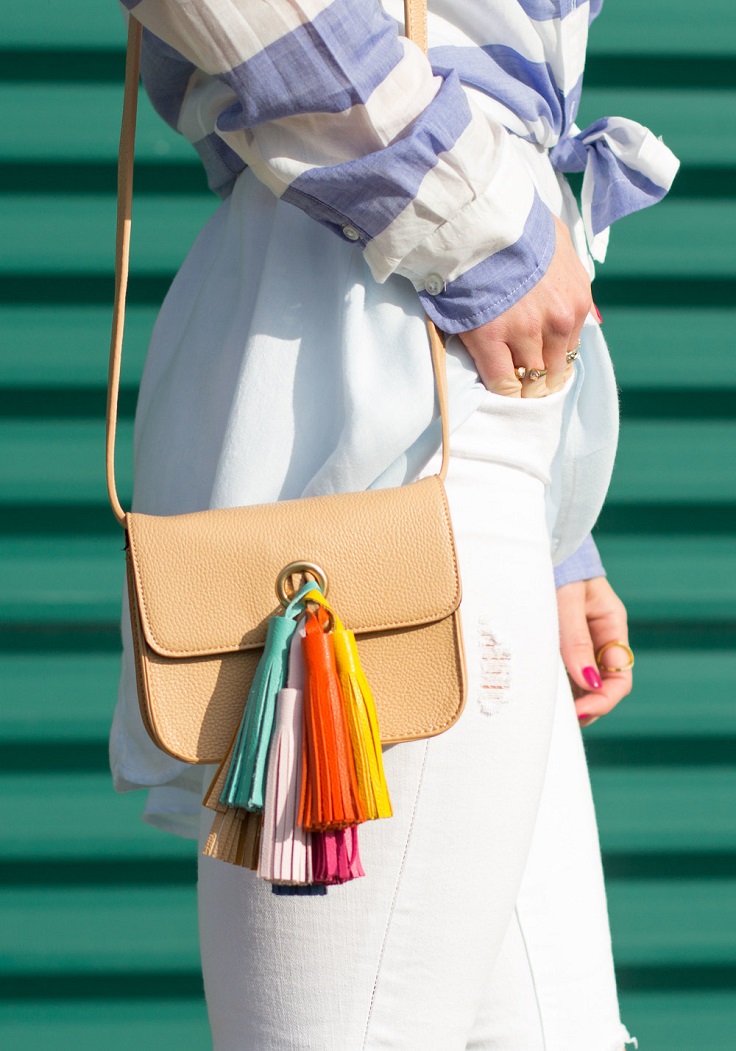 via me-and-mrjones.com
We understand if you can't afford designer pieces, but instead of feeling sad because of that, know that you have an alternative to that! It's look so good that nobody will even believe it was a DIY project in fact. To make your own Rebecca Minkoff inspired handbag, first of all you need a bag where you can attach tassels, next you need are leather samples in more colors or just buy tassels, sharp scissors, fabric and leather adhesive, cutting mat, rotary cutter and transparent ruler. What you'll get is one very stylish bag, that you can even wrap it and give to someone as gift.
3. Moscow Mule Mug Tassels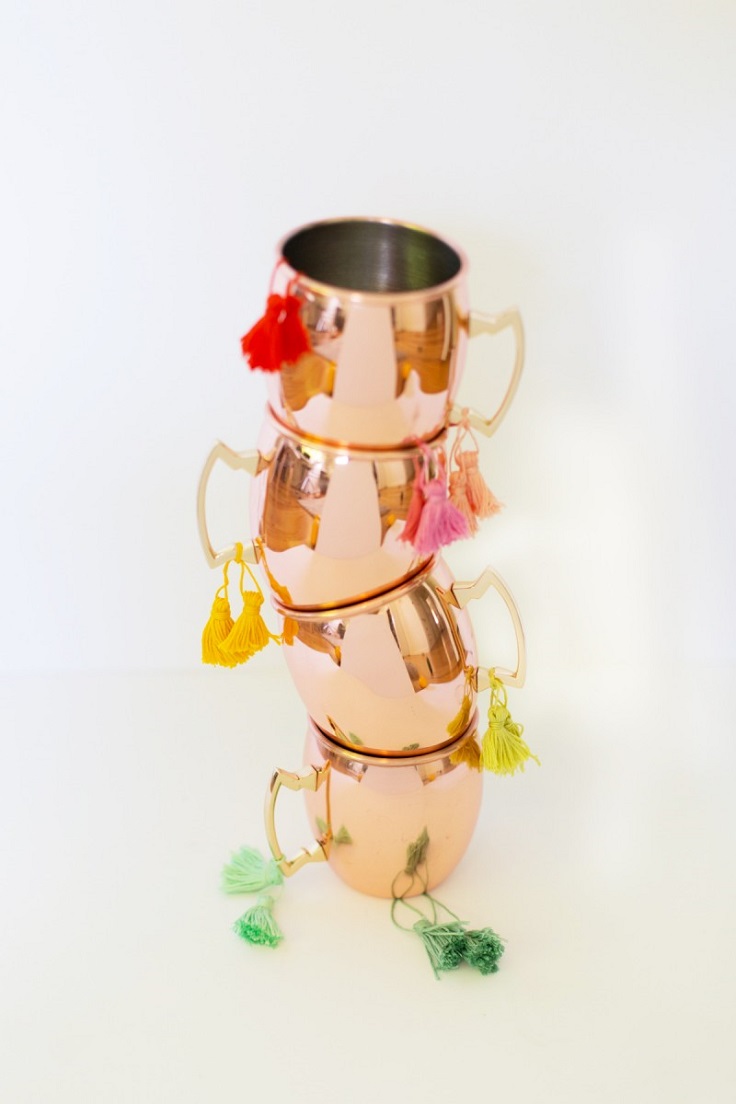 via lovelyindeed.com
Hey, tassels can make everything prettier, even an ordinary mug. Many people don't see the glasses and mugs as something that can be decorated, but even this little detail can make a difference. There is no way that your guest wouldn't notice the tassels and think of them as something creative! To make your own tassel decoration, you just need embroidery thread, scissors and scrap cardboard. You will first need to make the tassels and tie them together, and then tie each tassel to a mug.
4. Mexican – Inspired Tassel Table Cloth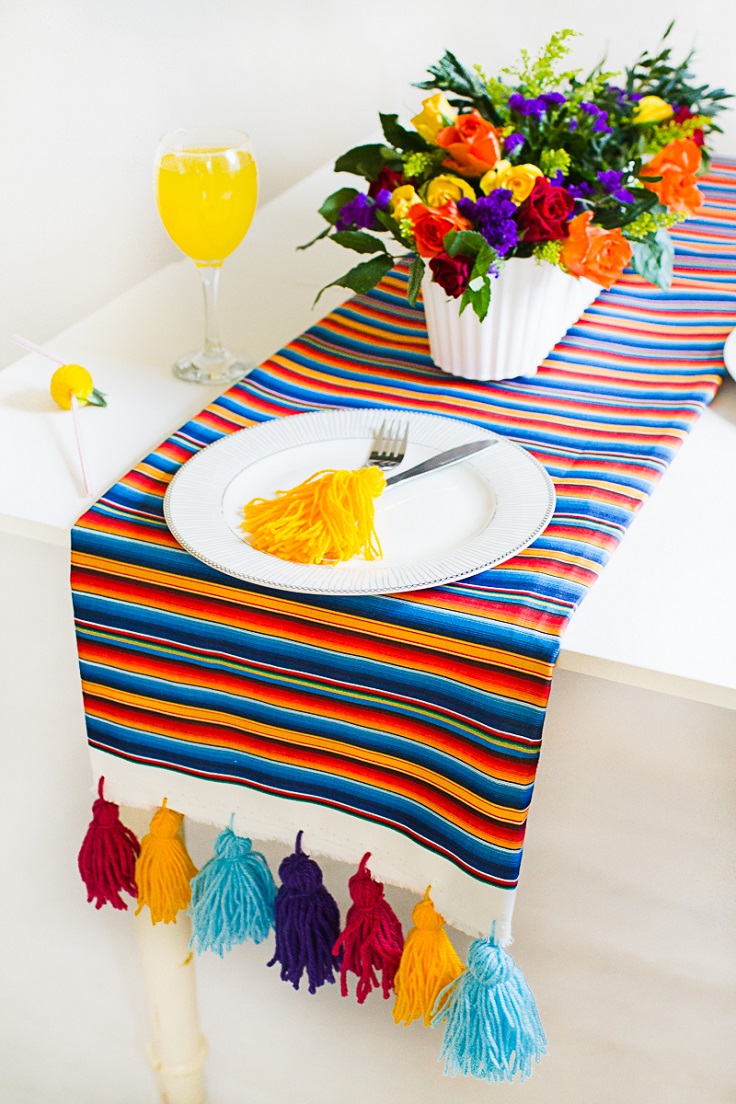 via blog.zazzle.com
Bringing some bold and colorful detail can make a huge difference in your home. It doesn't have to be something big and expensive, in fact it can be something very simple like a table cloth. When it comes to designs, here we have Mexican – inspired. The colors are going to color every dull room. To make your own table cloth like this one, you need wool, a sturdy piece of cardboard (cut to the size you would like your tassels; the larger the surface area the larger the tassel), scissors and a table runner.
5. Chic Tassel Necklace
via stylebee.ca
Doing your own jewelry can be really fun and it leaves you with so many options. But, the best part is that you can create the necklace exactly the way you like it to be and not spend hundreds of dollars on it. Tassels don't need to be just included in the home decor when they can be a nice detail to a necklace. If you like the one on the picture, you'll need few materials and tools to make your own: hemp cording (cut to 19″), crochet thread, copper coupling tube, crimp beads, lobster clasp, circle rings, small elastics, glasses case, scissors, needle nose pliers and scotch tape.
6. Cozy Tassel Blanket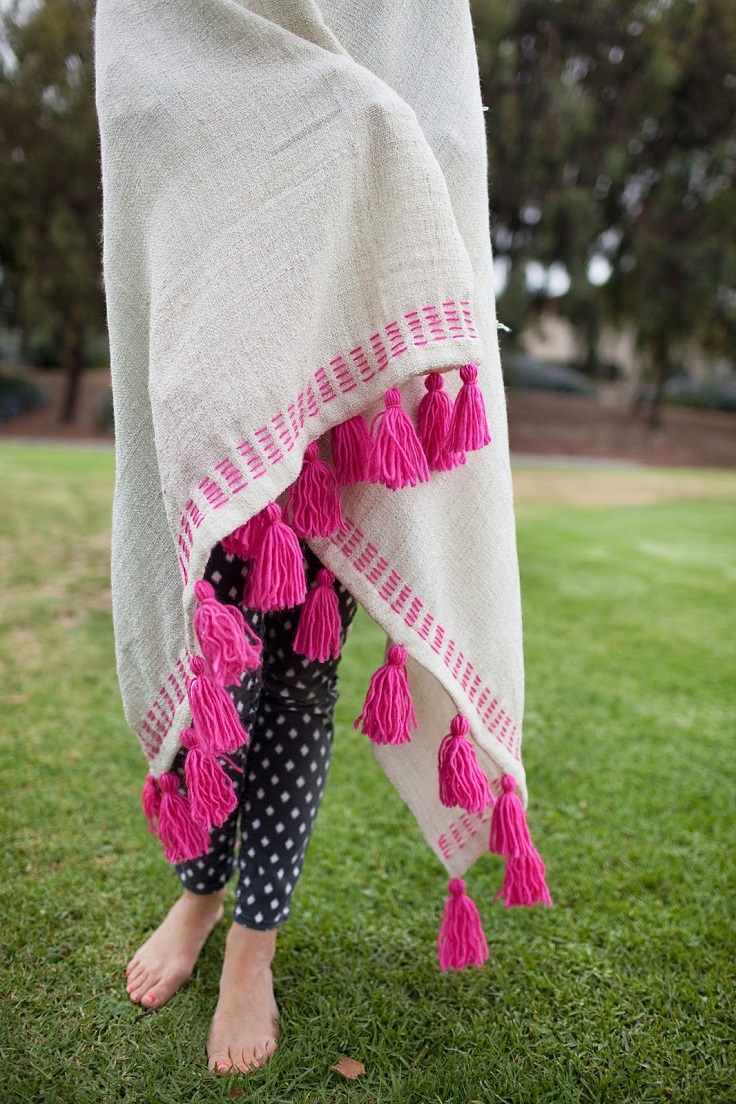 via tellloveandparty.com
Blankets are the ultimate definition of coziness. No matter if we use them at home or as our picnic blanket, they certainly have the power to make us feel and comfortable at the moment. If you would like to attach tassels to your blanket, here is a way to do that. Besides the blanket, you will need yarn, tapestry needle, regular needle and thread matching the color of the blanket and sewing machine. For this you will need to have basic sewing skills.
7. Children's Tassel Wall Decor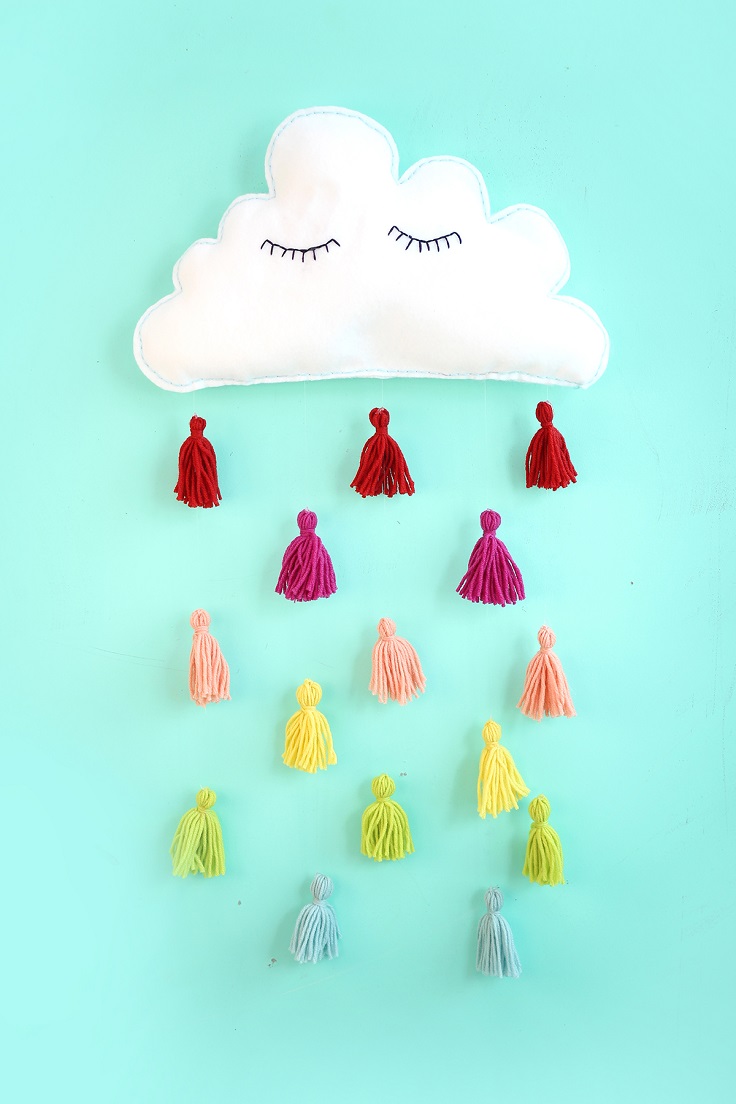 via damasklove.com
This is really one of the most wonderful DIY projects that you can do for your children. The colorful tassel drops are simply amazing! This project is really creative and amazing. If you would like to have the same one for your children's room, here's what you need: a pile of yarn in a rainbow of colors, white felt, pillow stuffing, embroidery floss in light blue and black, needles, scissors, a pencil, a large cloud shape cut from posterboard and a clear jewelry wire.
8. Ombre Tassel Pillow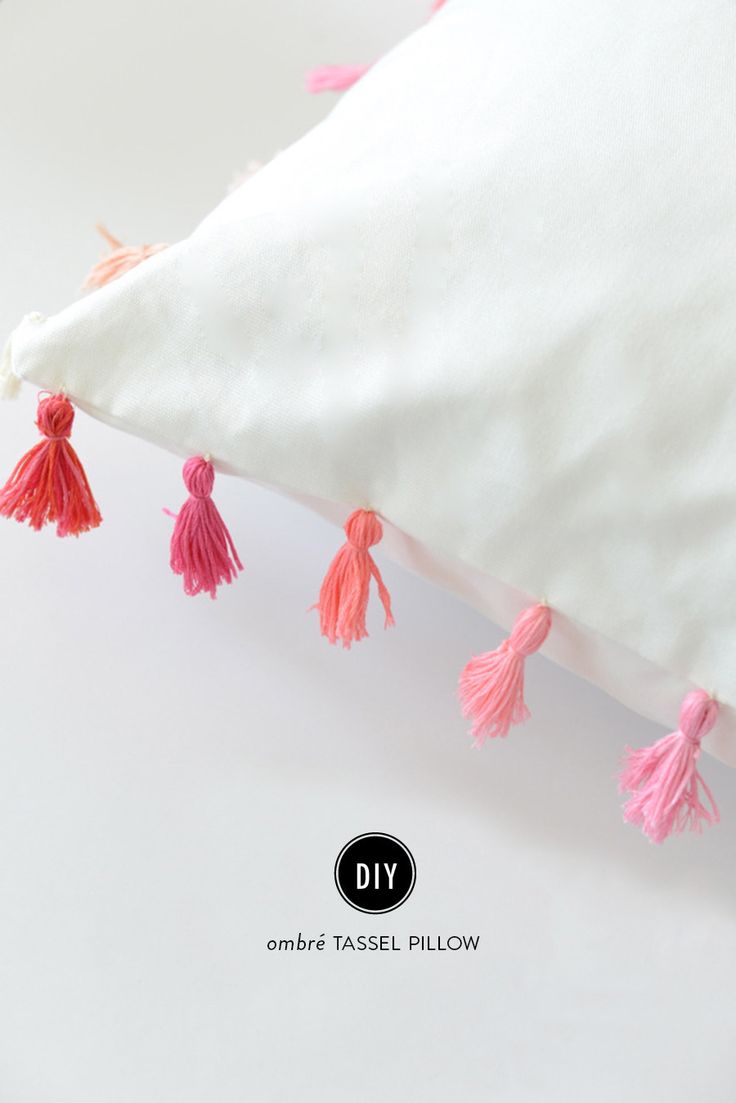 via stylemepretty.com
The DIY tassel pillow is a project that you can use for your bedroom, living room or for your balcony or garden. Pillows deserve to be decorated, and this is a nice way to do it! For this project you just need 18×18 pillow, embroidery floss in similar color in order to have the ombre effect and needle and white thread. First make the tassels and then sew through the top knot of each tassel to the edge of the pillow until it's well secured.
9. Colorful Tassel Garland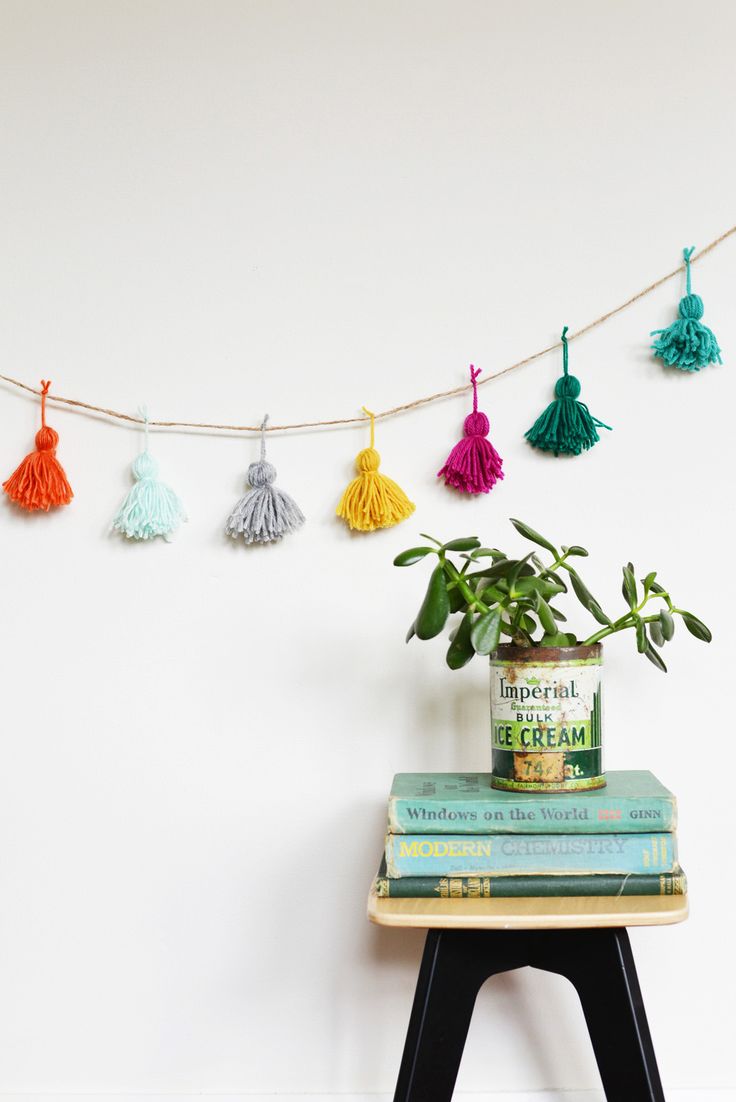 via farmfreshtherapy.com
The tassel garland is one of the most known DIY projects. It's easy and creative way to add some color to dull space. Use tassels in more colors to achieve this effect! Or, if you can use one or two colors if you want the whole room to be in the same tone. It can work as a great wall decor and it's perfect for birthday parties and other special occasions. This project is also very low – budget because you only need three materials to make your own garland: yarn, scissors and a book or piece of cardboard.
10. Rhinestone Tassel Earrings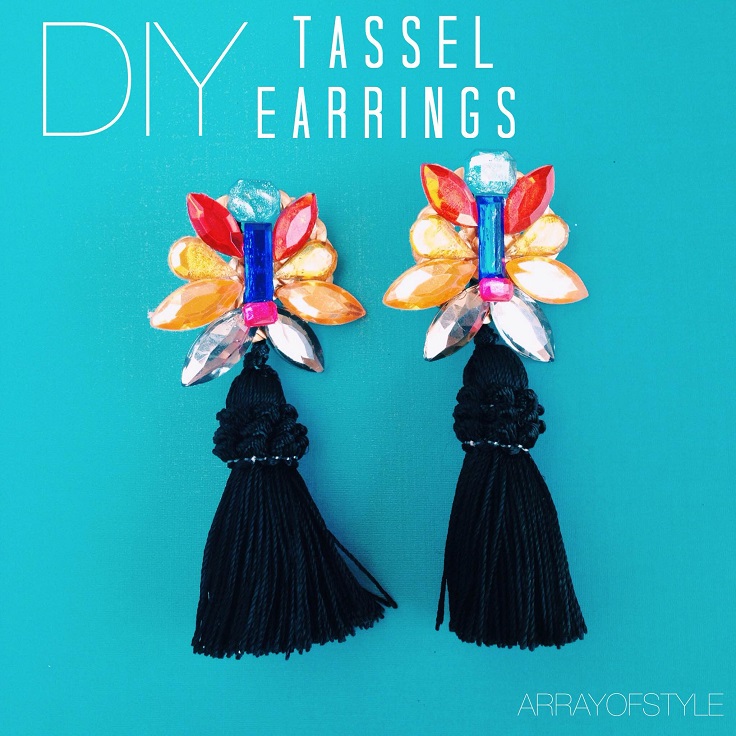 via arrayofstyle.com
We're back to the jewelry. You have already read about the tassel necklace and why not include tassel earrings to your jewelry instead? If you're afraid that they're going to look too cheap or simple, adding rhinestones can be the difference you need. You just need pair of earrings that you don't use and have a flat surface on which you can glue the tassel and the rhinestones. Just arrange them in a way you want them to be and glue them. Simple and sweet!