There are million ways to be more creative and use something that you have already at home, instead of spending time and money in the stores. There is something genius about the binder clip. It is truly fantastic in design: a remarkable amount of tension contained in a sleek, compact, smaller than my palm-sized frame. However, the limit of scenarios in which the binder clip might be useful seems infinite. Some particular uses are admittedly more ghetto than others (some of us used as a money clip, also: binder clip as a cufflink) and as a proponent of beauty and aesthetics. But the point is: in a jam, a binder clip is apt to solve nearly any quandary. These magical binder clips can be used in million ways. You can used them so that you can make some photo frame for you family, a table number holder and napkin holder for your parties and etc. Look at the 10 DIY most creative ways to use binder clips! You will be surprised!
Table Holder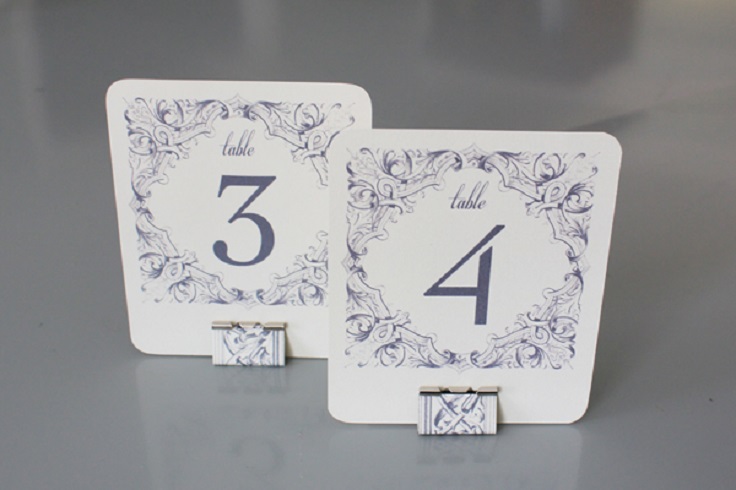 We know, it sounds a bit of a stretch, and we was unconvinced initially as well. But darn it if the crafty people of the internet didn't find some ways to make the binder clip chic enough to join the assemblage of a table scape.
Recipe Holder
Above are two iterations of the binder clip melding with the cooking process. The first, at left, illustrates the binder clip as a stand for recipe cards. The second, an ingenius method for keeping cookbooks open to the right page. Both work marvelously well (in theory) to keep the cooking instructions in sight, without getting your goobery fingers all over them.
Napkin Holder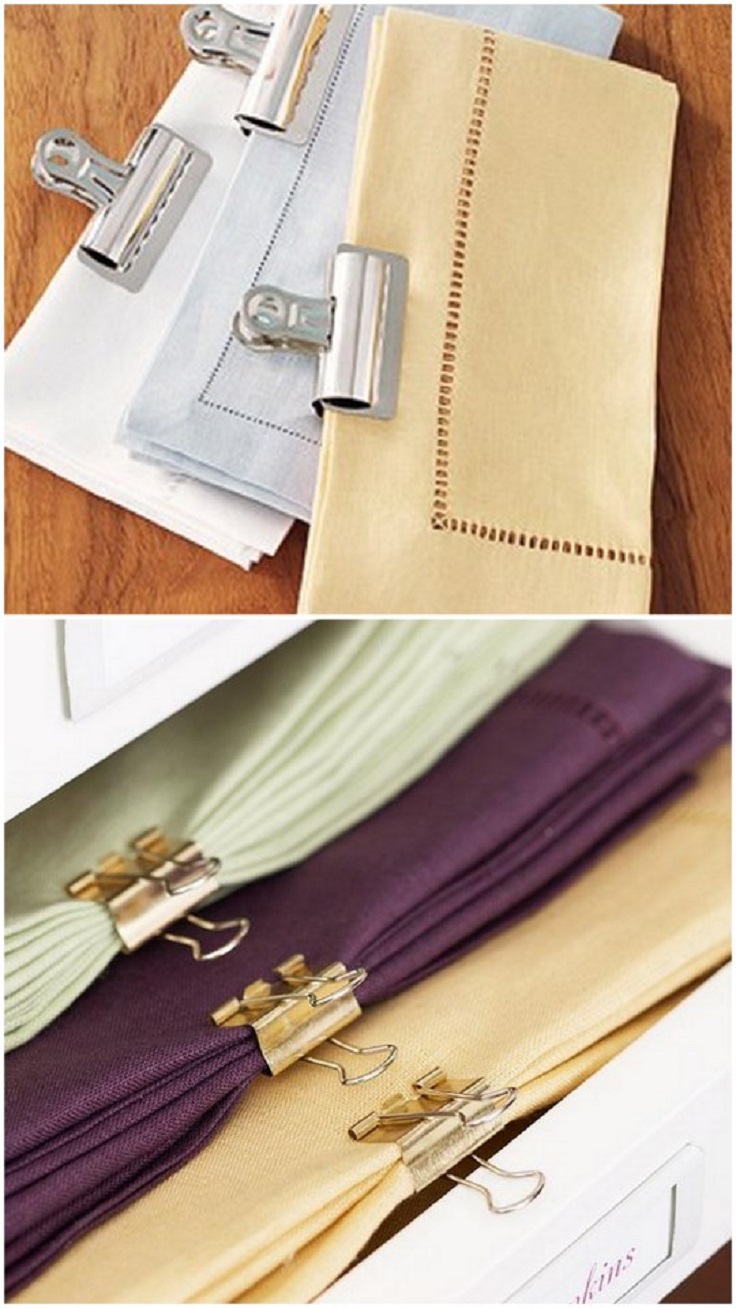 Proper dinner napkins are lovely at the table, and rather less so to store. A binder clip ensures all the individual napkins from a particular set stay together, enabling you to grab the whole stack and get to setting the table.
Photo Holder
via stamptv.ning.com
The binder clip can also come quite in handy when one wishes to display family photos or some smaller paper artifacts, such as reminder notes, inspiration clippings, holiday or otherwise cards.
 Photo Chain Display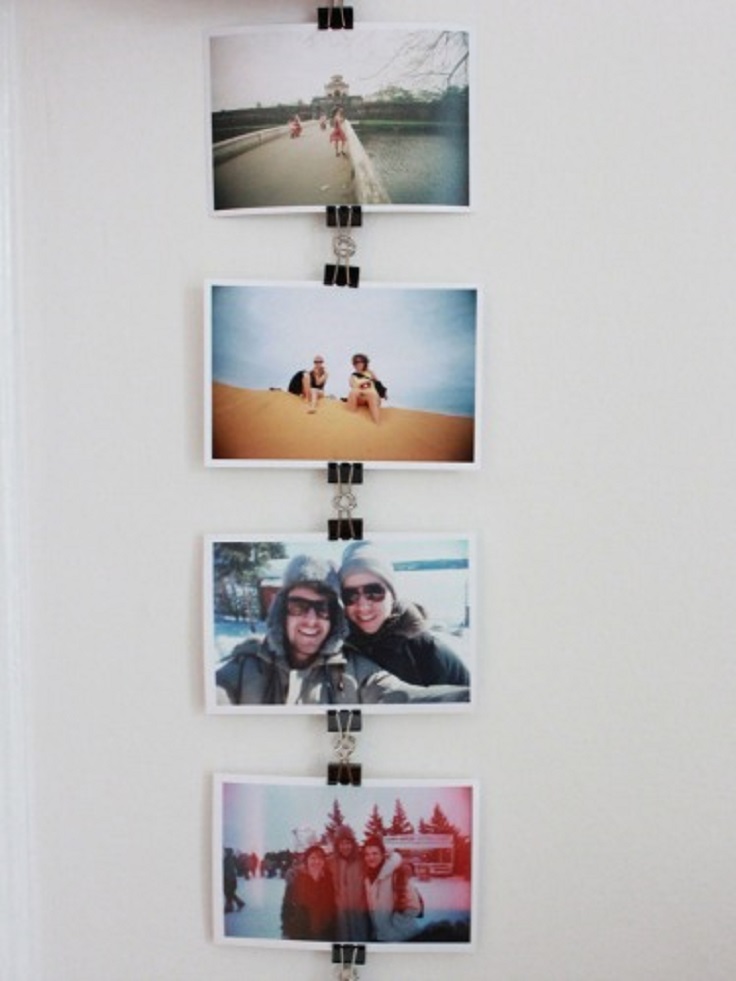 Create an effortless photo display (that looks more thoughtful than tape and more interesting than frames) by linking clips together.
Label Display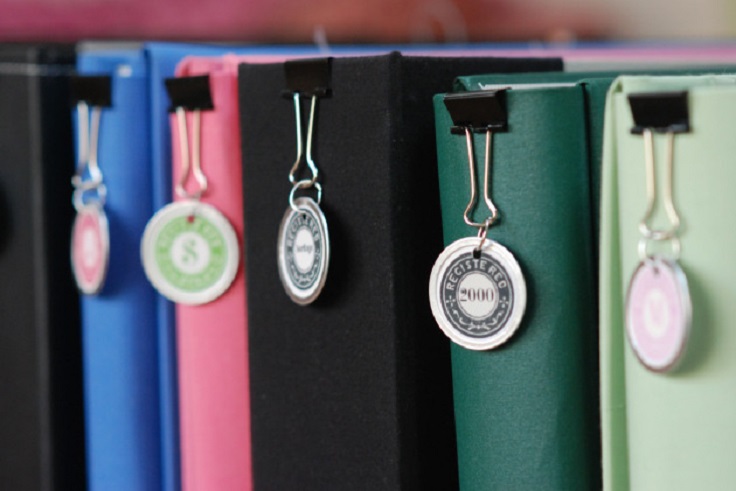 The owner of the albums below professes her tendency to change her mind when it comes to the contents of said albums, or the designs for the labels, or both. To enable frequent mind-changing, she uses binder clips to attach the labels, thereby making it easy to remove and swap them in the future.
Cable Wrap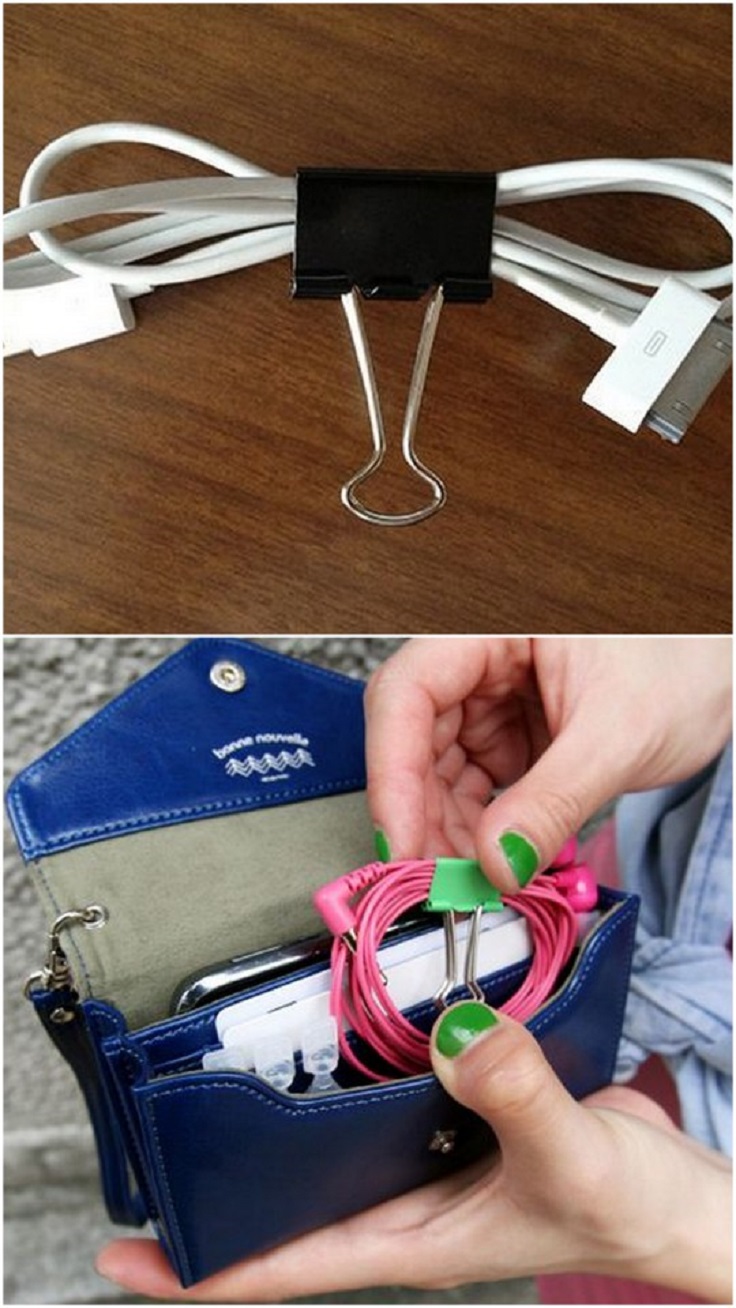 Another case of the same same but different: the binder clip can also work wondrously to keep cords wrapped up neatly, thereby Simplifying both storing and transporting them.
Cup Holder
Wisely use vertical space by lifting pencil cups up off your desk with just a hook and a clip.
Tudy Knit
You don't need a special bowl to show a pesky ball of yarn how to behave. A small dish and with a clip on the edge keeps yarn in place and detangled as you knit.
Modular Shelving Unit Fastener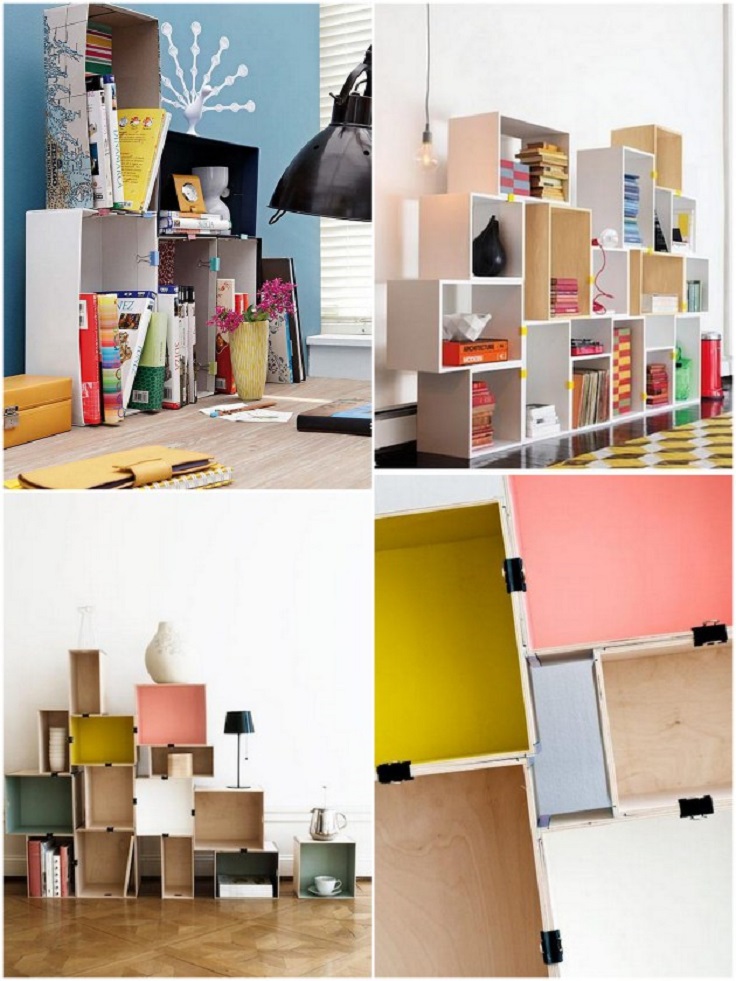 You take some modular cubes, be them cardboard, wood, or other stuff, and you clamp them together with binder clips, and then all of a sudden you have a shelving unit.