Homemade exfoliators are some of the best in the world! Not only are they all natural, but homemade exfoliators also ensure that your skin stays soft all of the time! Whether you are just trying to get rid of some breakouts you might be having or you're trying to prevent the breakouts, homemade exfoliators can help.
In addition to making your face and body feel clean and renewed, a good facial scrub can prevent breakouts and exfoliate dry or oily skin. Next time you're ready for a facial, try making a scrub at home: you'll save money, and with a little practice you can swap out ingredients and create a unique scrub that suits your preferences. This article provides instructions for making four types of scrubs with ingredients you probably already have around the house, like sugar, olive oil and honey.
Coffee, Lavender and Sugar Scrub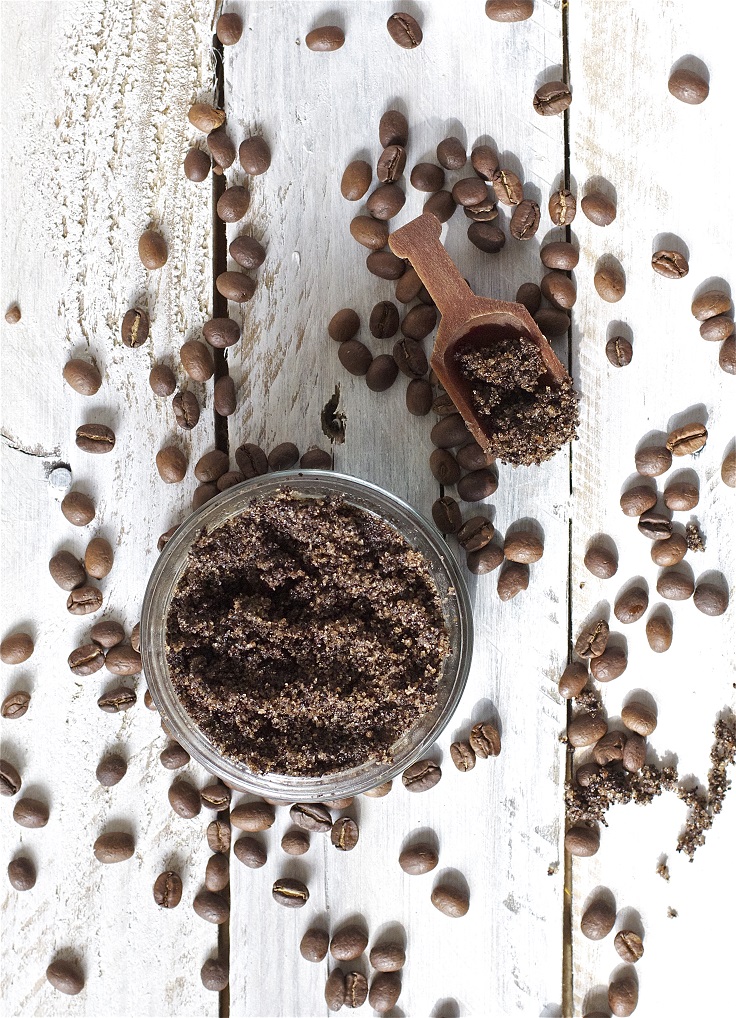 via skincare.allwomenstalk.com
This is actually one of the homemade exfoliators that we use all of the time. The calming effects of lavender, the scrub of the coffee grounds and the sugar make this exfoliator one of the best out there! Seriously ladies, if you are looking for something to calm your blemish-filled skin, this is the homemade exfoliator for you!
Coconut Salt Scrub
Just mix your Course Sea Salt or Sugar with your Oils at a 2:1 ratio.  For example I mixed 1 cup Salt with 1/4 cup Coconut Oil and 1/4 cup Vitamin E Oil.  If you are only using one oil mix 1/2 cup Oil with 1 cup Salt.  Then add 3-4 drops of Essential Oil for fragrance and stir it up.
Salt & Lemon Scrub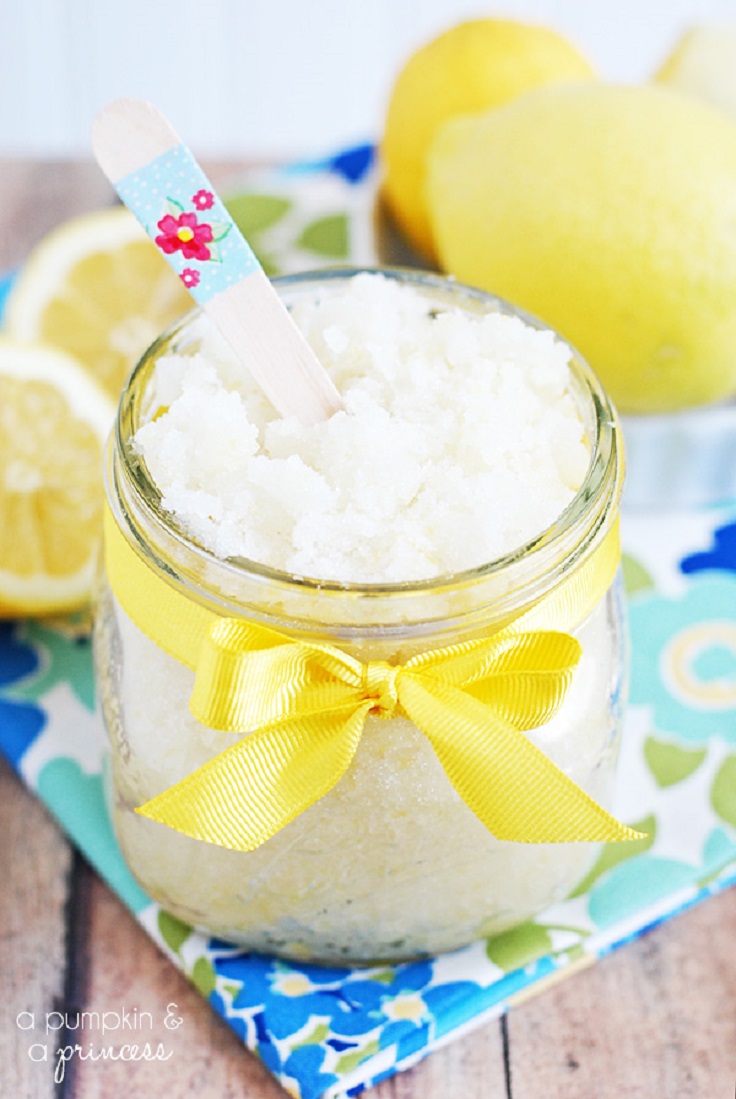 via skincare.allwomenstalk.com
If you've been having a lot of problems with oily skin, don't worry, ladies! This is one of the homemade exfoliators that is made for oily skin! The lemon juice will wipe away all of that oil while the salt will scrub away everything else. Try it, ladies, it really works!
Honey Strawberry Sugar Scrub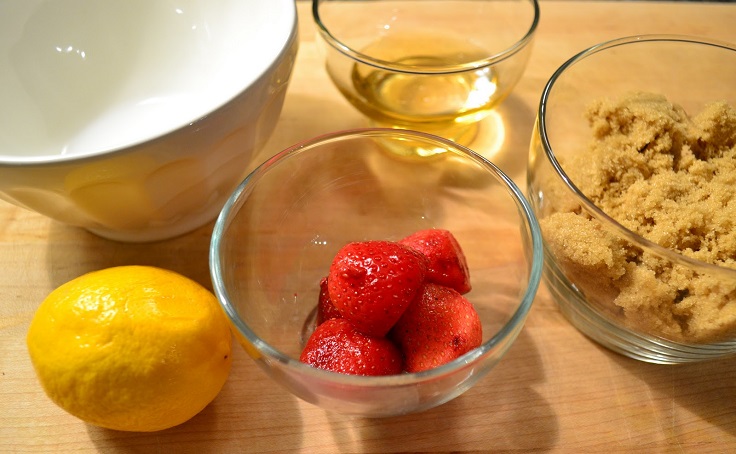 We actually are a huge, huge fan of strawberries as well as honey and this super sweet exfoliator is incredible! Not only does it soften up any rough skin that you have, but the strawberry seeds work wonders for clearing away any and all dead skin.
Epsom Salt and Water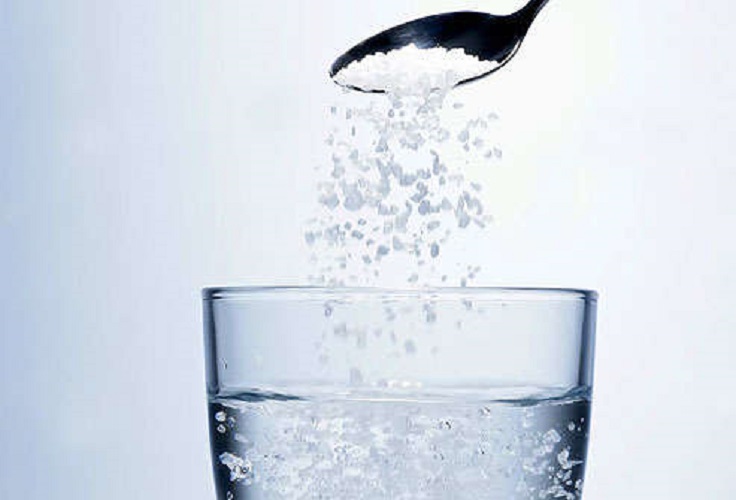 via skincare.allwomenstalk.com
Epsom salts are some of the purest salts in the world! They also feel great when you slip into a bath of them, right? Well ladies, if you're really looking to brush away those dead skin cells and truly reveal the softness of your skin, you've got to try just a little Epsom salts and water. It'll make all of the difference!
Almond Meal, Oil and Essential Oil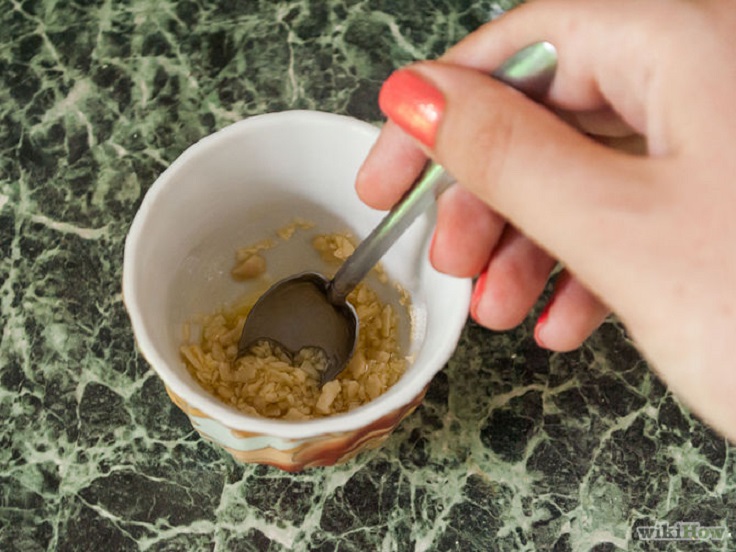 via wikihow.com
First, mix all ingredients. Than, apply the scrub to a freshly washed face. Rub the scrub all over your face, concentrating in spots that are dry. Use a wet wash-cloth to remove the scrub, and splash cold water over your face when you're finished.
Fruit Scrub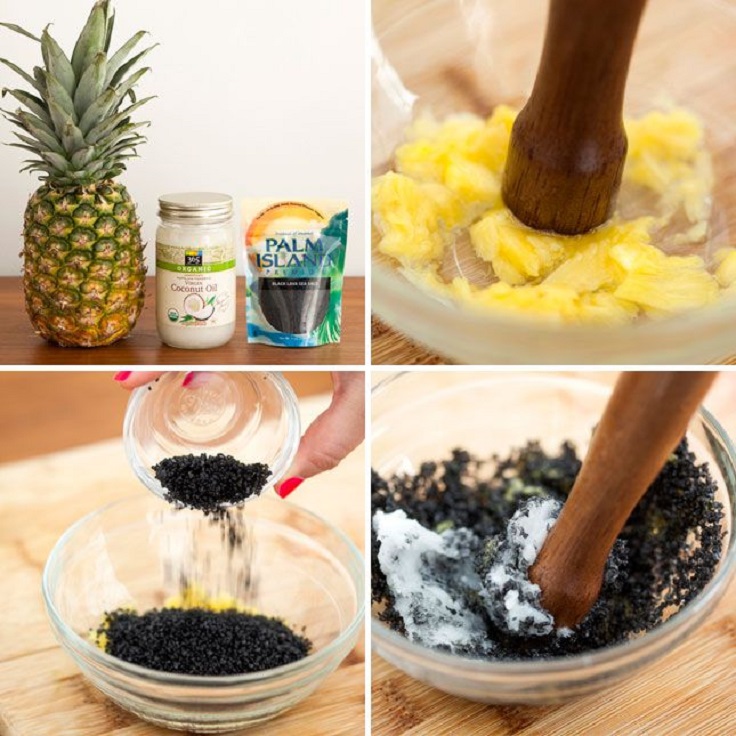 via brit.co
While you could make a scrub with just an exfoliant and an oil, we recommend adding some fruit or vegetable. They each have properties that will help your skin even more. Be forewarned that adding in a fresh fruit will reduce the shelf life of your scrub, and you'll want to keep it in the refrigerator—not your shower.
Tomato and Sugar Scrub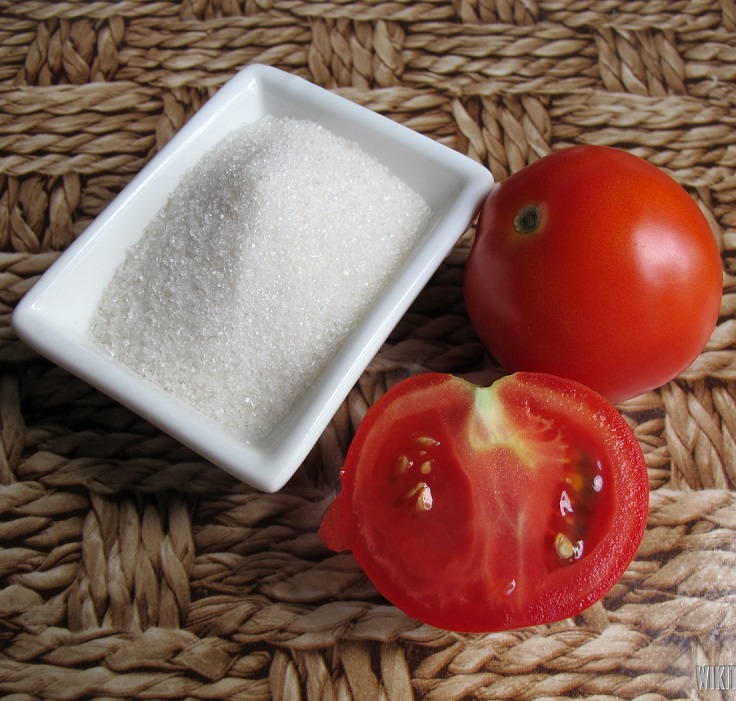 via wikitalks.com
Grab yourself a tomato and a tablespoon of sugar. All you need to do is slice the tomato in half and dip the fleshy side in the sugar. Next, use the sugar-dipped tomato to rub on your face in circular motions. Leave the sugar and tomato on your face for about 10 minutes and rinse off.
Pumpkin Pie Scrub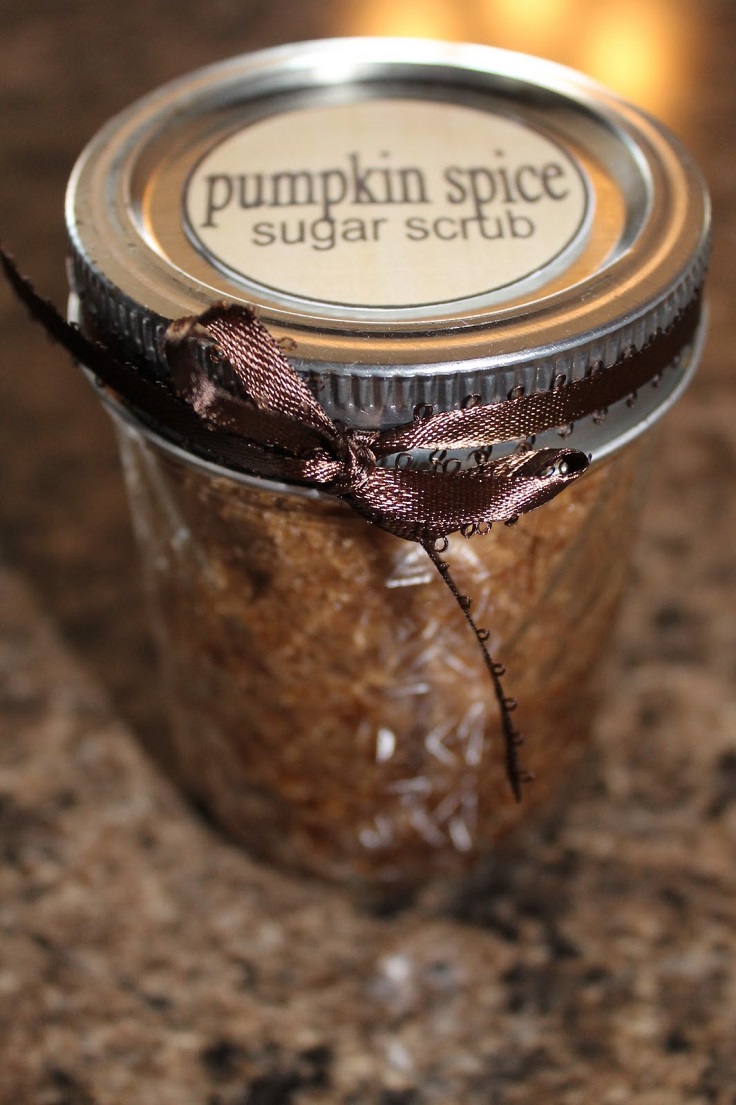 via skincare.allwomenstalk.com
Speaking of eating, this is another exfoliating scrub that sounds tasty! For this exfoliator you'll need 1 cup of brown sugar, 1/2 a cup of coconut oil, 1/2 tsp vitamin E oil and 1/2 tbsp pumpkin pie spices (or just 1/2 tsp cinnamon). Mix it together and you're ready for pretty, polished skin.
Seasalt and Baby Oil Scrub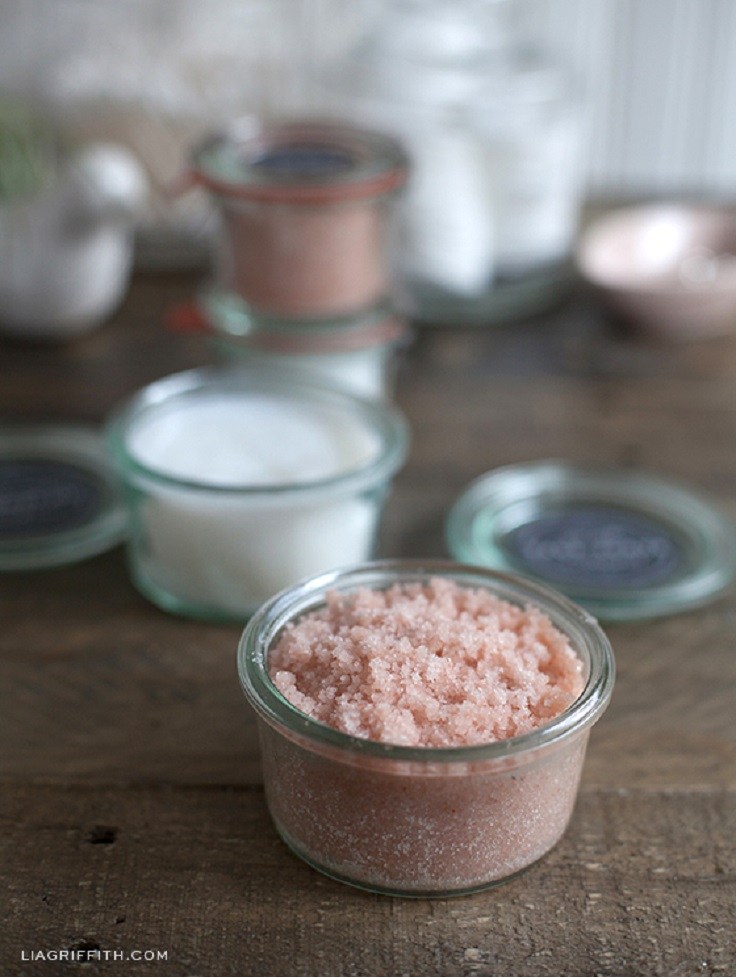 via skincare.allwomenstalk.com
This is another easy peasy homemade exfoliator that your skin will love. All you need is a cup of coarse sea salt and a half cup of baby oil. Mix it together in a bowl and keep it covered for 24 hours. Once the 24 hours is up, give it a good stir and apply.