If you had a grandmother that did crocheter knitting, then you most definitely have a bunch of your granny's doilies stashed somewhere. Their most common use for doilies was a decorative one while covering and protecting various furniture around the home. Today you can hardly find a true crocheted doily in any home, and those paper ones usually come out for parties and again, as part of some crafts project.
Yet, as with most fashion trends, the intricate patterns created by knitting or crocheting are coming back in style and we see many embellishments or even entire clothing pieces covered or made with this technique. Since creating these pieces can take up a lot of time, they carry just a price tag with a lot of figures. Luckily, most embellished trending pieces of clothing are normally very easy to replicate if you have the right tools and material. For those of you who want that decorative crocheted lacy look, time to get the needle and thread and all those doilies you were planing to throw away.
The complex patterns of the doily and their chape may make it a bit complicated to incorporate some of them in your clothing-revamp projects, but most of them will probably do the trick just fine. There are also plenty of other options you can do this type of embellishing, like getting some lace strips that you can find and buy in various sizes and designs
At the end of the day, you will notice just how much a simple and overlooked embellishment, like your old forgotten doily can turn your old clothed from drab to boho fab.
Let's take a look at some fan project to doilify your old clothes.
Doily Collar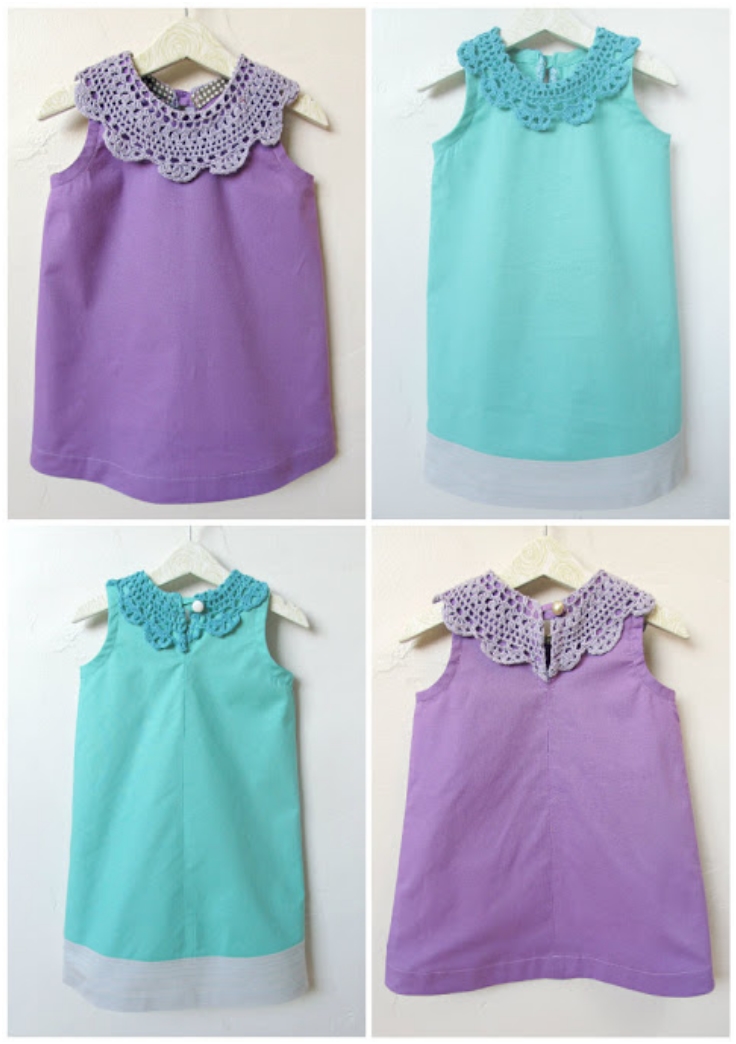 We'll start with a good old-fashioned collar project. We forget that something as a thin piece of decorative fabric around the neckline or rim can completely transform the piece of clothing. This Is a nice little project you can do easily without the fear of irreparably ruining your clothes, and it is also a cute clothing upgrade from the youngest to the oldest of fashionistas.
Cutoff Jeans with Doily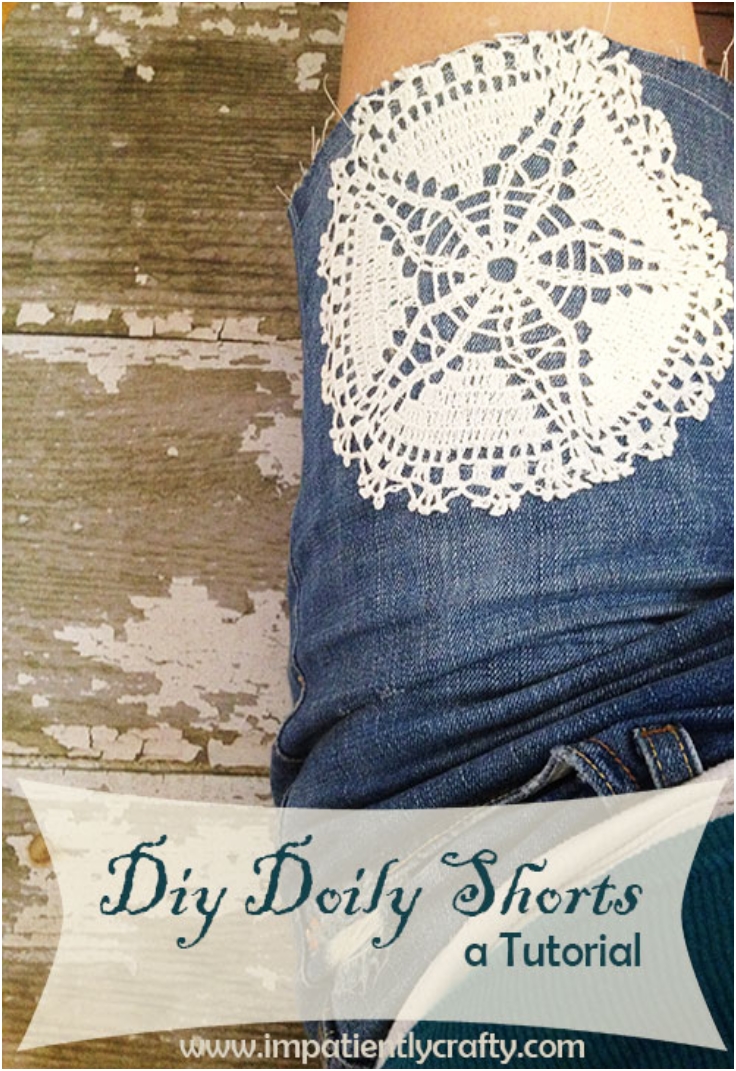 Once you've broken in a good pair of jeans, you wear them even as they start to fall apart. The first thing we usually do is cut them off into shorts, but what next? Here is a way to prolong their life for a bit longer. Sew in a doily along the edge of one of the jeans, or for regular-sized jeans that have holes in them, you can make the doily peek out from behind the whole. It looks fabulous.
DIY Leyendecker Dress
Sometimes just having fun and combining some fabrics can result in a unique piece of clothing that will turn heads. That's how magical embellishments can truly be. With a few precisely cut doilies and some fun, you can turn a drab straight dress or an oversized shirt into a swanky beach party-ready dress.
DIY: Doily Embellished Shirt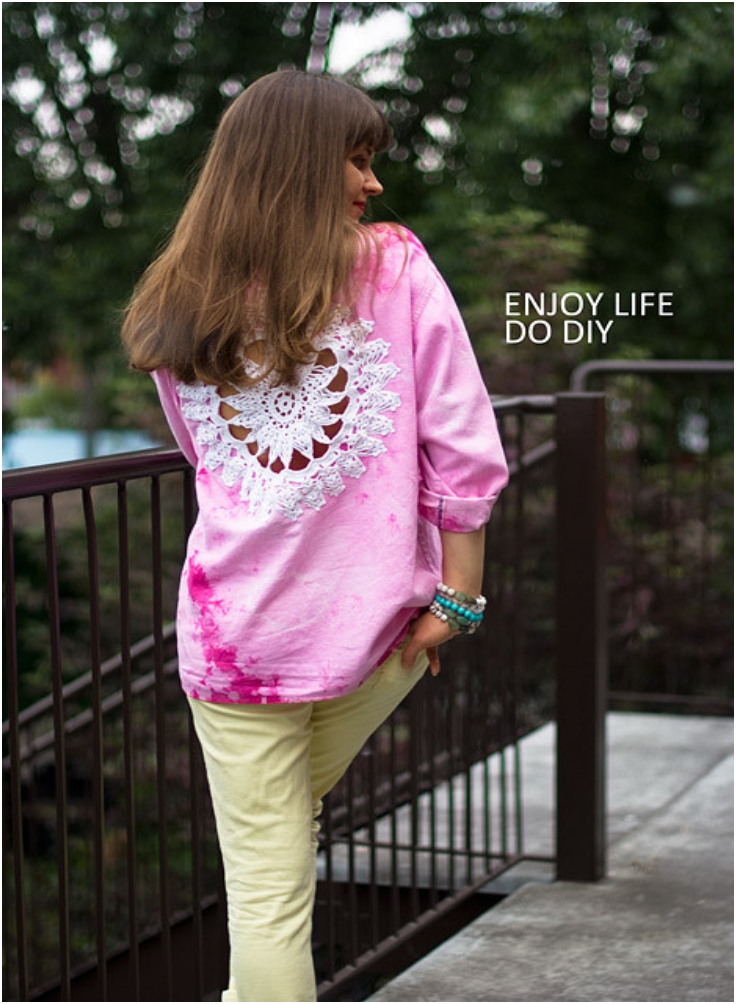 We mentioned that you can make the doily peek from under a hole in your jeans pant legs. Here is how to make the doily cover a hole. true, this hole was certainly not here before, but it really gives out that sexy rebellious feel when our clothes reveal arts of our body that are completely hidden most of the time, but not in a trashy or provocative way. By adding some lace or doilies to a clothing to help reveal, yet conceal parts of you is definitely and interesting project to try.
Leather And Doily Clutch
Aside from clothes, doilies make a great tool for embellishing your accessories. Now, we're not going to get into the doily jewelry category, since there are plenty of those around, but we would like to show you how good a combination of modern, bad-boy leather clutch can be complemented and made look even cooler with a doily sewn over the flap.
Doily Pockets for A Cardigan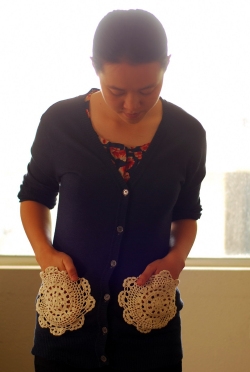 Because of the pattern of the doily, being with a lot of holes and all, you'd probably think that doilies don't make for good pockets. And you'd be wrong. They are perfectly practical just like any normal pocket, and they actually make your cardigan look better.
Doily Peplum Top
To turn an old T-shirt for example into a peplum, you'll need to add some kind of fabric at the bottom that will go down to your hips (or higher) and make sure to give it a skirt-like look, meaning, to be fitted on the top and slightly loose on the bottom. And when that added fabric is actually lace or some doilies, then your oebkemwill certainly
Lace Shoes

Flats and sandals are great for those women who tend to spend most of their day on their feet, whether walking, shopping, or working. As much as we'd like to have the best fashionable shoes, then most of the time you have to sacrifice comfort small to get them. No need for that, since with this project, you can have both. A nice comply plain flat sandal that becomes a very fashionable shoe in no time at all, and all you need is some piece of smaak magical
Doily Sleeves on Denim Vest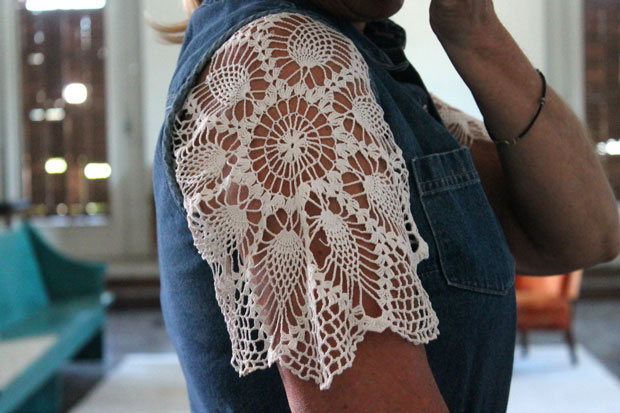 As people get older, their bodies start to change and droop, no matter if you've lost or gained weight. After a certain age, kimono sleeveless tops are no longer your friends, no matter how much you wanted them to be. Instead of throwing out all of your favorite vests and sleeveless shirts, here is a classy modern way to add some sleeves to those pieces of clothing, without beingtoo straightfoward
Doily Dress
We saved the biggest doily project for last. With doilies coming in various shapes, sizes, and patterns, and sometimes when you combine them and put them on a fairly plain and ordinary dress, you can end up with almost a fancy fairy dress that is yet, casual enough to wear every day and wow all those you'll see you.
That's all revamping projects with the doilies we have for now. If you liked some of the ideas on the list, it is not too late to get those old doilies and start designing your new look. What is your favorite way to reuse a doily? Leave us your ideas and suggestions in the comments below.