Sure, you love shabby interior design, but you can't afford to buy antique decorations for your home. We get it, and we want to help. The first thing is you don't have to spend a small fortune on a vintage piece of furniture or an antique accessory when you can easily make them on your own. And by using materials, you can buy in dollar and thrift stores.
Shabby chic accessories are a stylish way to add finishing touches to any home. If you are into vintage decor, then you will love these tutorials we are sharing today. Learn how to make beautiful shabby chic wall art, ottomans, lampshades, vases, etc., without hurting your budget. Take a look…
Shabby-Chic Chevron DIY Wood Tray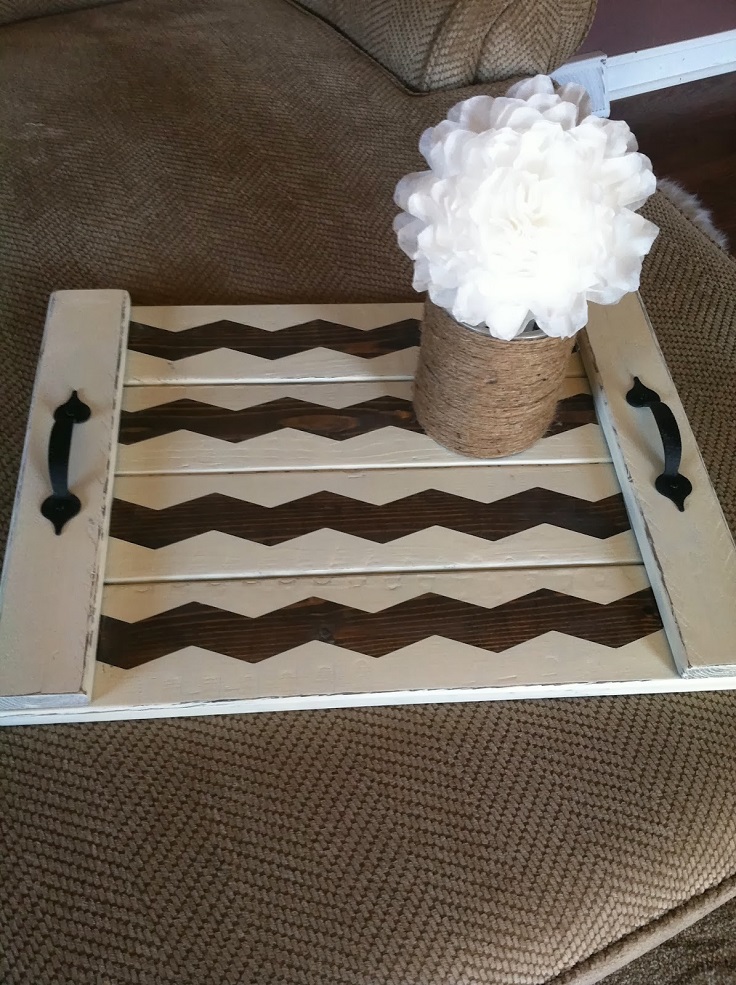 via burlapandbananas.blogspot.com
Here is a fun tutorial on how to make an adorable shabby-chic wood tray. We love the chevron pattern made with the help of chevron tape. The tutorial is detailed, listing everything you'll need along with step-by-step photos. This tray makes a great gift that is unique and budget-friendly.
DIY Shabby Chic Butterfly Art For $1
via thediymommy.com
Yes, what you read is true. This sweet shabby chic butterfly art will cost you just $1 per piece. All you need to do is buy some old frames from a dollar store, paint them white, print yourself some colorful antique-looking butterflies, and voila! You have a beautiful DIY shabby chic butterfly art that will not hurt your budget.
DIY Parchment Petal Pots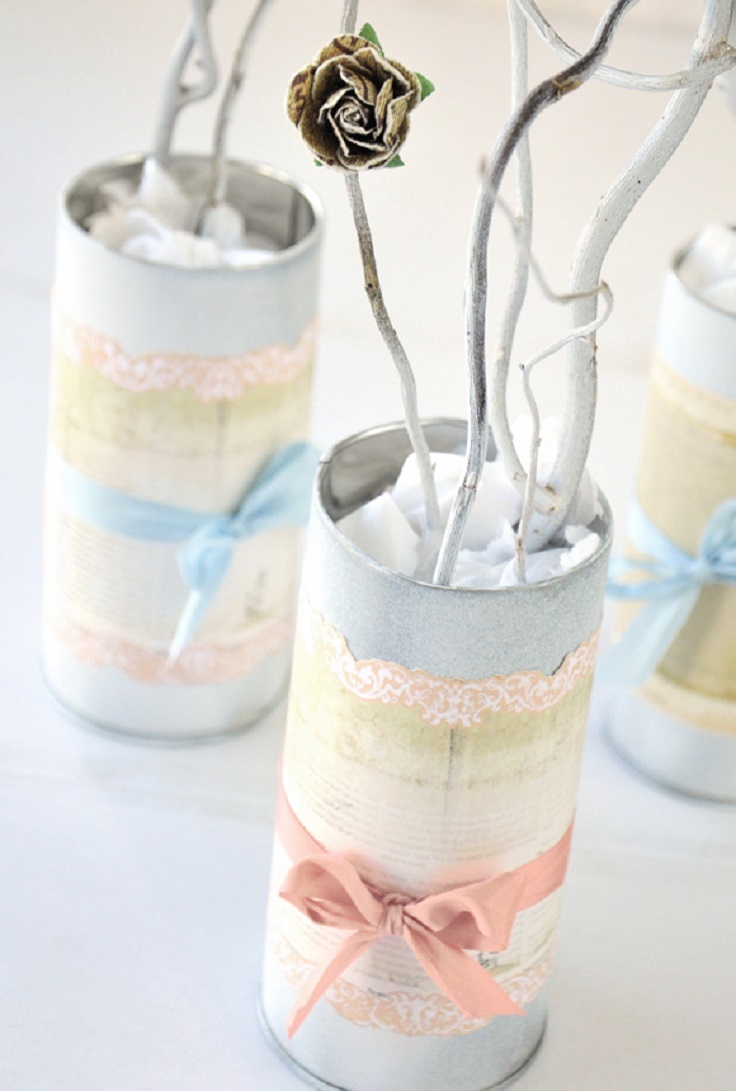 via stampington.com
How can you not love these beautiful parchment petal pots? We love the branches idea, the colors of the ribbons, the journal notes… To make them, you will need tea tins tall, eco-green acrylic paint, parchment petals, almanac journaling notes, seam binding ribbon, and branches of various heights.
Lace-Trimmed Standard Pillowcase Tutorial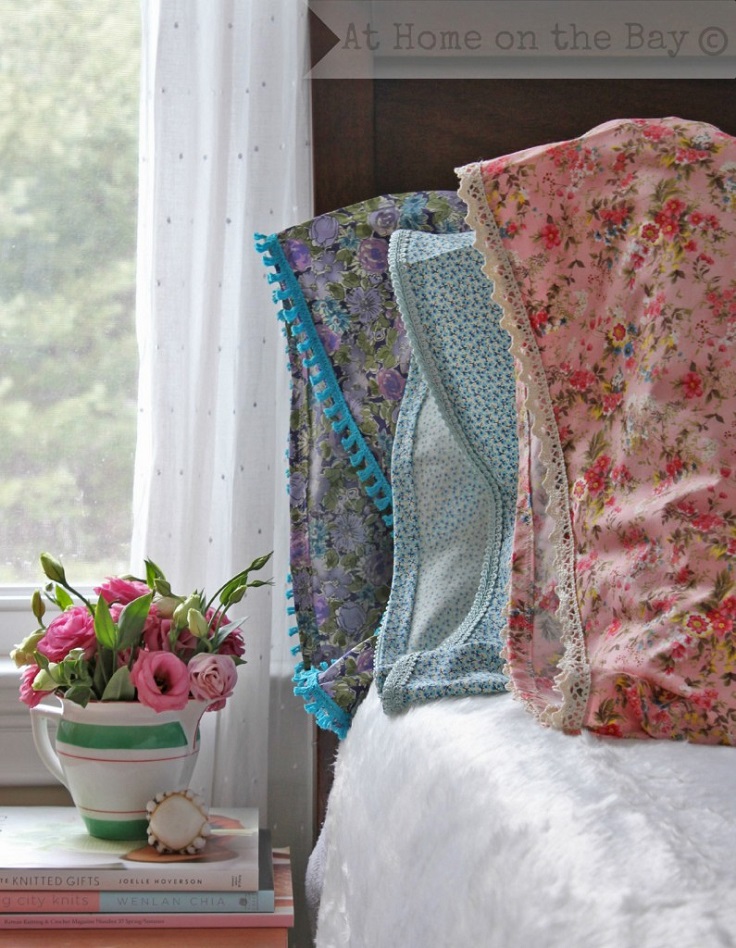 These pillowcases are a perfect shabby chic addition to your home for this spring, with the flowered fabrics and fresh pink roses. French seams and lace trim are an easy project, even for a beginner sewer. You need to make them 1 yard of 45″ wide fabric, 1-1/2 yards of trim, coordinating thread, sewing machine, iron, scissors, and pins.
Shabby Chic No Sew Ottoman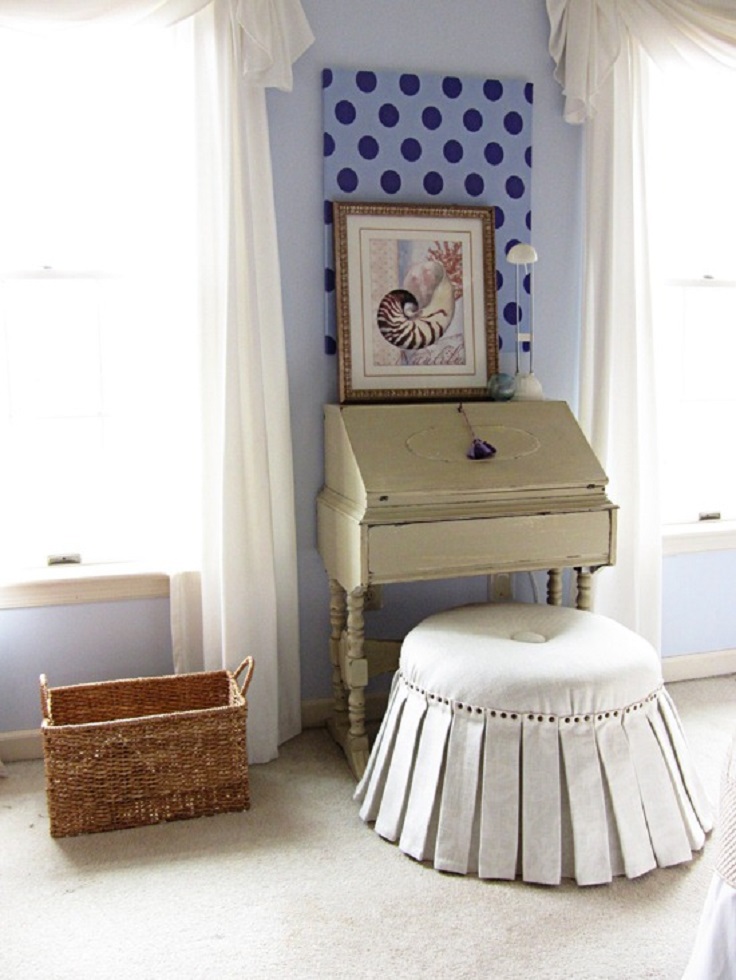 via inmyownstyle.com
We love everything about this ottoman – you don't need sewing to make it, it is budget-friendly, the tufted top, the skirt, is simply fabulous! The tutorial is so detailed, with step-by-step photos that will help you make the ottoman easily. Just follow it, and you will have a beautiful shabby chic ottoman that will decorate your home.
Upcycled Shabby Chic Chalkboard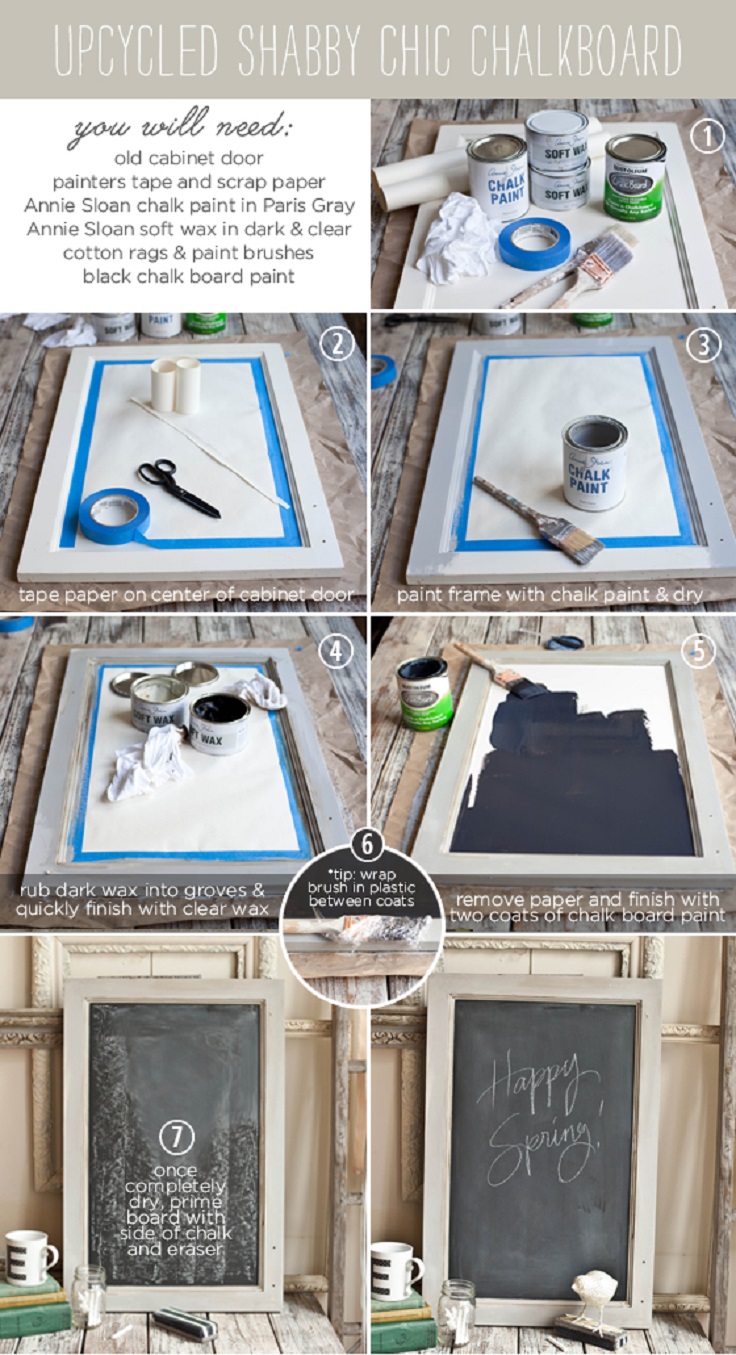 via elli.com
Chalk paint was used for making this shabby chic chalkboard, which is different from chalkboard paint because it is eco-friendly, easy to work with, and a fast way to create a vintage look to almost anything. You will also need an old cabinet door as a base. If you don't have one, you can buy it for as low as $2. So this project is not eco-friendly but budgets friendly as well.
Shabby Chic Handmade Paper Rosettes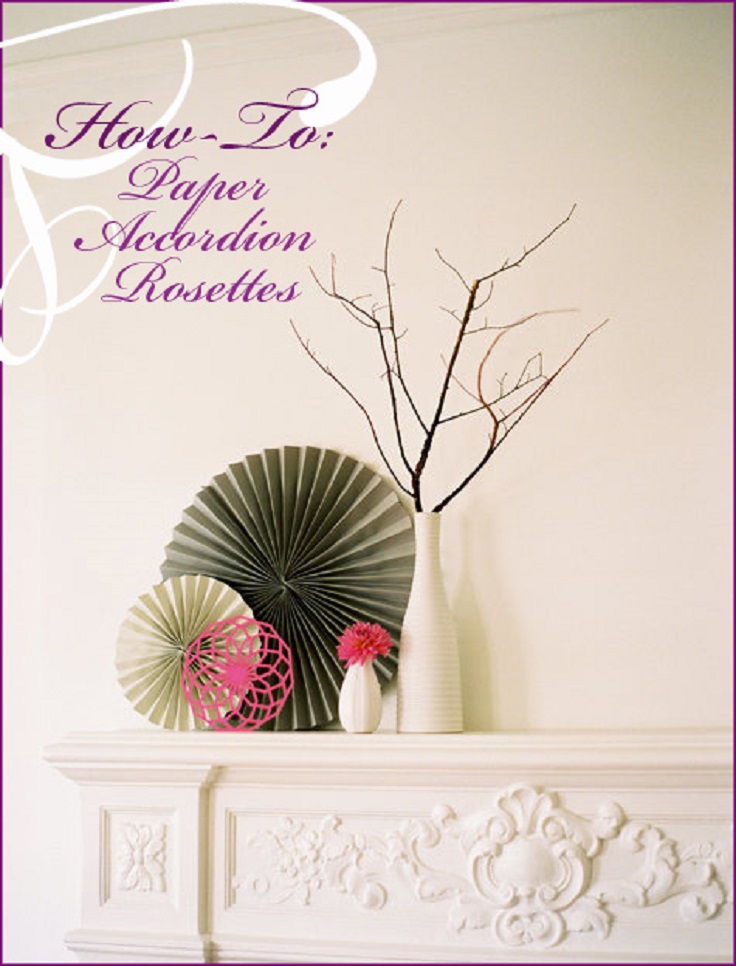 via pepperdesignblog.com
Get some pretty paper, matching embroidery floss, ribbon, ruler, scissors, mini stapler, and make these chic paper rosettes that make the ultimate party decor, or simply a cute wall decoration. Choose colors that will go well with your interior. They will look perfect on a shelf as well.
Shabby Chic Lamp Shade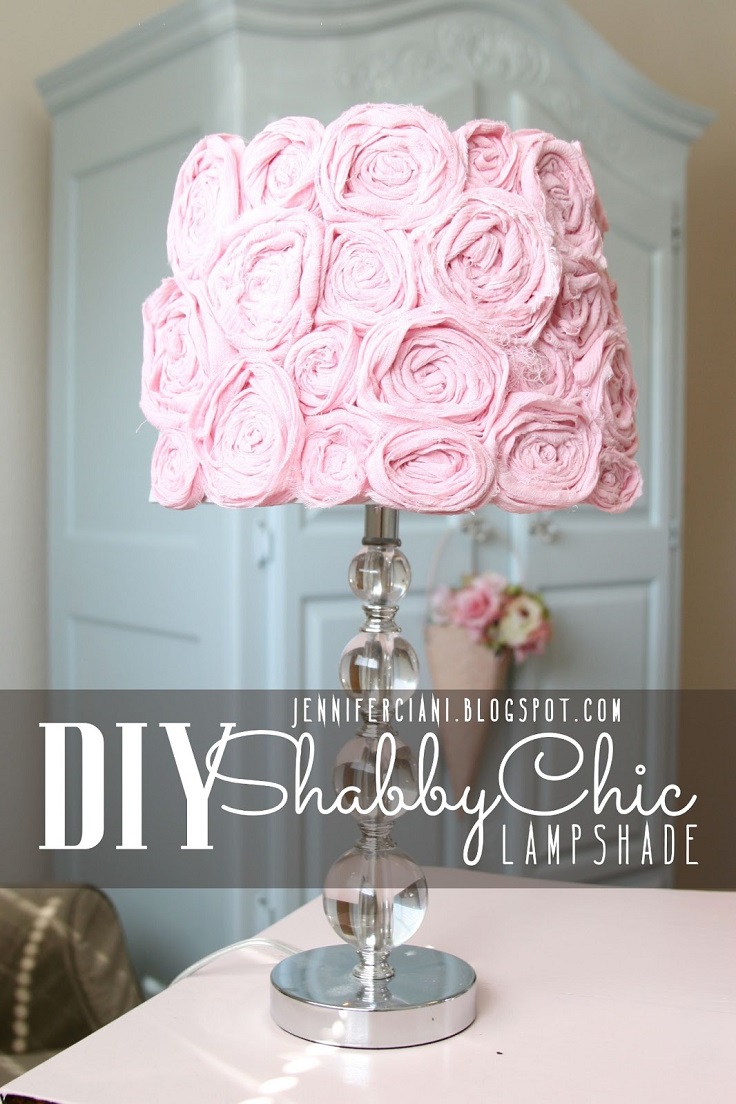 via jenniferciani.blogspot.com
Get a simple white lampshade and turn it into the ultimate shabby chic decor for your home by following this easy tutorial. You will only need a glue gun with some glue sticks and 3 to 5 yards of the fabric of your choice. The pink is a great choice! Now make some fabric rosettes and glue them on the shade. That's it.
Rubber Door Matt Wall Art
via salvagedior.com
Outdoor black rubber door mats were used to make this fabulous shabby chic wall arts, and we are fascinated by the idea! They were spray painted white and given an aged feel by using a hand sander. Make them in various sizes and decorate your walls however you wish.
Upcycled plastic trophies vases
via pamgarrison.com
Who would have thought that just a little paper maché will turn plain plastic trophies into beautiful shabby chic vases! Use a pretty vintage paper and fill them with fresh seasonal flowers from your garden or the local flower market. So pretty and chic!