Decoration always plays an important role in our home interior. No matter if we are talking about the curtains, the vase in which we put your flowers in or the key holders, everything makes our home unique in it's own way. Having a nice decoration doesn't always mean spending a lot of money to get what we want. There are times when only few dollars, a little bit of creativity and time as well can end up as something very cool such as the wall art. You don't need to spend money on expensive art, when you can make your own. Of course, it might not be as artistic as that one, but it's yours and that adds some charm in it. So, if you want to make something on your own and then proudly place it on your wall, here are ten DIY ideas to help you in that.
1. Scallop Wall Art
via youaremyfave.com
To make this scallop wall art you need thin piece of wood, colorful cardstock and of course, glue and a circle puncher. When you get these items, the next thing to do is to mark the piece of wood you have along the edge at half the size of the circles. Then you have just a few other instructions and you are done.
2. Canvas Wall Art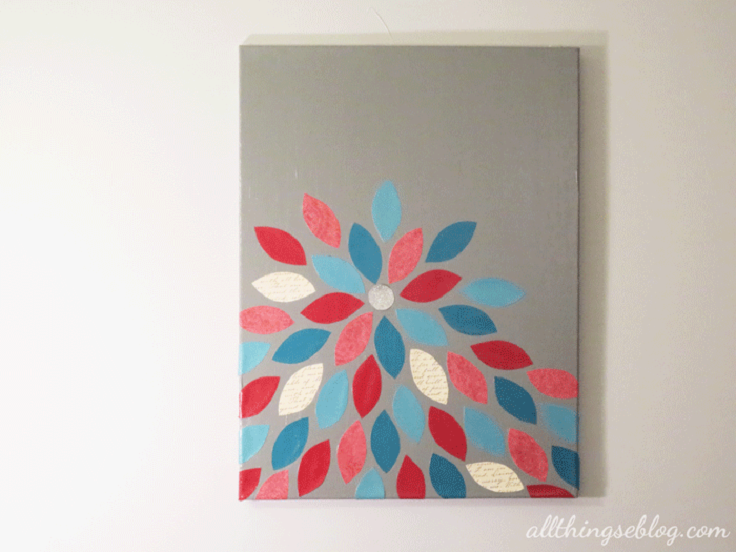 Adding colors on a pale wall can bring some atmosphere in the room. If you want to get this canvas wall art, there are couple of items that you need to buy first. The rest is just spending time on your creativity and the wonderful art that will come out of it.
3. Flower Wall Art Idea
The baking liners obviously can serve you outside of the kitchen too. If you're looking for a creative idea of using them, here's one – transform them into flowers. You can paint them in many colors as you want, they don't have to be white and pale. These are also a good decoration for a girl's room.
4. Wall Art With Paint Swatches
via homedit.com
This is a wonderful way to use paint swatches. Use as many colors as you want and experiment with your layout. In order to make it even more interesting, come up with some phrase. Something that it's so you, a beautiful thought or just a word.
5. Kisses Wall Art
via popsugar.com
Want some flirty atmosphere in your room? Here's a simple way to achieve it: put on some lipstick, kiss a paper, frame it and then hang it on your wall. It's so creative, playful and it will cost you so little. Your bedroom deserves wall art such as this one.
6. Paper Bat Wall Art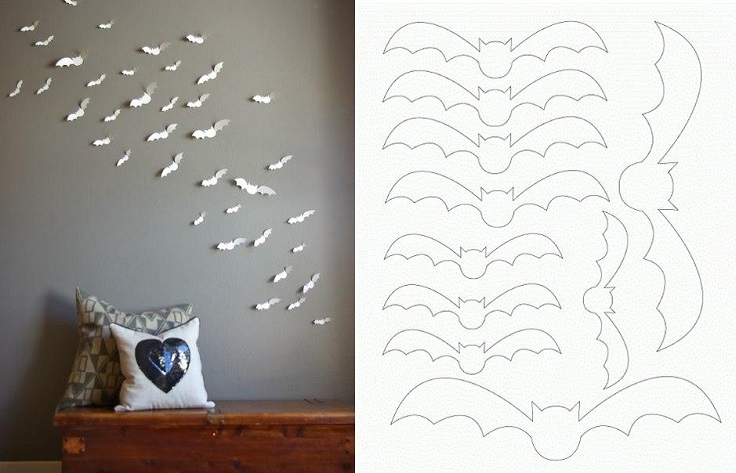 via usefuldiy.com
Here's another simple idea to turn your home into a creative spot. Draw bats on a paper, cut them and then just hang them on the wall by using glue. You can paint them, or you can even draw something else that you like. Birds will look great too.
7. Postcard Wall Art Idea
via stupic.com
Don't like having books in the room because you're not much of a reader or you just simply don't like the dust on them? Then this is a great idea of how to use them. Just cut the covers and place them on the wall by glue or tape. You can even place postcards too. It's kind of vintage style, but yet so creative and definitely not something you see that often.
8. Hearts Wall Art
via shopgirlcapetown.wordpress.com
If you want to create some romantic atmosphere in your home, there's no better way but to show it with love. By using different shades of red and pink, cut some paper hearts and get them together with some tiny material.
9. Framed Vintage Handkerchiefs
via brit.co
Vintage handkerchiefs placed on the wall look so elegant and yet quite unusual. We are used too see paintings and drawing, but rarely anything besides that. So, it's quite simple. If you don't have any handkerchiefs then buy, frame them and hang them. They will surely make every person stop and stare for awhile.
10. Fabric Panels Wall Art
If you have any fabric with some amazing design on it, there's an interesting way to turn it into wall art. You can use so many different fabrics, their color, design. You can have something very oriental and then something vintage. Allow yourself to experiment a little bit and show your thought on your walls.