Saint Patrick's Day is a manifestation celebrated on or around the 17th of March. According to the Declaration, which is said to be written by Patrick himself, he was a shepard that had a call of God and because of that, he decided to become a priest. The reason why this saint is so celebrated, is because Patrick, after becoming a priest, spent many years of his life converting pagans into Christians. After his death, many legends about him and his life came up, and that's why today he is celebrated and considered as such a foremost priest. If you are celebrating this day and you want to decorate your home in order to be more green and Irish, there are plenty of projects you can do. You don't have to search for them, here you'll find ten of them, very interesting and creative. So get your scissors and materials, and enjoy St. Patrick Day with great decorations!
1. Leprechaun Hat Of Coins

If you were wondering where to put your candy this year, here's a great idea. These leprechaun bowl hats are the perfect candy holders and especially if you decide to put coin look alike candy! You are definitely going to make an Irish atmosphere at your party.
2. Shamrock Streamers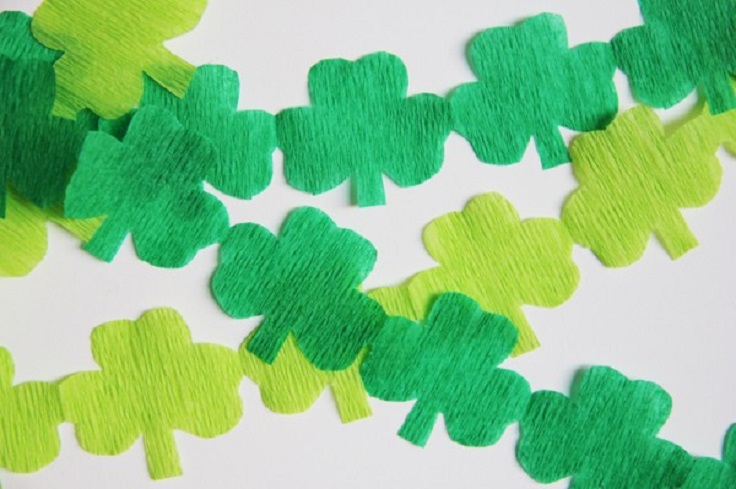 via studiodiy.com
This project is very simple and cheap. You only deal with scissors, streamers and a pencil. They won't take much of your time – in a quite short time you can make yourself another great Irish decoration that you can hang on your walls, chairs, doors, wherever you like to see them.
3. St. Patty's Badges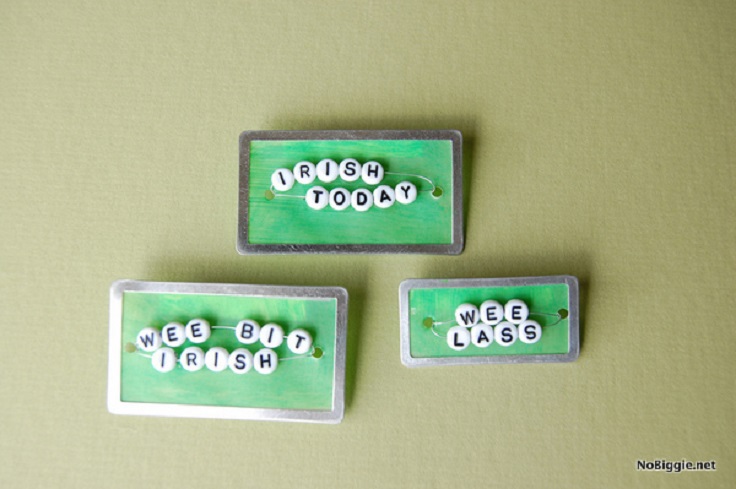 via nobiggie.net
They might not be the easiest project to do, but the effort you'll put will be so worth it! Because you are going to make really cute, green badges that, who knows, might attract some Irish luck! Have fun!
4. Lucky Burlap Pillow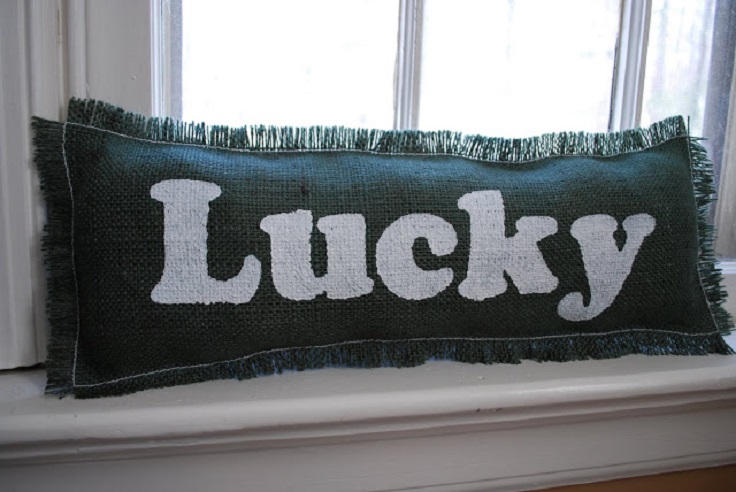 If you are good at sewing you should make this one. It will took you time because you should carefully follow the steps in order to have yourself this cozy, green pillow. The good thing is that you can use it not only for St. Patrick's Day, but for every day too.
5. St. Patrick's Day Printables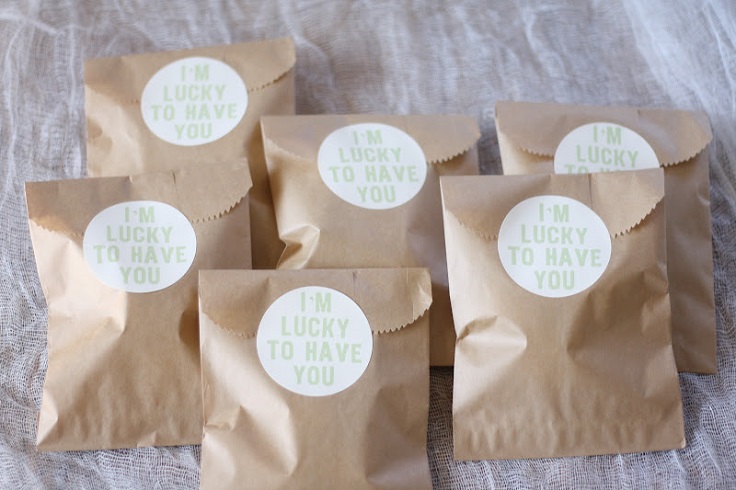 via julieblanner.com
Want to give someone a creative gift that you have done it yourself? Here's an idea on how that gift should look. Or you can buy the gift, and you can pack it in this kind of bag and then do the labels. That way you can choose which shade of green to use and decide about the luck quote.
6. The Green Tea Towel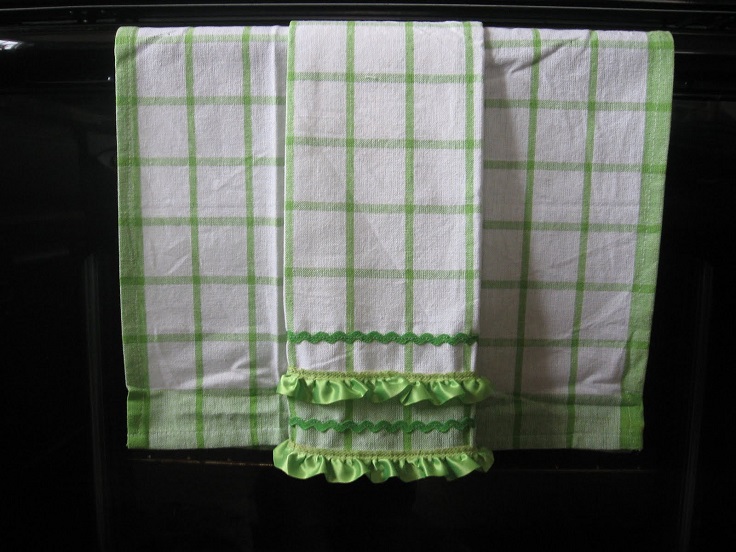 You can even decorate your kitchen in the spirit of St. Patrick's Day! For this project, you need a towel and some green Ric Rack and Ruffles. Of course, you will also need some sewing skills to make this lucky Irish towel for your kitchen.
7. Yarn Decoupage Vase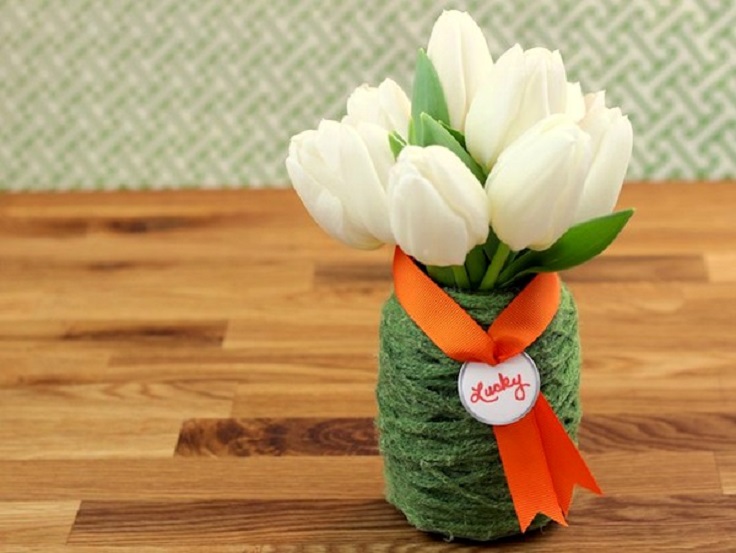 You can welcome spring with some beautiful flowers, and put them in even more beautiful vase that you have done it by yourself. With St. Patrick's Day coming soon, you can make the vase green and put a "lucky" badge on it to attract some of that Irish luck.
8. Four-Leaf Clover Topiary-ish Decor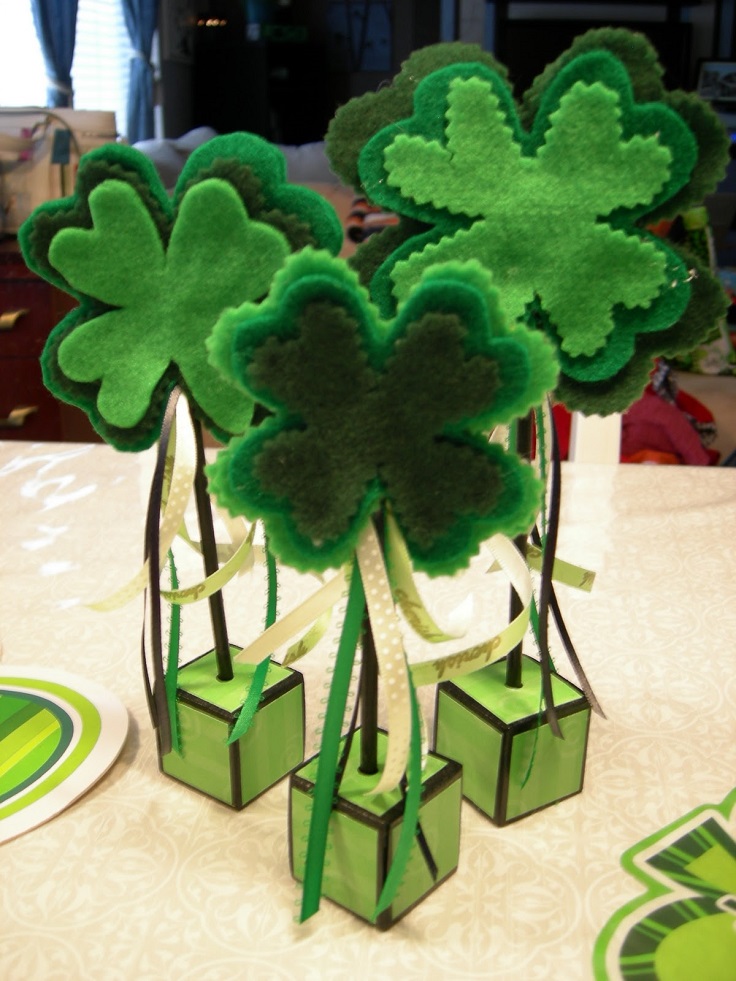 If you were looking for some simple St. Patrick's Day decoration that you can put on your table at home or in your office, but couldn't find the one you were looking for, try making these ones. They will certainly took your guests attention, because even though they are a DIY project, they look like they are bought from a shop.
9. Ruffled Burlap & Jute Wreath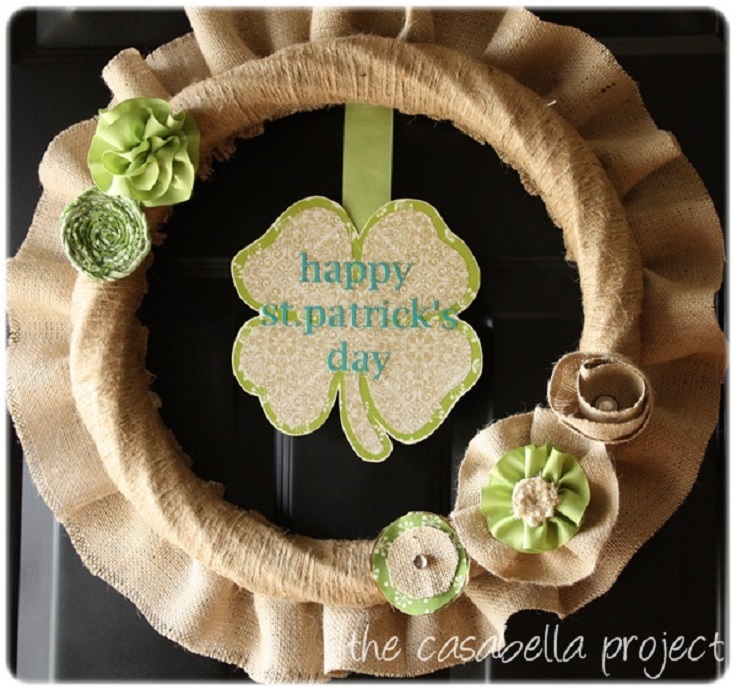 After you make the wreath, start making the embellishment in order to make it green and suitable for St. Patrick's day. When you finish everything, put it on you door and that is how you can invite the luck in your home!
10. Little Shamrocks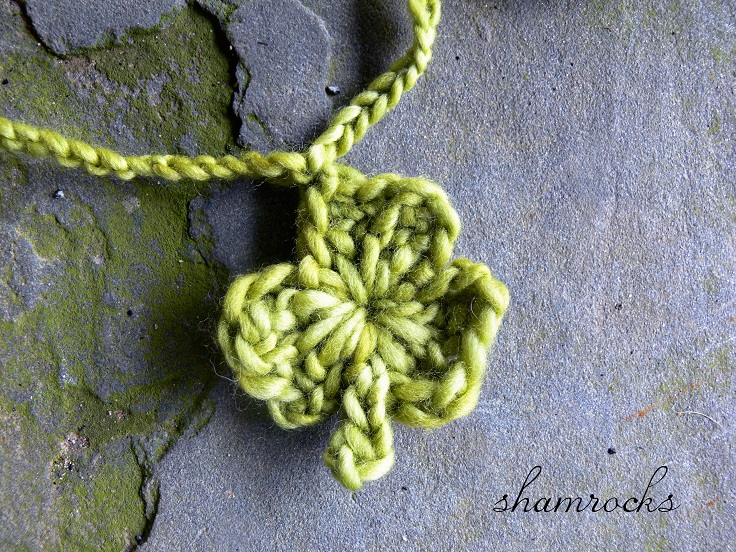 via sorellaandcompany.wordpress.com
A perfect little gift for your close ones. Leave them on their desk or on their pillows, to look like some leprechauns came and left them luck. If you're into crocheting, this will be easy for you. Making these will take you about half and hour.