If you want to bring some summer vibes in your home, one of the best ways to do it is to bring some beach – inspired decor! You can make it yourself and still feel as if you're in some beach cottage with an amazing sea view, far away from home.
Think about what your home needs – is it a new painting, or maybe a new table centerpiece? A new vase? There are plenty of  nautical things you can create yourself, so scroll down to see ten amazing ideas, all very easy and budget – friendly.
1. Nautical Wall Decor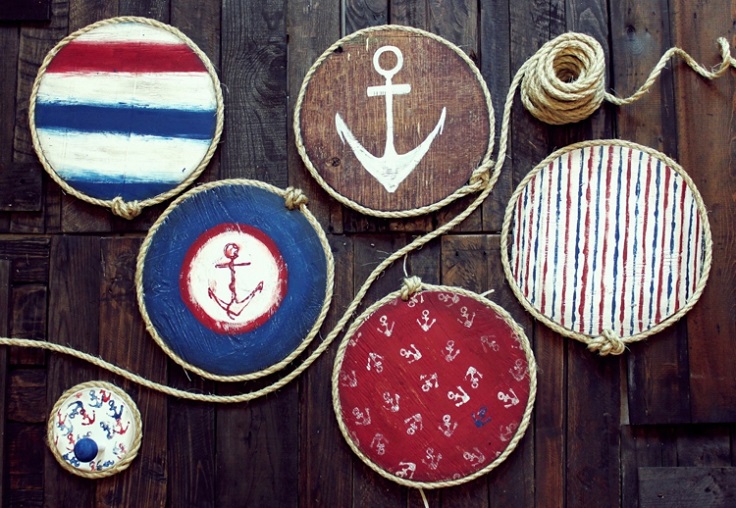 via namelyoriginal.blogspot.mk
Time to do some painting! Don't worry, even if your skills aren't very good, it's all too basic so that everyone can make it. For this project, you need round pieces of plywood, acrylic paint, paint brushes. rope, hot glue and a home made potato stamp. You can play with both stamps and stripes, whatever you want the most. If you even feel more artistic, you can try painting even more complex beach – inspired things.
2. Rope Vase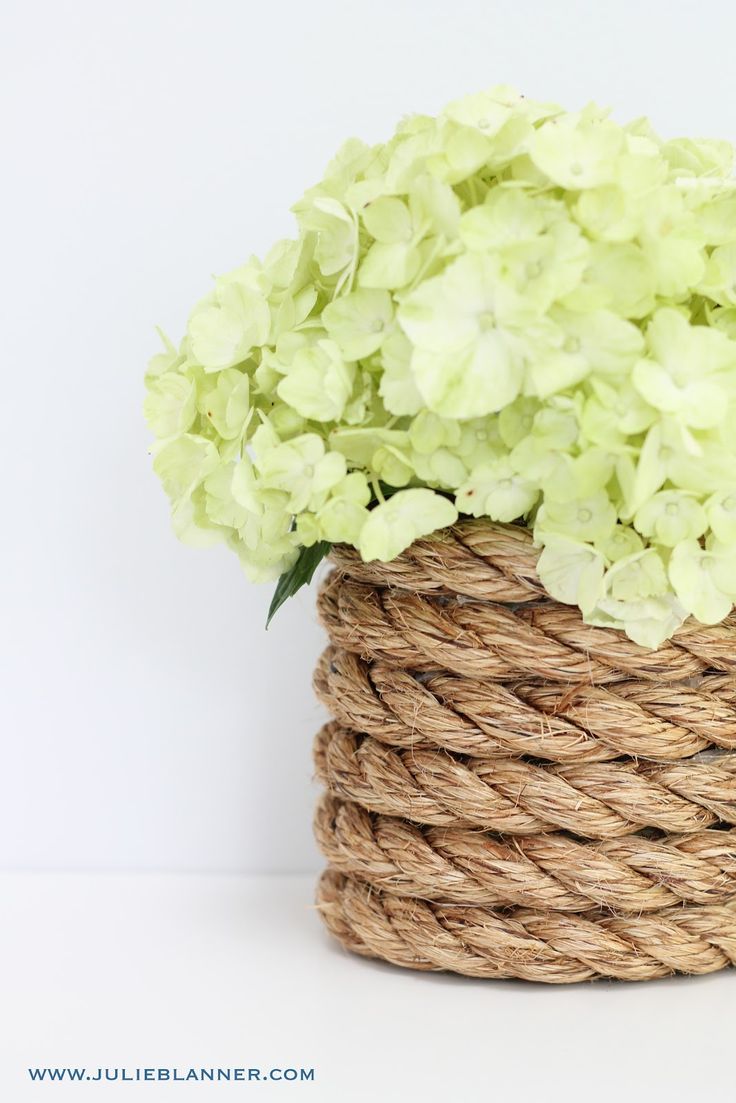 via julieblanner.com
Looking for a last – minute decor? You will be surprised at how easy is this vase to be done. It's a nautical decor, yet still will fit into other interior styles as well. It's budget – friendly project, as all you need are just few materials – rope, vase, glue gun, glue sticks and heavy clip. You can use a vase that you don't like or don't even need instead of buying new one. At the end, just place inside a pretty flower and you're done.
3. Beach Themed Shadowbox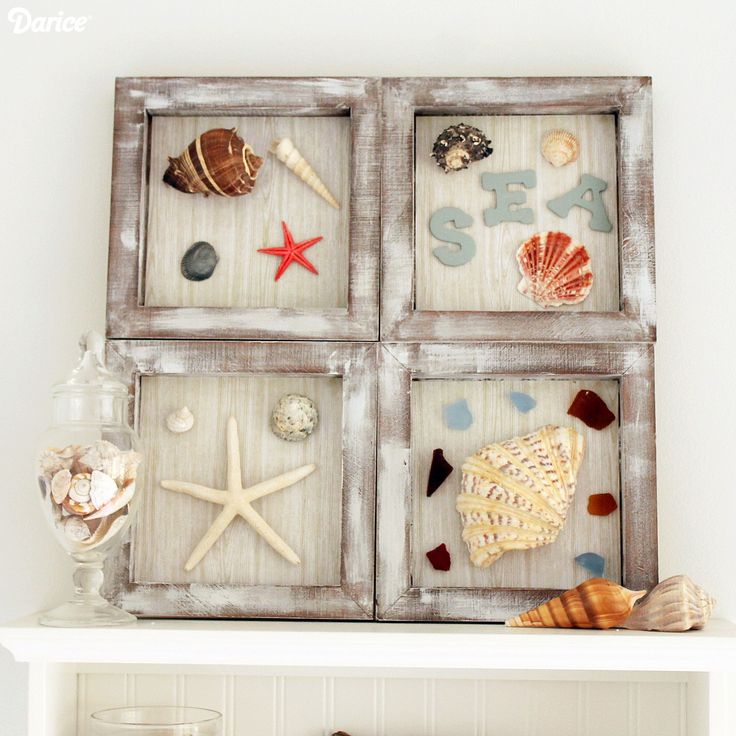 via blog.darice.com
Creating a beach – inspired shadowbox can be a fun, family activity. It's a perfect way to bond with your loved ones! Plus, it will take you a while to make the box, so a little help won't hurt. First, make sure to have the needed materials – wood panels, gel stain, acrylic paint, paint brush, wood glue, wood strip, sawtooth hangers, nails, wood letters, faux wood grain paper, Mod Podge and hot glue gun. When it comes to decorating the box, you'll need seashells, starfish, sea glass, and other mementos.
4. Lantern and Bottle Centerpiece
via theknot.com
It doesn't have to be something you're going to spend time on creating. It can be just a matter of arranging and rearranging objects. Creating a centerpiece is really easy. You have plenty of choice, so have fun experimenting with different decor. For example, you can buy vintage lantern and fill it with pretty summer-y flower, such as the hydrangea. Place a bottle decorated with rope next to it and to make things even more beautiful, add shells and small pieces of wood.
5. Anchor Sign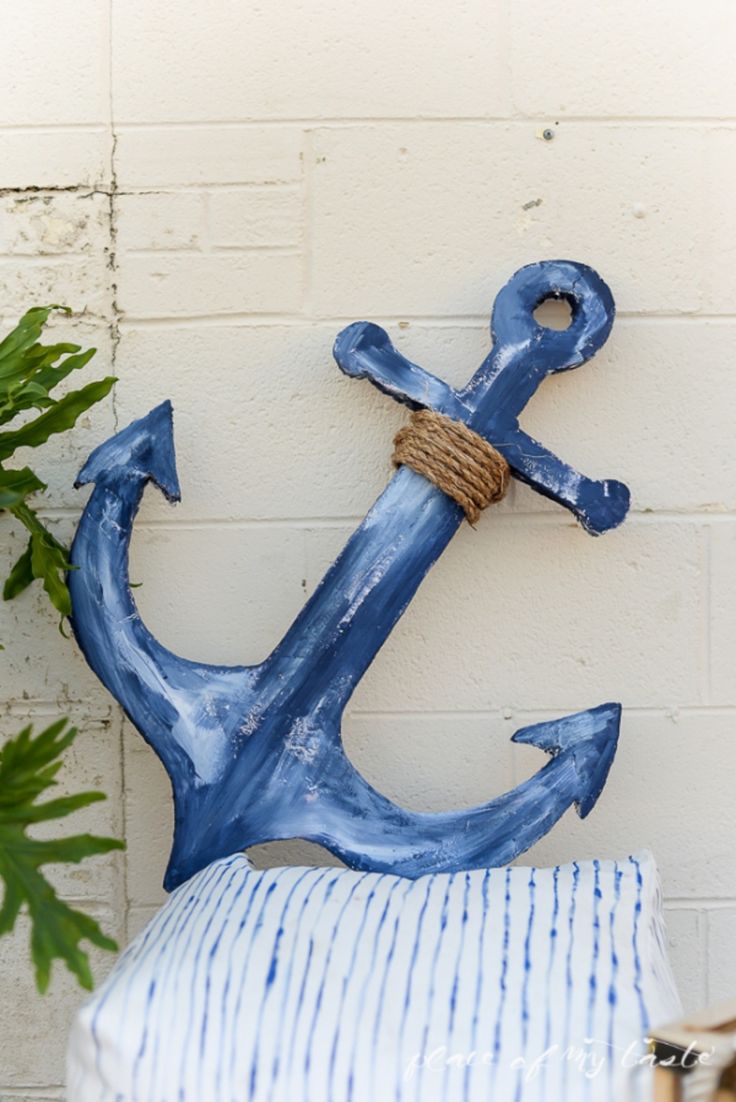 What's more reminding you of sea adventures than an anchor sign? It instantly gave us vibes on sailing through a sea, with the sun shining and everyone having fun… It's like we're almost there! For this project you need foam sheets to make the anchor sign, foam connectors, styro cutter, navy blue and white paint and rope for additional decor. When you have it all done, just place the sign in any room you'd like – it's suitable everywhere!
6. Seashell Mirror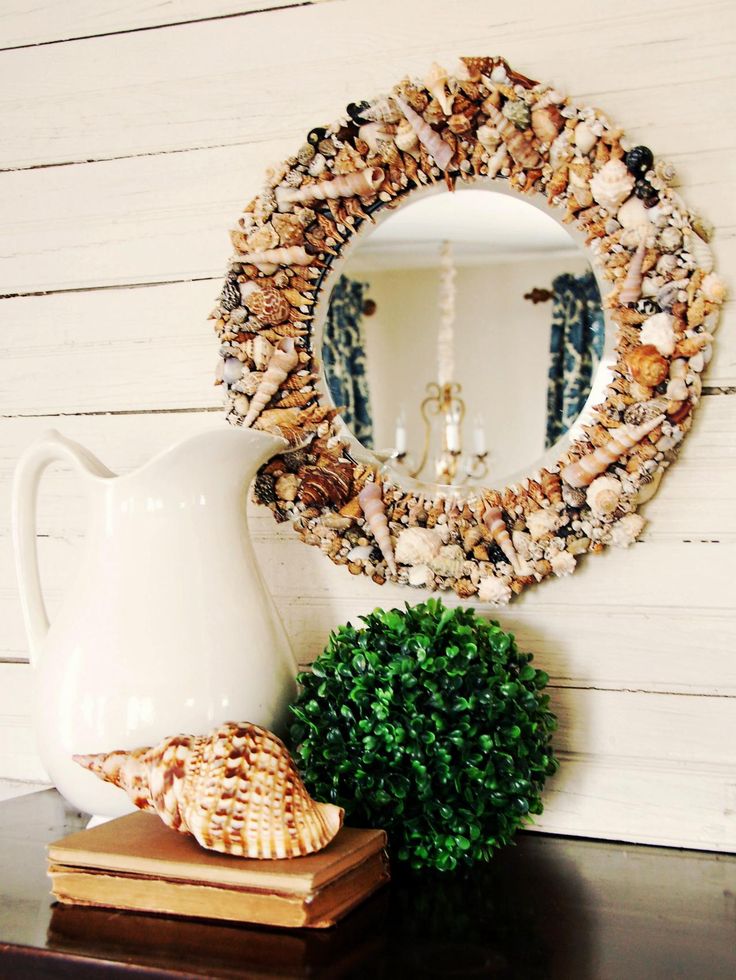 via hgtv.com
Unlike the other projects presented at this list, which are more "last minute", this one will require more of your time. first get the needed materials – framed mirror, hot glue gun and glue sticks, seashells, stiff paintbrush, straight razor, window cleaner and cloth or paper towel. It's very important to clean well the shells if you collect them straight from the beach. The rest is about attaching the shells with glue and when you're happy with the result, hang it.
7. Sand and Shell Decorative Spheres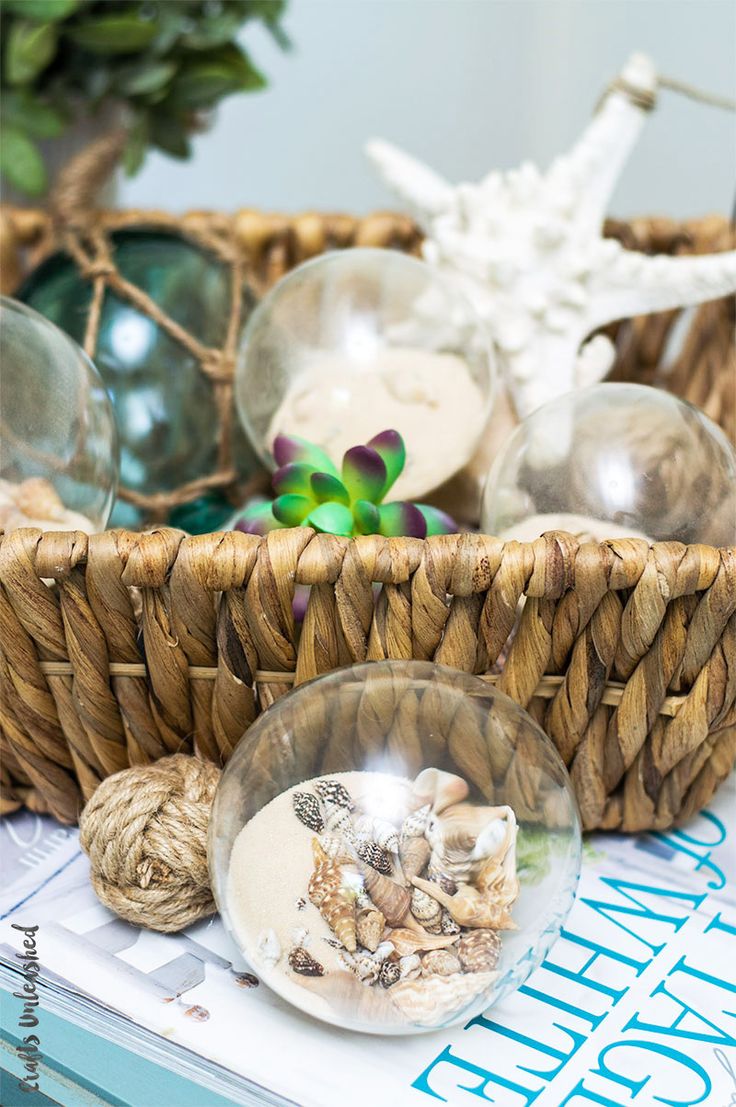 It's amazing how many projects can come out just from one, ordinary glass ornaments. The whole project is all about filling the glass with all sorts of beach – inspired things. To be precise, besides the glass ornament here are the rest of the materials that you need – decorative tan colored sand, hot glue gun, decorative jute balls, jute cord and small craft shells. For additional decor, you can place a rope knot next to it, as pictured.
8. Nautical Theme Photo Display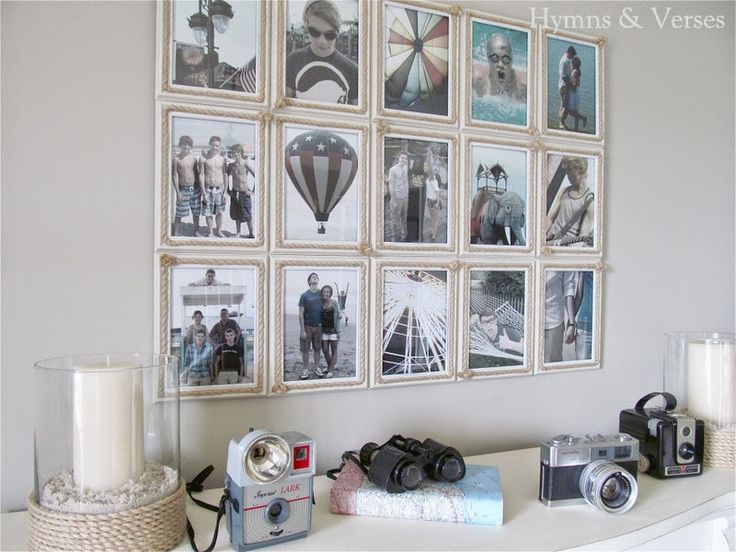 Just because you don't have a coastal house, it doesn't mean you can't decorate yours as if you had an ocean view. It's even better if you decide to place your vacation memories in such a wonderful photo display! For this project, you need 15 dollar tree Frames, spray paint, 1 piece foam core board, cotton or jute Rope and 15 5 x 7″ photo prints. You can consider this as a nice gift to someone who really appreciates DIY gifts.
9. Coastal Wreath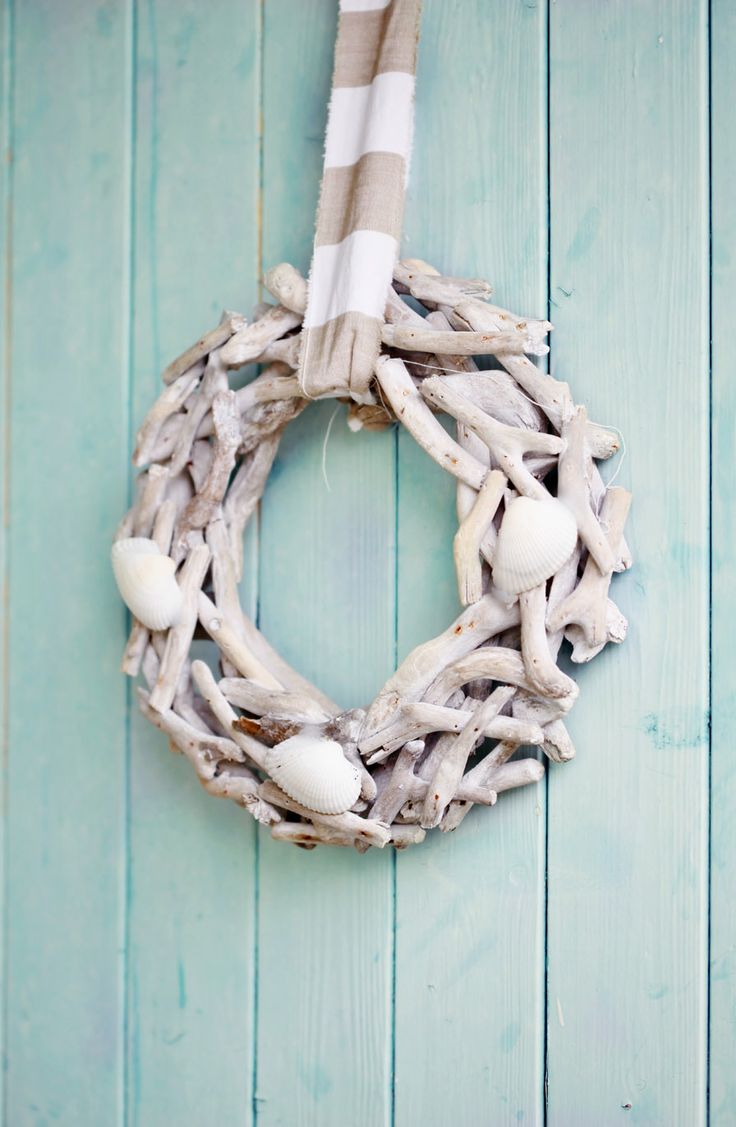 There are spring wreaths, Christmas wreaths, Easter wreaths… So, why not come up with a beach – inspired wreath as well? It looks awesome and it's an amazing way to bring those summer vibes at home. It's a really easy and budget – friendly project, as all you need is a wreath, glue and beach – inspired objects such as shells. Glue them, wait for the glue to dry well and then attach it on your front door.
10. Seahorse Canvas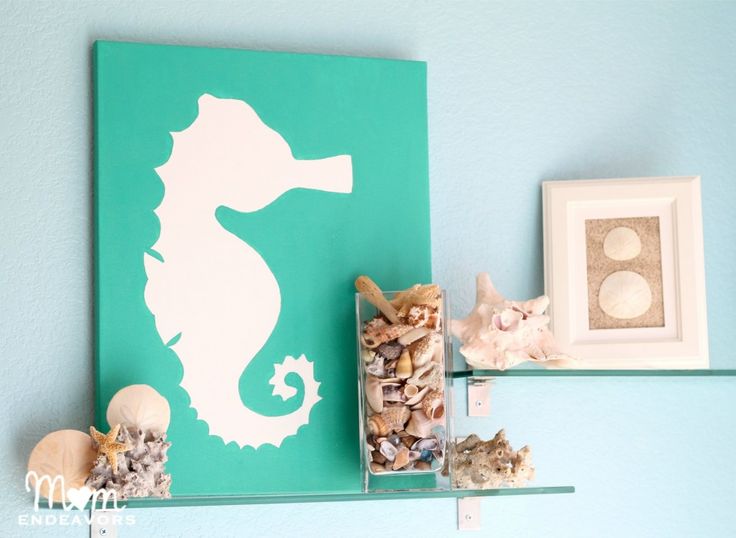 via momendeavors.com
Ever wanted to make your own art but felt like it's too hard? Then, this kind of tutorials are here to prove you wrong. Some wall art ideas are extremely easy and this one is such a good example for it. All you need is a canvas, blue and white color and a paper cutout of seahorse. It can be any other beach – inspired shape that you want! When you're finished, just frame it on the wall and to make things even more nautical, place seashells around the project.