The week is coming to an end and the wonderful weekend is ahead of us. Do you have a free Sunday? If you do have it, and you want to invest your time in something that can beautify your home then scroll down and see how easy and simple it can be to bring freshness to your living space. How often do you repaint your walls? If they turn yellowish from smoking or when an accident happens? If you have a coffee spill somewhere on the wall and you don't want to repaint the entire room then choose a little DIY project, and hang it on that wall.
Wall art is fun, you can experiment with almost everything and it can be so inexpensive. We chose the smartest, easiest and simplest 10 projects for you to try when having a day off. Make sure you comment bellow.
World Map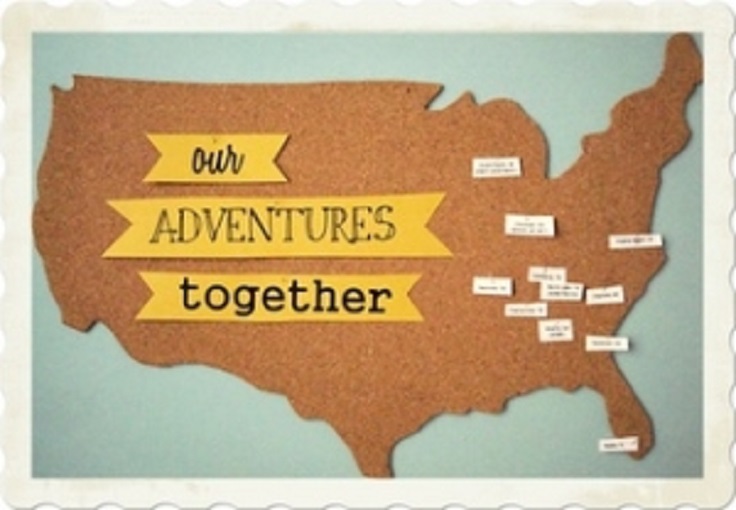 via indulgy.com
If you wish to be remembered of your travels every time you pass through the hallway then this is what you need to do: Grab a sheet of paper(choose an eye-catchy color, like hot pink) and draw the world map on it. Carefully using sharp scissors cut out the world map and hang it on the cork. Mark every place you've been.
The Black and White Photo Wall
via guidinghome.com
This kind of display can be easily updated with many new photos of your loved ones. Get black and white photos of you and your family and put them in frames in the same color. Start hanging the pictures on your wall, the don;t need to be perfectly ordered, that's the point.
Clipboard Wall Art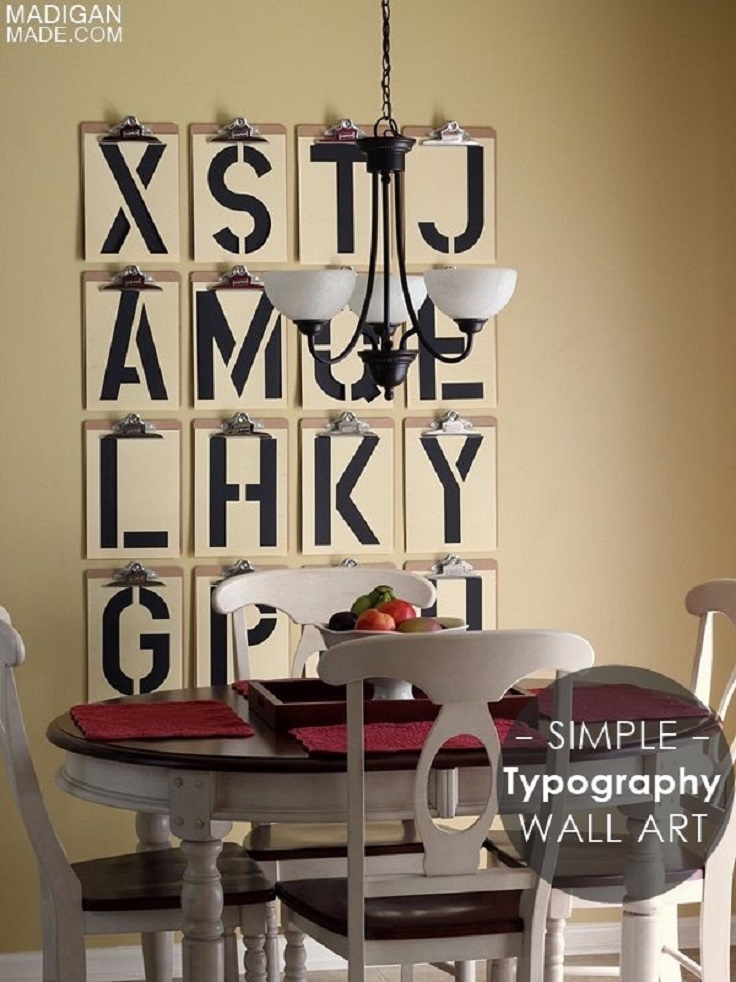 via madiganmade.com
Who would have thought? If you have extra clipboards from work use them in making this creative, typographic art. You can even spell your name and hang it. Print out letters, attach them to the clipboards and up it goes on the wall.
Washi Tape Wall Art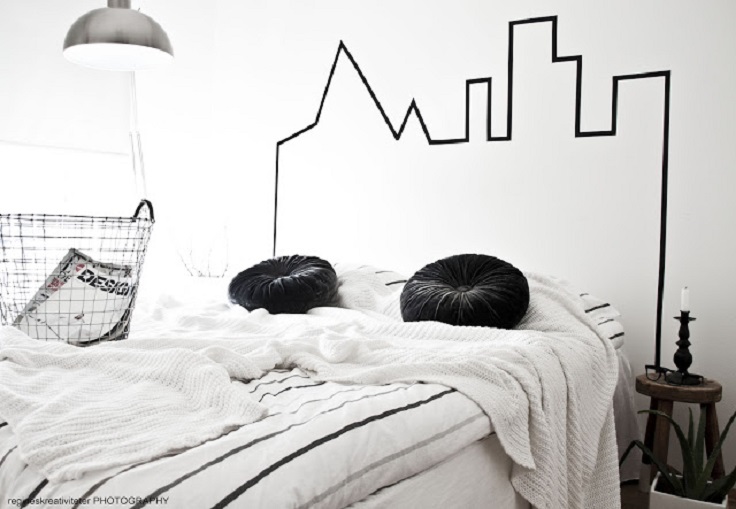 via sofawned.com
Use colorful washi tape to decor your bedroom wall. Make simple geometrical patterns that look like buildings( in this case) or try squares or diamond shaped figures. When you are bored they are easily removable.
China Wall Art
Don't throw away vintage stuff they maybe are not worth much but with a little effort you can give them a new purpose, like these hanging plates. Simply use a plate hanger and place on the wall you desire.
Sponge Painting
via brit.co
"Hi" is the easiest form to cut out of a sponge. As mentioned, cut a sponge in that shape and using whatever color you like dip the sponge in and tap it on painting sheet. Let i dry for a while and hang your masterpiece on the wall.
Fabric Wall Art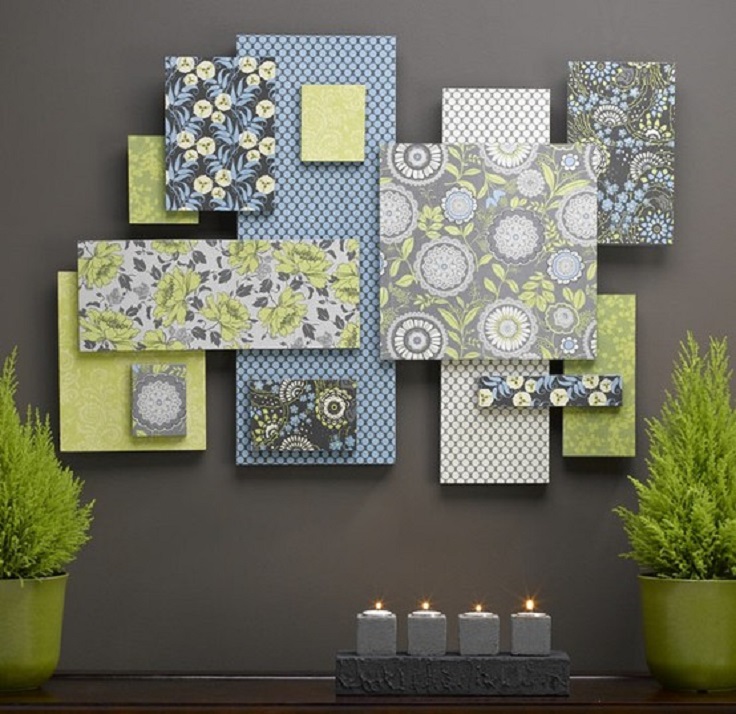 via bradpike.com
If you have some old fabric left in your drawers then use it this way. Stretch the fabric and pin it on the back of a canvas. Place it on the wall and that's it. If you want a level up then place one canvas on top and other canvas with different fabric at the bottom, this way you will create a 3D illusion.
Confetti Wall Art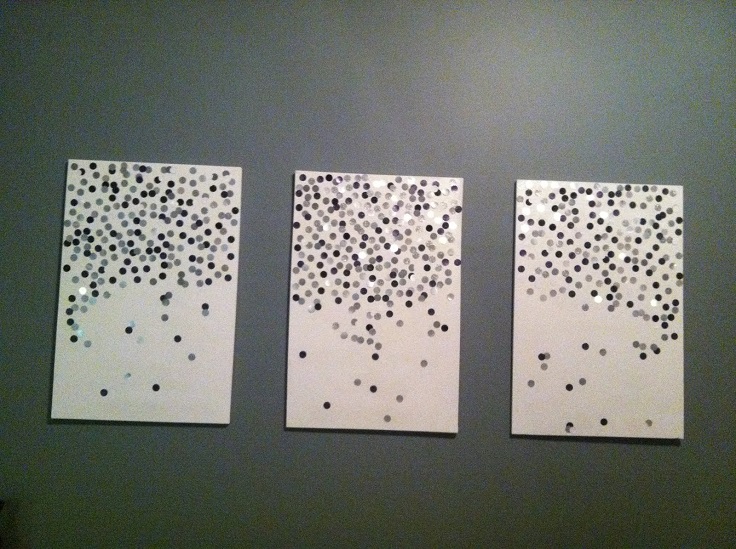 via airensartsies.blogspot.com
Let your room shine with glitter with these confetti paintings. Using circle punches, cut out as many circles(out of a scrapbook) as you'd like. Place them on the canvas, and once you like what you see, glue them.
Coffee Filter Wall Art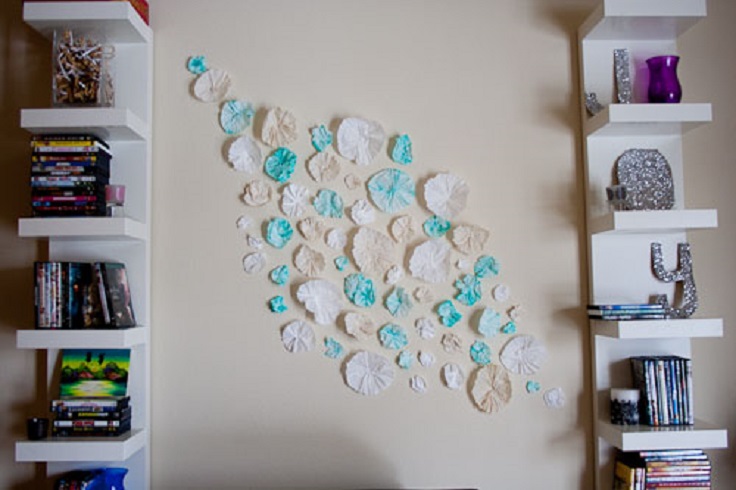 via foxandfeather.wordpress.com
Are you a filtered coffee lover? Keep your filters, cut them out in different sizes, paint some of them with acrylic color. Using a hammer and sewing pins, arrange them on your wall. Voila, a super creative wall.
Pressed Ferns Wall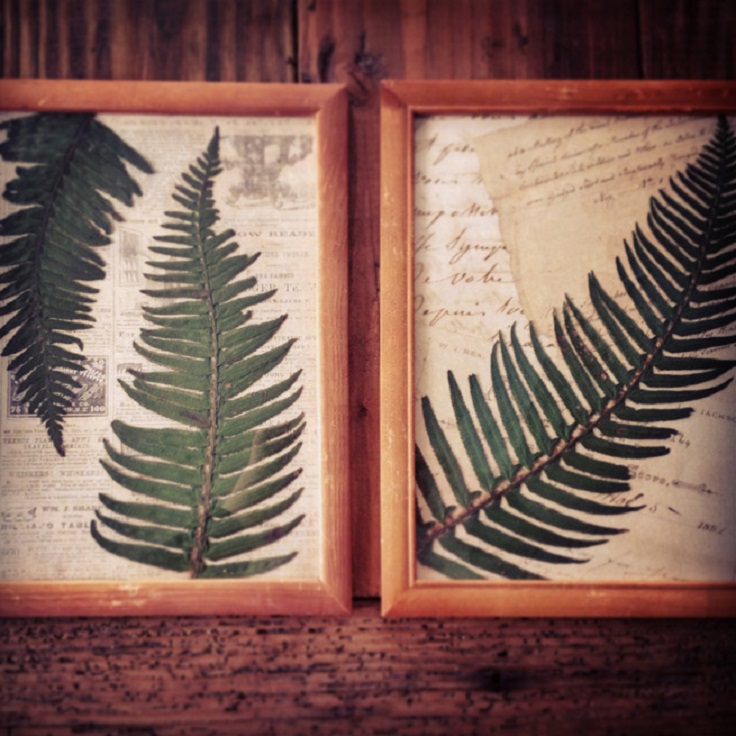 via evermine.com
Pick some leaves and make sure they are not damaged. For two weeks let them dry out in a book, between two sheets of paper. Measure your card stock, cut it and glue the pressed ferns. Hang on the wall or place on the table.