One can never have enough cookies. No matter if they are chocolate chip, gingerbread or oatmeal, they can be such an addictive sweet treat. They are small, good – looking and so tasty that they always make us come back for more and more. Besides that, they are the perfect dessert for other reasons as well. Cookies are easy to make and the needed ingredients are cheap and easy to find most of the time. They are also perfect for any occasion – you can eat them for breakfast, serve them at parties, gatherings, eat them after lunch or basically the whole day if you want to. If all this talking about how great cookies are made you want to eat some, check out the list of ten amazing cookie sandwich ideas you can make at home.
1. Oatmeal Peanut Butter Sandwich Cookies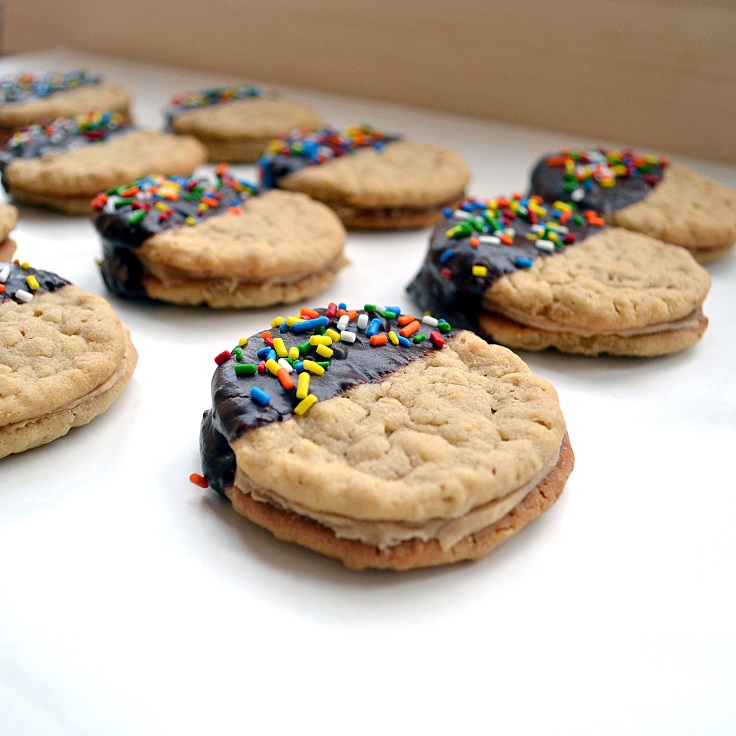 via windykitchen.wordpress.com
You are going to love these cookie sandwich's filling. It's a peanut butter cream made from creamy peanut butter, powdered sugar, butter and heavy cream or milk. It goes perfectly with the chocolate sauce and if you want more of it you can dip the whole cookie instead just the half. After dipping them in the melted chocolate, leave the cookies to dry on wax paper. Also, the sprinkles aren't mandatory, but they make the cookie sandwiches look very irresistible.
2. Maple Ginger Cookie Sandwiches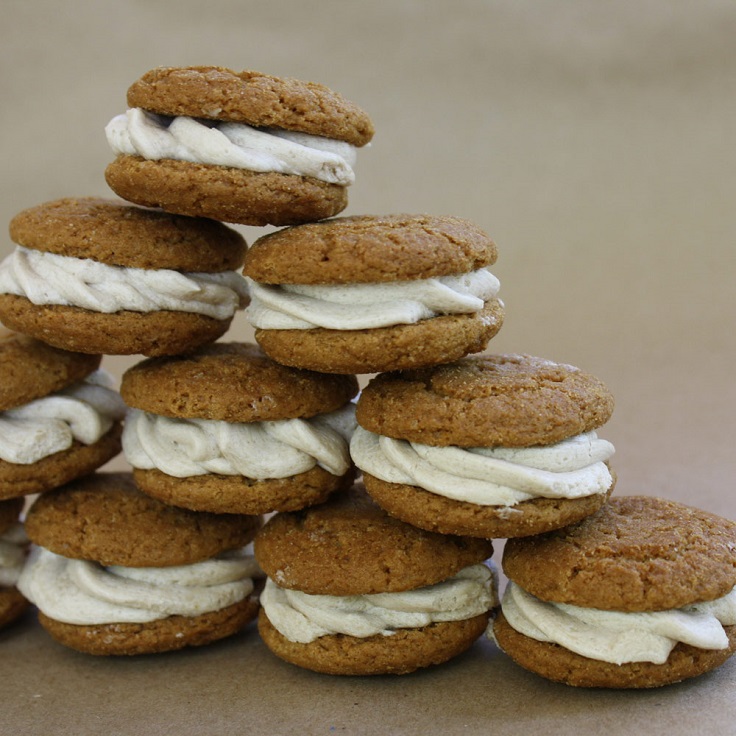 via papertuesday.wordpress.com
These bite – sized cookie specialty is the frosting made from ginger snaps, maple extract, soy milk, sugar, non-hydrogenated shortening and margarine. When it comes to the cookies, according to the author's tips, it is better to use cheap, bought cookies instead of expensive ones or home made. The recipe is dairy – free, but if you prefer you can use cow milk as ingredient. If your maple extract doesn't have a dark brown color, then you can get it by adding some cocoa powder while mixing.
3. Malted Chocolate Cookie Sandwich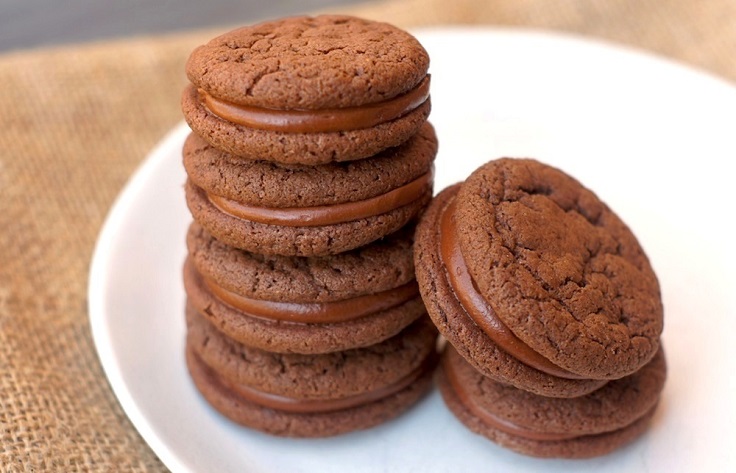 via fearlesshomemaker.com
Looking for a chocolate sweet treat? These cookie sandwiches are here to make your sweet dreams come true. The baking part lasts really short. The preparation and the baking of the cookies takes about twenty minutes in total. After having them done, you can make the chocolate filling who thanks to semisweet chocolate, cream cheese, vanilla extract and malted milk powder is so creamy and delicious, that you wouldn't imagine the cookies with anything else but that filling only.
4. Red Velvet Chocolate Chip Cookies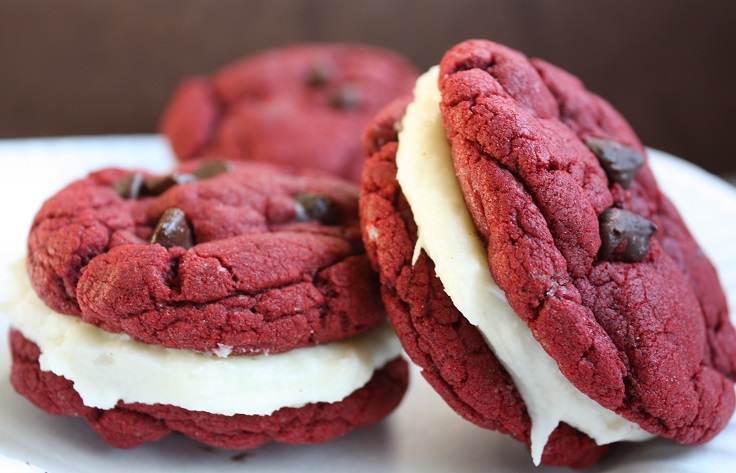 via lasweetsblog.wordpress.com
The Red Velvet cookie sandwiches can be the perfect sweet treat for Valentine's Day, but you can surprise your loved one any time with this easy recipe. The trick is in using a red velvet cake mix which you combine with eggs, oil, salt and chocolate chips. You bake them for ten minutes and after that you can prepare the cream cheese frosting. When the frosting is done and the cookies are cooled, then you can make your cookie sandwiches.
5. Margarita Sandwich Cookies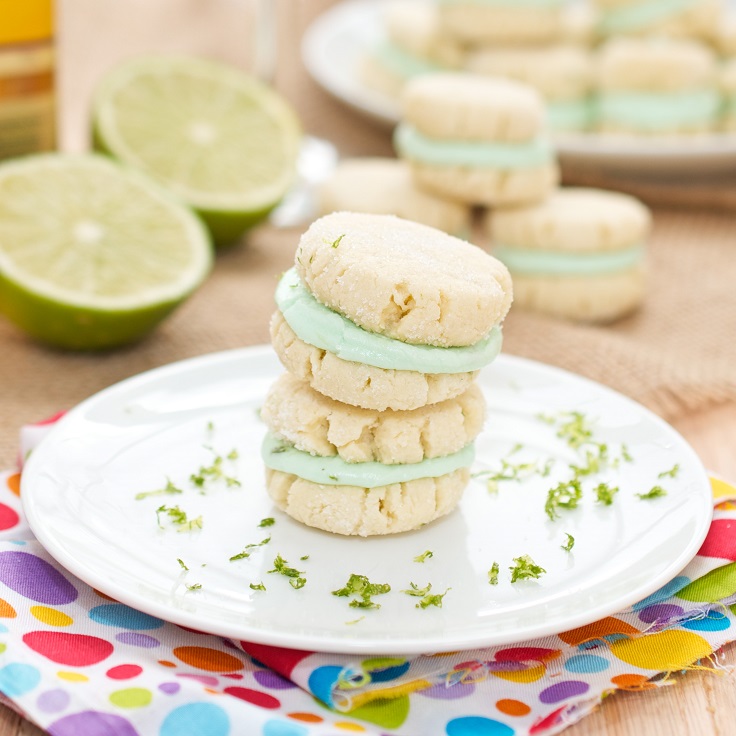 The Margarita Sandwich Cookies are done in less than thirty minutes and they are the ideal dessert to serve at parties. Their lime buttercream frosting contains tequila, fresh lime juice, lime rind, butter and powdered sugar. You also add greed food coloring to get the color. With this recipe you will get about three dozen of the cookies, but you might want to bake another tour, these are so delicious cookies that will be gone in a very short time!
6. Lemon Raspberry Shortbread Cookies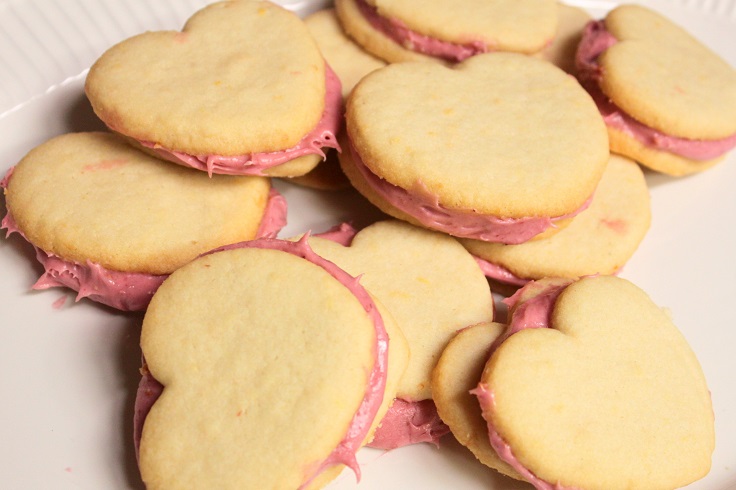 Here's another cookie recipe that will be great for surprising a dear person. The cookies are really easy to make. All you need is lemon, sugar, flour and unsalted butter. First you make the cookie dough and then you use heart shaped cookie cutter to get the shape. When it comes to the filling, it's a raspberry jam mixed with butter and sugar. If your jam filling needs to be more thin, just add some milk. For decoration, you can add pink sprinkles.
7. Strawberry Jam Sandwich Cookies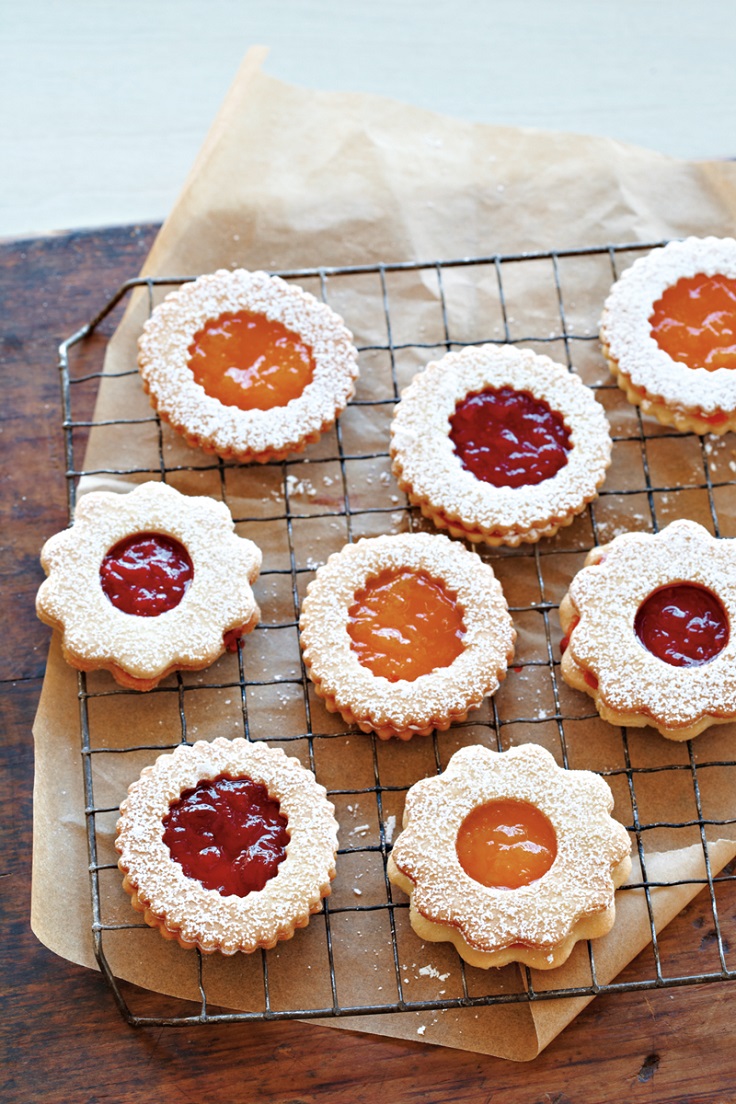 This recipe will bring you about three dozen of the strawberry jam cookie sandwiches. When it comes to the jam, you can use another jam flavor if you like. You can use cookie cutters and shape them anyway you want to, or you can make a regular circle shape. For decoration and for better taste, you can add powdered sugar on top as well. These cookie sandwiches are also a very good breakfast idea – cookies and milk, that's a classic.
8. Double Vanilla Cookie Sandwiches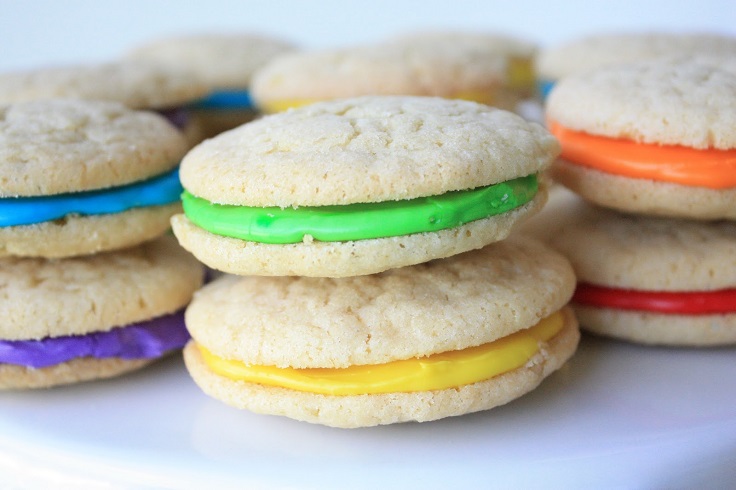 via munchkinmunchies.com
The rainbow cookies are a good dessert idea for a party, especially if you are celebrating child's birthday. They look so fun and irresistible with the colors. Besides that, they are very tasty and easy to make as well. They have the vanilla taste and with the recipe you get about twenty cookie sandwiches. Make sure you make more of them, your guests won't be satisfied with only one of these delights.
9. Coconut Cookie Butter Sandwich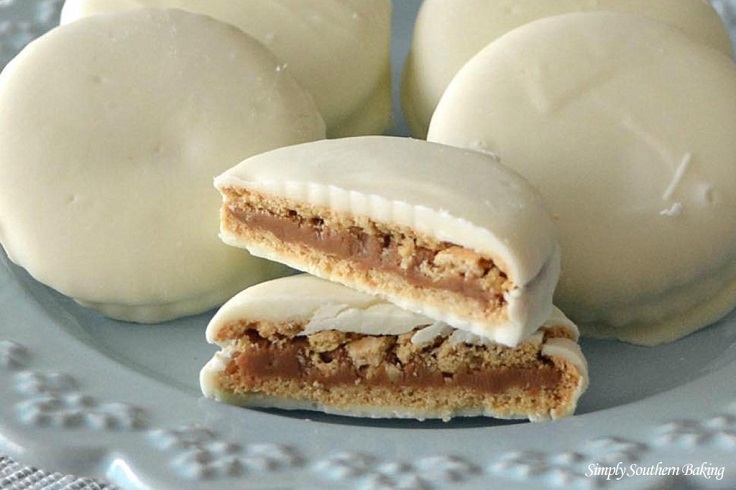 via simplysouthernbaking.com
Believe it or not, but in order to get these coconut cookie butter sandwiches, you only need three ingredients: Speculoos Crunchy Cookie Butter, Toasted Coconut Cookie Thins and vanilla almond bark candy coating. These are done in less than thirty minutes and thanks to being so delicious, they are gone in even less. If you are a fan of the crunchy cookie butter, you can add more of it instead of one cup of it.
10. Dark Chocolate Sandwich Cookies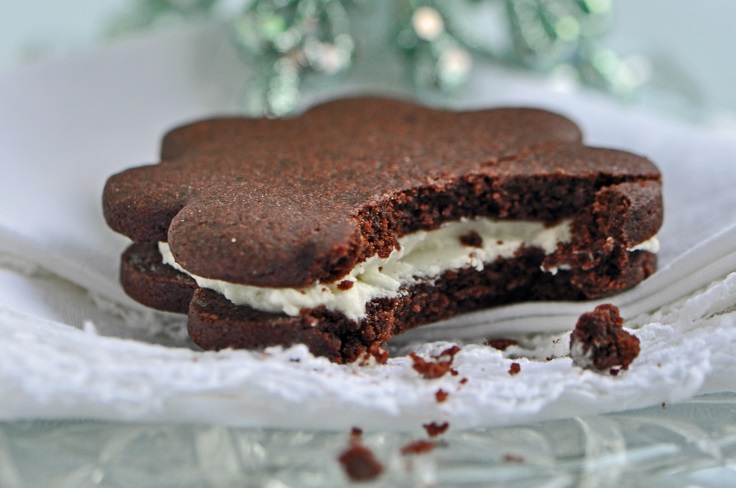 via siftingfocus.com
These cookie sandwiches are the perfect combination of dark chocolate cookies with white chocolate filling. They both go very well together and the sandwiches are a proof of that. After having them ready, you should serve them right away or refrigerate them. But, when you see a good looking, crunchy and creamy cookie at the same time, you can't just say "no" it, so most likely these are going to be eaten right away.