You just came back from work and you feel your stomach craving for some tasty, homemade food, but you're so tired that everything you think of takes time to be ready to eat? We understand you. When you feel tired, lazy and hungry, but still want something homemade, check out these ten amazing recipes. They won't take much of your time and yet what you get is great dinner meal for you, and your family as well. Forget this time of all the orders and take away's – it's time for some healthy, delicious, done by you dinner meals.
1. Melon Salad with Mozzarella and Ham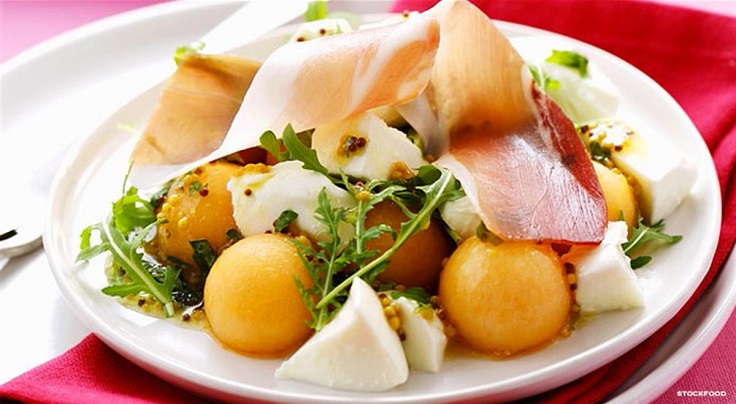 via finedininglovers.com
To make this salad you only need 20 minutes. The salad is really easy to make, you mix the mozzarella, the melon balls and the rocket together, you add the ham and than you drizzle with the dressing, which is made of white wine vinegar, English mustard, vegetable stock and some salt. According to the recipe's instructions, the amount of the ingredients is meant for two people.
2. Avocado Caprese Chicken Salad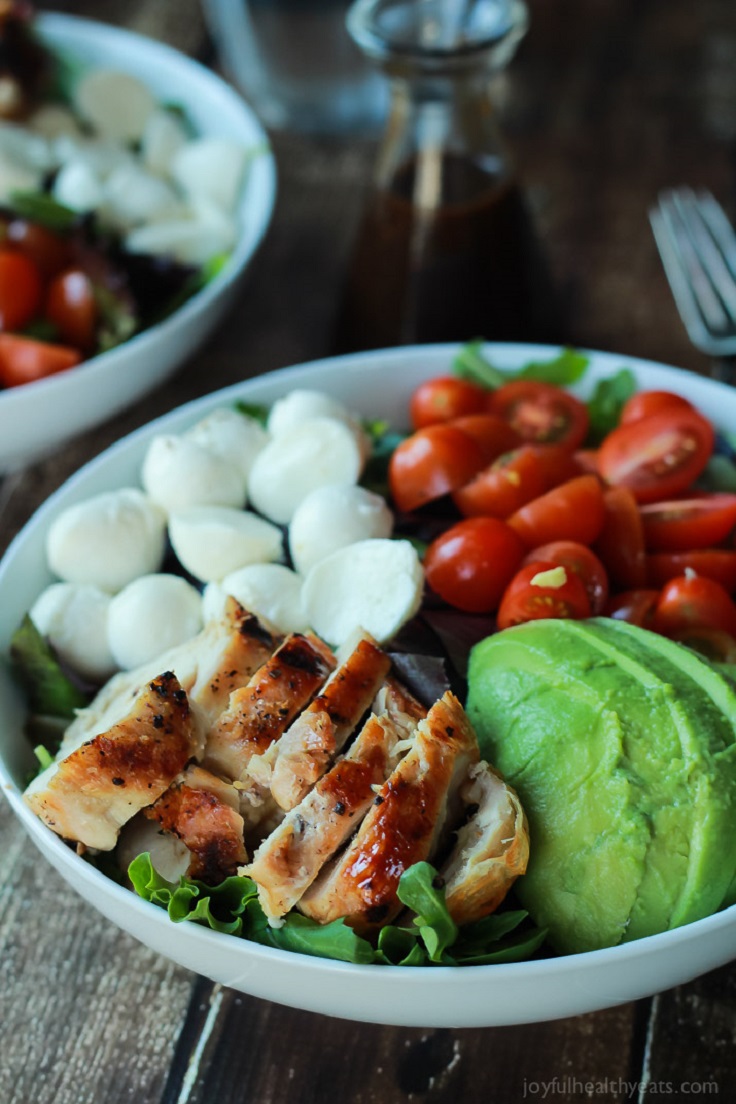 via joyfulhealthyeats.com
The special thing about this salad is it's dressing. It's a balsamic vinaigrette made from garlic, olive oil, dry basil, dijon mustard, lemon juice, balsamic vinegar and salt and pepper to taste. After you cook the chicken until it looses it's pink color, put it in a bowl with the mozzarella balls, the avocado and the cherry tomatoes, and add the balsamic vinaigrette.
3. Pita Pizza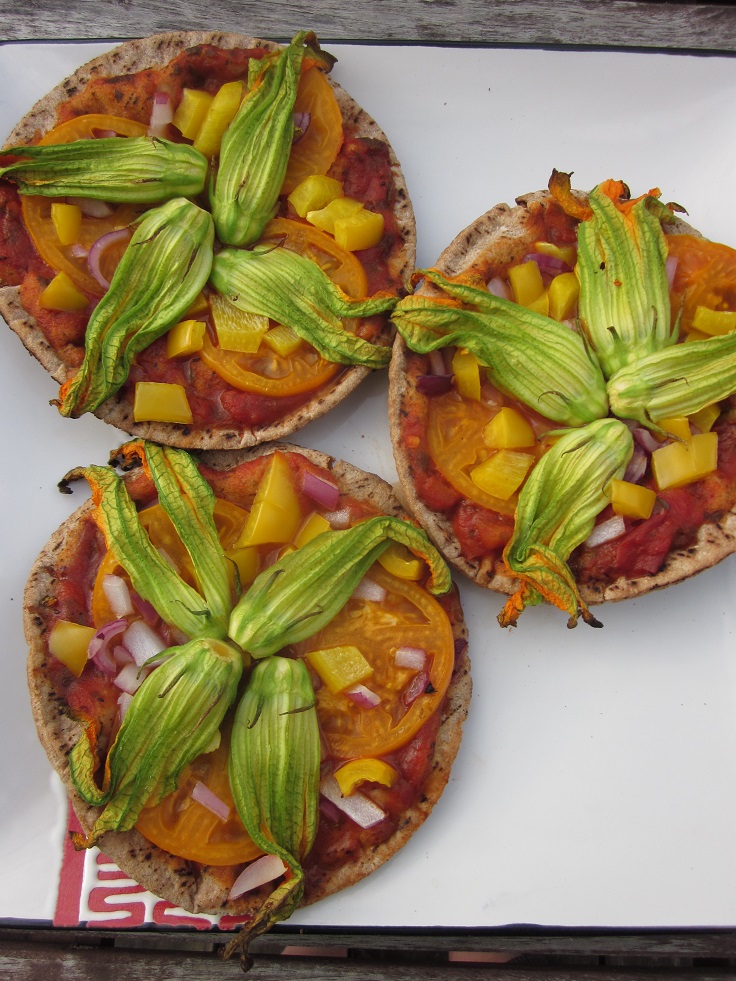 via cadryskitchen.com
This pizza is really easy to make. Instead of making pizza dough or buying it, try something different this time – buy Gyro pita bread and use it as your pizza dough. What you put on it is your choice. You can add vegetables, mushrooms, olives, tuna perhaps? Dress it your way. After that, bake the pizzas for 5-7 minutes and voila, you have yourself a pizza for dinner.
4. Beef and Bean Burrito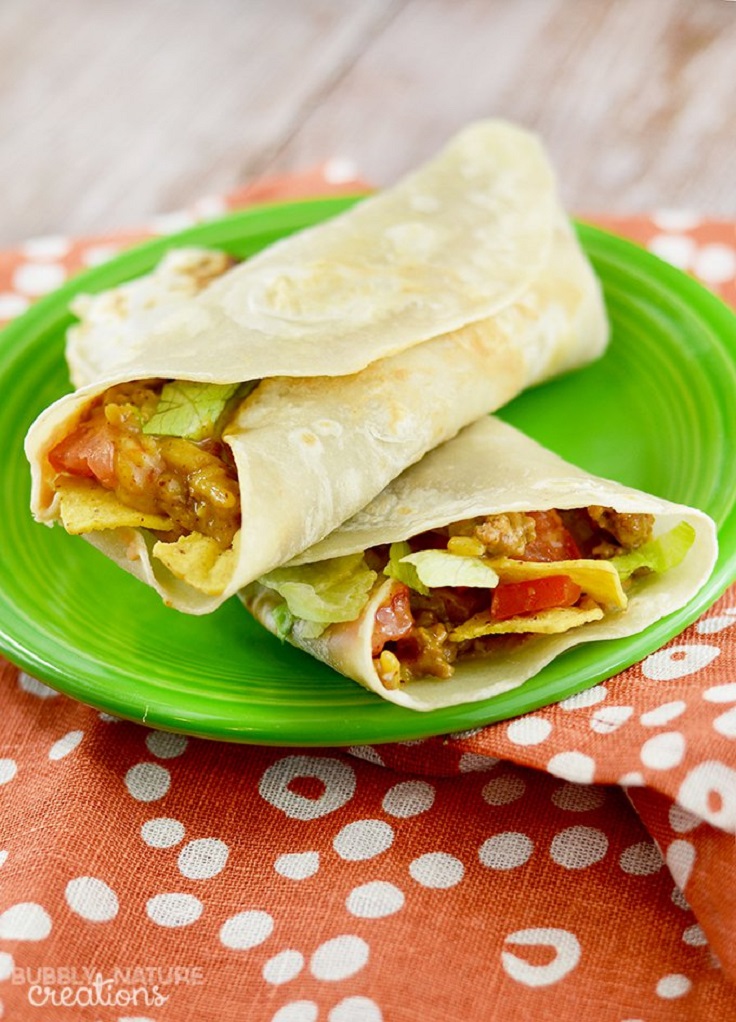 via bubblynaturecreations.com
According to the recipe, you need Hamburger Helper Crunchy Taco, but if you're not able to find it, try making that part by yourself. Then you should heat up the beans and warm the tortillas as well. Add one tablespoon of the beans on the tortilla, add some of the Hamburger Helper and if you prefer, add other ingredients such as tomatoes, onions or cheddar cheese.
5. Pasta with Broccoli Rabe, Muchrooms and Peas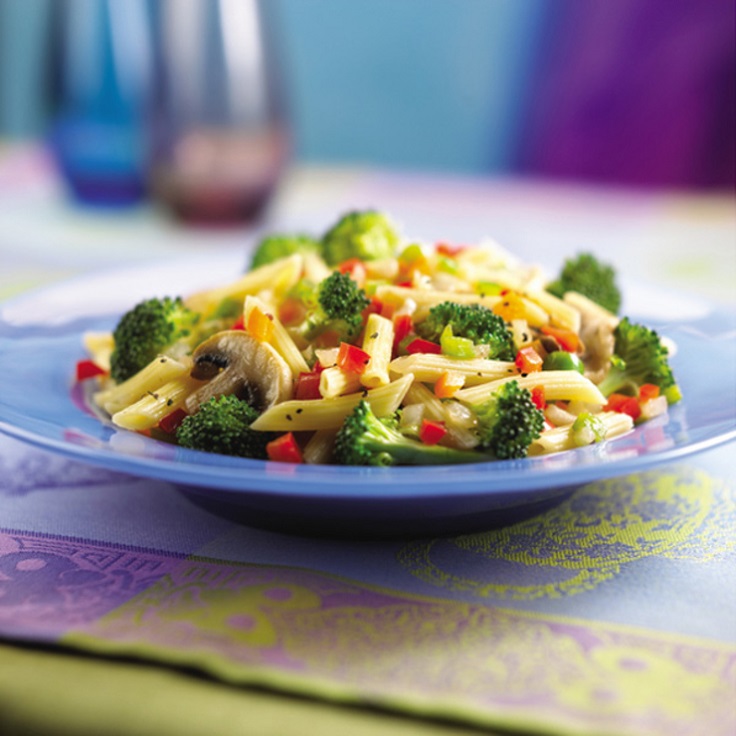 via prevention.com
Pasta isn't the most recommended meal ever especially in case if you are trying to loose weight, but we surely can let ourselves enjoy it from time to time. In order to make it more healthy, don't add heavy sauces, but instead add as in this recipe, broccoli, mushrooms and peas. This guilt – free pasta recipe is worth trying definitely.
6. Spicy Sweet Potatoes Hash and Eggs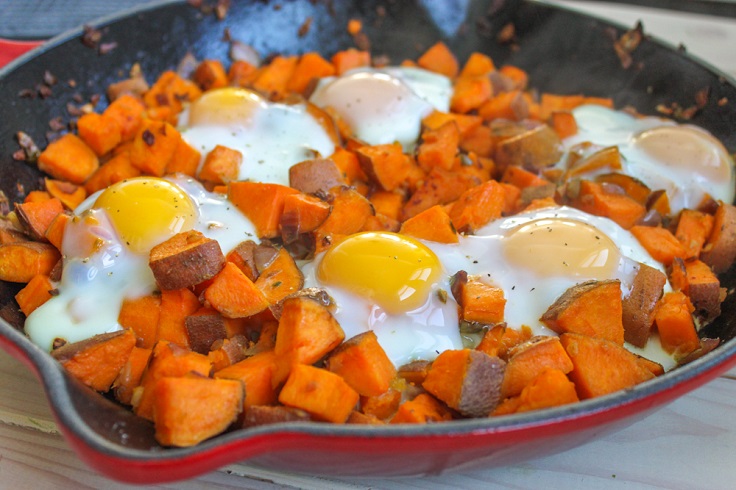 via ww2.kqed.org
This recipe is very delicious, plus it's fairly healthy! To make it, cut the sweet potatoes in cubes. Next thing to do is trim the garlic and mince it together with the serrano chiles. If you aren't into spicy food, consider only one serrano. The rest is just following the instructions which will lead you to an amazing dinner.
7. Ricotta and Pasta Casserole
via becentsable.net
Another pasta recipe for you, pasta lovers (and that means, for all of us!). This meal will be ready on about 30 minutes. It takes less than hour and only 9 instruction steps to have this ricotta and pasta casserole on your table for dinner. So, instead of wondering how awfully delicious it is, get in the kitchen and make it for you and the family.
8. Skillet Lasagna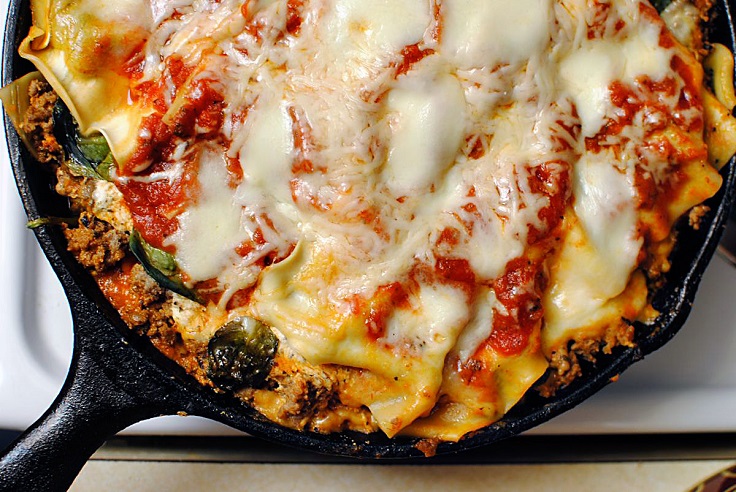 via passthesushi.com
One can never say "no" to Mediterranean food. There's always something more to try – another type of pasta, another sauce, another dressing… Never, ever enough of it! This recipe is all about lasagnas. Instead of using the oven, use your skillet this time. It will take you less than hour to be done and also it will take short time to be all eaten.
9. Dinner Paninis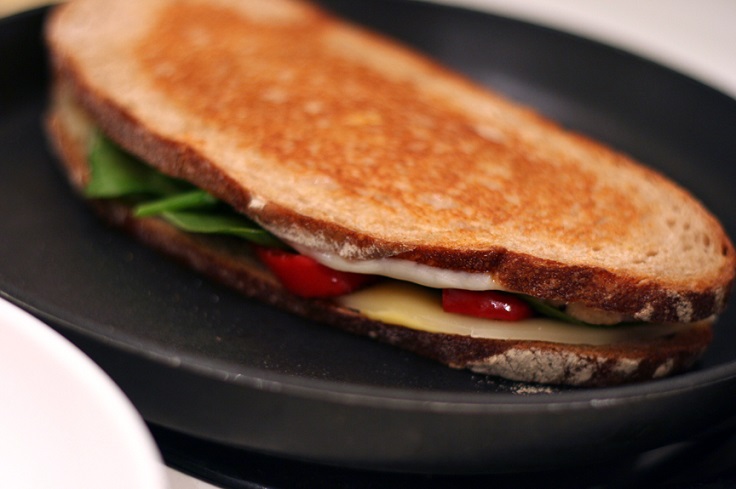 If you are looking for something more simple to eat, these paninis might be the thing you are looking for. Also, this is one of the easiest recipes who will get you a dinner in no time. You can put whatever you want, such as spinach, tomatoes, chicken and honey mustard – now that's a combination you should consider eating.
10. Italian Sausage & Potatoes
via paleonewbie.com
Here's another quick skillet meal. It's all about vegetables and making healthy food at home. This paleo recipe will give you a plate full of protein and it's all gluten – free. The dinner will be done in about 30 minutes and in order t make it, you need pre-cooked sausage, sweet potatoes and zucchini as main ingredients.