There is nothing more refreshing then mixed, colorful fruit in a bowl. No matter what kind of fruit you are eating it is rich with different vitamins and minerals. Eating fruit also helps you hydrate and gives your sugar level a boost. Consuming fruit in the morning is probably the best thing you can do for your overall health, it cleanses your body from toxins and gives you energy for the rest of your day. Of course, breakfast should not be forgotten. Whether the fruit salad that you will be making is for yourself or for a party, friends coming over etc. it is the perfect healthy option for a dessert. Make a delicious fruit salad and comment bellow.
1. Diced Fruit Salad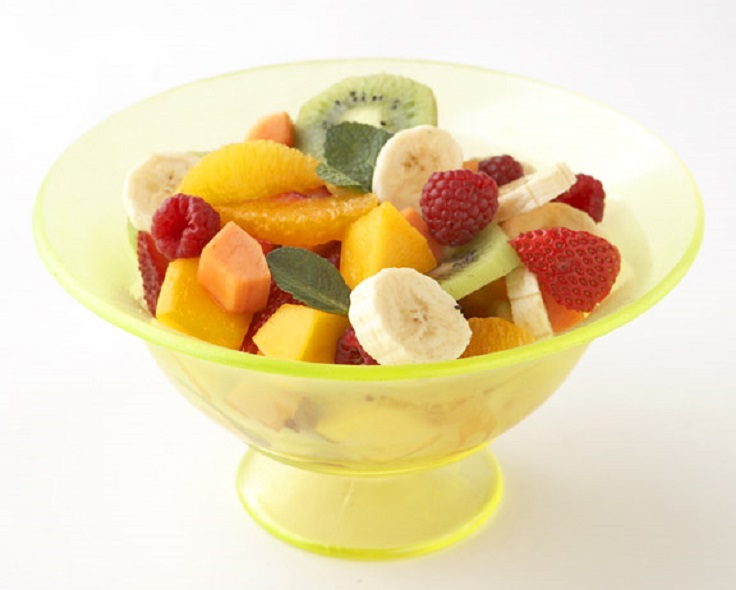 via foodnetwork.com
This simple salad is made in two simple steps. The first step is to slice kiwi and berries, dice papaya, mangoes and bananas. The second step is to serve the fruits in a bowl. This salad is a combination of sweet and sour flavors. It doesn't need any kind of topping.
2. Ginger and Lemon Fruit Salad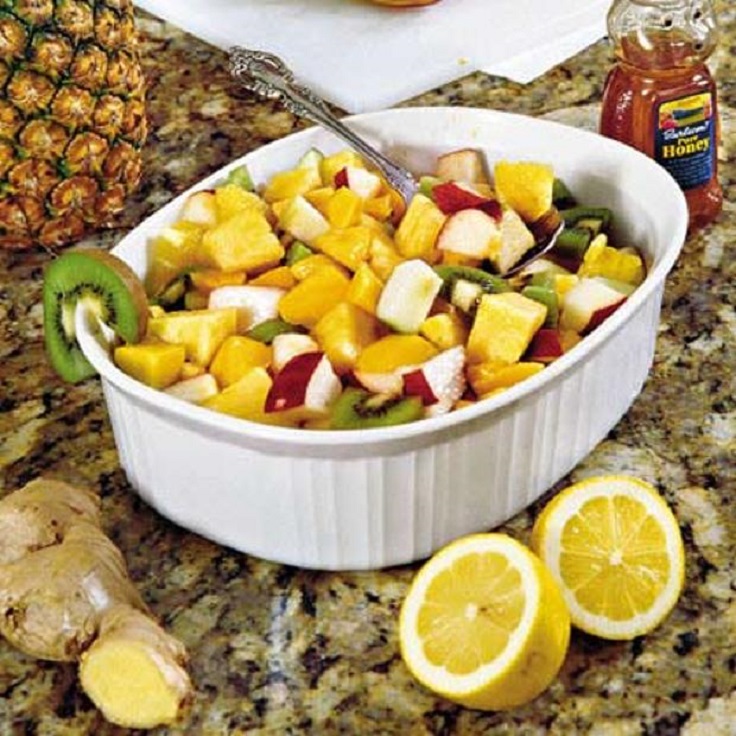 via foodily.com
The ginger and lemon give this salad a specific taste. It is consisted of sliced Fuji apples, mangoes, Bartlett pears, oranges and pineapple. Top the sliced fruit with a mixture of 1/4 cup fresh lemon juice, 2 tablespoons honey and 2 teaspoons finely grated fresh ginger.
3. Mango Salad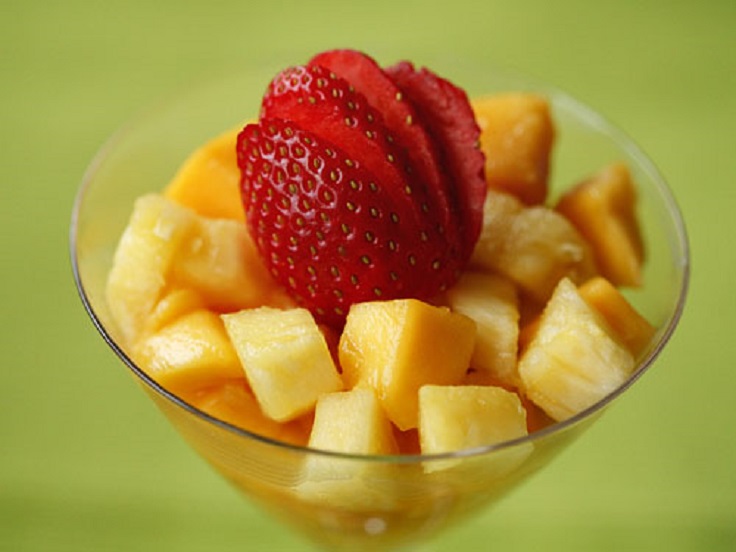 via vegventures.com
Basically this is a salad with just 4 ingredients: mango, pineapple, strawberries and lemon juice. Cut the mangoes and pineapples in 1/2-inch cubes. Pour lemon juice over the fruits and garnish with 2 or 3 fresh strawberries per salad. Serve salad in martini glass or on a lettuce leaf.
4. Watermelon and Pecan Salad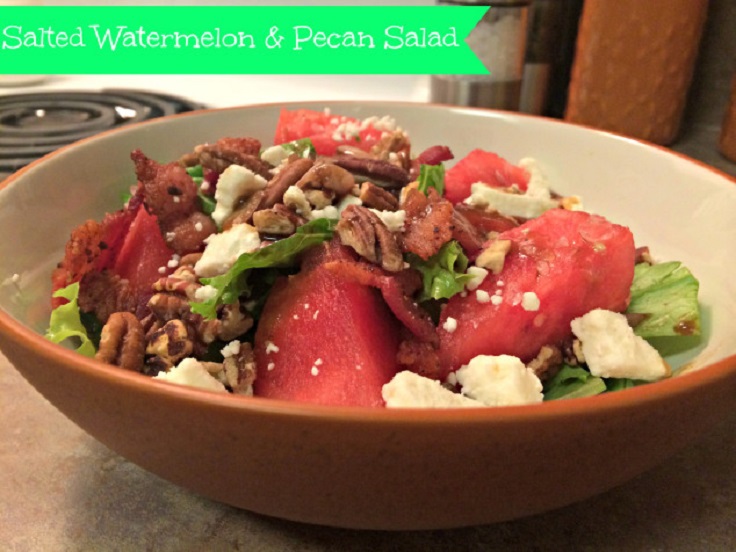 Fruit and diary product? Yes sir, try this delicious salad for those hot summer days. Cut watermelon and salt it using sea salt. Bake the pecans and mix with the watermelon. For an extra creamy richness add some Feta cheese.
5. Grilled Peach and Mozzarella Salad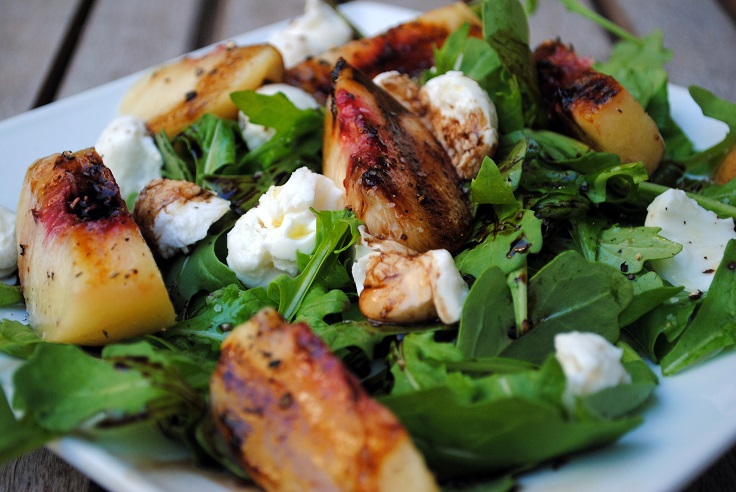 In Capri, they use peaches instead of tomatoes. For this salad you will only need some peaches, mozzarella cheese, lettuce leaves and a drizzle of cilantro vinaigrette. Grill the peaches, put them in a bowl with the lettuce leaves and mozzarella cheese. Add a drizzle of cilantro vinaigrette and there you have your salad.
6. Tomato and Watermelon Salad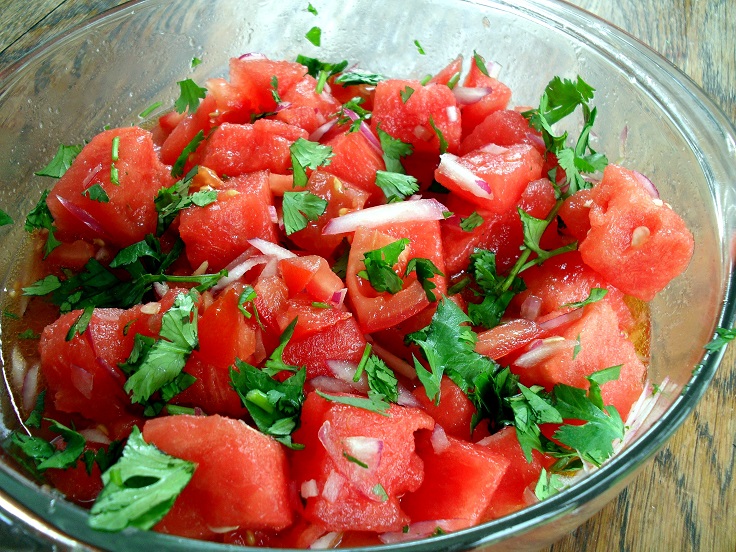 Try this strange combination of fruits, yes, if you didn't know tomato is actually a fruit! Slice tomatoes and watermelon, sprinkle with sugar and some salt. Stir in onion, vinegar, and oil. It is surprisingly tasty.
7. Fruit Salad with Yogurt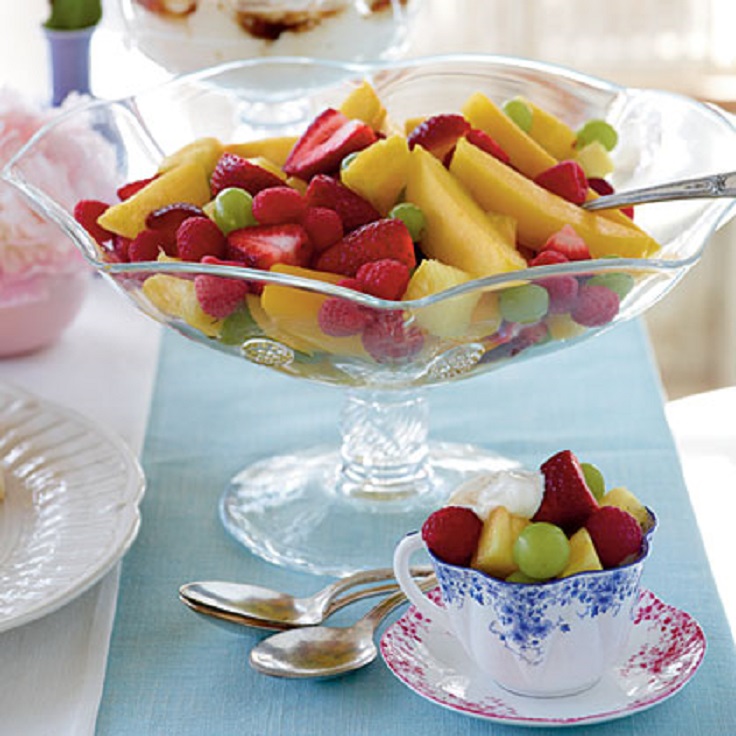 via thechillmom.com
Yogurt makes everything taste better. Get a Greek yogurt for the supreme experience. This salad is consisted of fruits such as pineapple, strawberries, grapes, mangoes, and raspberries and topped with refreshing Greek yogurt.
8. Passion Fruit Salad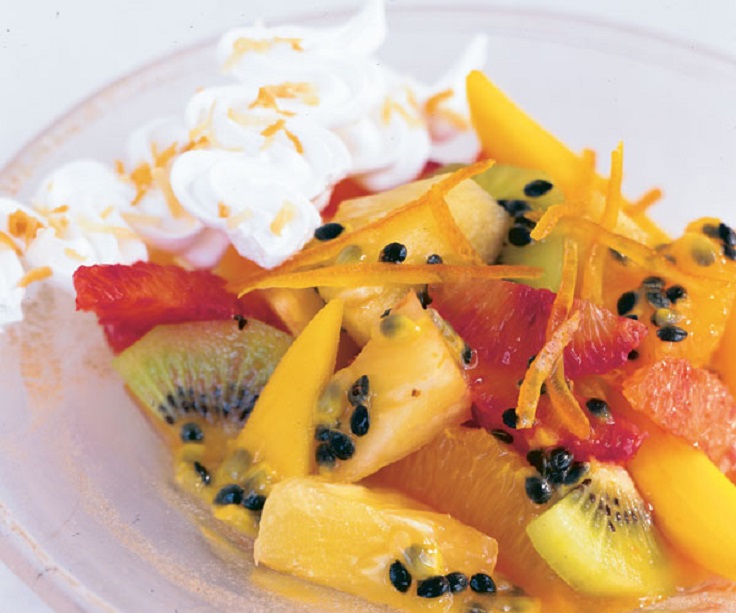 via finecooking.com
The salad is named after the exotic passion fruit. This rich salad is made of kiwi, mango, blood orange, star fruit, and pineapple. Slice the fruits, combine in a bowl and top with orange juice, lime juice, and sugar.
9. Avocado Fruit Salad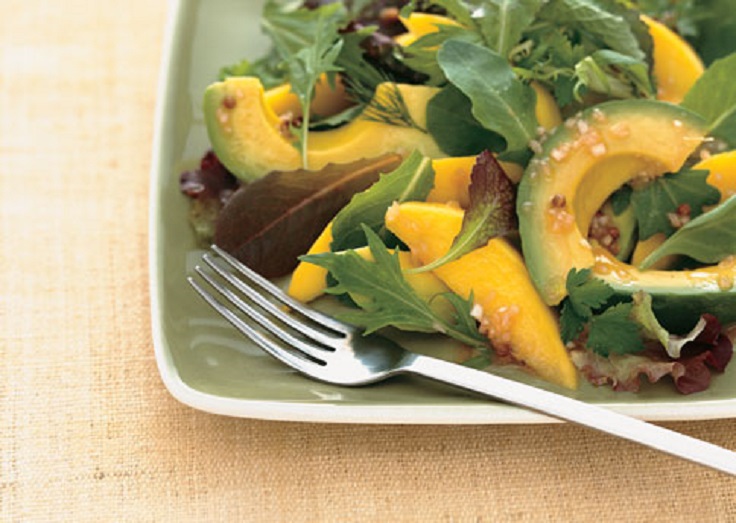 via bonappetit.com
Rich, creamy and flavorful, that is the way to describe avocado. This salad is consisted of the following ingredients: 1 grapefruit, 1 avocado, lime juice, mint leaves and cantaloupe. Mix all ingredients in a bowl and let the salad chill in a refrigerator for 1 hour. Garnish is you want, but we recommend keeping it fresh.
10. Winter Fruit Salad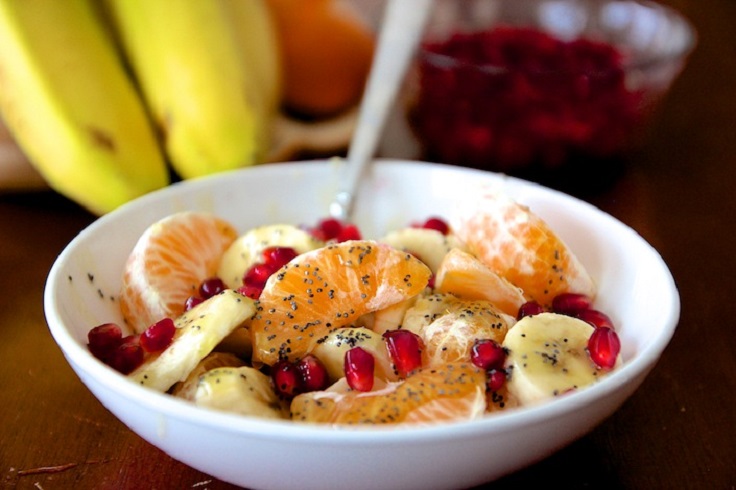 Just because it's winter that doesn't mean we can not enjoy a plate full of fruits. Plus it happens that in winter we get sick more than usual, this salad does not only taste heavenly but it has a healing purpose. In a bowl combine bananas, pomegranate seeds and clementines. In another bowl mix olive oil, raw honey, vinegar, poppy seeds, sea salt and lemon juice. Pour over the fruit ball and enjoy your vitamin bomb.