Everyone is familiar with the annoying 'too much stuff, too little storage space' situation. Even though we get rid of things or rearrange our home from time to time, it tends to get cluttered and messy.
Every day we face the never-ending battle with clothes, crockery, cleaning supplies, etc. – until our home doesn't seem big enough anymore. Perhaps you have too much stuff, or you simply don't have anywhere to put them away. Either way, a proper home organization can save you time, energy, and money.
If your home doesn't have all the organizational tools you need, there are many inventive ways to create that storage space you need. We hope you will benefit from the following basic home organization ideas.
DIY Canned Food Cabinet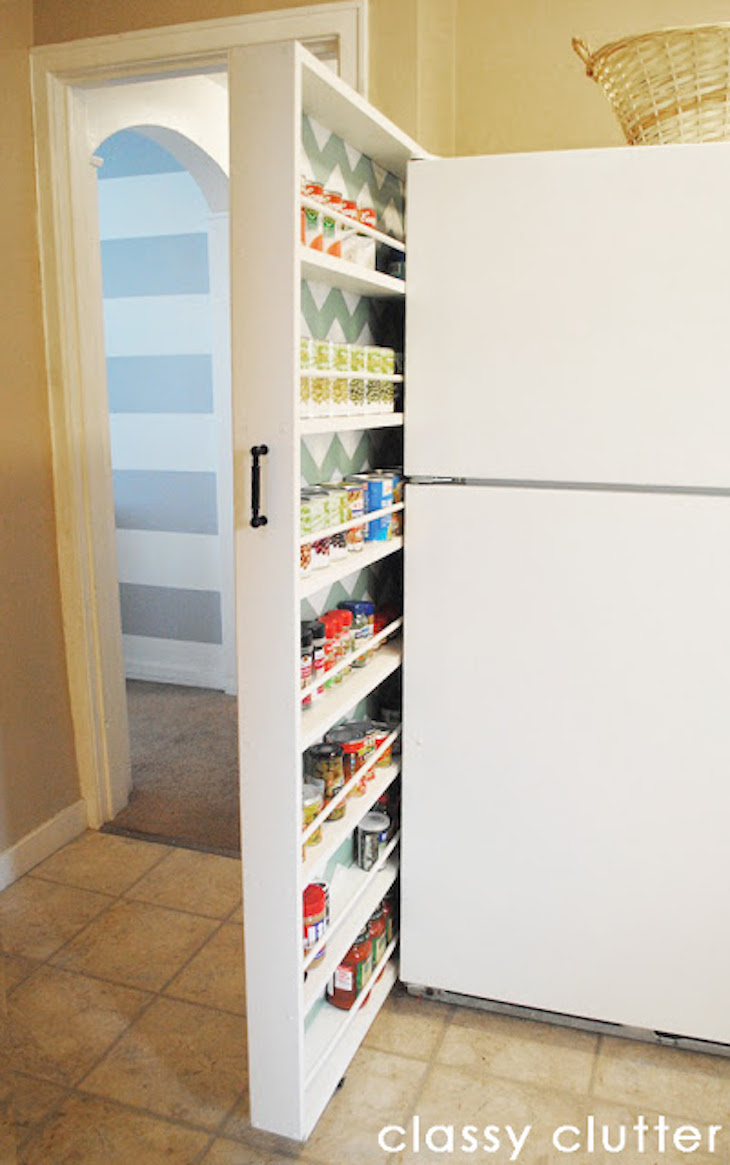 A small kitchen easily gets messy. Most of us are lacking a pantry, so we keep everything in the kitchen cupboard. We end up with half-opened packages of rice and other grains, tins somewhere behind them, and we don't even remember if there is still any baking powder left from the last time you were making that delicious chocolate cake? Here is a fantastic DIY cabinet that will save you lots of room, and you'll utilize the otherwise empty corner.
DIY Storage Bench from Pallet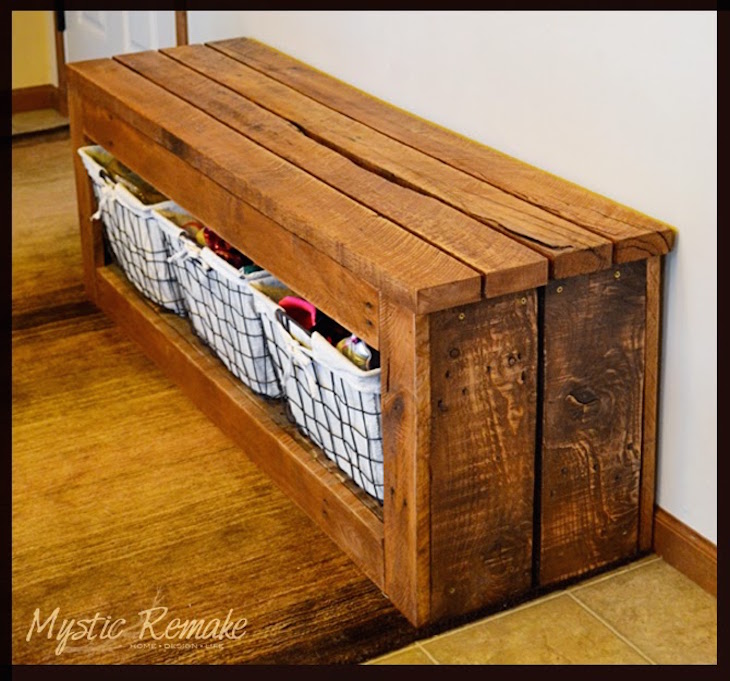 via www.mysticremake.com
Shoes are always lying around right at the entryway when you step inside the apartment. With this DIY bench with shoe storage, you will gain extra space for the spare pairs and also a place to sit down while tying your laces. The best thing about it that you can make this bench simply by using old pallets! Paint it to a color that matches your apartment and put some comfy cushions on top.
Banquette Seating with Drawers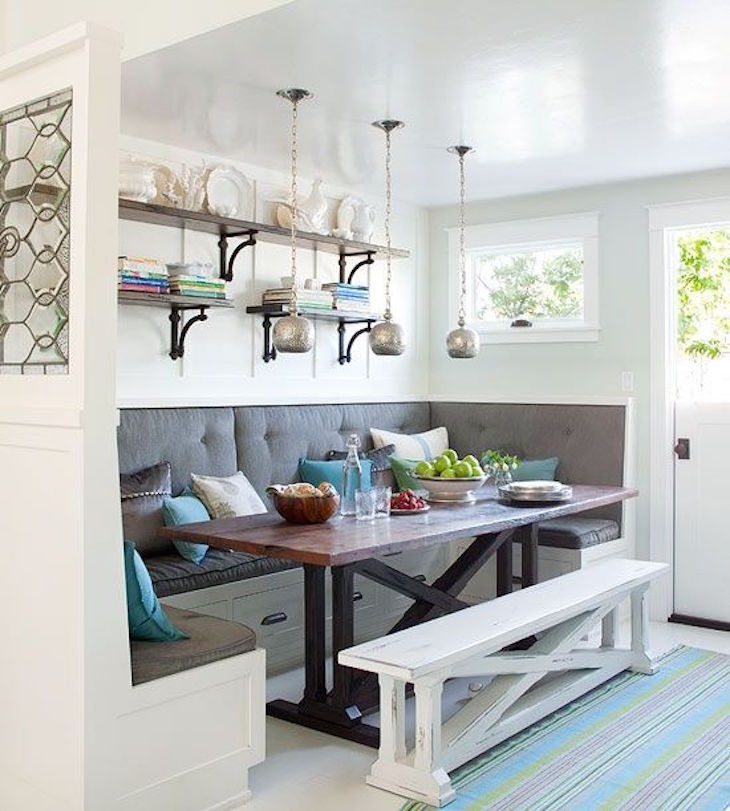 via www.bhg.com
With the banquette-style seating, you can take advantage of every corner of your home, or in this case, your kitchen. The custom-built banquette seating is more common. However, you can build and design your own breakfast nook. It is a wonderful idea to use the Kallax Expedit Shelving Unit from Ikea as a seat, add some small furniture legs for height, some cushions to sit on, and some Expedit door inserts.
Living Room Storage
Similar to the above-mentioned breakfast nook idea, you can build your own living room table using the same IKEA Expedit Unit and put it around your sofa if it is in the middle of your living room. Adjust wheels for height and mobility. There are several other creative ways to use this IKEA item. Click here to see how to build a kitchen island.
Under The Bed
One of the largest unused storage spaces is underneath our bed. One option is to buy a new bed by lifting the mattress, which is simple and effortless. But what to do if you already have just the perfect bed and don't want to invest in a new one? Instead of using the cheap but not very pretty plastic containers, buy some nice wooden drawers.
Revamped File Cabinet
via ciburbanity.com
For papers, documents, smaller tools, or small beauty products, an old file cabinet provides the perfect storage space. Click on the link to see the step-by-step tutorial on transforming the old file cabinet into a beautiful, unique piece of furniture.
Over-door Bookshelf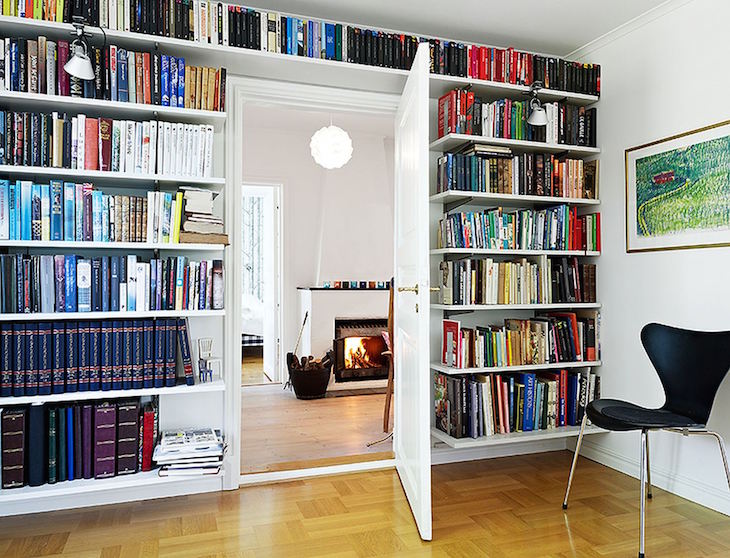 For book lovers, a home library is essential. This is really a simple project that can be done in a day. A great way to use all space is to build this over-door bookshelf. It's practical and creates a nice atmosphere with the books in their myriad of colors and sizes.
Under Stairs Storage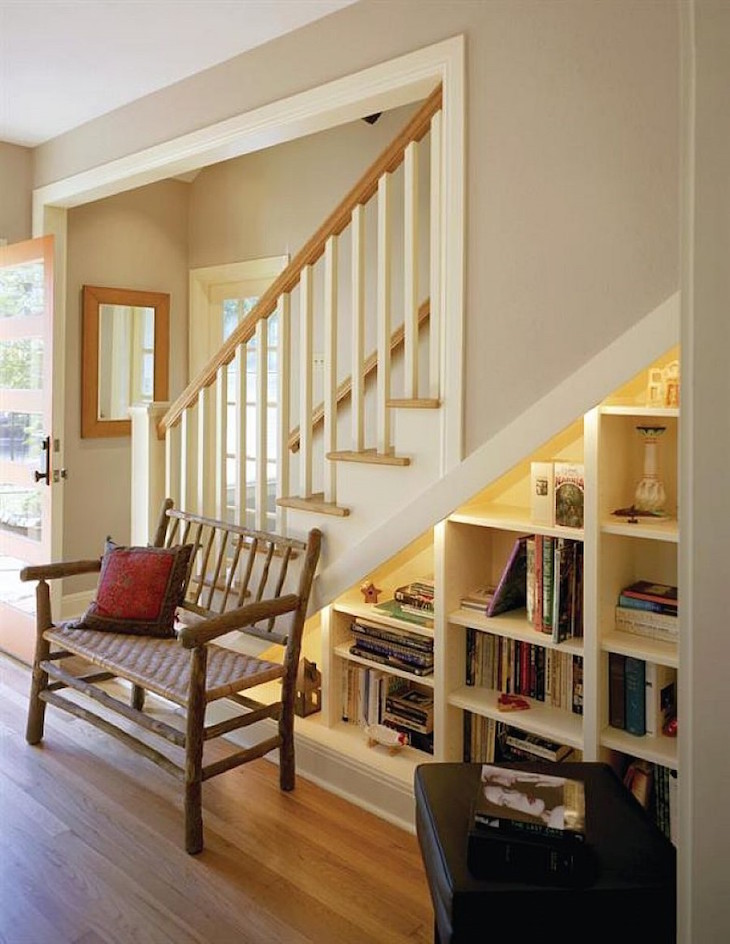 via himunet.com
That awkward-shaped and sized room under the stairs can be used as a great storage space in many different ways. Here is an idea to leave it open for nice ornaments and books. However, you can squeeze less attractive things in there if you hide them with doors or go for the drawer option.
Built-In Spice Rack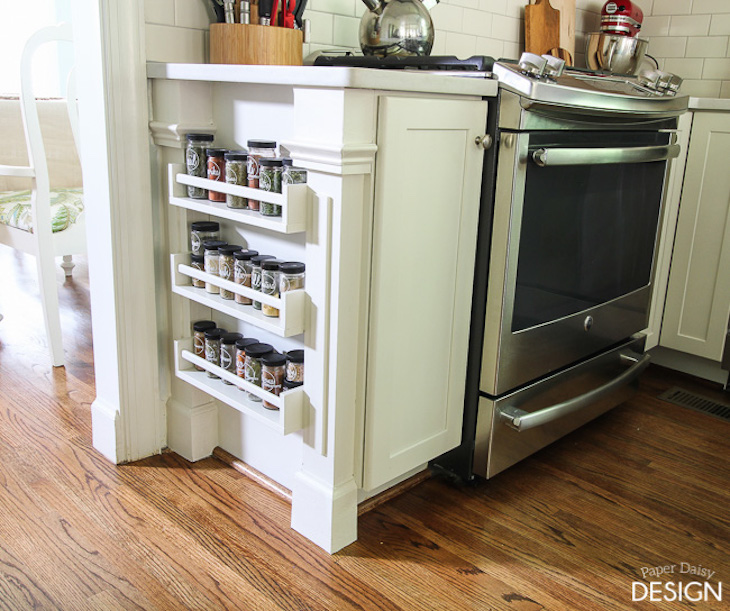 Here is another DIY kitchen organizing  idea, this time for your smaller items – spices! It is a completely customizable project with super simple construction. Using the inexpensive Bekvam Spice Racks from Ikea as building blocks, you will save time and have a new storage space in just a few hours.
Entryway Storage
The entryway is usually the area that gets overlooked. It can actually be great functional storage if you add some new pieces such as baskets, drawers, or additional hooks. The DIY Storage Bench on our list before can be a great option. Put a top compartment above it with baskets on top for even more storage space. Or for the ones with DIY guts, here is a great project to build your Mudroom Bench.