The world is full with so many beautiful places to be seen! These can be just around the corner, or on the other side of the world. Travelling is worth every penny you invest in, as it gives you the opportunity to see all kinds of places.
In this article we are showing you ten amazing places that will make you see that fairy tale places do exist! Some of these may be already known to you, but there will be some you might haven't heard before. Either way, make sure to write down your bucket list and let us know which one you would visit.
1.  Waitomo Glowworm Caves, New Zealand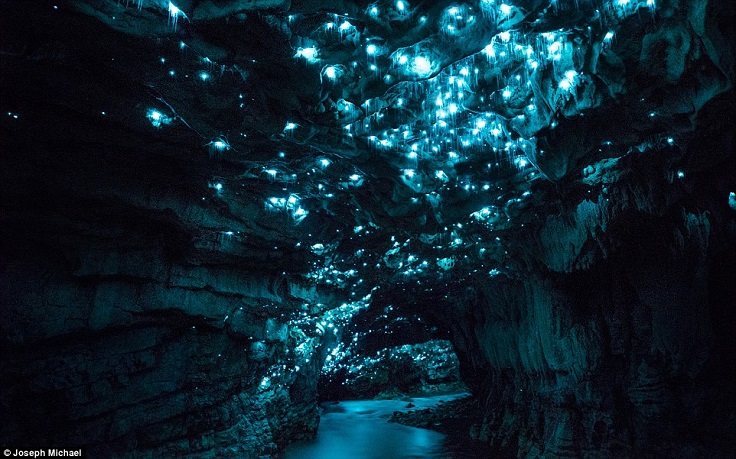 via dailymail.co.uk
The Waitomo Glowworm Caves are located on the North Island of New Zealand and they are one of the most popular attractions in the country. Looking at this picture will show you exactly why – this cave is so unique because there are thousands of worms that radiate luminescent light. You can book an organized boat ride through the Glowworm Grotto and the Waitomo River – you will definitely enjoy this one of a kind experience!
2. Salar de Uyuni, Bolivia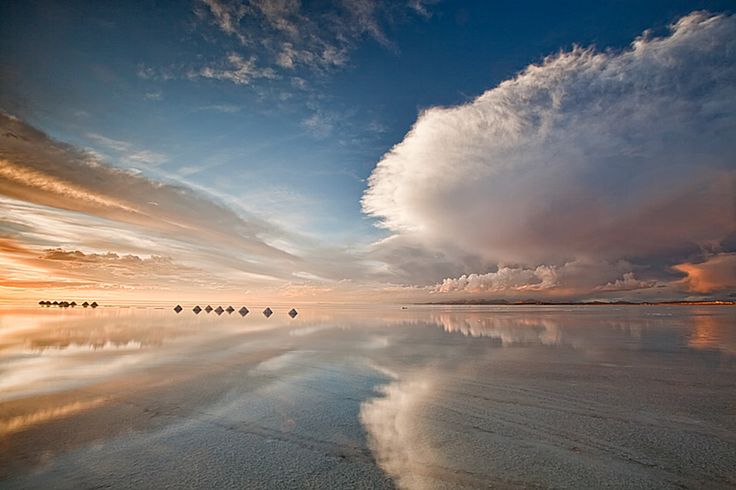 via traveldigg.com
Located in Southwestern Bolivia, Salar de Uyuni is the world's largest reflecting natural mirror! This is the largest salt flat that was formed as a result of lakes drying and salt leaching there from the mountains. During winter, you can ride across the salt flat – it serves as major transport route across Bolivia's Altiplano – and in summer, the whole place becomes huge, reflecting puddle.
3. Lençóis Maranhenses National Park
via cntraveller.com
The Lençóis Maranhenses National Park is located in the northeastern part of Brazil that is all about white, sand dines and crystal blue lagoons in between. Even though the sand make it look like a desert, it cannot be considered as such because it's raining too often there. The national park stretches for 580 sq miles, so it makes it look like a never ending surface of dunes and lagoons! The best time to visit the park is from July to September, when the lagoons reach their highest peak.
4. Undredal, Norway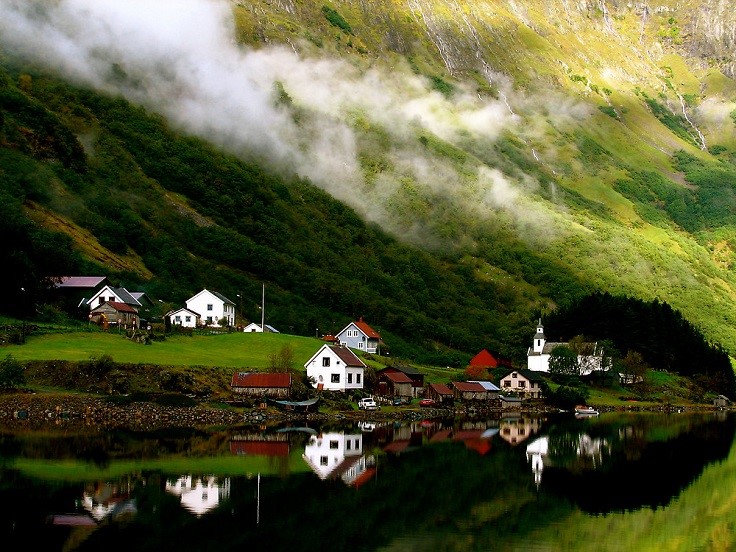 via redbubble.com
Norway is well – known for its breathtaking scenery. One of the most visited attractions in the country are exactly the fjords, but what makes the whole fjord thing even more magical is thanks to the villages located in between. If you ever wanted to feel as if you're in a fairy tale village in Scandinavia, then Undredal is the perfect choice. No wonder why Undredal is one of the villages protected by Unesco World Heritage.
5. Mont Saint – Michel, France
via blog.ryanair.com
Mont Saint – Michel is one of the five most popular touristic attractions in France. It is an island commune located in the region of Normandy in France. It got its name from the monastery that had its seat there and we must say that the whole view is breathtaking – the fortification that surrounds the small island, the architecture of the petite, medieval houses and the castle on top – everything about Mont Saint – Michel is truly magical!
6. Sea of Stars, Maldives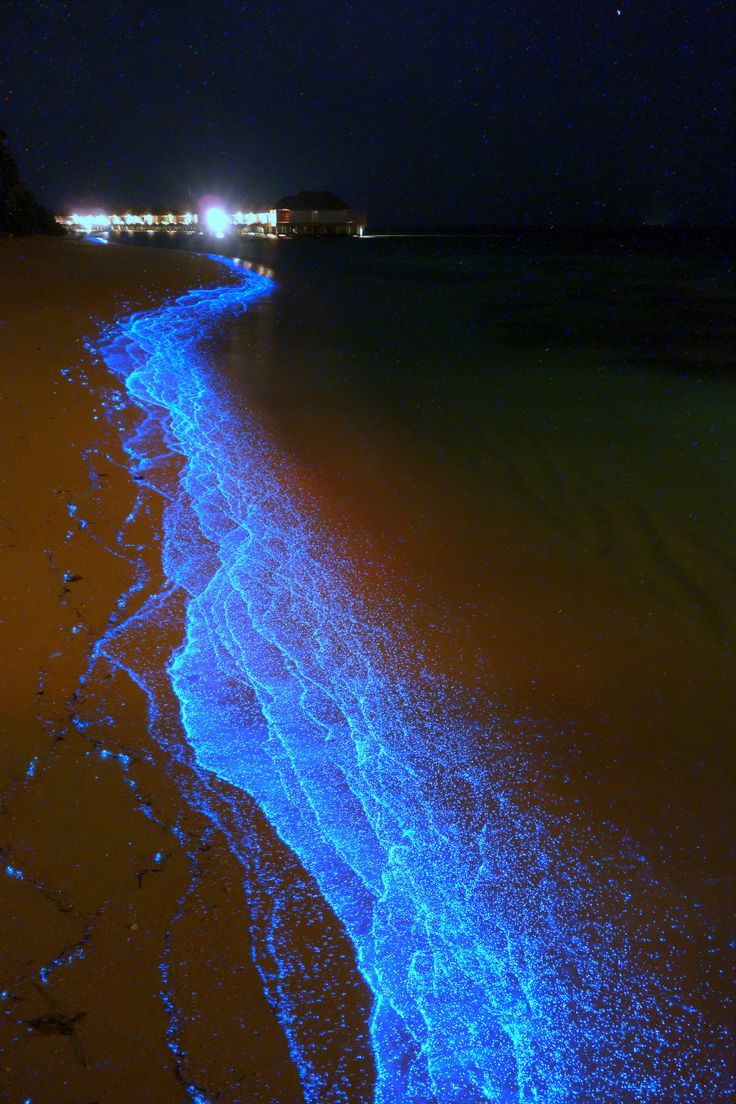 via refinery29.uk
Yes, it's real! Not only the Maldives will amaze you with the white, sandy beaches and turquoise water, but they have something rare and breathtaking – a sea of stars. This is a natural chemical reaction called bioluminescence that happens when the water is being disturbed by oxygen. In the meantime, phytoplanktons produce luminescence that even though to us it looks magical, it's not very friendly to the sea life.
7. Giethoorn, Netherlands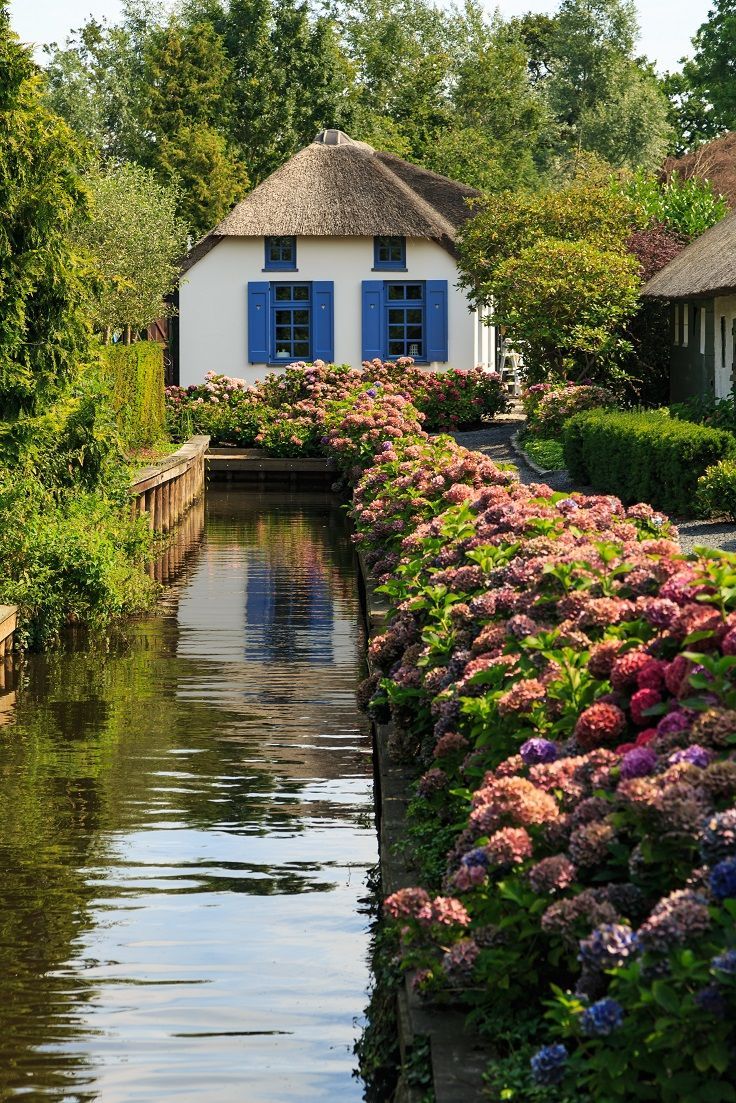 via boredpanda.com
Truly like it's a place from a fairy tale, the village of Giethoorn has everything to make you feel that way – it has cute white houses with plenty of flowers everywhere and what makes it so special and different than any other village you know so far is that this village has no roads. The only transport here are the "whisper" bloats that make no sound and therefore, the village is very quiet (except when flooded with tourists). No wonder why Giethoorn is called Venice of the Netherlands!
8. Zhangye Danxia, China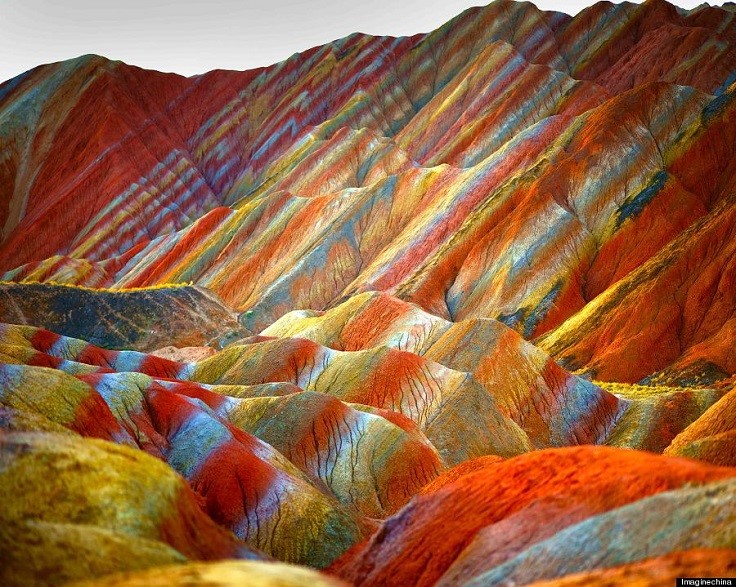 Voted as one of the most beautiful landforms in China, the Zhangye National Geopark becomes more and more popular destination among tourists and it's easy to see why. Even though in real life the colors of the landform aren't that intense, they still look impressive in real life – no wonder why they're protected as UNESCO World Heritage Site. The land formed as a result of natural processes for 24 million years, including winds and rain that shaped the rocks and helped getting that color.
9. Bibury, England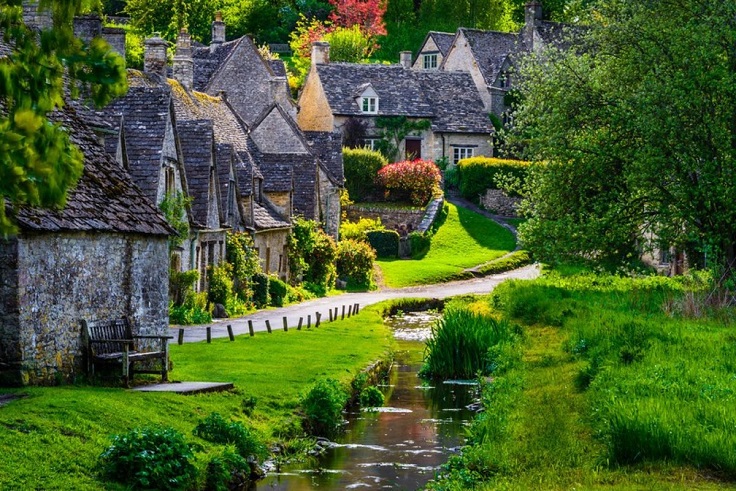 Bibury is the kind of village you're used to hear about from fairy tale stories. There's greenery and flowers everywhere, small tea houses made out of stones and a river flowing through. Just imagine the butterflies, the singing of the birds and it's already like a fairy tale! Bibury is considered as one of the most beautiful villages in England. It's the perfect destination for everyone who'd like to have some rest and relaxation, being surrounded with amazing scenery.
10. Antelope Canyon, USA
via glamour.nl
There's surely only of canyon of this kind – the Antelope Canyon is located in the state of Arizona. The smooth, wavy walls are formed by flash flooding and rain, and some places of the canyon are really good at reflecting sunlight – no wonder why the Antelope Canyon is considered as the most photographed slot canyon in the world. Visiting the canyon is possible only by guide.
SaveSave