Ahhh, Fall. Even though it is not the warmest season, it has definitely the warmest colors. It leaves us with such an inspiration to try out new things, as stores always have clothing ready to steal our heart at any minute. No matter if knit sweaters, scarves or jackets are your thing, there's so much to explore during this season. With Fall in it's middle between leaving the throne to Winter, inspire yourself with these outfits and see if your wardrobe needs to be updated. After all, we all enjoy shopping, don't we?
1. Plaid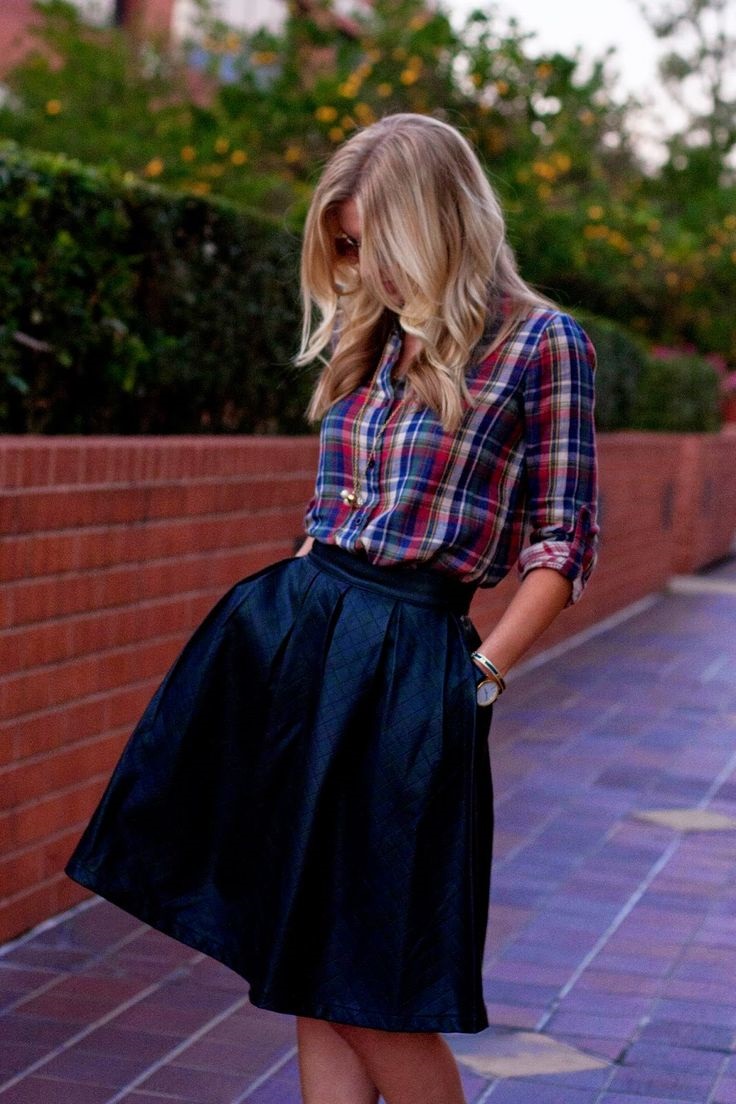 via women-outfits.com
Plaid shirts are awesome because they can be combined in a more casual, or in a rather elegant way, like this outfit. It is the perfect mixture of elegance and casual style. Copying this look is very easy. All you need is a plaid shirt, with a pattern by your choice, and a skirt that will make you feel like the prettiest girl in the world. The right shoes, especially if it is heels we're talking about, will add to this feeling as well. Some jewelry is also welcomed!
2. Maxi Skirt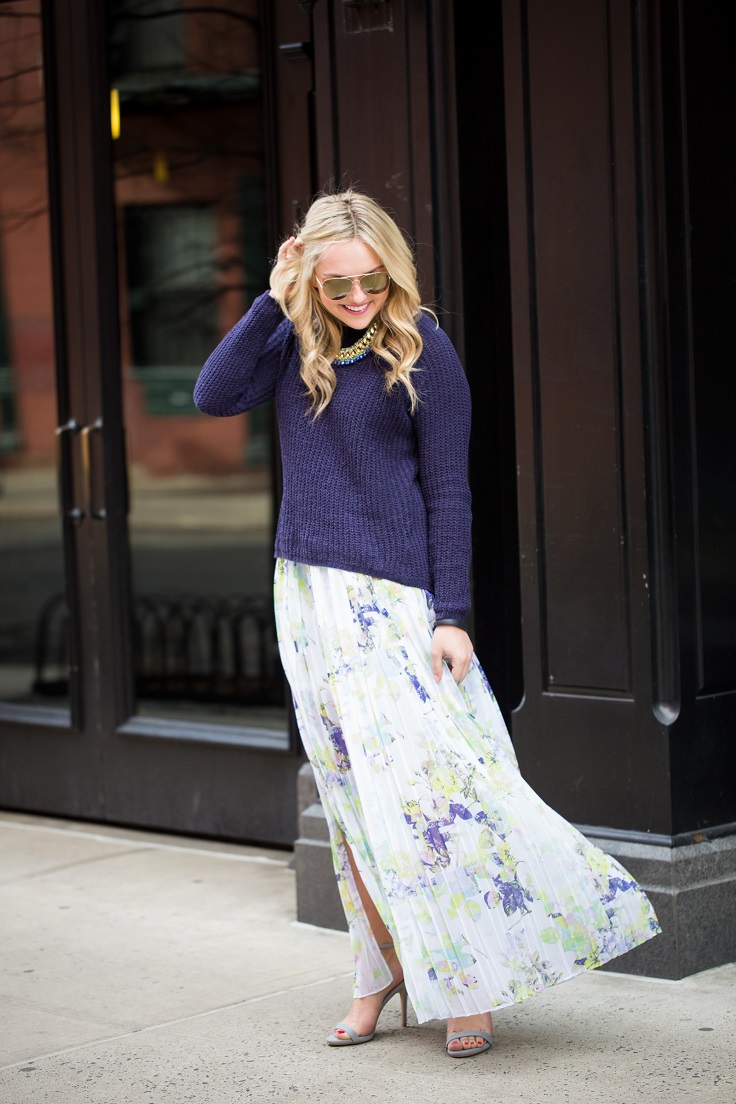 via bowsandsequins.com
Who said that skirts are for summer days only? Maxi or mini, skirts can be adapted into a nice outfit during Fall. Such as this one! We have a floral, pleated maxi skirt combined with a knit sweater that perfectly matches the color of the flowers. Neutral, pastel color shoes will certainly look good and what you shouldn't forget is the jewellery. This statement necklace is really amazing and it makes the whole look even more elegant.
3. Hats and Dresses
via fashioncorner.co
This outfit is really romantic and it gives away some 70's vibes. Hats never really go out of style, but in the past few seasons it's really trendy. If you don't have one, you should get it immediately! A little bit experiment with the way we dress it's never a bad idea. When buying a hat, you can choose between few types, a hat that gives away summer feeling, a manly hat, or even a cowboy hat! So, when we combine a classic piece such as a hat, with a very cute dress (preferably our favorite!) we get this type of outfit. Romantic and chic!
4. All Black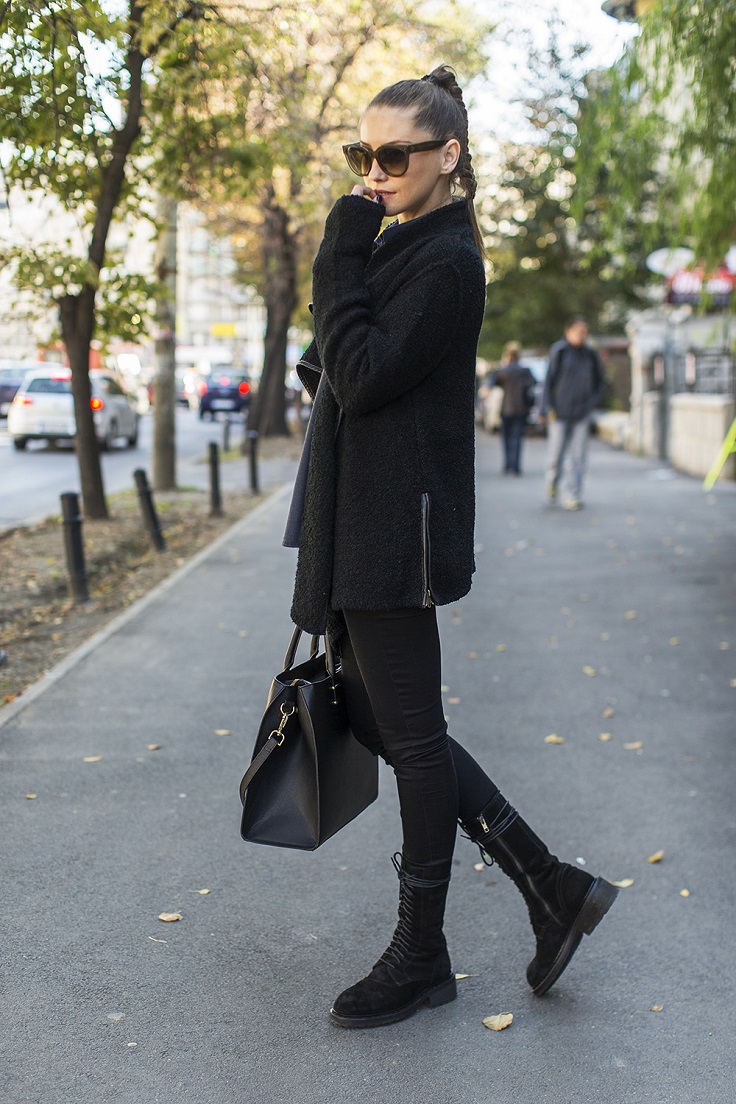 via lightaholic.com
In a world full of fashion rules and fashion trends, black is one of the few things that never really goes out of style. It true when people say that when wearing black, you can never go very wrong. But, just because you are wearing black, it doesn't mean that it's great by default! You still have to choose the right clothes, shoes and accessories. Even though black leaves us with many opportunities, the outfit on the picture proves that simplicity is all we need sometimes.
5. Chic Knit
via glamradar.com
One of the things that we really like Fall and Winter fall are definitely the sweaters. Oversized, big, pastel or with patterns, we can never have enough of them. They are comfortable and warm us during the cold days, and they can be also used in more casual and in more chic outfits. In this one, the sweater is really the crown of the outfit. With a shirt underneath, the pastel sweater combined with black pants and a small black purse can really be ideal for meetings or catching up with friends over a cup of coffee.
6. Oversized Cardigan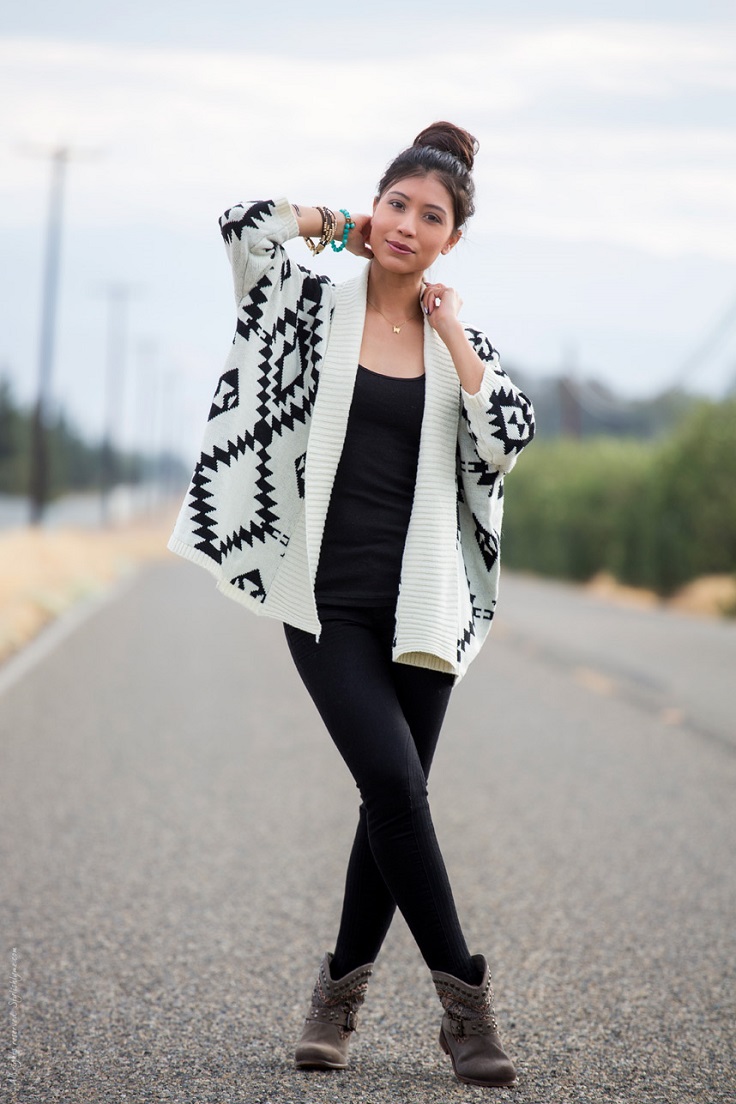 via stylishlyme.com
When we're already talking about knit sweaters, it's a good thing to mention that the cardigans also deserve their place on the list. You can combine them with everything – pants, jeans, skirts and dresses. Literally just choose your thing! The outfit on the picture presents a simple look, but if you want something more chic, just add more jewelry, heels, or more elegant shirt. But, even this way is so good that you will want to wear the cardigan for the rest of the season! Which means, if you don't have any, buy one as soon as possible.
7. Autumn Colors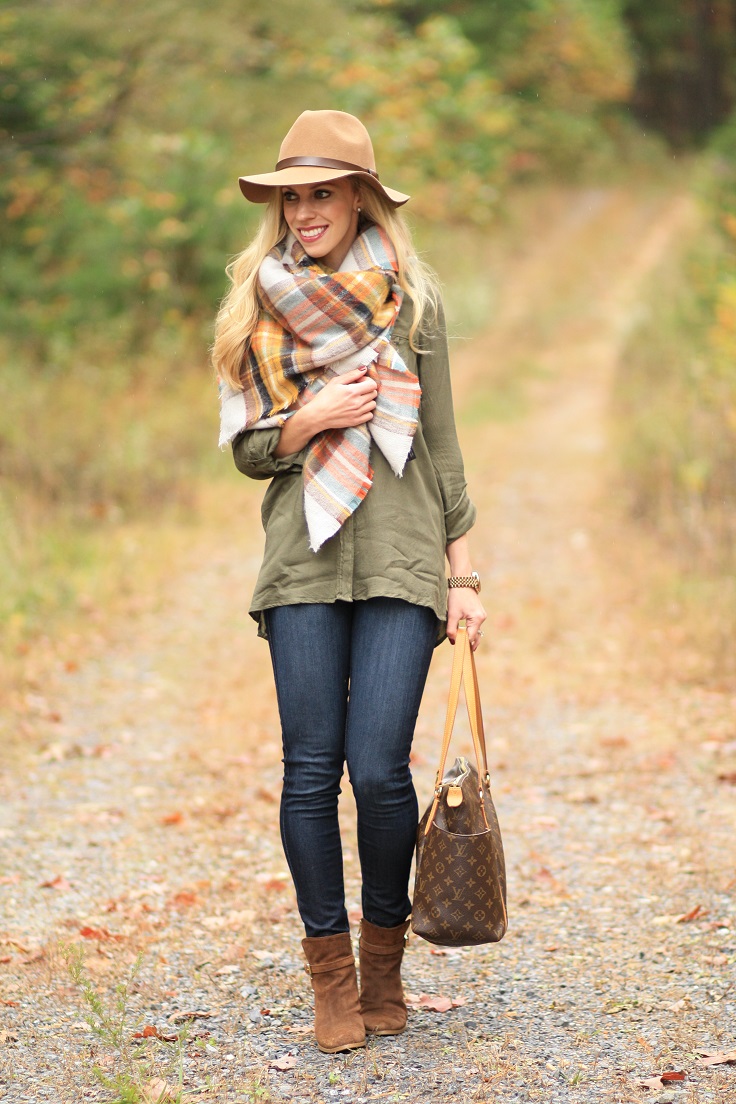 via meagansmoda.com
When we think of Autumn, there are few colors that come up on our mind. Of course, those are brown, green and red and all the shades that come along with them. Combining these colors can instantly add some Fall charm to the way you look. But, what we really should mention about this whole Fall outfit is definitely the scarf. Scarf can really be the bold detail of your look. Whether is a knit or a cotton scarf, having one in your wardrobe is really a must. It looks so good!
8. Parisienne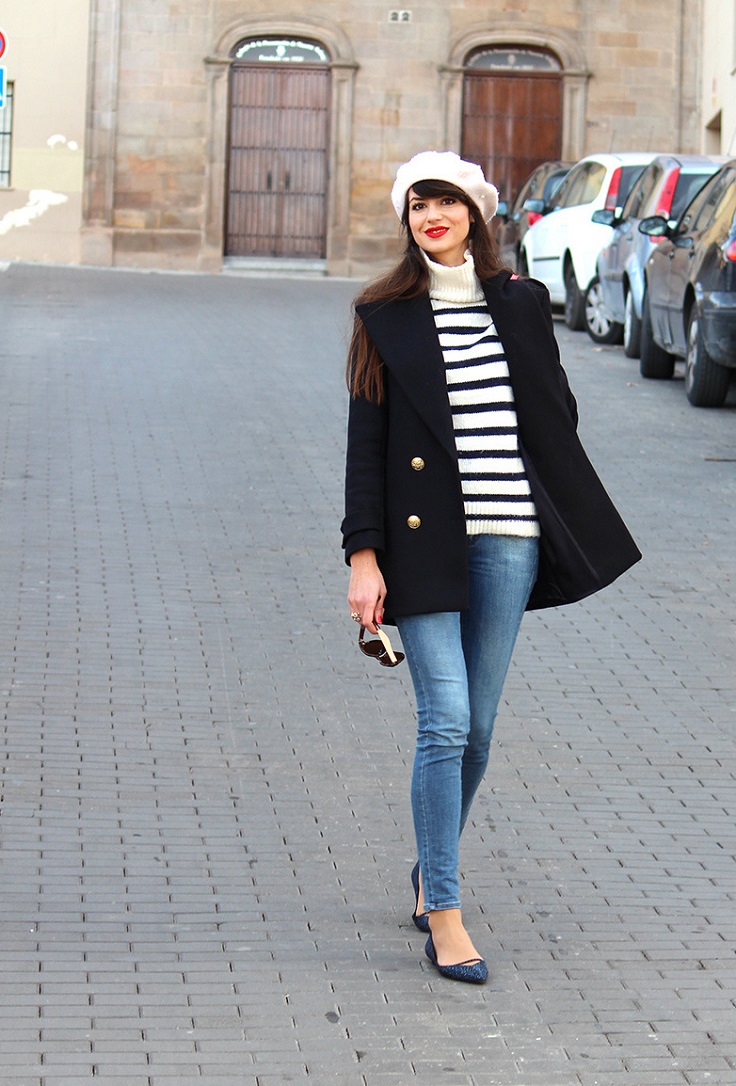 via glamradar.com
Oui, comme ça! Parisian women are an example of a true, simple style. You will never see them wearing tons of things on them, but rather only few pieces that make them look amazing. Looking effortless is what made the French women so famous for their style. So, if you want some of this inspiration, it's really easy to get and most likely, you already have the needed pieces in your wardrobe. Jeans, flat shoes or not so high heels, a stripes shirt and a coat is all you need. C'est trop jolie!
9. Flare Jeans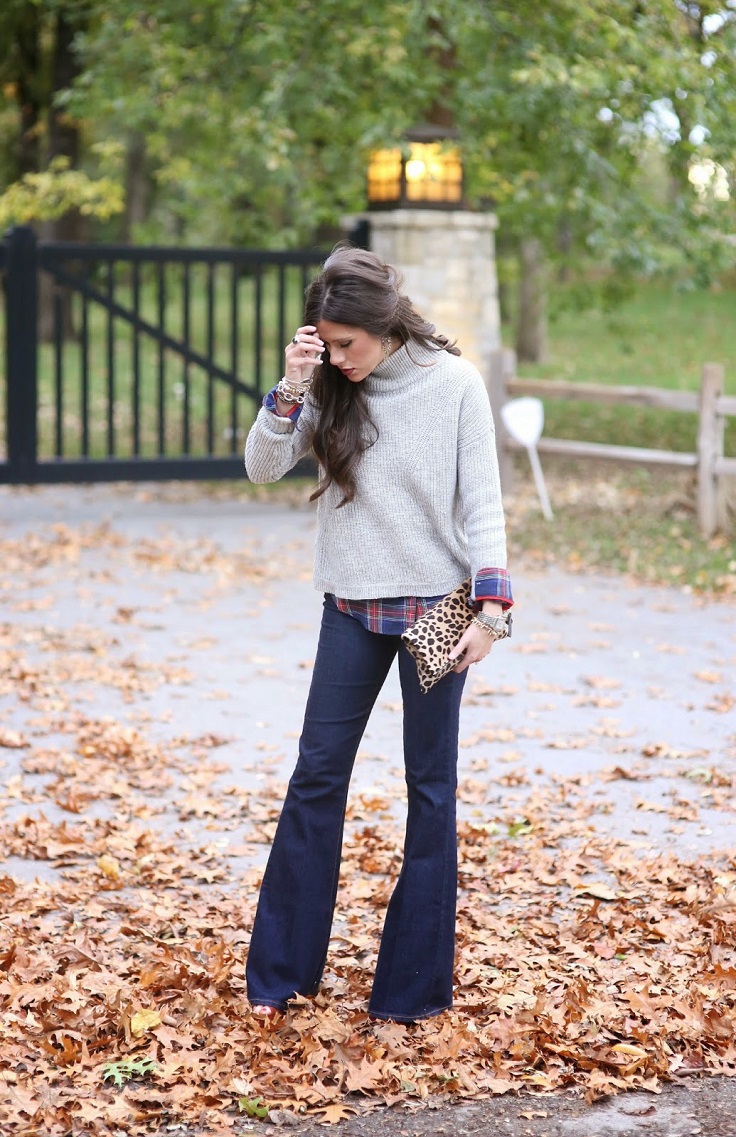 via thesweetestthingblog.com
This season we are delighted to have the 70's fashion back. Big hats, flare jeans, denim stuff and other things that were typical for this wonderful decade are back in stores. If you want to add something new to your wardrobe, now you have the chance to do so. What the 70's were really famous for are the flare jeans. No matter what you combine them with, a sweater, shirt, t – shirt or a top, it will all look good on them. Also, flare jeans are such figure shaper! They give away our curves so good that all you ever want to wear is this denim!
10. Long Coat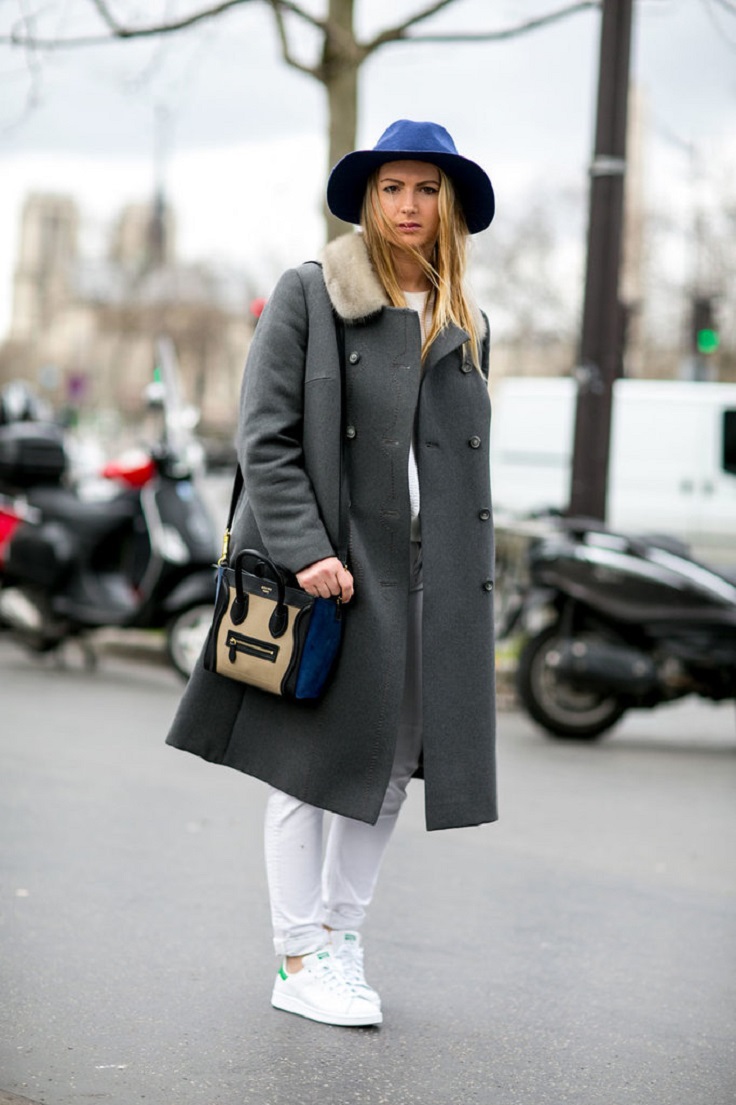 via popsugar.com.au
…and some sneakers too! Long coats really made their way during this season, but so did sneakers. This combination leaves us with plenty of choice. There are many sneakers and coat brands and thanks to that we can find them in different colors, with different patterns and with lots of other details meant to satisfy our fashion crave. Since most likely you already have these two important pieces, what you need to do now is to dress your favorite pants or skirt, and some shirt as well. That means, you are ready to go!