Scarves can be the perfect accessories in every season, but in the winter they actually serve an additional and more practical purpose than just for fashion. Scarves keep our throats warm and keep the chill away, which is the main reason we often catch a cold.
Since the weather is still relatively mild, we can get by with a thinner scarf, but where can we find that "not too thick and not too thin" scarf?
If you have some old t-shirts, it's very easy to make some fashionable scarves on your own and you can find out how with these top 10 DIY tutorials for recycled t-shirt scarves.
Infinity Dotted Scarf
It's official: scarf weather is here! Obviously, this means we're going all out with this no-sew infinity dotted scarf to celebrate the season. With this very easy polka dot no-sew infinity scarf, we're getting ready for fall weather. This infinity scarf may be worn in two ways: as a single long loop or twice for a shorter, fuller scarf.
Braided Scarf Tutorial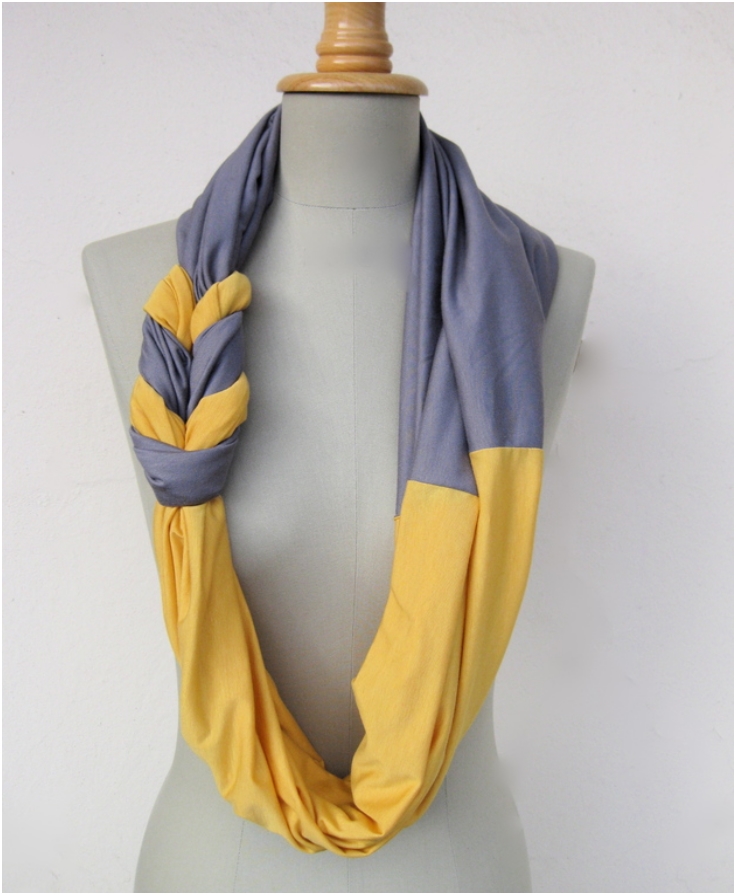 The scarf is made out of two large color-blocked fabric tubes that have been "braided" together using square knots. You may do this craft for free by cutting each square out of a large t-shirt, preferably an XL or larger. You can also take the fabric from a few shirts and piece it together to acquire the dimensions you require. Granted, it's not difficult to figure out, and there's nothing groundbreaking here.
30 Second Infinity Scarf
You saw that wonderful scarf in the window the other day, but it really costs a fortune. Don't worry, we have an easy solution for you. Take a look at this tutorial on how to make your own cool scarf you can wear on any occasion. All you need are those old t-shirts that you never wore, and still don't feel like throwing away. Now, you can make good use of them. Enjoy your new scarf.
DIY Free People Checked Shirt Scarf
What a fantastic technique to repurpose outdated flannel shirts. It's simple to build because all you have to do is patch fabric together. The hems are left raw, and the patches are sewed in an asymmetrical order to give the scarf a deconstructed aesthetic. What a delightful scarf!
A Tale of Two Scarves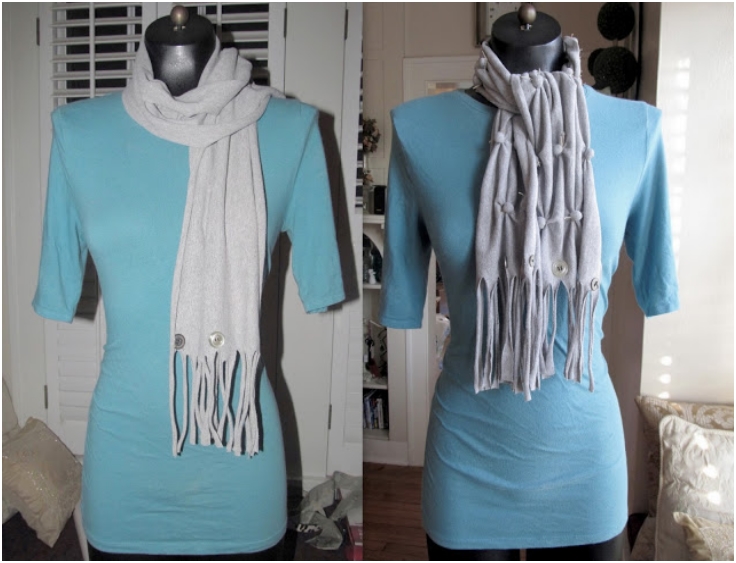 An old T-shirt was used to make these two scarves. The first one was made with the left-over bottom half of a T-shirt, and the second one was made with the left-over bottom half of another T-shirt. It takes about 30 minutes to sew on the buttons for the one with the buttons. The Pom Pom Scarf takes a little longer to make, taking around 2 hours in total.
DIY Infinity Scarf (from an old T-shirt)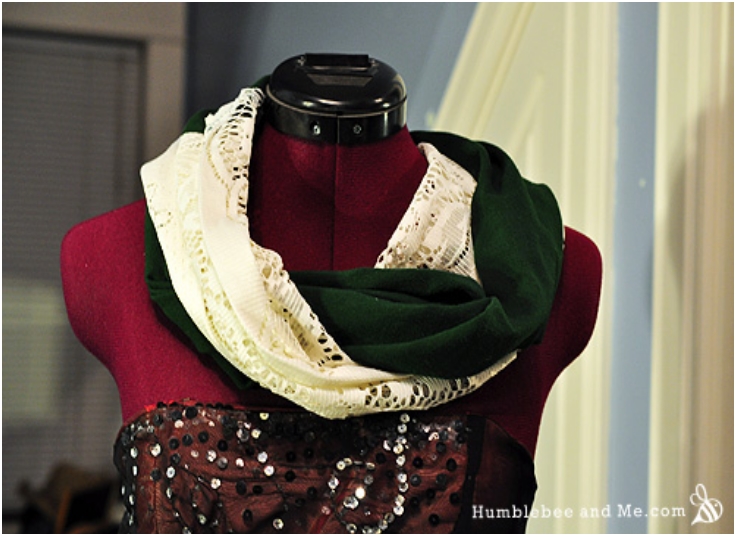 This scarf is simple to put together and looks great. It is a fantastic method to reuse those old band t-shirts that you no longer wear but can't bear to part with. Because they already have plenty of fabric, pair them with your old lace dresses and skirts. Alternatively, go to a thrift store and hunt for fabric scraps or vintage curtains. You'll save a lot of money while still looking stylish and attractive.
Braided Scarf With Old T-shirts
This braided scarf is a great way to finish off any outfit. Between the striking necklace and the scarf, we named it a scarf, but it felt more like an accessory. It's a fairly basic sewing project, and the greatest part is that you can construct it out of some old t-shirts. If you don't have any, don't worry; fresh cloth will suffice.
No-Sew Scarf
This craft is free, and you already have everything you need to make it at home! Isn't that fantastic? So rummage through your closet and pull out a few t-shirts, borrow some from your spouse, or even buy some, they aren't too expensive. You can make one of these scarves for yourself or for someone you care about. They're easy to build and don't require any special talents, but they look exquisite and classy.
DIY No-Sew T-Shirt Scarf
This scarf is made from a soft knit jersey shirt. If you have some t-shirt lying in the back of your closet, dig it up and turn it into this lovely no-sew scarf that you can wear on any occasion to make you feel cool, elegant, and classy wherever you are. It is easy to make and requires very little skills, so you might wanna try it right away.
Crochet and Braid T-shirt Scarf
This scarf is made up of a crocheted cuff and a bunch of knit jersey fabric that has been braided and tied into the crochet cuff. Take a look at the directions in the link and try your hand at constructing one! Is it possible to use extra heavy yarn instead of t-shirt fabric? Yes, a super bulky yarn would be fantastic.
Now that you've seen the tutorials we selected for you, get inspired to make some room in your closet and get yourself a new scarf. Share your creations with us in the comments below.