Holidays are the perfect time to try out new and fun things with your clothes, hair and make up that you might think about twice about doing on any other day. They also give you a specific theme on which you can practice your creativity and express yourself in your unique way. For the 4th of July the theme is well defined, in the patriotic red, white and blue colors together with the stars and stripes from the US flag.
There are countless ways to incorporate the patriotic theme for Independence Day. There are the decorations, your outfit and even your make up, which we've already shown you. but, when you're on a 4h of july picnic your clothes can get stained, the make up can get smeared and the picnic decorations, while lovely, don't get the same appreciation as those made for indoors. If you think about it, the only thing that can survive the day's picnic is some patriotic nail art.
Some red, white and blue nail art will not only be a great way to bring some glamour and class to the rustic picnic, but it is also great for any other Independence Day setting. Check out our Top 10 nail art tutorials and make the one you love the most or get creative and use the tutorials to help you make your own patriotic nail design.
Red And Blue With White Dotts In The Middle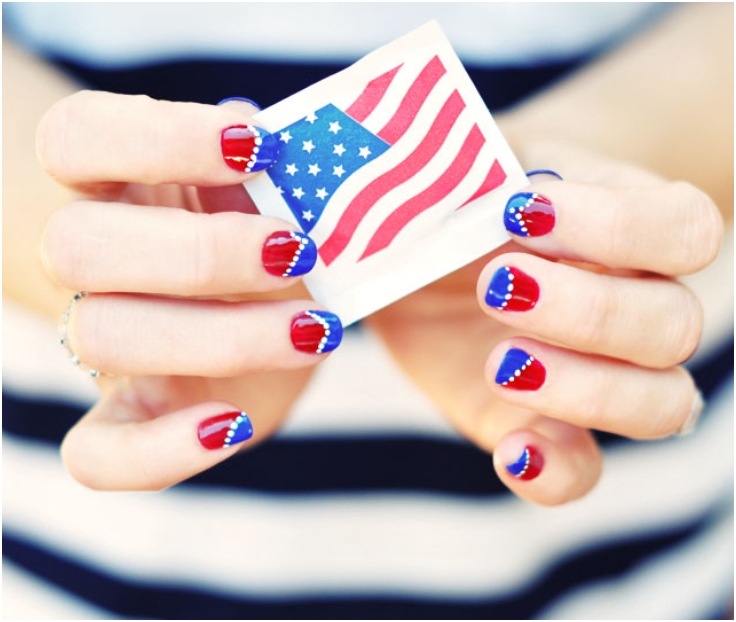 via lovemaegan.com
We start with a simple, yet lovely abstract nail art, that anyone can do. By painting half the nail red and the other half blue horizontally and putting white dots where the two colors meat, you get a cute and effortless patriotic manicure.
Patriotic Patchwork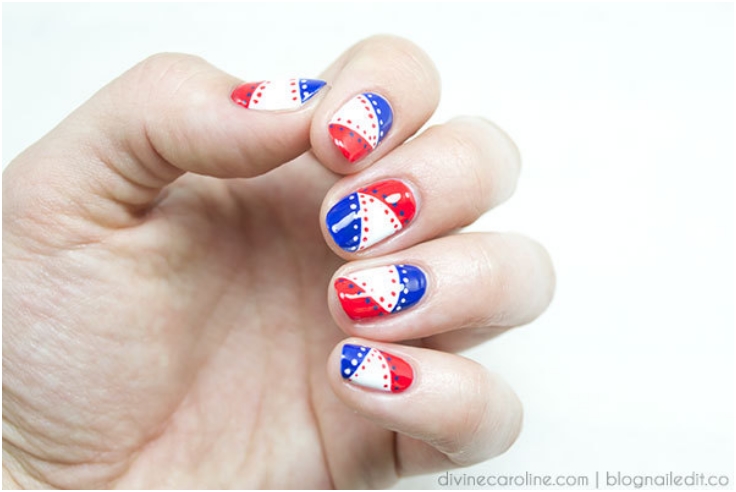 For a more colorful design by making something like a sideways triangle for each of the three colors and putting dots from the opposite color in each section. The result is like a  festive patchwork of red, white and blue.
4th of July American Flag Nails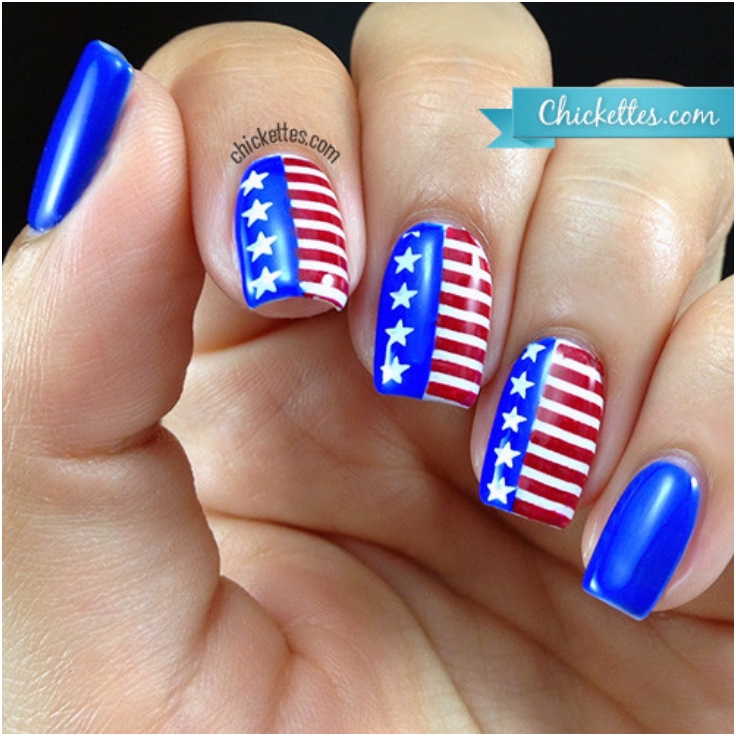 via chickettes.com
Painting the american flag is the most common choice when painting patriotic nail art. There are countless amazing flag designs and this one is one of them. Dividing the nail vertically, one half is blue with white stars and the other with red and white stripes, and you get a little flag on each nail.
Sponged Red White And Blue Nails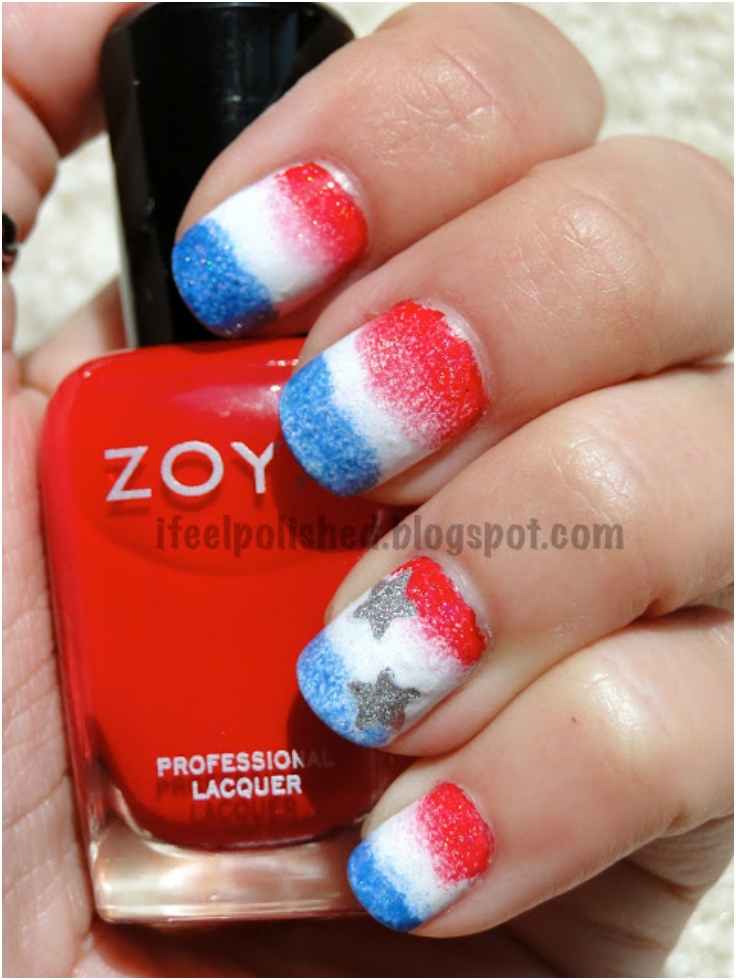 Here is how you can turn an ordinary nail color design into something excting, with a just a few touches from a sponge. It will give some texture to your patriotic nails and it will even give the illusion of using a glittered nail polish.
Red And Blue Gradient Nails With White Stars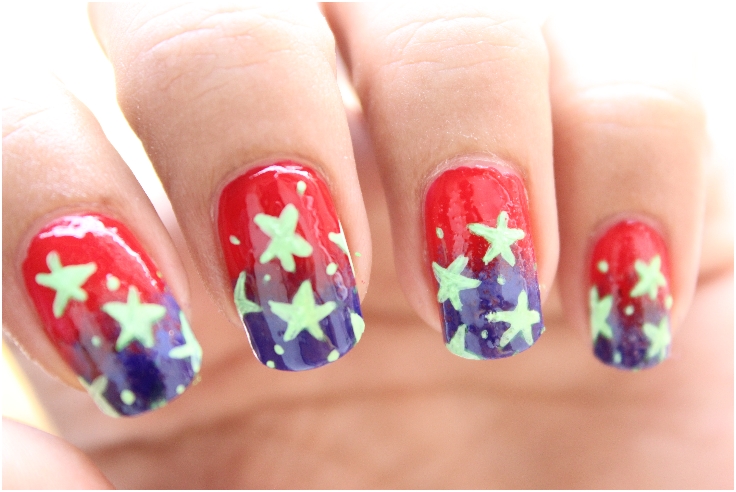 Let the sexy red base flow into a cool blue at the tip of the nail and finish it all by painting some white or fluorescent stars all over the nail. The gradient effect might look beautiful, but difficult, when actually the trick to achieving it is surprisingly easy.
Red And Blue Fireworks And Dotted Nails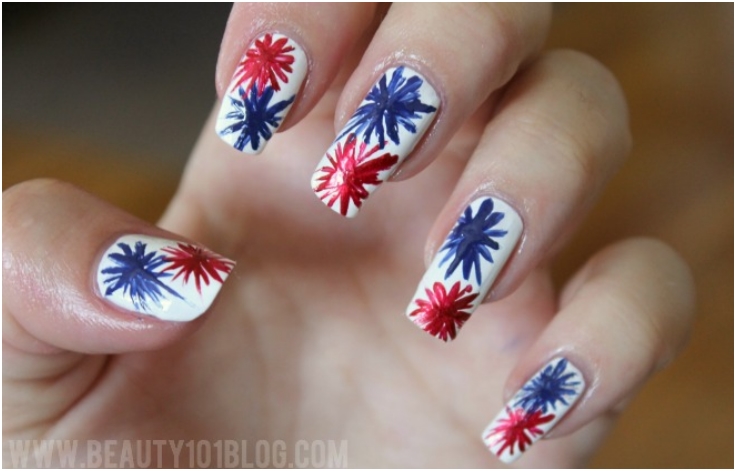 Fireworks are as part of 4th of July as the waving of the American flag, so they are a good theme for nail art of you wish to do something patriotic other then the flag theme. Here you have red and blue fireworks on white base or some polka dot action in the three colors.
Firework Fingertip Nails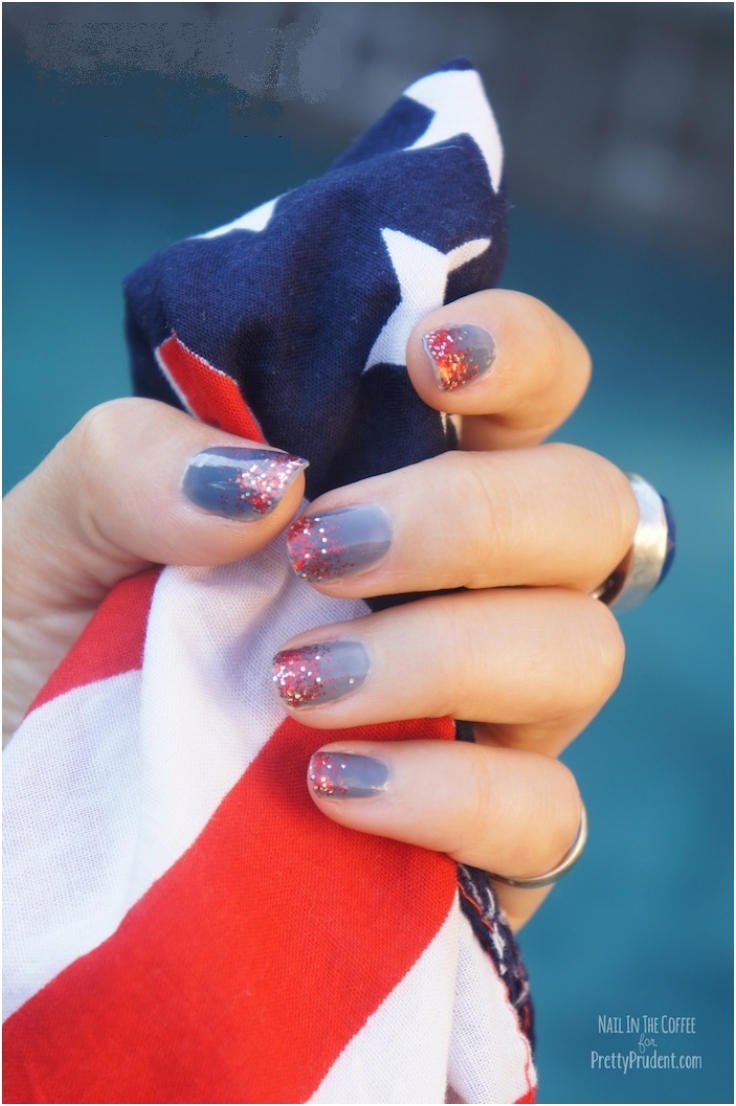 via prudentbaby.com
Have the fun, colorful and sparkly fireworks at your fingertips with this easy 4th of July nail art tutorial. This design is perfect for those that are not too skilled in making manicures and it is also a fast way to put some spark on your nails. All you need is some blue nail polish and some red and white glitter.
One Star Spangled Nail Art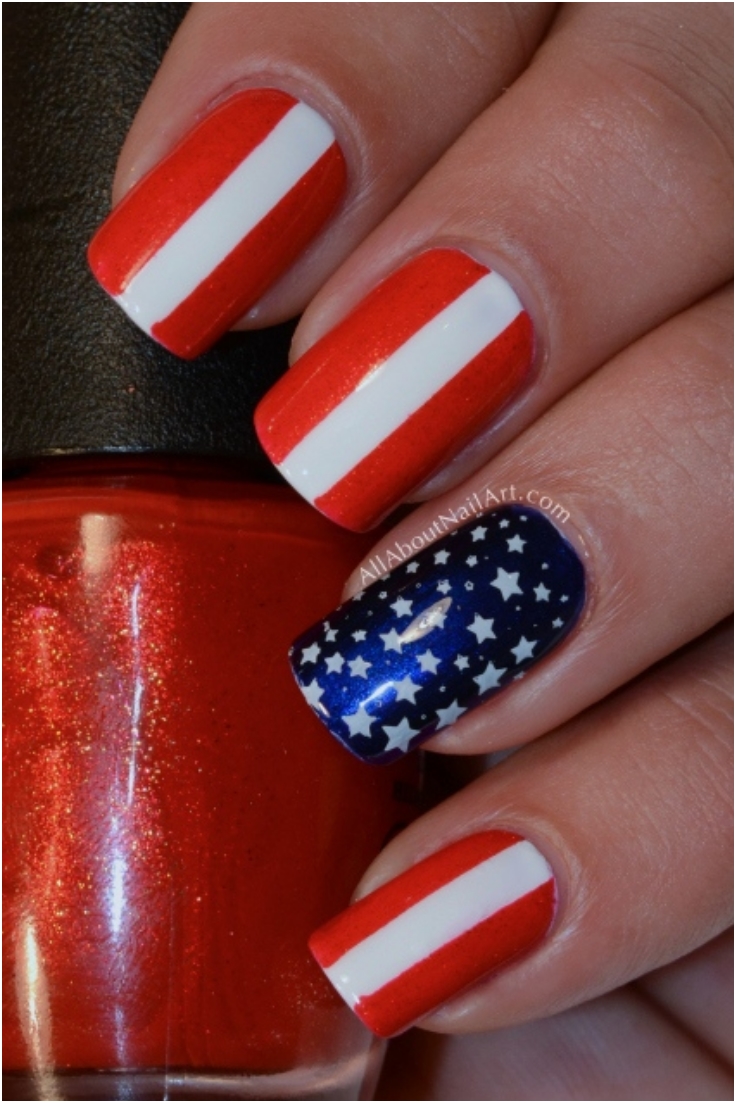 A nail design that looks complicated, yet is very easy to recreate. For the stars you need an image plate with stars, but if you don;t have one you can replace the cloud of stars with one big bright white star. And the horizontal white stripe in the middle of a red base completes the patriotic theme.
Sparkling Stars And Stripes Nail Art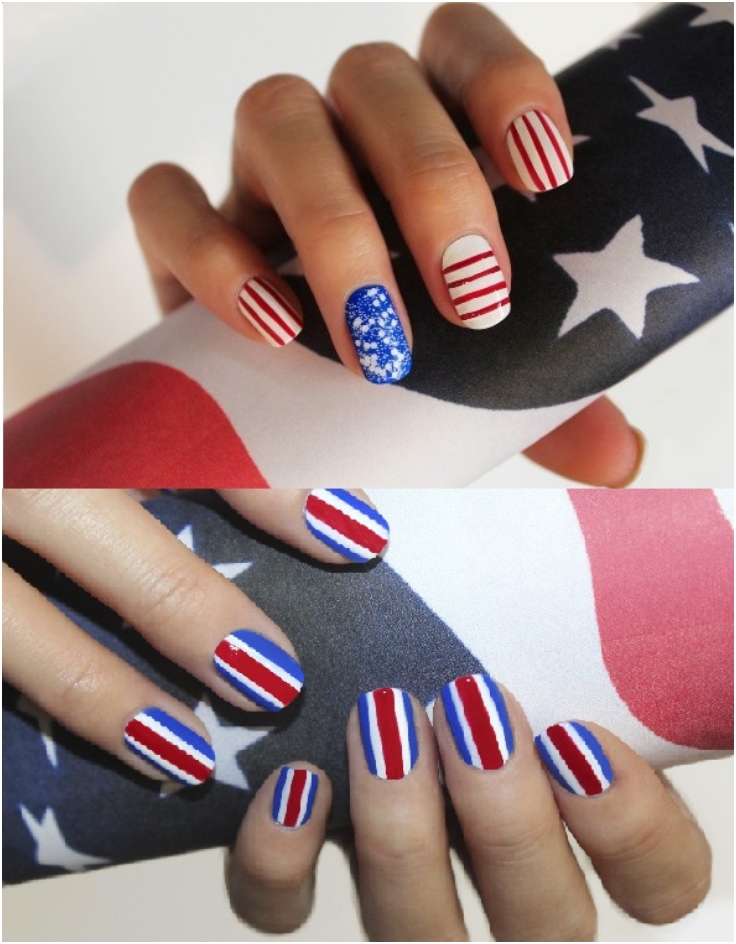 via hotbeautyhealth.com and agirlsgottaspa.com
These two designs are simply amazing and were designed by the jin soon nail polish company. It offers you a choice between glittery stars and stripes or only vertical red, white and blue stripes, giving yu a look that is patriotic, yet suitable for every day after the holiday.
Textured American Flag Nail Art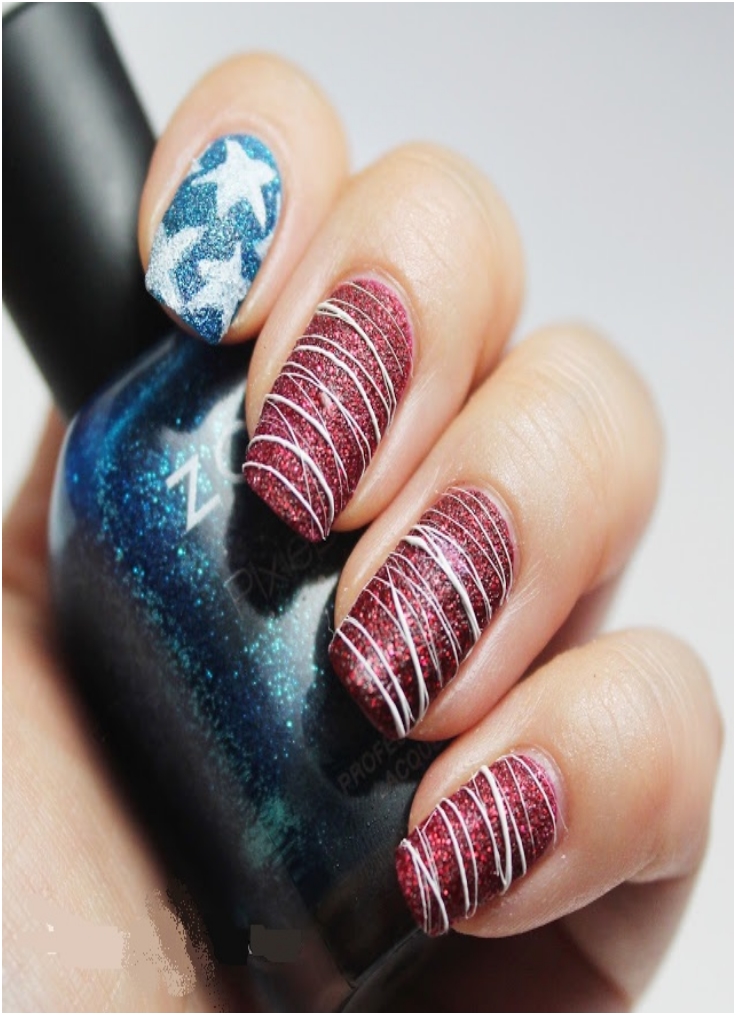 Want to give your patriotic nail design some depth and dimension? Then you need to check out this textured American flag nail art. Its so easy, anyone can do it and it is even fun to make, without the need for a steady hand or attention to details. And that freedom and fun is visible in the nail art itself, making it a perfect design for the 4th of July.