Are you a fan of all things pink? If so, then you know the pleasure of having a garden filled with scented, pretty pink flowers. With a pink display such as this one, we're sure that your garden would be one of your favorite places to relax.
This article shows you ten types of flowers that will provide you with the most beautiful pink bloom.
Even though there are many more pink flowers to choose from, we picked our ten favorites, and now we're sharing them with you!
1. Oriental Lily
These late bloomers will make your garden a pink paradise, being the large and open flowers they are. Their rich pink color and light fragrance are impossible not to love! When it comes to varieties of lily, there are two most popular – Asiatic and Oriental lilies.
The Oriental want well-drained soil and plenty of suns and are perfect for containers, as they tolerate being in a crowd with other flowers as well.
2. Hollyhock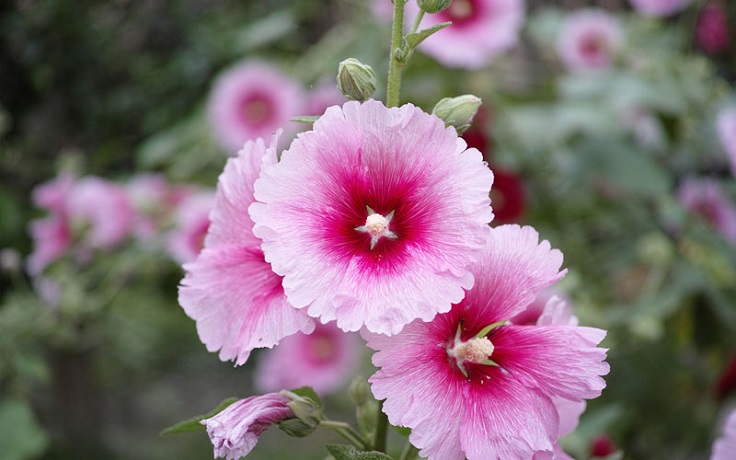 Hollyhocks are short-lived perennials, which means that they will only live for two to three years, but during this time, if you take care of them correctly, they will take care of the way your garden looks. Even though they last relatively short, the good thing about these pretty flowers is that they reseed themselves and are easy to grow after their establishment – water them from below and be careful of rust, as it attacks the lower leaves typically.
3. Camellia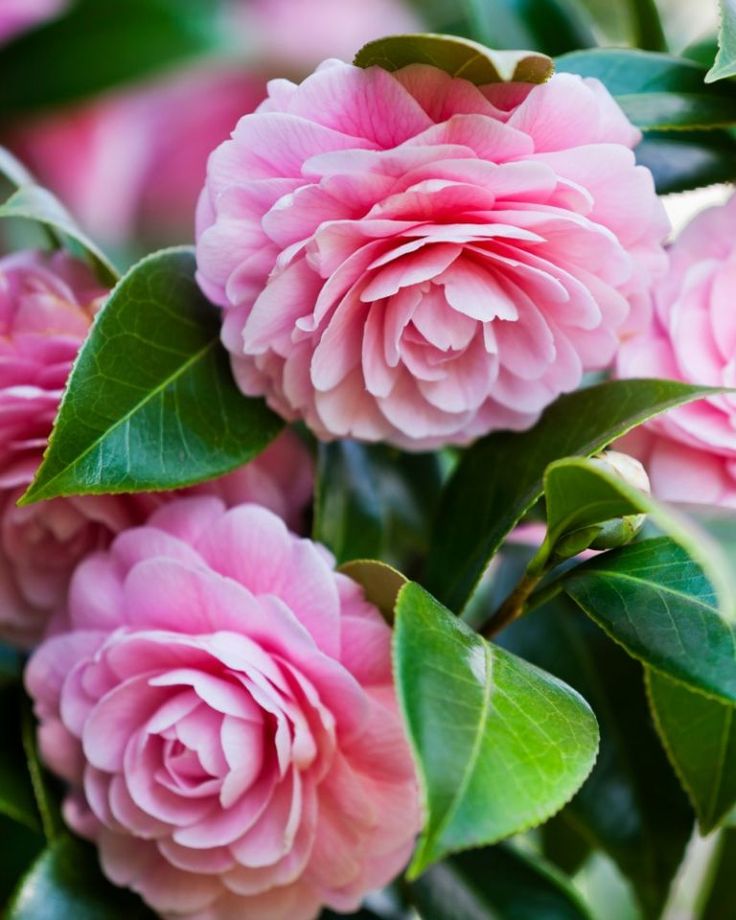 An elegant flower that it is, the camellia is sure of the most beautiful pink flowers you can ever get for your garden. These long-blooming flowers aren't known as the easiest to grow, but this depends much on how you plant them, so it's important to do this step the right way. Plant the camellia in acidic, well-drained soil, slightly above the surrounding soil, and ensure that this is a place where the camellia can get all the needed nutrients.
4. Carefree Beauty Rose
via vbelleblog.com
This rose variety will look perfect in any garden, especially in the cottage – style. The 'Carefree Beauty' is characterized by semi-double, pink flowers that bloom from spring to fall and are followed by orange-red hips. Plant the rose in well-drained soil that is rich with humus and is moderately fertile. It requires an open site where it can get plenty of sunshine. The rose is prone to many insects, so it needs a lot of care that.
5.  Tulips 'Angélique'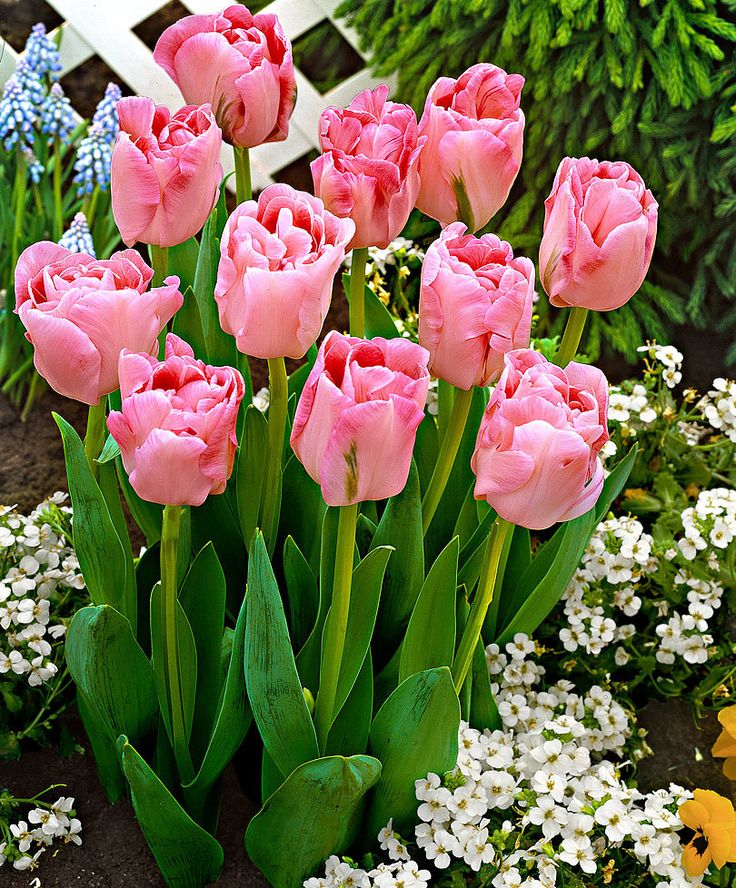 via bakker.com
The 'Angélique' variety of the tulips surely got the name because they really look so like that, but any variety of tulips is beautiful. Even though they come in many colors, the pink ones are good for creating a one-colored garden. When it comes to tulips care, it's very important to keep the bulbs dry and ventilated and then plant them in well-drained soil – otherwise, they will rot.
6. 'Piccolino' Pink Double Coneflowers
Unlike many on the list, the coneflowers grow best in poor or lean soil – if you plant them in rich or heavenly amended soil, they will flower poorly and face lush foliage. They need plenty of sunlight, at least six hours every day, so make sure to pick the needed planting site. After the establishment, taking care of coneflowers is easy – they are drought-resistant, so water them and fertilize them on rare occasions.
7. Peonies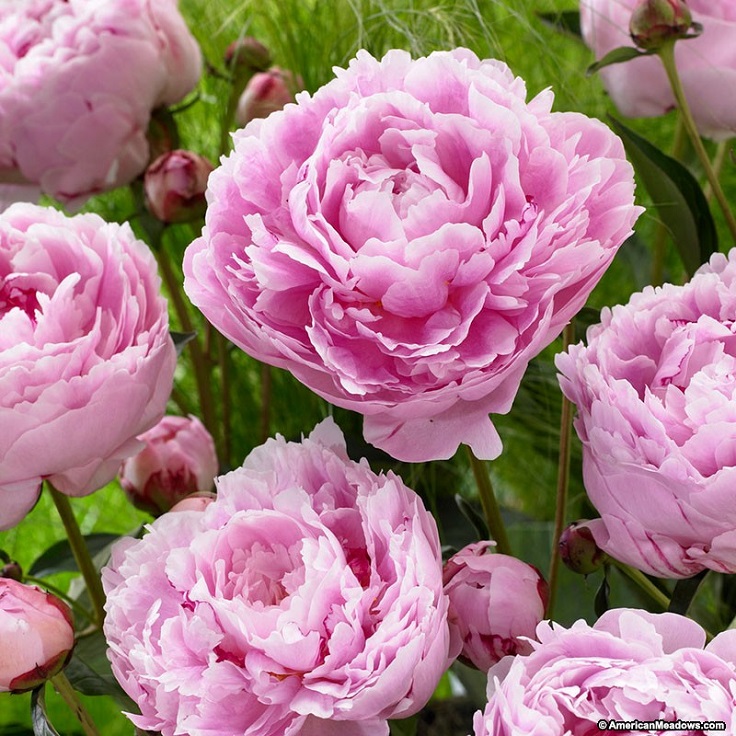 These large, fabulous flowers are so beautiful that we totally get why we can so often see them on Pinterest and Tumblr! They require a full sun planting site and well-drained, organic soil, and as all the flowers on this list, the peonies also would love to get plenty of suns so that they can provide you with their big, beautiful flowers. They bloom for a week or so, between spring and summer, but their display will last for a longer time.
8. Carnation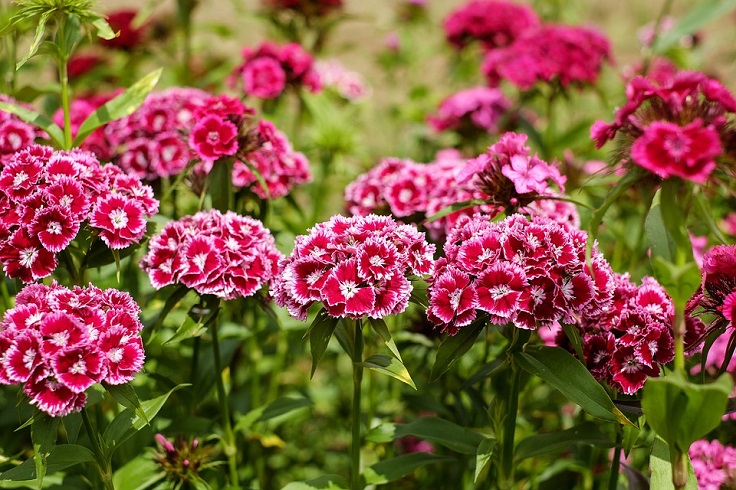 via fruithillfarm.com
Carnations are part of the Dianthus flower family, which in Greek means "flower of the Gods." Well, considering how gorgeous these flowers are, we definitely agree why this family is called that! For the carnations' best growth, plant the seeds in a planting site where they can get at least four hours of sunlight daily. Carnation should be watered once a week and use a 20-10-20 fertilizer.
9. Clematis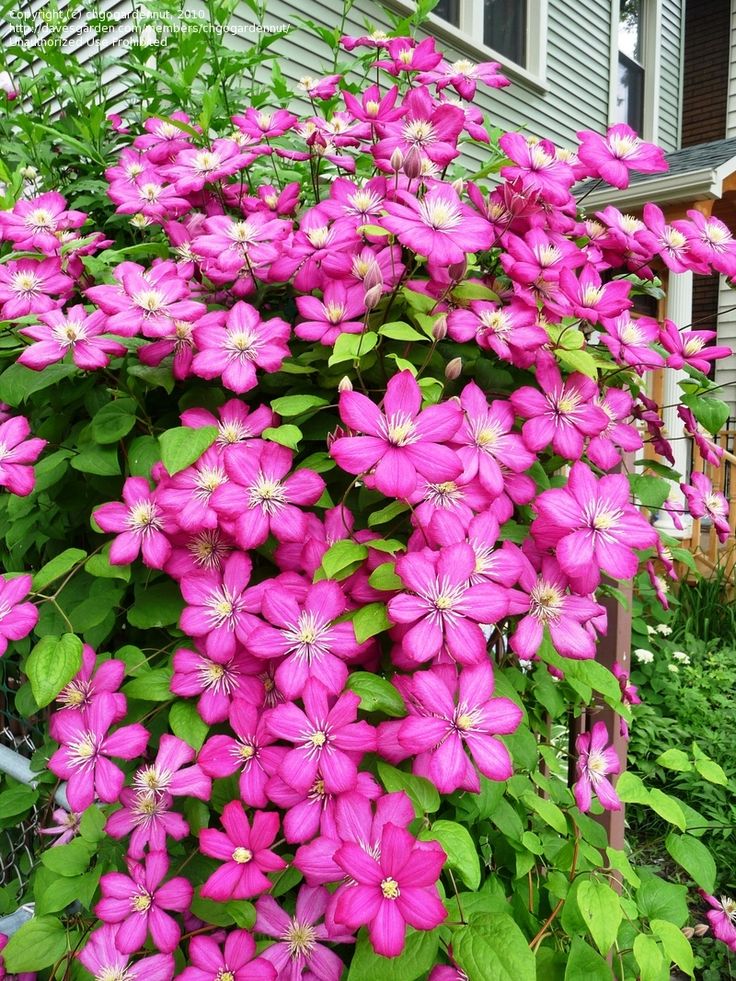 via davesgarden.com
Clematis is a very popular choice for a home plant, and many people choose to plant it in a container. However, you can also plant outdoors in rich, well-drained soil. They want full sun, but the climbers and shrub species will also thrive in partial shade. When it comes to clematis care, make sure to use a potassium-rich fertiliser in late winter or early spring to ensure the best growth.
10. Petunia
via whatabloom.com
One of the most popular garden flowers, the petunia comes in four varieties – Grandiflora multiflora, multiflora, and spreading petunia. Taking care of this flower is very easy – make sure to water it and to plant it in an area where it can get plenty of sunlight so that later it can give you many blooms. They need to be fertilized with a balanced, water-soluble fertilizer and should be fed weekly.