Summer is on the way, and that means one thing- warm nights, camping, marshmallows over a campfire. If you have the habit of having a campfire with friends and family, a romantic eve with your other half, or you want to prepare something for yourself while camping alone, then you know that it is not that easy to cook food, and you don't have lots to choose from. Well, you are wrong. Real chefs cook on real fire, there is nothing you can't cook over a campfire, you just have to know the ways. Leave the marshmallows and scroll down for some fun recipes that everyone can prepare over a campfire. Be careful, campfires can be a cause of forest fires, make sure you check twice before leaving the camping spot.
1. Canned Biscuit Campfire Doughnuts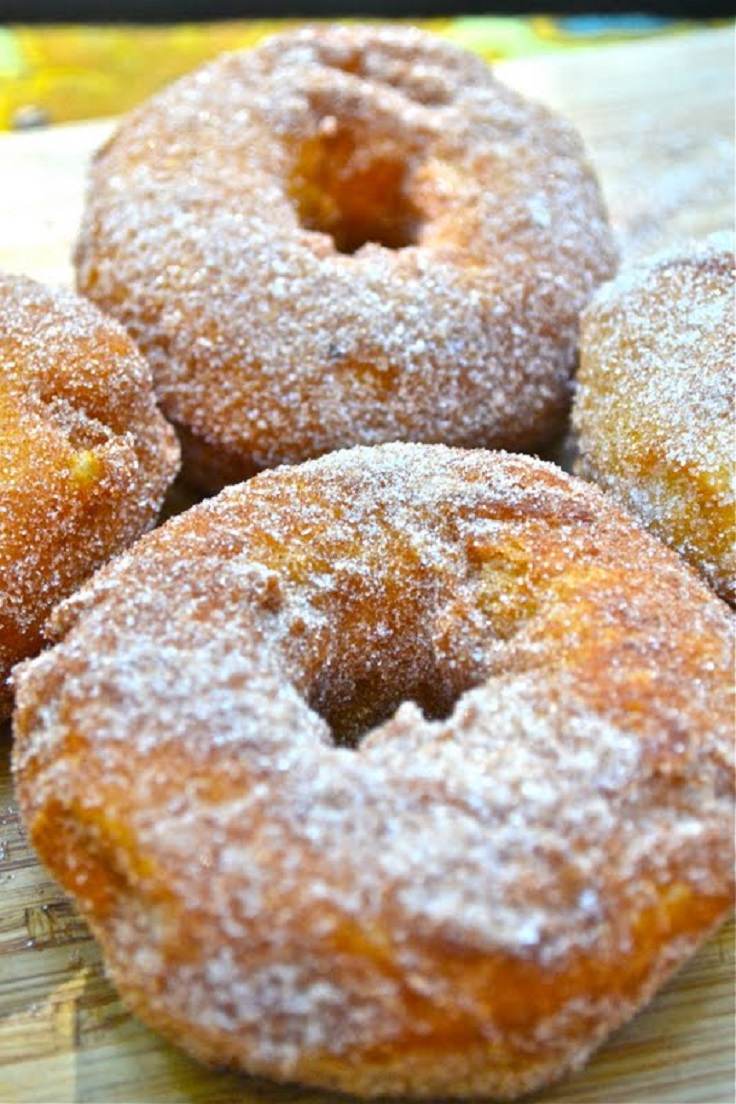 These breakfast treats are ready in minutes and are incredibly delicious. Ingredients: a can of buttermilk biscuits, vegetable oil for frying, about a cup of sugar and one tablespoon of cinnamon. Using a wine bottle cap, make a hole in the center of the biscuits. Sprinkle with sugar and cinnamon. Heat the oil in the pan over the campfire and fry the doughnuts until they are golden brown (usually 2 minutes per side).
2. Breakfast Potatoes
via dirtygourmet.com
Potatoes are a great source of carbs that will give you energy throughout the entire day, lot's of campers have potatoes for breakfast for that reason. Ingredients: 6 russet potatoes (sliced),  1/4 cup olive oil, 2 tablespoons butter, 1 onion, 2 bell peppers, 1 jalapeno, 2 teaspoons garlic powder, 1 teaspoon seasoned salt, 1 teaspoon smoked paprika and salt and pepper. Fry the onions first, stir in the potatoes, the paprika and some more olive oil. Cook for 10 minutes until potatoes reach golden brown color. Add some water, cover with foil and cook until the potatoes are crispy.
3. Campfire Nachos
via buzzfeed.com
Homemade nachos, yes please! Do we need to explain why we chose this recipe? Get a fork, a big one. You will need: 1 bag Corn Chips, 1 can refried beans, 1 can black olives, 1/2 lb cheddar cheese, 2 tomatoes, 1/2 onion, , 1 jar salsa, 1 can sweet corn, 1 can diced jalapenos. In a big saucepan, make a bottom layer with the chips, top with half of the remaining ingredients. Do the layering one more time, cover with foil and cook for 10-15 minutes.
4. Mexican Corn On The Cob
via magnoliadays.com
Preparing corn in a Mexican way will give the corn extra flavor, why? Check out the ingredients: 6 ears of corn, ⅓ cup mayonnaise, 2 tablespoons sour cream, ½ teaspoon chile pepper, 2 teaspoons fresh lime juice, pinch of salt and 1 cup grated cotija cheese. Loosen the corn by pulling back the husks. Prepare the campfire grill, cook the corn for 20 minutes until the kennels are soft. In a bowl prepare the corn spread, simply mix the mayonnaise, sour cream, chille pepper, lime juice and salt. Roll the corn in the grated cheese and dip the in the mayonnaise mixture. Serve with some lime.
5. Beer Pancakes
via countdowntothecampout.wordpress.com
There is really not much to this recipe, it is very simple. Prepare the pancake mixture at home, and grab Guinness Stout bear (or whatever beer works for you the best). When you want to make the pancakes simply add the bear in the pancake mixture (make sure the mixture has no water). Heat a pan, spread some oil and make little pancakes. They are done when they are golden brown.
6. Eggs in Jail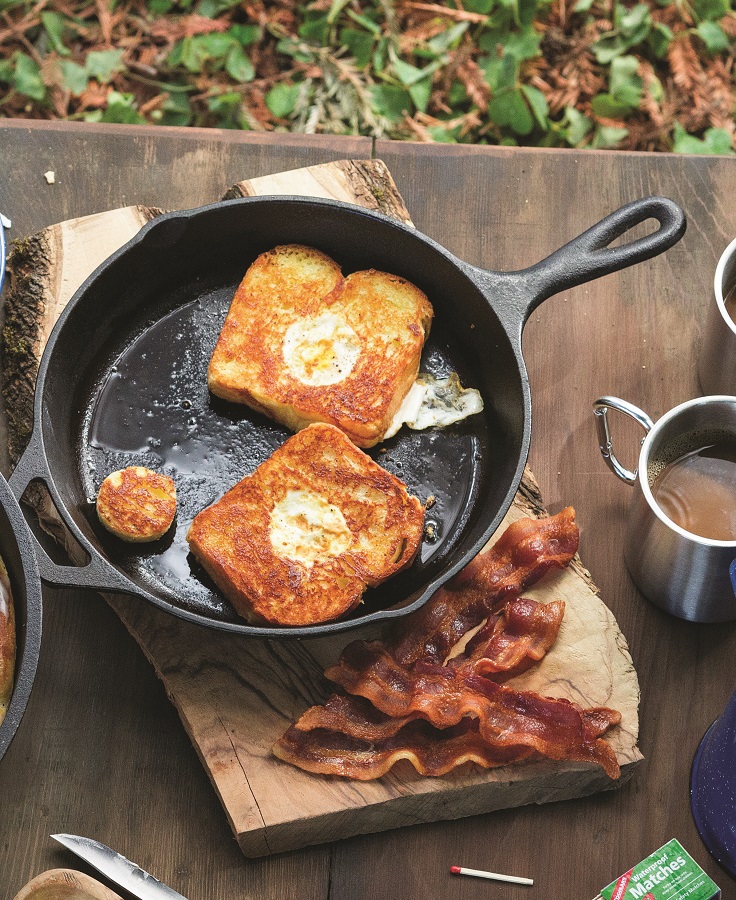 Every scout has made this breakfast. If you are not familiar with the "eggs in jail" recipe, here you go. Ingredients: 8 slices smoked bacon, 1 loaf unsliced brioche, about 4 tbsp. butter, 4 large eggs, 1/8 tsp. kosher salt and 1/8 tsp. pepper. Fry the bacon, cut slices from the loaf brioche and make a hole in the middle. Spread the butter in the pan, put the slices of bread, crack egg in the middle, sprinkle salt and pepper. Fry until golden brown.
7. Quick Fruity Oatmeal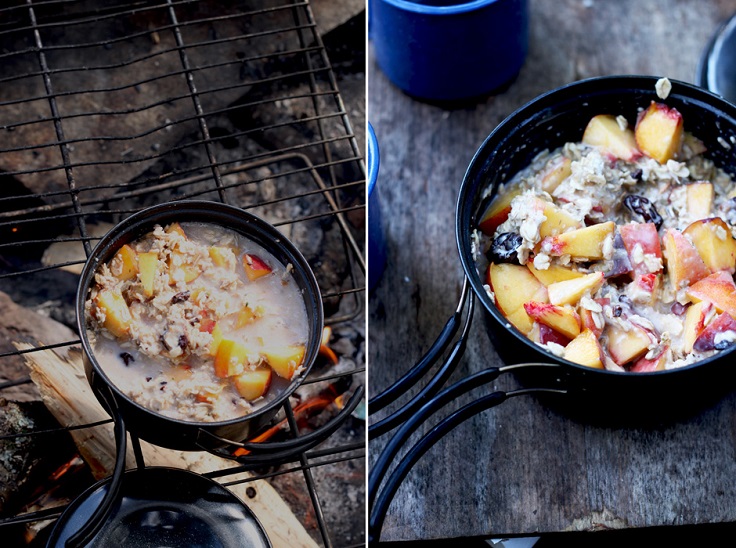 via thefirstmess.com
An instant oatmeal is the solution for a nutritious and energizing breakfast. At home, in a plastic container mix: 1/3-1/2 cup flaked grains, 2 tbsp seeds or chopped nuts and 2 tbsp dried fruit. When you want to prepare your oatmeal, boil some water, add the oat mixture. Serve with fresh fruit and nuts.
8. Banana Boat S'mores
via thekitchn.com
You can not have a campfire without having some marshmallow treats! For the banana boat s'mores you will need: bananas, bag of marshmallows and small chocolates. Simply slice the banana in the middle, add the marshmallows and the chocolates. Roll the banana in a foil and grill until the inside is melted.
9. Nutella Baked Apples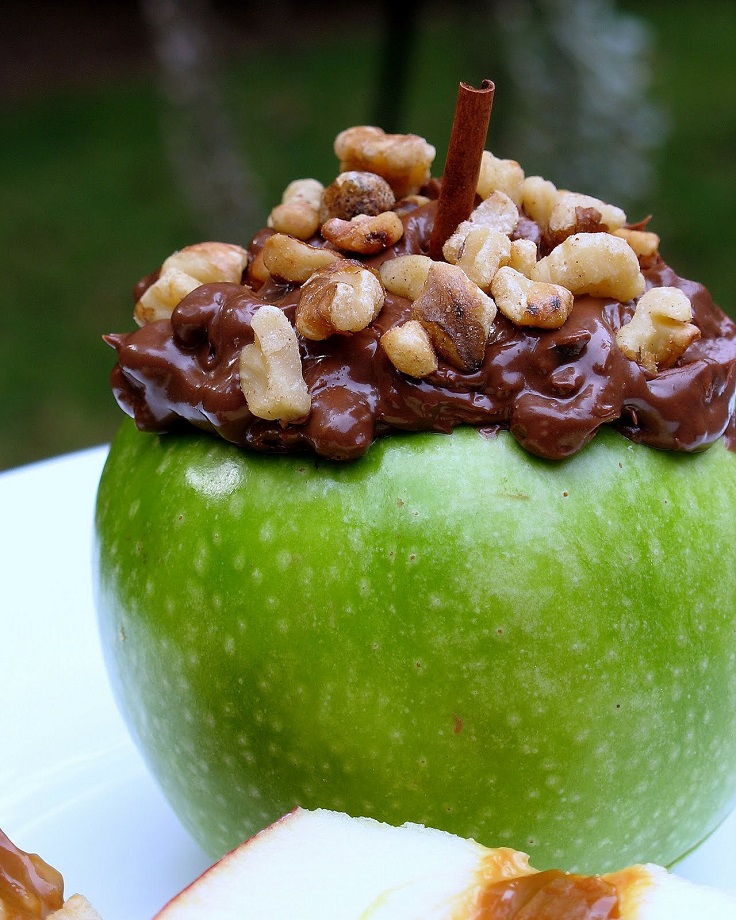 Camping food can be fun, for a quick treat use the following ingredients: apples, nuttela cream and some nuts. Make a hole in the apples (save the top), fill the apples with nutella, sprinkle nuts and grill until the apples are softened.
10. Campfire Pies
For these pies/sandwiches you will need sandwich irons and the following ingredients: bread slices, cinnamon sugar mixture and seasonal fruit (sweet cherries, blueberries, raspberries, peach slices). Spray the sandwich irons with cooking spray, lay down bread slices on both sides of the iron. Add fruits and sprinkle with cinnamon sugar mixture. Press down the iron and cook for 2-3 minutes on the fire.