Sweating in the hot summer sun while walking around can be pretty uncomfortable. And if you're feeling hot, be sure that your pet is not doing any better. In fact, because dogs don't sweat, it is much harder for them to bring their body temperature down fast. Panting is their way of cooling down and sometimes that alone isn't enough and they need your help to get trough the truly hot days.
Having a refreshing ice cream or some frozen treat is a nice way to cool down a bit when the summer heat becomes unbearable, and if it works for you, it can work for your dog too. But, we you can't give your beloved pet sweet ice cream all the time. After all, sweets are bad for dogs, especially for their sight. Luckily, there are some frozen treats that are easy to prepare and are safe for your pooch.
The "pup-sicle" is very easy to make and just like the ice cream that come in many flavors. so will your dog have the chance to enjoy a variety of frozen treats. A refreshing fruity popsicle or a tasty meaty ice cube, it is up to you what you're going to treat your parched puppy. To make your choice easier, take a look at our delicious and healthy  Top 10 frozen doggy treats that every dog will love.
Salmon And Yogurt Treats
via dustbathladies.blogspot.com
Dogs are not too keen on eating fish and some dog owners have trouble feeding it to their pet and it is even dangerous to leave the fish in the bowl for long on hot days. But, when combined with yogurt and frozen, it can become quite delicious to a  overheated doggy.
Beefsicle Frozen Dog Treat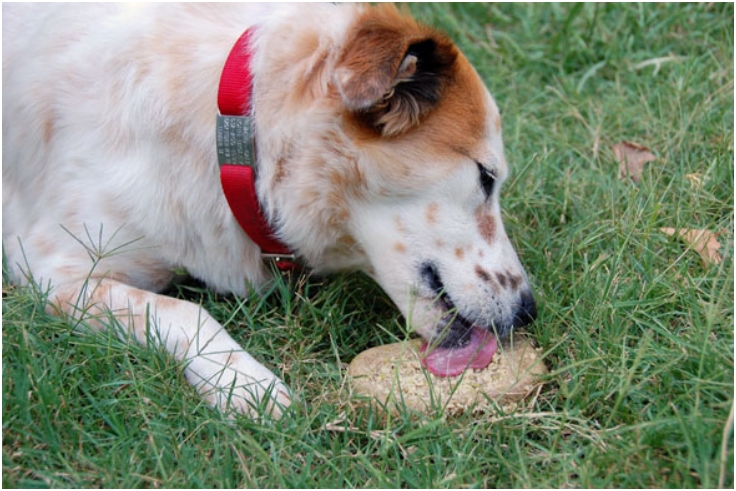 via dogtipper.com
Getting your dog to eat its veggies can be the same as with your kids: very difficult. The best way to serve something healthy is to sneak it in with something tasty. So, mix some green peas and some ground beef, add water and put that in the freezer and you'll have a delicious treat at hand when the temperatures rise.
Dog Ice Cream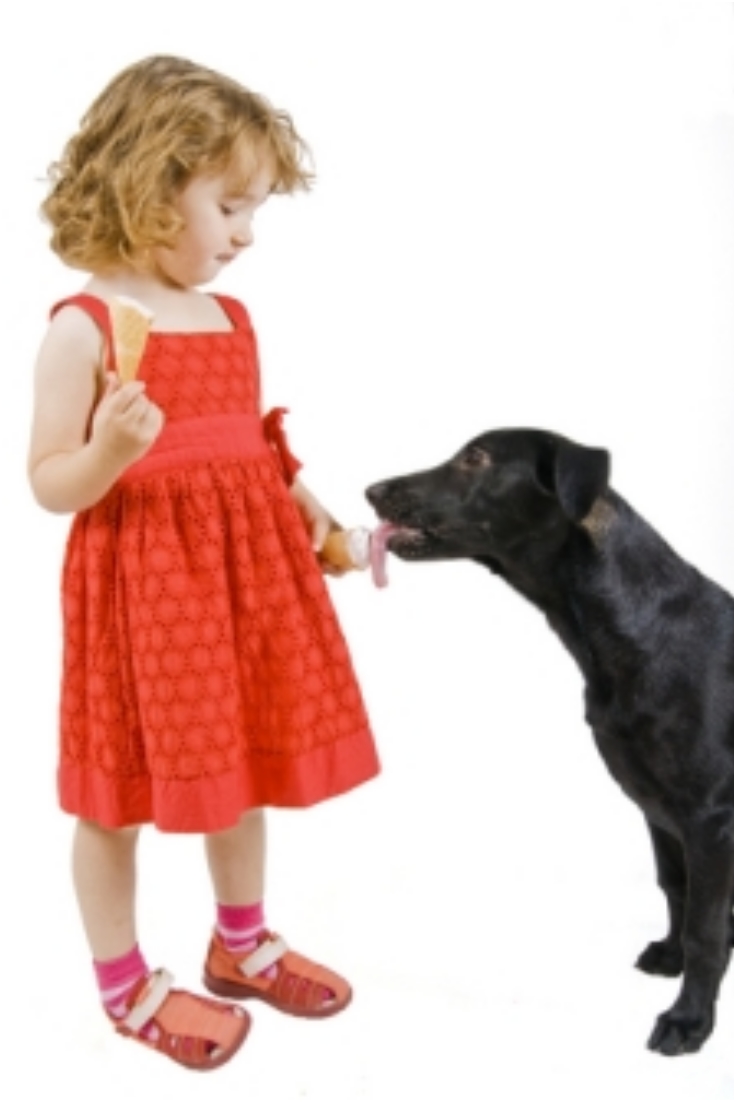 via gourmet-dog-treat-recipes.com
Many ice creams come in fruity flavors, so it is only fair to make some fruity ice cream for your dog as well and unlike human ice cream, the canine kind is much easier to make. Just blend the ingredients, put them in ice cube tray and let them freeze.
Meatless Bacon And Cheese Treat
While we're at the subject of our pet's healthy diet, you and your pet will simply love this light, creamy and unbelievably healthy frozen treat. This gourmet dish tastes just like bacon and cheese, yet is has no meat or wheat in it, and your dog will never know the difference.
Liver Treat For Theeding Puppies
Getting new teeth hurts, no matter if you're human or a dog. A good way to ease the pain is to massage the gums and put something cold on them, like a yummy, chewy cold treat. This liver and potato snack has the added benefit of containing nutrients that every growing puppy needs.
Doggie Breath Freshener Treats
We've all had a whiff of that foul smelling dog breath and in the hot summer days it can get even worse. If you want to treat the bad breath and have a nice cold treat for your dog at the same time, make this easy and tasty frozen breath freshener.
Tropical Chicken Pops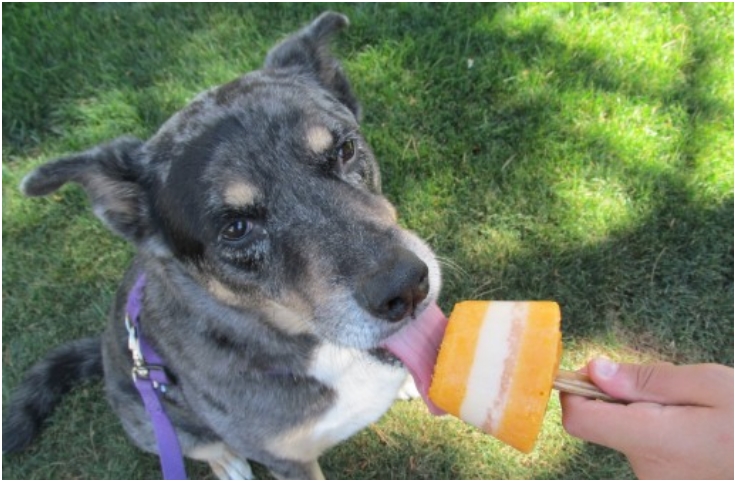 A frozen treat can cool your do down only so much. For a greater cooling and filling effect you need to combine the right ingredient combination. Here you have a doggy snack from light chicken meat with some refreshing lemon and oranges. A true tropical treat.
Apple Yogurt Freezes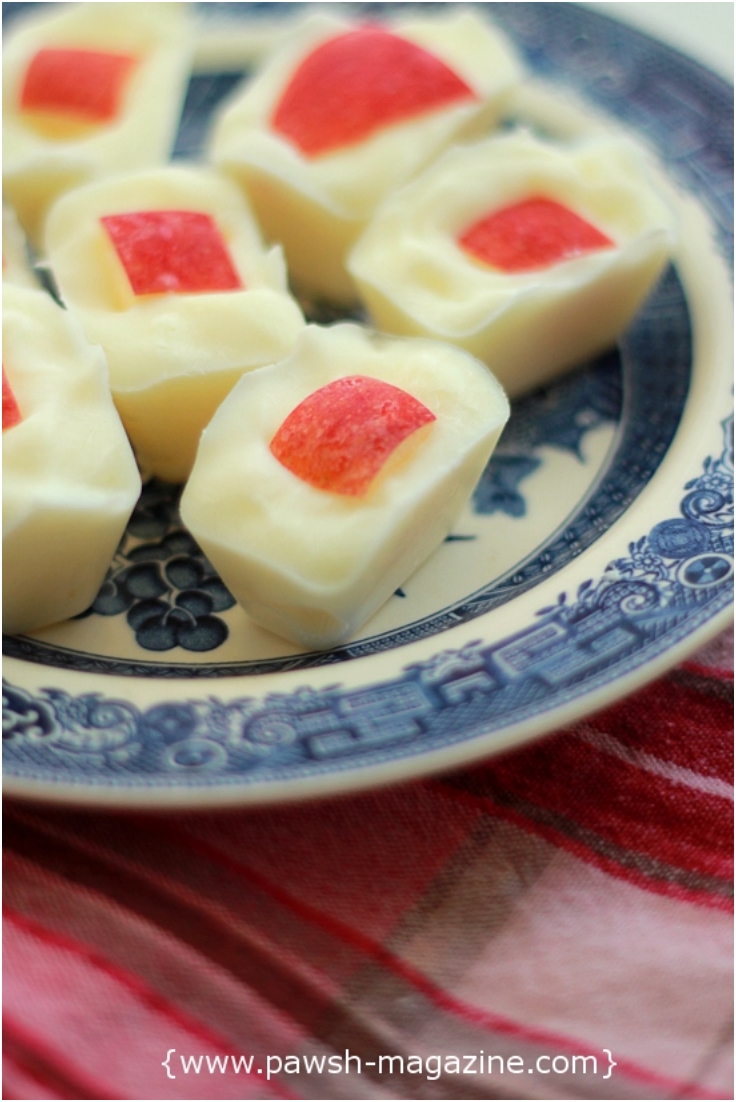 Aside from being healthy and refreshing, these treats will also prepare your dog for the colder months. The yeast used for this treat will help your dog grow a fuller and shinier coat and it also keeps the skin for getting too dry.
Pina Colada Frozen Treat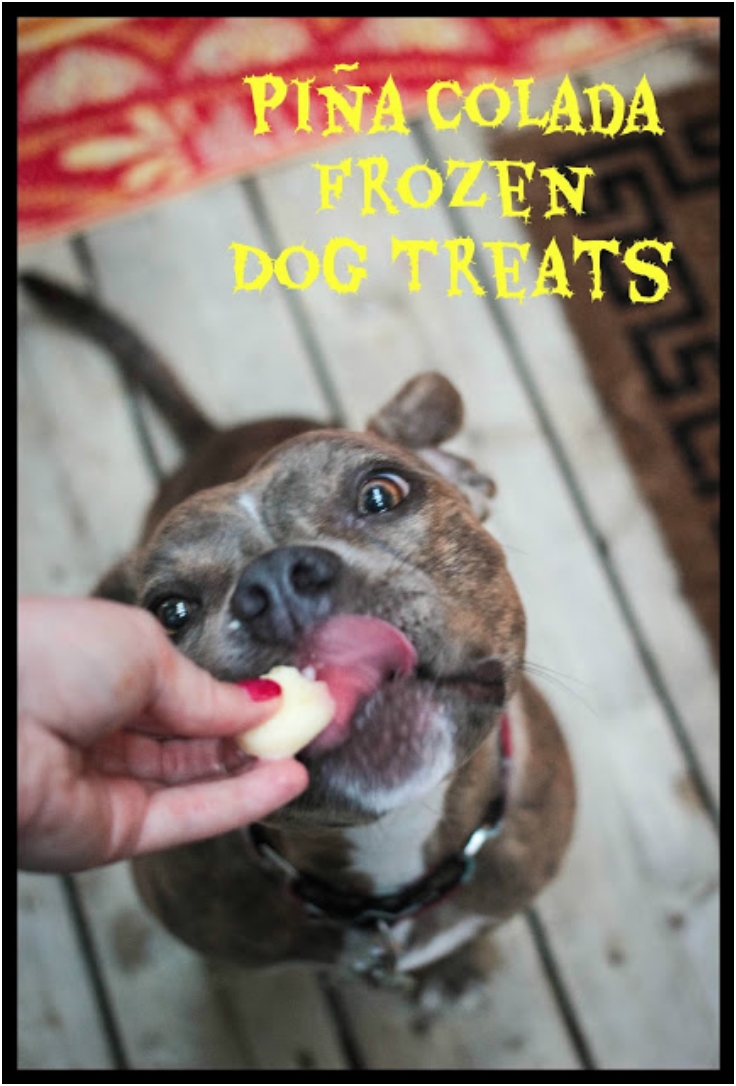 A nice pina colada can do wonders for your mood on scorching hot days. And when you get to the kitchen and start making your cold pina colada, don't forget to make a canine-friendly batch of some delish pina colada frozen treats for you four legged friend.
Fun Border Buster For Fido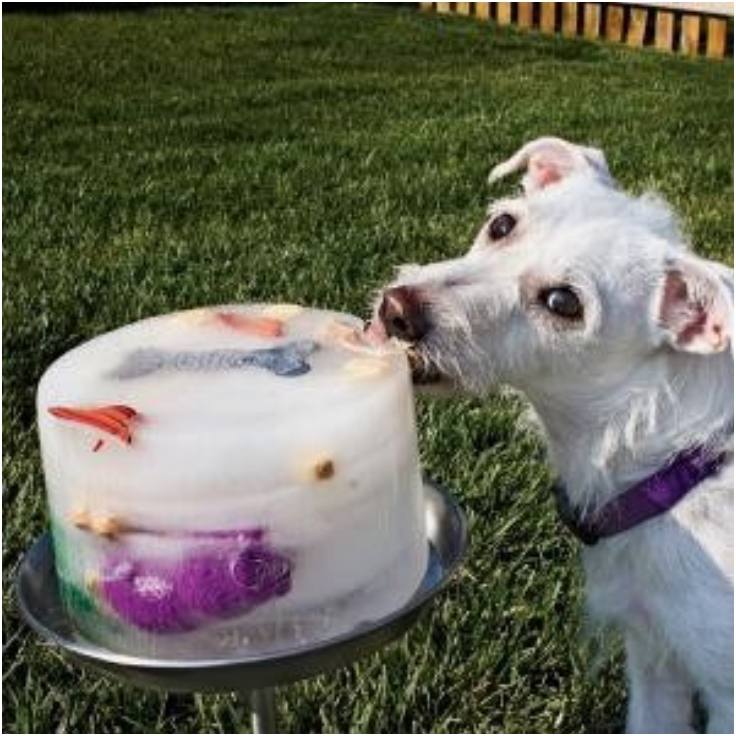 via coldnosesmag.com
All frozen treat have one thing in common: it takes longer for your dog to eat them. The slow melting treats can keep your dog busy for some time and the larger the snack the better. Provide your dog hours of refreshing fun by making a ice lick filled with chewy toys. Just like opening a present. And if you want some more doggy treat ideas and summer tips, check this out.