KIDS – We try our best to raise them well, take unconditional care of them, and always strive to make sure they're happy and have everything they need. Since the beginning of time, it's a well-known fact that kids cherish any kind of toy.
So if you want to make something that's unique, fun, simple, yet one of a kind, here's your chance to do so. Select some of these projects, and you can be absolutely positive that you won't regret making something that will put a smile on your kid's face once again. The result can be no other than making them feel overjoyed!
Snack Containers Into Lego Storage Box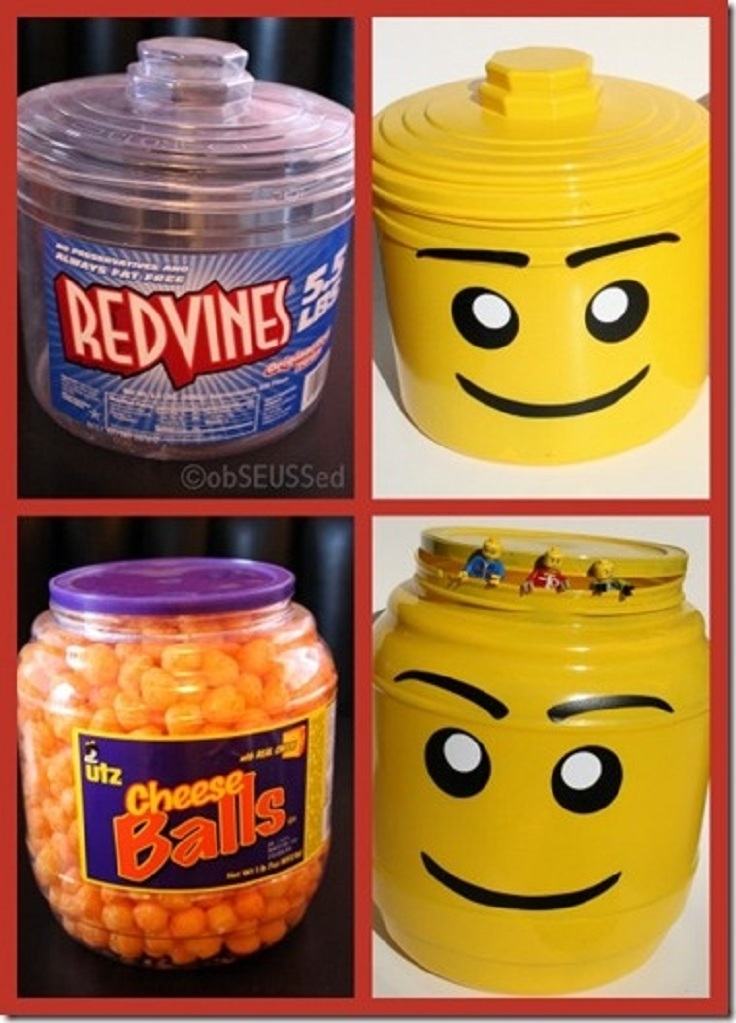 DIY Tutorial via obseussed.com
If you have a sweet tooth your path might have crossed the ones of sweet glass jars in the supermarket aisles. You passed it thousand times resisting and today you thought, no, you are coming home with me! Minutes later once home, your glass jar is empty so what to do with it next… Make something for the children. It's a whole lot of fun and one thing they would love to do with you. Try and recreate their favorite characters to the best of your ability. And in the process, explain why recycling is fun but also very important.
Gas Can Be Made From An Empty Whisk Bottle
DIY Tutorial via mothersniche.com
We believe this can sound a little silly but then again, how many detergent clothes bottles do you pass in the month from the endless cloth washings? Reusing the basics can really make a difference, especially to the things we use day in and day out, and throw away like it's no man's business. If you're a car owner, your child might have seen you a few times filling the tank up, and wishes to do like mommy or daddy. This is your opportunity to share the experience!
Doll House In A Suitcase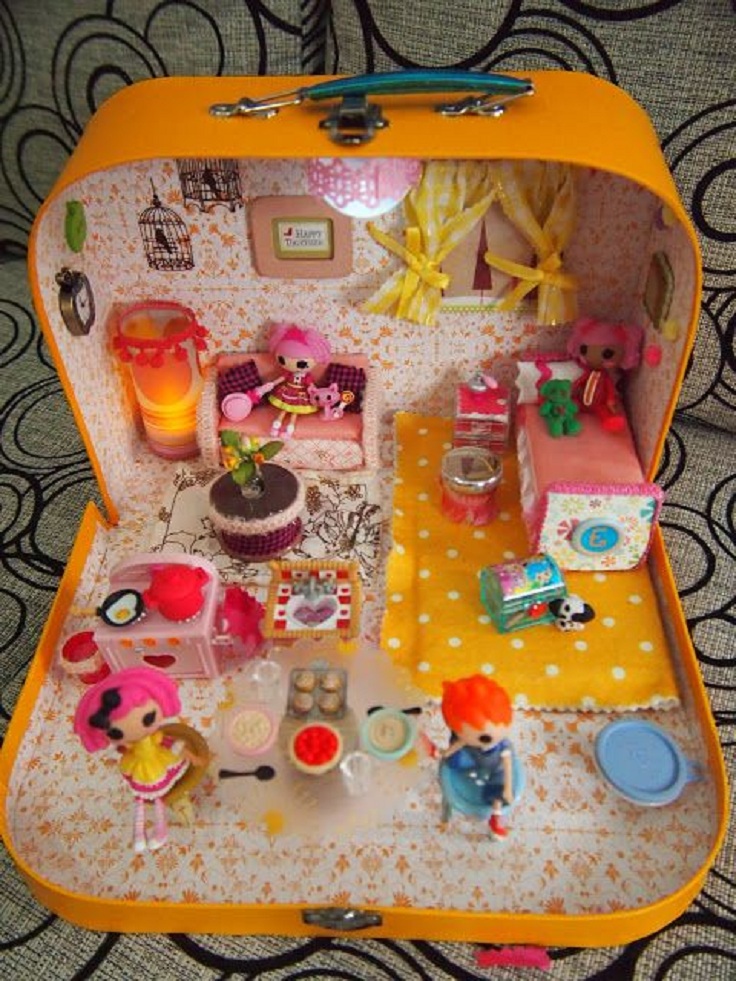 DIY Tutorial via scrappalific.blogspot.com
This fun DIY project is for the faint-hearted and those accepting a change and a half! But after all, we are here to assist with our littles one's imagination and playtime. Because some say it doesn't last. Enjoy them while they are young before they get too opinionated and self-dependent! Great way to upcycle a small suitcase that you used every so often, but is now far too small or slightly damaged. It will look super fabulous. And, apart from a lot of hours, it will not cost you much. A dollhouse can really set you back a lot of money so why not have fun and build something yourself; and maybe with your little one too! Bigger house doll, use a big suitcase and a year's work. Worth it though!
Doll Bed Made From An Upside Down Table
DIY Tutorial via myrepurposedlife.com
Cost-saving ideas with recycling in mind (as it is something we love and insist on, making the kids learn in the process). When we saw an upside-down table turned into this, we looked at one another and thought genius, why didn't we think of that! And this is all to do with a little imagination and creativity. And frankly, it really does look fabulous! Could you make a small bed out of an old long family table? Be on the lookout and let us know!
Play Kitchen Made From A Night Stand
DIY Tutorial via simplyseptember.com
Children love to emulate the parents. And if you are the kitchen guru in your home, then you would have seen that your little one also wants to get their hands dirty and cook like you! Nothing wrong with that. Art that should never go away. On this basis, the kitchen area has a lot of objects that must be hidden away for their own safety, but they still wish to cook for you without you interfering. Make them their own kitchen out of an old and unused, unloved nightstand. Hours and hours of fun this, making you have time to actually cook yourself in peace!
Kids Canopy Tent
DIY Tutorial via makinglemonadeblog.com
If you have children, they all love to hide and have their own space. It isn't just about them turning into little adults, they are naturally this way! Especially when they have been told off. So, get them a place to chill, relax and get their breath back. They would love you for it without really knowing what they do. Complicated little things children! All that is required from you, is an hour of your time to create something that oozes with being cool. If you have fabric to hand then great, it will not cost you much money and will create something that looks like it did!
Batmobile Made From A Cozy Coupe
DIY Tutorial via sweetcsdesigns.com
Children always want things they don't have. Maybe they went to a friend's house, learned it at school, or saw something on one of those TV adverts. Now, the must-have is the next supercar! And they believe you and me can cost more than an actual car! "You want a Batmobile or the next superhero car"? Cool, get painting! They will love their new, state-of-the-art batmobile chasing away all the villains. The baby car they do not love anymore has had a second lease of life that your kids will love for another few minutes.
Play Food Market Made From A Dresser Top
DIY Tutorial via katescreativespace.com
So, you've taken the kids shopping as you did not wish to leave them at home. That is GOOD parenting! Anyhow, moving on, they would love seeing alongside you in the many food isles, their favorite breakfast cereals, milk, yogurt, and many others of their ultimate favorite foods. So, why not create them a little experience in your own home in their very own bedroom where they too can have their own food markets, with perhaps some fake money in exchange for the goods you buy. Starting them young it's a great reward and learning curve for them. And it's a lot of fun!
Puppet Theater Made From Sheets
DIY Tutorial via adventure-in-a-box.com
Children may go to school or preschool, but many activities are still fun to do for the family. Well, this is a way to keep on entertaining your children at home, still making them dream and have fun. With or without restrictions, make them dream and get immersed in a world of theater that they would love time after time. You could also make the younger ones create their own marionette figurines for the added pleasure. A great way to use old sheets we are certain you have hidden somewhere.
Dress Up Closet Made From TV Armour
DIY Tutorial via frillsanddrills.com
This is especially for the girls. Now the boys will be happy with the floor, but let's face it, girls are a little more organized. From birth! Tv Armoires are somewhat a thing from the past and a little outdated now. If you wish to go for a more minimalist look and revamp your home, you may wish to say bye to your beloved monster of a TV cabinet and say hello to a more Feng Shui-style living room. Recycle it up, paint it and throw love at it. It will make the perfect closet for your little one, already thinking about becoming a grown-up.