Embroidery can be so fun and versatile. There are just so many possibilities- embroidery can go far beyond a hoop, some cloth and some thread. Today people are embroidering so many different kind of things like clothes, accessories, wood and of course creating beautiful wall art. This is why we decided to share some fun embroidered projects you can DIY but trust us it was not an easy task. There are too many of them to choose only 10, but we will soon do another listing all in order to share as many as possible. So, if you love stitching, sewing and being creative check out these awesome projects.
Floral Embroidered Top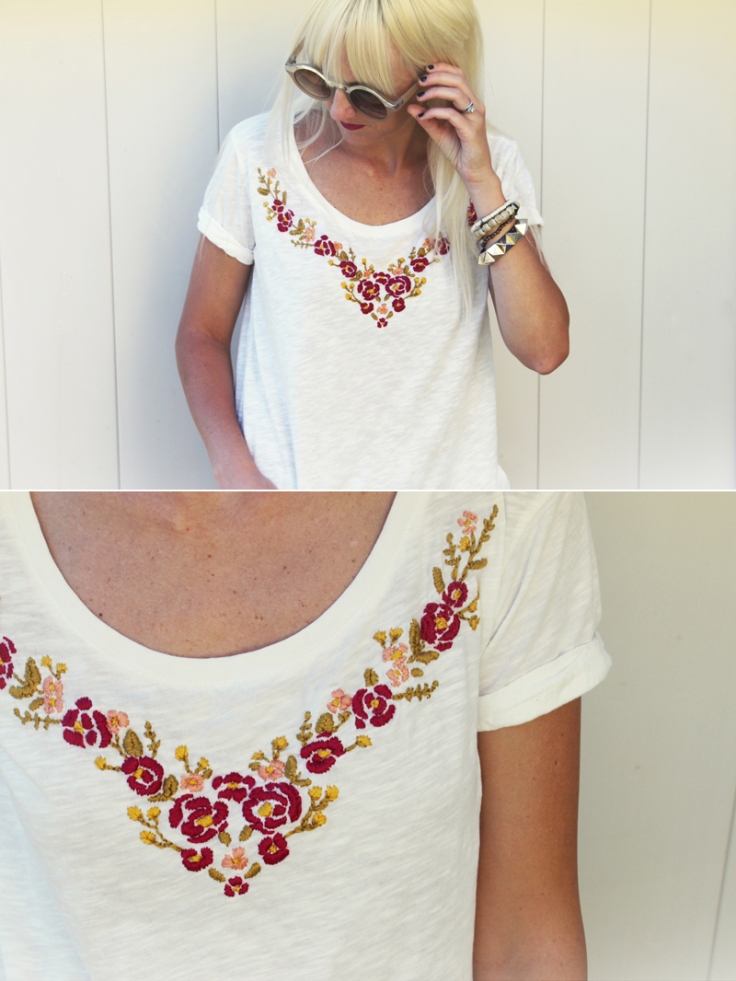 This is such an awesome weekend project. Turn a plain white top into a beautiful floral shirt by following this tutorial. You will need  embroidery thread, embroidery needle, washable marking pen, embroidery hoop and a basic tee. The floral designs are free to download and print.
Rainbow Embroidered Collar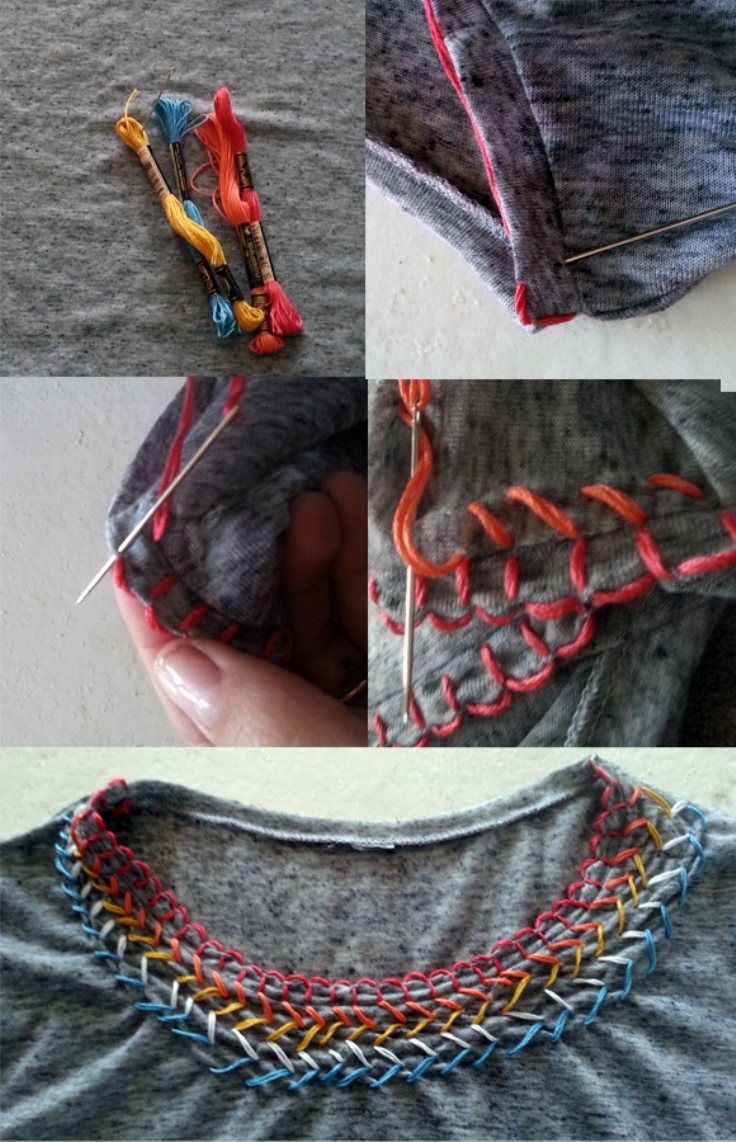 via madeinpretoria.wordpress.com
Revamp an old t-shirt by simply using some colorful embroidery thread! It is very easy to do it – just start by doing a blanket stitch along the collar (there is even a link to a tutorial on how to do a blanket stitch) then do slanted straight stitches, with each color slanting a different way. The result is stunning!
Kid's Room Embroidery Hoop Wall Art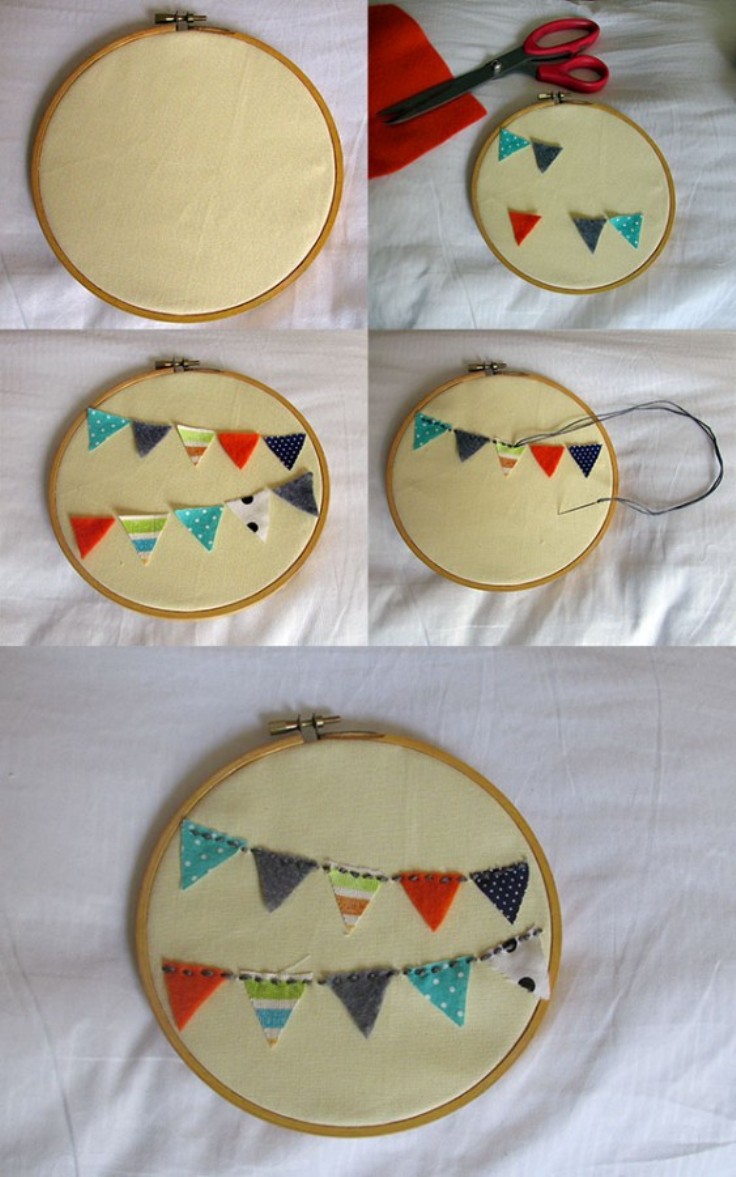 via helloluvvy.com
This embroidery hoop wall art is so cute! It is perfect for a little boy or girl's room. To make it you will need an embroidery hoop, a solid piece of fabric that will fit inside the embroidery hoop, fabric/felt scraps, scissors, a needle and some thread. Choose the color of the felt so it matches the color palette of your kid's room.
Aztec Inspired Embroidery Hoop Wall Art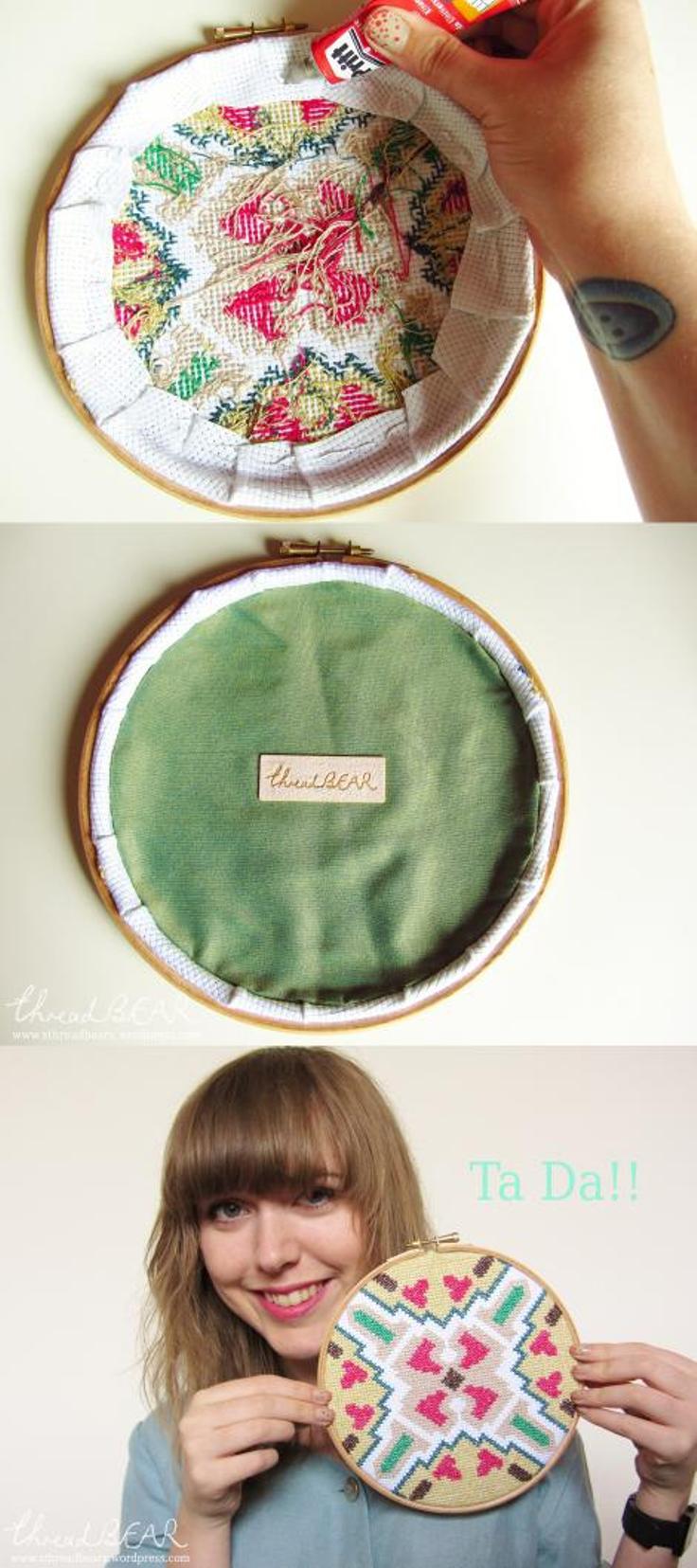 via xthreadbearx.wordpress.com
We just love this Aztec inspired pattern! You can easily make this small tribal embroidery hoop wall art on your own by simply following this tutorial that shows the process from start to finish. What you'll need to prepare is 11 count aida cross stitch fabric in white, 7 inch embroidery hoop, embroidery needle, 6 skeins of embroidery thread in brown, pink, beige, yellow, teal and green , scissors, thick card, complimenting fabric, pencil and glue.
Colorful Geometric Embroidery Project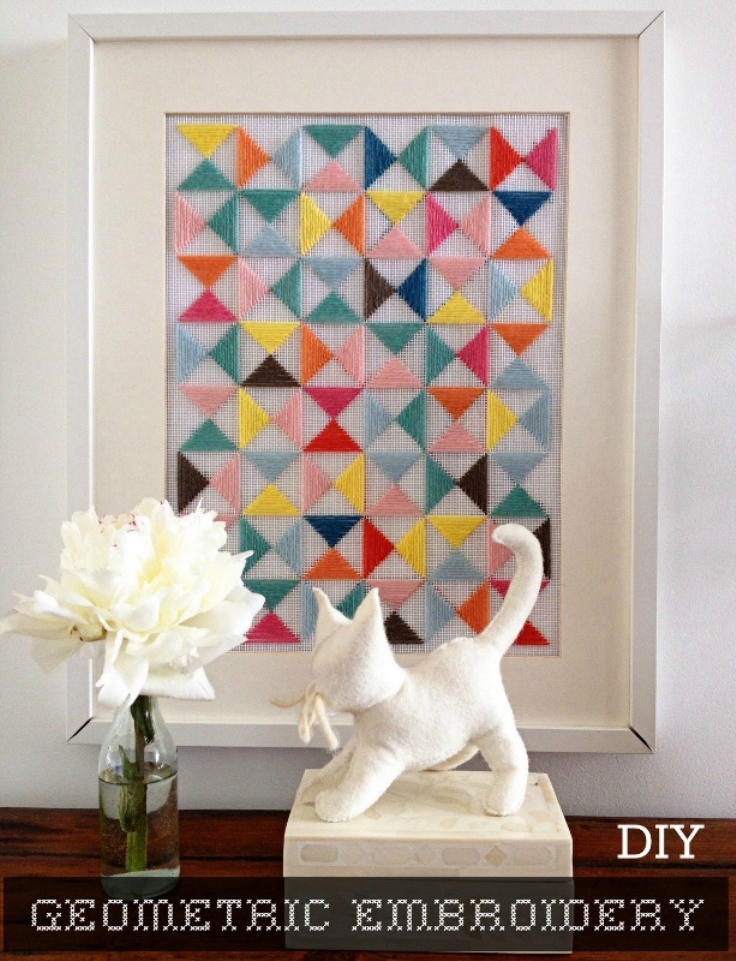 Get some white embroidery mesh, 8-10 embroidery wool colours and of course embroidery needles and create this beautiful geometric wall art. Choose your favorite colors and just follow the tutorial on the link bellow the project photo. This is an easy and budget friendly way to have an awesome piece of art on your wall.
Embroidered Cat Tote Bag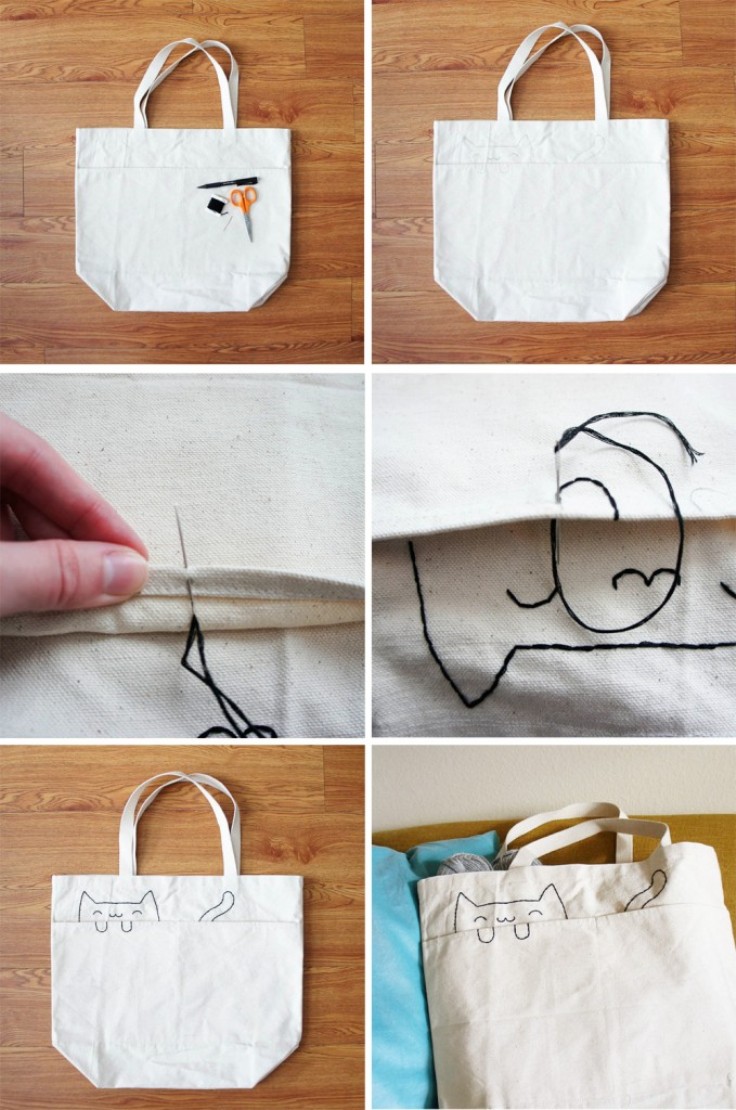 Stitch a kitten on a simple white bag and you will get awesomeness! You will have the coolest ever grocery shopping bag – that's for sure. And best thing is it will take you no more than 20 minutes to make it. What you'll need is  a blank tote bag, pencil, black (or any color really) embroidery floss, embroidery needle and scissors.
Embroidered Travel Pillow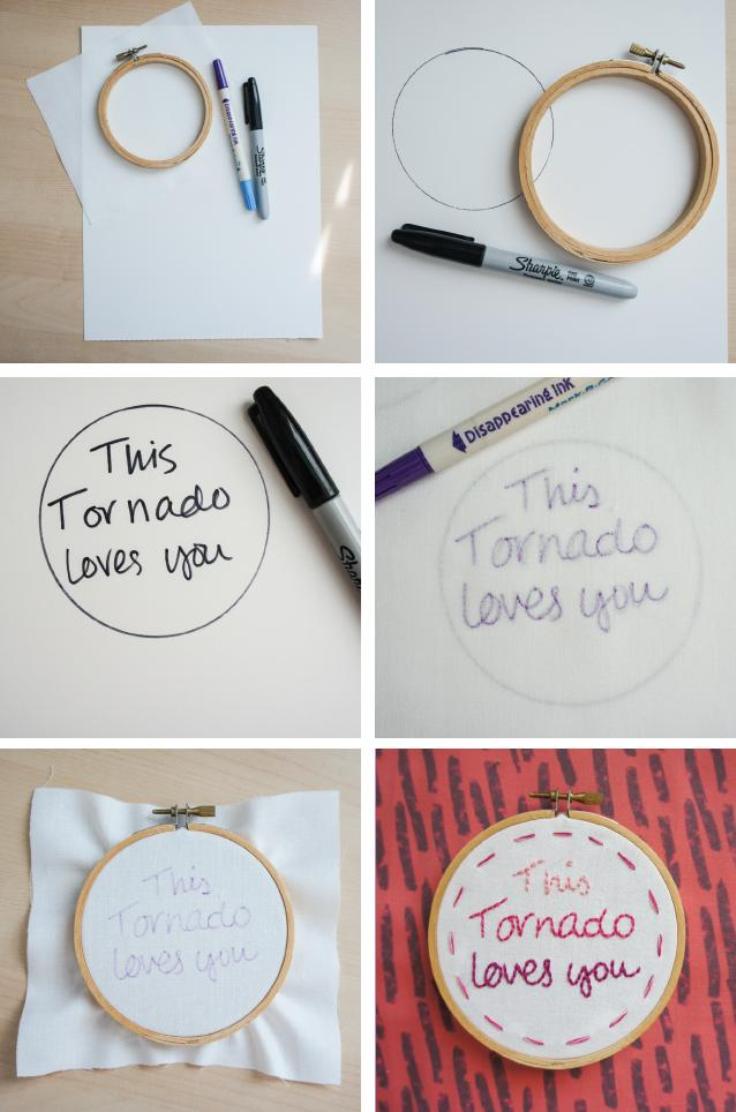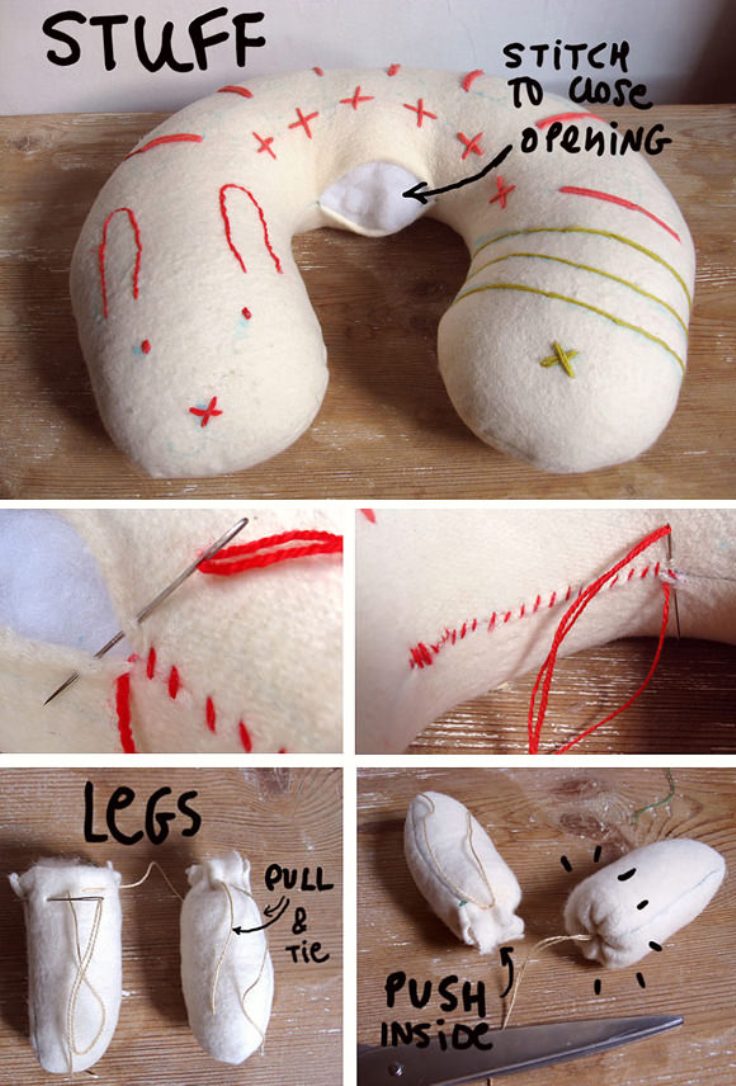 Travel pillows are all for making you feel more comfortable so it is important that they are made out of soft and pleasant materials. This project takes travel pillows to a next level by making them not only soft and comfortable but scented and cute! Make yourself a bunny travel pillow by following the easy tutorial – there are photos and printables to help you in the way.
Embroider Your Own Hand Writing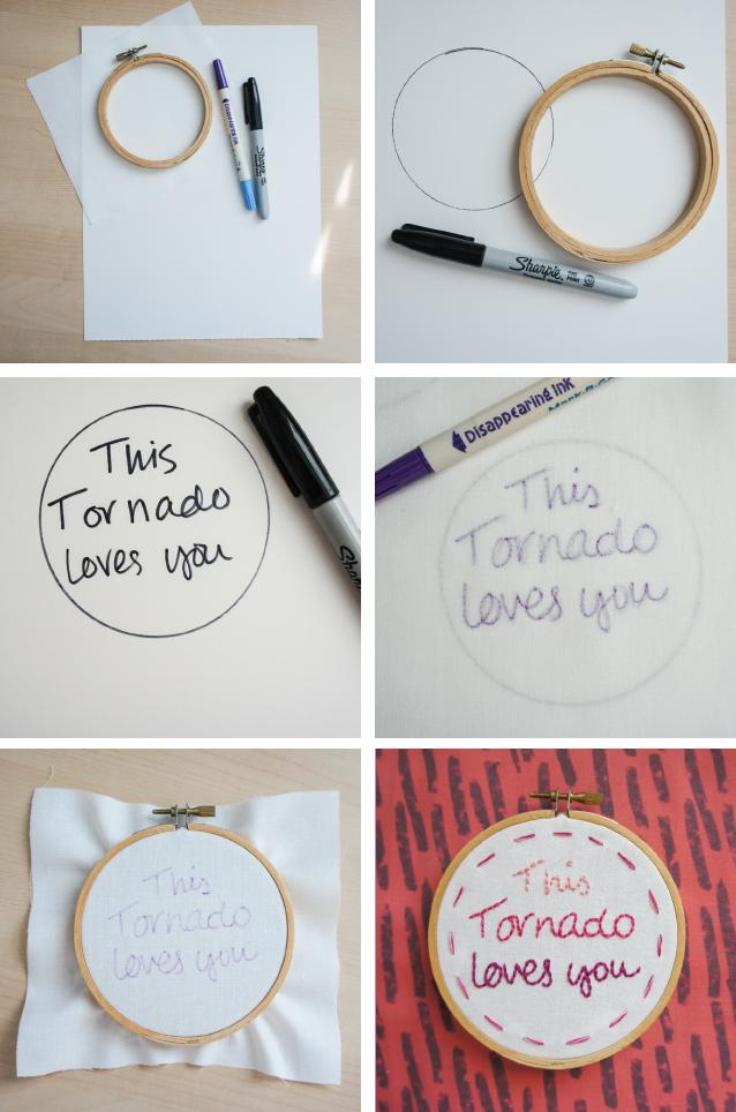 Here is a quick, easy and fun project. It is such an amazing and unique idea. If you want to embroider your own hand writing you will need paper,light colored fabric, embroidery hoop, disappearing ink pen and a sharpie.
Embroidery hoop earring organizer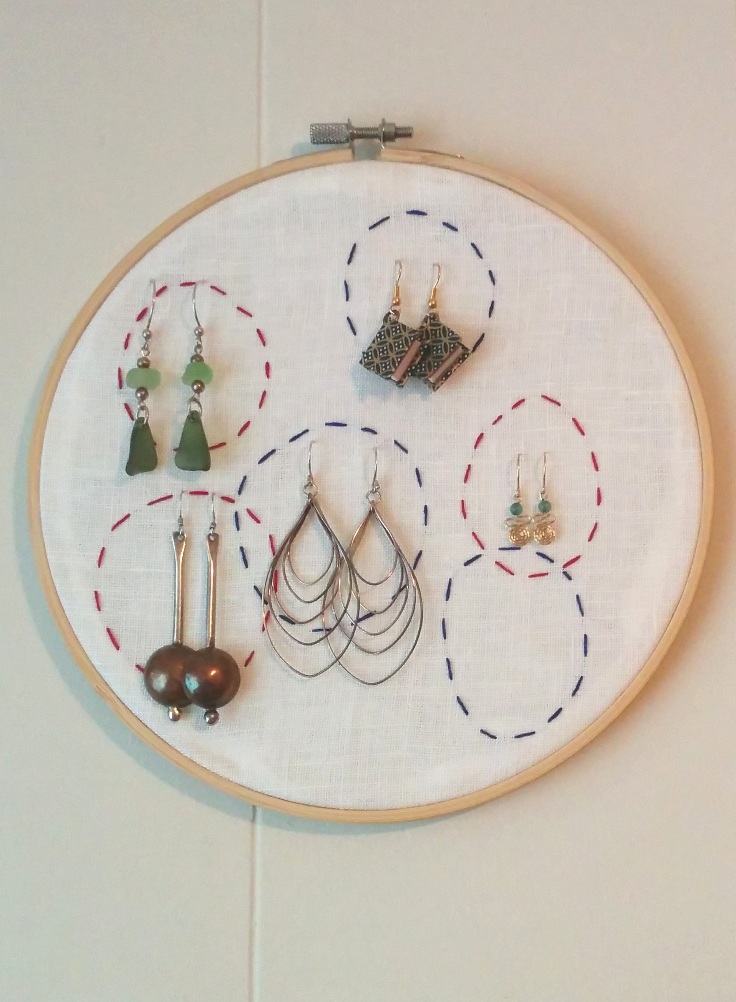 via thecraft.co
If you have too many earrings here is a way to organize them! This little embroidery hope organizer is simple, pretty, elegant, and crafty. And you can easily make it by using embroidery hoop, embroidery thread, embroidery needle, fabric, scissors and glue.
Wood Embroidery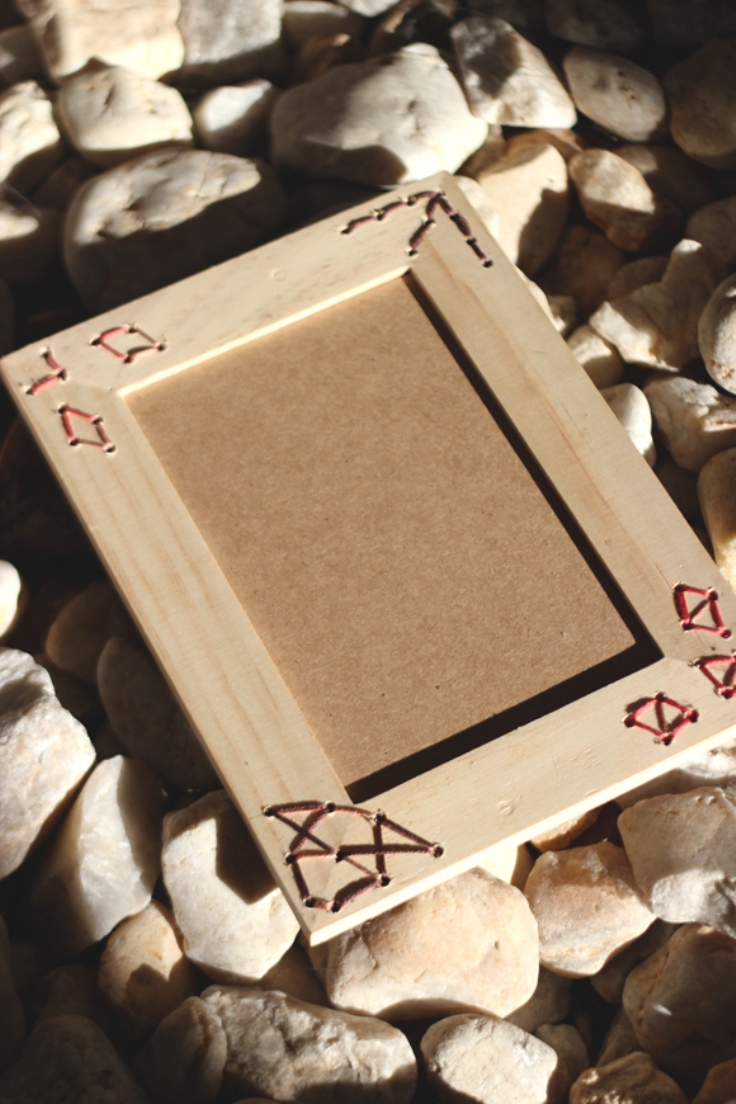 This is something different. And it looks fabulous. To make wood embroidery you will need: a power drill with a thin bit, pieces of wood,  embroidery thread, and a pencil. Then just mark where you want to drill with pencil first so that you are comfortable with your pattern, and then drill the holes using the power drill. Now all you need to do is to thread the embroidery floss through the holes as you wish!