Fruits and Vegetables are mostly used as a side dish or as snacks. The fact that they are really healthy for our organism made people try and experiment with them. Nowadays there are even so many different recipes, but today we have decided to take grilled fruits and vegetables as the main subject.
From grilled veggies tossed with pasta to grilled peaches over ice cream – grilling fruits and vegetables is a simple, delicious way to enjoy their fresh flavors, and preparing them couldn't be easier. These summer months are just perfect for BBQs with friends and family, so here are out suggestions for the most delicious and healthiest dinner choice for you and everyone around you.
Grilled Pineapple Mango Salsa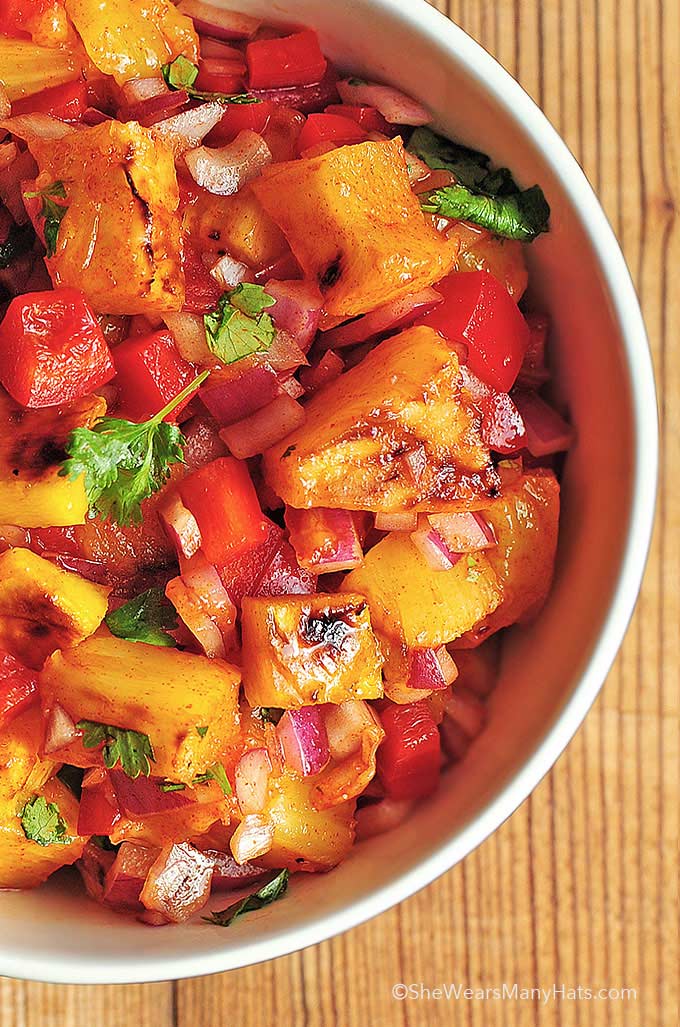 Fruit salsas are a great refreshment for the hot summer days. They can not only be served as appetizers or desserts, but also as a delicious compliment to grilled chicken, pork or fish for a tasty savory and sweet combination. All you need to do is mix grilled mangoes and pineapples with pepper, onion, lime juice, agave nectar (or honey), tequila and smoked paprika. You should definitely try this recipe – super-easy to make and done in only 25 minutes.
Grilled Italian Platter with Basil Balsamic Vinaigrette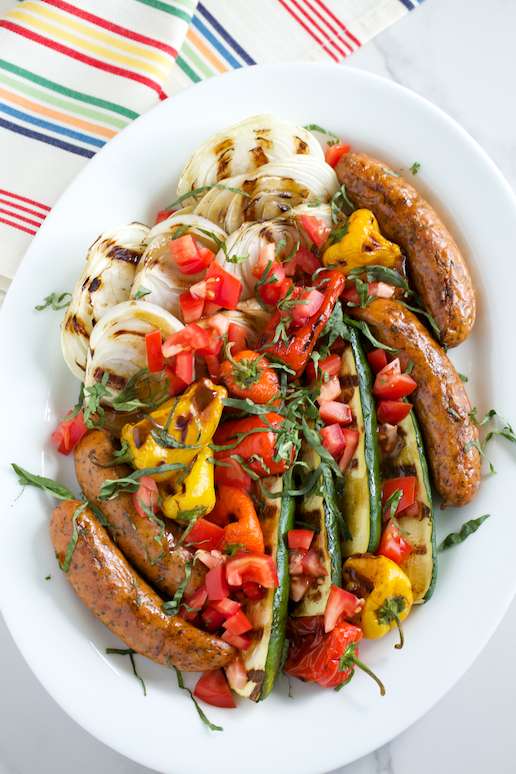 via gi365.co
This Grilled Italian Platter is a way to add more veggies to a classic combination that never gets old. What you need is 1 pound Italian Sausage links, 8 ounces mini sweet peppers, 1 Vidalia onion, 1½ pounds zucchini, 1 clove garlic, olive oil, balsamic vinegar, sea salt, basil, 8 ounces tomatoes, salt and pepper. Start with cutting the veggies, then while grilling them and also the sausages make your balsamic dressing.Once everything is done, arrange it on a platter, drizzle with the balsamic vinaigrette, sprinkle with chopped tomato, and garnish with freshly-cut basil leaves.
Mango – Habanero Tequila Cocktail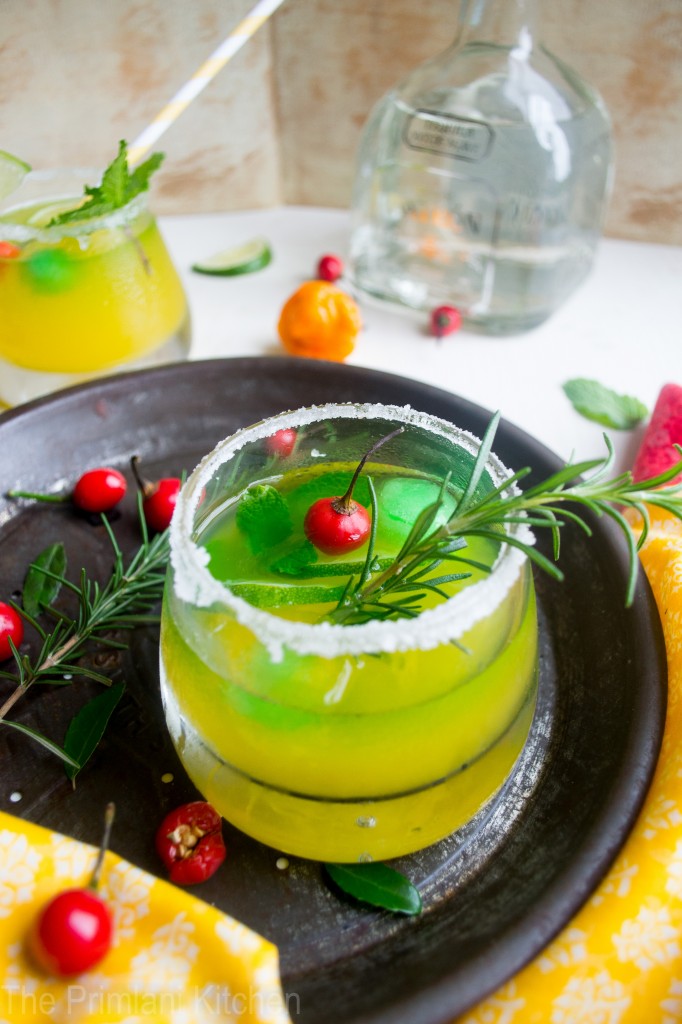 Beware – this one burns, but it's a good kind of burn:) So simple yet so original. Who would have thought you can use grilled fruit to prepare such an unusual drink? All you have to do is place the grilled mangoes, Habanero and mint in a pitcher and crush until broken down, then stir in tequila, lime juice, and agave. Next time you are in a mood for something unique, this should be your choice. Cheers!
Grilled Vegetable Salad with Olive Oil and Feta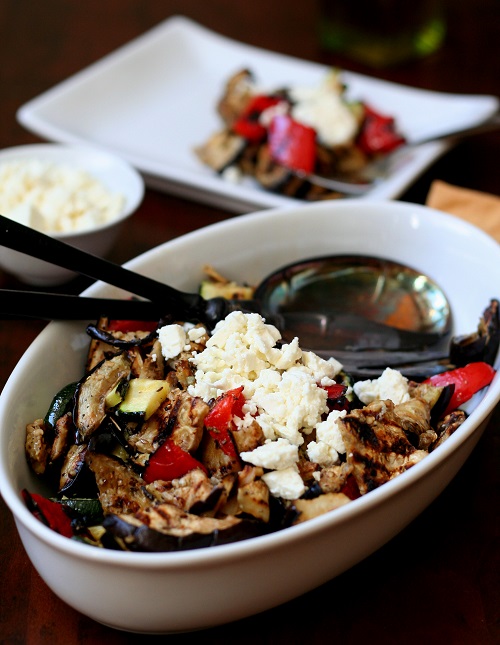 A healthy, flavorful and satisfying side dish, which is remarkably easy to prepare. Ideal for the summer days. You'll need 1 medium zucchini, 1 red bell pepper, 3 tbsp extra virgin olive oil, 2 garlic cloves, sea salt, black pepper, dried oregano, ½ cup crumbled feta. Grill the veggies about 3-4 minutes per side, add olive oil, garlic, salt, pepper, and oregano, then sprinkle with feta cheese.
Grilled Pears with Cinnamon Drizzle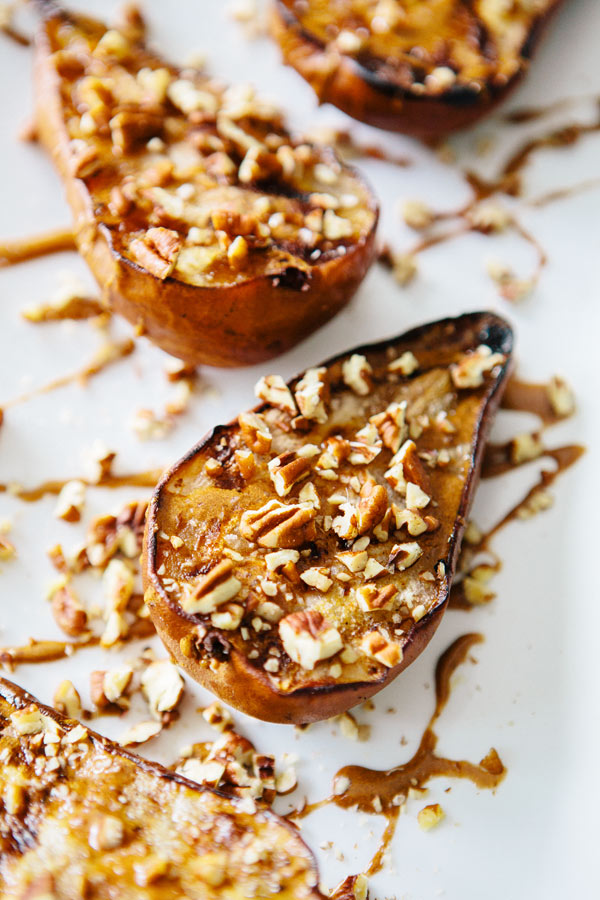 This recipe is an amazingly tasty desert, especially for those who are fans of the honey –  cinnamon combination. If you're looking for another fruit that is extremely delicious when grilled, then look no more. Grilled pears + honey & cinnamon = heavenly dish. To make this recipe you will need: 3 ripe bosc pears, 2 tablespoons honey, 1 tablespoon cinnamon, 1/4 cup chopped pecans, coconut oil, sea salt and maldon salt. Just click on our link and follow the steps.
Garlic Grilled Broccolini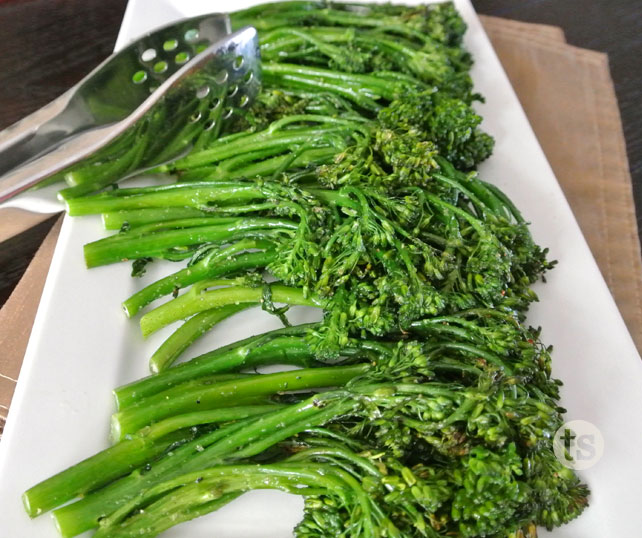 New to broccolini? It looks and tastes a lot like broccoli, but it's just a hint sweeter and has long, skinny stems with smaller florets at the top. It can be prepared in many different ways and it always tastes so good. All you need for this Garlic Grilled Broccolini is 4 bunches broccolini, 2-3 tbsp. Roasted Garlic Infused Oil and 1½ tsp. Garlic Pepper Seasoning. Follow the directions for this super-quick recipe. For a fun flavor twist you can squeeze some fresh lemon juice over grilled broccolini and toss with grated Parmesan cheese.
Grilled Peach and Watermelon Kebabs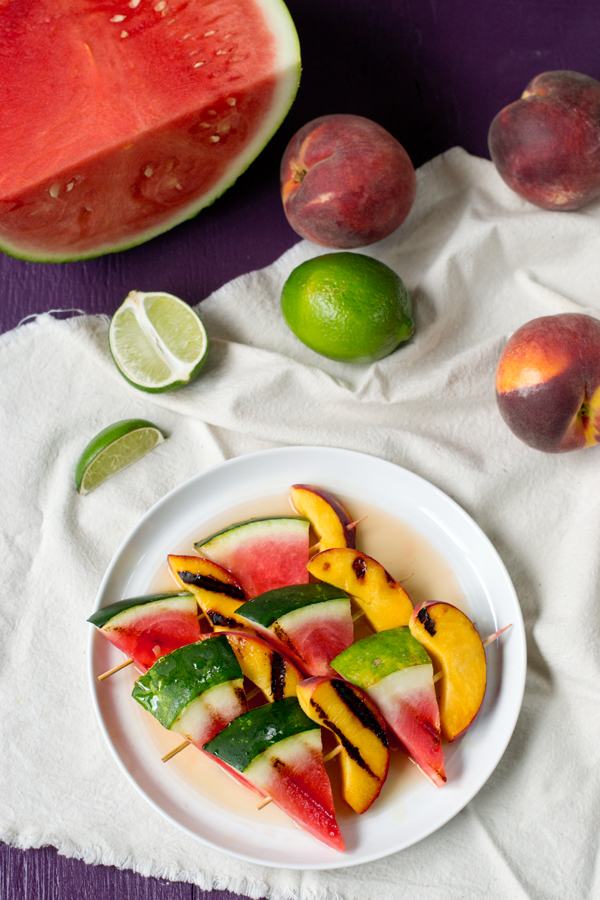 via cookthestory.com
If you're in the need of a simple, delicious, and healthy BBQ side dish or dessert, this is it! These Grilled Peach and Watermelon Kebabs are perfect for these warmer nights and will be a hit for the entire family. What you need is 1/4 cup honey, 1 tbsp. lime juice, 1/2 tsp. vanilla, a pinch of salt, 1-3/4″ slice of watermelon and 1 peach. Just thread the fruit onto the skewers, grill the skewers until grill marks appear on the fruit, then drizzle with the vanilla-lime syrup. Bon appétit!
Rustic Grilled Veggie Tart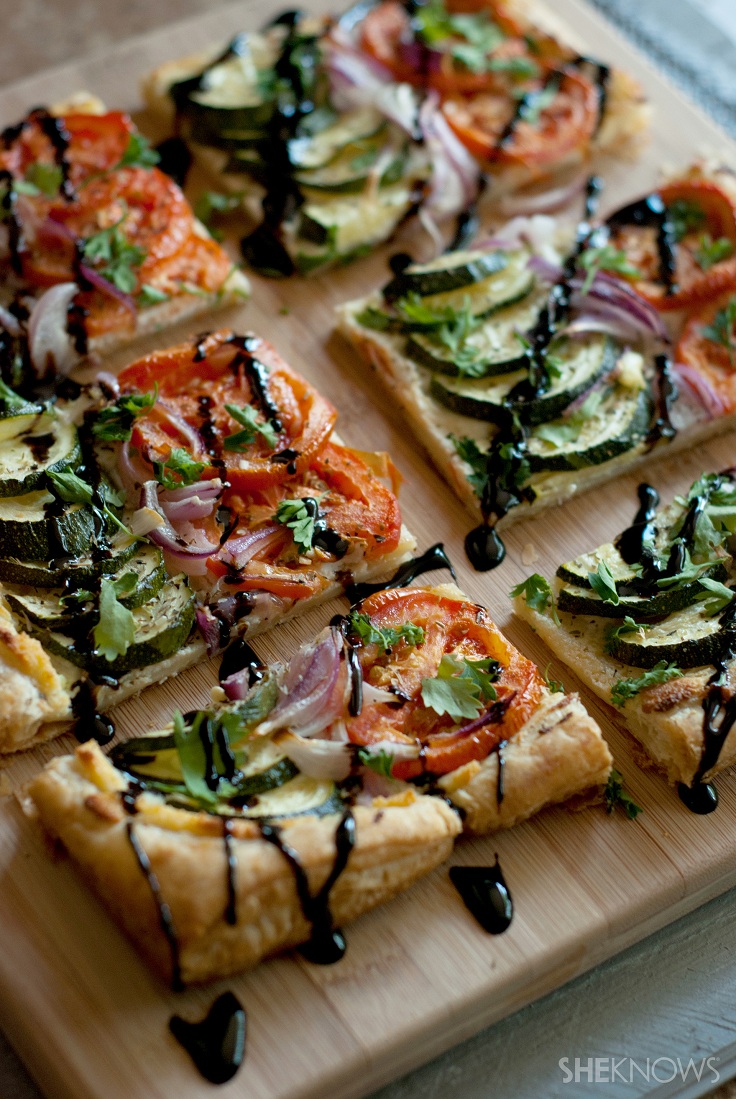 via sheknows.com
A super-simple but tasty dinner idea the whole family can enjoy. You can even use your grilled veggie leftovers and refresh them. Combine the vegetables, a store-bought puff pastry dough and some goat cheese. First, spread the goat cheese on the tart, then top the tart with the grilled vegetables. Bake the tart until it gets nice and golden-brown. After 30 minutes remove it from the oven and sprinkle it with freshly grated Parmesan. Voila!
Grilled Bananas and Pineapple with Rum -Molasses Glaze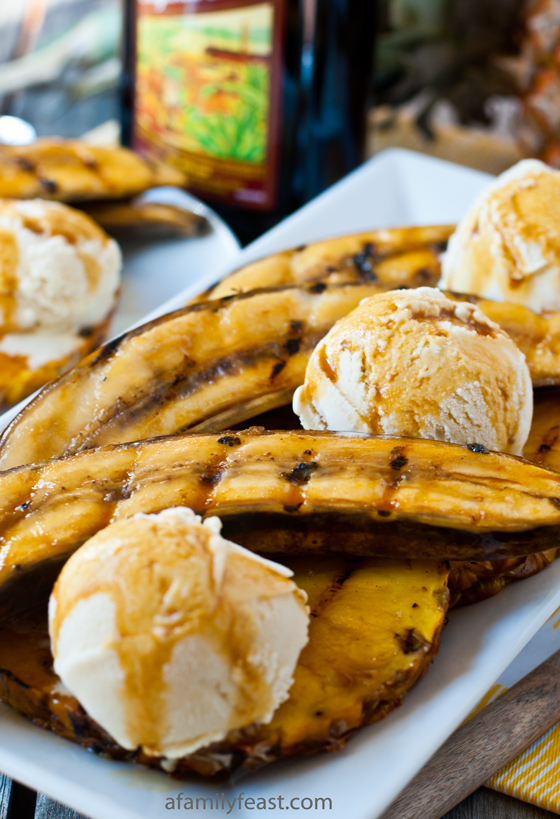 via afamilyfeast.com 
We simply adore the grilled banana recipes, so we had to share one with you. Our Grilled Bananas and Pineapple with Rum – Molasses Glaze is a quick and easy dessert which will totally impress your family and guests. These ingredients, perfectly combined, allow you to enjoy something different. All you have to do is rub the banana and pineapple slices with the rum, molasses, butter and lime juice oil, then serve it with vanilla ice cream. This luscious dish takes only 20 minutes of your time.
Roasted Squash Stuffed with Grilled Vegetables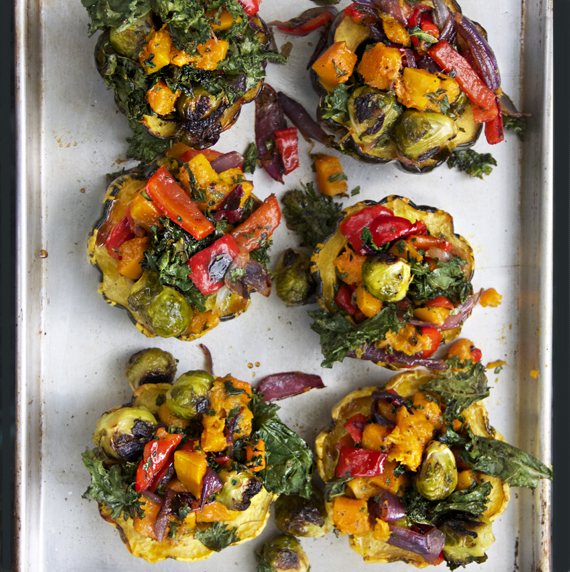 This dish is perfect for special occasions and it may take a little longer to prepare, but it's definitely worth it. You can serve it not only as a side dish with roasted meat or chicken, but also as a vegetarian main course. You will need: 3 acorn squash, 2 tablespoons olive oil, 2 pounds brussels sprouts, 2 red bell peppers, 2 small red onions, 1 butternut squash, 1 bunch curly kale, olive oil, kosher salt and pepper. Follow the instructions for this delicious recipe we are sure you will love.