It's a fact that potato chips is one of the most caloric snacks a person can have! Of course it is okay to indulge every once in a while, but if you're doing it too often, unfortunately that will show up on your figure.
But, look on the bright side. There are many alternatives that will make you feel as if you're eating potato chips, except that you won't be eating any potato! You can use vegetables and fruits and prepare them as chips. They will be just as much as crispy and delicious as the potato chips, with the difference being that now you will eat much a healthier snack. Make this little change in your diet and you will see how possible is to eat snacks and stay fit at the same time.
1. Sweet Potato Chips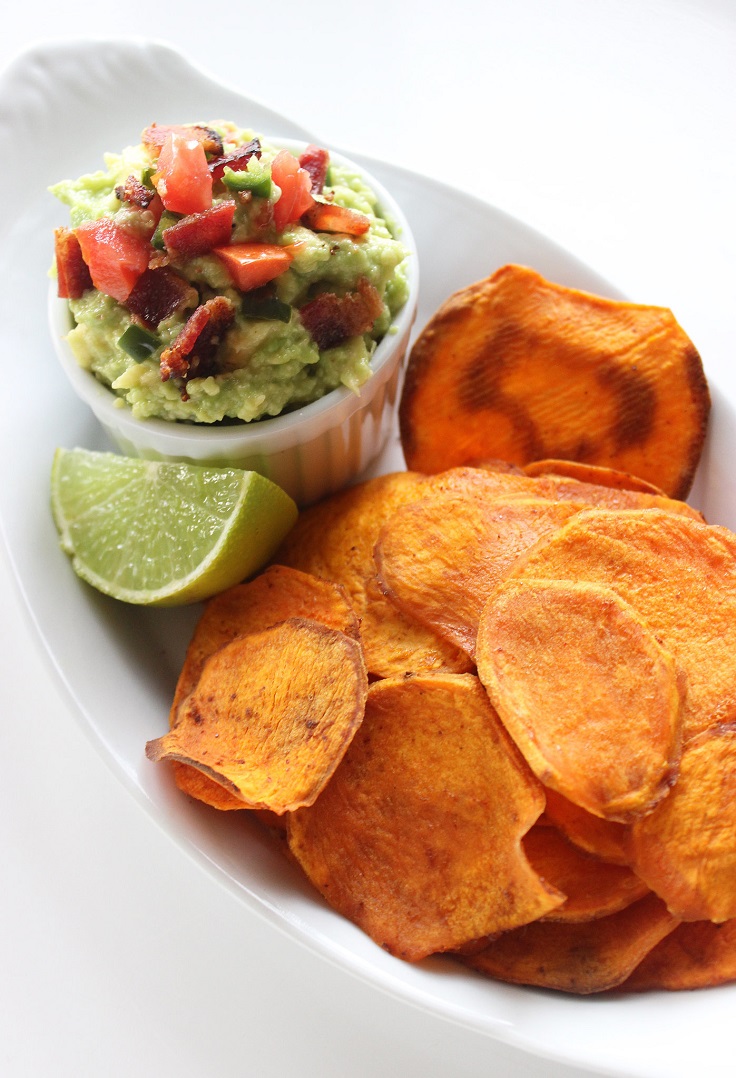 via popsugar.com.au
Unlike the regular potato, the sweet one has less calories and more health benefits. It's delicious and can have the same crispiness. To prepare the sweet potato chips, you need 2 sweet potatoes and 3 tablespoons olive oil. Peel the sweet potatoes and cut them in thin slices. Add spices for better taste, such as paprika and cumin. You should also add the olive oil and sea salt. Bake the potato slices for ten minutes, flip them over and then bake again for 10 minutes, until they're golden brown.
2. Apple Chips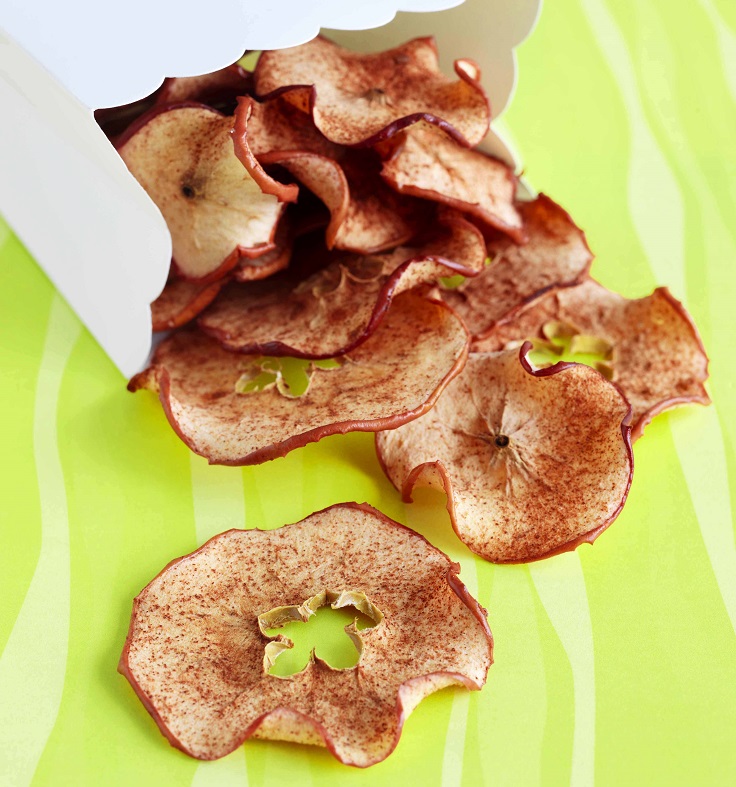 via babble.com
You know what they say – an apple a day keeps the doctor away, so why not have it baked and crispy for a change? To make your own apple chips, you need 2 large apples, 2 tbsp. sugar (or to taste) and 1 tsp. cinnamon. Cut the apples in thin slices and arrange them in a single layer on a piece of parchment baking sheet. Sprinkle sugar and cinnamon over the apples. Bake for 2 hours or until the slices are dry and crispy. Let them cool completely before placing them in a container or eating them right away.
3. Sweet and Salty Banana Chips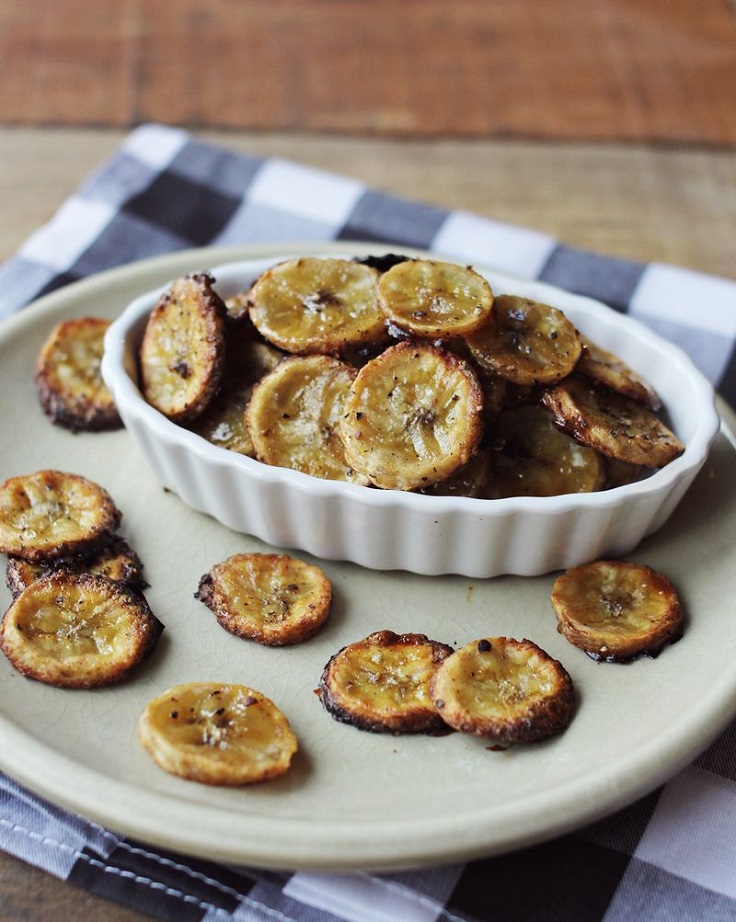 via abeautifulmess.com
If you want a combination of both sweet and salty at the same time, then you definitely need to try out this banana chips. It's really easy to prepare it and you just need few ingredients in order to get this super tasty chips. You need two ripe bananas, 1/4 cup brown sugar, coarse grain sea salt and black pepper. Cut the bananas in thin slices and coat them a little bit in brown sugar from both sides. Place the slices on sheet lined with silpat mat and a drizzle of olive oil. Sprinkle with sea salt and black pepper. Bake for 15 – 20 minutes on 400°F until crispy.
4. Baked Zucchini Chips
via vittlesandbits.blogspot.mk
The zucchini chips is just so easy to prepare and so delicious that you really want to make sure you have plenty of the crispy chips especially if you're having someone over. The chips is so addictive! You just need zucchini, canola cooking spray and seasoned salt, or other seasonings by your choice. Cut the zucchini in thin slices and lay them on a parchment paper or non – stick foil and sprinkle with the seasonings. Bake until the zucchinis are all crispy!
5. Cheesy Kale Chips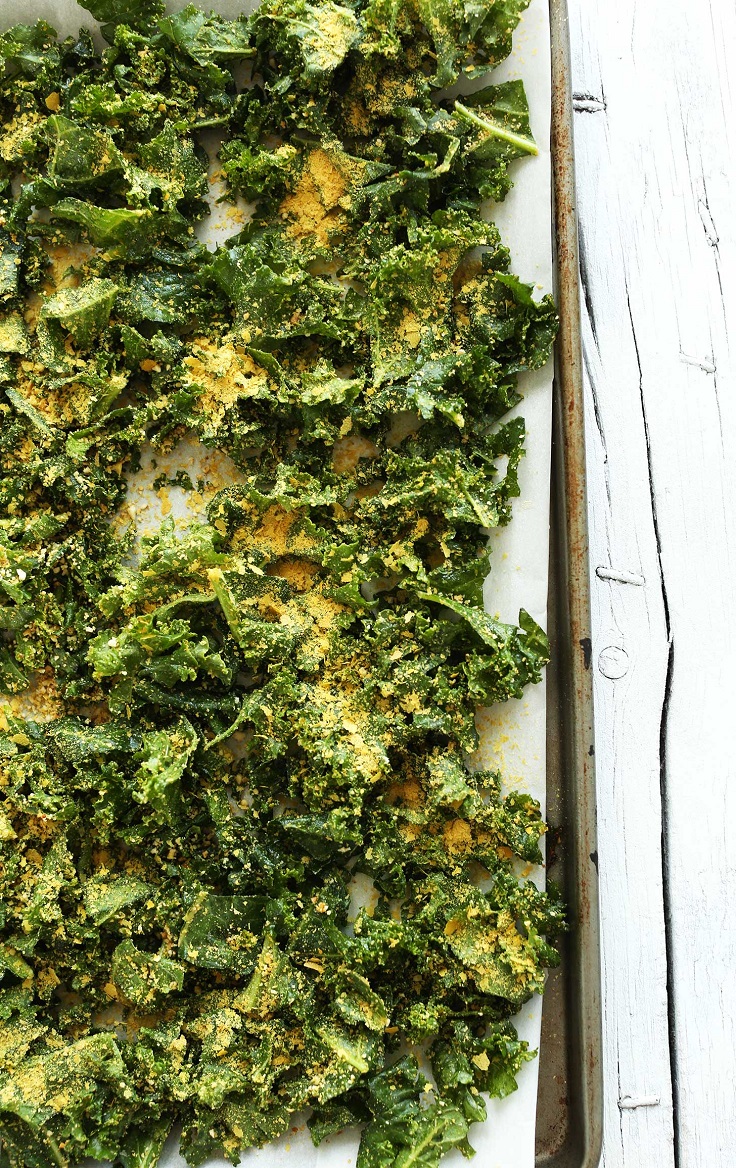 via minimalistbaker.com
You know how every diet professional is saying that kale is one of the healthiest green foods one can have, so here's a way to include it in your diet! It's crispy, a snack, delicious and very easy to prepare! You need 10 ounces (283 g) chopped kale leaves, 2 tbsp (30 ml) grape seed, olive or avocado oil, 1/4 cup (30 g) raw cashews, 2 tbsp (14 g) raw or roasted (unsalted) sunflower seeds, 5-6 tbsp (15-18 g) nutritional yeast, 1/4 tsp each salt and black pepper and tsp garlic powder.
6. Baked Rosemary Carrot Chips
via slenderkitchen.com
If so far these healthy potato chips alternatives haven't convinced you to try them because of the taste and crispiness, how about the fact they are low in calories? For example, this carrot chips has 61 calories! Plus, if you're dealing with children who don't want to eat carrots, maybe you'll convince them with a chips option. To prepare it, you need 4 carrots, 1 tbsp. olive oil, 2 sprigs rosemary, 1 tsp. garlic powder, salt and pepper. It is all done in 20 minutes and it requires just a little effort to be prepared.
7. Olive Oil-Baked Beet Chips
via epicurious.com
Beets are rich in vitamin C and you should make sure to consume it often, especially if you need immunity boost. Another health benefits that you can get from beets is that they can lower blood pressure and fight inflammation. The chips is another way to improve your diet. Instead of eating greasy potato chips, the beets can be the alternative you will crave for! You need the following ingredients: 2 pounds large beets, 2 tablespoons olive oil, sea salt and freshly cracked black pepper.
8. Pineapple Chips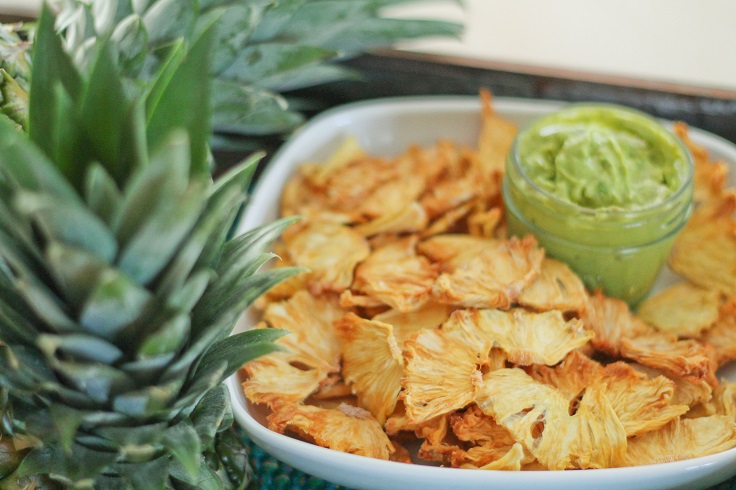 via theprimaldesire.com
This juicy fruit can be turned into dry, crispy snack in just few steps. You just need the following ingredients: 2 pineapples, 1/8 cup lemon juice and sprinkle of salt. In a bowl place the pineapple slices, add the lemon juice and toss until coated. Lay on rack or dehydrator tray and sprinkle with salt. The dehydrating can take very long time! However, bake them until get a little bit crispy because once they cool off they get crispier.
9. Eggplant Chips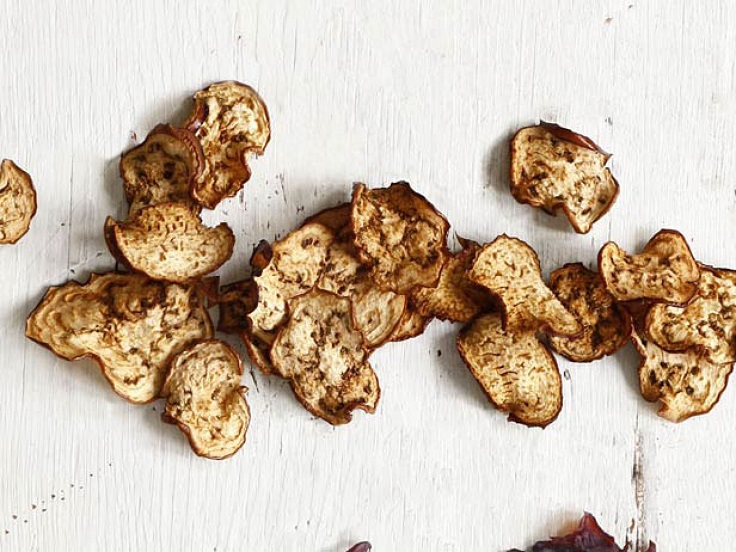 via foodnetwork.com
Unlike the pineapple chips, you won't have to wait that long to eat the eggplant chips. It's really easy to prepare it, so if you're not that expert at cooking, you should definitely try this out. Start by lining a baking sheet with silicone mat and coat it with cooking spray. Cut the eggplant into 1/16 to 1/8 inch thick slices and arrange them in single layer. Coat again with cooking spray and sprinkle with salt. Bake for 50 minutes on 250 degrees F and rotate the baking sheet half way through. Flip over the slices and bake for additional time until the eggplant is brown and crispy.
10. Baked Tortilla Chips
via thebakermama.com
Tortilla is one of the most favorite snacks in the world, especially when you combine it with sauces and other dips. It may not have the same health benefits as the vegetable and fruit chips on this list, but still is healthier than the potato chips and of course, equally delicious. You need 8 tortillas (flour, corn, whole wheat or multigrain), canola cooking spray and sea salt or kosher salt. The recipe serves 64, so it's a great idea to prepare the tortilla chips for a party or other gatherings.