Being boho isn't just a way of dressing; it's a lifestyle you also transfer into your home style. The colors, the textures, and the print – everything can be put into an order that will make your home look like a little boho paradise.
We prepared ten home decor ideas for all the boho style lovers that you can use for future inspiration. Some of these are for the whole room in general, while others stick to certain details. You will see that transforming your home into an artistic, colorful place can be easily done with just a little bit of imagination and some money!
1. Boho with Minimalist Vibes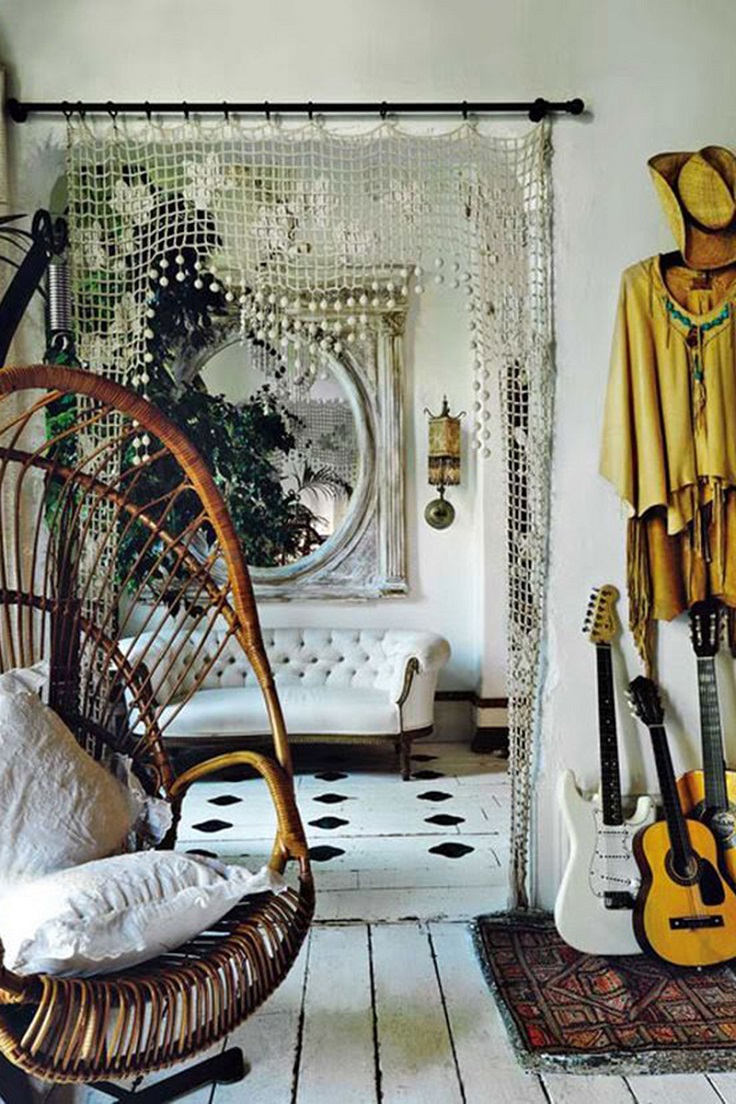 Not sure whether you want your home interior to be minimalistic with Parisian vibes or boho? Here's the solution to your doubt – mix these two styles! As you can see in the picture, mixing boho with minimalism can look amazing. Start by using one neutral, light color such as white for the walls and the floor, and then make sure the details are bohemian. Crochet wall hangings, colorful rug with an interesting print, and old, vintage objects such as the guitars here, are going to do the trick for you.
2. Add Art
via hackpr.co
There's one thing for sure that you mustn't skip if you want your home to be boho – there's no such thing as a boho home without art! Art is mandatory here, and the more colorful it is, the more boho the result will be. Don't forget that the boho style is all about art, so not having any in your house is going to feel like you've missed a one really important thing. This picture is just another example of how to mix minimalism with boho. No matter if you want your wall art to be more simple or bolder, just make sure to have plenty of it.
3. Make it Colorful
via jigidi.com
Unlike minimalism or any other way of decorating your house, the boho style means plenty of colors – bold colors. Don't be afraid to experiment a little bit. The boho can be an excellent excuse for you if you always wanted to paint the walls royal blue or even fuchsia, but you thought it would be too much of a color. Well, with boho, you can do that absolutely! But, it isn't just your wall colors, it is in the details too – the rug, the pillows, the sofa, the wall pictures, everything is so colorful in a way that all the colors get along so good!
4. Plants Make it Perfect
via homebnc.com
Another very important detail that you mustn't forget if you want your home to be boho is that besides art, plants are essential. See from the picture yourself – there are five plants in only one room! So, when decorating any room, make sure to add plenty of plants, no matter if they're small succulents or bigger plants and flowers. They will be an amazing detail that will make your interior prettier, plus they can spread beautiful floral scent all across the room!
5. Choose the Right Rug
via creativevp.com
As you have probably noticed in the previous pictures, the rugs and the carpets are very important in a boho home. They're essential too! When choosing one for any room, make sure it's colorful and has an interesting design. Be inspired by the Moroccan style and details, and pick a carpet. It doesn't have to be something very expensive. In fact, you can buy something second-hand and don't worry if it's going to look old or used – the boho people are even historically known for wearing old, homeless look-alike clothes!
6. Statement Wall Hanging
This can be especially applied in your bedroom. Make sure to have an interesting, artistic wall hanging right below your bed. No matter if it is a rug look alike, your favorite quote, or a colorful painting, adding the wall hanging to your room is going to help a lot. Other details that you can add to have a more boho effect are the plants, pillows with an interesting print, and make sure it all has a bold color (spot the orange decor)!
7. Play with Designs
via ruemag.com
Some of the previous pictures were showing the most boho way of decorating an interior. This one is a mixture of modernism with boho. There aren't bold colors everywhere, but they're just used for the chairs. The same comes for the carpet too! But, see how these two are two different designs. Boho is not the only experiment with colors and textures but with design prints as well. There are so many combinations that you can come up with!
8. Boho Bathroom
via decoholic.org
Well, not everyone will be able to decorate the bathroom this much of a boho, but we can all try a little bit, right? So far, from everything we've said about boho, details can be done in the bathroom as well. Buy succulents and place them in different places across the room. Instead of one-colored, dull towels, buy a few with Moroccan design or with just bold colors and leave them in the bath. Buy or make your own little art paintings and hang them around. It's easy and won't cost a lot.
9. Boho Porch Hangs
Let's talk about the porch a little bit, shall we? Usually, we don't pay too much attention to this part of the house (except those who really do!), and it stays empty and dull. If you want to make it boho, just use all the tips we have given you so far. Add a little rug, surrounded it with your favorite plants, and get few chairs and a table, or if you want to, make it a porch swing chair or bed. You would love to spend those warm summer nights on your porch!
10. Boho Way of Lightning
via digsdigs.com
And last, it's right to say that what kind of light you have in your boho house matters too. The idea with Christmas lights hanging across the room you have probably seen so many times on social media is oh-so-boho. But, it doesn't have to be Christmas lights. Pick a lampshade or any other lighting object that will add a dimmed light effect to your room and enjoy the atmosphere.