If your job requires from you to work from home, or bring part of your job at home, after work, of course you need a quiet, private place where family members won't disturb. You do not need to have always extra room to make your home office. Single out small part from your living room or bedroom, your attic or garage, and you can make perfect place for working.
There are thousands ideas how to design your home office. We bet you could not decide which one is your favourite. Window or wall view, desk decorations, comfortable and colourful chairs and so many other wonderful ideas. When you'll organize your workplace as you want, be careful to not become workaholic.
Double Desk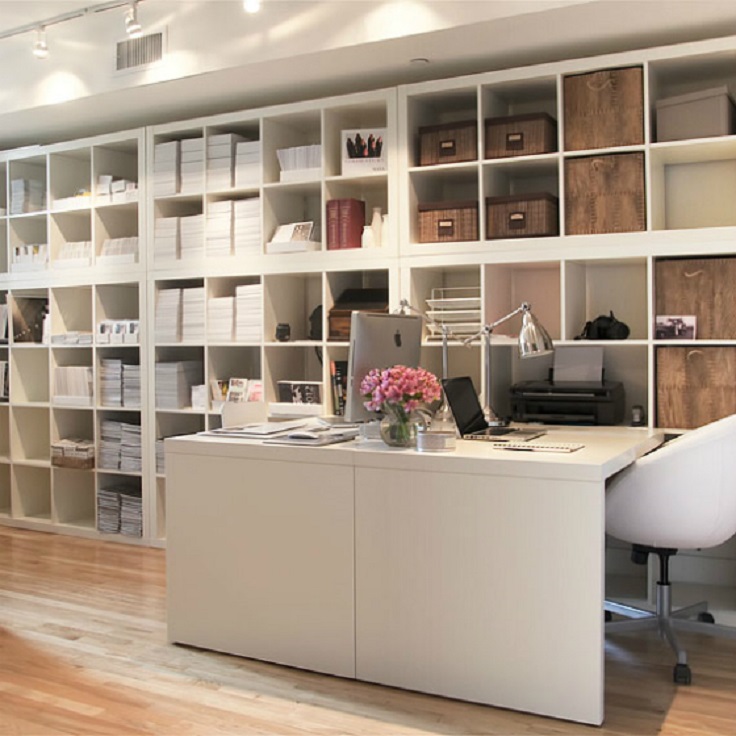 via blog.etsy.com
If you are not the only one that bring the work at home, or you just work from home, this is good idea to make room for two at the same place. Just like you are in a real office.
Neutral Colours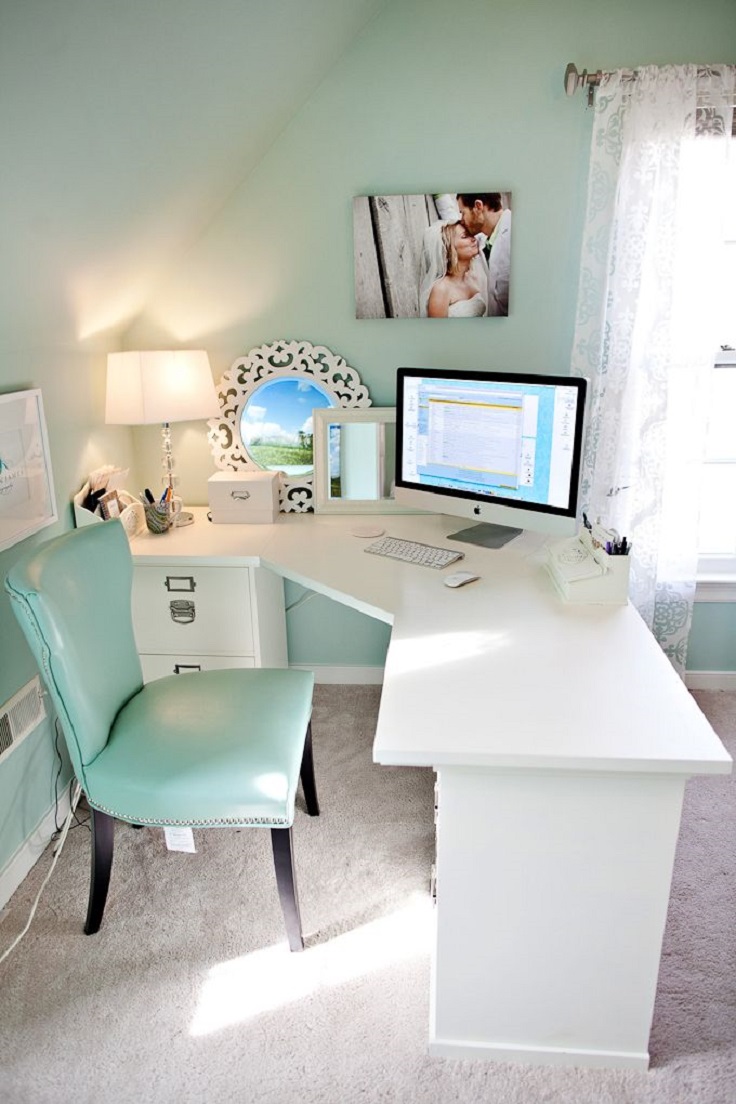 via media-cache-ak0.pinimg.com
The white colours, like the all other neutral (pastel) colours, will make you be more concentrate , because the more is colourful the room the more attract your attention. Plus, the desk is more practical because of the two filing cabinets.
Decor Inspired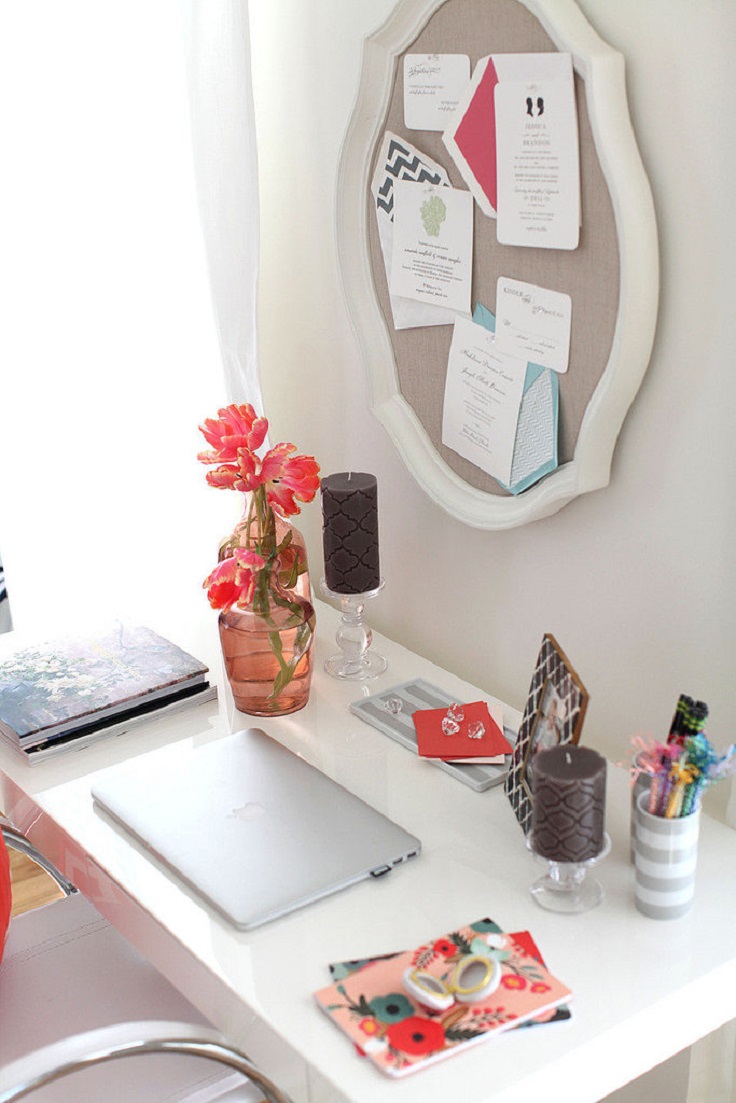 via casasugar.com
Make your desk look exactly like you want. If you can't put anything you want at your work office, create your own paradise at home and enjoy your working time.
Quotes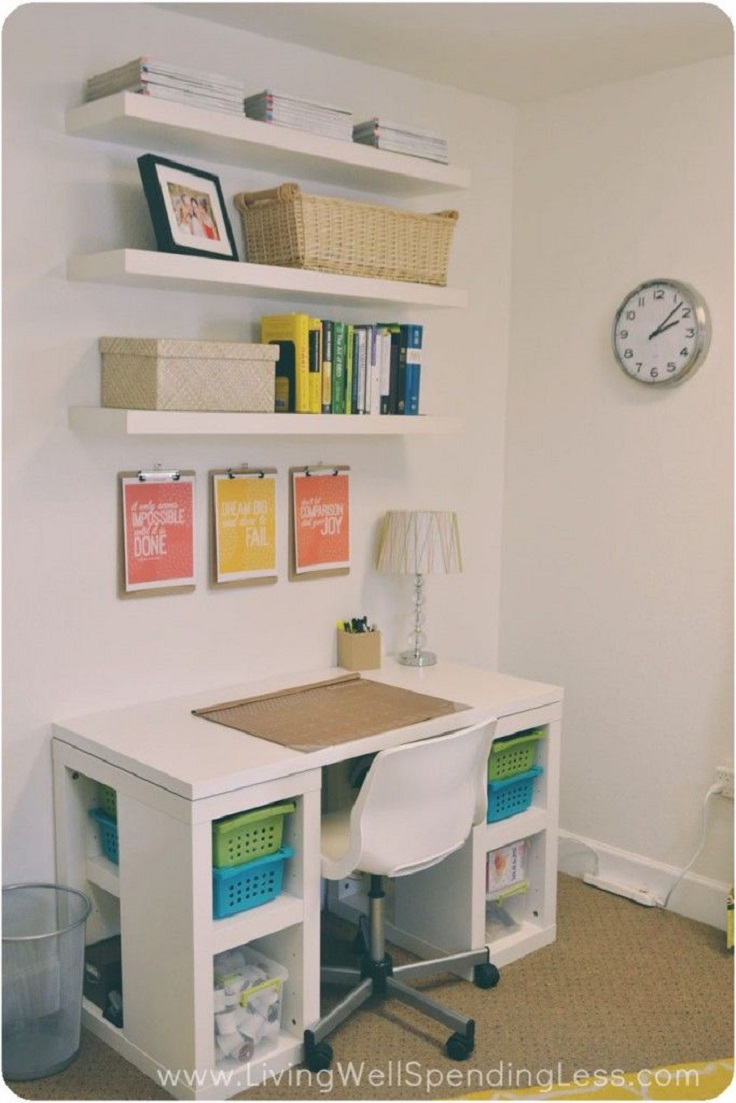 via livingwellspendingless.com
The desk that look at the wall is always the best choice. To not look at empty white wall, put some pictures that will take away your mind for a while, or write your favourite quotes that will inspire you to make your work done sooner, better and more effective.
Window View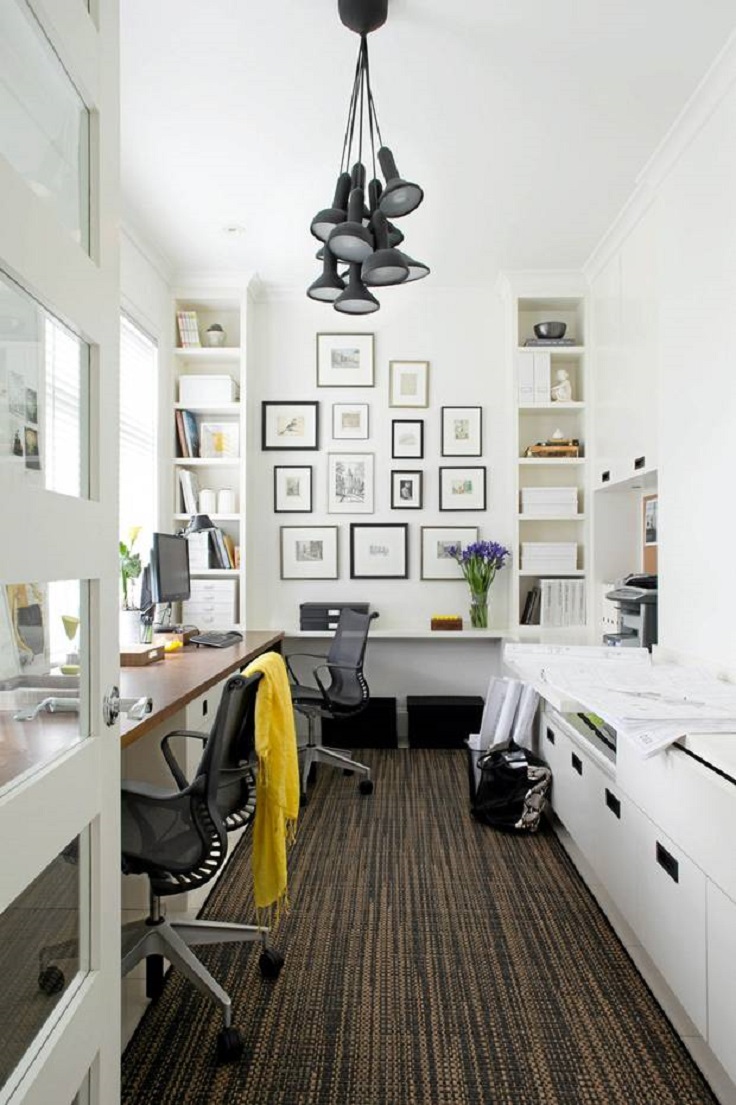 Or window view is also good idea. You can set your desk against the window, but only if you have tree, garden, nature view. If your window looks against some crowded street, this is not really good idea.
Attic Home Office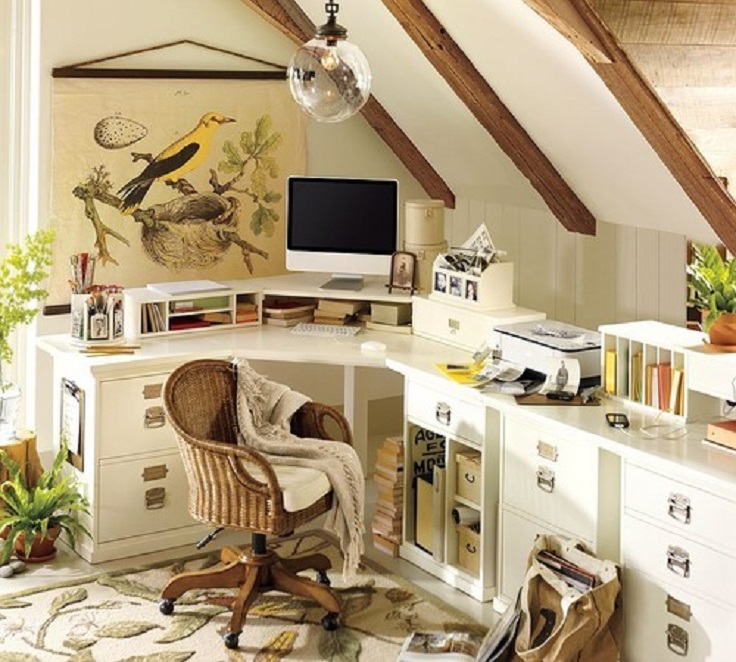 via decorreport.com
If your house or apartment where you live have attic end, transform this part in your home office. The atmosphere in attic room is warmer and you won't feel like your are working. You will enjoy it.
More Comfort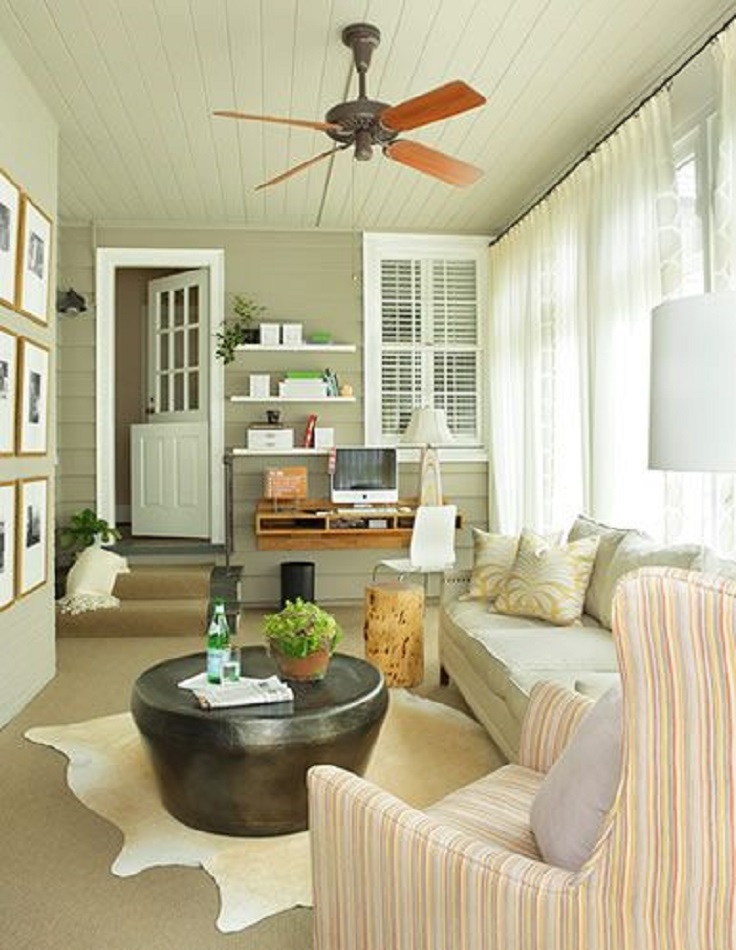 Depending on the space on disposal for the home office, you can make it one half of the room with desk, chair, lamp, filling cabinets, and the other part with sofas and coffee table where you can take a rest while drinking your coffee and reading a magazine.
Small Space Home Office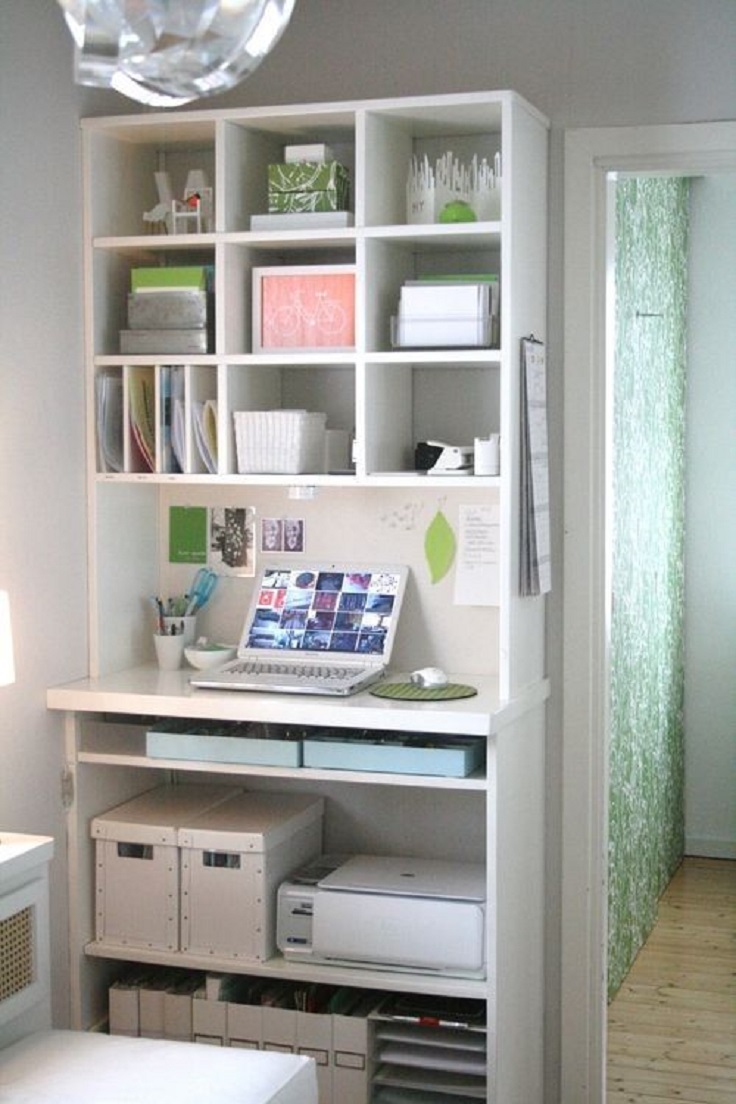 If you do not have space enough, but you still need at least small place where you can work from home, there is always a solution. Make your "office" vertical, so it won't take much space, and you'll still have your needed place.
Tangerine and Pink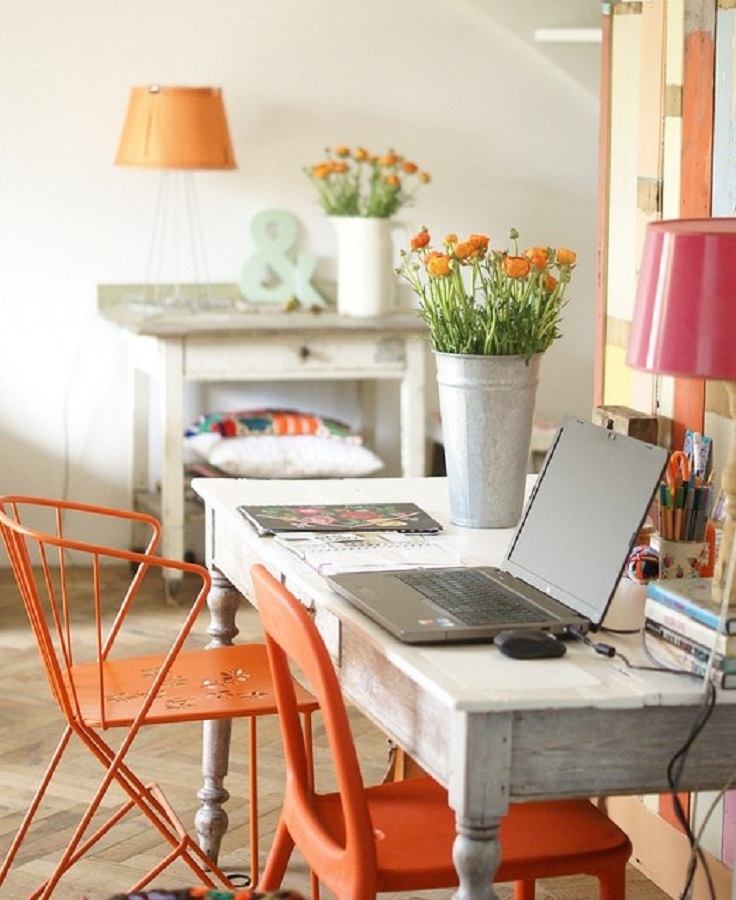 If you don't like monotony, bring colours in your office. This combination of tangerine, pink and white is so cheerful and you'll be in a good mood while working. Make combination of two or three colours, not more than 3. For example green, white and yellow also is a good choice, or blue white and purple.
Sea View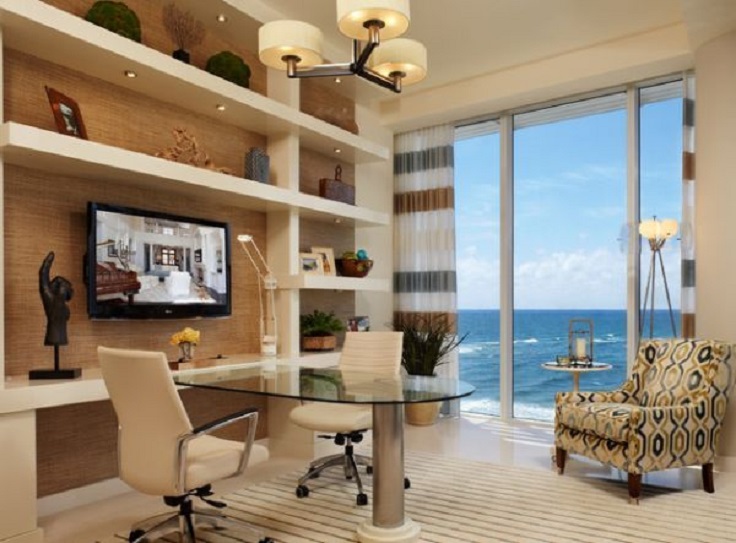 via decoist.com
Really? If you are lucky one to live near sea, ocean, lake or river, take the room that has that view and make your home office. If we were that lucky ones, we will work 24/7. Do you know how many benefits we will get?