A popsicle (Canada and the United States), freeze pop (Ireland), ice lolly (United Kingdom and Ireland), ice block, icy pole (parts of Australia and New Zealand), chihiro (Cayman Islands), ice pop, or freezer pop (U.S.) is a water-based frozen snack. It is made by freezing flavored liquid (such as fruit juice) around a stick. Often, the juice is coloured artificially. Once the liquid freezes solid, the stick can be used as a handle to hold the ice pop. When a popsicle does not have a stick, it is called, among other names, a freezie.
Why to buy from store, when you can make them at home and the advantage is that you can choose which ingredients to put in, Homemade ice cream can be a pain in the neck, what with the bowl-freezing and the custard-cooking, but popsicles? You have NO excuse not to make popsicles. Just buy a mold, pour in various liquids that taste good, and wait for the magic to happen.
Fudgsicles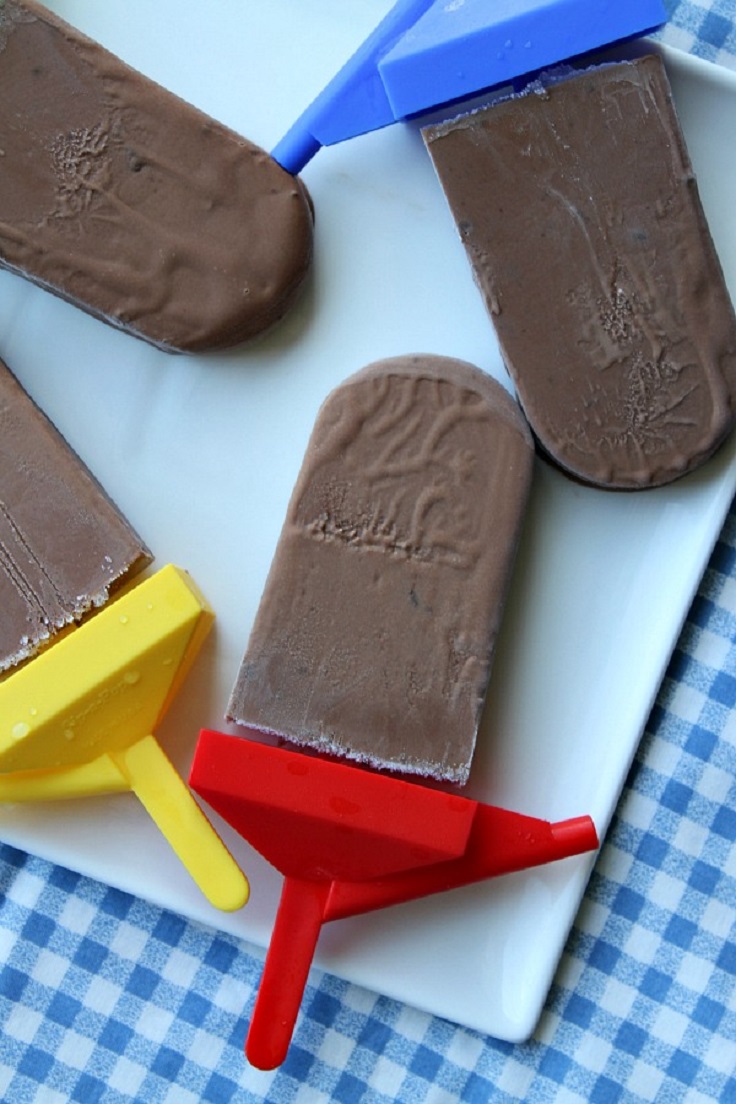 via recipeboy.com
We love popsicles. Any kind, any size, any shape, any flavour, and even any gross ingredients like frog legs or pigeon toes. But this week we made yummy homemade fudgsicles. Why buy popsicles at the store if you can make ones that taste better?
Limoncello Pops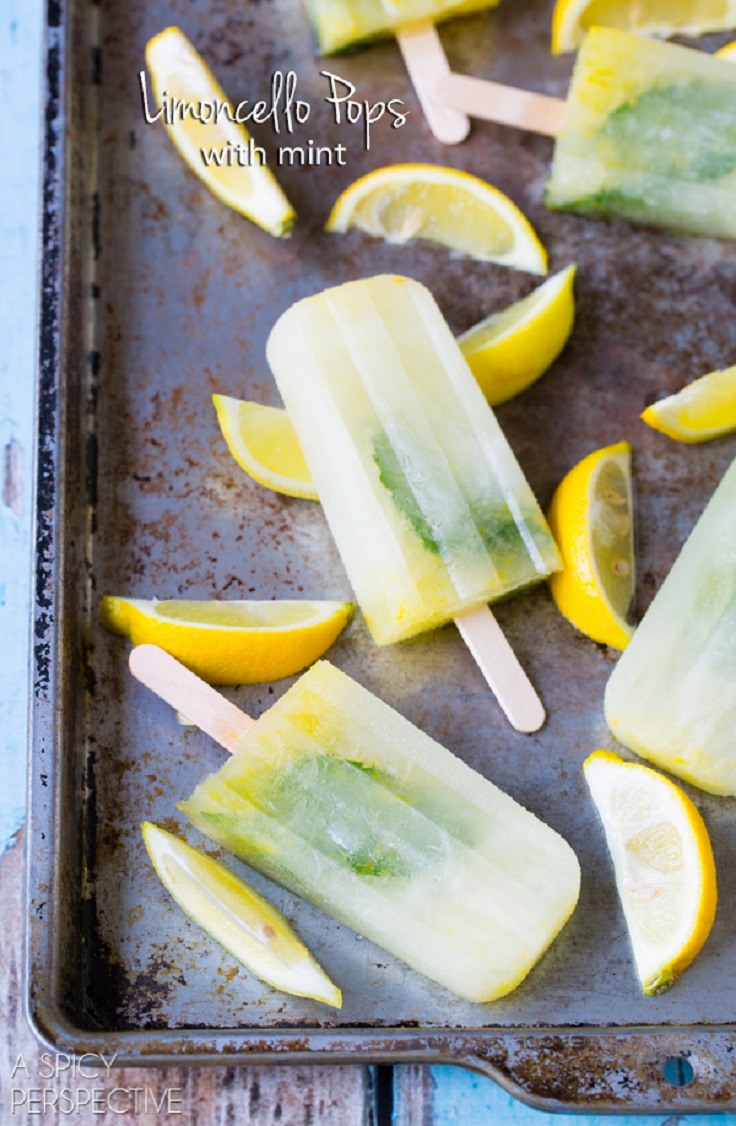 We like to sip chilled Limoncello on warm summer nights with a bit of fresh mint for contrast. Here we're offering the same flavours in frozen form for a touch of whimsy.
Tiramisu Pops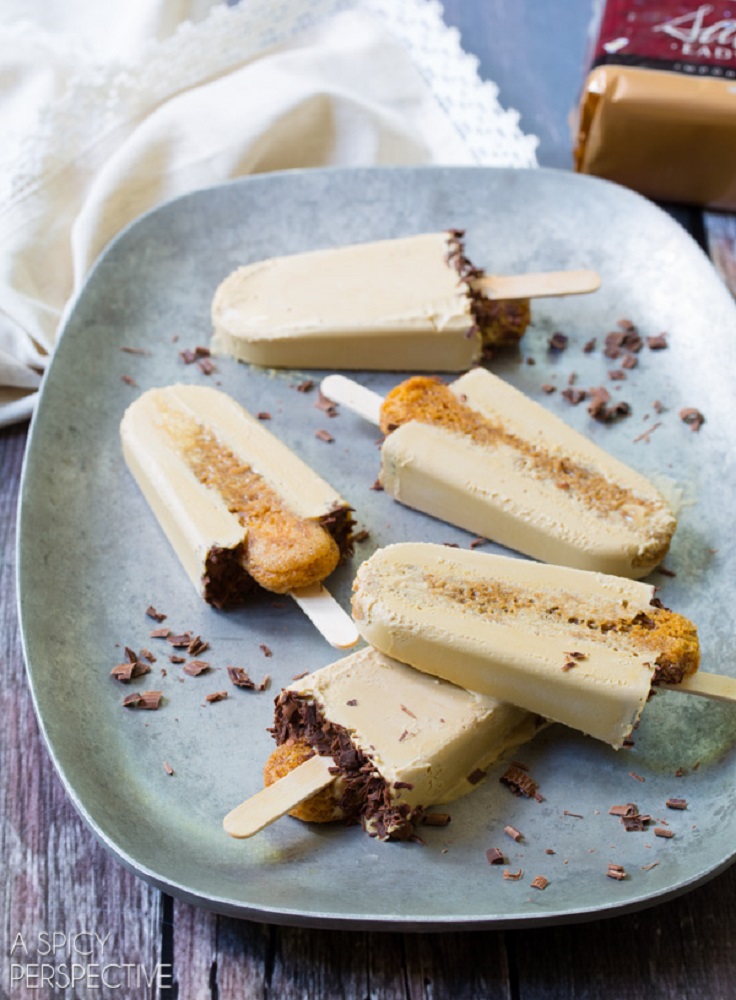 Easy freezer pops inspired by the popular Italian treat Tiramisu. These creamy dreamy pops are fun to make and even more fun to eat, with a strong espresso flavour and a little punch of booze!
Tropical Avocado Popsicle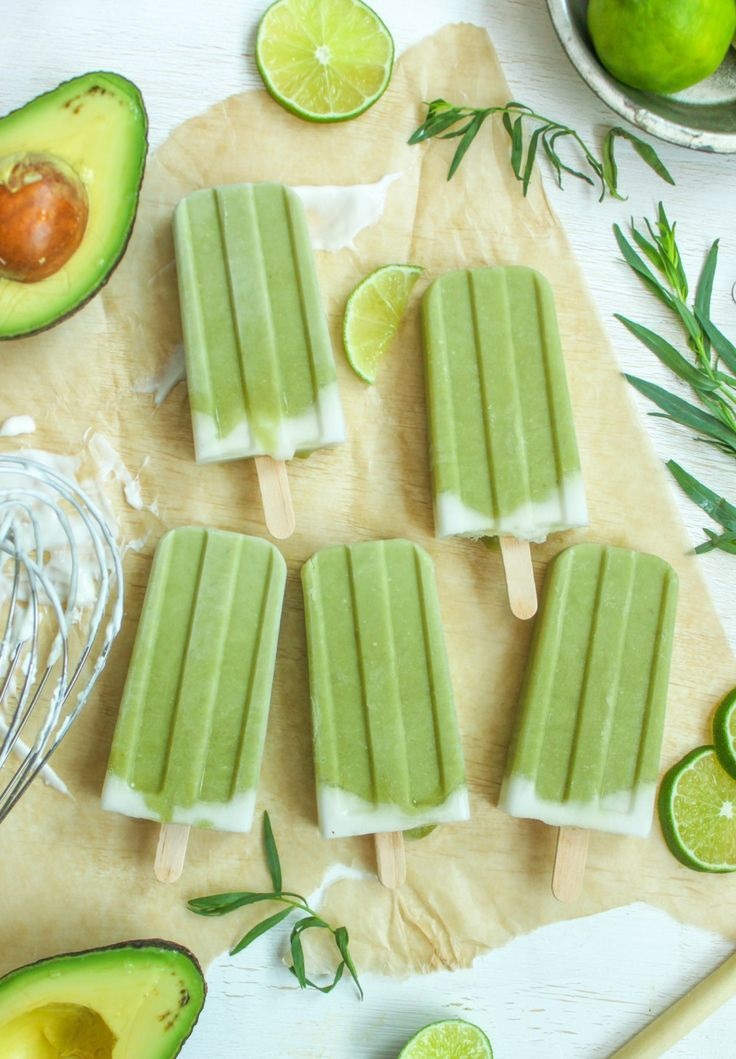 via cookingstoned.tv
Made with coconut milk and fresh tarragon, the popsicles are creamy, bright and earthy. They aren't as sweet as your average popsicle so if you tend to shy away from sweets, this is the dessert for you!
Cucumber Melon Popsicles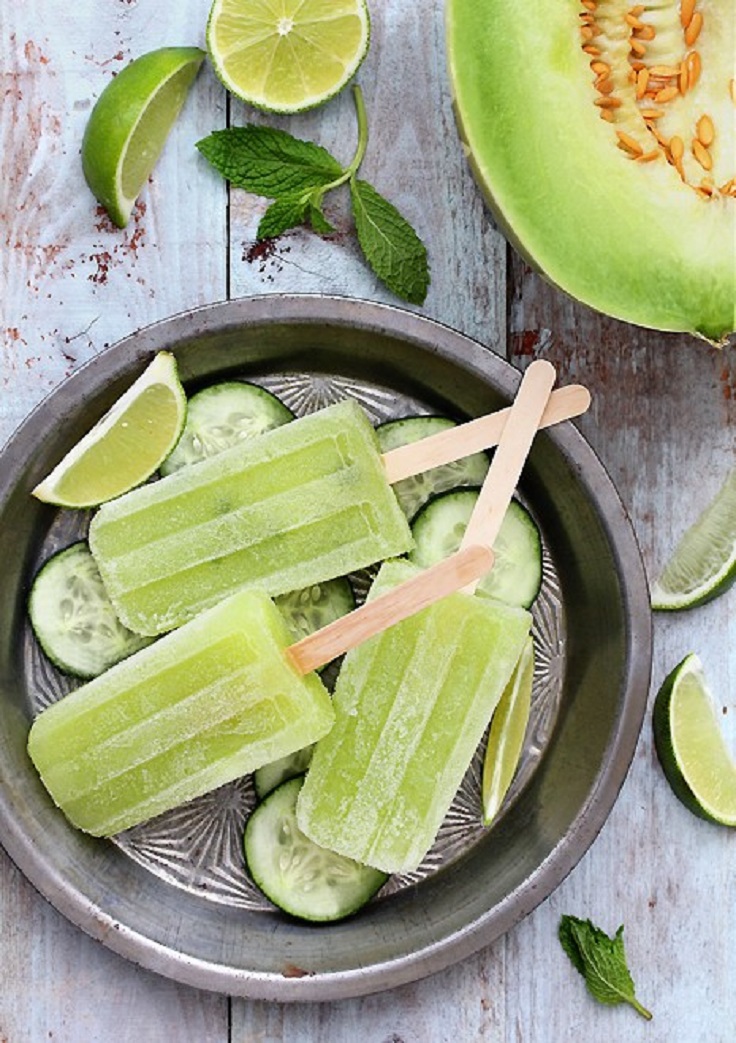 via losing-every-extra-pound.tumblr.com
In a food processor or blender, process cucumber and melon until blended (be sure to remove seeds from the melon). Pour into a small bowl and add in optional ingredients if desired. Pour the mixture into popsicle molds. Place sticks in mold. Put mold in freezer for at least three hours or until completely frozen. To serve, place popsicle mold sideways under warm running water until they loosen. Enjoy!
Whole Fruit Popsicles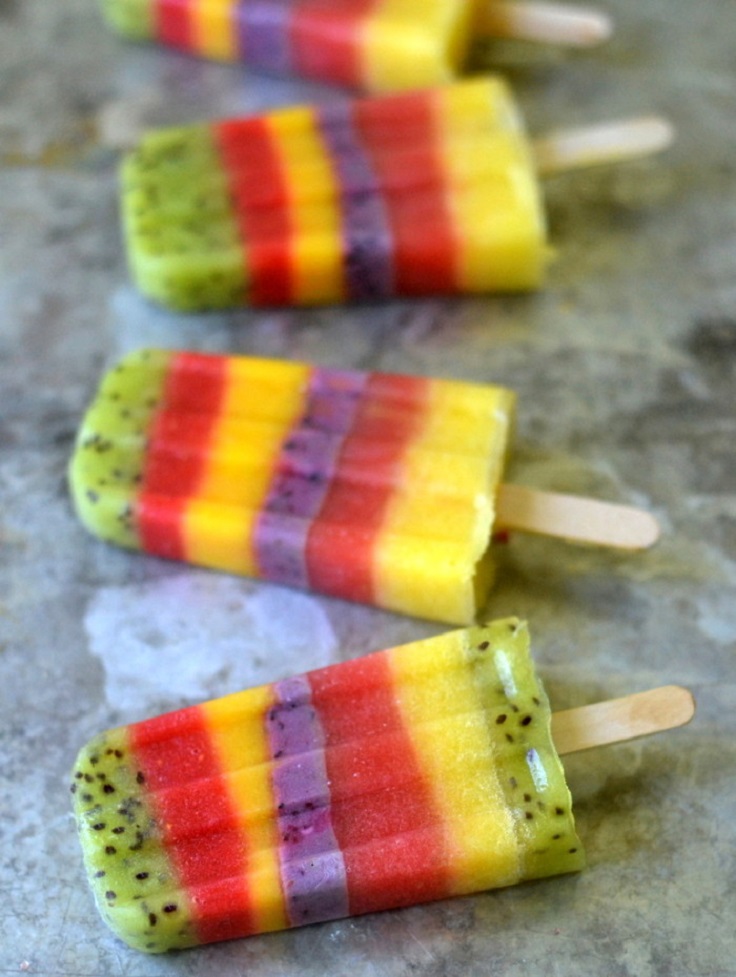 via theviewfromgreatisland.com
Those pretty layers are pureed  kiwi, strawberry,  mango, blueberry, watermelon and pineapple.  There is nothing added, no sugar or simple syrup, so all you taste is the fruit.  It's like a frozen fruit salad on a stick.
Beets & Berries Popsicles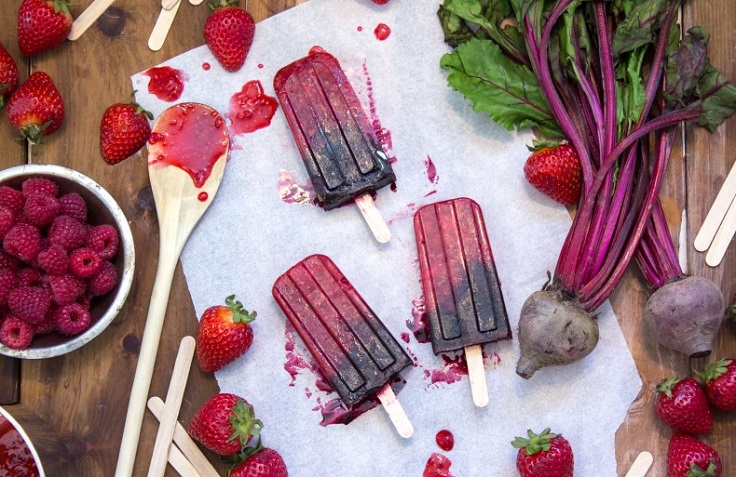 via cookingstoned.tv
The idea of exploring veggies in a whole new way is kind of interesting challenge, right? So a Beet and Berries Popsicle is of no surprise.
Pineapple Orange Banana Popsicles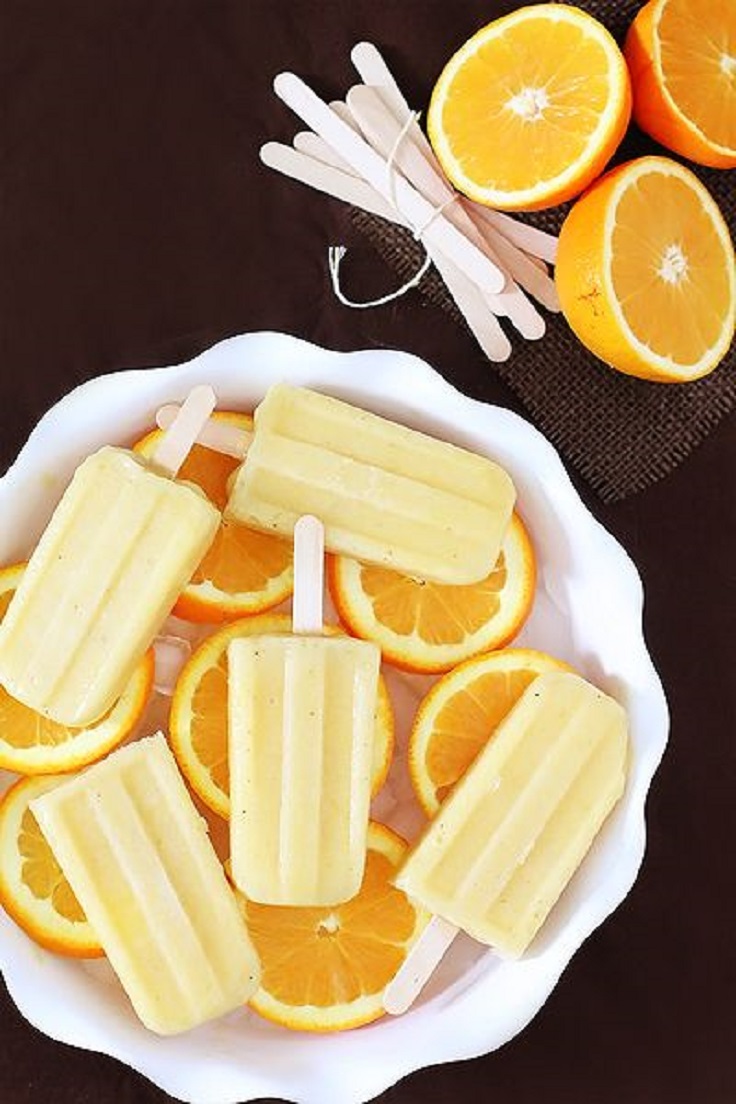 Pineapple orange banana popsicles! Super delicious. Perfect for breakfast, a snack, or a fruity dessert. And just three delicious, fresh ingredients. You will love them!
Rhubarb Coconut Popsicles
Tart rhubarb infused with Grand Marnier and swirled with honey kissed creamy coconut, is one of the most delightful popsicles you just might have this summer. Step up your popsicle game with this simple recipe. We're using Grand Marnier to complement the rhubarb and bring a unique but pleasing flavour to these delicious frozen treats.
Mint Chocolate Pops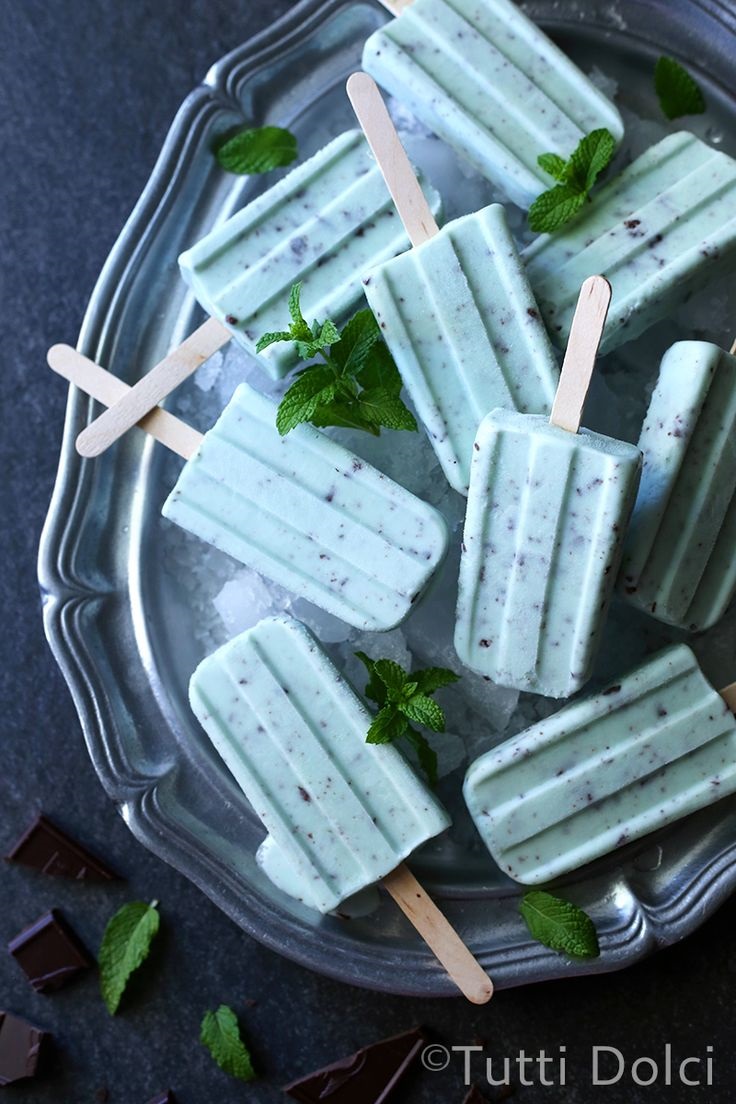 via tutti-dolci.com
Cool mint gives these dairy-free pops a refreshing feel. Flecked with shards of semisweet chocolate (use a serrated knife to get the best texture), there's no better way to get your mint-chocolate fix in the height of summer.