One of the best ways to spend a hot, summer afternoon is by drinking a cold, fruity iced tea. It's refreshing, easing to make and budget – friendly. You can experiment with so many flavors that you can try out new recipe anytime you would like to and never get bored.
Below you will find ten very tasty recipes with different flavors, from berries to orange, but you can try with almost any fruit and will still be great. All of these recipes require just a short time in the kitchen, so preparing iced tea is great when you're in hurry or feel lazy to do anything in the kitchen. Check them out and choose your favorite.
1. Berry Iced Tea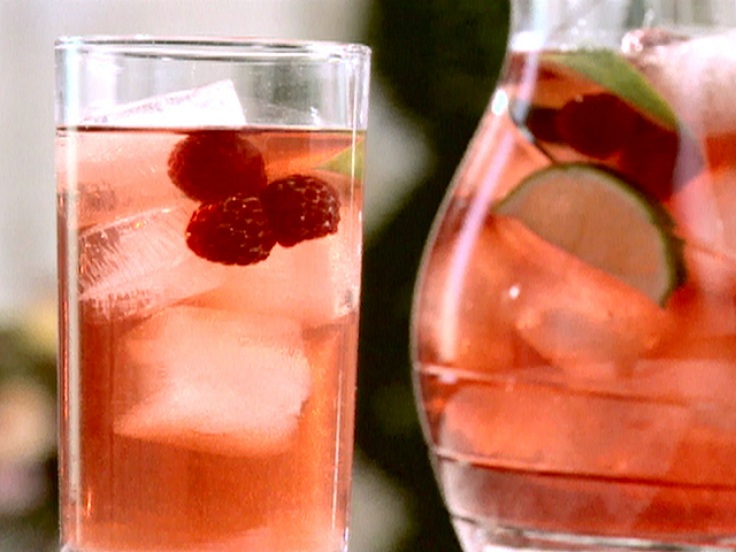 via foodnetwork.com
For this iced tea you need 4 berry – hibiscus herbal tea bags, 4 cups of water, 1/2 cup simple syrup, or just to taste, 1/2 orange, cut into wedges, 1/2 lime, cut into wedges and 8 frozen raspberries. For the syrup 1/4 cups sugar, 1/2 cup water and 1/4 teaspoon vanilla extract. Bring water to boil and add the tea bags. Steep the tea for 5 minutes, then remove the tea bags and cool the tea for 1 hour or so, until it gets cold. Stir in the syrup and squeeze the orange and lime wedges, then also add the wedges. Serve the tea in tall glasses and you can use frozen raspberries for garnish.
2. Coconut Thai Iced Tea
via minimalistbaker.com
To prepare this vegan iced tea you need 4 cups (960 ml) filtered water, 2 heaping Tbsp loose leaf black tea, 1/4 cup (60 ml) maple syrup or agave nectar, 1/4 cup (55 g) packed light muscovado sugar, organic brown sugar, or coconut sugar, 1 tsp pure vanilla extract, 1 14-ounce (414 ml) can light coconut milk (or sub vanilla almond milk, rice milk, or other milk of choice) and 1-2 Tbsp (15-30 ml) dark rum per serving, but that is optional. One glass of the tea contains 147 calories and is very tasty!
3. Blueberry and Lemon Iced Tea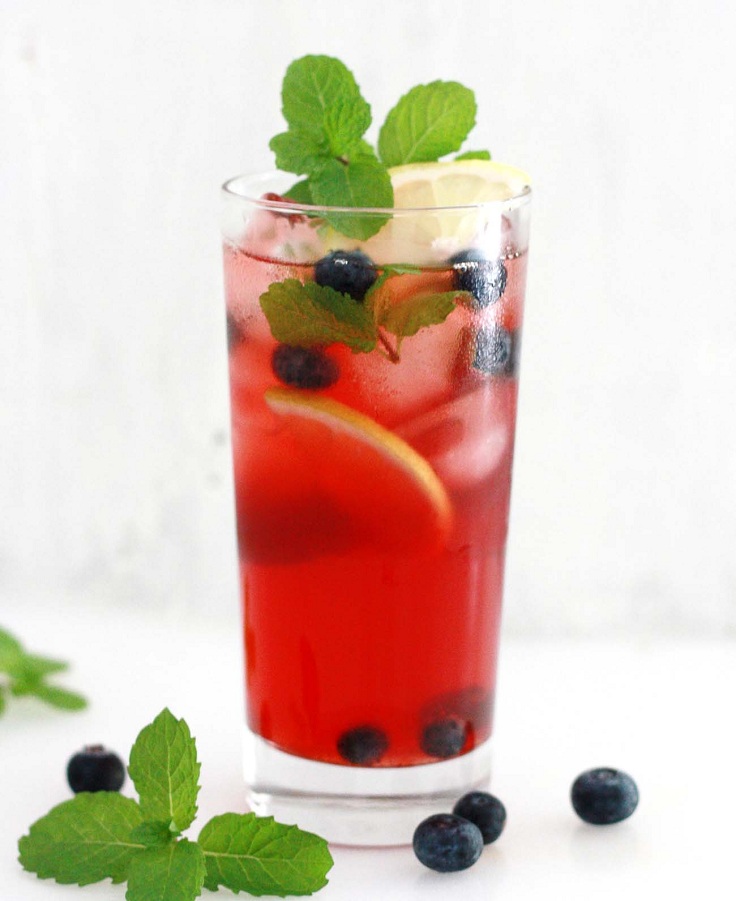 For the this iced tea you need 1/3 cup of fresh blueberries (or any local berry), 3 tea bags, 2 cups water, 1/4 cup sugar (or to taste), juice from 2 lemons, ice cubes, ice cubes and sliced lemons and mint to garnish. In a saucepan add sugar, lemon juice and blueberries. Cook on low heat until the sugar is dissolved and the blueberries are mushy. Add water to boil and then add the tea bags. Steep for 5 minutes and turn off the heat. Strain the mixture through mesh sieve and use a spoon to squeeze the juice from the blueberries and the tea. Pour the tea in a pitcher and refrigerate for 1 hour or more. Before serving, add ice cubes and use mint leaves and lemon wedges for garnish.
4. Raspberry and Dragon Fruit Iced Tea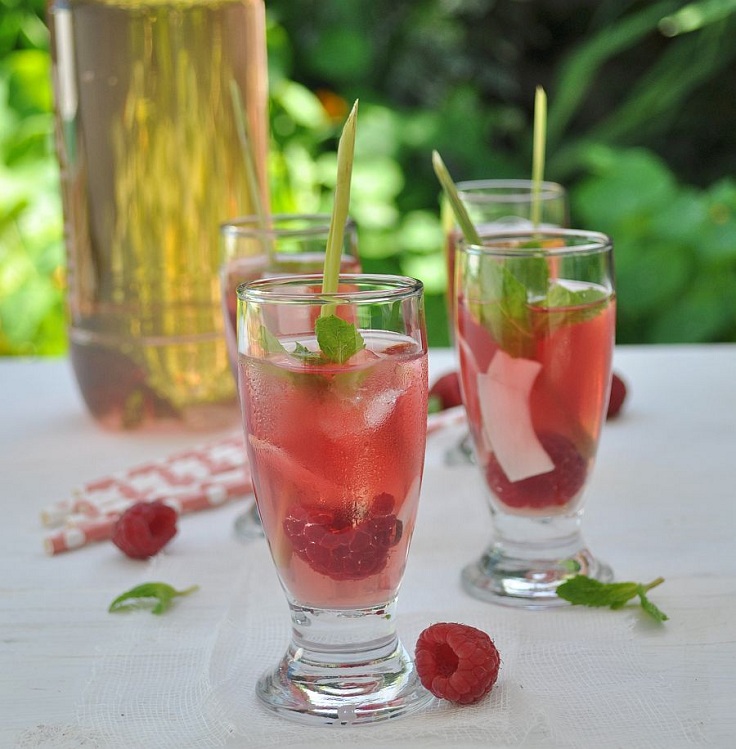 via all4recipes.all4women.co.za
To prepare the raspberry and dragon fruit iced tea you need 500 ml boiling water, 500 ml soda water, 8 raspberries, 2 sprigs mint, 4 bruised lemon grass and 50 ml shaved coconut. First prepare the tea – boil water over tea bags and let it steep for 4 minutes, then remove the bags and allow the tea to cool. You can put it in the fridge for an hour or so. Then add the rest of the ingredients and allow them to infuse for 15 minutes. Add in ice cubes before serving.
5. Blackberry Basil Iced Tea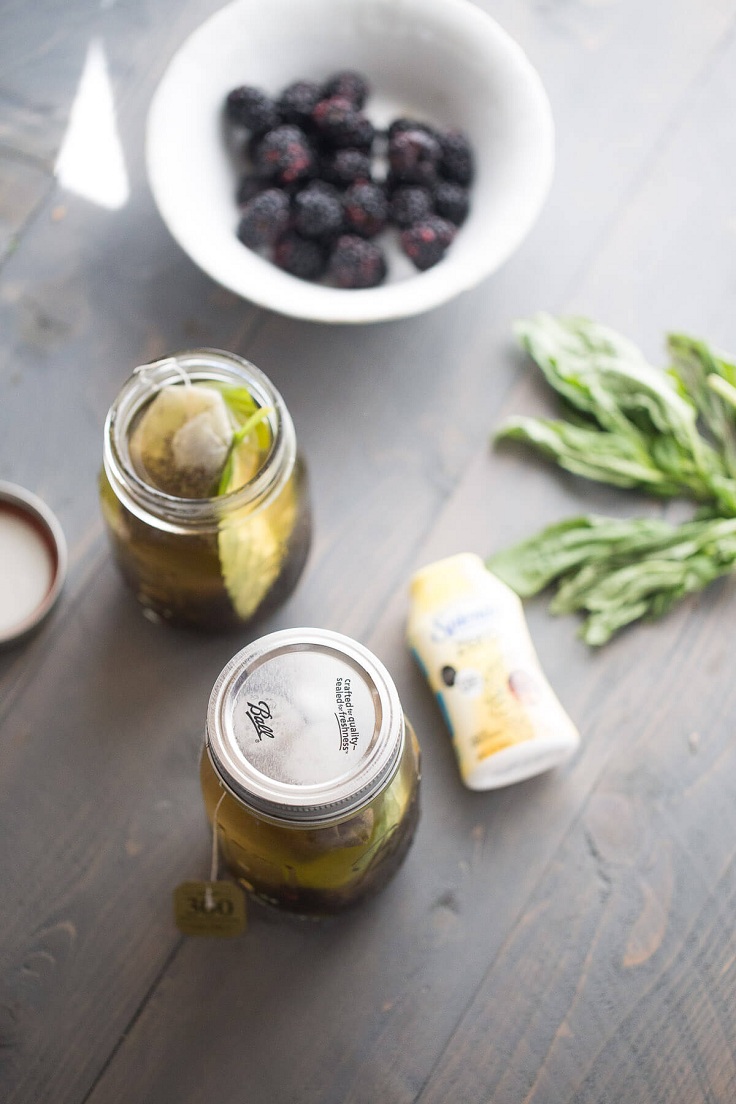 For this iced tea, you need the following ingredients: 3 cups of water, 2 tea bags of your favorite flavor, 6 oz fresh blackberries, 4-6 basil leaves, 2 mason jars and liquid sweetener. Put 1 1/2 cups of water in each mason jar and add one tea bag, 3 oz of blackberries and basil leaves. Cover each jar and refrigerate for 12 – 24 hours. Before serving, remove the bags and add liquid sweetener to taste.
6. Mango Peach Iced Tea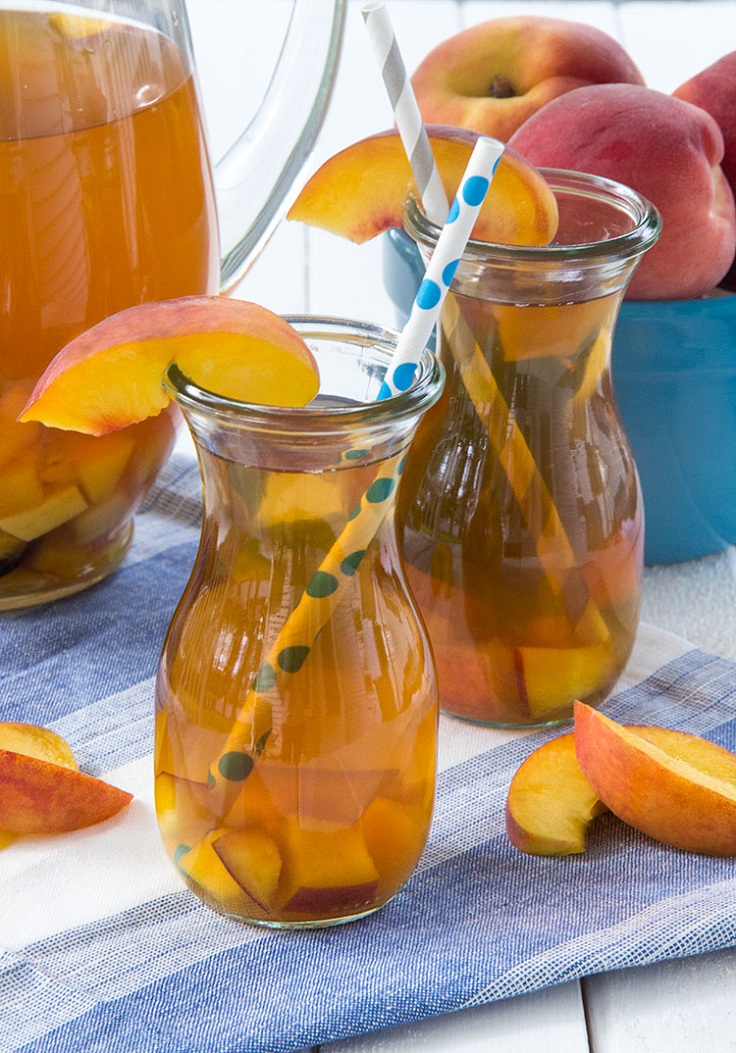 For the peach mango white iced tea, make sure you have these ingredients: 12 cups purified water, 5-6 White Tea bags, 2 peaches, pitted and diced, 1 cup chopped thawed frozen mango and 1 tablespoon plus ¼ cup granulated sugar. Boil the water, remove from heat and add the white tea bags. Remove the bags and put the tea in large mixing bowl. Let it cool at room temperature for 45 minutes and add the other ingredients, previously prepared with softened and formed juices. Transfer the fruit into pitcher and pour over the iced tea. Add the sugar and stir the mixture.
7. Spicy Ginger Iced Tea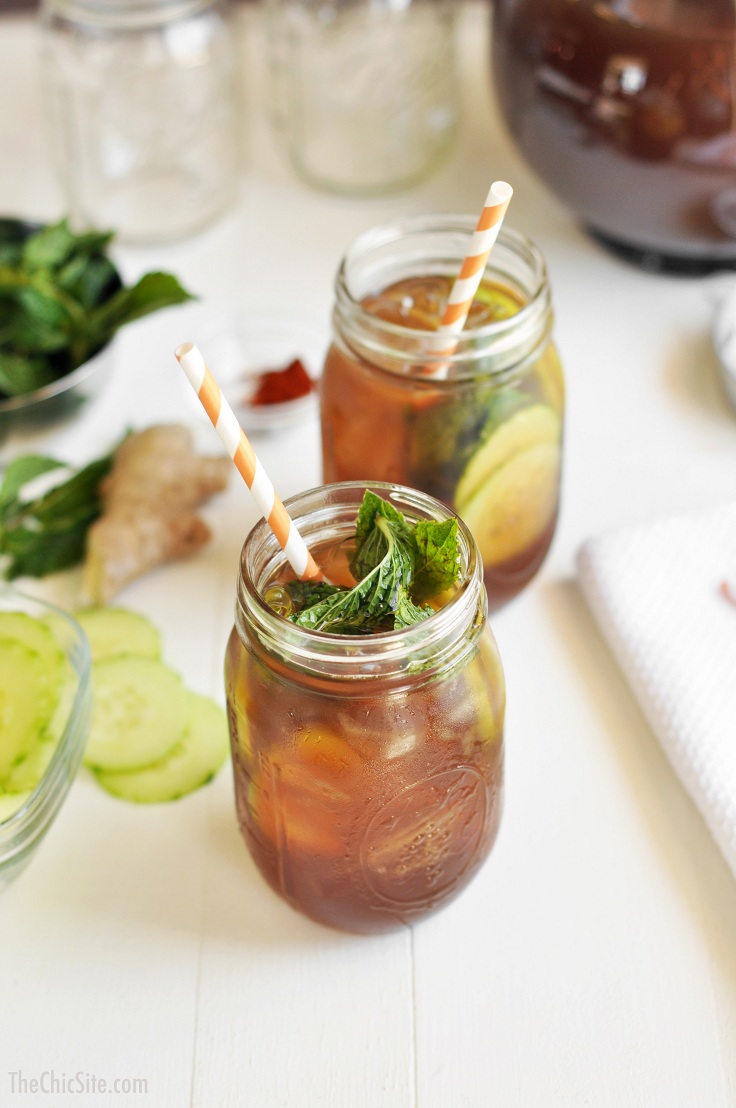 via thechicsite.com
Add four normal – sized tea bags and few slices of fresh ginger to large pitcher. Pour the hot water and allow to steep for 5 minutes. Remove the tea bags and the ginger, or leave the ginger if you like a stronger taste. Sprinkle paprika as much as you like and you can also use chili powder or cayenne pepper for a spicier iced tea. Place the tea in fridge until you serve it, then you can add ice cubes, cucumber slices and sprig of fresh mint. Also, if you want a sweeter version of the tea, you can prepare simple syrup or use agave syrup.
8. Iced Pomegranate Green Tea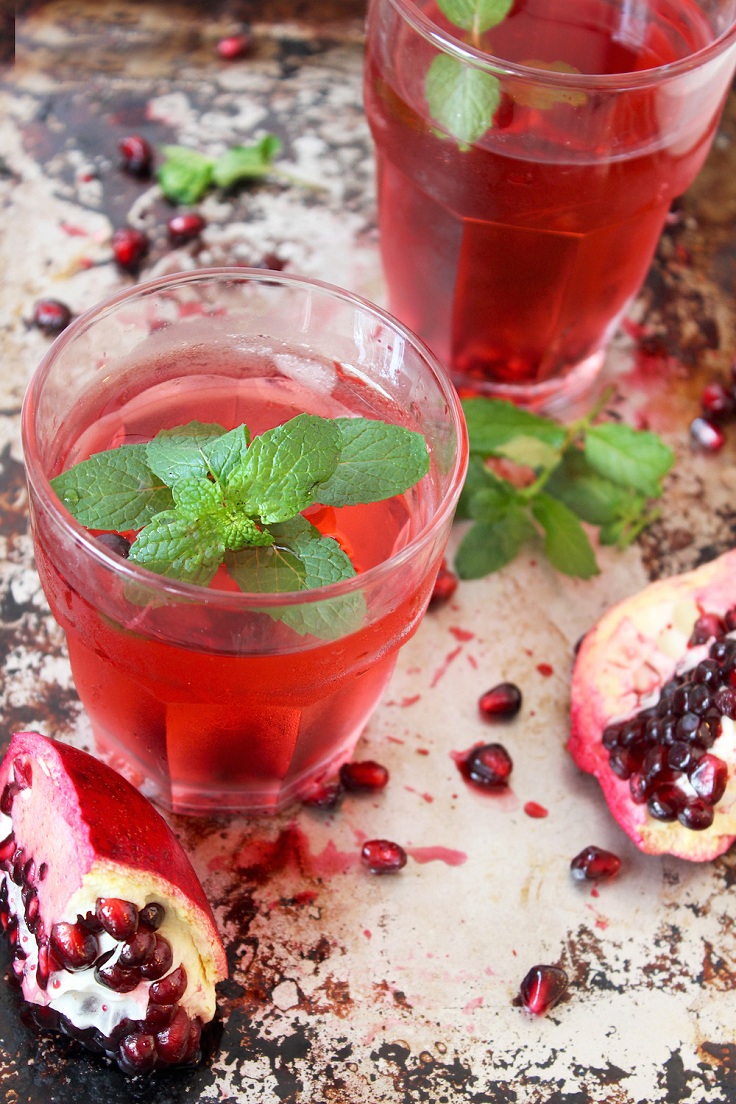 via thenewpotato.com
Use 1/4 cup pomegranate seeds, 1 heaping tablespoon your favorite green tea, 4 cups water, 2 tablespoons pomegranate juice, top with sparkling water and mint. In a pot place the water and the pomegranate seeds. Boil them and turn off the heat. Steep green tea for 1 – 2 minutes and strain the tea over ice. Stir in pomegranate juice and garnish with sprigs of mint.
9. Orange Iced Tea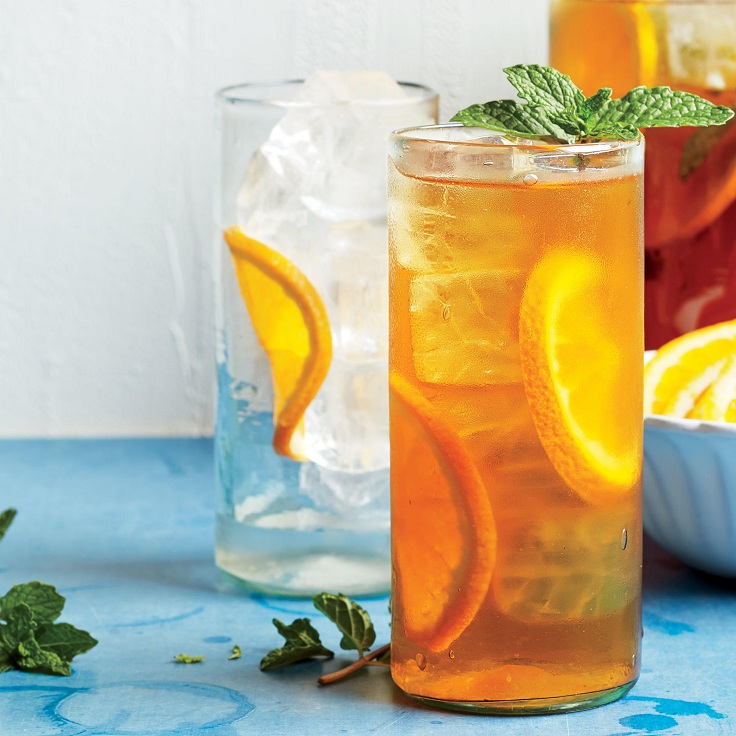 via bonappetit.com
For the orange iced tea you need 4 earl grey tea bags, ¼ cup sugar, 2 teaspoons orange – flower water, 2 large sliced into rounds and divided oranges and 4 mint sprigs, plus more for serving. In a large pitcher place tea bags, sugar, 7 cups of boiling water and stir to dissolve the sugar. Steep for 15 minutes and then you can remove the tea bags. Stir in orange – flower water, half of orange slices and 4 mint sprigs. Chill 4–8 hours, then add the tea in glass with ice and garnish with orange slices and mint sprigs.
10. Strawberry Infused Ice Tea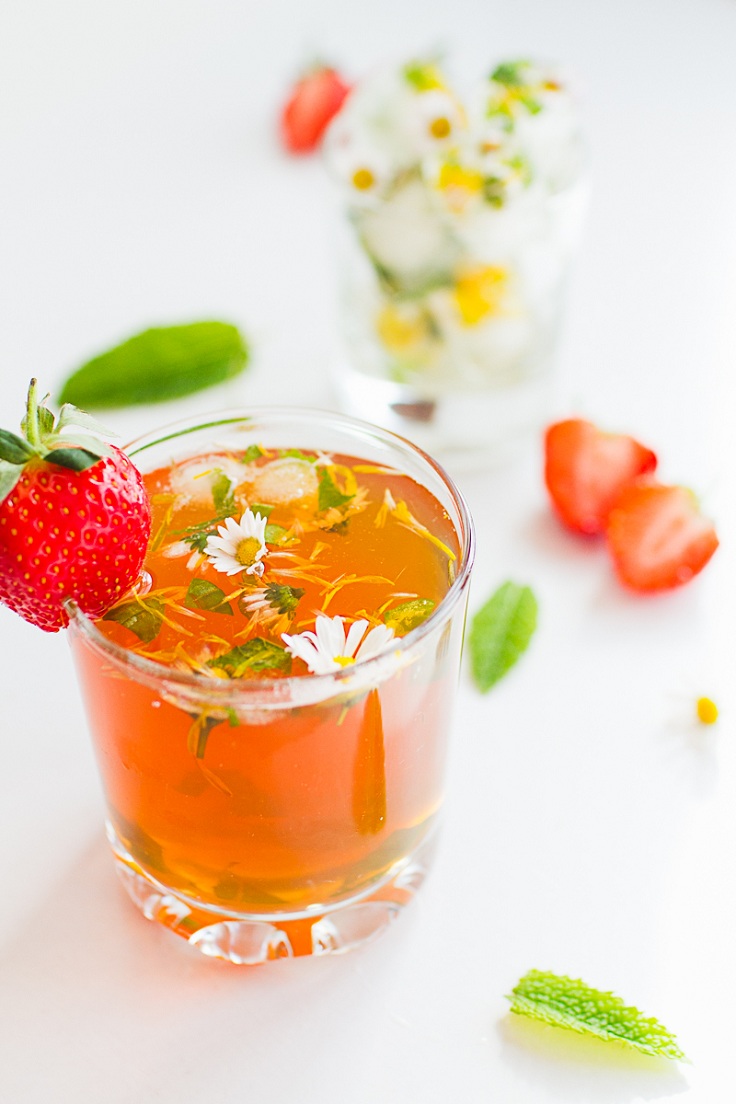 You need 5 tea Bags, 10 cups water, 1 cup of sliced strawberries, 3/4 cup sugar or sweetener, 2 trays of ice and 1/2 lemon. Add tea bags and water in pan on heat to just below boiling. Bring the sugar or the sweetener to boil and in the meantime remove the tea bags and the pan from the heat. Add the strawberries and a squeeze of lemon juice. Leave to infuse for 15 minutes and then remove the strawberries. Serve the ice tea cold and add more ice cubes if needed.
SaveSave
SaveSave