Although most of us have a pretty good idea of where to hang a mirror in our home, they are oftentimes far more versatile than we initially think. They can be one of the best tools in the small space owner's back pocket, and our personal opinion is that you can never have too many.
Mirrors are the best thing you can do for your living room. They add so much detail, decoration, and function to your home and take away nothing. While larger mirrors can be quite pricey, many don't have the budget for such things.
Smaller mirrors are found at discount or thrift stores quite easily and with a super small price tag on them. Paint their frames all the same color and group them on the wall in the same place. The look will be organized without feeling cluttered.
There are a few tricks to getting and hanging the perfect mirror in your living room. You are unique, and so is your home.
Glamorous Mirror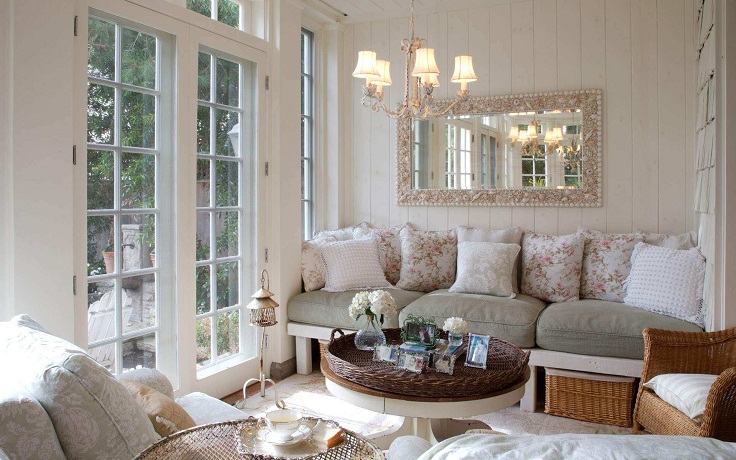 via rusacc.com
Sometimes the thing a living room is missing is some glam. This pretty glamorous mirror really makes the room. Mirrors are best placed in the living and dining areas. Mirror reflecting the food on the dining table doubles the food, which symbolizes abundance and wealth. Just make sure the mirror does not reflect the entrance or any other door and window.
 Add Light Next To The Mirror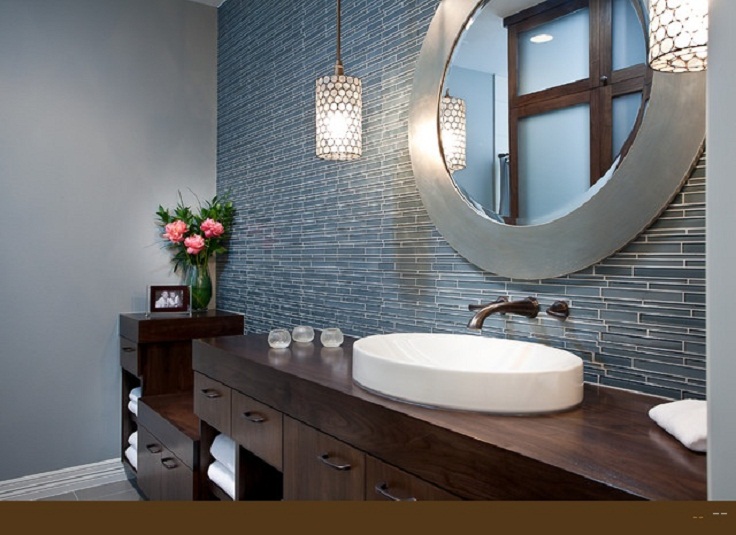 via interiorway.com
Mirrors can be an awesome way to reflect light in your home. This is the number one reason for loving mirrors in your living room. If you have a room with a dark area, you can hang a mirror to reflect and bring in more light. The mirror creates the illusion of a window, and that stimulates the energy as well.
Fake Window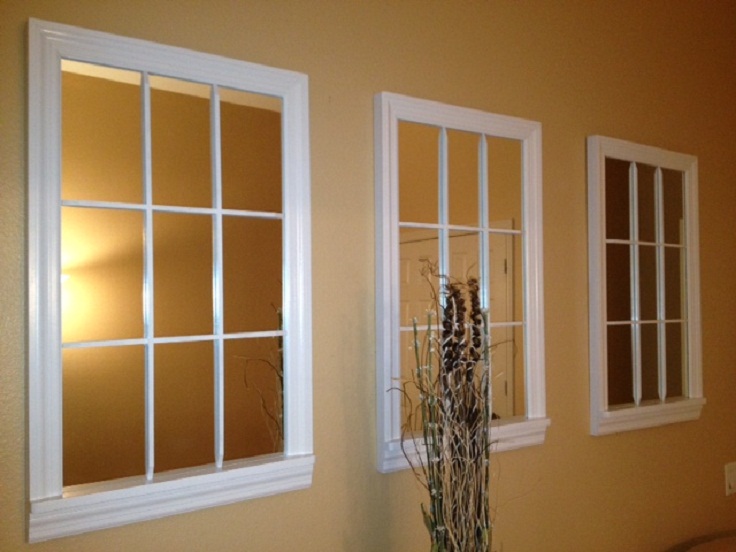 Although our dream small space is packed with windows, we know that is not really a reality for many. Instead, try using small square mirrors, tiled out to look like a window to give the illusion of what you wish was there, instead of what really is. You can also try fake mirrored furniture like covering your cabinets above; you can fake expensive designer prices and use a glass cutter and mirrored tile found at your hardware store.
Add Design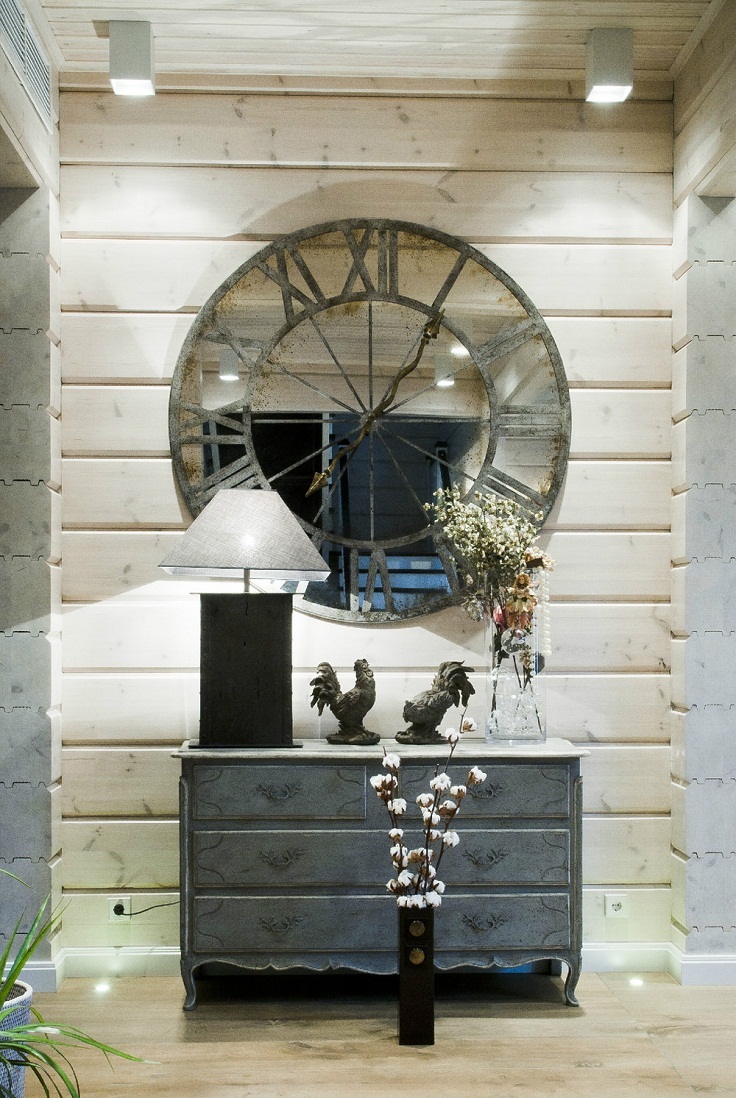 via sensoftgh.com
If you're looking for an easy way to enhance a living space, add a little polish with a wall mirror. Hanging a mirror can do wonders for any room. You almost don't realize this one is a mirror! Using an interesting mirror is a great way to add some design to an otherwise bland room.
Geographic Mirror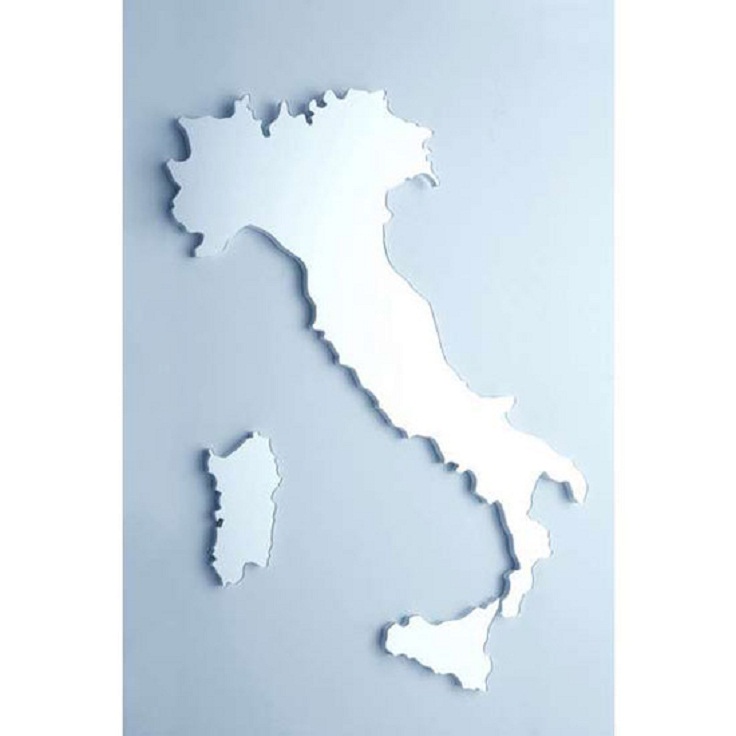 via freshome.com
This trick works especially well when using longer skinny mirrors; try turning your mirror into your favorite country. This trick works best with long skinny mirrors, but it makes any wall look longer instantly. So you can enjoy the spirit of Italia, for example. Also, you can make Earth Mirror, and you will have all the world in your home. People with adventurous spirit love this idea.
Fill Space on a Bare Wall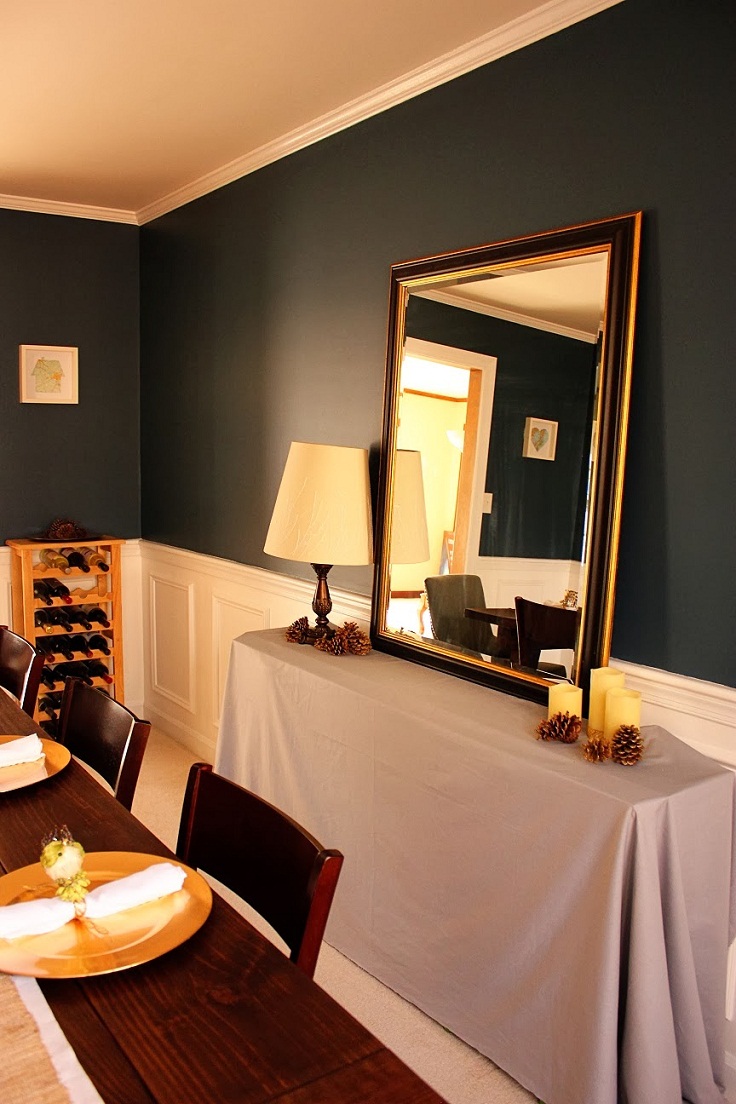 via thehandcraftedlife.blogspot.com
Have a big bare space on your wall? Me too. Fill it with a nice big mirror. Can you imagine this wall without the mirror? Awful, right? But with it, the room is instantly complete. It is a more amazing idea if the wall is painted a dark color and the mirror is in a golden frame.
Beautiful Backsplashes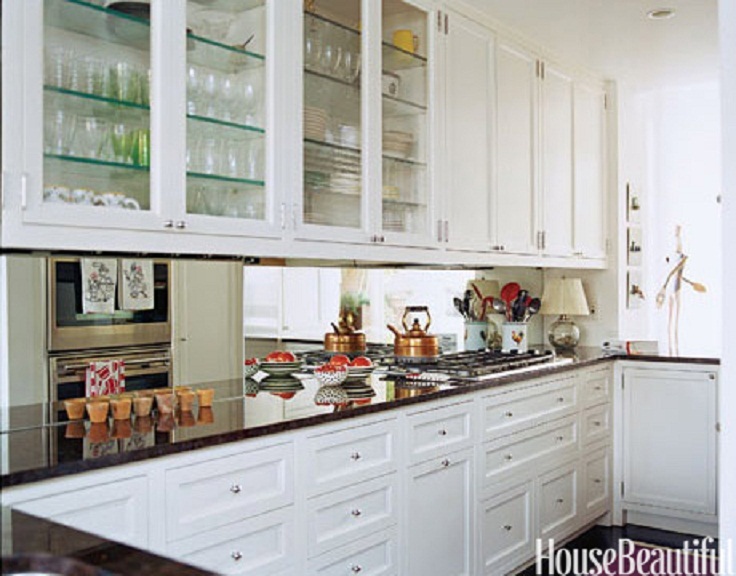 We keep coming back to the kitchen, but there are so many ways to use mirrors in this well-used room. The backsplash is the perfect place for a little reflection. It will make any under counter lighting extra bright or allow you to go without such things and use the natural light throughout the room.
Double Your Space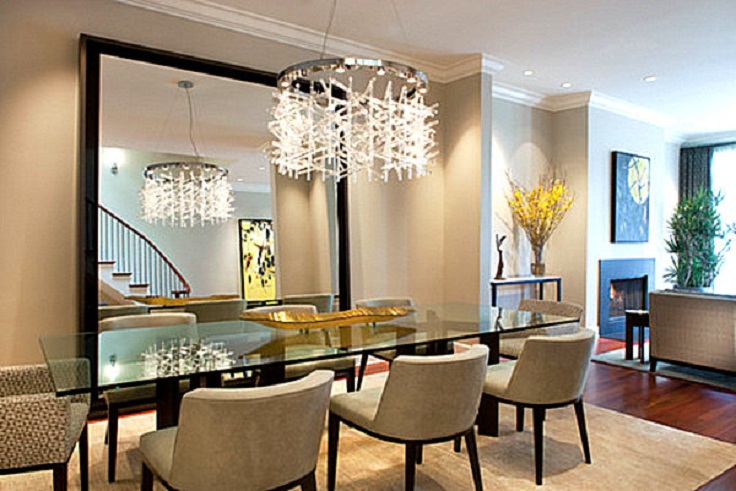 Along with reflecting light, a mirror is great at reflecting the whole space. This is especially great for smaller rooms. They look instantly bigger. It is fantastic. A mirror will bounce any available light around, not only making it easier to see the meal you are preparing but make it a more enjoyable place to stand.
Kick Your Art up a Notch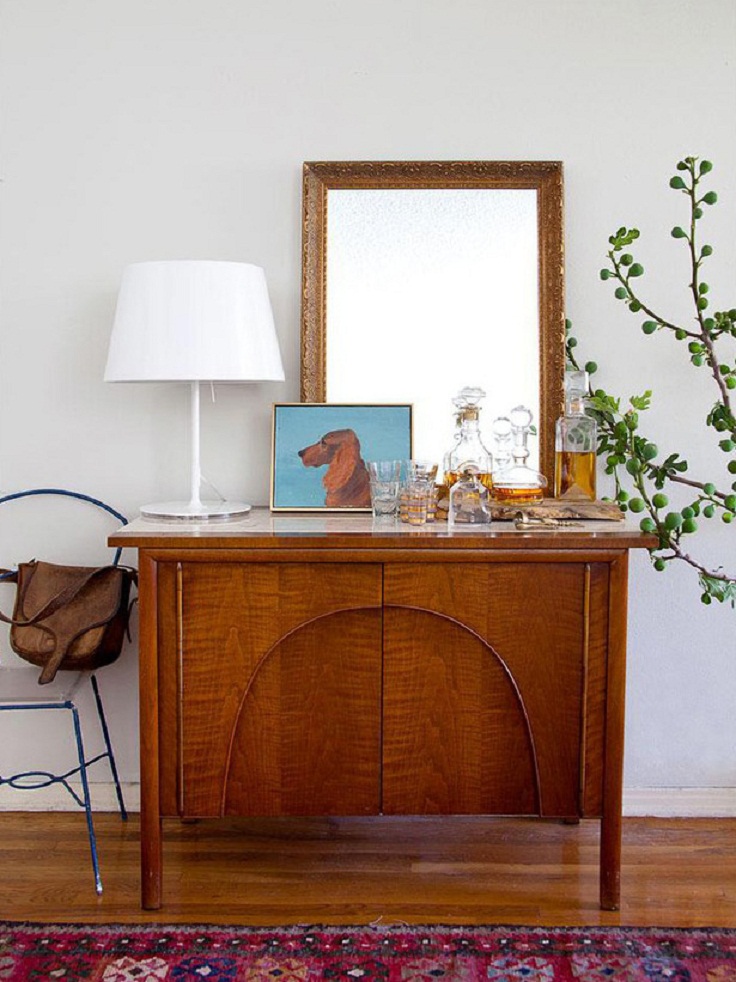 via nigeriatechnology.com
Those who love putting a great mirror among a wall of art or even placed alone with a single painting or print. It is a great way to kick your art up a notch. Or the other idea is to layer them up by making an entire wall mirrored and then adding smaller, defined mirrors on top; not only are you creating a larger, more open-feeling space, but you'll also be giving depth to space without weighing things down.
Great Mirror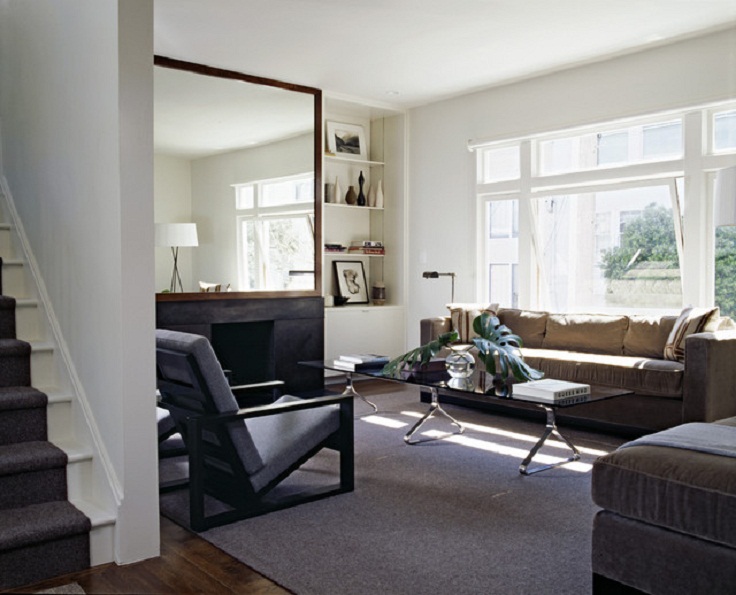 via decoist.com
Mirrors are the best thing you can do for your living room. They add so much detail, decoration, and function to your home and take away nothing. A bold and gorgeous mirror can be the focal point of a room, and now for the obvious. Use a great mirror as an easy way to check yourself on the way out. Adding a mirror to your room is a great way to open up your space.