When it comes to painting your nails, it is difficult to incorporate shades of green nail polish in everyday life, unless your favorite color s green and you own green pieces of clothing. Even then, green is a tricky nail polish color to wear and it is a fine line between looking like a fashion icon or like you've just walked out from a swamp and forgot to wash your hands. But, for St. Patrick's Day, you're not only allowed to color your nails in ridiculous shades of green, you're encouraged to do so, if you don't want to get pinched. Since you'll be celebrating St. Patrick's Day, go once step further, and make a shamrock themed nail art. There are countless ways to add a shamrock to your nails, but here we offer you the Top 10 shamrock tutorials for nail art that is not only fun and elegant, but also easy to do.
Green On Green Polka Dots And Shamrock Nails
A very simple color design with just the right amount of pop. You just need to apply a dark shade of green for the base and with a dotting tool make polka dots on every finger, except on the ring finger, where you make a shamrock.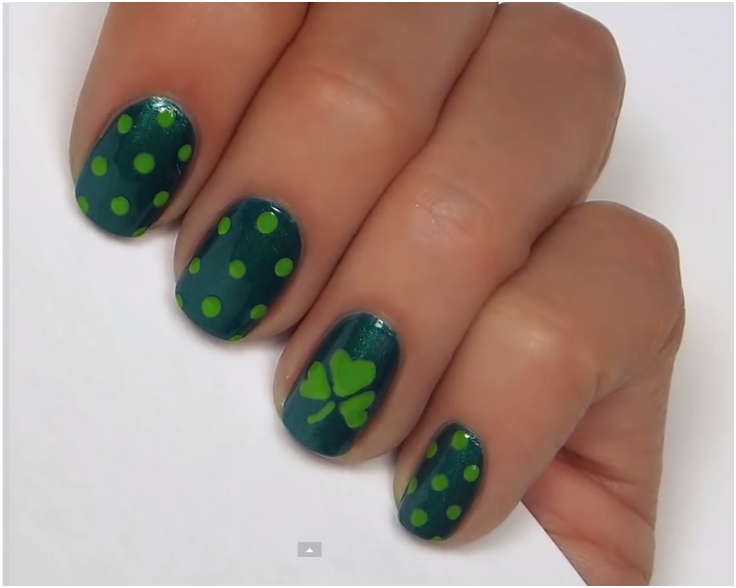 via polished.tv
Lucky Green Plaid Nails
This playful plaid shamrock design will is a great choice for St. Patrick's Day or for any summer day when you want to feel happy-go-lucky. Although it looks complicated, this design is actually pretty simple to do once you learn how.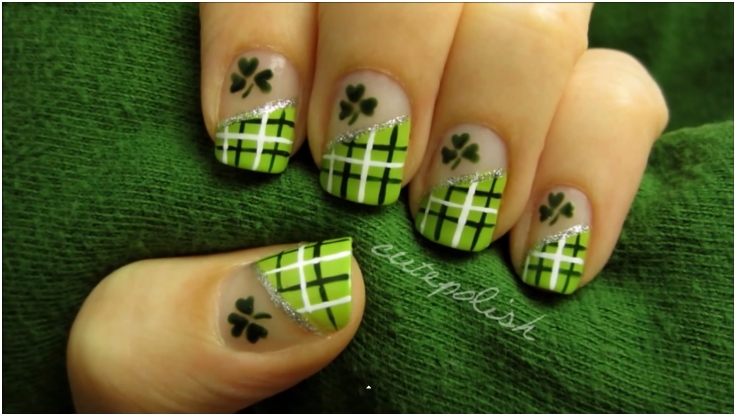 via youtube.com
Green, Gold And Glitter Shamrock Nails
A lovely combination of honoring the traditional St. Patrick symbol, the three leaved shamrock and the Irish folklore represented with the magical glitter and gold. If you think that this combination is too colorful, you can do your nails in just one of the three designs that are done on each nail.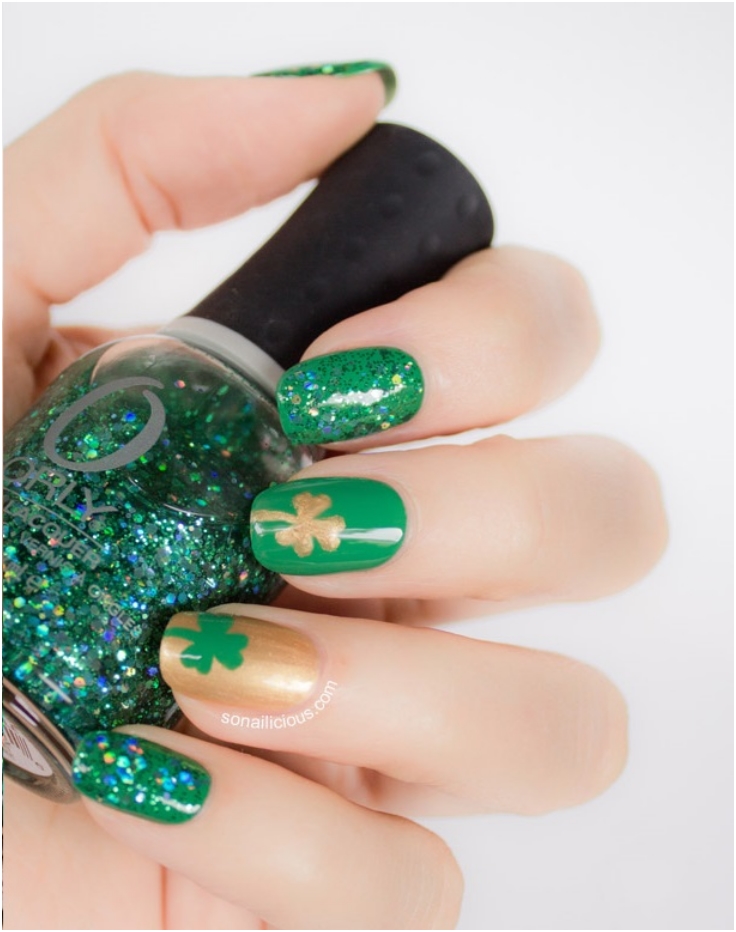 via sonailicious.com
Black And Gold Base Shamrock Nails
If on St. Patrick's Day you are attending a fancy and elegant party and you wish to express your support of this Irish tradition, make this stunning gold and black base with shamrock and green "glequins" (glitter sequins) that protect you from pinching.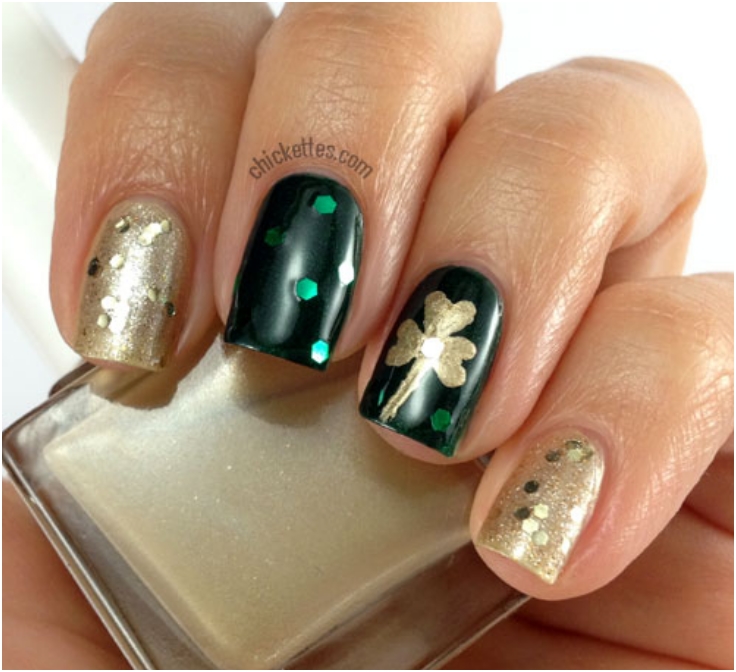 via chickettes.com
Black On Green Shamrock Nails
On this day everyone is expecting to get some of that famous Irish luck. So, doing a four leaved clover design instead of the traditional shamrock is quite acceptable. This design is done with metallic green base and black clovers and fishnet pattern.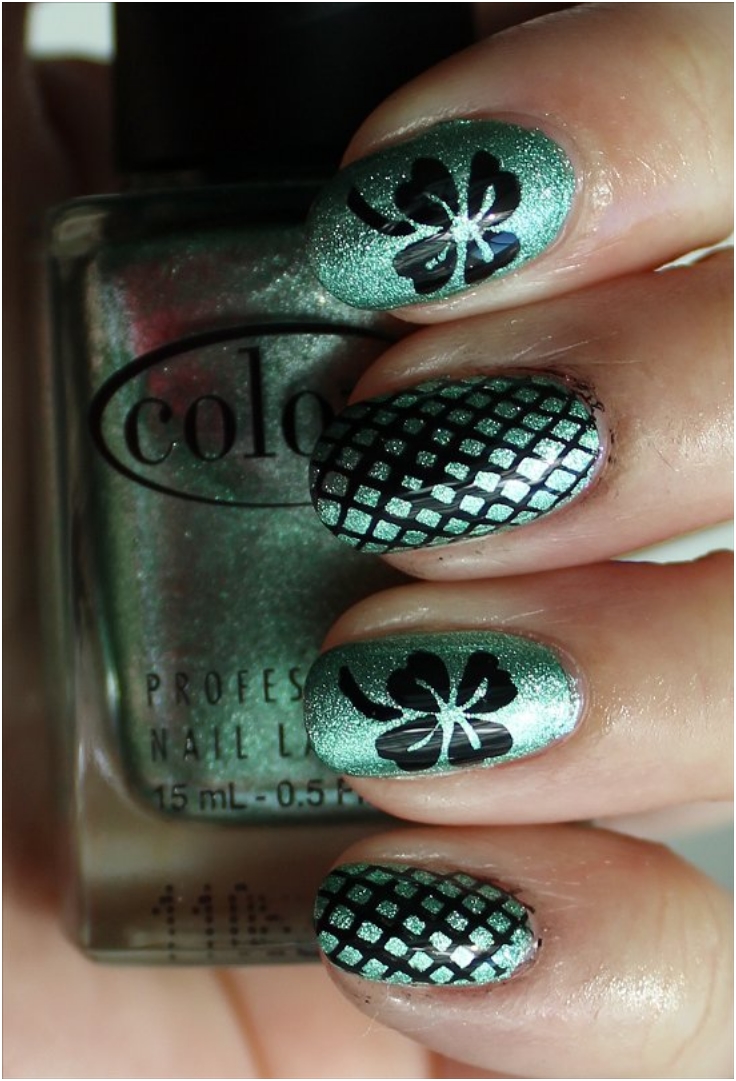 Shamrocks, Rainbows, And Gold Nails
If you're looking for a whimsical and colorful design that can also be classy, this is the design for you. Done with a combination of watercolor and water marbling nail techniques. This design may be a bit more difficult, but is well worth it.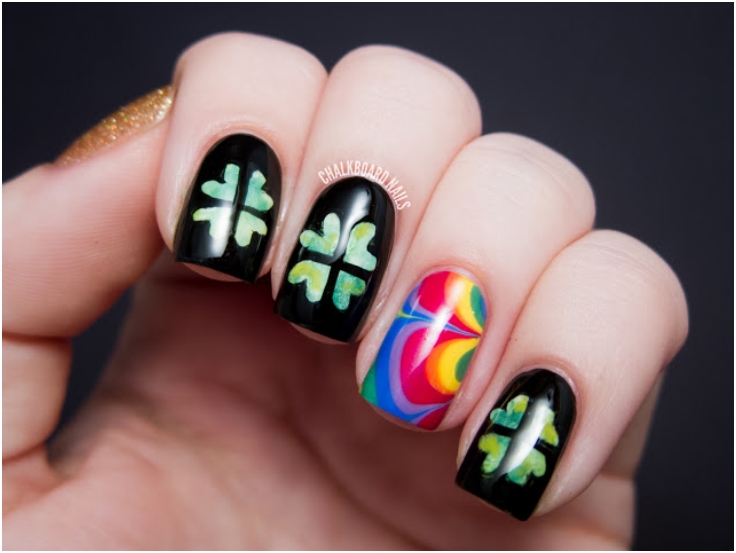 Shamrock On Lime Tip Nails
If you love the French manicure look, then here is such a design perfect for St. Patrick's Day.A lime color at the tip f your fingernail covered by one or two small shamrockas makes a soft and clean nail art St. Patty design.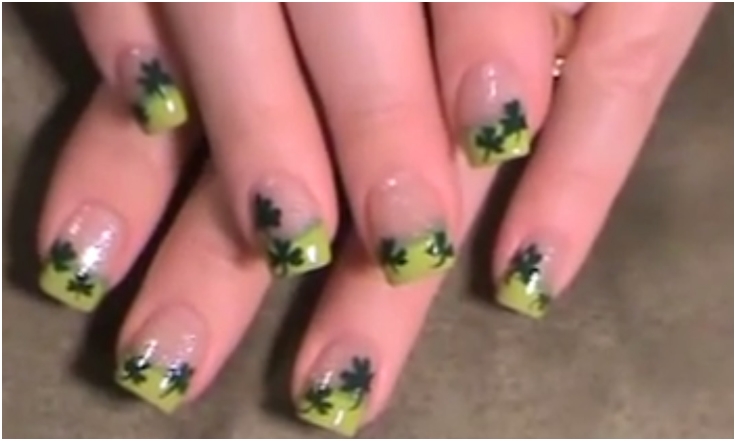 Irish Pride Nail Art
Sometimes you simply need something extra like with this one, to brighten the repetitive St. Patrick color design. Here a line of bringt orange nail polish is added and together with the green and white represent the Irish flag perfectly and it is made in such a flattering manner that makes you feel proud to be Irish.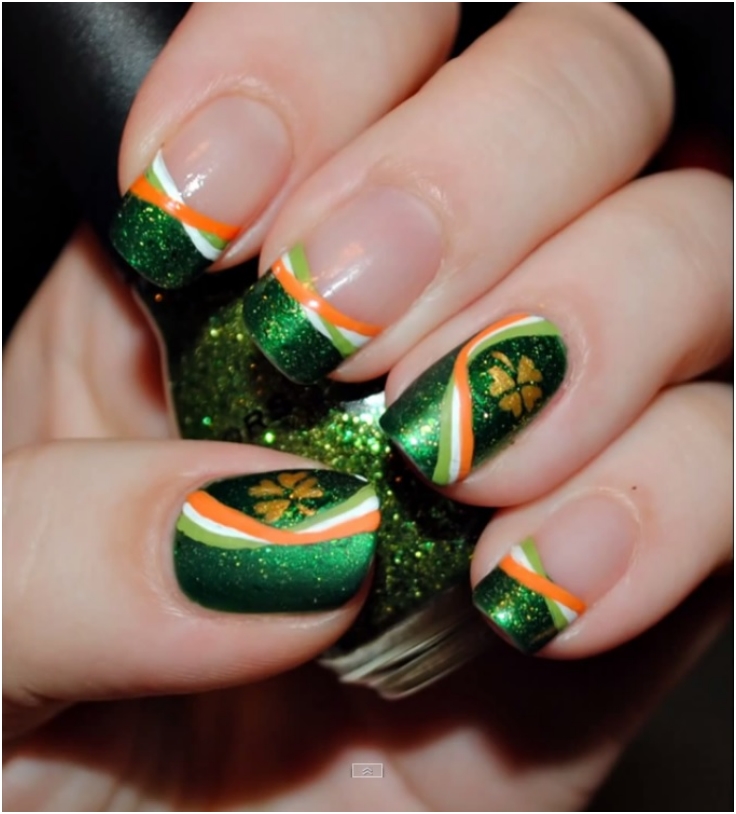 via youtube.com
Colorful Shamrock And Stripes Nails
If you plan to spend St. Patrick's Day club hopping or at some home party, you might want a festive color design to your nails that will match the wild night you are planning to have.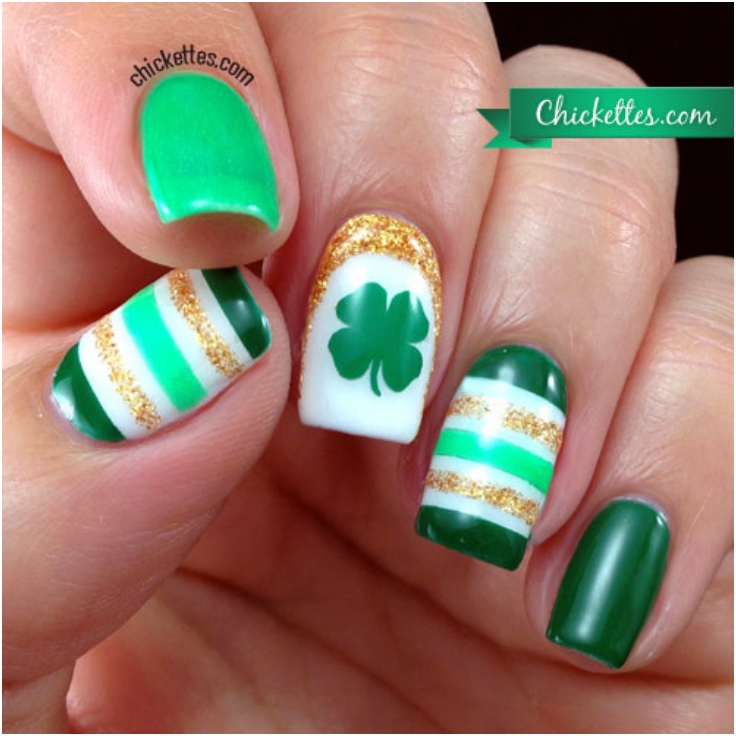 via chickettes.com 
St. Patrick's Day DIY Nail Art Tutorial That Anyone Can Do
Sometimes less is more, like with this simple nail design that speaks for itself. You don't have to bother with brushes and stripes. All you need is a a dottin tool to make the shamrock and two nail polishes, green and gold with metallic shine to pant your nails.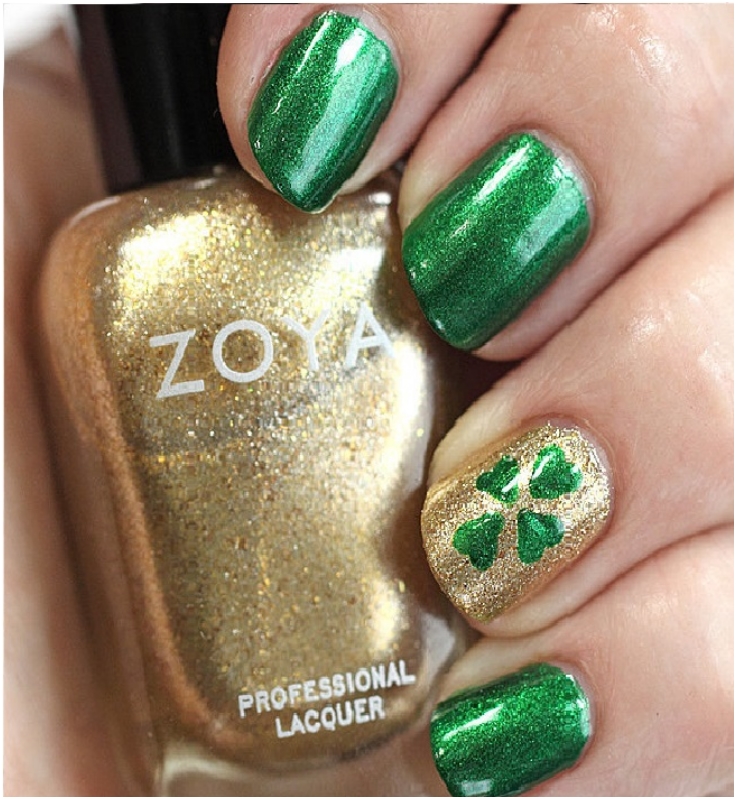 via bellasugar.com