Since the 'Love Holiday' is around the corner, many women wants to look special and unique. No matter of the place you will go at Feb 14, your make up should be simple, sexy and touchable for the most romantic day of the year. Your skin should be perfectly moisturized and soft in order to get a romantic and elegant look. Whether you are celebrating with your guy or your girlfriends, here we have your look covered with following make up tricks. Valentine's Day is all about loving others, but first focus and treat yourself!
1. Moisturize
via modellist-id.com
The most important thing before applying make up is to moisturize, moisturize, moisturize! Your skin is thirsty, especially in the cold days and all it needs is a moisturizer that is oil based to create a protective layer on your skin! Let your skin glow for the love holiday!
2.Define Brows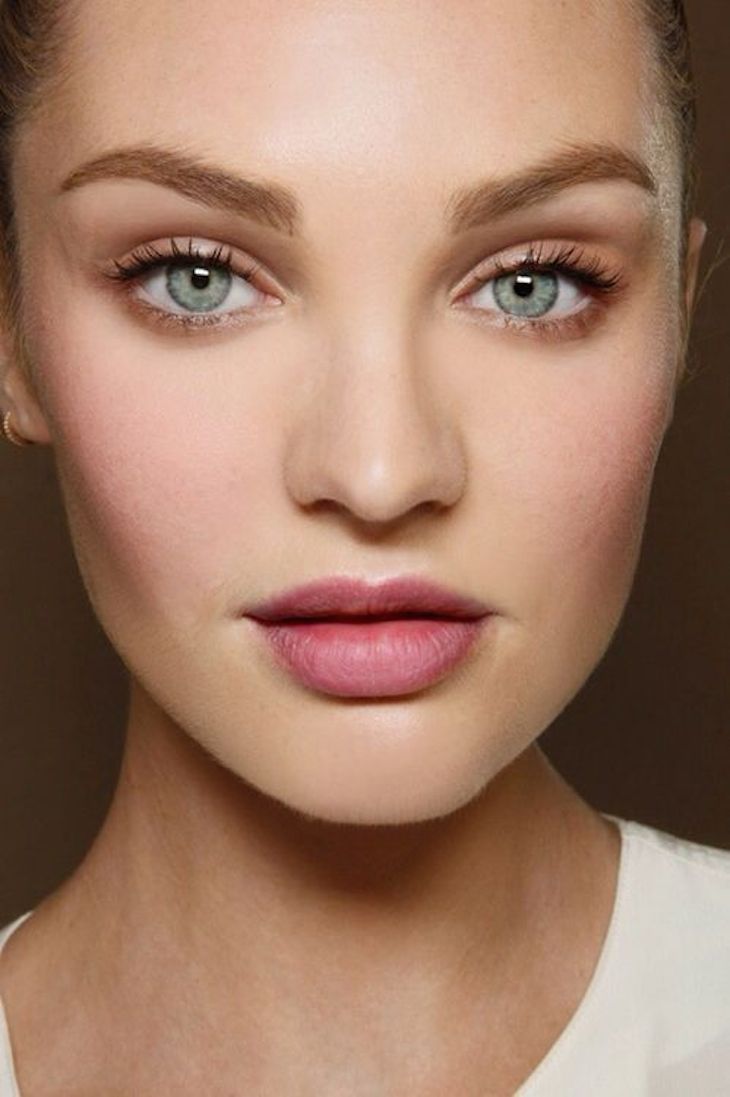 Always brush your brows in the direction of growth and than use a nice sharp pencil that match your brow color. At the end use tinted brow gel to enhance your look and keep things in place. You are done!
3. Maximize Lashes
via theberry.com
The longer the better! Long lashes add  a touch of glamour to your face. All you need is a perfect mascara! But before applying your favorite one, use an eyelash primer to maximize the result you get from your mascara. Play close attention to the brush, too!
4. Less Foundation
via freshideen.com
Since in winter your skin is dry, less foundation is absolutely more! Dry air and wind can make your skin flaky and cracked. So the solution is to find a foundation that has moisturize-rich formula and apply a small amount with your fingers, so it  can melt into the skin.
5. Soft Lips
via media-cache-ak0.pinimg.com
When it comes to moisturizing, don't forget your lips. Ever! Apply a creamy lip balm that contains Shea butter, Dimethicone or Ceramides. Or simply apply some baby oil every night before you go to sleep. Your man will want to kiss you all the time!
6. Pink Blush
There is nothing more romantic like a pink blush on your cheeks. So, think light and rosy for Valentine's Day, because nothing beats pink blush when it comes to healthy, fresh and natural look. Your man will love that!
7. Beauty Sleep
When it comes to your beauty routine, sleeping enough (7-9 hours) is absolutely the best thing! You'll have less puffiness under your eyes, your skin will be plumper and you will definitely have more energy for the most romantic day!
8. Apply Fragrance Like A Pro
via locari.jp
Always spritz perfume to your pulse point so it stays longer and never apply more than two drops. Spray your favorite fragrance behind the ear lobes, on the wrists and on your décolletage to maximize the power of your perfume.
9. Use Facial Oil
via elle.co.jp
Since your skin is freaking out because of the cold weather, it is definitely a time for applying some of the most precious facial oils. From coconut to almond oil your skin will absolutely benefit from an oil and we advice you to choose pure organic plant oils! You will thank us later!
10. Red Nails
via excerptional.com
Classic red nails are definitely the perfect choice for the "Love Holiday'. No matter what you will wear, there is nothing sexier than hot red nails! Enjoy the night with your man and Happy Valentine's Day!