Want to get that seductive eyes to look, but you don't really know how to combine the eyeshadow colors and make your eye shape even more enhanced with the makeup's magic? Well, you should end your worries here because we have amazingly easy tutorials for you that will make you shine even on the darkest nights.
No matter if you want to be fancy at somebody's wedding, at the dance club, fancy dinner, or romantic date, where ever you will go, we guarantee that with these looks, every head will be turned by you, and you will look irresistible.
So get your makeup kit and your mirror, and start re-creating this look that looks gorgeous on any eye and intensifies your natural beauty even more, which makes you stand out from the crowd. We collected the best picture tutorials for you, and we hope that they help you with your important moments. Have fun!
Eye Opening Cat Eye
The shimmer always makes you stand out, and for occasions like this, it is the first thing you should have on your mind. The blending on the crease and the lower lash line is dark brown, making the eye shape more defined. To make the eye stand out even more, add a skin color pencil in the waterline. Finish with eyeliner and mascara.
Plump and Pink
via ko-te.com
This is one of the best looks that we have seen; it is glamorous, rich, subtle, and beautiful. Play with pinks and browns. Although they are earth tones, with the help of shimmer and false lashes, you can make this look for every special occasion.
Purple Touch
via trusper.com
One thing about the purple – it looks good on every skin and eye color. This magically beautiful color will make your eyes pop and more visible. This picture shows how to create a look that has blended purple only on the lower lash line. In the crease, you can go with a smoky eye.
Adriana Lima Makeup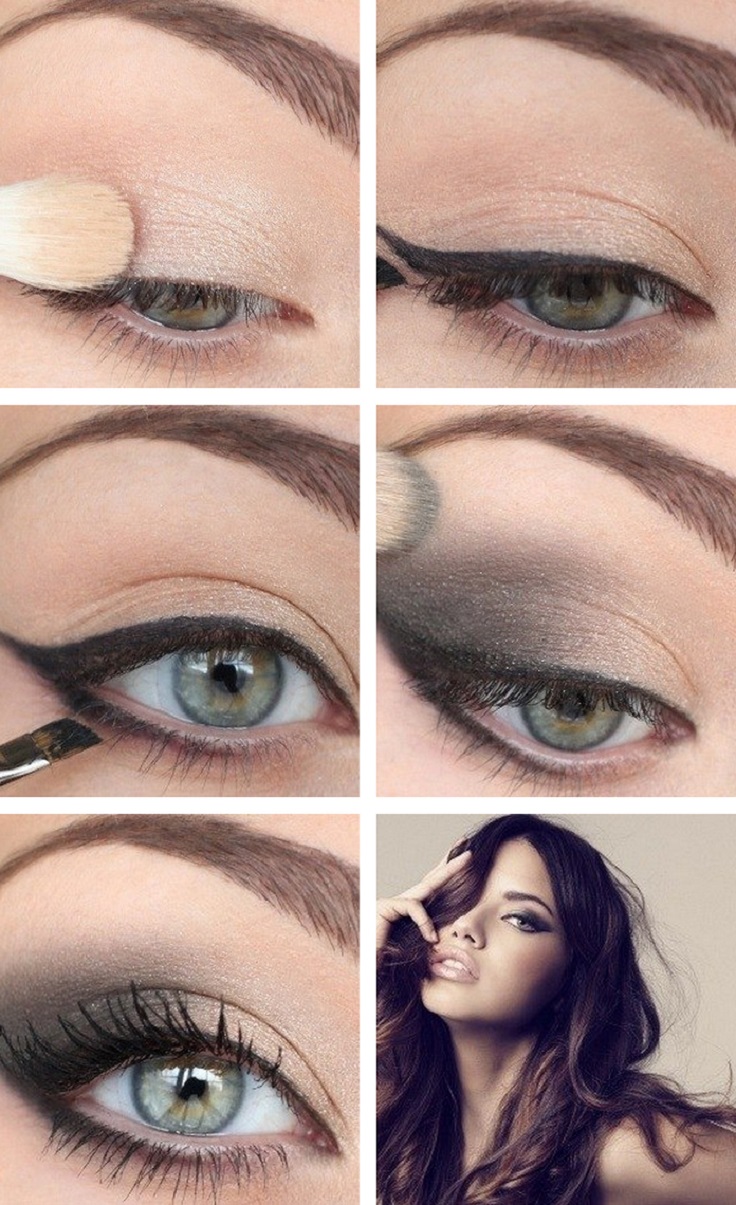 If you want to get that luscious and sultry look that Lima has, follow the steps from this tutorial. Apply a thin layer of white shimmery eyeshadow, then a black eye pencil. Above the pencil blend shimmery black eyeshadow creating a cat-eye smoky look. Don't forget to add a blended line on the lower lash line.
Light Brown Shadow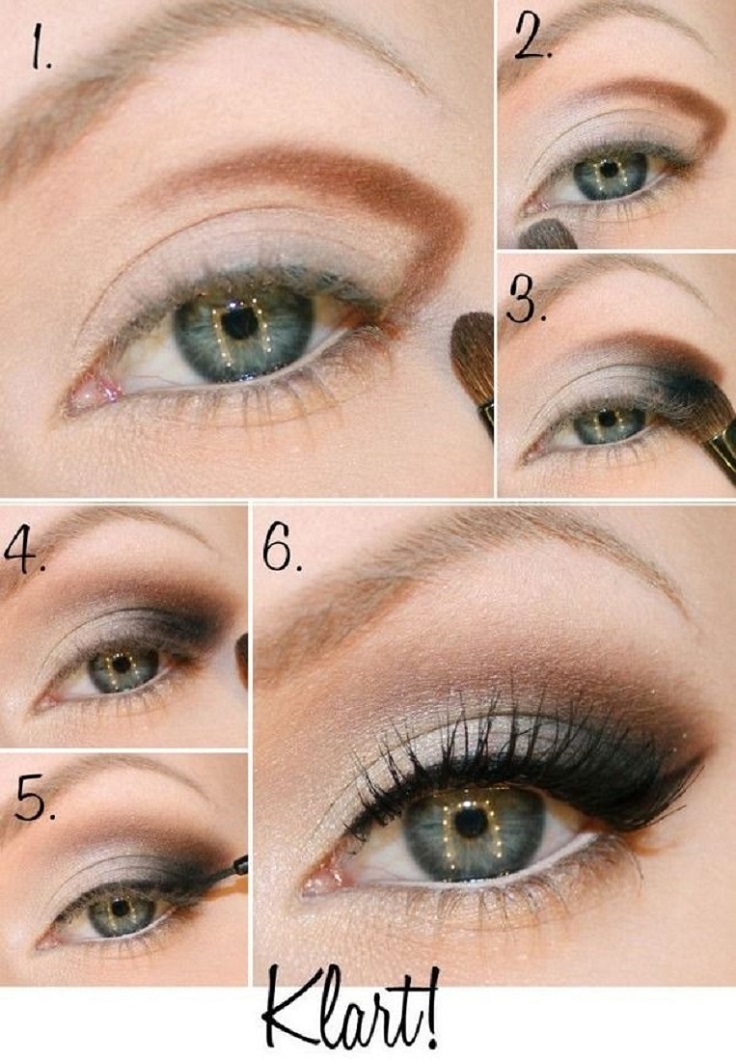 via beautylish.com
Don't be afraid to combine brown and black! First, make the contours with brown eyeshadow above the already existing white eyeshadow base. Then, apply a little black with a blending brush. This gives you the effect of that smoky look, where the black fades away and blends with the skin.
Royal Blue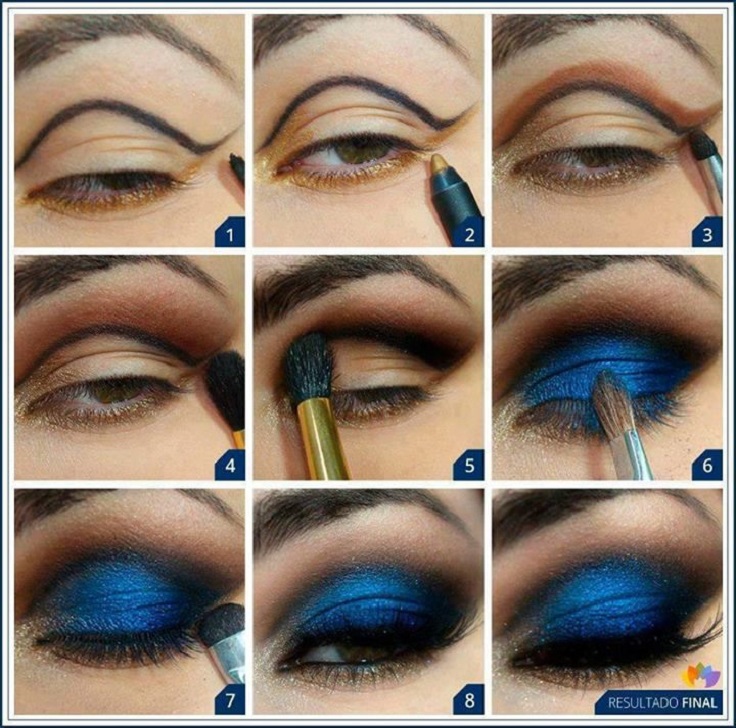 via make-up-is-an-art.tumblr.com
This is a daring look that whoever chooses to try will surely look noticeable and gorgeous. The intense royal blue color is just perfect for brown eyes, and for some occasions where you want to look refined, it is a must-try!
Silver Metallic Smoky
via gurl.com
As you know, the metallic shades are back, and for that matter, here we have an amazing tutorial for you. This shimmery smoky, Egyptian cat eye will leave you breathless. Although it requires a little more time and dedication, you will surely get it done if you follow the steps of this tutorial.
Emerald Green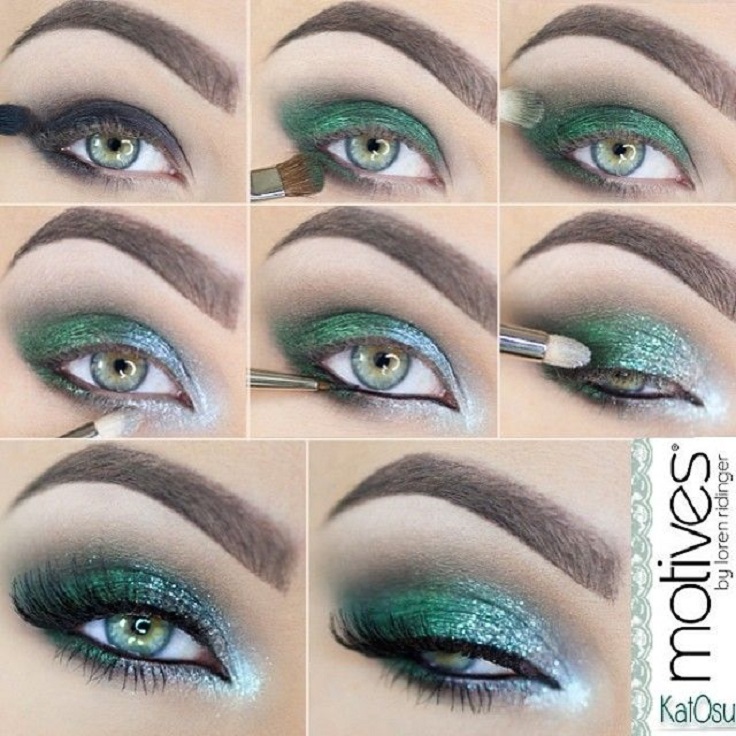 If the royal blue is suitable for browns, the emerald grin is a perfect match for blue eyes. You can use shimmery or mat shadow, but whatever you chose, the emerald color by itself is intense and beautiful, which will make your eye stand out instantly.
Purple Smoky
via de.weddbook.com
Start by using mat colors, purple and black, create the smoky effect and leave a little spot on the tear dot. After you are done, add a little sparkle and shimmer on it to open up the eye. Finish with lining the waterline and the upper lash line and coating with mascara.
Bold Black Eyeliner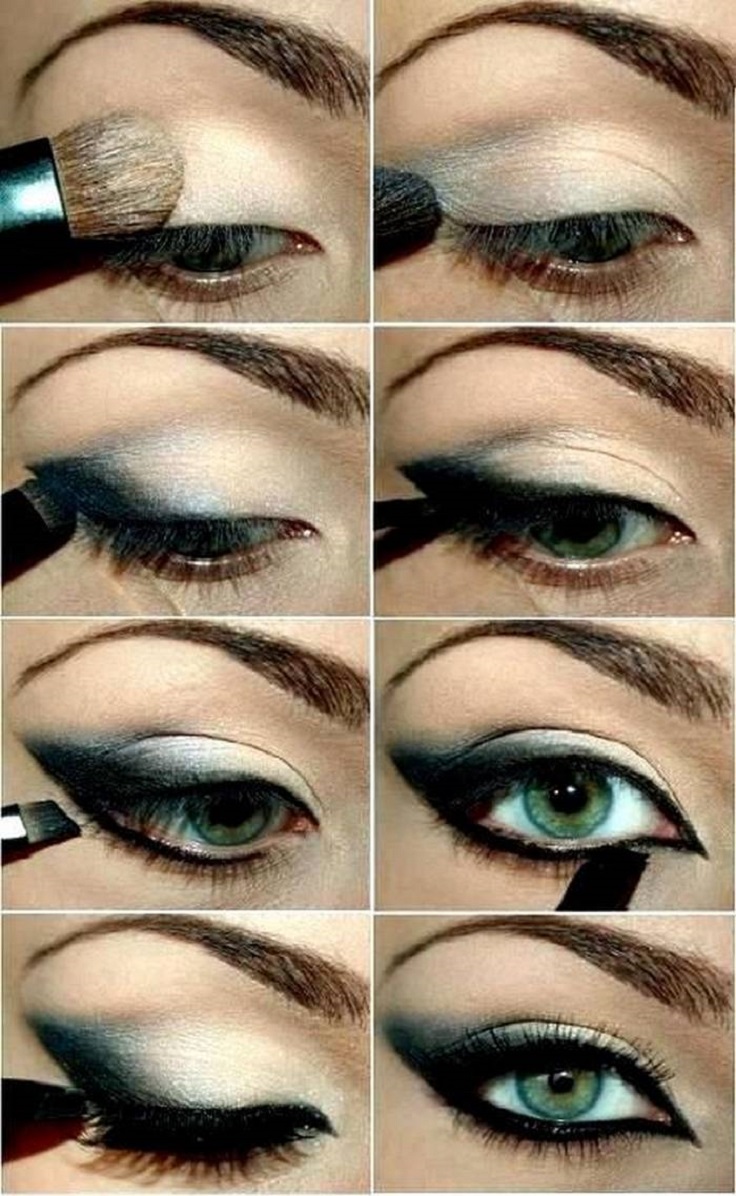 via trusper.com
Another egytian look for you. If you are a fan of the bold and thick black eyeliner, this is a look that is all about that. Like the eye and the next thing you should do is get a thin angled eyeshadow brush, put a black eyeshadow on it, and blend the eyeliner to give it a dimension and make it more visible.