Tattoos have found their way to popular culture and are regarded rather mainstream these days, and are common to both men and women across age groups and backgrounds. To the wearer, tattoos have a personal, symbolic, aesthetic, ethnic, cultural, or even spiritual meaning.
The tattoo is a statement of their individuality and personality. Every tattoo is personal, and only the person who has the tattoo can tell you the reason for the particular design or what it means to them.
We already made a list of the top 10 female celebrity tattoos; now it's time for the top 10 male celebrity tattoos. Honestly, it was more difficult to find male celebrity tattoos, which surprised us. Obviously, women are more obsessed with body art than men. Interesting.
Take a look at this list and tell us what do you think about their tattoos. Do you like them?
1. Adam Levine's Tattoos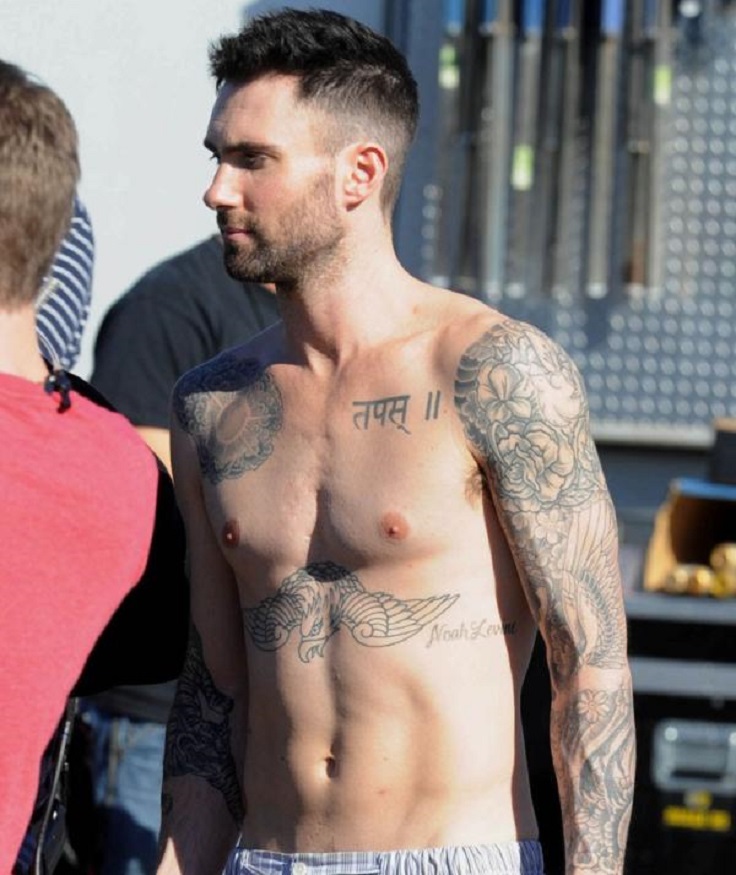 via busbones.com
Adam Levine's tattoo design becomes so famous and is imitated by his fans. He doesn't have many tattoos like a full-body tattoo, but he has some that make people love him more. And each tattoo of him has its own meaning. Some of his tattoos describe their career journey with Maroon 5. On his forearm, he has carved triple 2 numbers to remind him about the room number of the first recorded studio of Maroon 5. On their front body, he has five tattoos that have various meanings. He has a Sanskrit word on his left chest and also a big flower on the right ones. On the upper stomach, he draws an eagle that symbolizes courage and a high dream. He also has a necklace tattoo on his neck.
2. David Beckham's Tattoos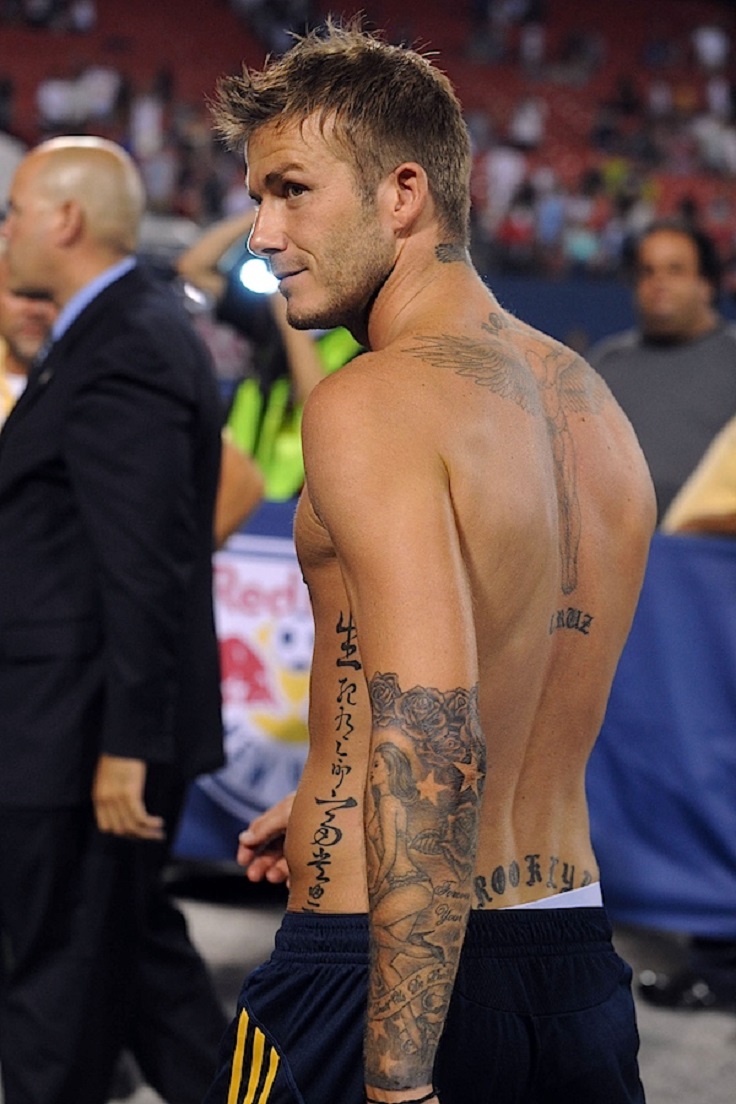 via caspost.com
The Football star David Beckham is known for his fashion sense and tattoos as he is for his abilities on the playing field. No matter what he does, the talk always comes back to his tattoos. More than art and hobby, David Beckham's tattoos document everything and express almost everything. There are 14 tattoos on his torso and back. His favorite tattooist, Louis Malloy, one of the best in the UK, all of those masterpieces are made by his favorite tattooist.
3. Johnny Depp's Tattoos
via allcelebritytattoos.com
This original tattoo with the name of his girlfriend at that time was dedicated to Winona Ryder. When Johnny made this tattoo on the upper right arm, it was saying "Wynona forever." Later it was transformed into "Wino forever."
4. Ricky Martin's Tattoo
via dailymail.co.uk
Ricky Martin has a total of six tattoos, including a naked woman representing the four elements of nature on his left bicep and an Aramaic tattoo of the Lord's Prayer on his right bicep.
5. Lenny Kravitz's Tattoos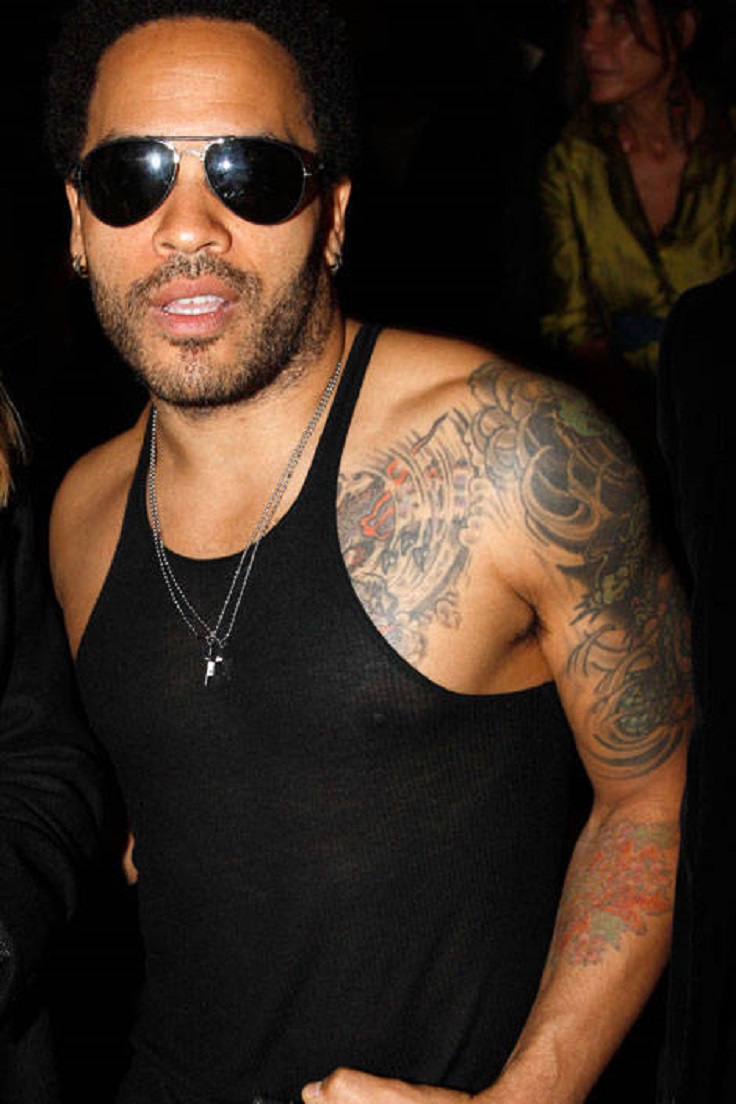 via elle.com
The tattoo Lenny Kravitz is perhaps best known for is the Japanese-style dragon that prowls across his chest. Tattoo artist created the dragon to the stars Mario Barth, who has created designs for Tommy Lee, Sylvester Stallone, and Usher.
6. Colin Farrell's Tattoos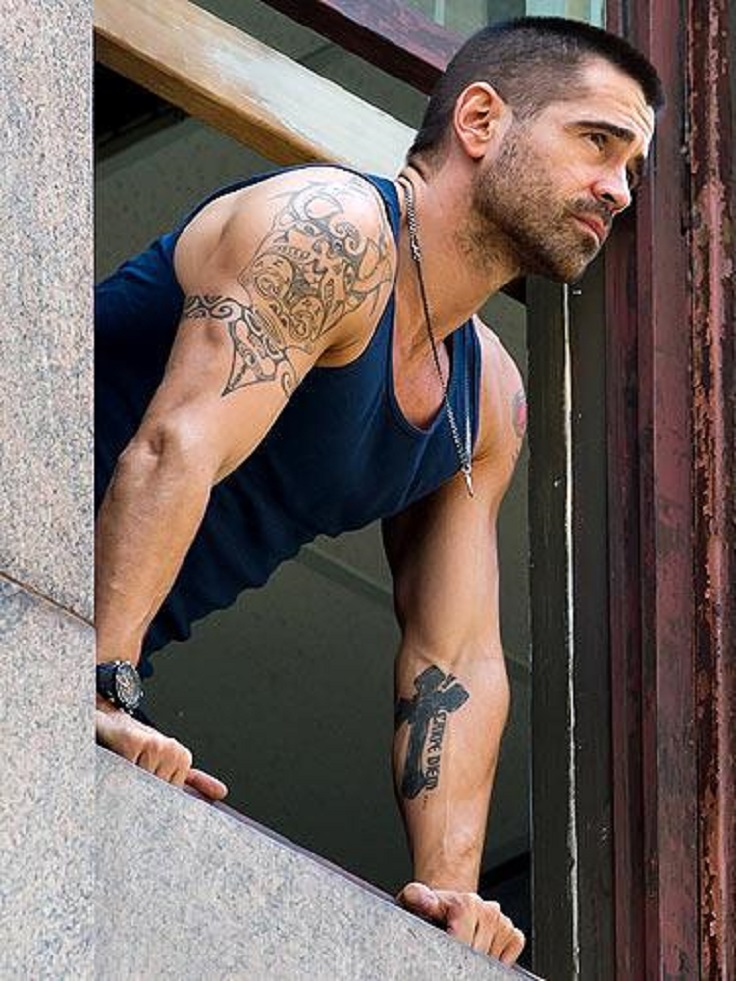 His most seen tattoo is the Polynesian tattoo, which is done on his right arm. The tattoo covers most of his arm. He is more interested in having original ink tattoos. Though he has a half sleeve tattoo, he has not used any color in his tattoos.
7. Ryan Gosling's Tattoos
Gosling once said to never get tattoos with meaning because you won't like them someday; all of his seem to have at least some significance and are all placed on his left arm as some sort of statement about something I'm too dumb to understand.
8. Robbie Williams's  Tattoos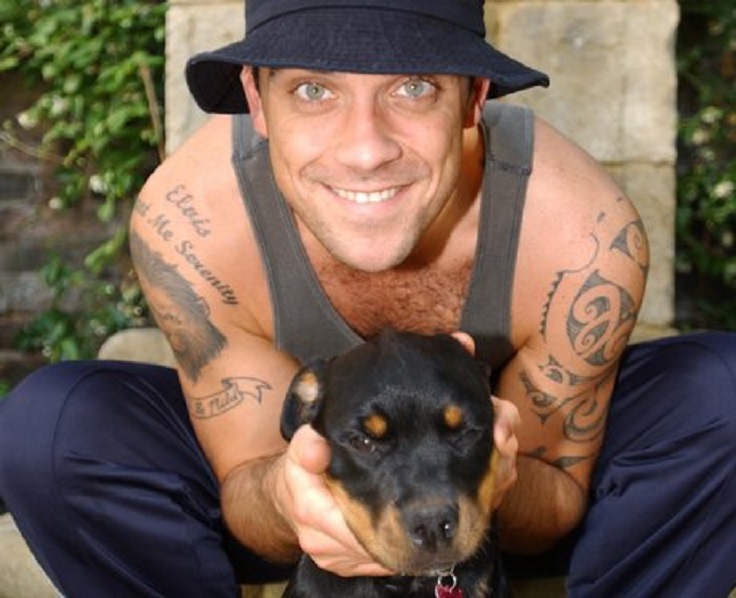 via tattoo1001styles-blog.blogspot.com
Robbie Williams, the British pop sensation, is no stranger to tattoos. He has turned his body into a canvas for tattoo art and has examples of almost every common style applied somewhere on his skin. As his real name is, Robert Peter Williams has got 14 tattoos on his body (depending on how you count).
9. Eminem's Tattoos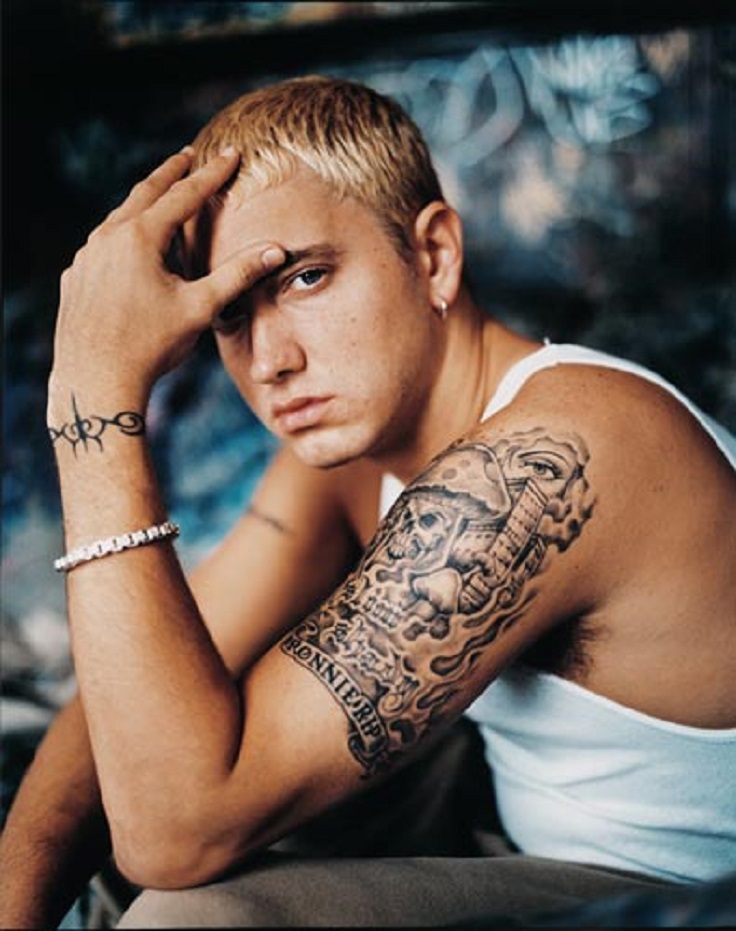 via tattoo-how.com
One of Eminem's tattoos is on his left shoulder. He got this tattoo as a mark of respect for his uncle"Ronnie Pilkington," who committed suicide back in 1991. Eminem was much closer to his uncle, who first introduced him to Hip Hop, than anyone else in his family and often includes uncle Ronnie in some of his lyrics. This tattoo is very artistic; it is related to the ghetto life in Detroit. You can see a huge mushroom along with buildings and the eye of a whore.
10. Kobe Bryant's Tattoos
Apparently, Kobe's crown tattoo on his upper arm doesn't have anything to do with him being the basketball king. That's good because he's not the king of the NBA anymore, even if he was at one time. He was definitely crowned champion 5 times, but you can't give him all the credit for that because LA has had some great teams.