Sometime it's not just about cooking. It's about decorating and creating art out of cooking. In this article you will find ten cakes which we are sure that will impress you. There is so much effort put into their decorations, that is simply impossible not to admire their beauty and want to taste them at the same time. You've seen cakes such as these in cake shops, but with the right budget, time and effort you can make your very own perfect cake at home. Wondering how? Just read below and let these cakes wake the creativity and imagination in you.
1. Vegan No Bake Blueberry Lemon Cheesecake
via call-me-cupcake.blogspot.mk
Isn't this one of the most romantic cakes you've ever seen? If you want to prepare this cake at home, you'll need the following crust ingredients: 1/2 cup pitted dates, 1/2 cup almonds and pinch of salt. For the filling you need: 3/4 cup cashew nuts, soaked in water overnight then drained, 2 tbsp lemon juice, zest from 1 small lemon, 3 tbsp melted coconut oil, 1/3 cup coconut milk (full fat), 1-3 tbsp maple syrup (to taste) and 1/4 cup (25 g) fresh or frozen (but thawed) blueberries. For the creative part – the decorating, make sure you have edible flowers, shredded coconut, fresh blueberries and freeze dried blueberry powder. This cheesecake is vegan, gluten – free and it serves 4.
2. Naked Birthday Cake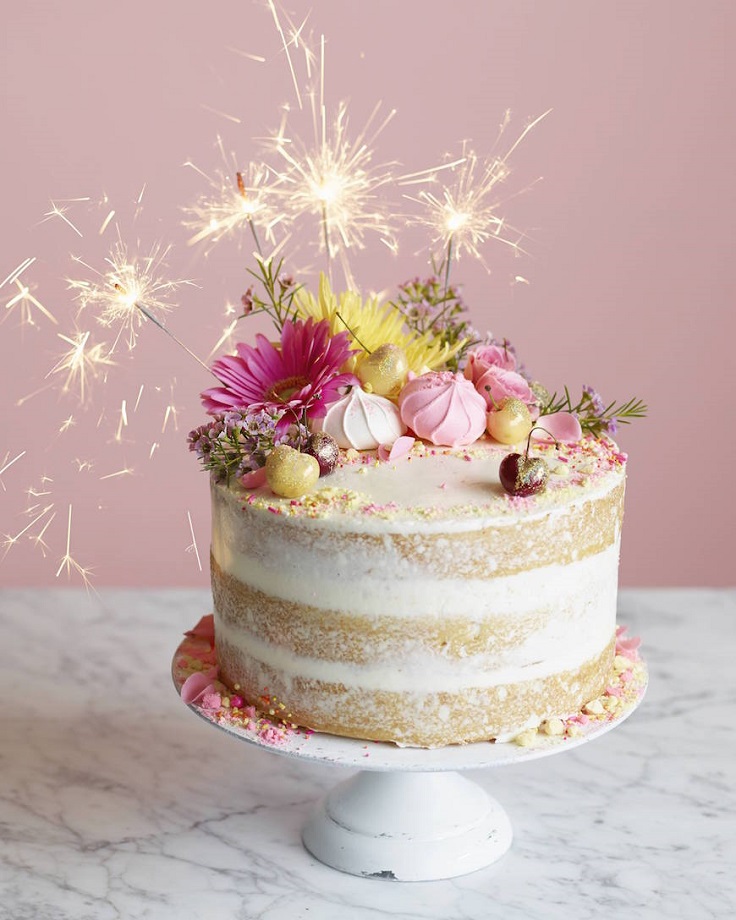 One of the best ways that you can wish yourself a happy birthday is by preparing a gorgeous cake such as this Naked Cake. There are few things you'll need to prepare to get the cake, so the ingredients you first need are the ones for the cake layers: 4 cups cake flour, 2 teaspoons baking powder, 1 ½ teaspoon baking soda, 1 teaspoon salt, 1 cup butter (room temp), 2 cups sugar, 1 tablespoon pure vanilla extract, 4 eggs and 2 cups buttermilk. Next thing you'll need to prepare is the Swiss Buttercream: 2 ¼ cups sugar, 9 large egg whites, 1 teaspoon lemon juice, pinch of salt and 1 ¼ pounds butter (room temp, cut into small pieces). For the frosting layers make sure you have lemon curd and crumbled meringue cookies. Last, and maybe the most important for a pretty cake is the decoration – fresh fruit, edible flowers, meringue cookies and sparkling candles.
3. Lavender Earl Grey Cake with Lavender Macarons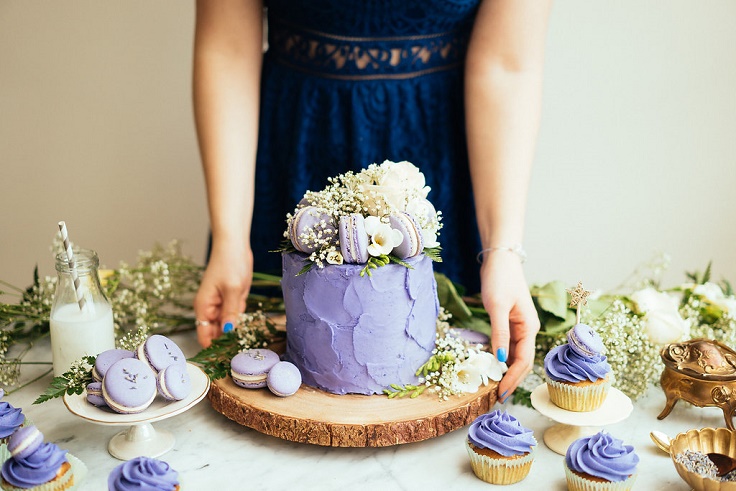 via constellationinspiration.com
Now, that's one pretty lavender cake that we would like to try on our next birthday party! If you agree with us, here's what you'll need to do. To prepare the Earl Gray Lavender Cake make sure you have 410g unsalted butter (at room temperature), 2 3/4 sugar, 6 eggs, 4 1/2 cup all purpose flour, 1 tbsp earl grey tea, finely ground, 1 tbsp baking powder, 1 tsp salt, 400ml milk and 2 tbsp earl grey lavender tea. For the Lavender Buttercream, you need 3 cups icing sugar, 1/2 cup unsalted butter (at room temperature), 3 tbsp milk, 1 tsp culinary lavender and few drops purple food colouring. When it comes to decorating, lavender macarons will fit perfectly, so hang on a little more and prepare them too!
4. Sponge Cake With Berries and Cherries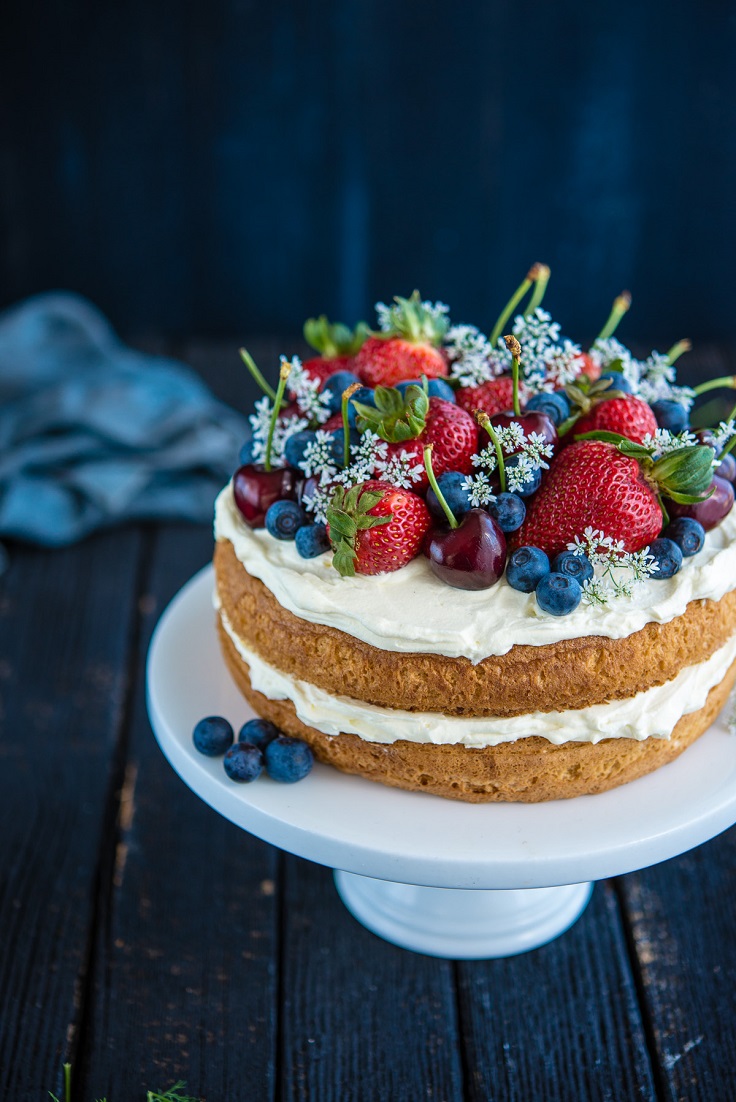 via hungryaustralian.com
Berries, cherries and the perfect tasty sponge cake. It isn't a heavy cake, but it will certainly satisfy your sweet cravings. You need the following ingredients: 3 large eggs, 1/2 cup sugar (caster sugar, regular sugar or raw sugar), 3/4 cup cornflour, 1 teaspoon cream of tartar, 1/2 teaspoon bicarbonate of soda, 1 heaped tablespoon plain flour, 500 mls thickened cream, 1/3 cup icing (powdered) sugar, 1 punnet strawberries, 1/2 punnet blueberries and 120 grams cherries (2 handfuls). When it comes to garnish, coriander flowers or similar will look great on this summer cake, but it depends on you.
5. Salted Caramel Apple Snickers Cake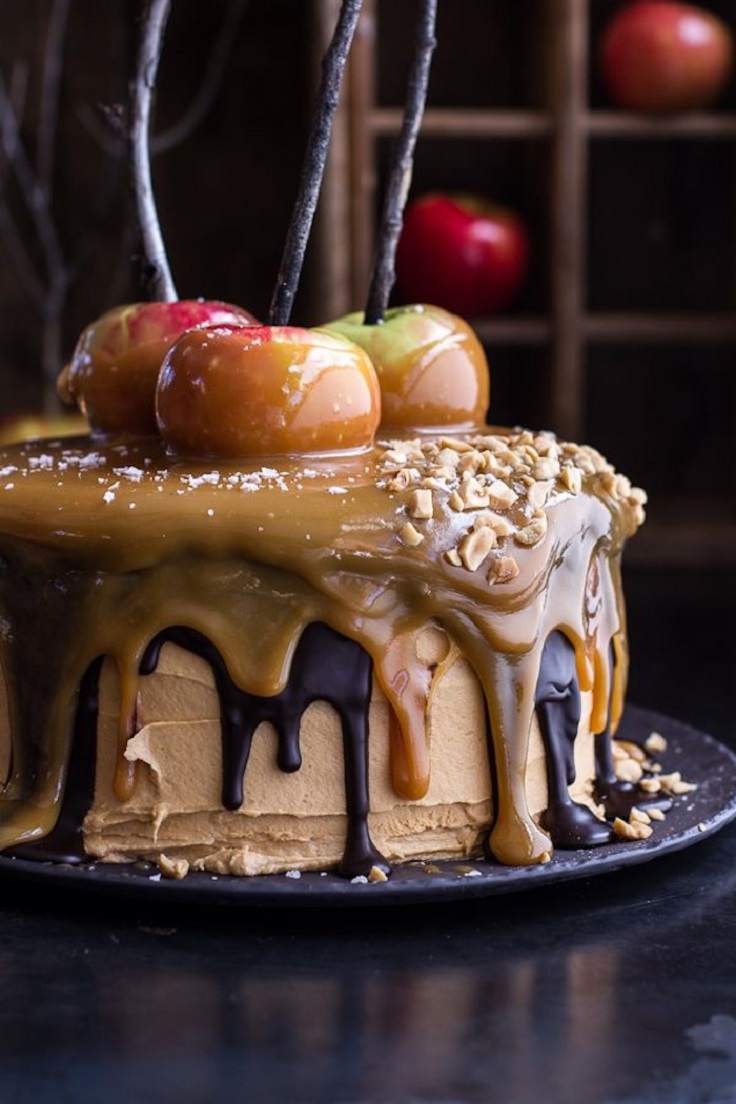 via halfbakedharvest.com
A cake covered with chocolate, and then covered with caramel sauce and snickers frosting – who would say "no" to such cake? You will need a lot of ingredients to prepare this cake, so make sure your budget is on point, as well as the time you are planning to spend in the kitchen. But, if you have the both, not making the cake is such a mistake! For the cake ingredients, as well as the ones for the salted caramel sauce and the snickers frosting, check out the link below the picture. What you'll get is one three – layered cake. It takes one hour for preparation, 45 minutes for cooking and 4 hours to have a piece of this chocolate cake on a plate. It's worth it!
6. S'mores Layered Cake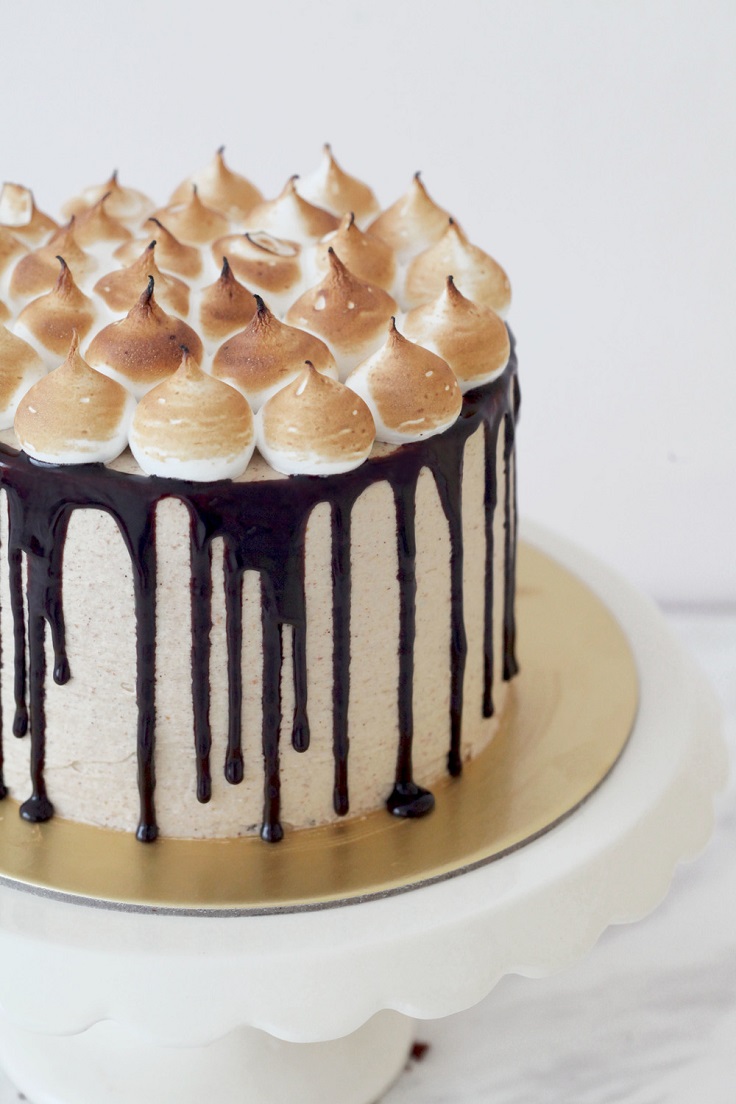 via engnatalie.com
There is always a new S'mores recipe waiting for us to try. When it's all tasty and looking good such as this layer cake, it's really hard to refuse a piece of it, or two. This cake requires more ingredients as the previous one, so check the link to get them. What you'll need to prepare is chocolate sheet cake, chocolate fudge sauce, digestive biscuit crust, digestive biscuit cream frosting and Swiss meringue. Of course, the S'mores wouldn't be what it is if there aren't any marshmallows included. Use them as your topping and what you'll get is one seriously delicious and pretty cake – the picture proves it, doesn't it?
7. Strawberry and Vanilla Bean Cake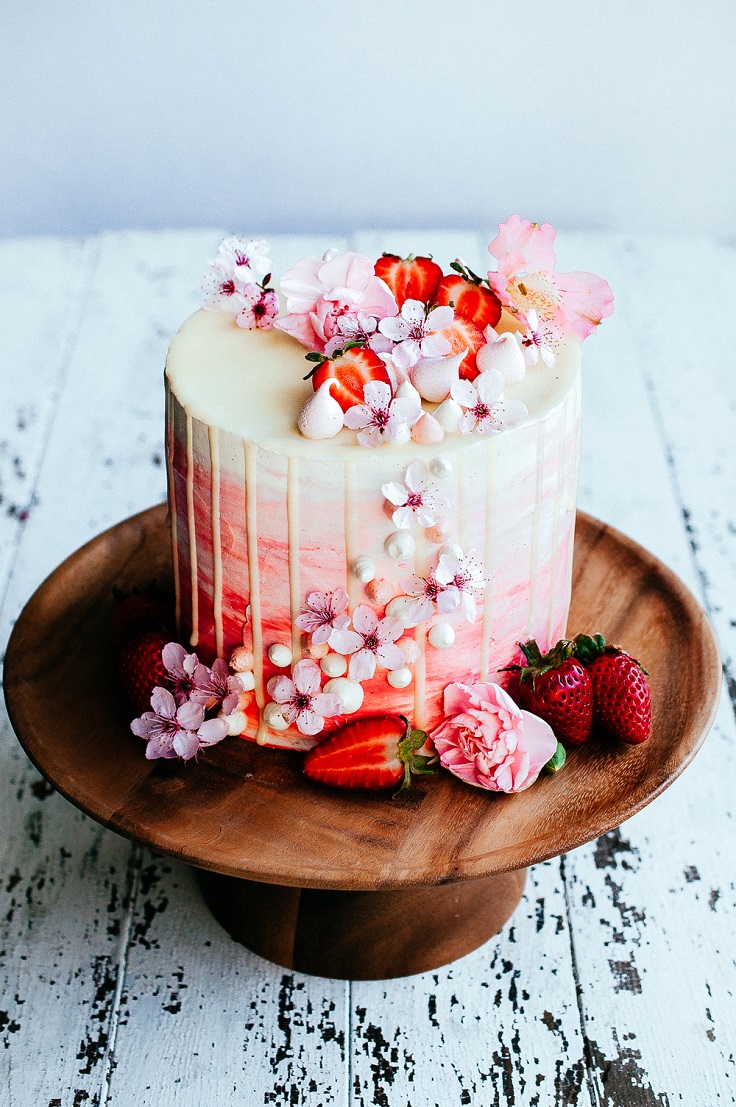 via hintofvanillablog.com
This pretty in pink cake is simply amazing. There's no way to see this cake without an "wow". It is a real example that food is not just about cooking and eating, but for creating an art out of food as well. You'll need to prepare a vanilla bean cake, strawberry meringue kisses, strawberry buttercream and white chocolate ganache. The recipe includes more ingredients, so we'll just stick for the strawberry meringue kisses:  50 g egg whites, 100 g granulated sugar and 5 g freeze-dried strawberry powder; for the buttercream you need: 100 g egg whites, 150 g granulated sugar
340 g unsalted butter, 2 g vanilla paste and 11 g freeze-dried strawberry powder. For the rest check out the link!
8. Easy Chocolate Cake with Raspberries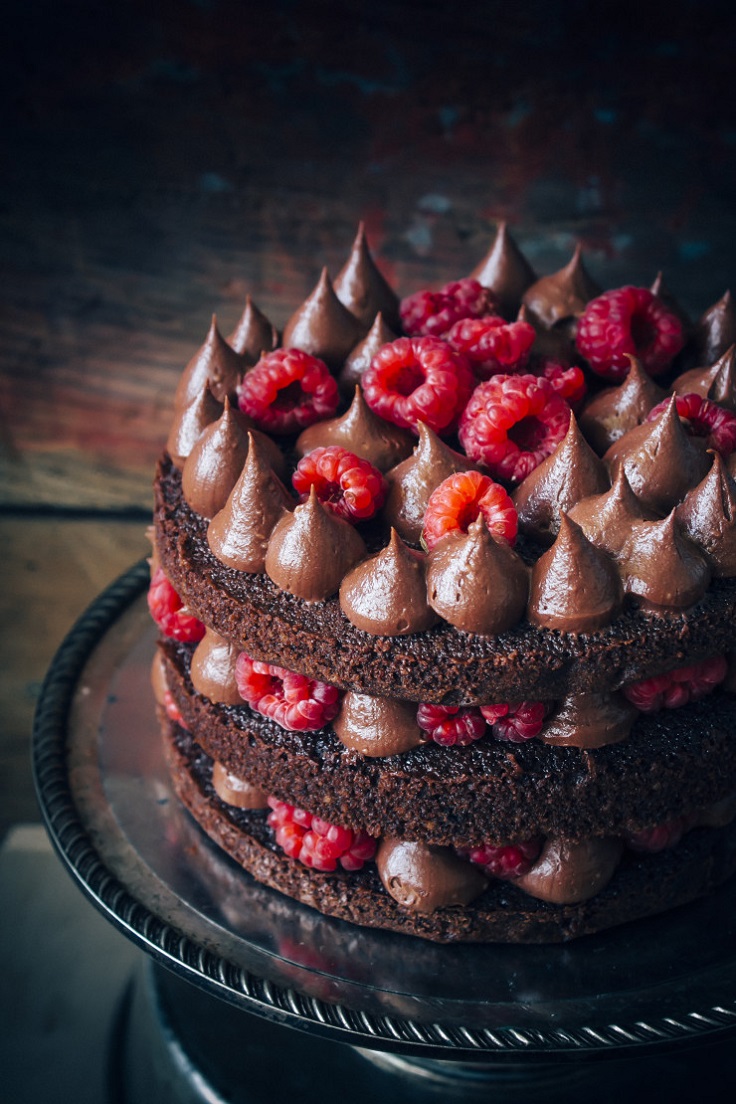 via sugaretal.com
If you were craving a serious chocolate experience, than you just found the perfect one. For the moist, spongy chocolate cake you need 1/2 cup cocoa, 1/2 cup boiling water (125 ml), 125 g unsalted butter, 11/4 cup castor sugar, 1 tsp vanilla essence, 
9. Cherry Chocolate Chip Cake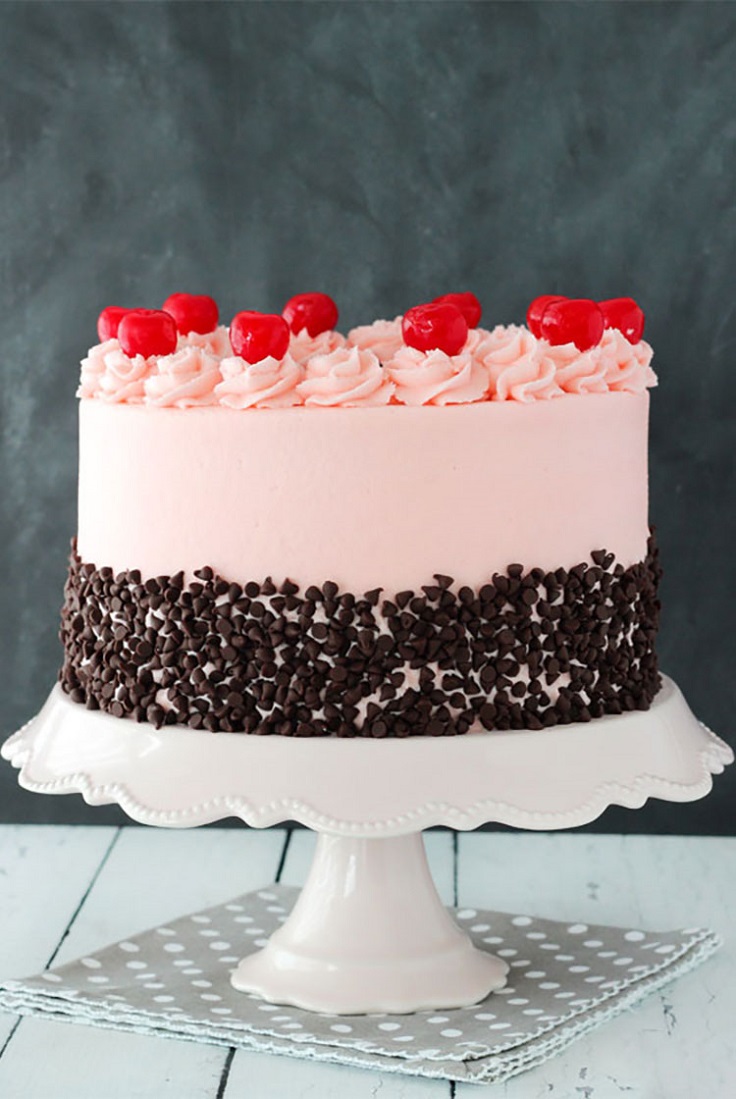 via lifeloveandsugar.com
Another pink cake to steal our hearts away – especially with the chocolate chips and cherries on top. What you'll get out of this recipe is 8 inch cake that serves 12 – 14. You need the following ingredients for the cake: 1 1/2 cups sugar, 3/4 cup salted butter, 1/2 tsp vanilla extract, 3/4 cup sour cream, 4 egg whites, 1 egg, 2 1/2 cups all purpose flour, 4 tsp baking powder, 1/4 cup milk, 1/2 cup maraschino cherry juice and 3/4 cup mini chocolate chips (plus more for decorating the outside of the cake). For the icing make sure you have 1 1/2 cups butter, 1 1/2 cups shortening, 12 cups powdered sugar and 5-6 tbsp cherry juice.
10. Chocolate Ganache Drip Cake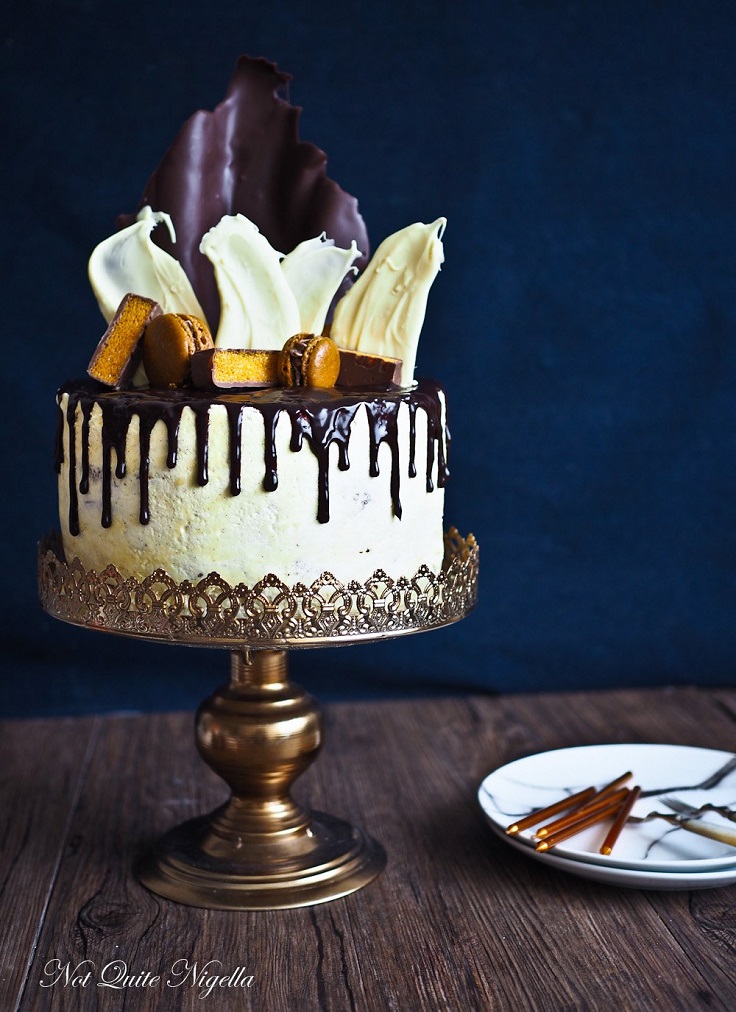 via notquitenigella.com
One can never have enough of chocolate, so that's why we decided to add the second perfect chocolate experience on this list. It's such a moist and full of chocolate cake, that will simply leave you asking for me. There are more ingredients needed for this recipe, but we'll stick only for the decoration of the cake. It's very rich decoration – 1 cup espresso made with ground coffee, 100g/3.5oz block chopped rougly caramel dark chocolate, 2x 100g/3.5oz. blocks dark chocolate, 100ml/3.5ozs cream, 50g/1.7ozs white chocolate, 2x cannoli sticks (or any 2 small 1 inch thick sticks will do), 2 sheets baking parchment, 2x macarons to decorate and 3 mini Crunchie bars.