There's something about mozzarella that makes everything more delicious – pizza, salad, sandwiches, you name it. This Italian cheese is widely used in cooking thanks to its soft, delicious taste!
The mozzarella is so appreciated that in 1998 the European Union award it with Traditional Specialty Guarantee, which means that the mozzarella sold within the EU must be prepared according to the original recipe. It originates from Italy, but today it can be found in supermarkets all around the world. So, use this opportunity and cook something with this amazing cheese! Don't google recipes, because we already found ten for you – just scroll along.
1. Pepperoni Cheese Stick Rollups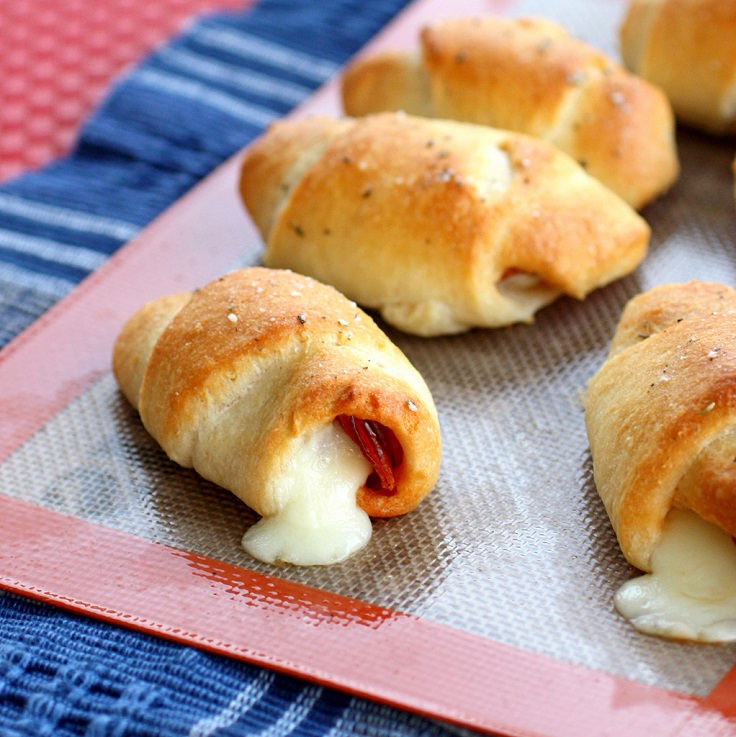 via the-girl-who-ate-everything.com
These mozzarella rollups are very good idea for party appetizers and even a better way to satisfy your children's taste – who wouldn't want a cheesy pepperoni rollup? To prepare these your own, you will first have to prepare the rollsups and for that you need 1 (8 ounce) package refrigerated crescent roll dough, 4 halved cheese sticks, and 1 (3.5 ounce) package sliced pepperoni. When you're done with them, start preparing the garlic butter glaze by using 2 tablespoons butter, ½ teaspoon Italian seasonings, ¼ teaspoon garlic powder and 1 tablespoon grated Parmesan cheese.
2. Creamy Caprese Quinoa Bake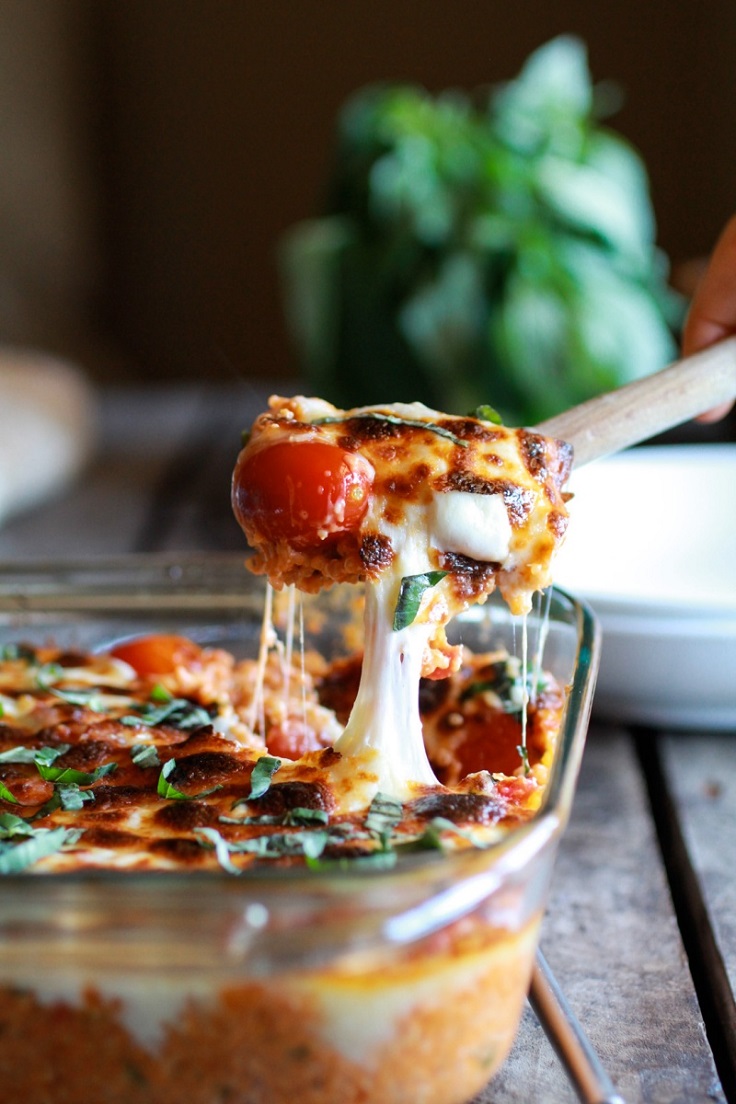 via halfbakedharvest.com
Perfect for lunch or dinner, the caprese quinoa bake is the ultimate cheese experience because of the mozzarella. Together with the rest of the ingredients, it will make you feel as if you're eating a meal sent straight from Italy. It's ready in less than 30 minutes, making it a good food choice when you're in hurry, hungry or too lazy to cook! To prepare it, you need these ingredients: 2 cups cooked quinoa, 1 cup of your favorite pasta sauce, 2 tablespoons tomato paste, 1/3 cup heavy cream, 1/3 cup parmesan cheese, 1 cup mozzarella, 1/2-1 cup grape tomatoes, 1 large bunch fresh basil,  1/2 teaspoon crushed red pepper, 1/4 teaspoon salt and 1/4 teaspoon pepper.
3. Mozzarella Stuffed Slow Cooker Meatballs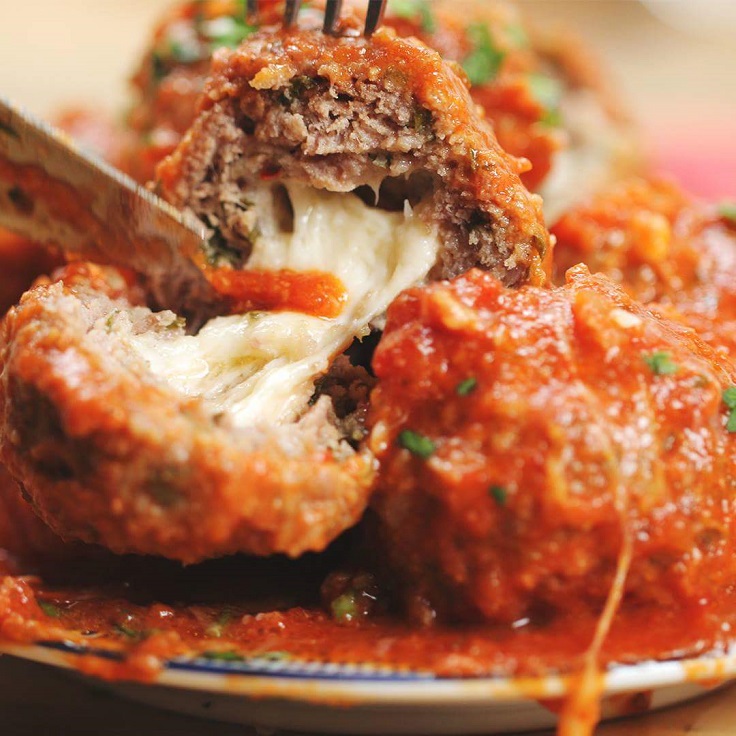 via best-world-recipes.com
The preparation of the meatballs takes 45 minutes and the cooking takes about 2 to 2.5 hours, however, this is a good choice for everyone with basic cooking skills. It's enough for four people and we're sure that the recipe is so tasty that deserves to be prepared once again! You need 1 pound ground beef, 1 pound hot Italian sausage, 1/2 tsp garlic powder, 2 tsp salt, 1 tsp black pepper, 1 cup bread crumbs, 1/4 cup parmesan cheese, 2 eggs, 1/2 cup whole milk and 1/2 cup chopped parsley. Just make balls out of the mixture and press one mozzarella cube into the center, then make a meatball again.
4. Cheesy Baked Gnocchi
via whatsgabycooking.com
Here's another recipe that will make you crave for another dish of this! To prepare the baked gnocchi, you need 1 lb package store-bought gnocchi, 4 ounces pancetta, 1 shallot, 2 garlic cloves, 1 teaspoon smoked paprika, 1 15-ounce can chopped tomatoes, 1 tablespoon tomato paste, handful cherry tomatoes, 1 teaspoon sugar, 3 tablespoons heavy cream, fresh basil, kosher salt and freshly cracked black pepper to taste and 10 ounces fresh mozzarella. It's ready in less than hour and is very, very delicious!
5. Doritos Loaded Mozzarella Cheese Bites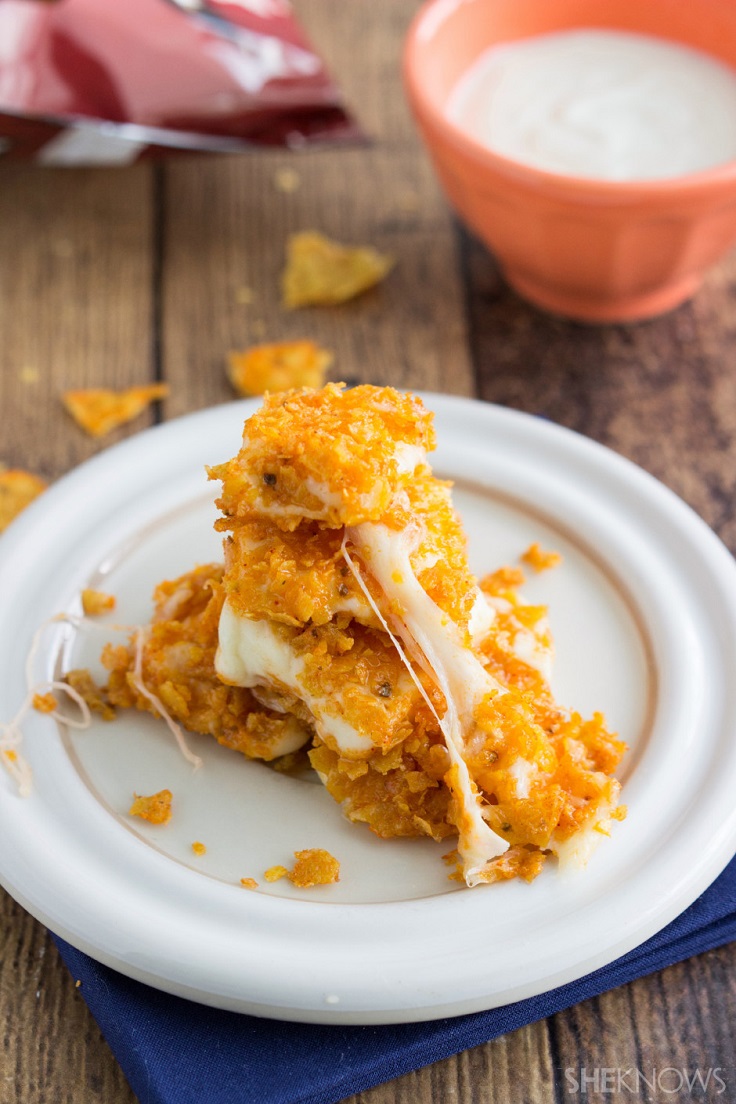 via sheknows.com
Craving a guilty pleasure snack? Then, you have just found one. If there's something better than eating Doritos, then it is certainly eating Doritos loaded with melted mozzarella. You need 2 (2 ounce) bags Doritos chips, 6 ounces mozzarella cheese, 1 large egg, 2 tablespoons water, 1/2 teaspoon Italian seasoning, salt and pepper to taste, vegetable oil for frying and ranch dressing to dip, but this is optional. It takes less than five minutes to be ready and we think that it will take just the same time to eat it all right away.
6. Easy Cheese Bomb Bread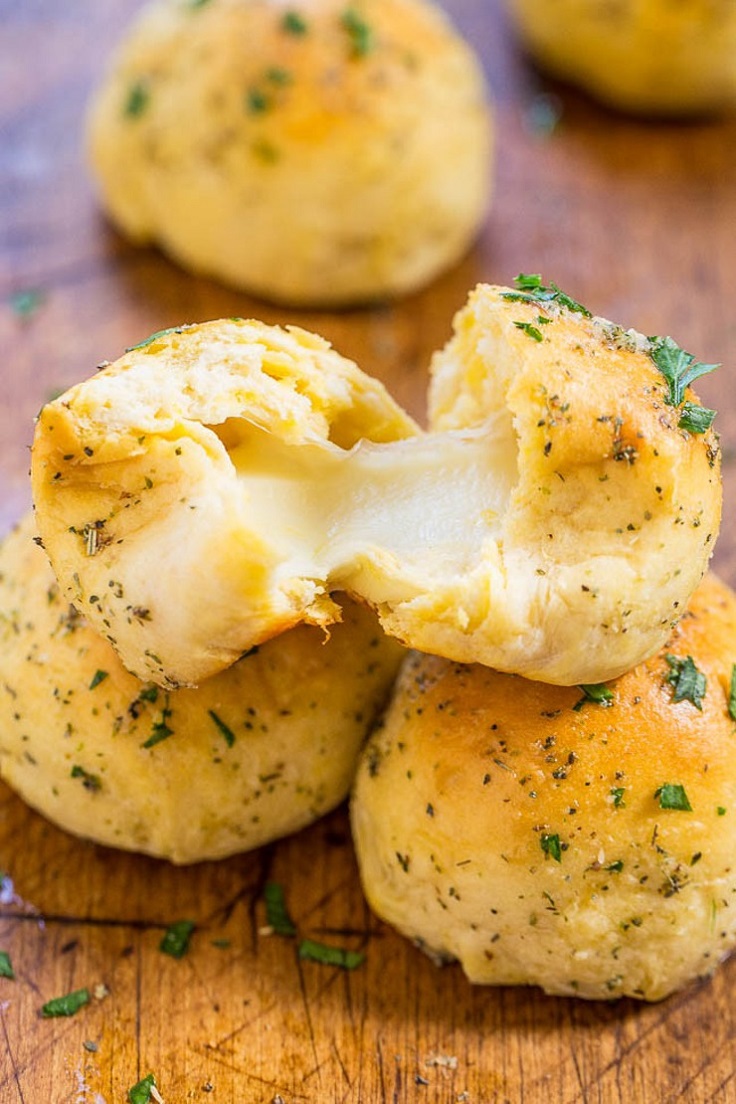 via averiecooks.com
Mozzarella, garlic and bread is a well – known combination and is certainly one worth trying. This is a side dish that is often serves in restaurants, so you might have already tried it. If not, this is the perfect time to prepare it at home. You need 1 tube (about 16 ounces) refrigerated biscuit dough, 4 ounces mozzarella cheese, 4 tablespoons (half of 1 stick) unsalted butter, 1 teaspoon Italian seasoning, 1 teaspoon garlic powder or to taste, 1/2 teaspoon salt or to taste and 2 tablespoons finely chopped fresh parsley. The best part of all? These bread bombs are ready in 15 minutes.
7. Easy Lasagna Stuffed Burritos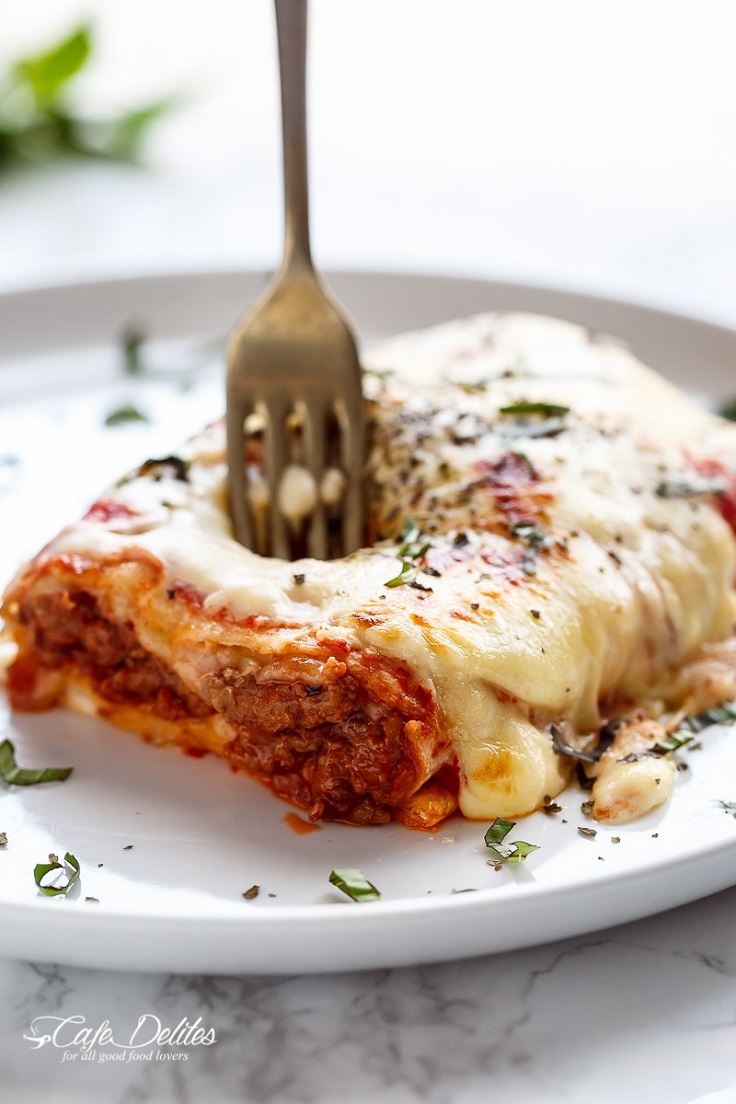 via cafedelites.com
This isn't the original recipe of a lasagna, but it is the ultimate cheesy, meat experience that you would wish to have every day for lunch and dinner! Here are the ingredients for these super tasty lasagnas: 1 tablespoon olive oil, 1 onion, 2-3 cloves garlic, 1 pound (500 grams) ground lean beef, 12 ounces (350 grams) ground sausage, 21 ounces (600 grams) bottle tomato puree/sauce or passata (or marinara sauce), 4 tablespoons tomato paste, 2 teaspoons beef bouillon powder, salt and pepper to taste, pinch of dried oregano, pinch of dried basil, 6-8 large tortilla wraps (white or while wheat), 7 ounces (200 grams) fresh mozzarella cheese and ¾ cup shredded mozzarella cheese.
8. Baked Penne with Fresh Mozzarella and Basil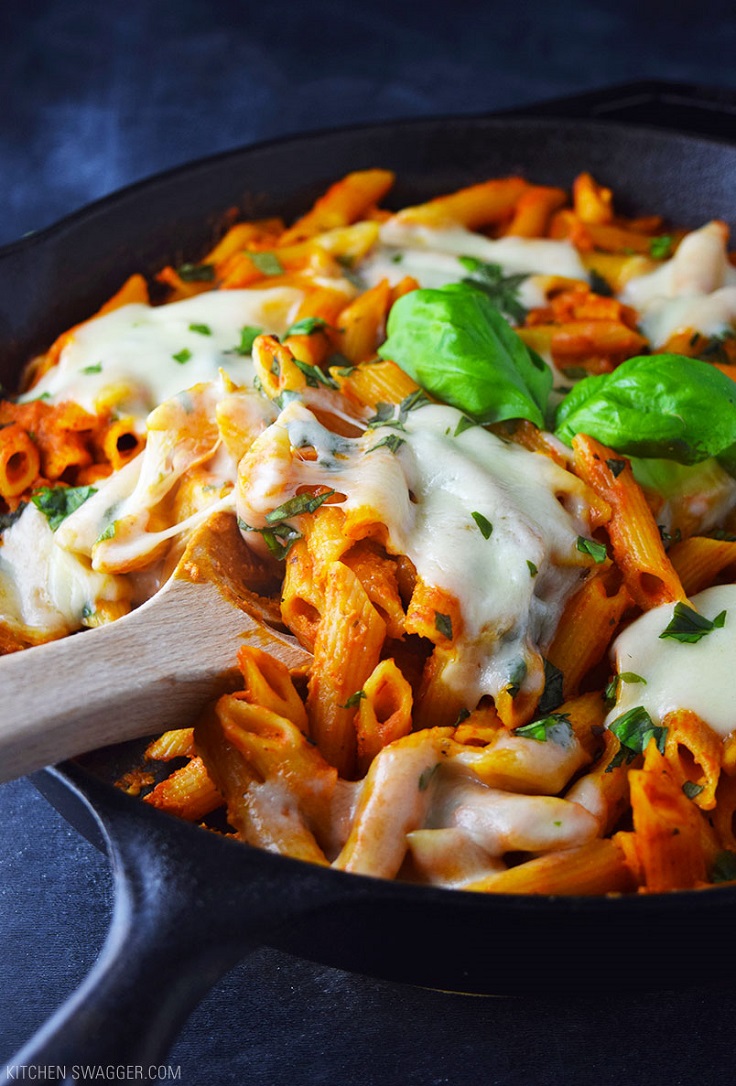 via kitchenswagger.com
We're back to the pasta. There are so many recipe combinations of pasta and cheese and this is really one that you need to try. It takes 50 minutes to be ready and serves four. You need the following ingredients: 1 pound uncooked penne pasta, 24 ounces pasta sauce, 2 cups water, 3/4 cup cream, 1/4 cup grated parmesan cheese, 1 8 ounce ball fresh mozzarella, 6-8 basil leaves, 2 tablespoons olive oil, 2 garlic cloves, 1 teaspoon crushed red pepper flakes, salt and pepper to taste. One can never have enough of Italian cuisine!
9. Pizza Patty Melts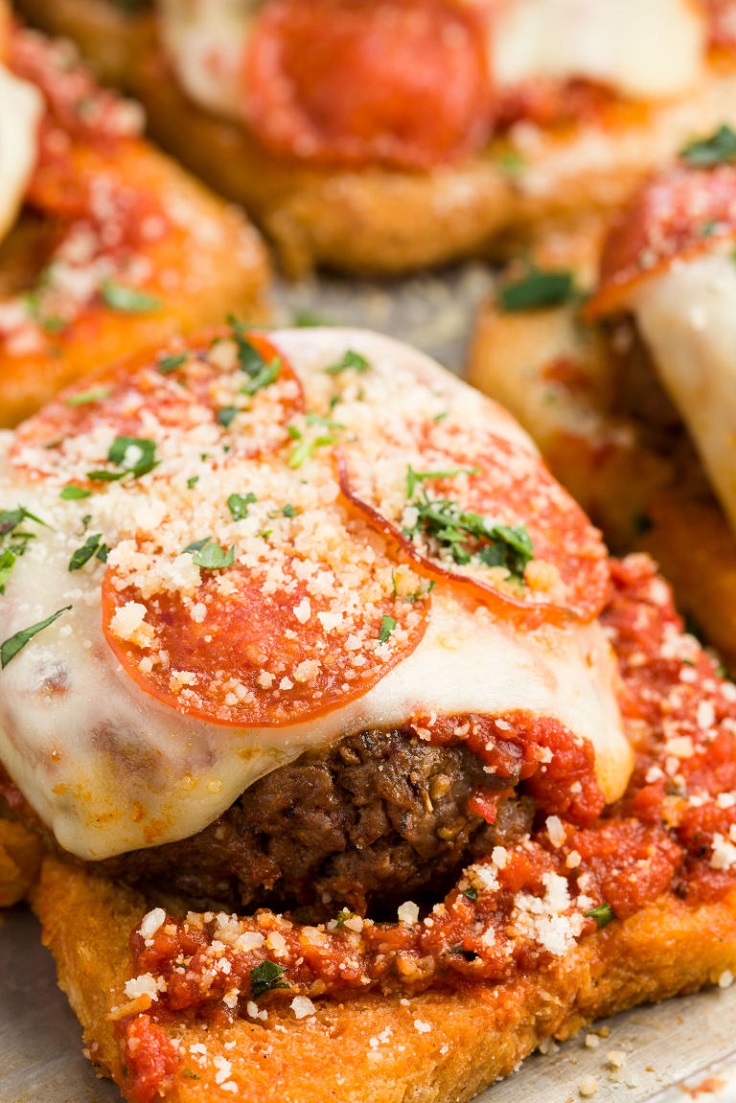 via delish.com
This is not the regular pizza that we're used to eat, but this patty is definitely worth trying. These are the ingredients that you need 1 lb. ground beef, 3 cloves garlic, 2 tbsp. chopped fresh parsley, plus more for garnish, kosher salt, freshly ground black pepper, 1 tbsp. canola oil, 1 c. marinara, 1/4 c. butter, 4 slices white bread, 4 slices mozzarella and 1/2 c. pepperoni. This is a really easy patty recipe that everyone can prepare, and it takes only 30 minutes to be ready.
10. Fire Chicken with Cheese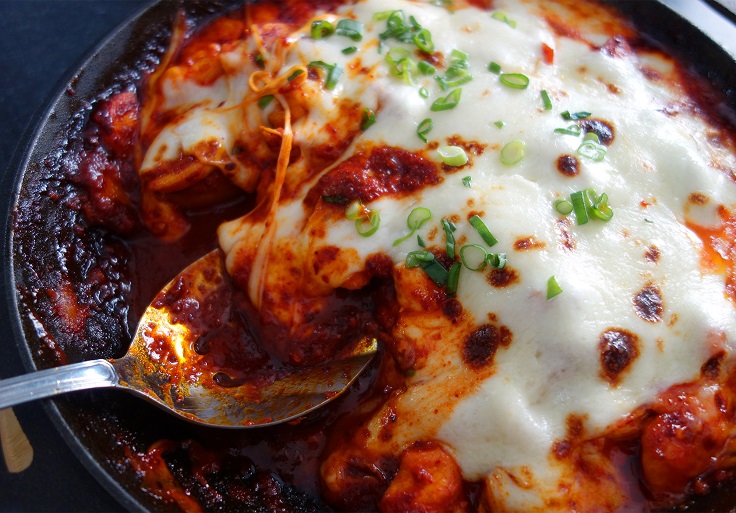 via maangchi.com
Another recipe from another cuisine beside the Italian is the fire chicken, or buldak as it is called in Korean. According to the original recipe you'll need a fire pit, but since most likely you don't have one, your oven will do the trick too! You need the following ingredients: 2 pounds of chicken breast, ½ cup hot pepper flakes, 2 to 3 tablespoons hot pepper paste, 1 tablespoon soy sauce, 3 tablespoons vegetable or corn oil, ½ teaspoon ground black pepper, ⅓ cup rice syrup (or corn syrup, sugar, honey), 6 large garlic cloves, 2 teaspoons ginger, minced, 1 pound mozzarella cheese (optional), 1 cup of sliced rice cake, 1 green onion and ¼ cup water.
SaveSave