We always seem to think about a small, deserted island to be the dream paradise to relax but also let's not forget the thousands of beautiful, small cottages throughout our world. There is something spectacular about them and seemingly looking like a watercolor painting.
They are usually very family orientated, boasting of green surroundings and escapism away from the hustle and bustle of the city center. One could argue that life started out this way and one would be correct.
It will be like going back to our roots liberated from the noise and a crowd of people. Known for its Britishness, take a lot at where else one could enjoy elsewhere in the world. They are fabulously scenic and beautiful.
Fantasy Cottage, Dorset, England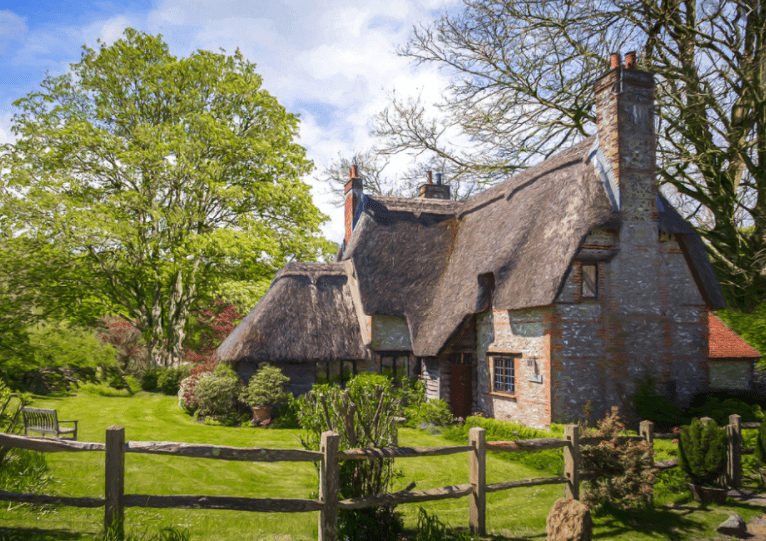 Photo credit to flickr.com
In the southwest of England is a charming and peaceful town called Dorset. It is bordered by the English Channel and the south Devon counties. On a sunny day, Dorset and its surroundings could be one of the UK's most prestigious areas being one of the most appreciated by the entire nation, and tourists alike. One could spend days after a day walking the area and contemplating which was the most beautiful, but in the end, those cottages are some of the most beautiful in the country also due to that bit more sun shining through including the blue waters from a short distance surrounded by greenery.
Tiny Victorian Cottage in the Catskills, New York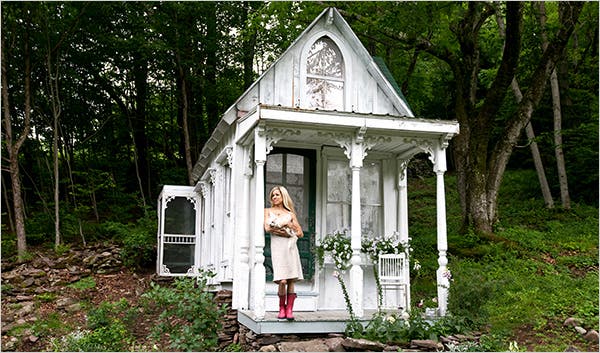 Photo credit to tinyhouseblog.com
If you are ever traveling to New York, the idea of passing by this cottage in the middle of nowhere might not be on the visit itinerary or your to-do list. However, if you have a love for these wonderful architectural beauties, then perhaps a little detour is definitely worth it. It is an amazing surprise of life to have this cottage in the middle of the Catskills. No matter. Ms. Foster, the proud owner, has her own shabby-chic retreat. It may not have a bathroom or a kitchen, but it is a dream of Victoriana with stacks of Limoges china with tiny rosebud patterns; chandeliers dripping crystal, and masses of tissue-paper garlands.
Tea Room Llanrwst Wales
Photo credit to flickr.com
Very possibly one of the most incredible cottages boasting in charms and so much so that one would wish to adopt this cottage never letting it go. Every inch of this country cottage is covered by Ivy. An absolutely spectacular view in our option especially moving towards autumn where one can witness the beautiful color change of deep orange, browns, yellows, and frankly, everything beautiful. It blends in charmingly within the surrounding landscape so if you ever wish to visit make sure to keep your eyes open!
Akebono Kodomo-no-mori Koen, Saitama, Japan
Photo credit to voiceofnature.tumblr.com
You would never have believed us therefore, it was an absolute must to include this for your eyes only. What an extraordinary find this in Saitama. Akebono Kodomo no Mori Koen is a "Moomin Valley" inspired park for children, consisting of a collection of very cute and adorable buildings, bridges, a treehouse, and a light-house in the center of a small pond. The main white house has live grass growing on the roof. The inside of the building has three floors, with elaborate, wooden staircases & a beautiful iron railing. It almost look s like Salvador Dali had spent some of his time in Japan and accidentally designing something the world was aware of.
Dome Home in Thailand
Photo credit to tinyhousepins.com
It is amazing what $9000 can do, in the space of just over 6 weeks. This was the dream of a certain Steve Areen, to have a cottage within the most sought out land in Thailand at the time. Globally made out of plaster, it was a reasonably simple structure to create and erect, not too dissimilar to the construction of an Igloo; minus the snow! It gets our votes for being daring and extravagant. The terracotta finish blends in perfectly with nature and is something that stands out from the crowd without much pretense. Peace is what Steve wished for, and peace he got.
Faerie Door Cottage, Wiltshire, UK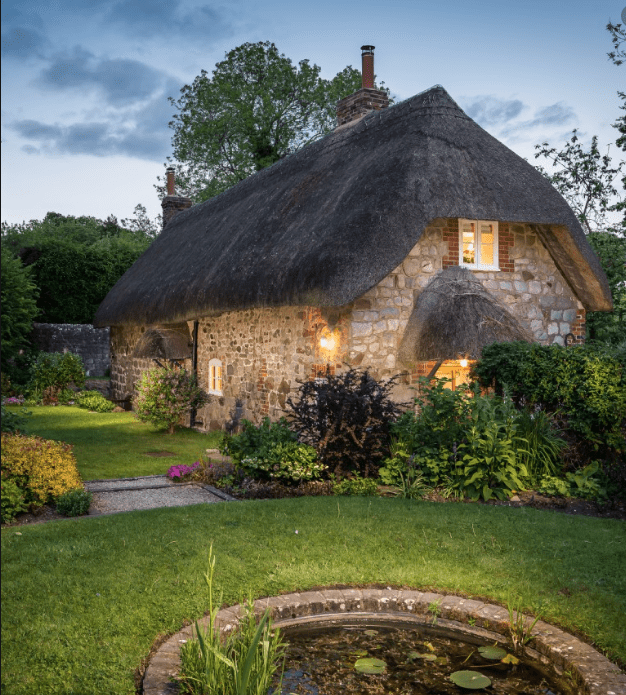 Photo credit to uniquehomestays.com
The quirky design of this 17th-century cottage is sure to charm. When winter casts its frosty spell, light the wood burners and let the atmospheric glow warm you from your toes up. In summer, open the door in the olde-worlde kitchen and let the fragrant country air float in. A rather large and luscious garden that is perfectly designed and looked after by what seems a professional landscape garden keeping things in place. It almost looks like a postcard that has very carefully been tweezer tailored.
Ireland Cottage
Photo credit to themommist.com
On a beautiful stretch of road, you might be lucky enough to accidentally pass this cottage while getting completely lost. This is a charming cottage in a rather peaceful area feeling like no one else is watching you or even near you. No neighbors in sight, no real passers-by, this looks like the ultimate relaxation you were after. A beautiful thatched roof with terracotta-colored chimineas takes these cottages to the next level.
Brittany Cottage, France
Photo credit to flickr.com
If you ever wanted to ever get away from it all and from everyone and everything, this looks to do the job just fine. We do not believe you'll meet anyone in a hurry on what seems like your very own floating island. It is sandwiched between two giant rocks that make you have a feeling of strength and security, all in a peaceful envelope protecting you from any undesired noise and people. To note also, the beautiful view from most rooms of the sea. A gem.
Cottage by the Stream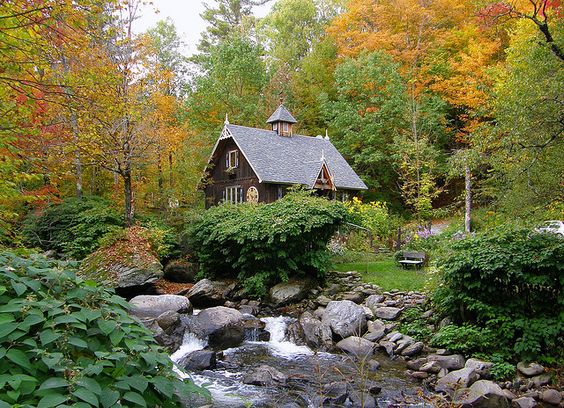 Photo credit to flickr.com
The idea of putting your wellie boots on, thick socks, and a rain jacket might not appeal to some, for nature lovers, nothing is better than a cottage allowing you just that, with your very own stream adjacent to your thatched home. In the middle of the forest, away from everyone, this seems to be good to be true especially nowadays. But we still get to find little hidden gems scattered around if we look hard enough. This is the living proof that secrecy can indeed be found.
Cottage Surrounded by Flowers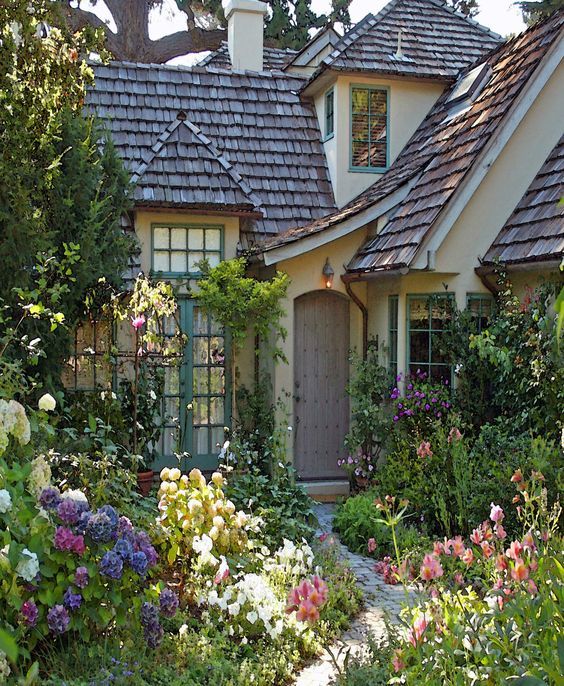 Photo credit to pinterest.fr
Whether a lover of flowers or not, one cannot help but look deep at this cottage wishing to be able to smell even 10% of the fragrance that must, surely must surround this beautiful cottage example. Set in an idyllic place on Earth, it is like the perfect retreat for some quiet alone moments reading the best available books and recharging the batteries. Even for a moment, thinking you are totally alone, with no one to have to speak to, no deadlines, no work, no worries…all that even momentarily must be bliss.