Tomato sauce is any of a very large number of sauces made primarily from tomatoes, usually to be served as part of a dish (rather than as a condiment). Tomato sauces are common for meat and vegetables, but they are perhaps best known as sauces for pasta dishes.
Tomatoes have a rich flavour, high liquid content, very soft flesh which breaks down easily, and the right composition to thicken into a sauce when they are cooked (without the need of thickeners such as roux). All of these qualities make them ideal for simple and appealing sauces. The simplest tomato sauces consist just of chopped tomato flesh cooked in a little olive oil and simmered until it loses its raw flavour, and seasoned with salt.
By adding tomato sauce in every kind of food (with chicken, fish, pasta or other vegetables), you triple the taste of your meal. Try these 10 succulent recipes with tomato sauce and you'll see what are we talk about.
Baked Spaghetti Pie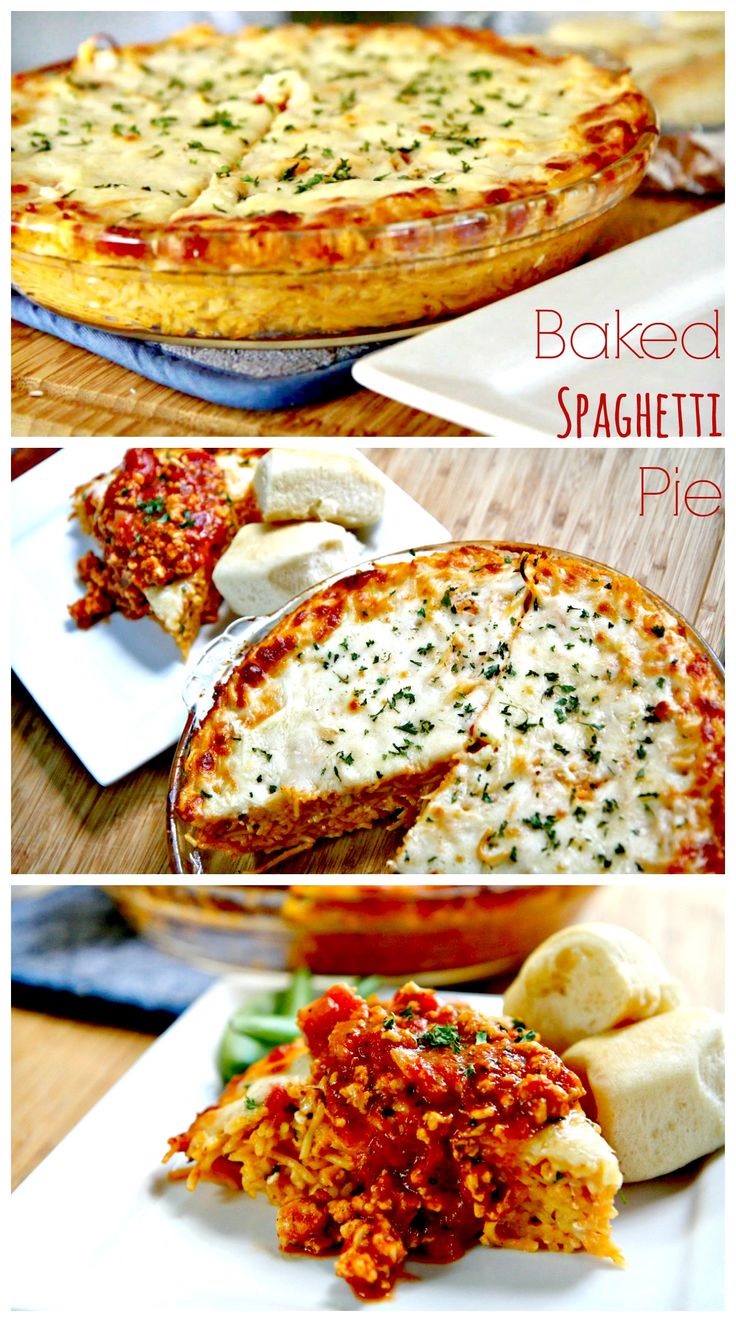 via ifood.tv
Baked spaghetti pie to the dinner rescue! Creamy, four cheese baked spaghetti topped with a home made spaghetti meat sauce. So easy to make and leftovers are just as good, if not better. Freezes well and definitely a family favourite in our home! Hope that you enjoy this just as much as we do!
Sauteed Mussels In Tomato Saffron Sauce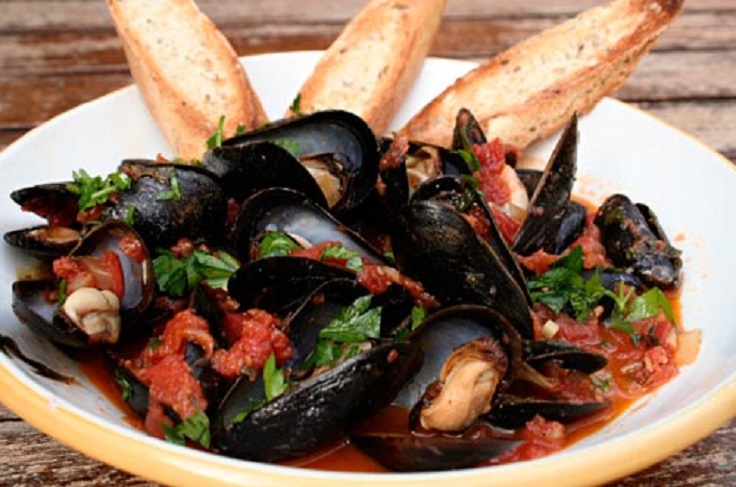 This recipe is so easy it is hard to believe it tastes so good! You can also use the tomato saffron base for clams, or a mix of clams and mussels. To ensure the best result, use the freshest mussels you can find. To clean, scrub under running water removing the "beards" or vegetation attached. Keep the mussels in a bowl in the fridge in a little water until you are ready to use them. Don't leave them in a closed plastic bag or they will die before you have a chance to cook them. You can serve this dish on grilled garlic bread, spooning the juices over the bread in a shallow bowl, or serve with a good crusty bread on the side.
Chicken With Cannellini Bean And Tomato Sauce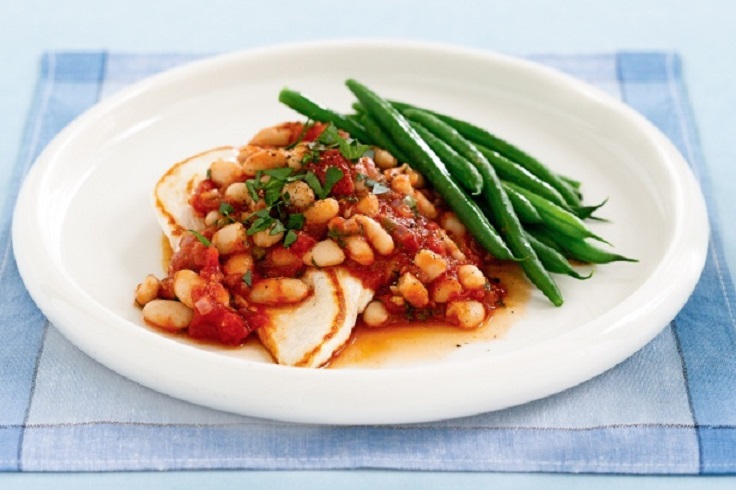 via taste.com.au
A budget-busting pantry staple, fibre-packed cannellini beans get a kick from salty capers and fiery chilli. We have to say that this is one of our all time favourite recipe!
Baked White Fish with Olives and Tomato Sauce
via jamieoliver.com
The most important thing to remember with this recipe is to buy good-quality fish from your local fishmonger or supermarket. The recipe we've given you here can be used with all sorts of dishes – we've shown you how to tweak it to go with fish, but you can try using it with anything from pasta to grilled chicken. If you want to save some time, double the quantities and freeze half of the sauce (it will keep for a couple of months), or pop it in the fridge for up to a week.
Turkey Meatballs with Spaghetti Squash in Tomato Sauce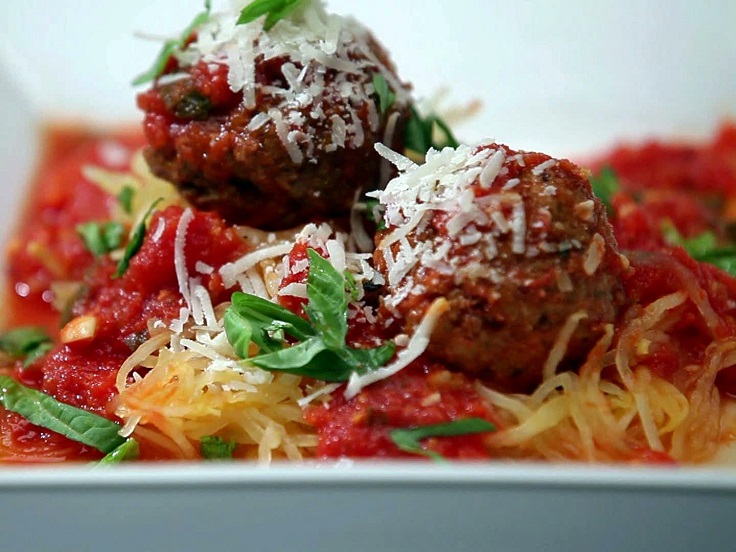 via foodnetwork.com
Halve the squash lengthwise and remove the seeds. Place on a baking sheet, cut-side up. Roast the squash until softened, 30 to 40 minutes depending on size. Heat a large, deep skillet over medium heat and add the olive oil. Saute the garlic and onions until translucent. Add the tomatoes and simmer on low heat, about 45 minutes. In a large bowl, combine the turkey, bread, milk, Parmesan, basil and parsley and mix well. Form into 2-inch meatballs. Heat a few tablespoons of vegetable oil in a deep skillet over medium-high heat. Pan-fry the meatballs until browned on all sides. Cook in batches if needed. Transfer the meatballs to the tomato sauce and simmer until cooked through. Using a fork, remove the squash flesh from the skin and stir the squash into the tomato sauce. Serve the squash topped with meatballs.
Poached Eggs in Tomato Sauce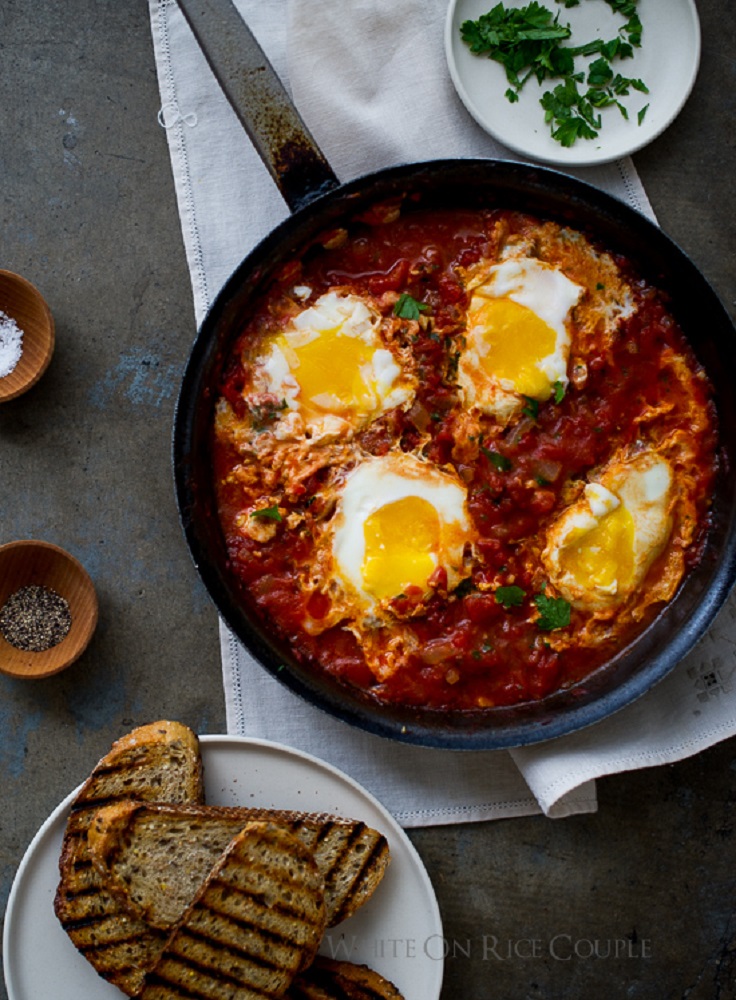 The important part is timing the egg so that it becomes the poached texture that you like. Walk away from the stove for too long to check email, and what you will have is a firm, boiled-like, yolk center. Become too impatient and turn off the heat too soon and you'll get egg whites that are too runny. So make it a few times to get a feel for how long it takes to make your poached eggs perfect.
Greek Stuffed Zucchini with Rice, Kalamata Olives Tomato Sauce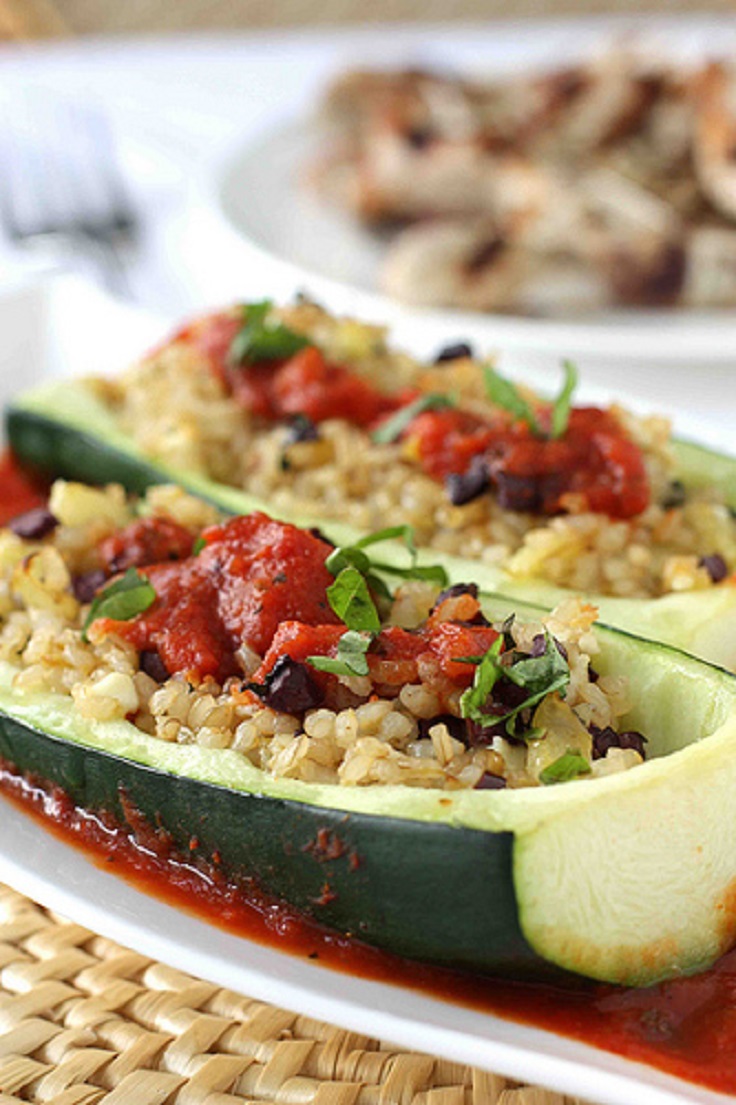 via cookincanuck.com
This version of stuffed zucchini is purely vegetarian and functions well as a side dish. However, it could easily be made into an entree with the addition of beans, sausage, or ground turkey or beef. The use of brown rice in the stuffing increases the fiber count and health benefits of the dish. The rice is flavoured with sauteed garlic, feta cheese, dried chile flakes, fresh mint and basil, and chopped kalamata olives to produce a stuffing that is savory with a kick.
Creamy Tomato and White Wine Gnocchi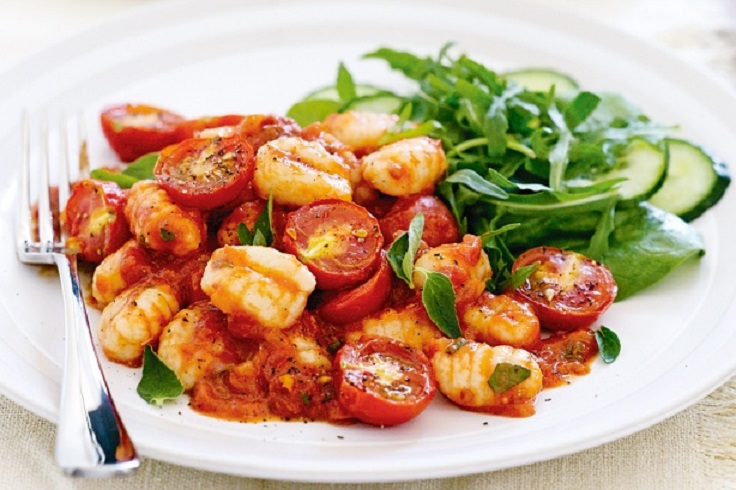 via taste.com.au
Make Basic tomato sauce, adding wine at end. Simmer for 2 minutes or until slightly reduced. Continue from step. Add cream and half the tomatoes for the last 5 minutes of cooking time. Replace basil with oregano. Serve with gnocchi and salad, topped with remaining tomato.
Collard Rolls in a Spicy Tomato Sauce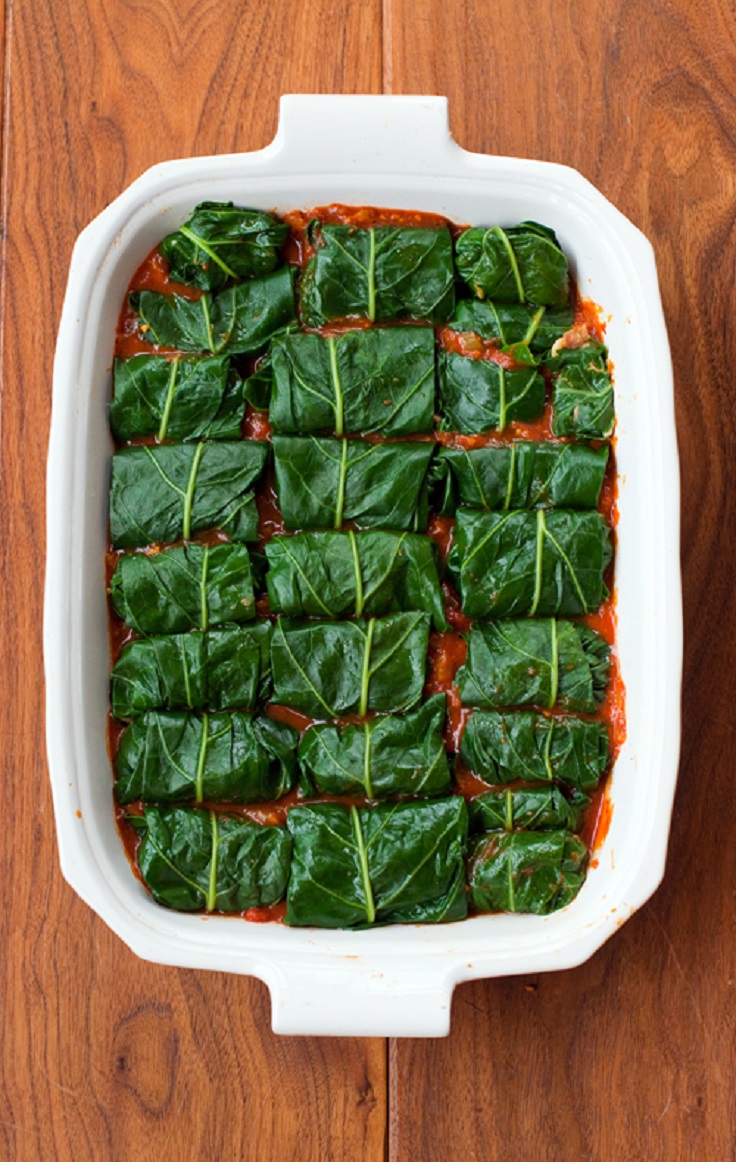 via phoo-d.com
To prepare the collard greens for rolling, you simply take thin knife and shave down part of the thick stem and then blanch the leaves in water for a few minutes. Then they are ready for a savoury stuffing of meaty beans, cooked brown rice, crunchy slivered almonds and sweet golden raisins.
Spinach Manicotti with Tomato Cream Sauce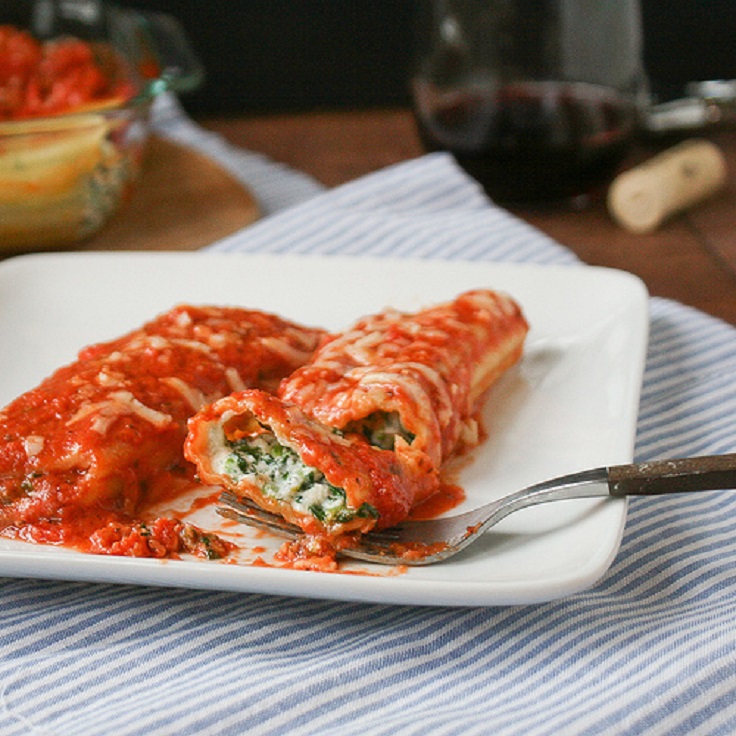 This dish is pretty awesome. We love the subtle lemon zesty flavour. We are a little weirded out by frozen spinach so we substituted 6 cups of fresh greens in place of the 10 oz of frozen spinach. We steamed about 3 cups kale and 3 cups spinach, squeezed all the liquid out, chopped them and seasoned with salt and pepper.