Follow the latest trends in the nail world, and always be in style! They maybe change every season, but we guarantee you that this winter all of them are gorgeous! They give you space to experiment, express yourself and change the looks as you please, and while doing that you will be following the trends too. It is important for every lady to maintain her nails in perfect form, doing manicures and caring about their health. But, it is always a plus to have a great polish and wear the color that suits you the most, and which will be also a trendy one.
SEE ALSO: Top 10 Red Nails Designs
This 10 ideas that we collected for you are the best ones for this winter 2014/2015. The cold weather can be depressing sometimes, but it is always a great idea to put life and vibrant colors to your hands. We hope you like this new trends, and feel free to tell us your thought about them!
Golden Nails
The gold color is back on the spotlight and it is determined to stay here for a while. There are many shades that you can choose, and they will all look great.
Monochromatic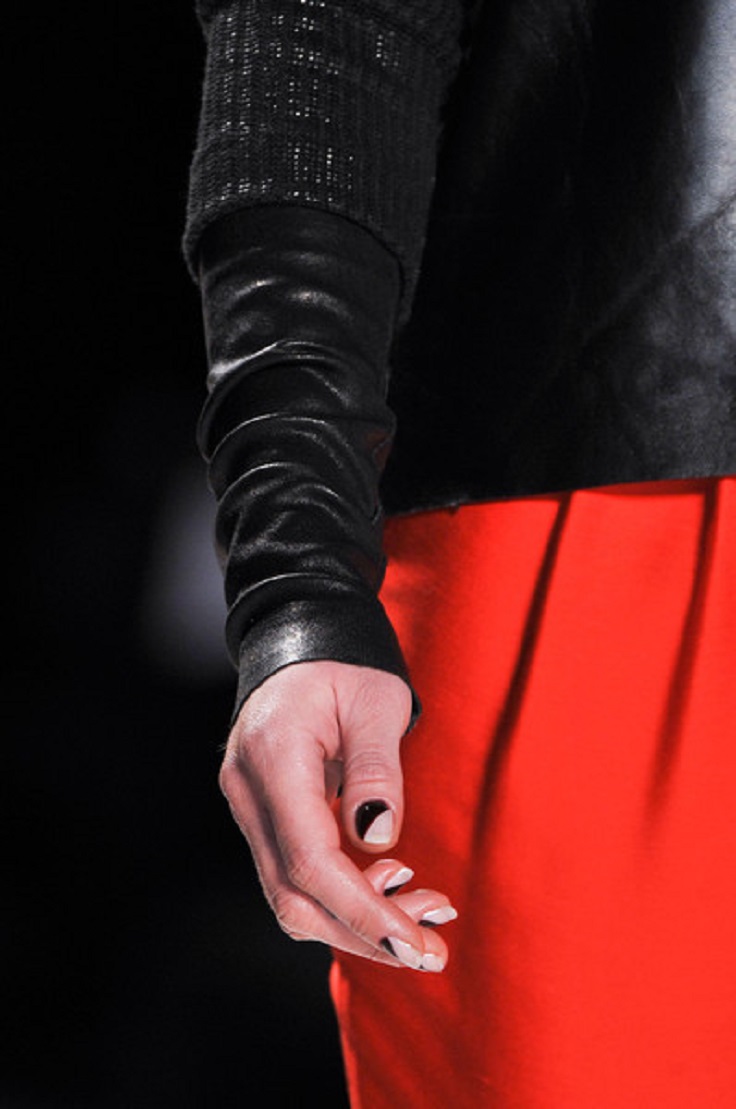 The monochromatic nails are look that you can pull out in every occasion, and the black and white combination will suit almost everything you wear from clothing.
Stripes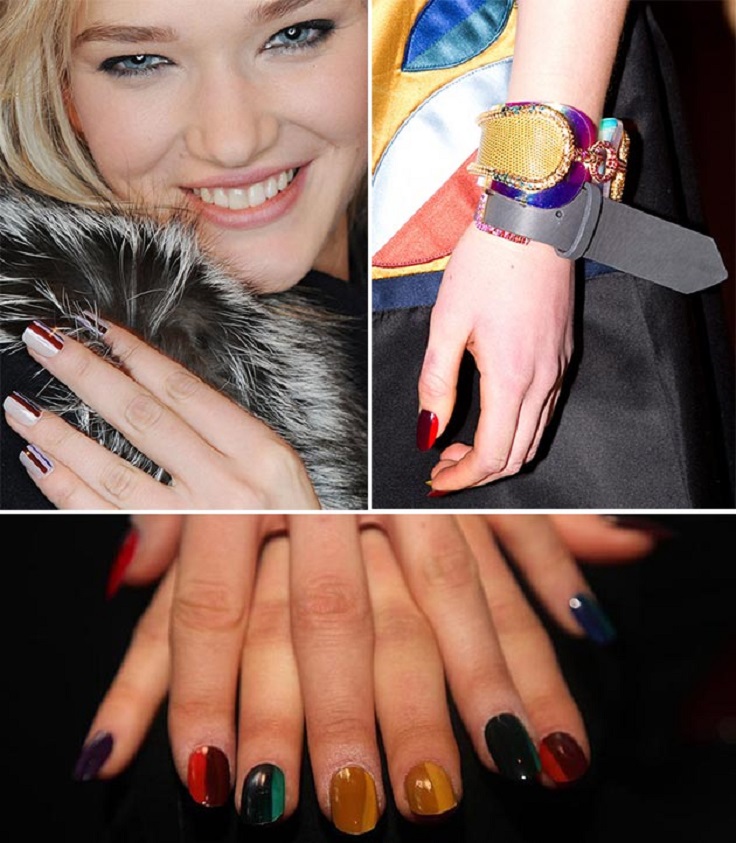 via fashionisers.com
The stripes are fun way to let your imagination work and to use all the colors you would like to have on your nails. Make them how you want, horizontal, vertical, tick or thin, it is all up to you.
Metallic Shades
Feel free to use every metallic shade you can find. They are trendy and look glamorous. You can add details if you want, or you can leave them as they are, simple but impressive.
Glittery Nails
via topteny.com
For all of you that like sparkles, glitter and shimmery nails, this are great news. You can exaggerate with the sparkles how ever how much you want. No one will judge you, and be sure that your nails will be in the center of attention.
Matching Colors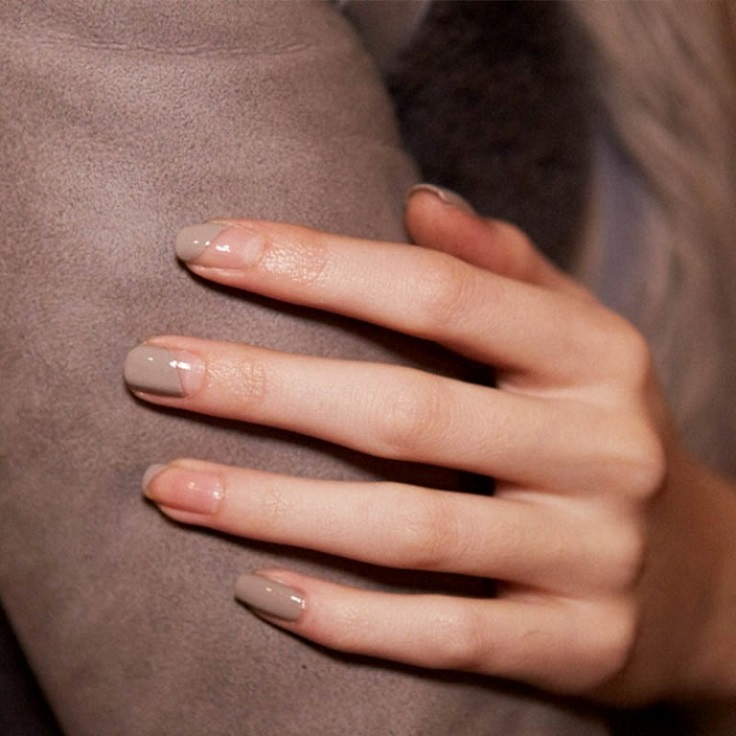 via likeswagon.com
This season you can feel free to match your colors, choose lipstick color as same as your nail polish, or make your nails the same shade as your boots, handbag, coat, or what ever detail you are wearing.
Moon Shape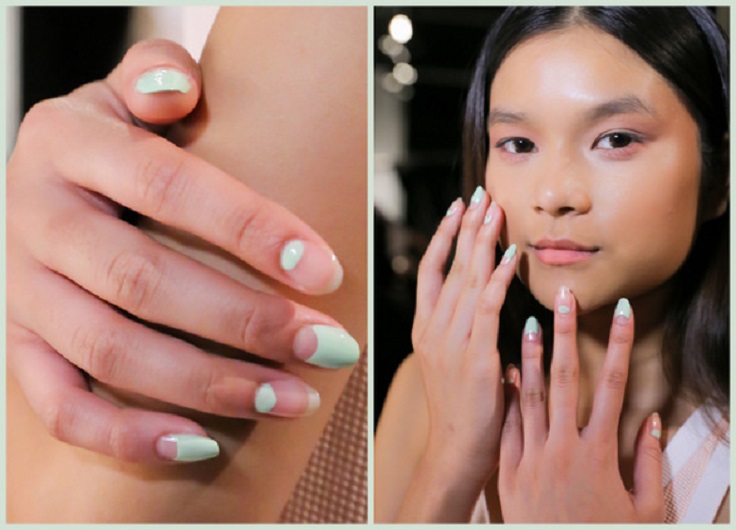 The moon shape is irresistible and if you are fan of it too, you should know that it is your time to wear it! There are million ways to experiment with it, so just go with the flow and work your magic on your nails.
Natural Nails
via fashionisers.com
If you like to be simple and still have manicured nails, choose this natural look. Nude, neutral tones, or only a base coat will be enough. You can add little detail if you want, but it is all up to you and your taste.
Lace Nails
via nsmbl.com
Ladies, you can now have the magic that the lace brings on your nails! You won't go wrong if you choose this look, because it is so mysterious, seductive and enchanting at the same time.
Bordeaux Nails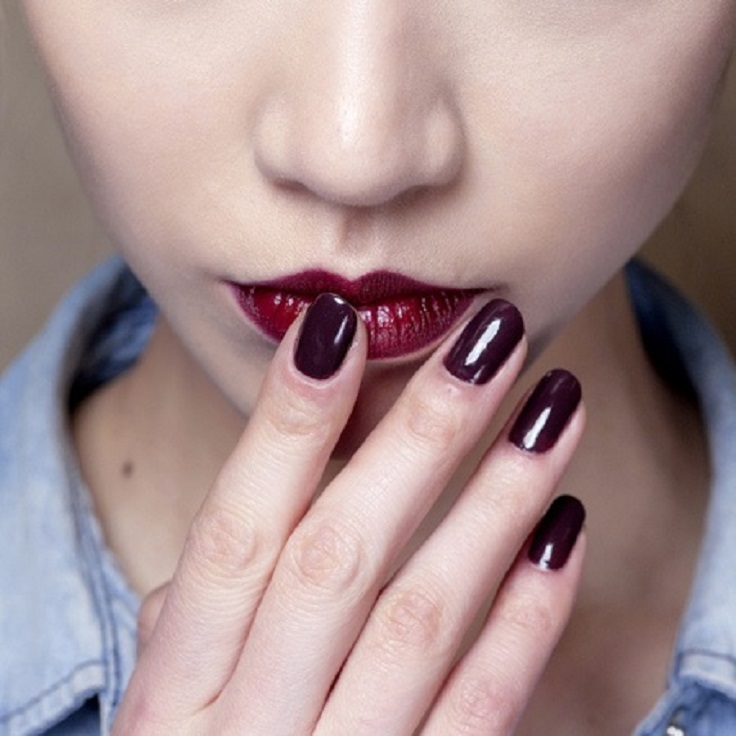 You can wear all the darker colors, and every shade of red that you like, burgundy, bordeaux, maroon, and all of the other warm tones that are perfect for winter.