As a flower lover, you probably own a lot of them and you're aware of the fact that they are making your home a better and happier place. But it doesn't matter how beautiful and colorful your flowers are if you don't have an appropriate way to display them.
That's why you need some wonderful flower pots which will embellish your plants and will be a great decoration for your house at the same time. So, instead of buying flower pots you can always reuse your old ones and make them look like they're completely new.
We've gathered 10 original DIY ideas for making amazing, flower houses. Check them out!
DIY Pretty Lace Flower Pot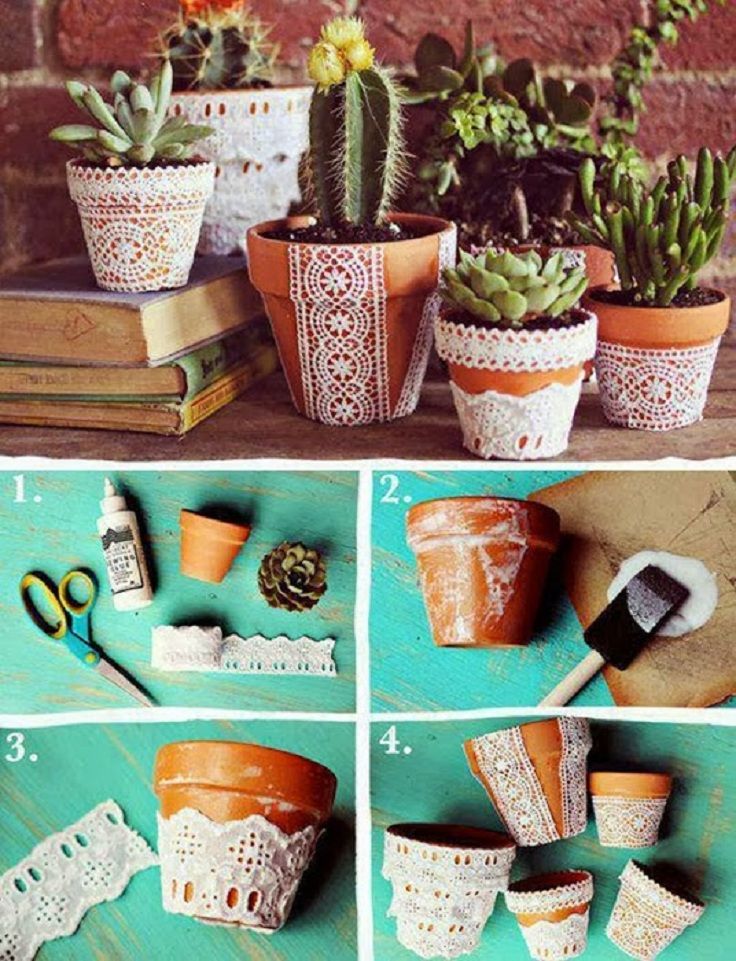 DIY Tutorial via abeautifulmess.com
The lace fabric is something most could find at their grandparent's home, on the mantelpiece or table or, anywhere for that matter. This used to be the cool thing to have. Perhaps not nowadays, unless you are trying to have a grandma look within your home however, on a flower pot it is another story. Actually looks really rather lovely! Something a little Spanish about it or Latin Marian so to speak. A great way to make a box standard cheapish pot look rather sexy. Have 3 or 4 different size pots for the best effect all of which different sizes within a similar shape to keep the continuity.
Chalk Board Flower Pot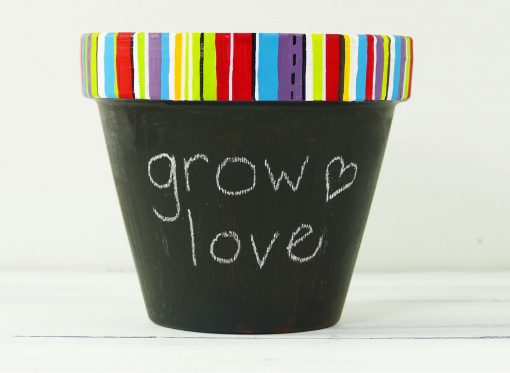 DIY Tutorial via jennifermaker.com
All you'd need for this is a little black chalkboard paint, paintbrush, and an artistic flair ranging from basic to not so basic. It is all about taking a very simple product and turning it into a personalized item you will cherish forever. Even as a gift, this is a great way, while looking after the pennies, to offer a plant to someone you cherish. And not a lot more means more than to DIY something yourself for a loved one. Write a few beautiful words before gifting, or simply put down the name of the flower or plant to remind you of what your creation was.
DIY Creative Flower Pot
via pinterest.com
If you have invested in plastic clothes pegs as the wooden ones started to loosen up a little, then you have plenty on your hand. So what to do? There you are, a really nice idea to spruce up a plastic unloved pot into something that actually will light up the living area it will be within. You could paint the pegs to any color you might want, or put a little varnish on them depending on what decor you have in your home if they are looking a little tired. Otherwise, leave them natural to welcome nature into your home.
Glass Jar Flower Pot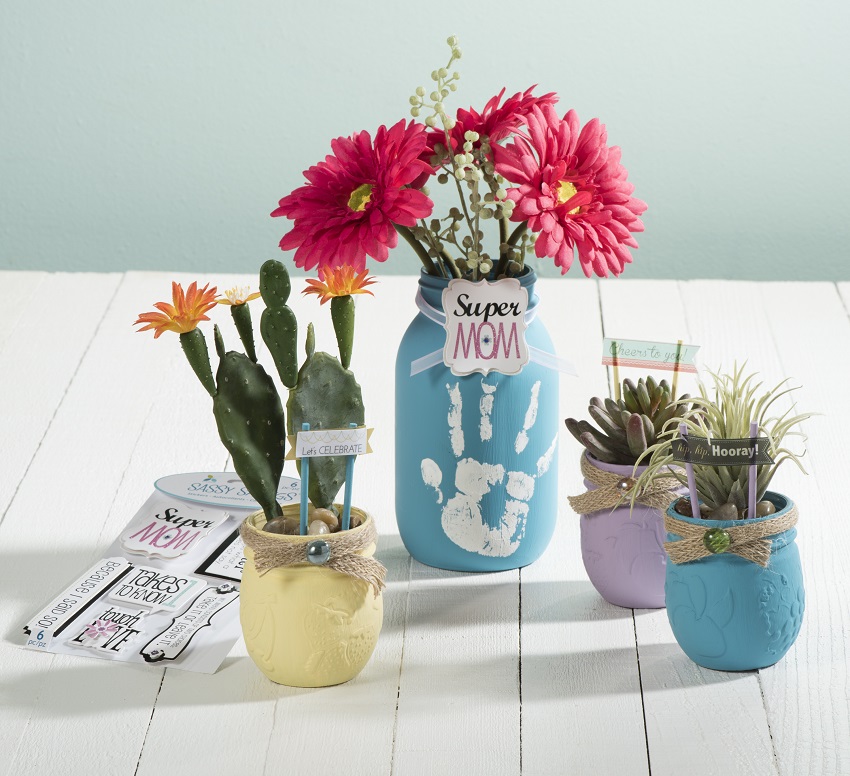 DIY Tutorial via craftwarehouse.com
Do you have someone in your household that has an almost fetish for glass jars and love them beyond anything else in the world? Is your kitchen overflowing with glass jars used for everything from seed containers, to keeping teas or even cutlery? And perhaps you have an entire draw left with dozens awaiting a makeover? Well, you are in luck! Not only is this recycling and saving the pennies, but also something that looks great in any room.
DIY Inspirational Flower Pot Project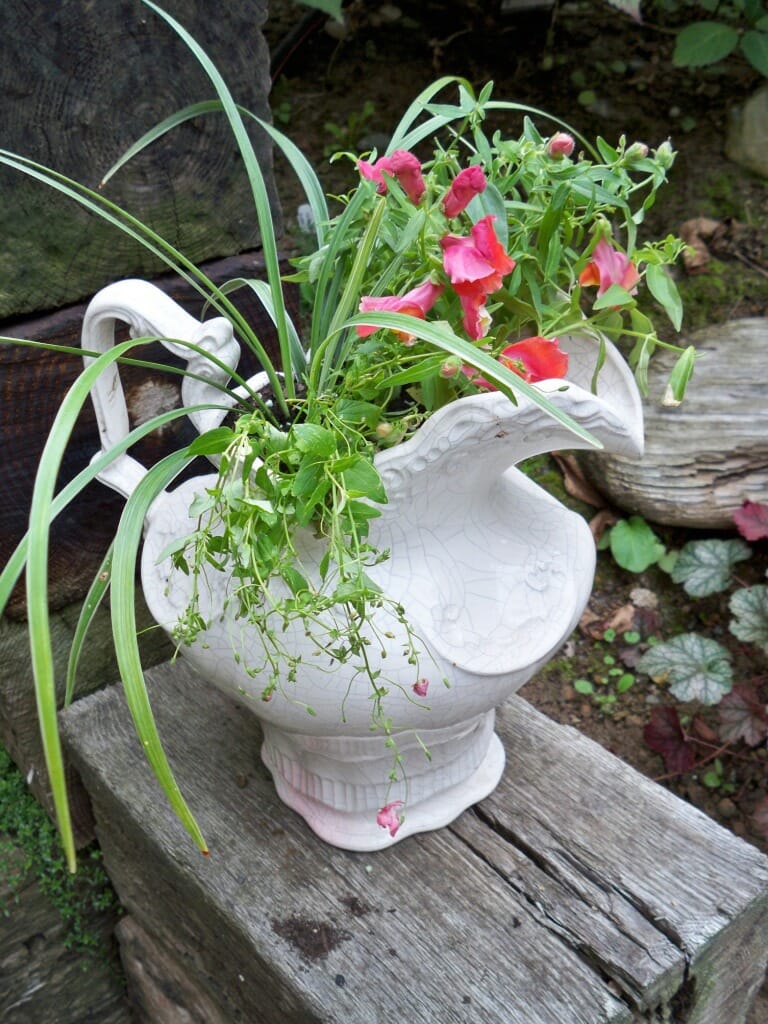 DIY Tutorial via themicrogardener.com
This is going out of the box a little and is taking everyday utensils that might no longer work well, or are simply tired and rusted up after so many years of work. But why throw away something that can be used in second life? And look superb too? Millions and millions of containers are thrown away daily in the world making it worse by the second. So why not become a little more ecologic, have fun in the process, and have a part in saving the planet? Follow these simple ideas that you would simply love.
DIY Metallic Graphic Pots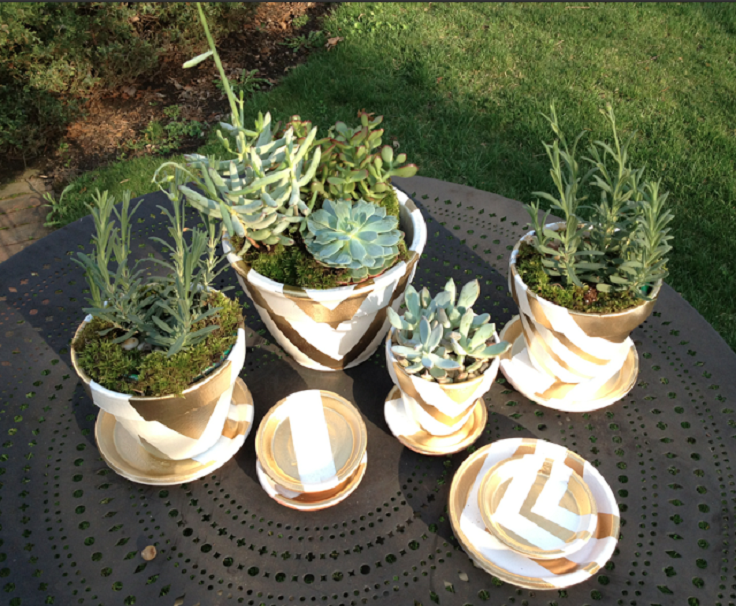 DIY Tutorial via delightbydesign.blogspot.com
Terracotta is lovely if you own a city apartment and wish to have a little more natural elements but what about if you have a rural home and wish to have a little more city living lifestyle within the home? Little touches here and there? Why not try metallic paint on some of your flower and plant pots giving them a fresh touch of today. Revitalize the old-looking pots and add a little sophistication to your environment. You can achieve something similar by using different colored metallic paints and you would be very, very surprised indeed by the difference. You'd be thinking, what can I paint next!
DIY Fabric-Covered Flower Pots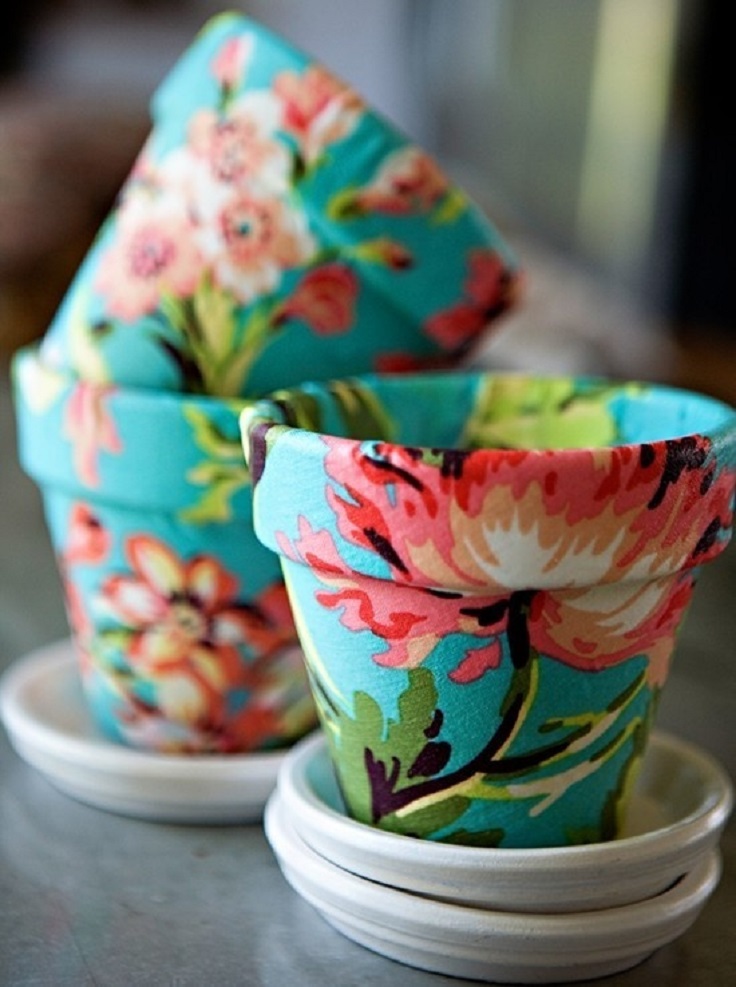 DIY Tutorial via littletreevintage.com
If you are a fan of white walls and swear by them, you might wish to spruce the rooms up with color from another source. Then, details count extraordinarily. Cardigans are nice but let's face it, some of us might have time left before retirement. So, if you are a cardigan hoarder or any other clothes that you might have cherished for half of your life if not more, time to revamp them, and time to love them again. Cut them to size within your plant pot. You would be amazed at the difference it will make to your home environment. A clever idea that will keep you busy with a project.
Polka-Dotted Tiered Planters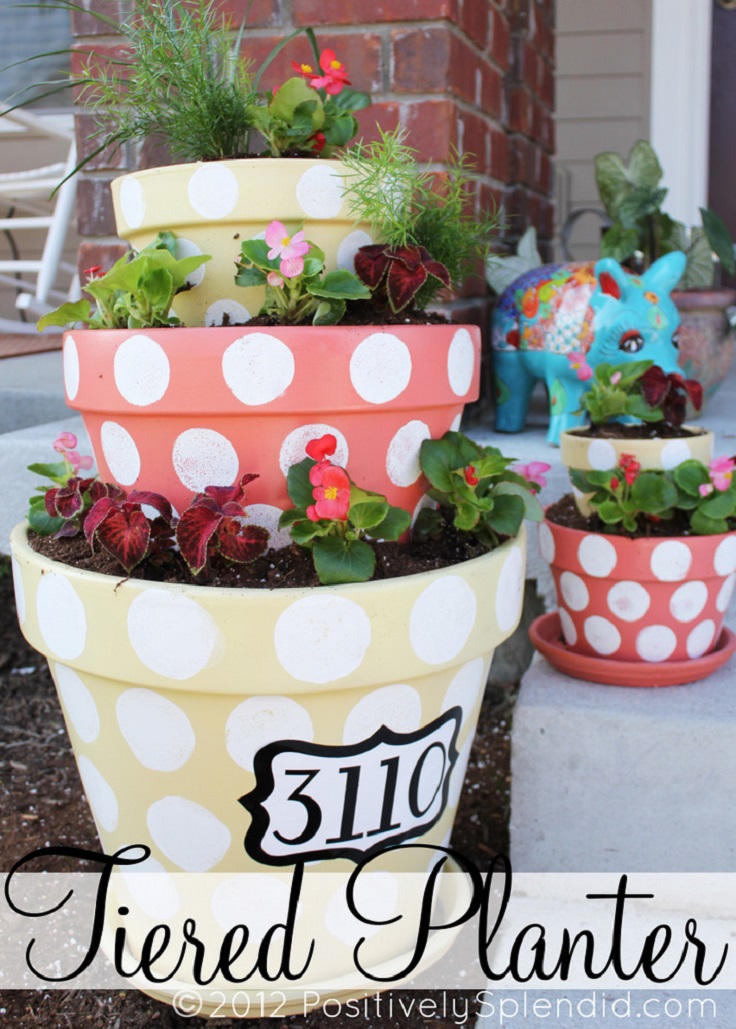 DIY Tutorial via positivelysplendid.com
Dots were such a thing in the 60s and they are coming back with a vengeance! Give your planters another lease of life by giving them a 60 makeover in 2021! Super eye-catching and something that will be part of making your same old home look refreshed. Get within a theme color and do not be afraid to use bright colors for this. It's all about the small things, having a big impact. You would want to see them from a distance and not within the background. Front line!
Wonderful Flower Pots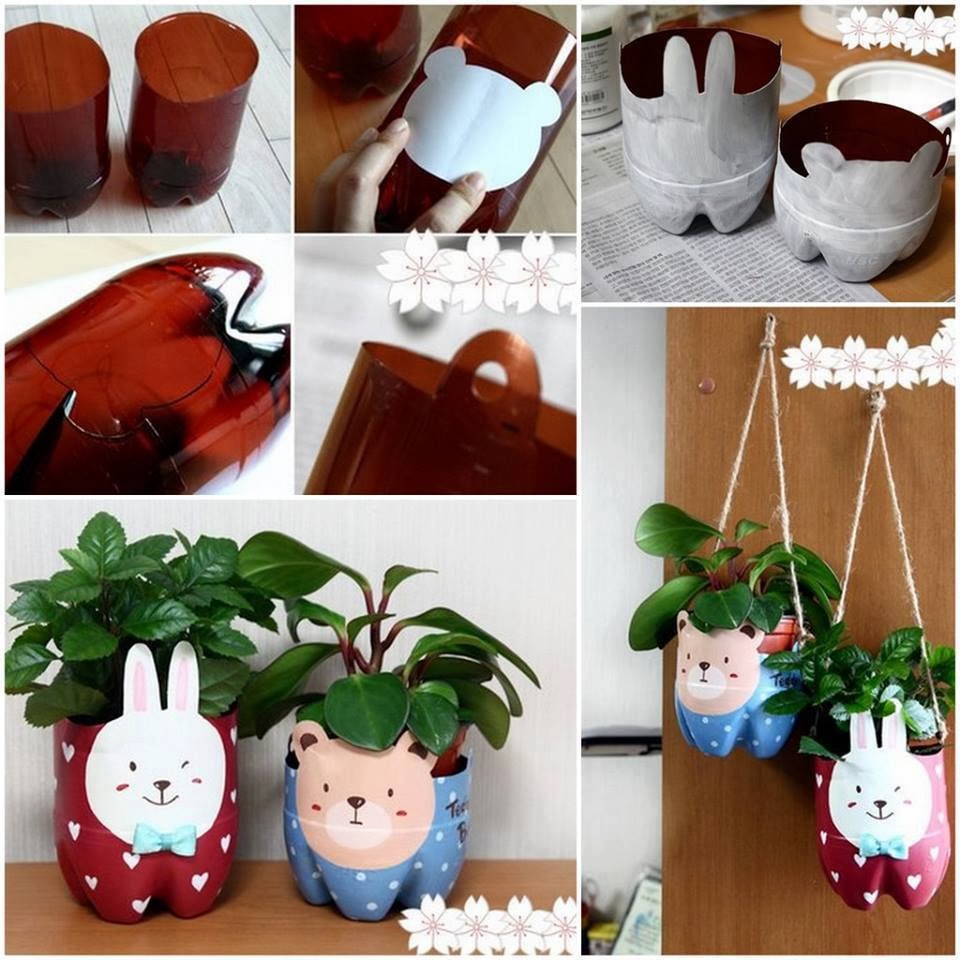 DIY Tutorial via colourmyliving.com
So, the kids have adopted your tablet, the computer, the laptop, and the PS4 and maybe your phone too, watching "educational" nonsense on them? Wish they could do something a little more, interactive? Well, this should occupy them well enough for an hour or so before they become bored again. This is a great way to recycle and to teach the importance of recycling while being creative. It will also be a great way to spend time with your children and get talking.
Wood Sticks Flower Pot Tutorial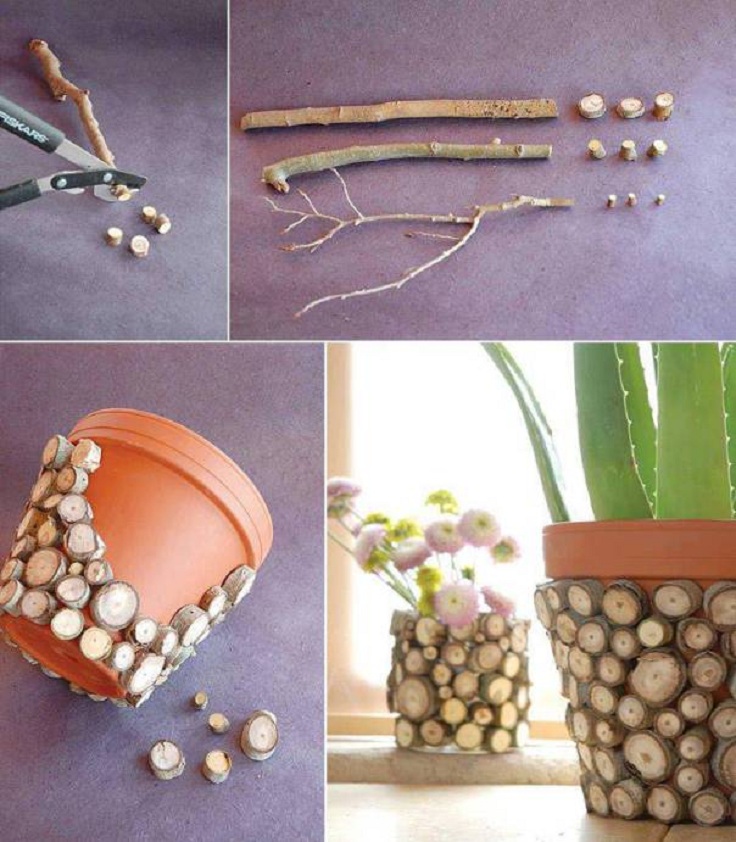 DIY Tutorial via xenianova.wordpress.com
Visited a forest and wished to take home a little memory from your lovely walk? Or have you had enough to clear away dead fallen branches from your garden? Why not use them to your advantage and plan a day of arts and crafts. Again, this is all about taking something really boring and making it into something a little more interesting. You can buy these things for a rather lot of money for what it actually is, so why not make it yourself?