There is absolutely nothing more spectacular, exciting and fascinating than the Oscar's red carpet, and there is nothing more prestigious and esteemed than the Academy Award. The 88 annual Academy Awards kicked of on Sunday in LA and before a single golden Oscar statuette was handed out, all eyes were on the red carpet for a thrilling parade of unforgettable dresses. Plenty of celebrities shined in custom made gowns at the 2016 Academy Awards. Bold lips, updos and simple hairstyles dominated the precious and wonderfully blinging red carpet. From Alicia Vikander to Charlize Theron take a look at every stunning arrival from the Oscar's red carpet, where the fashion magic always happen. And when it comes to dresses, this year the Oscar totally goes to the white gowns!
1. Olivia Wilde
via dailycaller.com
Olivia Wild delivered a serious cleavage on Oscar's red carpet. She totally looked stunning in this beautifully constructed dress by Valentino Haute Couture. She completed her Grecian look with glittering choker and pearl-encrusted clutch. Fantastic!
2. Priyanka Chopra
via usmagazine.com
Priyanka absolutely killed it on Sunday night in white strapless gown by Zuhair Murad Couture. She looked angelic in this white dress embroidered with shimmering leaves and blossoms which showed off her flawless and fantastic figure.
3. Charlize Theron
via nytimes.com
All eyes were absolutely on Charlize Theron and her striking dress by Christian Dior. She was all about sex appeal in this ultra sexy creation which highlighted her incredible curves. She completed her look with $3.7 million worth of Harry Winston Diamonds.
4. Naomi Watts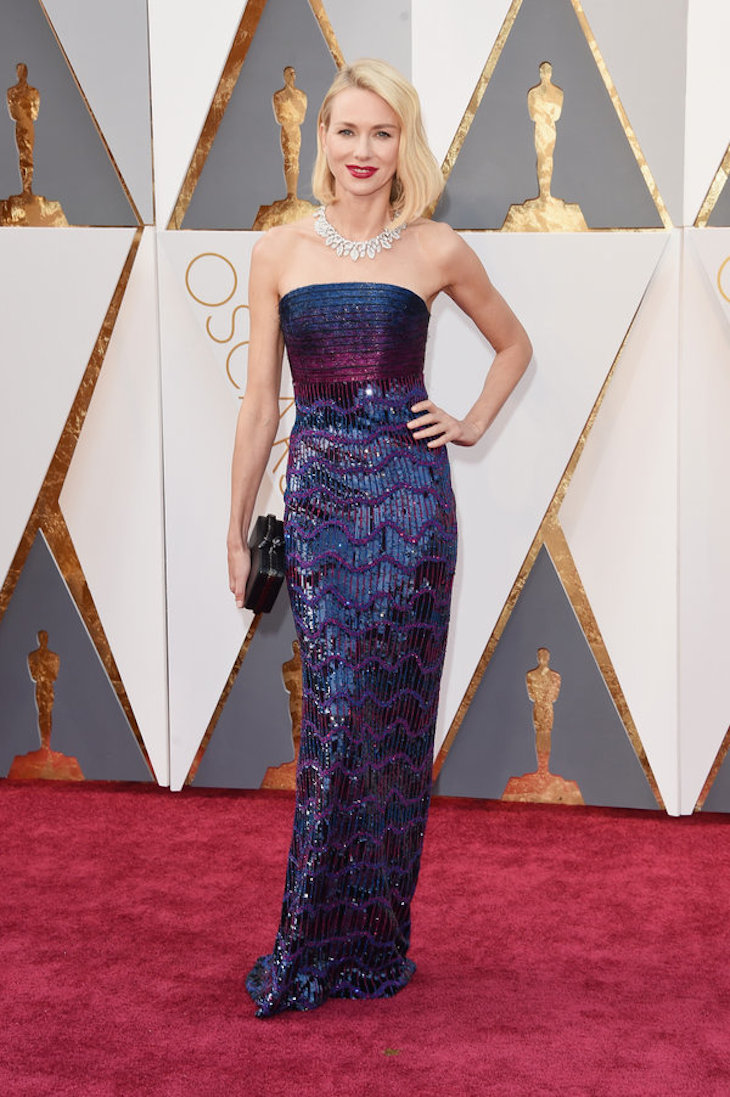 When it comes to dressing for the red carpet, Naomi can't do wrong! The Australian actress was definitely stunning in this purple strapless dress by Armani Prive which definitely proves that mermaids actually exist. She completed her look with eye-catching Bulgari neckless.
5. Alicia Vikander
via footwearnews.com
And the winner is here! Alicia Vikander has won the Oscar for Best Supporting Actress for her role in the  "Danish Girl". The beautiful actress wowed at the red carpet in yellow custom made gown by Louis Vuitton. She completed her brilliant look with silver sandals and long diamond earrings.
6. Margot Robbie
via justjared.com
Golden girl Margot was stunning in a plunging snakeskin dress by Tom Ford. The wolf of wall street star tottaly led the glamour on the Hollywood red carpet. She completed her look with Forevermark jewelry and absolutely stole the ceremony.
7. Brie Larson
via footwearnews.com
Brie Larson has won the Oscar for Best Leading Actress for her role in the "Room". The young actress was looking fabulous in a custom Gucci blue silk gown with a cascading ruffle skirt, featuring a crystal and pearl embroidered belt. She completed her look with simple diamond earrings and was totally flawless.
8. Saoirse Ronan
via stylenews.peoplestylewatch.com
Saoirse Ronan was looking glamorous in this shimmering emerald gown by Calvin Klein. Her daring dress it was fantastic from the side as much as it from the backside and her curves looked incredible in it. The Irish girl completed her look with the same color earrings.
9. Rooney Mara
The actress arrived on the Oscars red carpet in a sheer white gown by Givenchy Haute Coture. The 30 year old actress was definitely a wonder in this lacy and elegant dress. No doubt she turned heads at the Dolby Theater in Hollywood!
10. Chrissy Teigen
The 30 year old pregnant beauty was looking fabulous in red beaded dress by Marchesa. She was absolutely turning heads in this embellished and flesh toned dress as she arrived at the Oscars red carpet. Wonderful Oscars belly!