Dressing yourself like a street style star isn't difficult. Besides having your own style, sometimes it's all about following the trends and one of the most popular at the moment is the gingham style.
Many don't like it because it reminds them of a table cloth, but the fashion world is never afraid of pushing the limits and experimenting with different styles. The gingham looks amazing and there are many ways that you can wear it. Below you will find our ten favorite outfits including the gingham, so scroll along for more inspiration.
1. Gingham with Bold Detail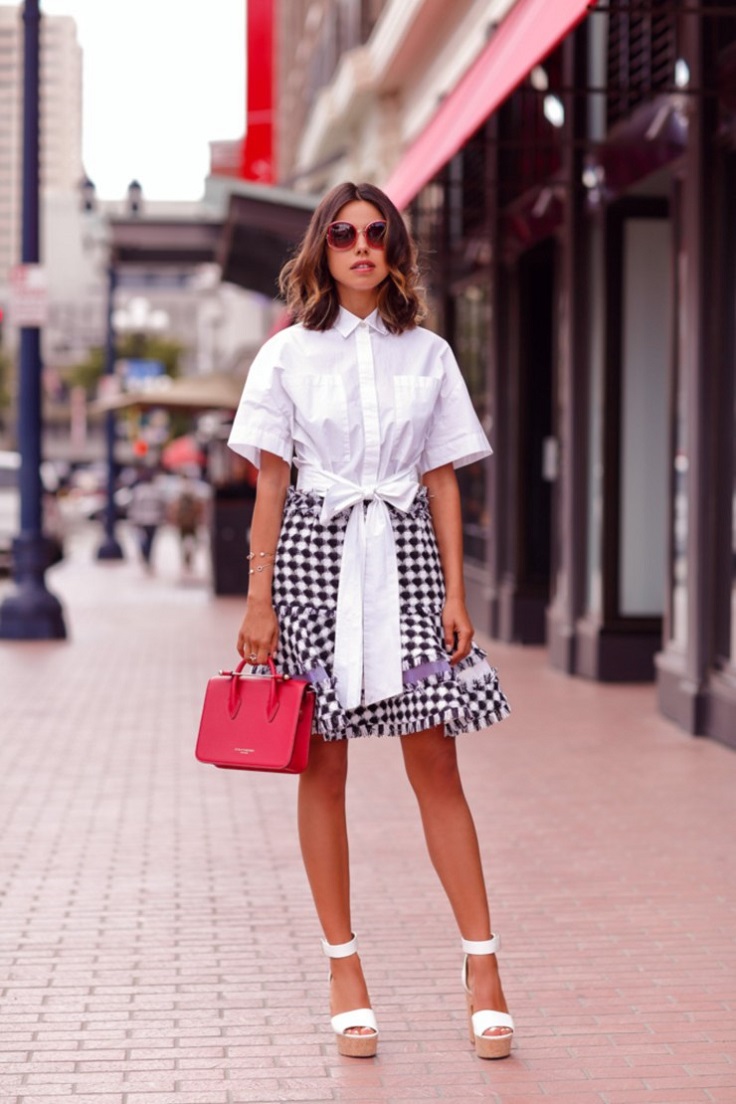 via stylesweekly.com
Our first reaction to this outfit was simply "wow". There isn't at least one thing that we didn't like here, in fact, we're in love with every little detail and more. This kind of outfit is exactly the one that make us feel more confident and gives us those vibes that we can achieve anything we want! Don't forget the details here – a little shoulder bag would fit perfect.
2. Little Gingham Dress
via gurl.com
Nothing can replace the little black dress, but we can find a good alternative to it at least. Since gingham is the super trend this season, you can give the little black dress some rest and wear some gingham more. This kind of dress goes with heels, sandals, flat shoes, Converse – whatever you like. It can be both casual or fancy, according to your style.
3. Summer – Inspired Gingham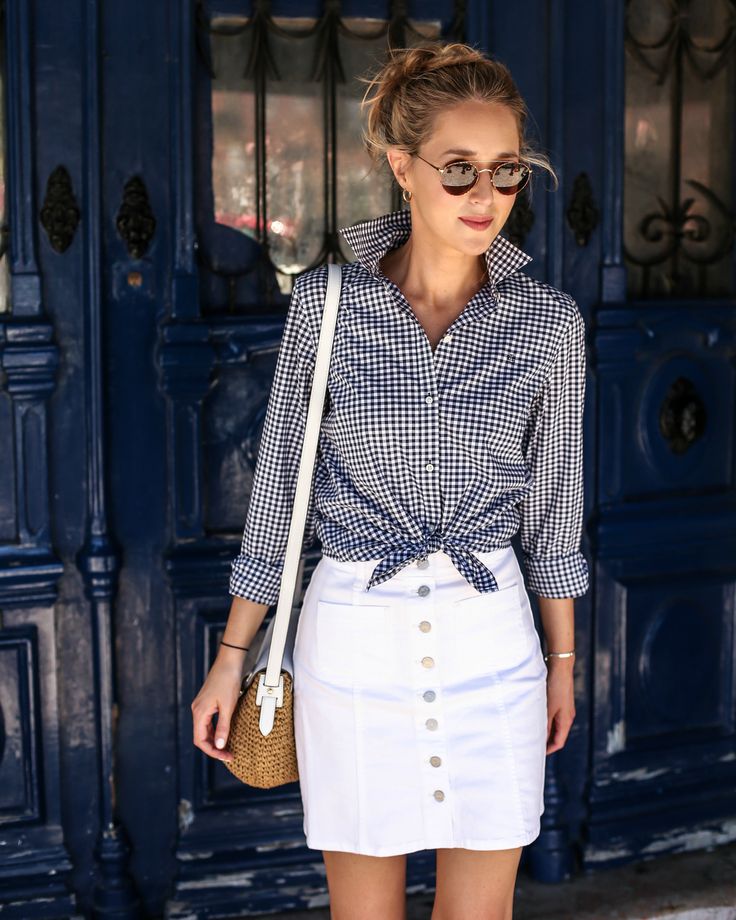 via memorandum.com
Summer is still here, so why not dress in the most possible summer way? Get yourself a gingham blouse, tie a knot and wear a white skirt. Your best accessory would be a killer pair of sunglasses and maybe a messy bun or other boho hairstyles. This kind of shirt with knot would go perfect with jeans as well.
4. Off-the-Shoulder Gingham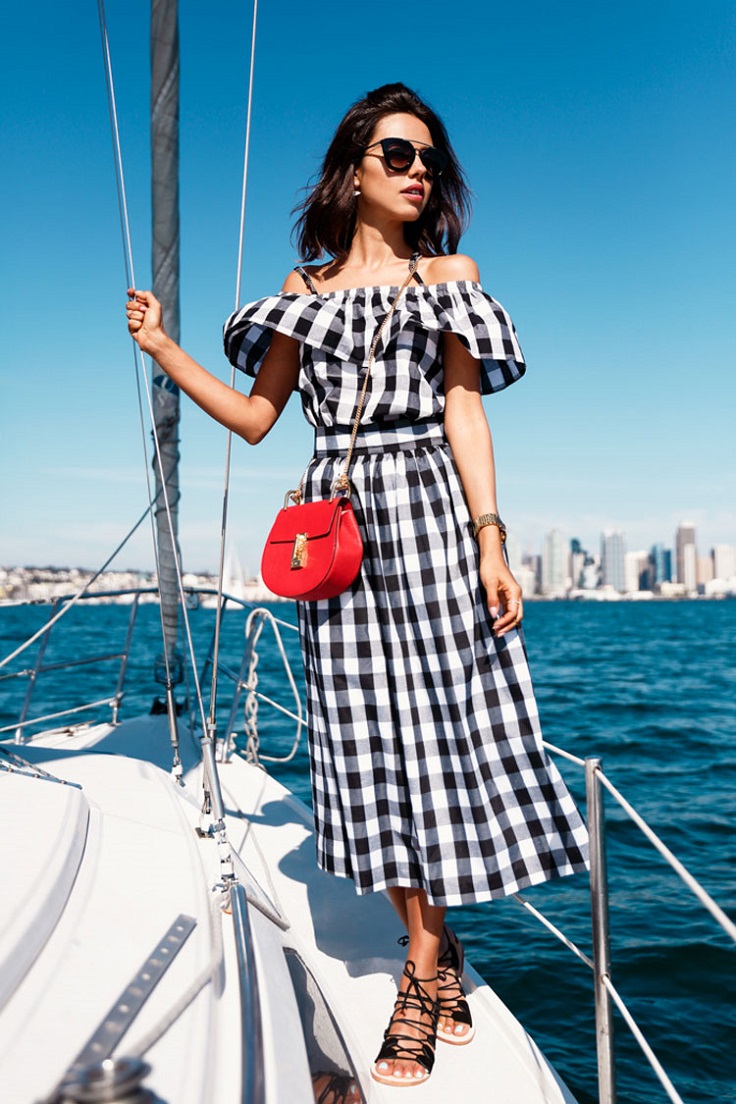 Off the shoulder is such a huge trend this year. You can find them in every single store and in so many different colors and textures. When it's beach time, you certainly don't want to wear too many clothes on you because of the heat, so wearing a light material on you is ideal. If you want a dress, then get yourself a gingham dress – if it's off the shoulder, even better.
5. 1950's Gingham
The 1950's is an era that still influences the way we dress today. There is always some piece of clothing that is inspired by this decade and there's a reason why it keeps going on like that. The 1950's were all about being feminine and stylish. Mini skirts weren't a thing back then, but over the knee skirts were such a trend – and still are even today. If you want to dress like a 1950's girl-next-door, here's your ideal outfit.
6. Mini Gingham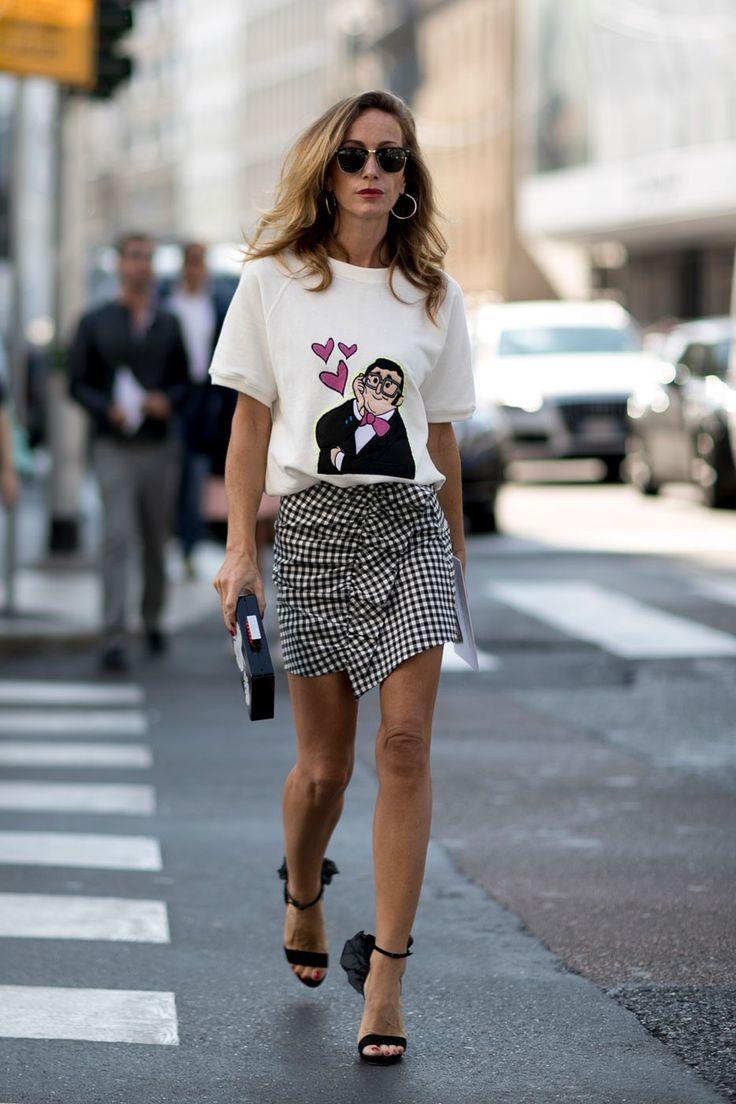 via wgsn.com
Feel like you want to show off your legs in a nice mini skirt? We feel you. Especially during summer when there are so many skirts to choose from and let's not forget how hot the weather can get, this piece of clothing is such a classic. Even though the main star here would be the mini denim skirt, here's how good the gingham will look as well. With a cool graphic shirt and a sexy pair of high heels, you're ready to go!
7. Gingham Casual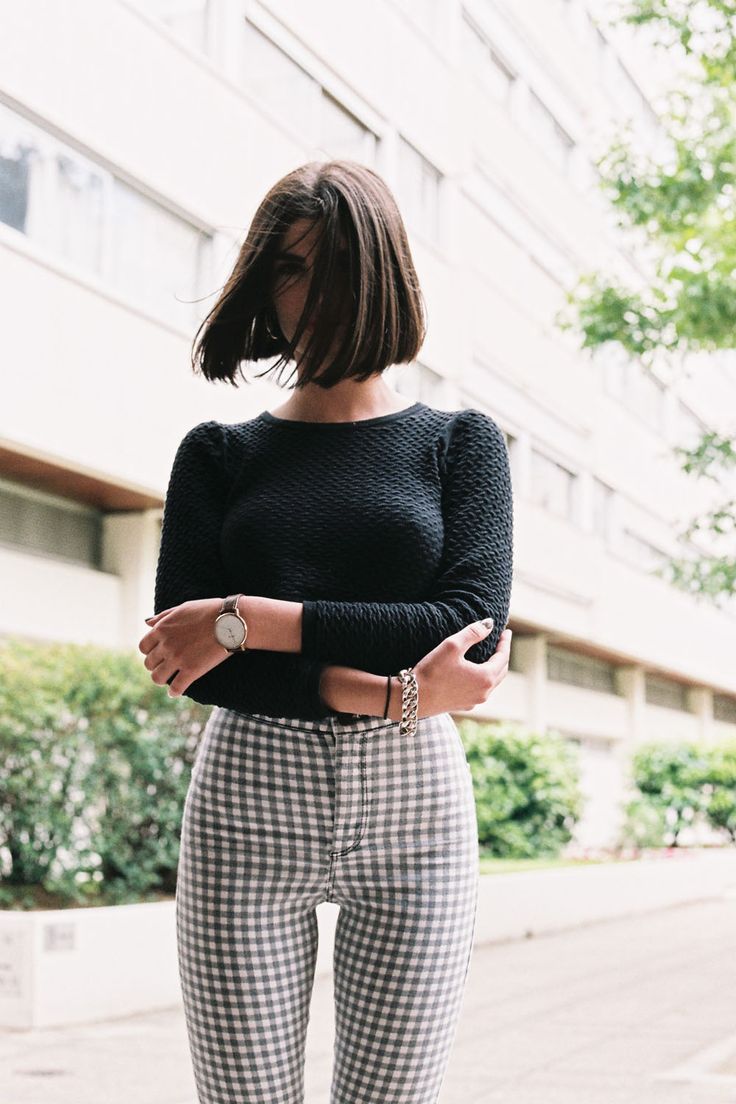 via c-heads.com
The pieces that are huge trend at times aren't necessarily the most comfortable ones, so it's important to wear clothes that make you feel comfortable. Take a look at this outfit – a comfy pair of gingham pants, a classic shirt or sweater and add a nice accessory, such as a watch. This kind of outfit is going to be suitable for all kinds of occasions.
8. Gingham All the Way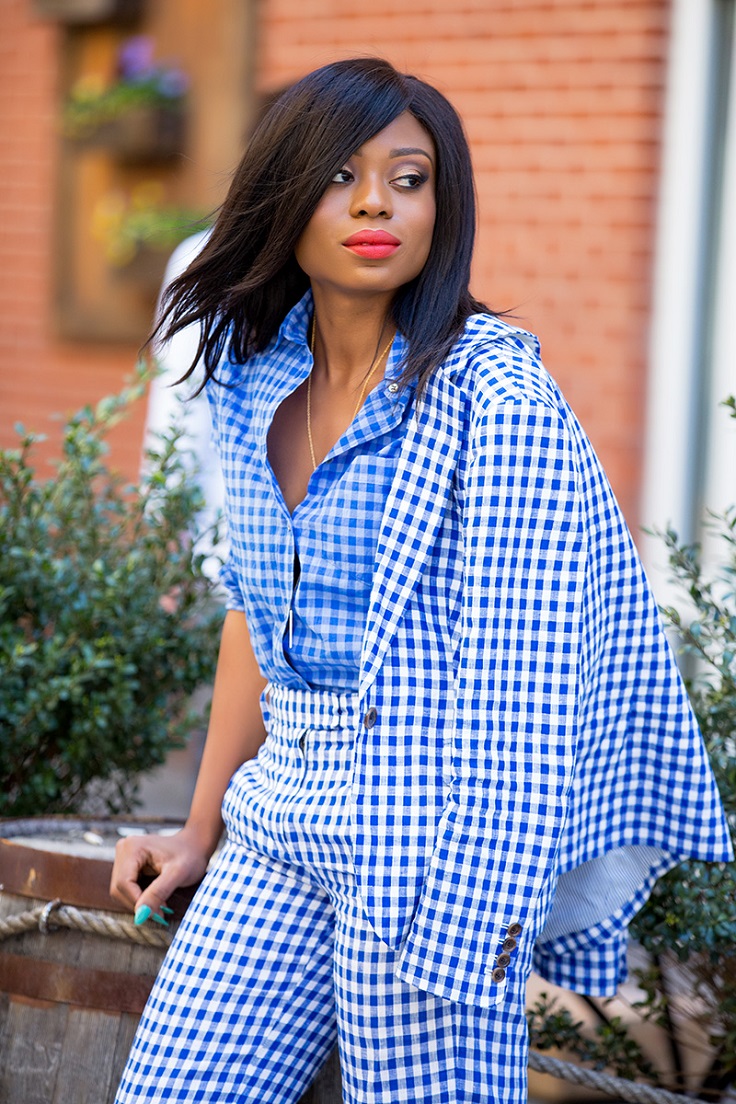 via bloglovin.com
Wearing gingham from head to toes is a bold move and not everyone will like going outside dressed like that. But, if you're the kind of person who likes experiment with your style, then you must give this one a try. So, basically all you need to do is to wear everything gingham – pants, blouse, blazer. This is a very tricky outfit, as it takes just a little bit to look not well – dressed.
9. Office – Friendly Gingham
via fashiongum.com
Well, not everyone has the opportunity to work somewhere where dressing like a street style queen is allowed, but quite the contrary – there is an office dress code that must be respected. Don't worry, even the gingham can be included in this and in a very stylish way. Take a look at this photo for example – you have the office pants, the gingham blouse, the classic trench coat and a pair of animal print shoes.
10. Glamorous Gingham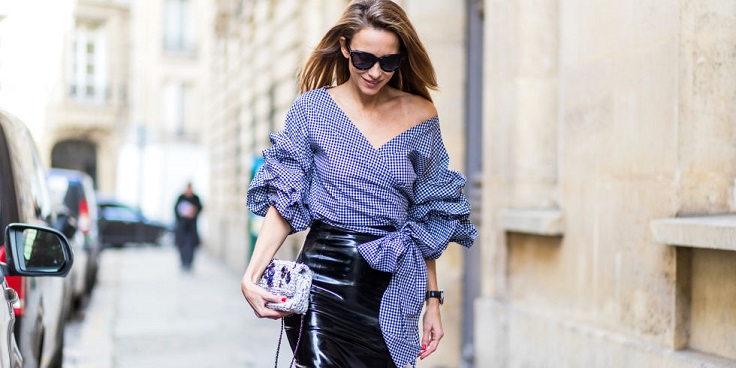 via marieclaire.com
Want to feel so glamorous next time you'll go out with your friends? In that case, consider this kind of blouse. It has all things popular for this season – a bow, puffy sleeves, off the shoulder just a bit and of course, it's gingham! Wear the blouse with a pencil skirt and your favorite pair of high heels. You'll notice the confidence boost and feel so good!