There are still a few months until winter, but if we want to keep our garden pretty and full of flowers and shrubs, we need to take care of it all the time! Flowers require time and attention, and if we give them the right way, they will award us with a beautiful bloom and even amazing scent.
If you're the type of person who wants to care about gardening even in winter, ahead, you will find ten pretty plants that can survive the cold weather and the snow. They don't need much, and the proper care will make your garden look like it's from a fairy tale, even during the coldest times!
1. Viburnum x bodnantense 'Dawn'
via viburnum.com
The Viburnum x bodnantense 'Dawn' is a hardy, deciduous shrub that blooms from January to March, skips the summer, and then starts blooming again from October to December. The Viburnum plants require a sunny location or partial shade and make sure it's fertile, well-drained soil. They need to be watered during their blooming period until the plants are fully established. Viburnum requires little pruning and in spring, make sure to apply garden compost to the plant's base.
2. Iris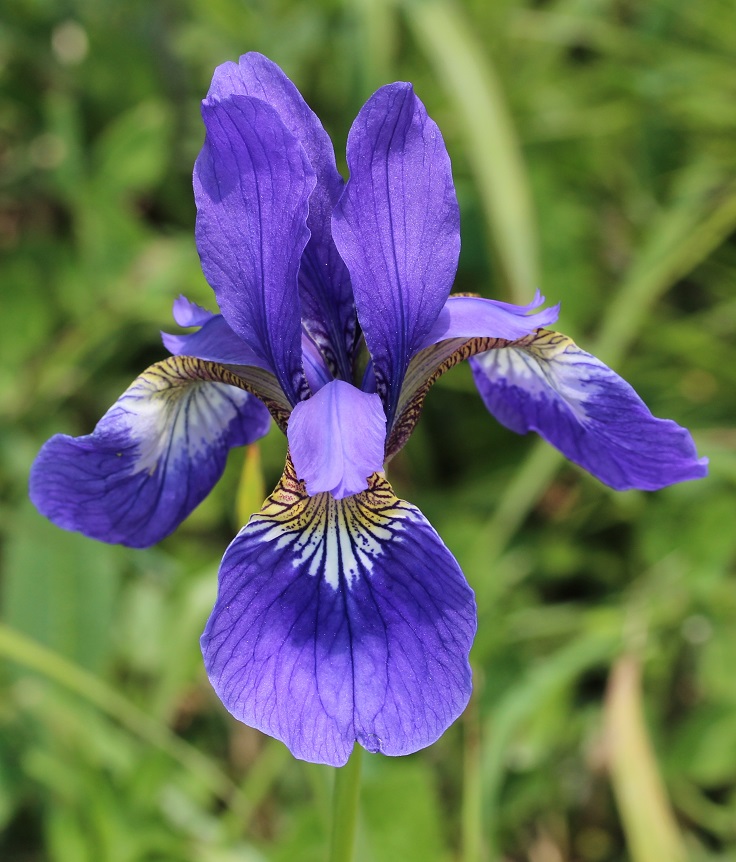 via wikiwand.com
The iris needs to be planted during late summer. It requires a sunny location where it can get at least six hours of sunlight during the day and should be planted in well-drained soil with a pH of slightly less than 7. The bearded iris needs watering only if it's too dry outside or after the transplanting. When planting more of these pretty flowers, make sure to plant each of them apart, a minimum of 16 to 18 inches, because it needs good air circulation. The iris attracts butterflies and hummingbirds, which can make your garden as if it belongs to a fairy tale.
3. Daphne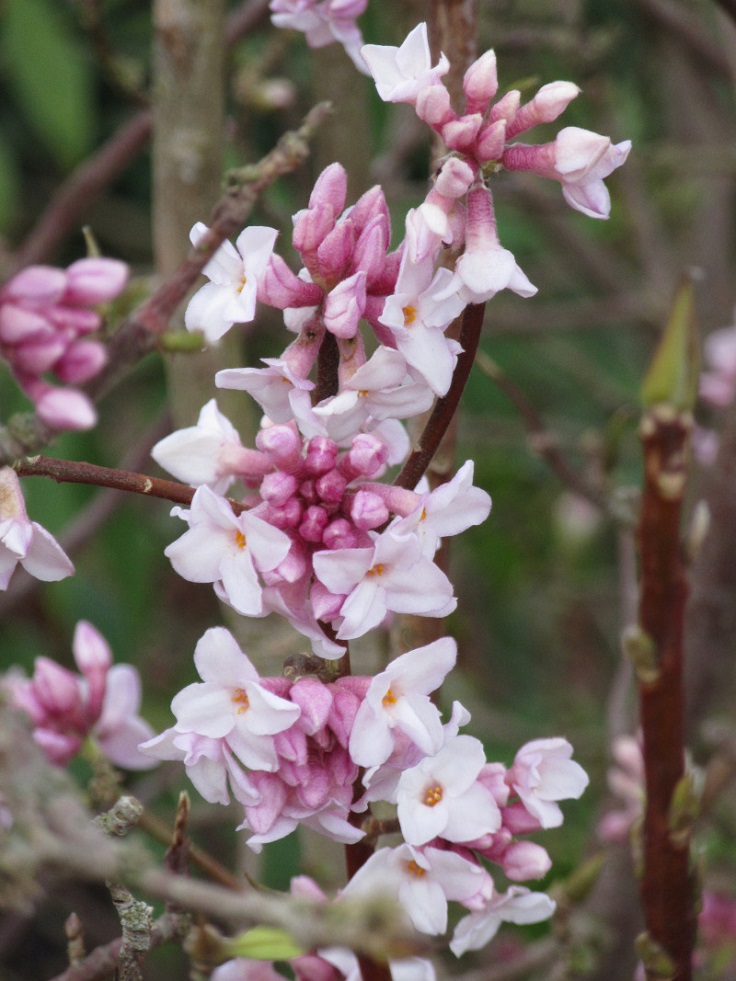 The daphne shrubs grow pretty pink and white scented flowers that bloom from winter to early spring. They are known for their slow growth rate, and on average, they just grow 3 – 4 feet. Daphne shrubs don't need pruning unless they're entering the space of other plants. They need sunny locations or at least one that's partially sunny, but make sure to pick the right spot because they don't like to be moved. The best way to enjoy the beauty of the daphne is to plant them near a window or pathway, and when they start blooming, you'll have an amazing view and floral scent.
4. Chimonanthus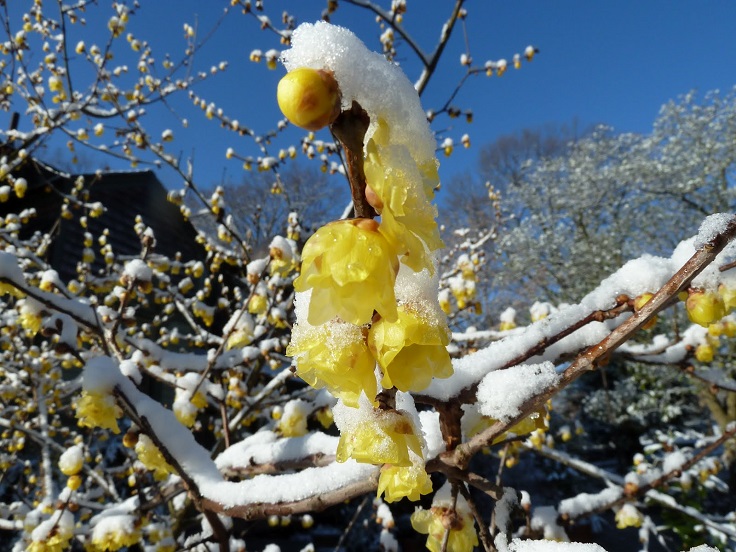 Chimonanthus, or wintersweet as known, is a deciduous shrub with scented yellow flowers and green leaves that need weakly acidic soil to moderately alkaline, well-drained soil. It needs a sunny or partially sunny position. The wintersweet flowers bloom from November onward and will keep their yellowish color and scent all through the winter. It has a tree-growing habit and is generally a pest and disease-free shrub. The easiest way of propagating is layering in September, and if you choose to grow it from seeds, it will take you years until you see bloom.
5. Pieris Japonica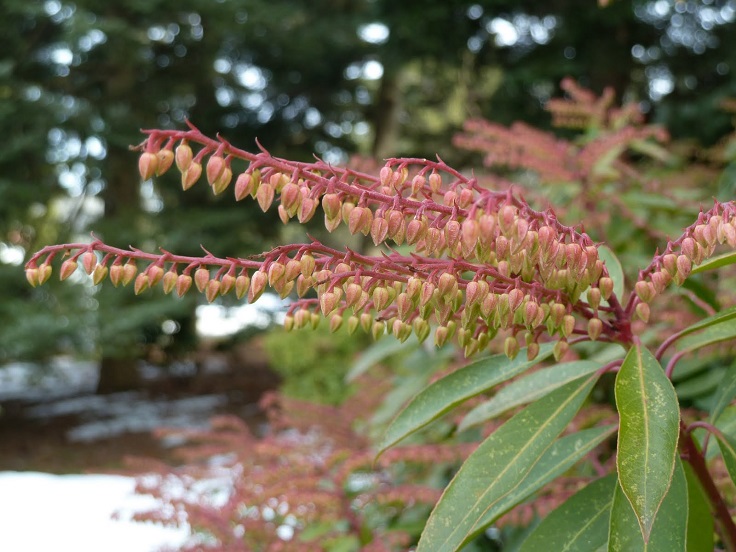 via flippetyfloppety.blogspot.com
Pieris Japonica is also known as Mountain Fire and is an evergreen shrub with dark green leaves and small pinkish flowers. It needs moist and well-drained soil, and it will grow the best if it is planted in moderately fertile and humus-rich soil. The Pieris japonica wants a place with partial shade and full shade if it's exposed to sunlight in the heat of the day. However, it still needs morning sun for the best growth. You can propagate by layering or by tip cuttings, and make sure to water them regularly.
6. Christmas Rose
via 99roots.com
The Christmas rose is an evergreen perennial that will make your garden such a pretty place with wonderful white flowers! It needs to be planted in moist, fertile, and well-drained soil under deciduous trees that will allow them to receive sunlight during winter and protect them from strong winds. It will take some time for the perennial to establish, but it doesn't want to be moved once it made its way. Every Christmas should be planted 12 – 15 inches apart in early spring. The Christmas rose produces flowers from late fall until early spring.
7. Winter Jasmine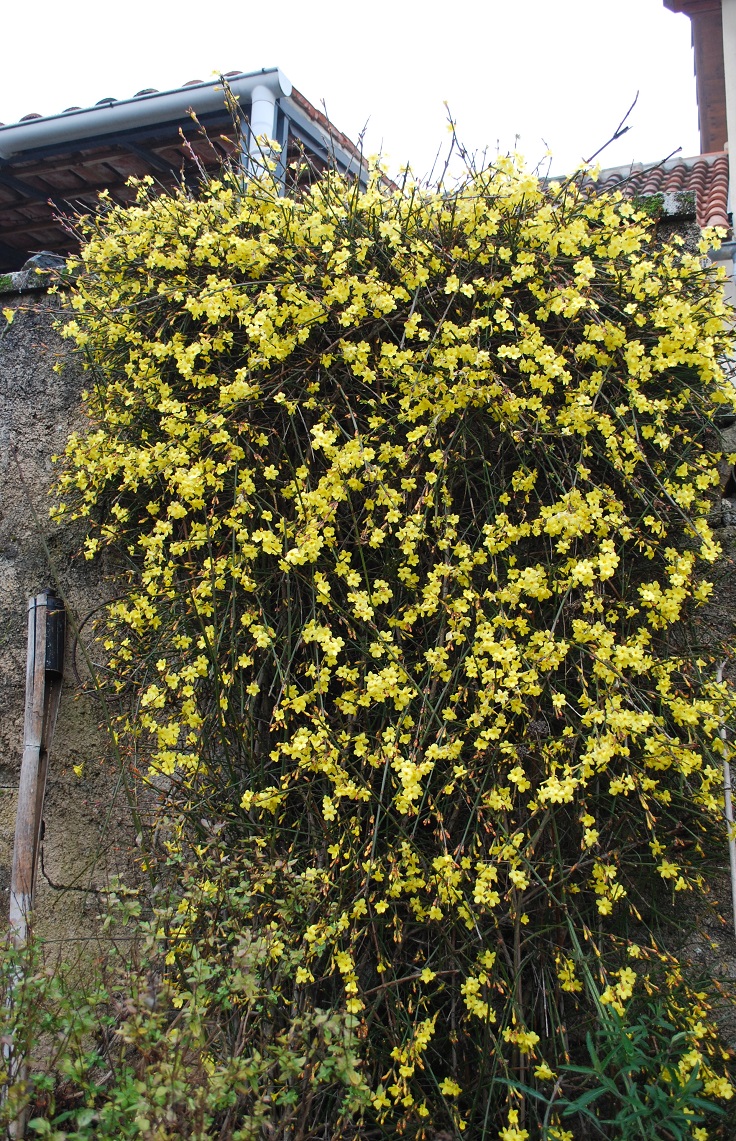 via ironwoodgardens.wordpress.com
The winter jasmine needs a sunny position and can also tolerate partial shade. When planting, avoid the north and the northeast aspect, and plant them in moist and well-drained soil. You should water them freely during summer, while watering in winter is mostly not needed unless it's very dry or the ground is frozen. Prune the winter jasmine in spring, right after the flowering, because it allows them to mature and flower the next season. The winter jasmine is generally trouble-free, but it can happen to suffer from aphids.
8. Pansies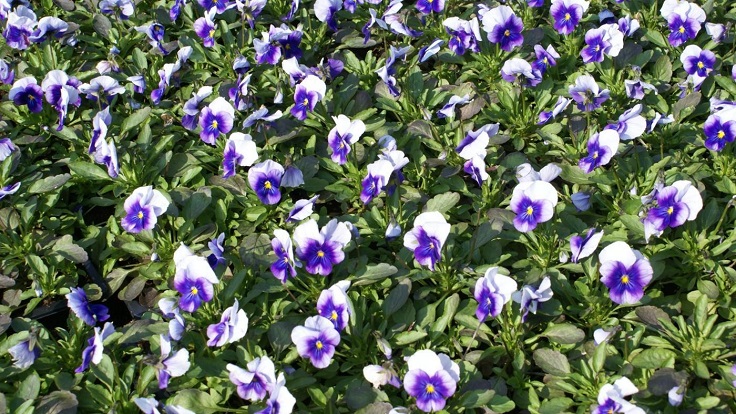 via reference.com
These colorful flowers will surely add some color to your garden during winter, especially if it snows! The pansies should be grown from seeds planted in summer to have the winter flowering. They need humus-rich, well-drained, and moist soil, a sunny position, and cooler temperatures. When planting pansies, make sure to plant each about 7 to 12 inches apart from others. They need to be watered regularly and help them grow; it's good to use all-purpose fertilizer. To encourage growing and blooming, remove the faded and dead flowers.
9. Cyclamen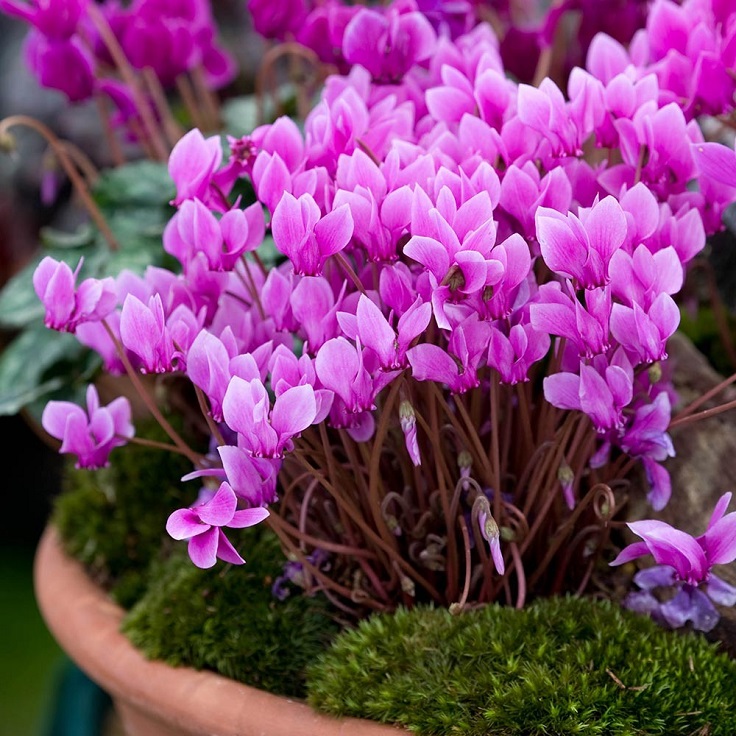 via jparkers.co.uk
The cyclamen needs cool and humid environments, so if you keep it as an indoor plant, make sure to give it the right temperature, or it will start to die slowly. It needs well-drained soil and to be regular water because it doesn't tolerate under or overwatering. They need to be fertilized once every one or two months. Another important thing to know about the cyclamen is that after blooming, it enters a dormant state that will make the flower look as if it is dying, but it's actually sleeping. If you take good care of it during the dormant state, it will rebloom again in few months.
10. Winter Aconites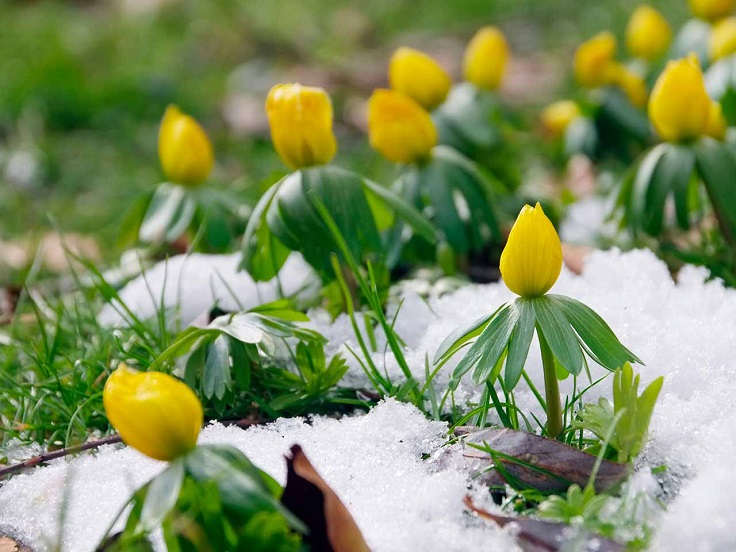 via saga.co.uk
The winter aconite is the ideal choice for covering slopped landscapes, or you can use them as an edging plant. They don't grow more than 8 inches in height and tend to make a yellow carpet of flowers, which will be such a beautiful contrast compared to the snow. The plant requires humus-rich and well-drained soil and needs a sunny or partially sunny position. Planting the winter aconite should occur no later than September, and for the best results, you can soak the winter aconite tubers in lukewarm water 24 hours before you plant them.