Inspired by the European cuisine from the middle ages, the pretzels are one of the most popular dough products you can find in bakeries all around the world. The pretzels are so great that going to Germany means you must try their pretzel, as it's certainly something that the German cuisine is so proud of. Besides the regular dough pretzels, here we have the snacks.
These tiny, crunchy pretzels are amazing just by the way they are, but if you add them in desserts, it's a whole big deal because what you prepared just got a crunchy texture and it tastes amazing! There are hundreds of recipes with pretzels you can choose from, so we picked ten best for you.
1. Strawberry Pretzel Dessert
via sugarapron.com
The strawberry pretzel bars are a classic dessert that stands out the test of time – maybe you remember your grandma preparing this delicious dessert, but even if you haven't tried it so far, now it's the time to make it your next cooking challenge. The bars are made of three layers – the bottom is made out of pretzels with butter and sugar, the middle layer gives the creamy texture thanks to the cream cheese and whipped cream and last, the topping is strawberry jelly and fresh strawberries.
2. Rolo Pretzel Bites
Save this recipe for super busy or super lazy days – it takes less than 15 minutes to have this dessert on the table! Not to mention that it's probably the easiest dessert ever to prepare, and it's also super budget – friendly. You just need three ingredients for this – pretzels, pecans and store – bought chocolate caramel candies. The pretzels go as the base and you place a candy on each. Bake them in the oven for about 5 minutes or so, until you notice the candies start to melt. Press pecan on each candy and voila.
3. Peanut Butter Pretzel Truffles
Truffles are easy to prepare and besides being so delicious, what is going to make you love them even more is that they don't make a lot of mess. When you serve pies or mousse for example, you end up with plenty of dishes afterwards. But, with finger food like truffles this problem is solved! When it comes to their taste, it's the definition of creamy and crunchy at the same time! This is what peanut butter and pretzels do when combined together.
4. Pretzel Peanut Butter Chocolate Pie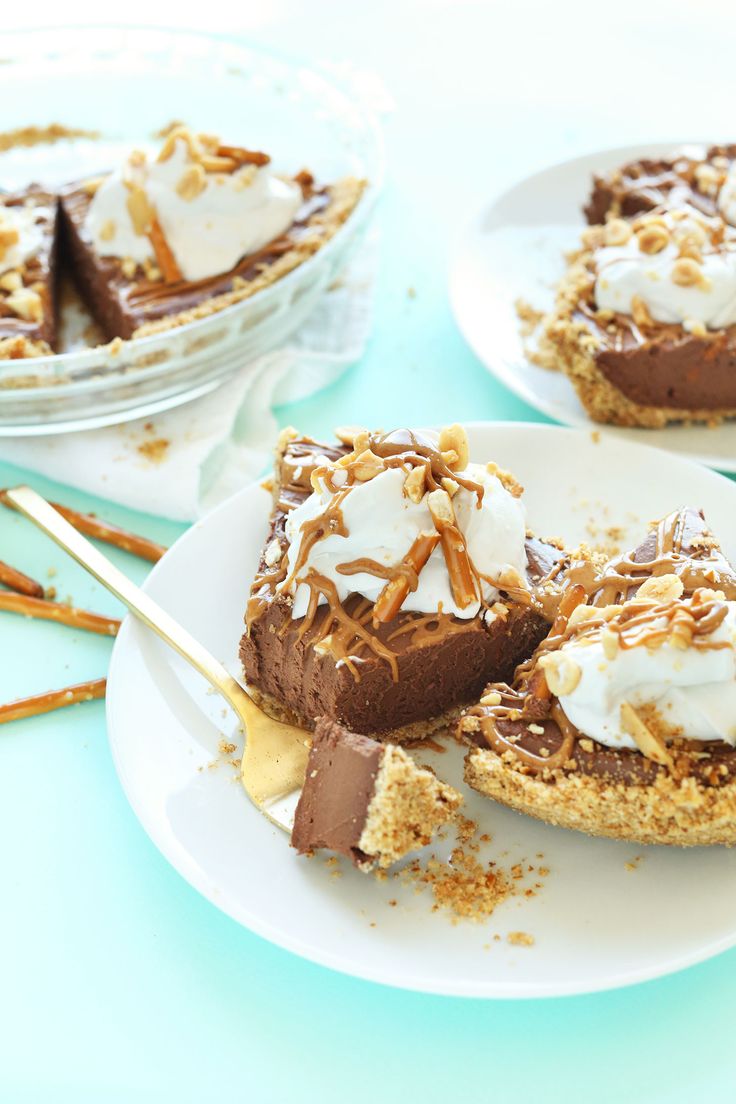 This is the first vegan recipe on the menu, but even if you're not a vegan, we definitely recommend you try out this recipe because it tastes the best. It's the perfect dessert you can prepare for a chocolate lover, because it's exactly the chocolate flavor that dominates in this pie. It's both crunchy and creamy at the same, with tasty toppings such as whipped cream with a coconut flavor, roasted peanuts chopped into tiny pieces, peanut butter drizzling and if it's a pretzel lover, then add even more crushed pretzels.
5. Salted Caramel Pretzel Cheesecake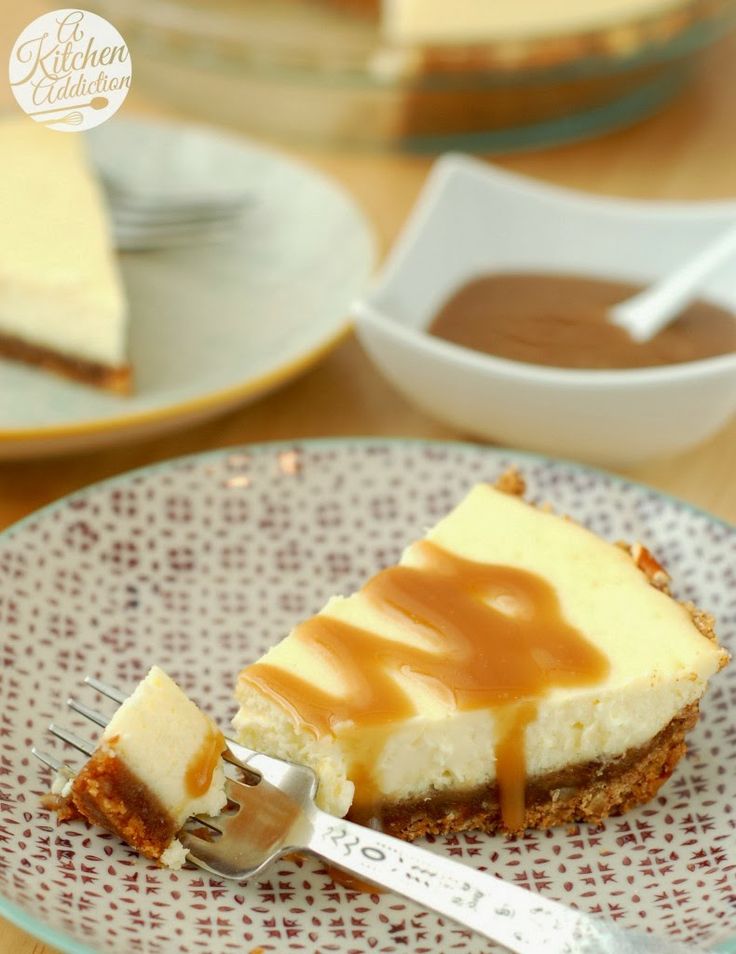 You can modify even the classiest of all recipes and still keep the great taste with pretzels. This recipe also includes salted caramel, which we really recommend to prepare it (let's be honest, but drizzle or not, this cheesecake is going to taste amazing either way!). Preparing the caramel is easy and you just need four ingredients – butter, brown sugar, half and half and sea salt. Refrigerate the cheesecake few hours and right before serving, drizzle the salted caramel over.
6. Chocolate Bourbon Soft Pretzel Bread Pudding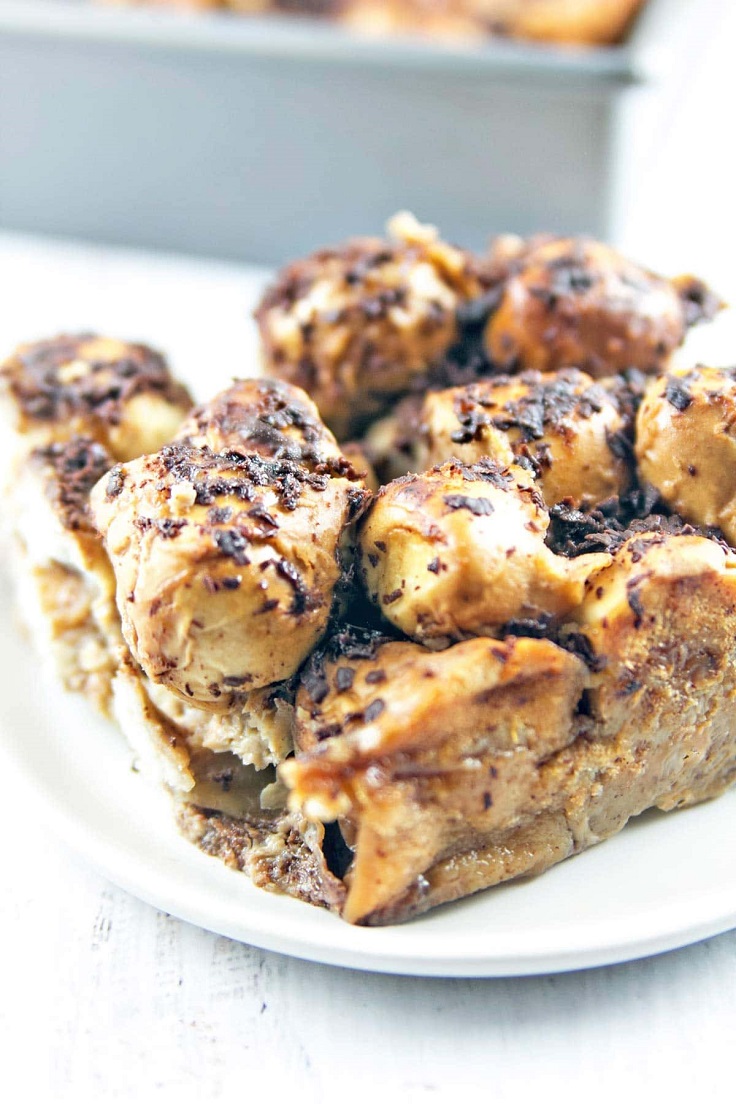 Bread pudding is an interesting twist between these two, as it's neither a bread, or a pudding! Unlike the other recipes on the list, here you'll need soft, cube pretzels in order to achieve the taste as if there was really a bread in the dessert. There's no store – bought pudding either, it's something you easily make by combining milk, eggs, bourbon, and vanilla. What you need to do is to soak the pretzels inside the mixture and then bake them until the custard is well – set. Sprinkle chocolate on top and you're dessert is ready.
7. Potato Chip Pretzel Cookie Bars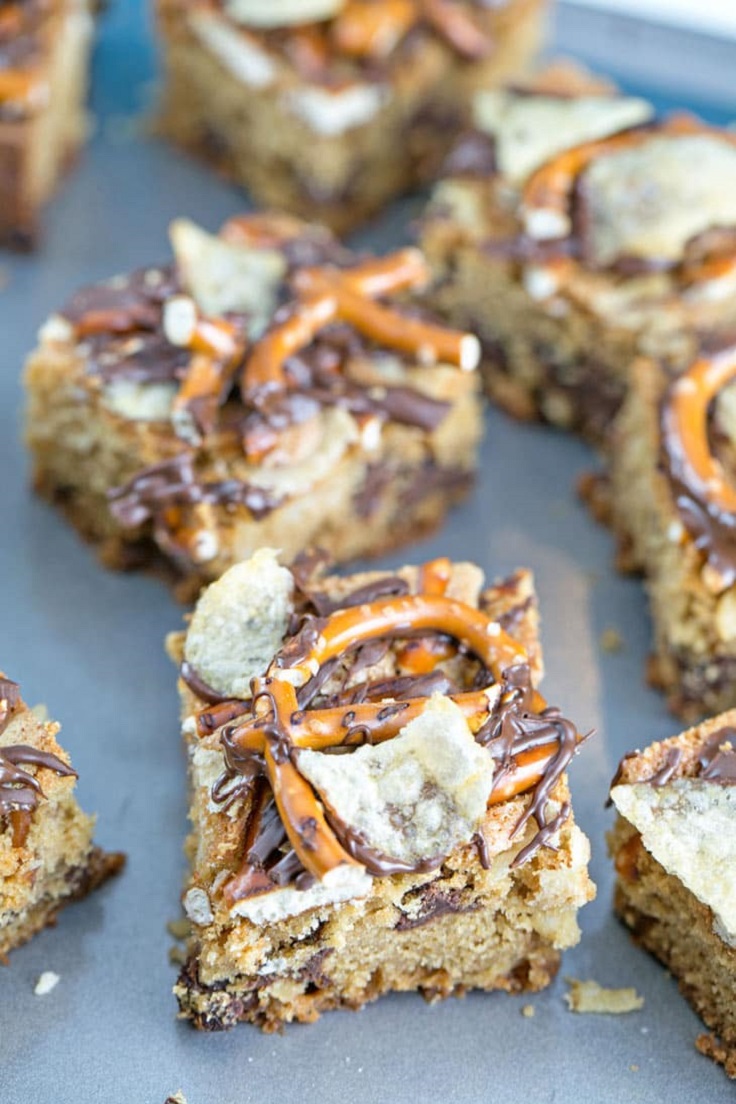 Unlike the other desserts, in this one the pretzels aren't the base of the dessert, nor are on top of it while baking. This is something that's done on purpose to save the crunchiness of the pretzels. These potato chip pretzel cookie bars are all about being crunchy, because besides the pretzels, what we have here is potato chips as well. Both these ingredients are pressed onto the cookie bars after the baking part, so what you get is a double layer of crunchiness. Drizzle chocolate all over and you made yourself one of the best cookie bars ever.
8. Salted Caramel Chocolate Pretzel Bark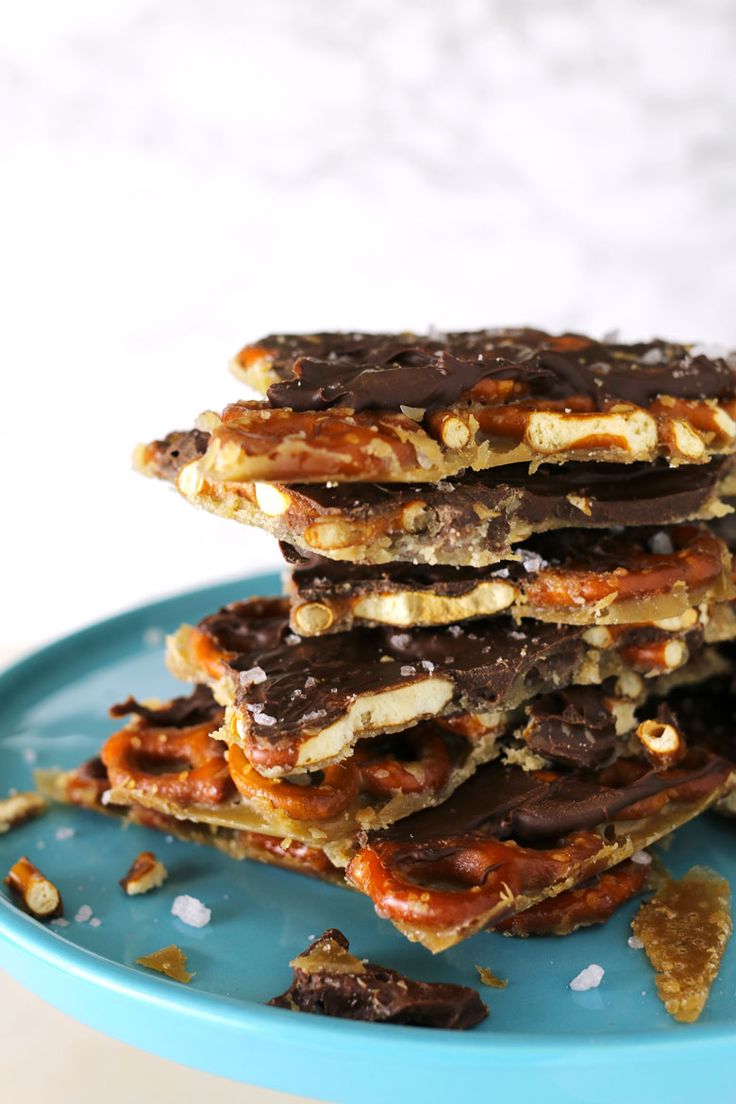 Barks are super easy to prepare and they're the kind of dessert that won't empty your pocket, but certainly will satisfy your sweet tooth's cravings. The ingredients that you need to prepare these barks are the following – 1 cup unsalted butter, 1 cup brown sugar, 8 ounce bag of mini pretzels and 1 (12-ounce) bag semi-sweet chocolate chips. Make sure to also sprinkle sea salt on top! It will take you just a short time to prepare it, but cooling in order to allow the barks to harden is what will keep you waiting. 
9. Banana Coconut Pretzel Tart
What we didn't meet so far in any of the previous desserts are exactly these two ingredients – banana and coconut. These two go very well together, and if you add pretzels and chocolate to this food story, what you get is one of the most delicious tarts out there. You are going to love it for sure, so make more of it to eat after lunch, or dinner or whenever you want! This tart has a layer of graham crackers and pretzels, a coconut cream cheese pastry filling and a dark chocolate topping with crushed pretzels on top.
10. Raspberry Pretzel Dessert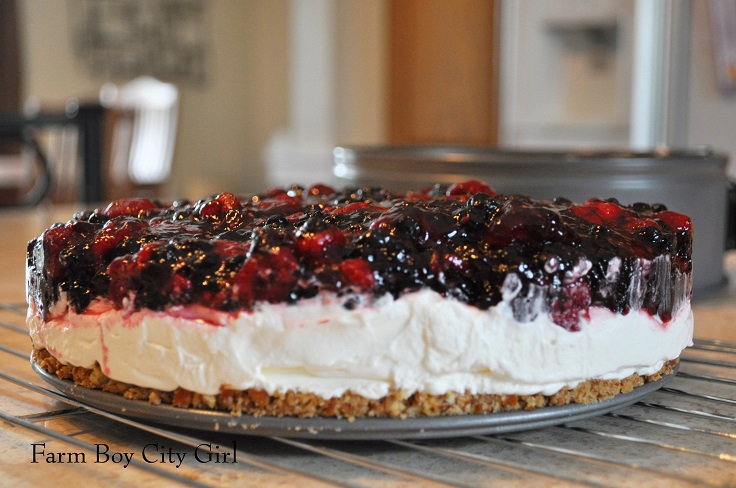 Just like the first recipe where the strawberries were the main stars, here we have the raspberries. Creamy, fruity and crunchy, this recipe has all the textures you can possible ask for in a dessert! It's really easy to prepare it, and for that you need the following ingredients – 2 pkgs. of raspberry jello, 2 C. boiling water, 2 pkgs. frozen raspberries, 1 stick butter, 3 tbsp sugar, 2 1/2 C. pretzels, 1 (8 oz.) pkg. cream cheese, 12 oz cool whip and 1 c. sugar. Add blueberries and you'll have the perfect looking dessert for 4th of July!