We all have experienced those times when being in a hurry, hungry and lazy is all happening at once! In those cases, what we should do is fight our laziness, go to the kitchen and prepare something easy and quick that can be done in a short time. Of course, and healthy too. If you are a vegetarian, or simply prefer no meat meal, these ten recipes really offer something good. There is plenty of choice on what to eat: from frittatas to pizzas, and all this food is done in a relatively short time. So, choose your favorite and enjoy your vegetarian lunch!
1. Veggie Frittata
No matter if it's breakfast, lunch or dinner, frittatas are always a great choice because they are delicious, easy to make and most of the ingredients we probably already have at home. For those of you who make this meal the first time, here's some instructions: Sauté chopped onion and garlic in olive oil and add sliced chili and zucchini, chopped cilantro, stir and season with salt and pepper. Make an eggs mixture by whisking eggs, turmeric, salt and pepper and add it with the rest. Cook until the eggs are set and firm and serve.
2. Spinach Pea Pasta
Simply said, the pasta is a must. It goes perfectly well with lots of other dishes, there are plenty of sauces to try it with and it isn't called one of the best food choices for nothing! In this recipe, we have it combined with spinach, parmesan, heavy cream, peas, salt, pepper and ground nutmeg to taste. First, cook the pasta and when ready, drain it and put it back in the pot. Add the rest of the ingredients and voila, you have a tasty, creamy pasta!
3. Lettuce Wraps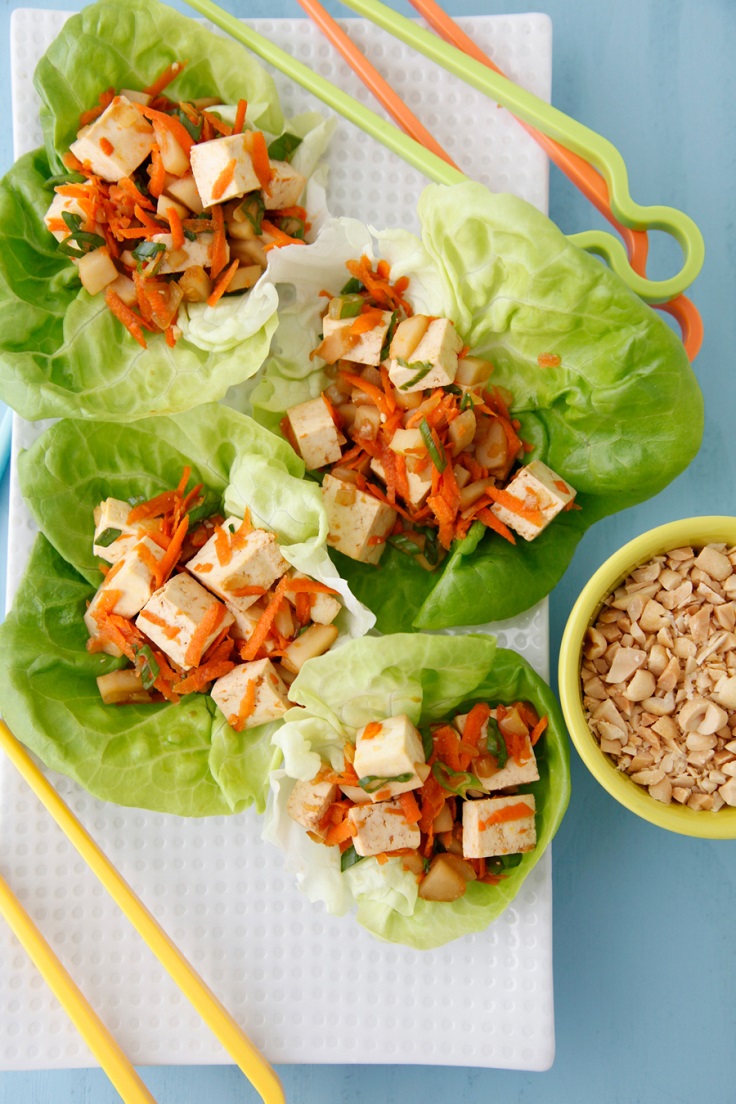 via weelicious.com
Super hungry that you can't wait for too long? We understand you and here's a recipe for you: Lettuce wraps. These are all ready in 10 minutes, they're not a heavy dish, they're healthy and delicious! Sauté onion, ginger and garlic until the onion is soft and then add tofu, water chestnut and cook for another four minutes until heated. Stir in soy sauce, carrots and green onions and you're done in no time. Serve this mixture in lettuce cups and if you prefer, you can top it with chopped nuts.
4. Pad Thai
via desifiesta.com
Time for some Thai kitchen food! This recipe gives you the instructions of preparing pad Thai sauce combined with Thai rice noodled and other tasty ingredients, such as tofu, cabbage, peanuts, and spices as well. For the Pad Thai sauce, you need tamarind paste, soy sauce, red chili sauce, brown sugar, pepper and salt to taste. Just combine them and you're ready to keep on preparing the meal. It should take you about 15 minutes to make it and half of that to eat it!
5. Sweet Chilli Tortellini BBQ Skewers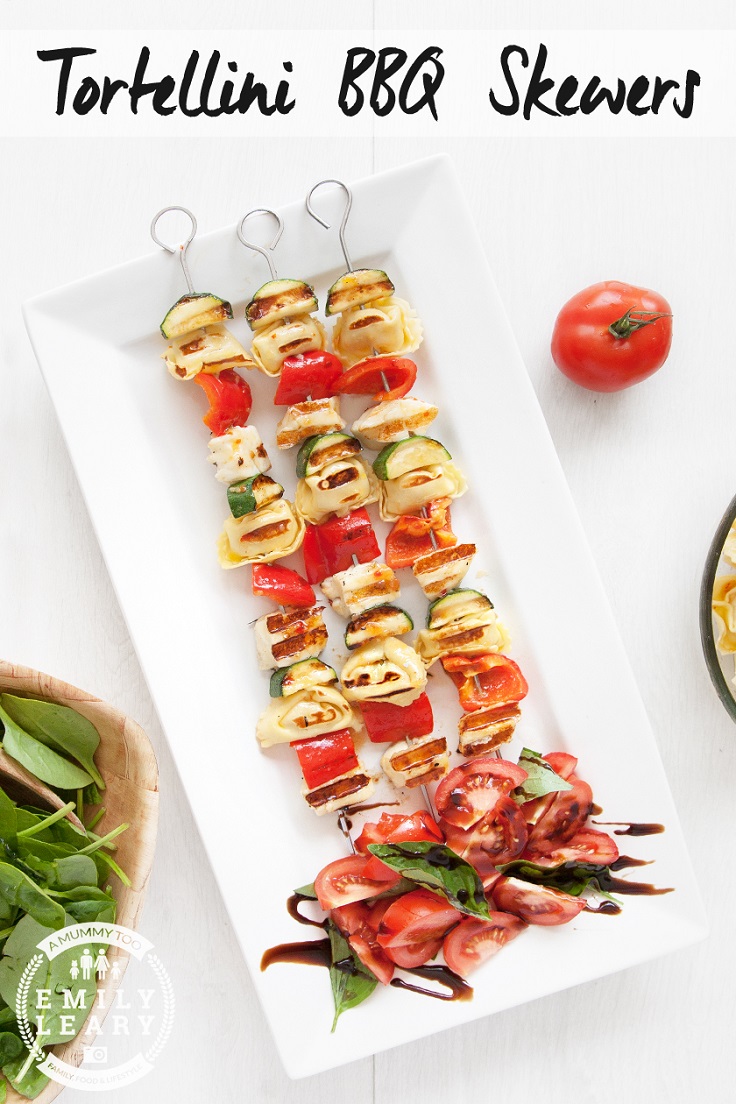 via amummytoo.co.uk
Lunch in the backyard sounds really nice, especially it's on a warm sunny day, while hanging out with friends and family. And if the lunch is ready in 20 minutes, just like these skewers! To prepare them, buy sweet chili sauce, olive oil, cheese and tomato tortellini, peppers, courgettes and halloumi. The cooking instructions are detailed on the link, but know it's really simple and nothing different than any other barbecue dish.
6. Asiago White Beans with Farro, Kale and Tomatoes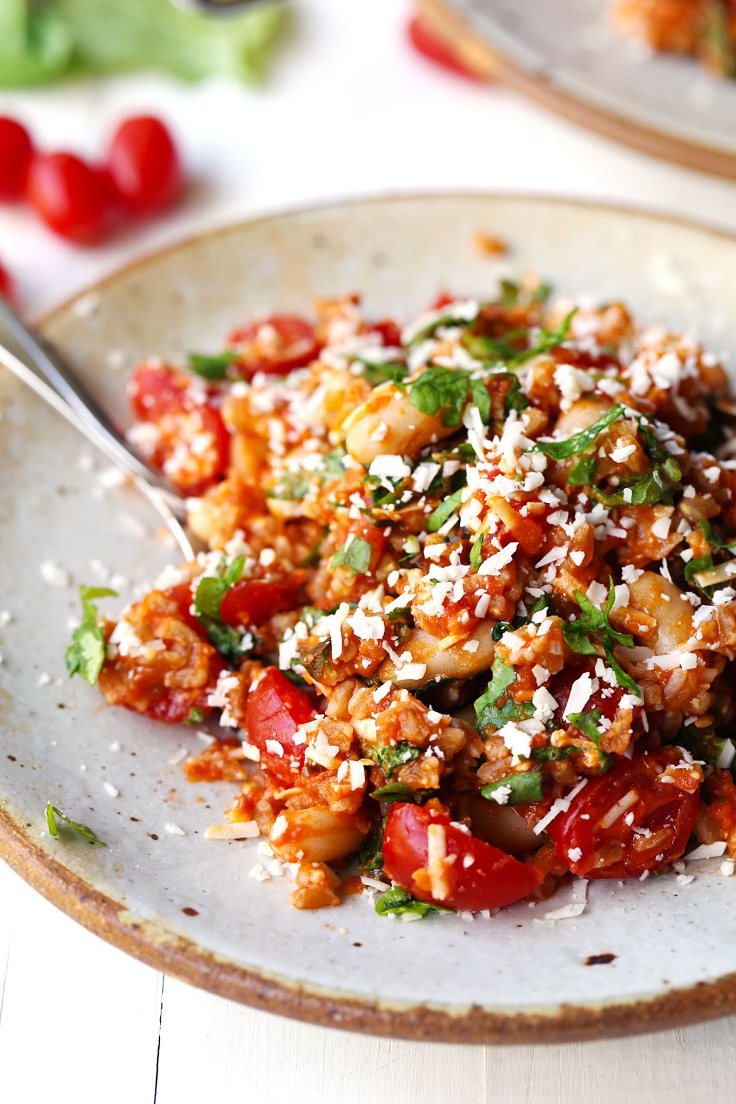 via pinchofyum.com
Cook farro and broth in a rice cooker. Approximately 30 minutes later, add white beans, grap tomatoes, kale, Asiago or Parmesan cheese and tomato sauce. Season with salt and pepper, add spices or herbs if you want and you're ready to serve it. If you don't have a rice cooker, you can use a small pan. You are going to love this healthy dish, no matter if you are a vegetarian or not!
7. Green Salad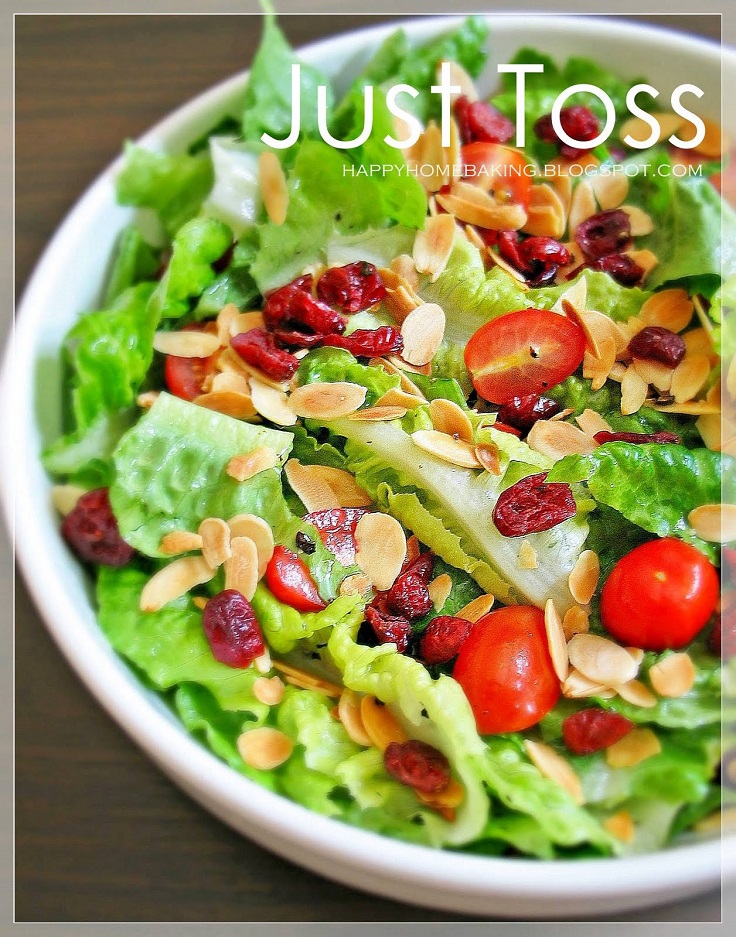 via happyhomebaking.blogspot.mk
The salad is the easiest food choice you can make when it comes to preparing. You can have it ready in few minutes with so many ingredients inside and the best part is that you are going to feel full and will feel good after treating yourself with healthy foods. To prepare this one, you only need lettuce, cherry tomatoes, dried cranberries and toasted almond flakes. For dressing, you can make your own lemon vinaigrette. You can even add more ingredients, such as boiled eggs, vegetables and so on.
8. Radish and Avocado Sandwich
If salad isn't going to make you feel full, try out these sandwiches! They contain avocado, so you're definitely having a healthy lunch. Preparing a sandwich takes only few minutes and to make this one, make sure you have sliced radishes, extra virgin olive oil, fresh lemon juice, coarse salt, freshly ground pepper, sliced avocado, whole grain bread and finely grated lemon zest. The rest is simple!
9. Black Bean Taquitos
Tortillas with black beans, sweet corn, pepper, onion, spices, cilantro and cheese. What could someone ask for more? It's perfect – rich in ingredients, crispy and very delicious. They are done in 35 minutes and if you want to make things much better, combine the tortillas with avocado salad and/or guacamole, roasted tomato salsa. You are really going to love it!
10. Roasted Vegetables Pizza with Vegan Bechamel Sauce and Buckwheat Flour Crust
This pizza isn't juts vegetarian and delicious, but all gluten, nut, yeast, dairy and egg – free, vegan and paleo. Top the pizza with all the vegetables you want! In this case, the pizza dough is topped with tomato paste, spinach, mushrooms, roasted pumpkin, roasted capsicum and sundries tomatoes. If you don't feel like making a dough, you can always buy one, but remember: homemade is always better! When done baking, drizzle your pizza with béchamel sauce and enjoy!