Rice is known all over the world and it is the most widely consumed staple food . Many cultures are familiar with rice and use it almost every day, is it because of the easy growing features or because of the dietary richness, you will find out soon enough. Rice does not have sodium or cholesterol and barely any fat. It is a complex  carbohydrate(23 grams per 100 grams), it also contains vitamins as Magnesium and Vitamin B-6. Therefore rice is healthy! You will be able to read some of the most used recipes for cooking with rice from all over the world. They are easy to make and take little time to prepare. If you need a quick-fix for dinner, read bellow.
1. Turkey and Rice With Veggies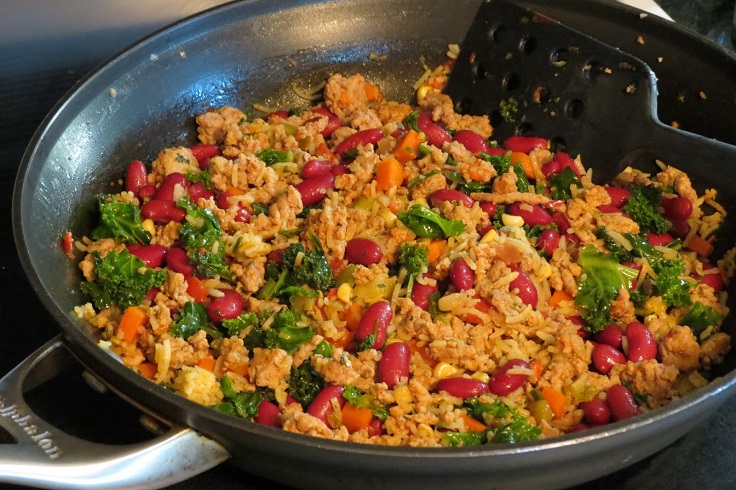 via dinnerwiththewelches.blogspot.com
No one will possibly know that you have prepared this meal in only 7 minutes. Ingredients: 1 pouch ready-to-serve garden vegetable rice, 1 pound lean ground turkey, 1 can diced tomatoes. Cook the pouch vegetable rice and stir in together the lean turkey and the tomatoes. Voila, quick supper.
2. Rice and Smoked Sausage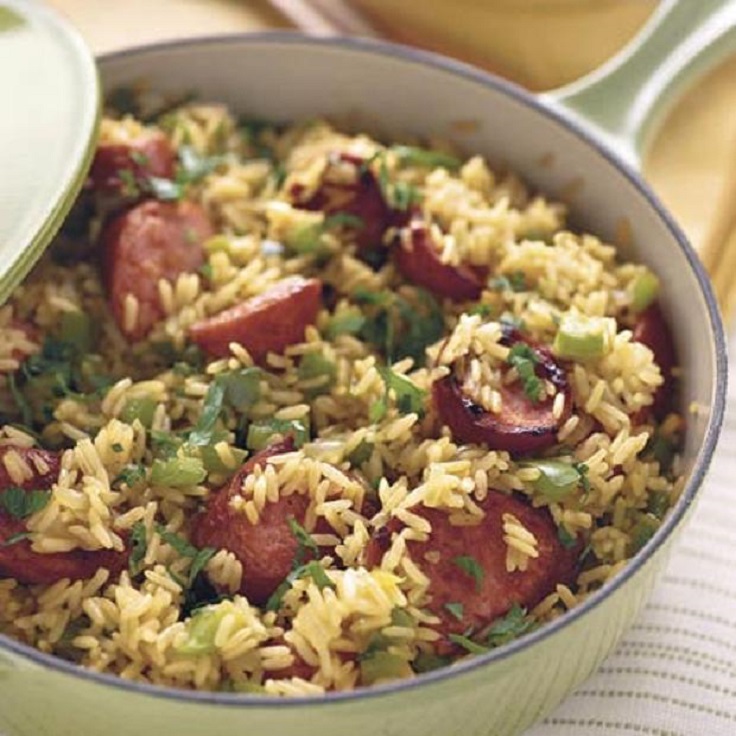 via foodily.com
This famous french dinner recipe is delicious and requires little ingredients, such as: smoked sausage, green bell pepper, small onion , garlic clove and some rice. Start with frying the sausages for 6-7 minutes until brown.  Add bell pepper, onion, and garlic to skillet and cook for 4 minutes before adding the rice and sausages, cook until the rice has softened.
3. Chicken and Rice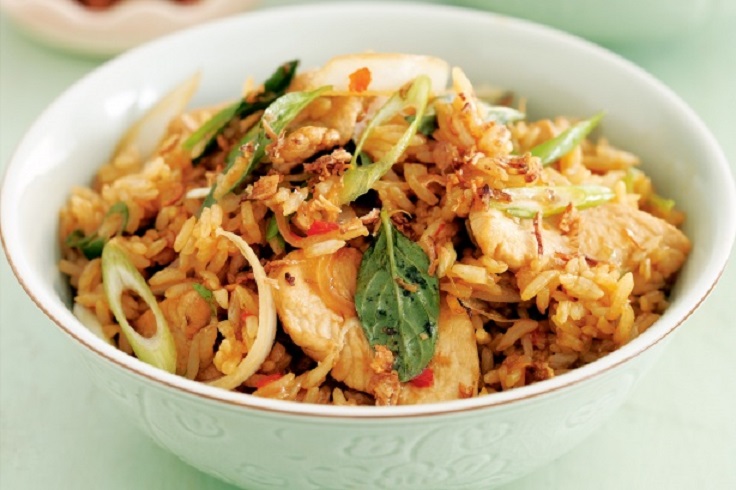 via taste.com.au
This is the most widely known rice recipe. Use read ready-to-serve long-grain rice if you want to cut the cooking time. You will only need: 1 1/2 pounds chicken breasts, 2 pouches ready-to-serve long-grain rice, 1/2 cup chopped onion, 1/2 cup frozen green peas and 1 can sliced mushrooms. Heat rice according to instructions and set aside. In a hot skillet saute onion and add the chicken breasts, after chicken is cooked (usually 8 minutes) stir in  rice, bacon, peas, and mushrooms. Cook for 3 minutes.
4. Black Beans and Mexican Rice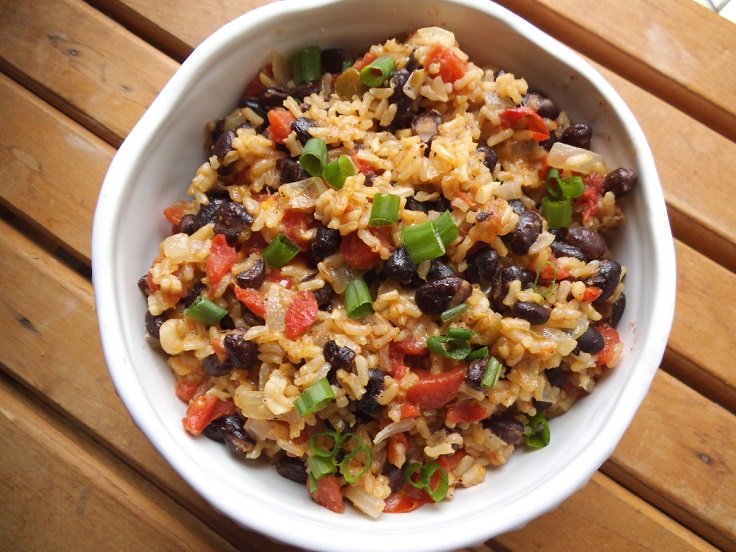 This traditional Mexican dish is very popular in South America! Ingredients: 1 pouch ready-to-serve Mexican rice, 1 can black beans, 1 can chopped green chiles, 2 tablespoons chopped fresh cilantro. Cook rice. In a bowl combine  black beans and green chiles and heat in microwave for 90 sec. Stir in the rice and the cilantro and the dish is ready to be served.
5. Curry Carrot Rice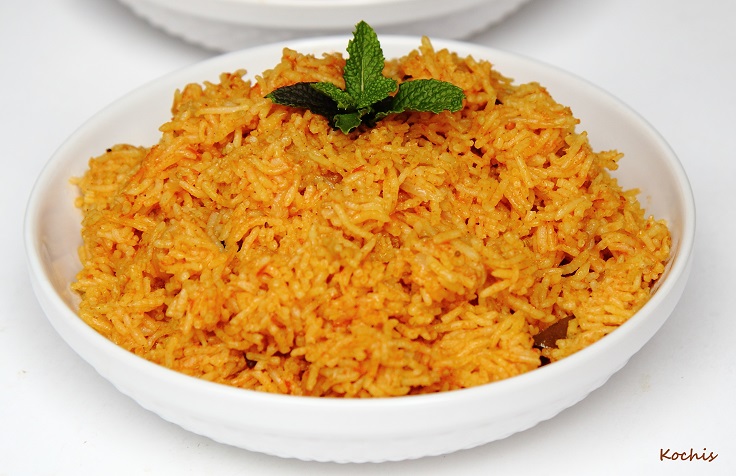 via kochiskitchencorner.wordpress.com
Want a taste of the Indian culture? Try this is a very simple vegetarian dish. You will need some carrots, golden raisins, 1 teaspoon curry powder, and ¼ teaspoon kosher salt. Stir in all ingredients and cook for 8-10 minutes.
6. Pine Nut, Butter, and Parsley Rice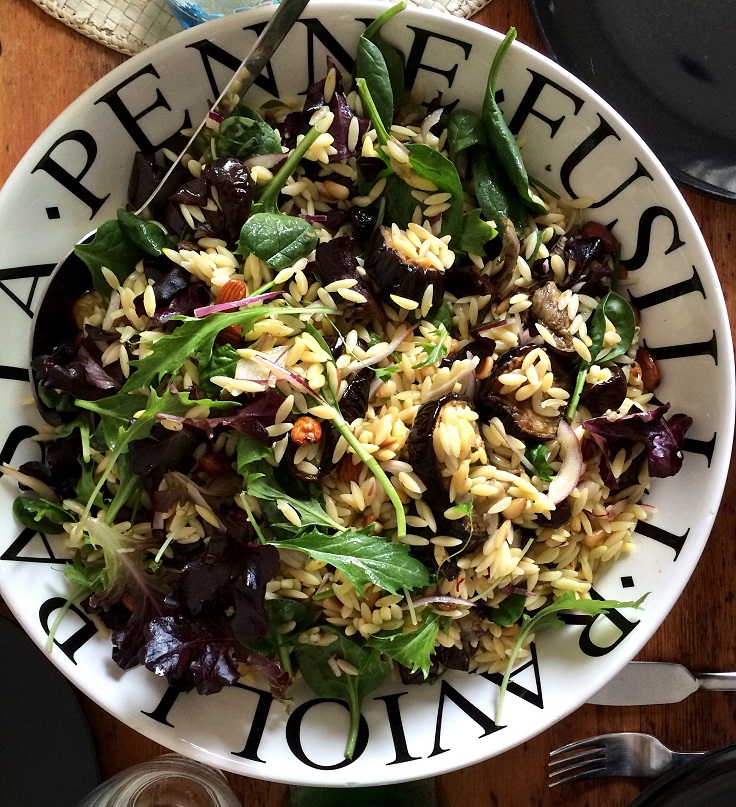 Have your rice prepared in this unusual way and let yourself be carried away with the sensational flavor. You will need: 2 cups long-grain white rice, 2 tablespoons toasted pine nuts, 2 tablespoons minced fresh flat-leaf parsley, 1 tablespoon melted butter, and ¼ teaspoon kosher salt. Mix all ingredients after cooking the rice.
7. Chicken and Wild Rice Salad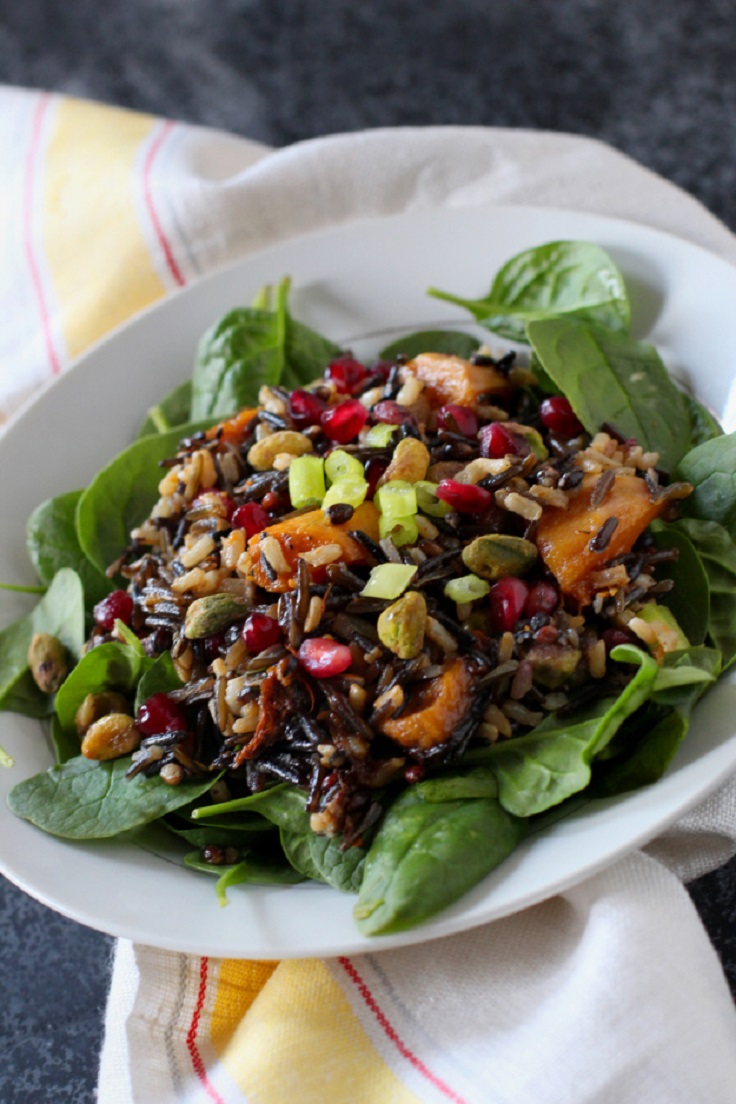 If you are unprepared for a special occasion you will need less then 25 minutes to prepare this Mediterranean salad using:  1 cup chopped pecans , 3 tablespoons soy sauce, 3 tablespoons rice wine vinegar, 2 tablespoons sesame oil, 1 pouch ready-to-serve whole grain brown and wild rice mix, 3 cups shredded cooked chicken, 1 cup diced red bell pepper, 1 cup coarsely chopped watercress and 1/4 cup minced green onions. Start with baking the pecans for 10-12 minutes. Cook the rice with the chicken and add the pecans and vinegar, soy sauce and sesame oil.
8. Shrimp and Rice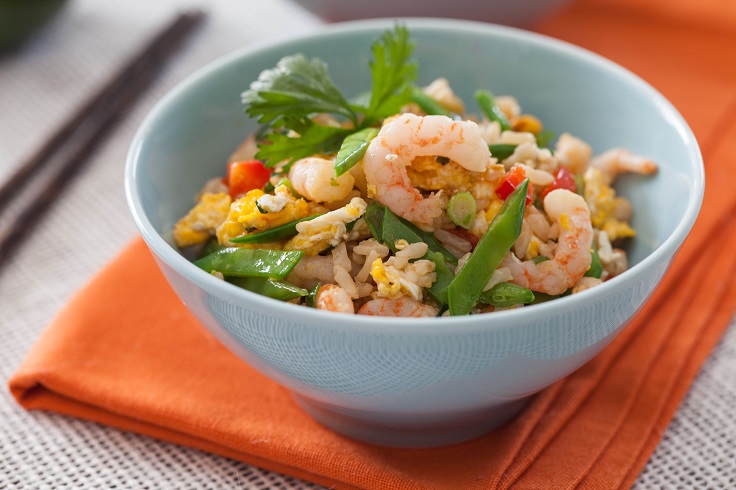 via eatliverun.com
Do you have some leftover frozen shrimp and don't know how to use it? Gather the shrimp, some rice, frozen sugar pea and lime zest. Cook the rice ( depending on the rice, usually takes up to 10 minutes), and after 5 minutes of cooking add the shrimps and the pea. After cooling add the lime zest.
9. Rum-Raisin Rice Pudding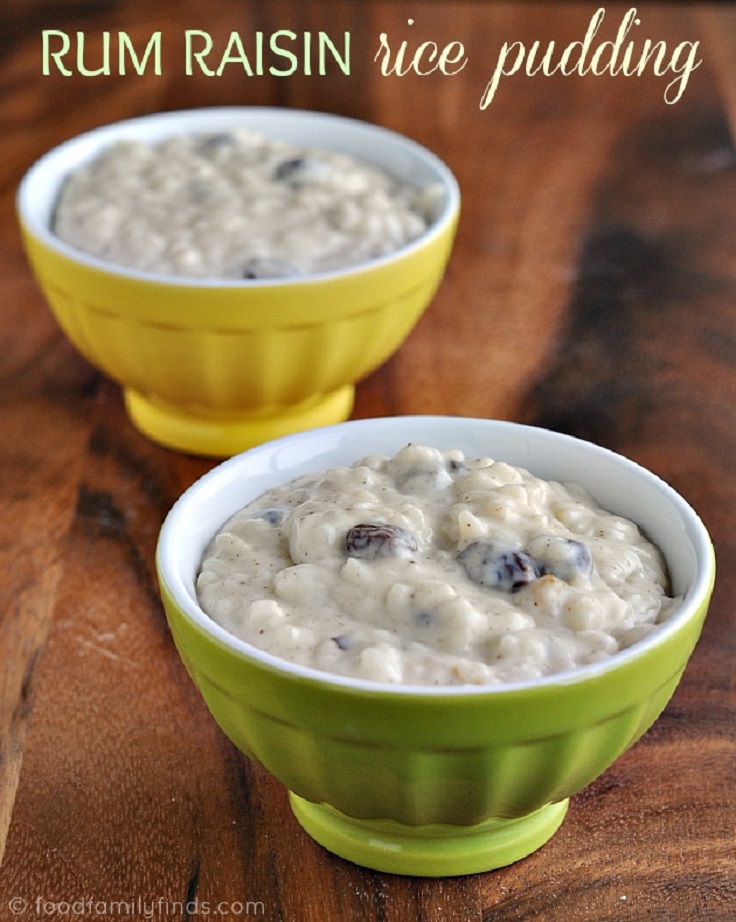 The perfect way to end lunch is with this super easy rum rice pudding. You will need: 2 cups unseasoned hot cooked long-grain white rice, 1/2 cup raisins , 1/4 cup rum, 2 vanilla pudding snack cups, 1/3 cup toasted sliced almonds, 1/4 teaspoon ground cinnamon and a dash of nutmeg. After cooking the rice, in a bowl combine the rum and raisins and heat for 2 minutes. After it is chilled combine all remaining ingredients in the rice.
10. Stuffed Squash With Wild Rice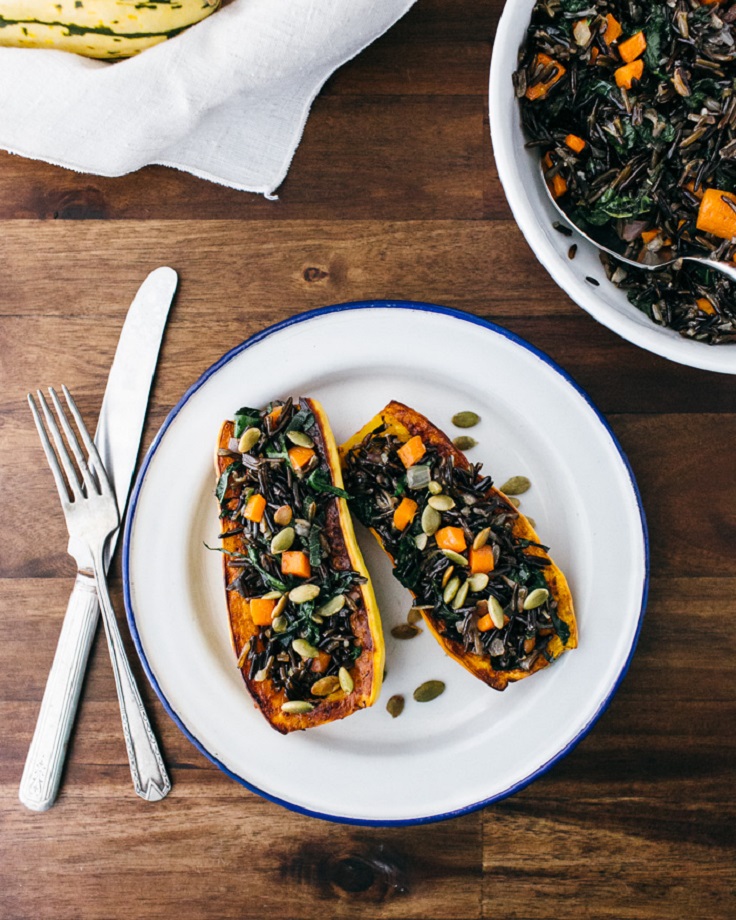 via acouplecooks.com
This is the perfect time for a squash recipe. Rub the squash with olive oil, oregano and salt and bake for 20-25 minutes. Stir onion in a saucepan and add water with rice. Cook the rice, after it is soft enough put the rice in the squash. Top with cheddar cheese.