It's no secret that the avocado is considered as one of the healthiest fruits thanks to the important nutrients that it contains. This green pear – shaped super food isn't know just found on the market, but the restaurants as well included in their menu. So, nowadays it's really common to find menu full of avocado recipes. If you like the taste of the avocado and like cooking, check out the ten recipes below. They can all be easily cooked for breakfast, but it doesn't mean you can't eat them for lunch or dinner too!
1. Caprese Avocado Toast with Scrambled Eggs
Eggs and avocado are one very delicious combination, so in this recipe and in others on the list, you will read about it. This toast is really easy to prepare, since all you need to do is get a piece of your favorite bread and spread a layer of mashed ripe avocado. After that, cook scrambled eggs and add them on the toast. To make it look and taste more Mediterranean, add cherry tomatoes and basil.
2. Breakfast Flatbread with Avocado, Feta, and Crispy Prosciutto
A different kind of a breakfast pizza, but you will certainly love it! We are talking about fried egg, prosciutto, avocado and feta cheese – all these tasty ingredients placed on a warm, soft flatbread! Start out by preparing the dough. This will take some time so it's best to plan your time ahead (we don't want somebody to be late on work!). After the flatbread is all ready, just add the toppings and don't miss to sprinkle some spice!
3. Bacon and Avocado Breakfast Sandwich with Sunny Side Up Egg
Yes, there so many ways you can combine avocado on a toast or in sandwich! This one will take you 30 minutes to prepare and it serves two. You need package of thick – cut bacon, large eggs, avocados and a toasted bread. First of steps, fry the bacon and then fry the eggs. Place slices if avocado on toast and top it with crispy bacon and fried eggs. If you want to, you can serve it with hot sauce as well.
4. Avocado Strawberry Spinach Salad
No matter if it's cold winter or hot summer days we're talking about, this salad is perfect for any day. It's delicious, fresh and it's rich with healthy ingredients (and not to mention that is very easy to prepare it as well!). You need fresh baby spinach, avocado, gorgonzola or blue cheese, almonds, strawberries and red onion. The salad has a poppyseed dressing, for which you need avocado oil, apple cider vinegar, honey, poppy seeds, salt and pepper. Enjoy it!
5. Curried Quinoa with Spinach and Avocado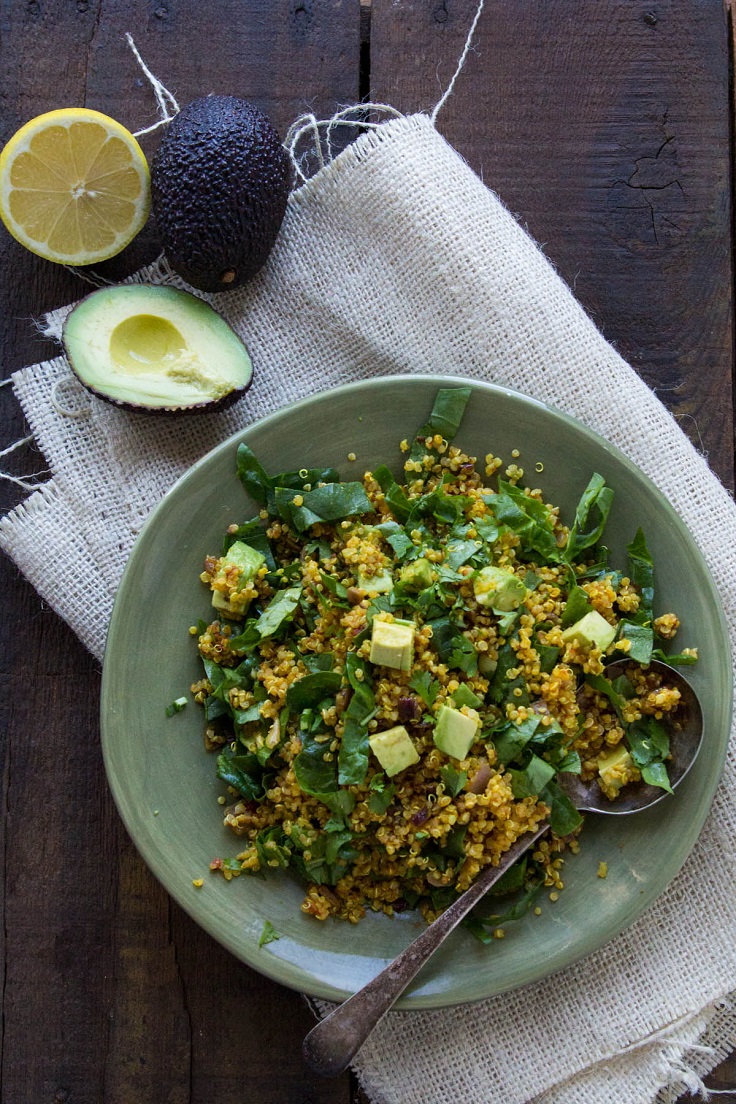 via indiaphile.info
The recipe is originally meant for lunch, but we like it for breakfast as well. This bowl is full of tasty, healthy ingredients with a bit of the Indian cuisine spicy charm. For this recipe, you need baby spinach leaves, quinoa, cummin seeds, turmeric, cilantro leaves, avocados, chili, lemon, onion and oil. It will take you less then hour to prepare this breakfast bowl and it will serve three.
6. Breakfast Burrito
And now something from the vegan cuisine for what we're sure that even those who aren't vegan will love it. With this recipe, what you'll have on the table for breakfast is a burrito stuffed with mushrooms, avocados, tofu, carrot and black beans, sprinkled with olive oil, toastes sesame seed oil and cumin. The burrito also has sriracha aioli, for which you need vegenaise, lemon juice and Sriracha.
7. Cheesy Avocado Egg Muffins
When we think of muffins, most of the time we instantly think of chocolate, whipped cream, vanilla and other dessert goodies. But, if you haven't tried cooking savory muffins, you just have to! They are small pieces of salty food heaven. These ones are made of avocados, eggs, milk, cheddar cheese, ground pepper and sea salt. They are ready in about an hour and are perfect option if you are looking for a breakfast for two or more, for work or to last during the next days.
8. Hard Boiled Eggs with Avocado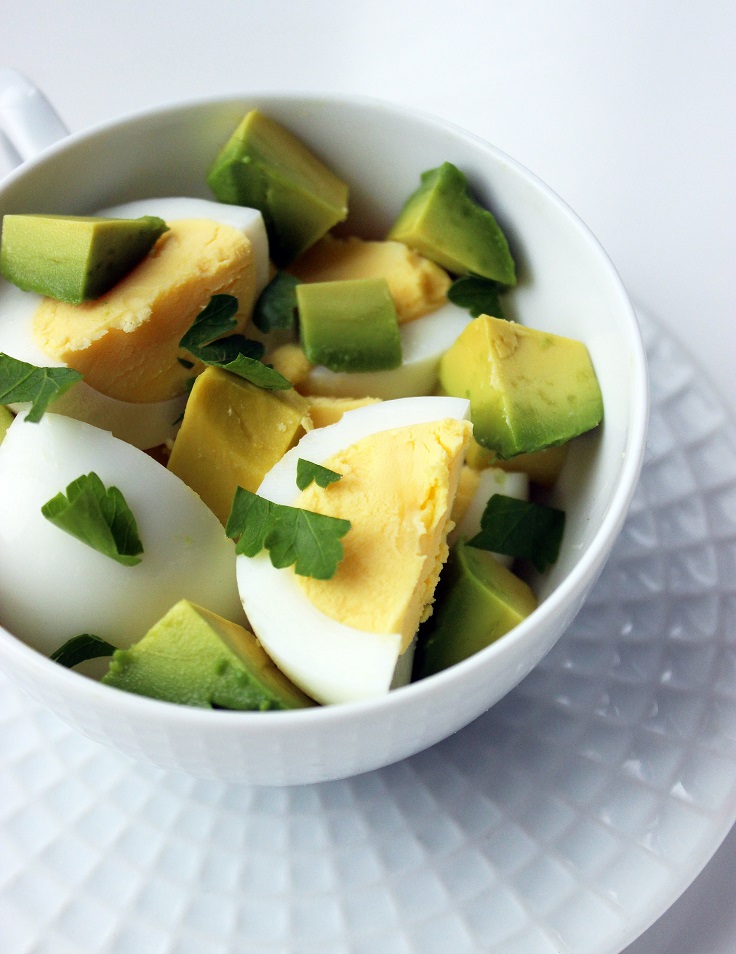 via popsugar.com
This recipe is just perfect for the days when you don't have the time or feel lazy to cook. All you have to do is just boil few eggs and when they ready, peel and cut them. Place them in a bowl together with small slices of avocado. You can add basil leaves or so, and and add hot sauce, if you feel like eating one. Easy, delicious and very rich in proteins!
9. Oatcakes Topped with Smashed Avocado
This one is second from the recipes meant for lazy or no time days. Not only that it is healthier, but also it's less caloric option from the others on this list. You need oatcakes, ripe avocado, lemon, black pepper and sea salt. It's really easy to make your breakfast. Just mash the avocado and place it on the oatcakes. Sprinkle some salt, black pepper and a bit of squeezed lemon.
10. Avocado Toast
And, if you really like your avocado just like that, with no other toppings, seasonings or other ingredients in your toast, let's keep it simple. Get a slice of your favorite toast bread, mash a ripe avocado and add a layer on each bread slice. Season with salt and pepper and you're ready to go!