Some love it because of it's specific taste, some hate it because of the way it smells. No matter on which side you are, it's undeniable that the garlic has many benefits. It is rich in Vitamin B6 and Vitamin C, as well as with Manganese. It also has other nutrients such as calcium and copper, it is low in calories and with all this, the garlic can help you with boosting your immune system, it can reduce the blood pressure and can improve cholesterol levels. So, if you were wondering about eating it or not, try to look on it's healthy side, not just the smelly one! Garlic is used not only because of it's benefits, but also because it's a very tasty ingredient in many recipes. Just adding it can give a better taste to your lunch or dinner. But, if you are looking for something where the garlic plays the main role when it comes to the taste, bellow you will find ten garlic recipes, perfect for lunch time.
1. Salmon Cakes with Garlic Sauce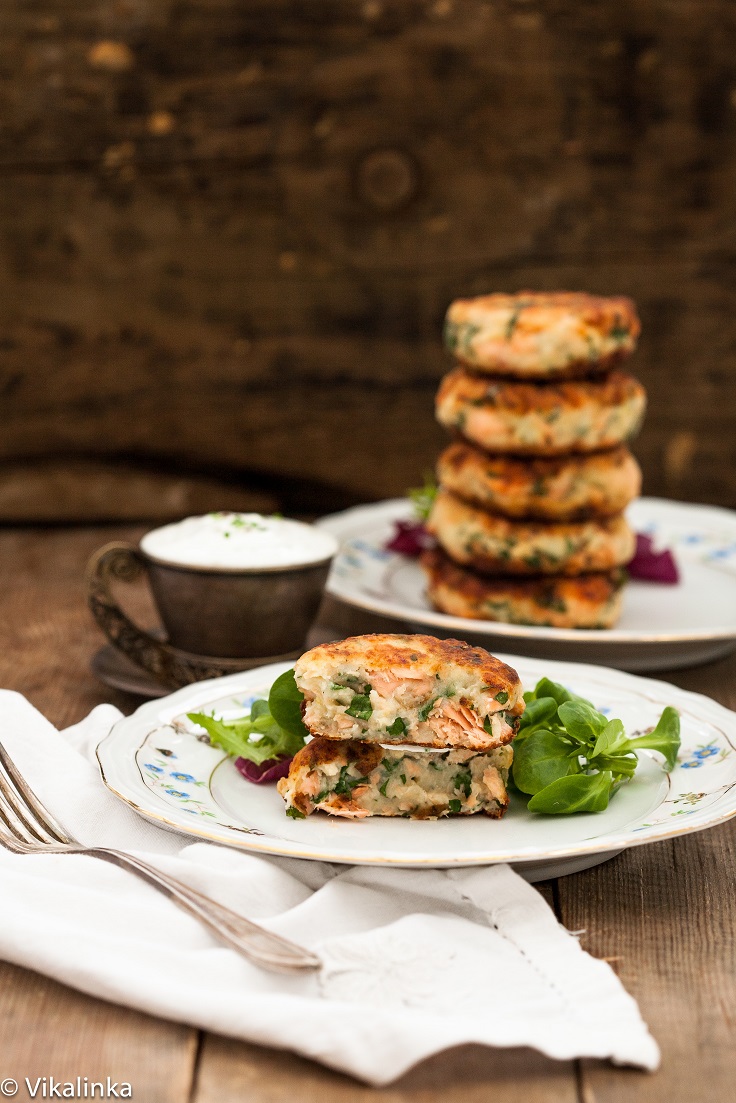 via vikalinka.com
The author of the recipe describes it as "throw a bunch of ingredients you love together", and who wouldn't love potatoes and salmon together, combined with olive oil, parsley, salt and pepper and a sauce with garlic and Greek yogurt. It's best to cook it with fresh salmon, but you can try other fish as well if you don't like salmon that much.
2. Homemade Garlic Bruschetta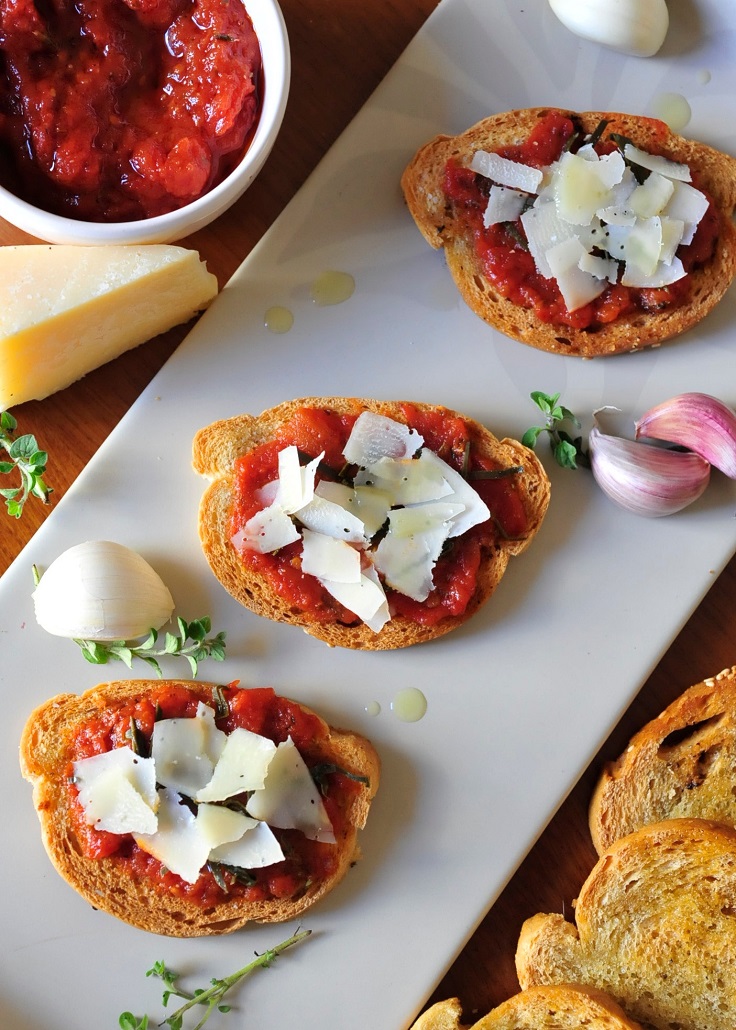 Baking baguettes with olive oil and garlic, that is a very good idea instead of eating them plain. There are many ingredients you can combine them with. You can try diced tomatoes, olives, smoked salmon, cream cheese or even just salt. They are crispy and the perfect treat when you crave for something savory.
 3. Carrot Pasta with Garlic Sauce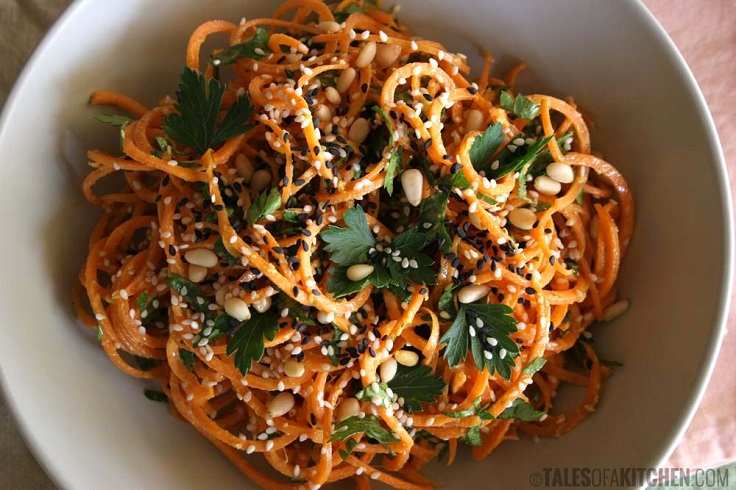 Carrots as pasta? Worth to try it, definitely. It's ready in 15 minutes and you can combine it with many ingredients such as tahini, parsley, walnut oil and of course, a clove of garlic would perfectly fit in this healthy, light lunch meal.
4. Garlic Bacon Mushroom Bites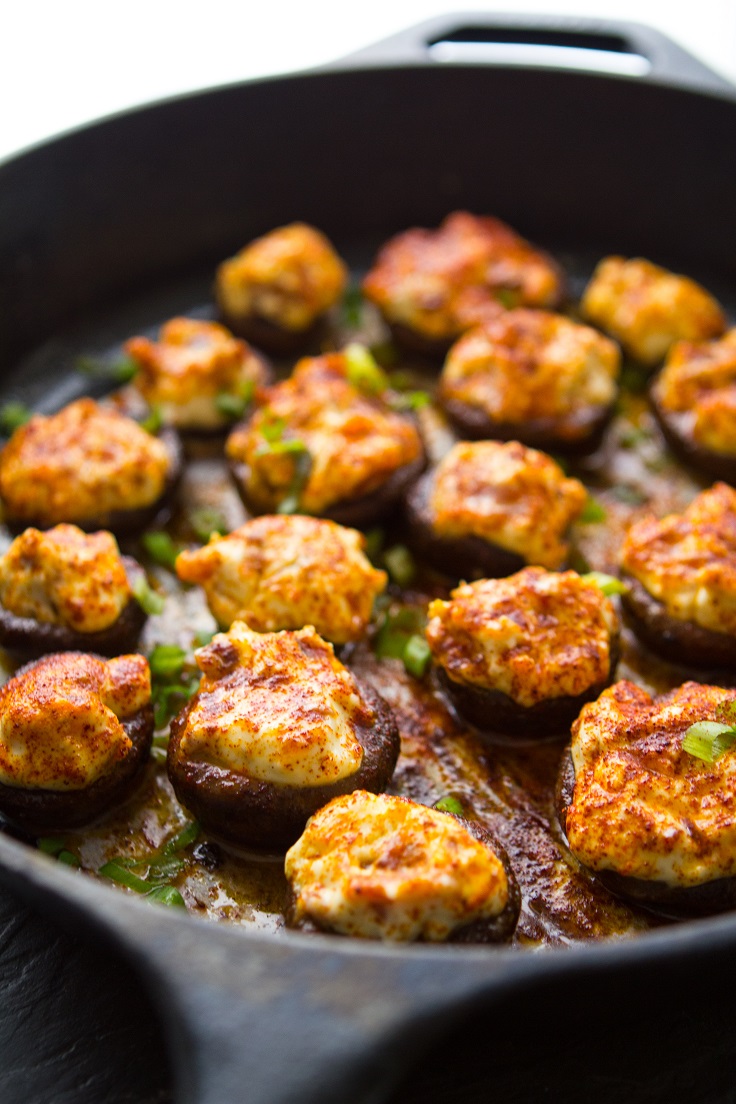 via mushroominfo.com
Mushroom fans, you need to try this one. First you dip the mushrooms in melted butter and the you bake them. Meanwhile you can make the topping which includes garlic, bacon, cream cheese and egg. For the end, you can garnish it with chopped green onions.
5. Garlic Fries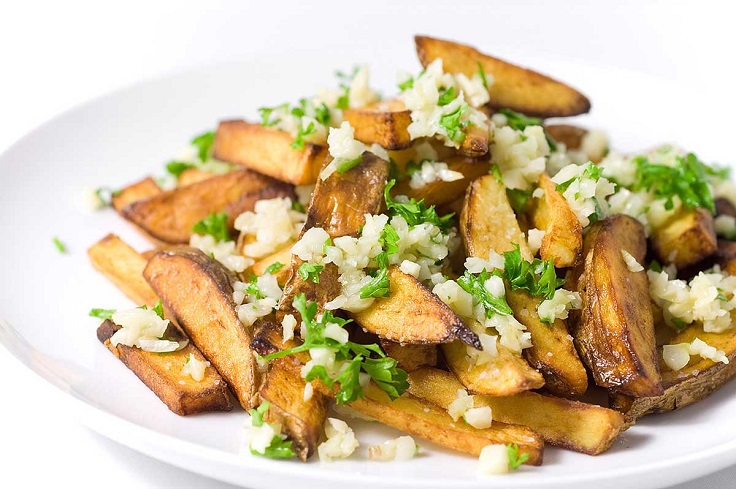 Not the food you would like to eat on a first date, but definitely try this one out when your breath doesn't matter that much! These french fries are actually fried in garlic oil and you even have chopped garlic on top. You can mix it with parsley too.
6. Roasted Garlic & Delicata Squash Soup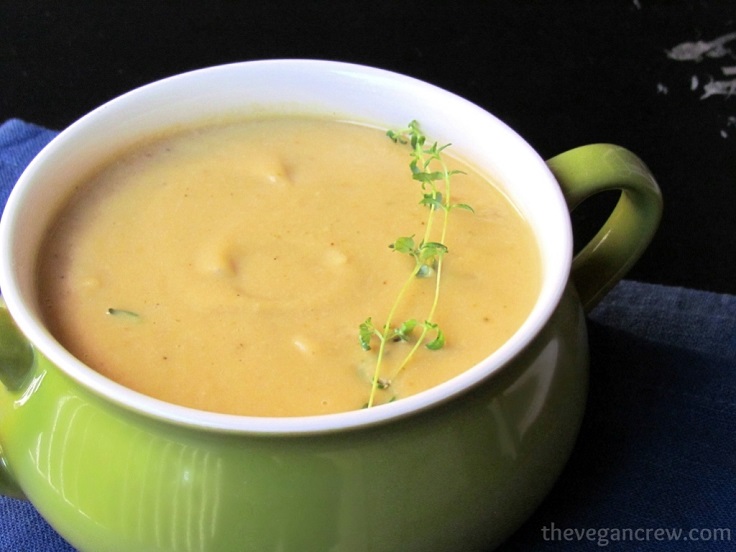 via thevegancrew.com
If you are craving for a sweet and creamy soup, here's a recipe you can try. Roasting the garlic makes the soup sweet, but you should also mix it with the roasted delicata squash (cashew cream with a little bit of lemon juice). You can garnish this one with thyme. It's the perfect soup recipe for dinner with friend or with the family (or both!)
7. Lemon Garlic Chicken Drumsticks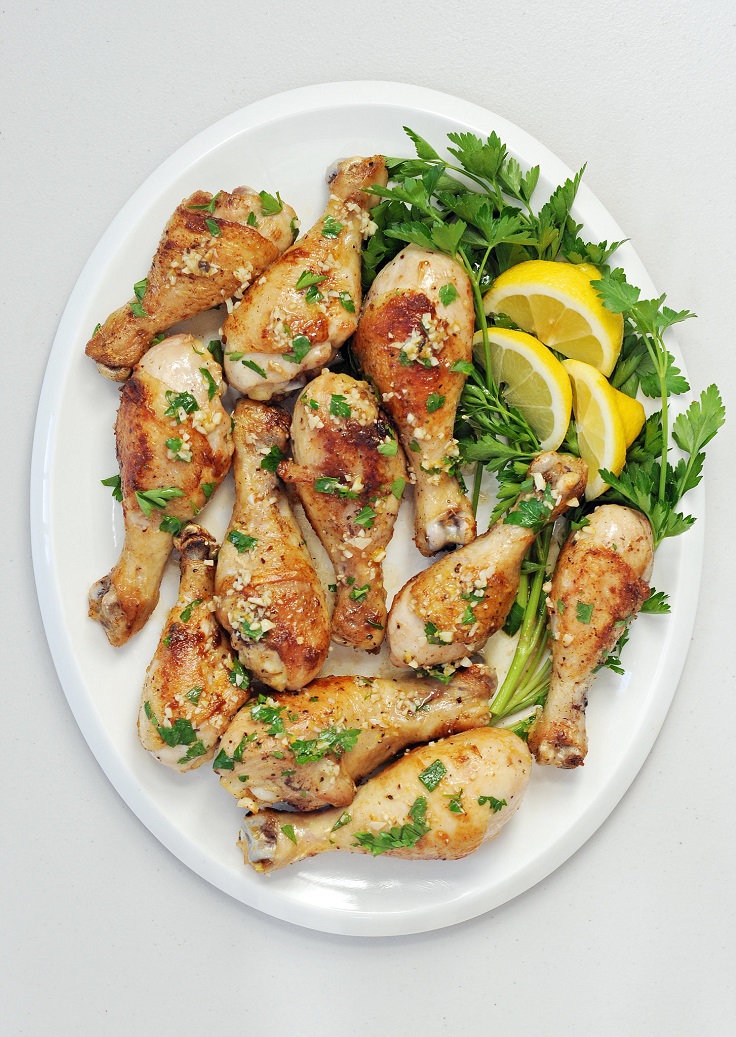 via popsugar.com
In order to have juicy chicken, try seasoning the drumsticks with salt and pepper as early as three days  up to thirty minutes before cooking. While cooking, remove the lid and then you can add the other ingredients such as garlic, butter, lemon zest and lemon juice. According to the recipe, is better to serve the drumsticks while they are hot.
8. Garlic Mashed Twice Baked Potatoes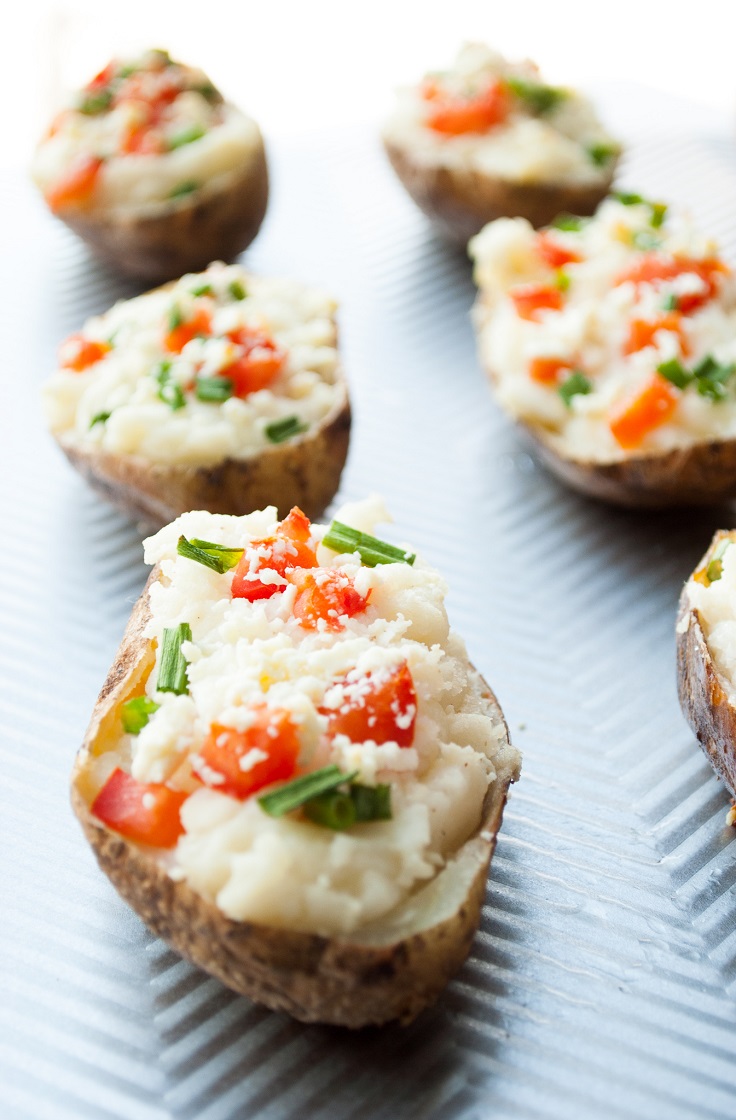 The topping is quite light but if you prefer you can make it heavier by adding more butter, cream or any other dressing. In this recipe you use Greek yogurt with roasted garlic flavor. It will take you some time in the kitchen in order to taste this wonderful recipe, but the waiting is worth it.
9. Tomato Garlic Prawn Risotto
via sugaretal.com
This is a very delicious combination of risotto and prawns, which by the way you should get it fresh, because fresh is always better. The recipe has tasty topping – parmesan, parsley and basil. To add more nutrient to the dish, you can mix the pasta sauce with vegetables.
10. Shrimp in Sherry Garlic Sauce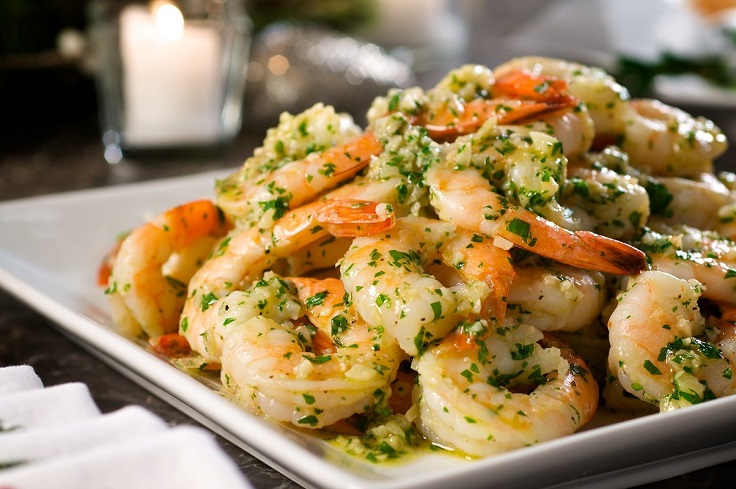 via foodchannel.com
In about thirty minutes you can have this amazing dish with shrimp with garlic and sherry seasoning. This recipe is a good idea when it comes to preparing food for parties and gatherings. The shrimps are always one of the things that everybody want to try out, so make sure you serve more of them.